Bringing Italy Home
Stanley Tucci says that he never orders Pasta Carbonara outside of Italy. Anyone who has watched his hit show Searching Italy on CNN or HBO Max knows he is a pasta aficionado. He is also an excellent chef. When watching his first season before our 2021 travels to Italy, we realized we had never ordered this dish during previous visits. His description seemed too good to be true, and we knew we had to try it ourselves. After enjoying this famous Italian dish in Italy, we know there is truth to what he says.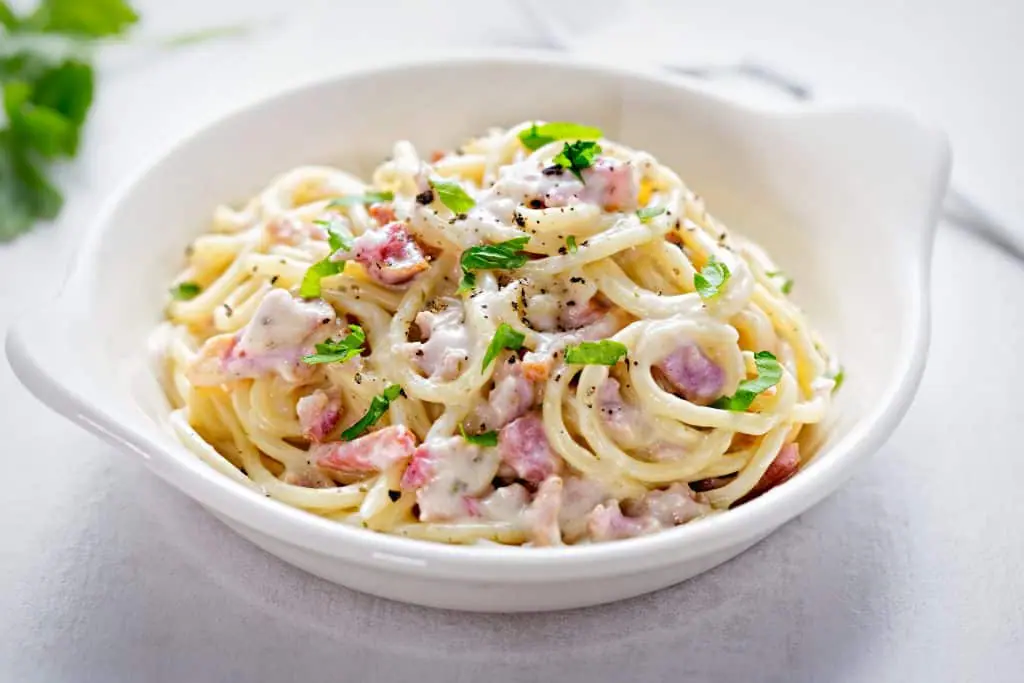 We ordered traditional Pasta Carbonara in Sicily and Naples, and it was exceptional. The richness and flavors were incredible. A few simple ingredients (Pecorino Romano, Eggs, Pasta, Pepper, and Pancetta) make a dish so delicious we were determined to find a way to replicate it once back home.
The experimentation began the first week after returning home. Joelle prepared traditional Pasta Carbonara for her family, and though they loved it, especially the young kids, it was far from what we experienced in Italy. Many attempts and missteps later, we believe we have found the closest we could replicate it outside of Italy. Crucial to success is using only the best quality ingredients. Remembering US ingredients may never quite make it authentic, but this is our take on it.
While entertaining, this would be an excellent meal to offer guests, but may we suggest you do a practice run in a more relaxed setting the first time. Timing is everything, and a little practice will ensure perfection.
Buon Appetito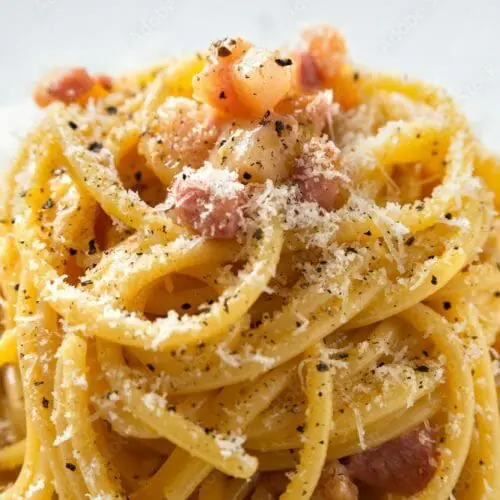 Traditional Pasta Carbonara: An Italian Masterpiece
Pasta carbonara is one of the most famous and simplest of traditional Italian dishes. It harks from the Lazio region of Italy and includes only five ingredients. That is the key to any traditional Pasta Carbonara, if it has more ingredients than that it is not the traditional form.
As simple as this recipe may sound, it is a tricky one. It took many attempts until we found the one that worked. The winner made a rich, lovely dish loved by all, especially the children who could not eat it fast enough.
The key is to choose quality ingredients: fresh eggs, pancetta or guanciale, Pecorino Romano, pepper, and pasta. It doesn't get simpler than that. An authentic recipe, per many sources, will not include cream, milk, garlic, parmigiano or bacon. Parsley or basil can added for presentation but not within the dish.
Equipment
1 Bowl

1 Round Dutch Oven, enameled cast iron or a deep fry pan.

Le Creuset works great

1 Cheese grater
Ingredients
1

pound

Spaghetti or any pasta you desire (chose quality pasta)

10

ounces

Pancetta or guanciale (make sure it is fatty) chopped in small chunks or slices

5

medium

Eggs

1 1/3

cup

Pecorino Romano Cheese, finely grated

2

tbsp

Pecorino Romano Cheese, coarsely grated

For presentation before serving

Ground black pepper
Instructions
Boil 5-6 quarts of water for the pasta while you begin to prepare the carbonara sauce. Add coarse salt at 1 tbsp per quart of water.

Cut into cubes or slices the pancetta or guanciale. Simmer in a large round enameled cast iron Dutch Oven or deep fry pan for several minutes. (I used my Le Creuset, which was perfect) It is important the fat melts and the meat is crunchy or to your desired texture. If it seems dry you can add a tbsp of the boiling water to emulsify. This creates a greasy sauce. Set aside.

In a bowl whisk the Pecorino Romano with the eggs. (Some Italians only use the yolks, try to see what you prefer, we prefer the whole egg) Finely grated cheese worked best. Coarsely grated cheese seemed to be problematic in our experimentation..

Add some black pepper and stir with a whisk until you acheive a creamy thick sause. Set aside

Place the pasta into the boiling water. Do not break the pasta, keep it whole. Boil per the pasta package instructions for al dente.

Use a pasta fork to remove the pasta from the boiling water and drain.

Put the pasta into the Dutch Over or pan with the pancetta or guanciale over high heat. Toss to season properly with the fat and pancetta or guanciale. When the pan is sizzlin and well tossed, turn off the heat.

Add the whisked eggs and cheese mixture quickly to the pan and stir.

THIS PART IS IMPORTANT. DO NOT MULTI TASK! You need to be fast, ready and focused or you will have scrambled eggs and pasta .

Pay close attention to the consistency, it needs to be creamy. If it becomes to watery add some more grated Pecorina Romano cheese. It if it too sticky add 1-2 tbsp of the pasta cooking water.

Your Pasta Carbonara is ready to serve. Create a pasta nest on a plate.

Add on top of the pasta the remaining pancetta or guaniciale left in the pan, ground black pepper, and grated Pecorino Romano chesse. If you deisre some color add a small sprinkling of fresh parsley or basil.
Notes
In our several failures, as we attempted to find the ideal recipe, we learned a few things.
The meat you use must be fatty. In our first attempt, we used Trader Joe's prechopped pancetta which is very lean. There was minimal fat which is an essential element to the success of the dish.
We were unable to find guanciale in our local markets. The deli did have some imported pancetta which they sliced thick and we cubed at home.
We tried the recipe with coarsely chopped cheese and it did not do as well. Finely grated worked best.
Timing is everything, even the slightest delay can scramble the eggs.
Our first three attempts were less than creamy and the eggs scrambled quite a bit. Though not to our liking the dish was still devoured and enjoyed by our test audience, especially the kids.
This is a rich dish and you will find a large serving is not needed.
Pasta Carbonara is best fresh and isn't the same reheated.
Photo slideshow of the steps for traditional Pasta Carbonara
What does it look like when it fails?
If you look closely, you will see small chunks of scrambled eggs. It still was enjoyable, but without the creaminess, you can tell it is missing something, especially if you fell in love with authentic Carbonara in Italy.
© 2023 Wanderers Compass All Rights Reserved
Considering an Italian adventure? Check out our Italy Travel Guide
Check our other Italy Posts
Italian Photo Gallery from our Travels
© 2022 Wanderers Compass All Rights Reserved
Do you have a question for us or have a comment?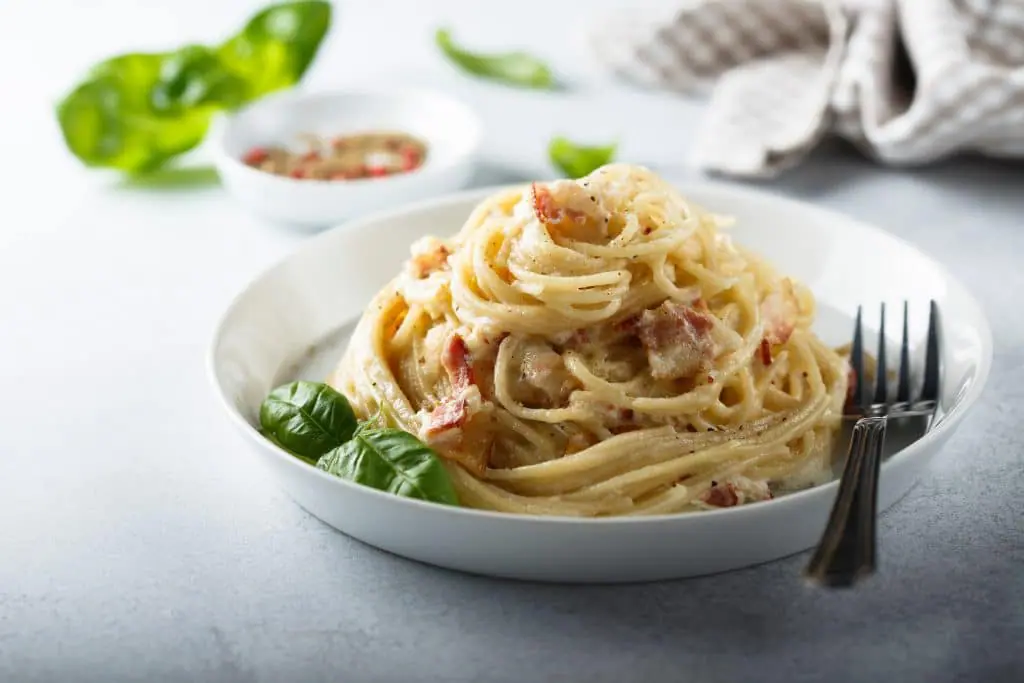 Our Recommended Travel Resources
Our favorite travel insurance site!
If you book a trip, don't forget to get travel insurance within 14 days of your first booking. We could not be stronger advocates of being well-insured. Not just for the little stuff but the big things like medical emergencies. We never leave home without it. Over the years, we have used many sites but have now found our go-to place. Squaremouth.com does a fantastic job; it has a user-friendly interface, uses top-rated and reputable insurance carriers, and most policies cover COVID-19 medical issues and cancellations. They also mediate on your behalf if you have problems with your policy.
To empower you as a consumer, we suggest you read our blog post on the importance of travel insurance and how to get the best coverage from top-rated companies for an affordable price.
Medical transport back home from anywhere in the world
They are the premier global air medical transport. One caveat to travel insurance is that medical evacuation usually gets you to the closest facility to care for you. Medjet gets you back to the U.S. to the hospital of your choice once you are stable enough to fly. They cover Covid-related transports as well.
Medjet carries its own policies. The policy is only for transport and no other aspects of travel insurance. They have individual trip policies starting at $99 and annual policies for around $300. Most of their policies limit the age to 74 and younger. Prices are not based on age below that.
To learn more about how Medical Evacuation membership with Medjet Assist works, check out our blog post for a more detailed review.
Hotels, home rentals, BNBs, flights, and other transportation & tours
Expedia is a US-based company whose mission is to power global travel for everyone and everywhere. Whether planning a family vacation, booking for business, or organizing the trip of a lifetime, they are a fantastic resource. Wanderers Compass focuses on independent travel, and using sites like Expedia makes that possible. Every aspect of travel you need, from airfare, accommodations, rental car, and cruises to activities to do at your destination, can be booked on Expedia.
Hotels, Home rentals, BNBs, Flights, and other Transportation & Tours
Booking.com connects millions of travelers to memorable experiences, various transportation options, and incredible places to stay – from homes to hotels and much more. It is one of the world's largest travel marketplaces for established brands and entrepreneurs of all sizes.
We always check Expedia and Booking.com to verify prices. At times, one is sold out of rooms while another at the same place has rooms. As well we often find some European hotels, especially smaller ones, on Booking.com but not on Expedia. It could be they are a Europe-based company. Try both before booking accommodations.
Are you traveling with a family or having an extended stay at your destination?
With over 2 million bookable vacation rentals, VRBO connects homeowners with families and vacationers looking for something more than a hotel for their trip. The VRBO community offers families or groups various rental property types such as condos, cabins, lake rentals, beach houses, etc.
VRBO is under the Expedia group ownership now, which many were worried about, but it hasn't panned out to be a concern. It is a massive network with access to all lodging forms should issues arise. Joelle has used VRBO for many years with her family with no problems.
As the leading marketplace for travel experiences, Viator believes that making memories is what travel is all about. And with 300,000+ experiences to explore—everything from simple tours to extreme adventures (and all the niche, interesting stuff in between)—making memories that will last a lifetime has never been easier.
With industry-leading flexibility and last-minute availability, it's never too late to make any day extraordinary. This one site has it all and has experiences throughout the world. We use them often during our travels, especially for food tours. We especially take the time to read the reviews provided.
An excellent source for travel essentials and guides
We now have our own Amazon Storefront with all our favorite travel accessories and gear in one place. Check out our travel store at the link below.
Amazon is one of the most comprehensive online shopping sources in the world. On behalf of their customers, teams worldwide provide lower prices, better selection, and rapid delivery. They offer a vast inventory, and their 1.7 million small and medium businesses worldwide selling on Amazon.com offer extensive options to customers.
We buy most of our travel books, accessories, and luggage from Amazon. We have ordered up to two days before travel and get what we need.
Transportation
Welcome Pick-ups
(Airport and sightseeing service)
A global leader in ground transportation for travelers. They help hundreds of companies worldwide enhance their services and boost their revenue with our 5-star ride experiences and hassle-free automation.
Founded in 2015 in Athens, Greece, Welcome Pick-ups goes above and beyond the standard transfer service as the first company to deliver a holistic, in-destination travel experience. From the moment a traveler arrives at a new destination until they return home, Welcome accommodates all their travel needs (transfers, travel products, things to do, information) as the easiest, friendliest, and most personalized solution.
Discover Europe by Train
Rail Europe sells train and bus tickets for travel across Europe. They cover 24 countries, 105 rail operations, and 20,000 stations. They are the official rail and bus operations agents in the UK, France, Spain, Italy, Germany, Belgium, Austria, Switzerland, Luxembourg, and the Netherlands. Rail Europe continues to add coverage all the time.
It is a fast, easy, and economical way to purchase European train and bus tickets. Eurail passes are also available to buy through their site.
Travel documentation services
Do you feel like you are wasting time visiting an on-site photographer only to be embarrassed by the photo? Would you like control of the final product? Get the perfect VISA or passport photo online with PhotoAID.
When traveling, you often need to apply for official documents such as a passport, ID, and different kinds of licenses or cards. Those applications require a picture that must meet specific conditions to be accepted, depending on the country. Now, it is possible to take this picture at home without the help of a professional photographer. The PhotoAiD app allows you to take the perfect biometric photo that will be guaranteed by yourself without leaving your home.
This article contains affiliate links. If you use these links to buy something, we may earn a small commission at no additional cost to you. Thank you!
Check out our most recent blog posts