Bringing Italy Home
Stanley Tucci says that he never orders Pasta Carbonara outside of Italy. Anyone who has watched his hit show Searching Italy on CNN or HBO Max knows he is a pasta aficionado. He is also an excellent chef. When watching his first season before our 2021 travels to Italy, we realized we had never ordered this dish during previous visits. His description seemed too good to be true, and we knew we had to try it ourselves. After enjoying this famous Italian dish in Italy, we know there is truth to what he says.
We ordered traditional Pasta Carbonara in Sicily and Naples, and it was exceptional. The richness and flavors were incredible. A few simple ingredients (Pecorino Romano, Eggs, Pasta, Pepper, and Pancetta) make a dish so delicious we were determined to find a way to replicate it once back home.
The experimentation began the first week after returning home. Joelle prepared traditional Pasta Carbonara for her family, and though they loved it, especially the young kids, it was far from what we experienced in Italy. Many attempts and missteps later, we believe we have found the closest we could replicate it outside of Italy. Crucial to success is using only the best quality ingredients. Remembering US ingredients may never quite make it authentic, but this is our take on it.
While entertaining, this would be an excellent meal to offer guests, but may we suggest you do a practice run in a more relaxed setting the first time. Timing is everything, and a little practice will ensure perfection.
Buon Appetito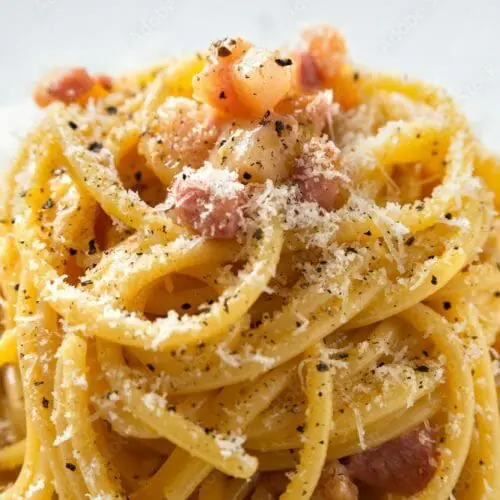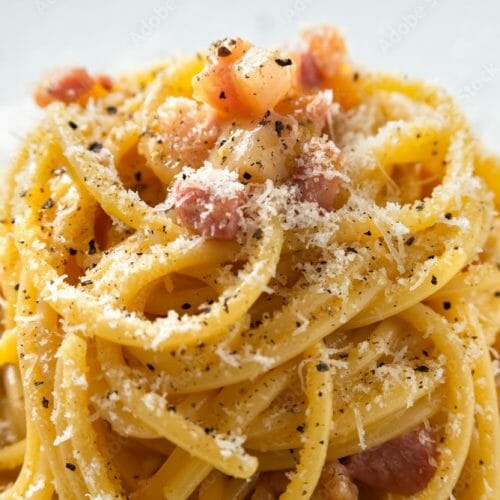 Traditional Pasta Carbonara: An Italian Masterpiece
Pasta carbonara is one of the most famous and simplest of traditional Italian dishes. It harks from the Lazio region of Italy and includes only five ingredients. That is the key to any traditional Pasta Carbonara, if it has more ingredients than that it is not the traditional form.
As simple as this recipe may sound, it is a tricky one. It took many attempts until we found the one that worked. The winner made a rich, lovely dish loved by all, especially the children who could not eat it fast enough.
The key is to choose quality ingredients: fresh eggs, pancetta or guanciale, Pecorino Romano, pepper, and pasta. It doesn't get simpler than that. An authentic recipe, per many sources, will not include cream, milk, garlic, parmigiano or bacon. Parsley or basil can added for presentation but not within the dish.
Equipment
1 Bowl

1 Round Dutch Oven, enameled cast iron or a deep fry pan.

Le Creuset works great

1 Cheese grater
Ingredients
1

pound

Spaghetti or any pasta you desire (chose quality pasta)

10

ounces

Pancetta or guanciale (make sure it is fatty) chopped in small chunks or slices

5

medium

Eggs

1 1/3

cup

Pecorino Romano Cheese, finely grated

2

tbsp

Pecorino Romano Cheese, coarsely grated

For presentation before serving

Ground black pepper
Instructions
Boil 5-6 quarts of water for the pasta while you begin to prepare the carbonara sauce. Add coarse salt at 1 tbsp per quart of water.

Cut into cubes or slices the pancetta or guanciale. Simmer in a large round enameled cast iron Dutch Oven or deep fry pan for several minutes. (I used my Le Creuset, which was perfect) It is important the fat melts and the meat is crunchy or to your desired texture. If it seems dry you can add a tbsp of the boiling water to emulsify. This creates a greasy sauce. Set aside.

In a bowl whisk the Pecorino Romano with the eggs. (Some Italians only use the yolks, try to see what you prefer, we prefer the whole egg) Finely grated cheese worked best. Coarsely grated cheese seemed to be problematic in our experimentation..

Add some black pepper and stir with a whisk until you acheive a creamy thick sause. Set aside

Place the pasta into the boiling water. Do not break the pasta, keep it whole. Boil per the pasta package instructions for al dente.

Use a pasta fork to remove the pasta from the boiling water and drain.

Put the pasta into the Dutch Over or pan with the pancetta or guanciale over high heat. Toss to season properly with the fat and pancetta or guanciale. When the pan is sizzlin and well tossed, turn off the heat.

Add the whisked eggs and cheese mixture quickly to the pan and stir.

THIS PART IS IMPORTANT. DO NOT MULTI TASK! You need to be fast, ready and focused or you will have scrambled eggs and pasta .

Pay close attention to the consistency, it needs to be creamy. If it becomes to watery add some more grated Pecorina Romano cheese. It if it too sticky add 1-2 tbsp of the pasta cooking water.

Your Pasta Carbonara is ready to serve. Create a pasta nest on a plate.

Add on top of the pasta the remaining pancetta or guaniciale left in the pan, ground black pepper, and grated Pecorino Romano chesse. If you deisre some color add a small sprinkling of fresh parsley or basil.
Notes
In our several failures, as we attempted to find the ideal recipe, we learned a few things.
The meat you use must be fatty. In our first attempt, we used Trader Joe's prechopped pancetta which is very lean. There was minimal fat which is an essential element to the success of the dish.
We were unable to find guanciale in our local markets. The deli did have some imported pancetta which they sliced thick and we cubed at home.
We tried the recipe with coarsely chopped cheese and it did not do as well. Finely grated worked best.
Timing is everything, even the slightest delay can scramble the eggs.
Our first three attempts were less than creamy and the eggs scrambled quite a bit. Though not to our liking the dish was still devoured and enjoyed by our test audience, especially the kids.
This is a rich dish and you will find a large serving is not needed.
Pasta Carbonara is best fresh and isn't the same reheated.
Photo slideshow of the steps for traditional Pasta Carbonara
What does it look like when it fails?
If you look closely, you will see small chunks of scrambled eggs. It still was enjoyable, but without the creaminess, you can tell it is missing something, especially if you fell in love with authentic Carbonara in Italy.
© 2023 Wanderers Compass All Rights Reserved
Considering an Italian adventure? Check out our Italy Travel Guide
Check our other Italy Posts
Italian Photo Gallery from our Travels
© 2022 Wanderers Compass All Rights Reserved
Do you have a question for us or have a comment?
Check out our most recent blog posts