Bringing Home Portugal's Favorite Pastry
One of the most important ways to experience a culture is through food when traveling abroad. Our goal is always to learn the local specialties and seek them out. There is no doubt that the world-famous Pastel/Pasteis de Nata, a Portuguese egg custard pastry, is an absolute must in Portugal. It consists of crispy, flaky layers of pastry which are then filled with a deliciously rich, creamy egg custard filling with a light dusting of cinnamon. The ingredients are simple; egg yolk, flour, sugar, milk, unsalted butter, vanilla extract, and cinnamon.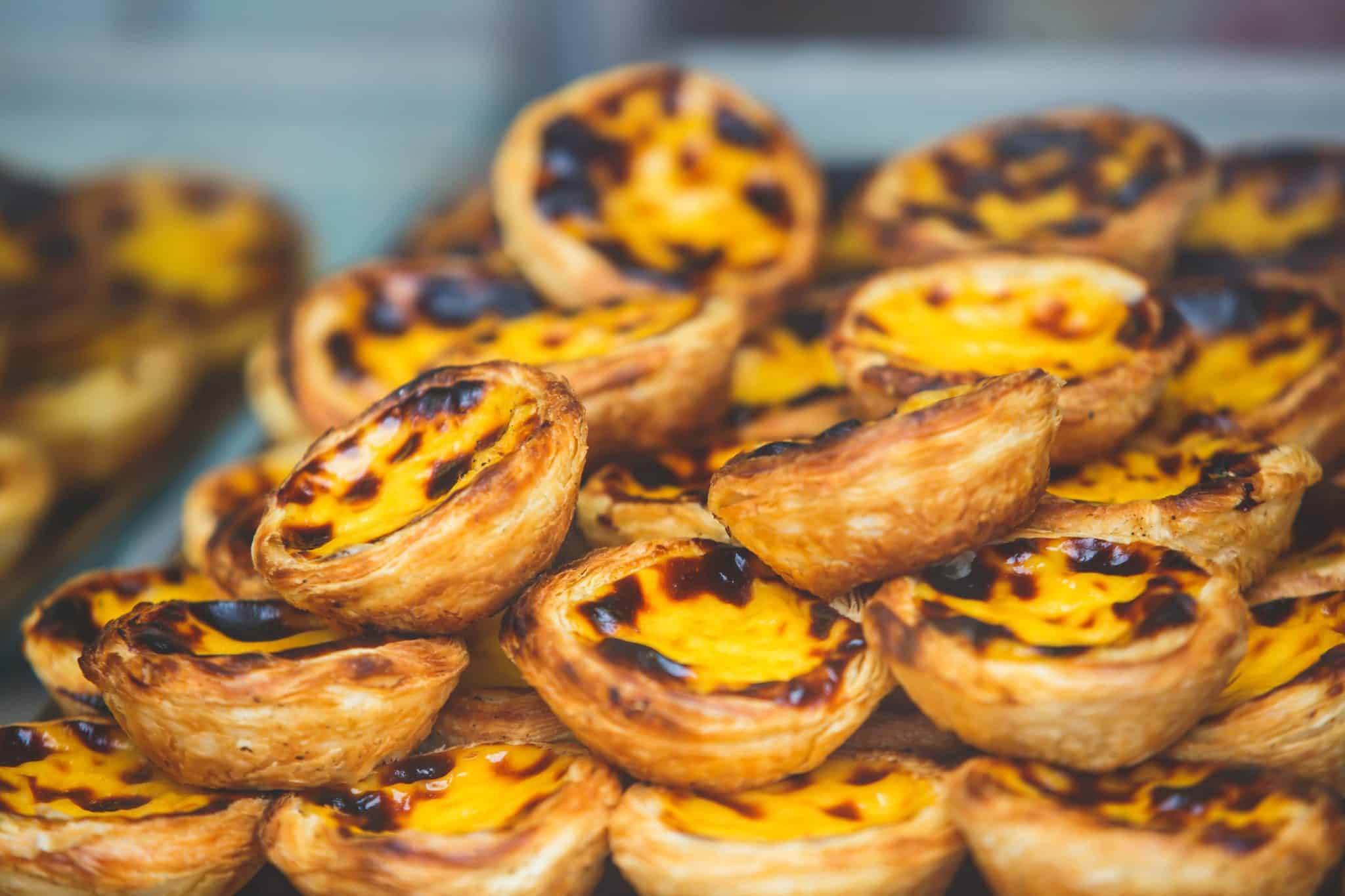 The story is told that these tarts originated because the Jeronimos monks used egg whites to starch their clothes and, as a result, the leftover egg yolks needed to be used. The monks lived in the Jeronimos Monastery in Belem, home of a world-famous bakery selling these sweet gems. Here they have referred to the tarts as Pasteis de Nata. The monks began selling them in the early 1800s after Portugal cut off funding for religious institutions. It didn't work well, but before they closed the shop, they sold the recipe to a local sugar refinery. The refinery opened a bakery in Belem near the old monastery; the rest is history.
Cover photo from Adobe Photo Stock
Our Experience in Portugal with these tarts-Porto and Lisbon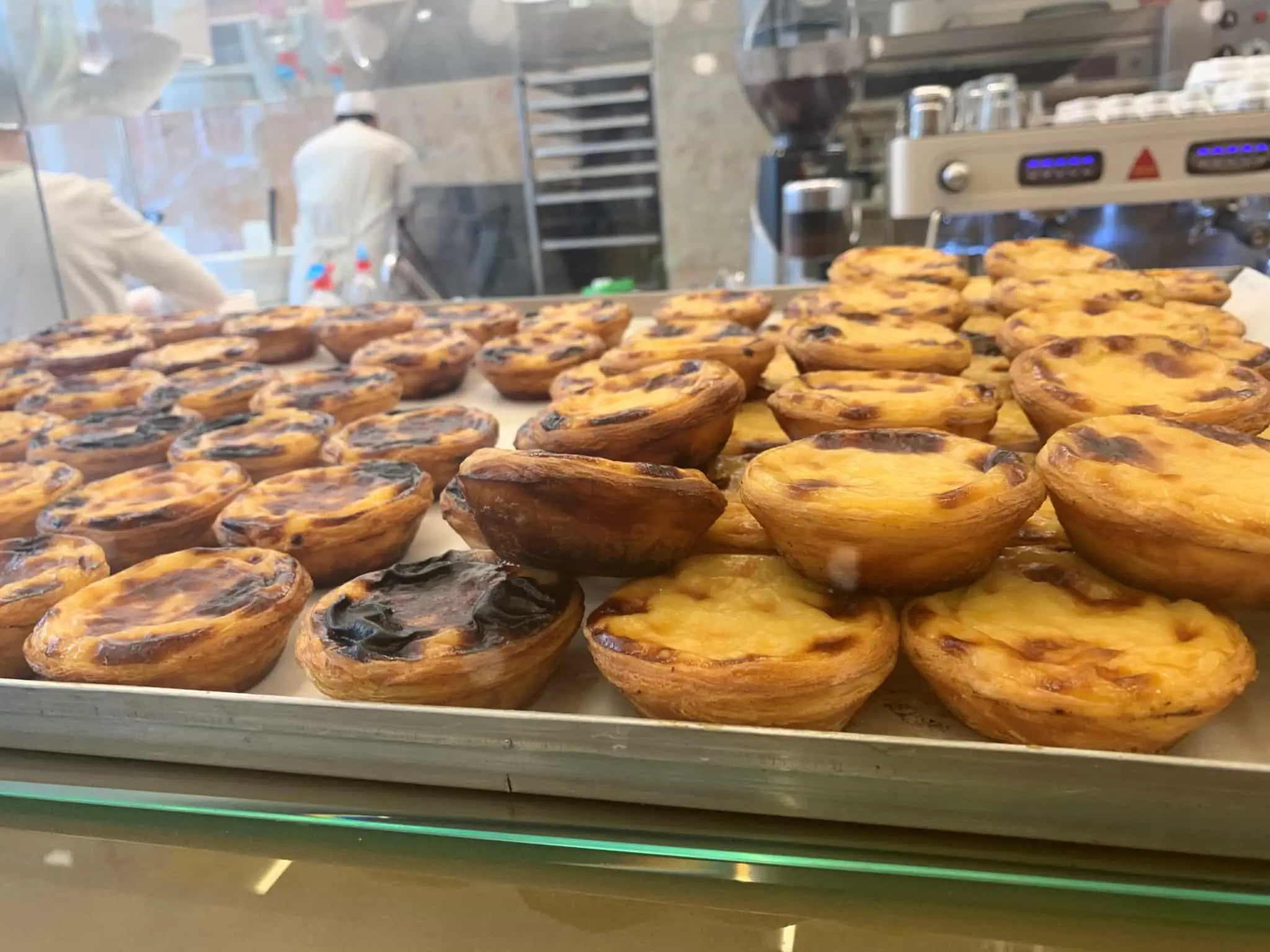 On our first day in Porto, we went straight to the go-to-place in Porto to get Pastel de Nata, Manteigaria. To our surprise, it was all they made. It was already late morning, and the place was still busy. We enjoyed several warm fresh Pastel de Nata pastries with a lovely cappuccino. We could not have had a better introduction to Pastel de Nata's. They lived up to their reputation; we were wowed!!! In the subsequent days, several hotels provided these pastries at breakfast. Not once did they come even close to Porto's Manteigaria. If you can go for the best, do so. If we had tried the hotel versions, we would not have enjoyed them as much.
Our Portugal trip ended in Lisbon, the birthplace of Pasteis de Nata is in Belem, a suburb of Lisbon. They are supposedly made a bit differently than the Porto ones. Of course, we had to try them and headed out our first morning in Lisbon. We saw a substantial line outside as we approached Pasteis de Belem, which opened in 1837. The store inside was packed with people who almost seemed in a panic to get their pastries.
How did the two "Best Places" for these pastries in Portugal match up? Our favorite was the Porto one, Manteigaria. Very subtle differences, but both were excellent. In Porto, you can watch the bakers hard at work.
So when in Portugal, seek out Pastel/Pasteis de Nata; you won't genuinely have experienced Portugal until you have!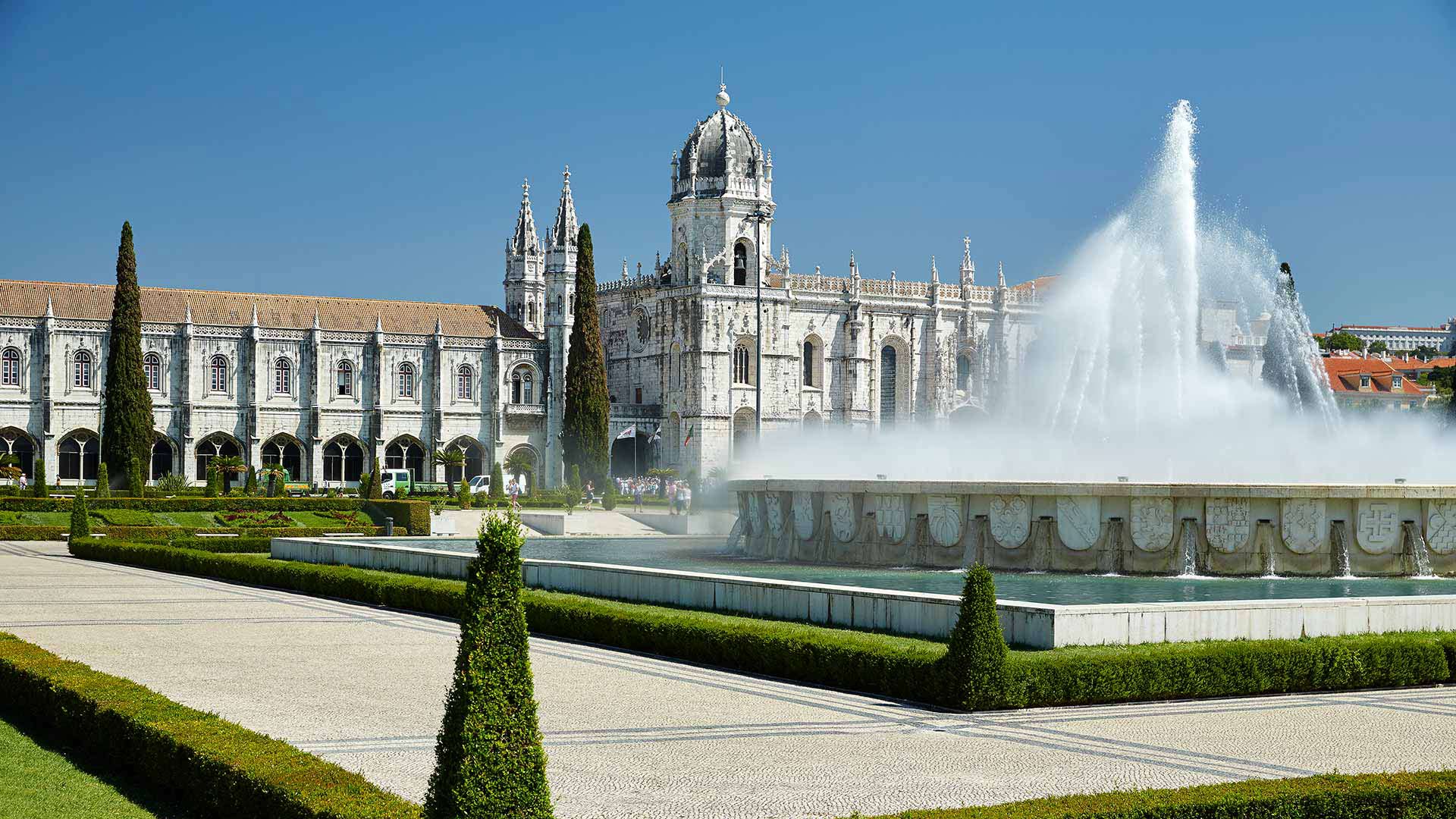 Our observations during recipe experimentation
Though the ingredients are simple and basic, don't expect Pastel/Pasteis de Nata to be a slam dunk to replicate. There is a talent for making these little wonders, and we learned that quickly. In experimenting with this recipe, there were quite a few less-than-ideal results. Interesting, most still tasted good; they just didn't look as good. The recipe below will not have you preparing your own puff pastry. The added work is not necessary in our view. We didn't feel the difference between store-bought and homemade was worth it. But for those who like to make each element from scratch, we applaud you.
A few upfront observations from our trials and errors.
1. The oven does need to be that hot to get the blisters that these tarts are known for.
2. It was difficult to get those burn blisters even at the high temp as they have in Portugal, but we did get a few in the first batch.
3. The recipe failed both times we tried to half it. The custard did not set right.
4. If the sugar mixture cools too much when reheated, it no longer works.
5. The pastry dough needs to be thin. Too thick, it is too doughy.
6. Though they will store for a bit, they were better when served warm.
The Pastel/Pasteis de Nata tarts were delicious, they won't be as good as the ones in Portugal, but you aren't there, so that takes a considerable part away. But they were close and better than some we got in Portugal hotels.
Interestingly practice did not make perfect. In the end, the first batch was the best one. They are not difficult to make, but timing is essential. When making Pastel/Pateis de Nata, have it be your only task at the moment. We learned the hard way even 15 seconds of not stirring the roux caused problems. Enjoy, and let us know how it worked for you.
Bom Proveito
(Bon Appetit in Portuguese)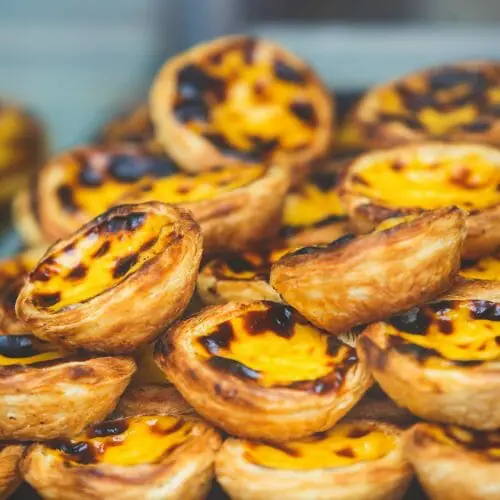 Pastel/Pasteis de Nata (Portuguese Custard Tarts)
One of the most sought-after pastries in Portugal is Pastel/Pasteis de Nata. These delicious gems will draw lines of people in Porto and Lisbon to grab some warm from the oven. The origin comes from finding a use for left-over egg yolks. The monks used the egg whites to starch their clothes, and they needed to make use of yolks. As a result, this famous pastry was born.
It is quite a simple recipe. It is basically three steps; dough, syrup, and custard. Though it is hard to replicate what we had in Portugal, we discovered we could get close. It took quite a few practices to find the ideal recipe. The oven needs to be hot; anything less than the 550 degrees we found left uneven cooking of the custard and none of the "burnt' markings so known for traditional Pasteis de Nata.
Equipment
1 Nonstick 12 Muffin Bakeware Tin

Would not use ceramic muffin pans
Ingredients
1

8.5 oz

Pre-rolled Puff Pastry Sheet

1 1/3

cup

White sugar

1/3

cup

Water

1

whole

Lemon, zested into large strips

1

Cinnamon Stick

Can be substituted with 1/4 tsp of powdered cinnamon

1

tsp.

Vanilla extract

1 1/2

cup

Whole Milk

1/3

cup

Flour (All purpose)

1/4

tsp.

Kosher Salt

6

large

Eggs Yolks

Whites well separated

Powder sugar and cinnamon powder for serving

1

small bowl

Cold Water

1

Tbsp.

Butter

For greasing the muffin tins
Instructions
Preheat over to 550 degrees.

Lightly grease the muffin tins with the butter.

Add the sugar, water, sliced lemon zest, vanilla to a small saucepan. Bring to a boil without stirring. Remove from heat when the temperature reaches 210 degrees Fahrenheit.

In another cold saucepan combine the milk, sifted flour, and salt and whisk. Cook over medium heat for around 5 minutes, constatnly whisking. May need less depending on pan. When well combined and thickened, remove from heat and allow to cool for 10 mintues

Once the milk mixture has cooled, whisk in the egg yolks until well combined.

Remove the cinnamon stick from the sugar syrup and pour into the milk mixture you just made. Mix until well combined. Strain the mixture in a pourable bowl or cup.

Lay your pastry sheet on a cutting board. Roll it to thin it more. Score into 12 even pieces of puff pasty dough.

Place one square into each greased muffin tin. Use the bowl of water to dip your fingers in to mold into form. The top should be 1/8 inch over the edge of the muffin tin.

Fill each pastry cup 3/4 way with the custard filling.

Place in the 550-degree oven and bake until the pastry turns golden brown and the custard started to caramelize and blister, about 10-12 minutes.

Remove from oven and allow to cool for a short time in the muffin pan, 5-10 minutes.

Remove tarts carefully and if desired dust with cinnamon and powdered sugar. Serve while still warm.
Notes
Timing is essential. The sugar can't sit too long, if it hardens it can't be reheated. When whisking the flour, milk, and egg mixture you must do so constantly. It is important to strain the final custard filling, I used a strainer measuring cup as seen in the pictures. It must not be too fine of a strainer.
Do not mold the pastry dough into the muffin tins too early. It best to do after the custard filling is done.
While the tarts are best enjoyed warm, they can be stored at room temperature for up to two days. Reheat them in a 350 degrees oven for best results. Some say they can be kept in a sealed container in the fridge for a week. We found they weren't as enjoyable and in the end not eaten.
If your oven doesn't reach 550 degrees you can go as high as it allows but the custard will take a bit longer to set. The blisters are not likely to occur either.
Photo slideshow of the steps for Pastel de Nata
© 2023 Wanderers Compass All Rights Reserved
Considering a Portugal adventure? Check out our Portugal Travel Guide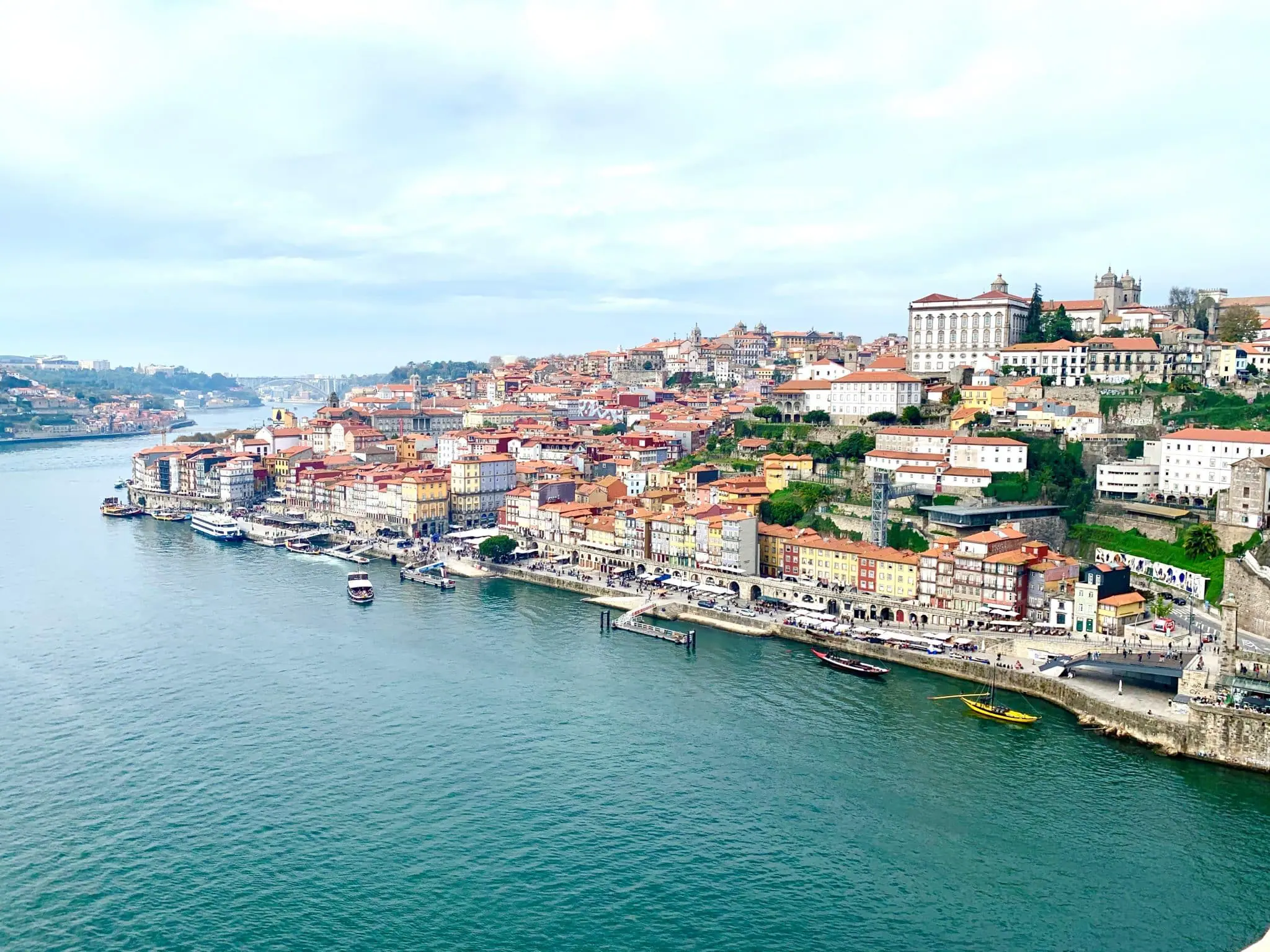 One of our favorite places to visit in Portugal was Obidos. Check out our blog post, Obidos: Portugal Perfection, on this historic walled city.
Portugal Photo Gallery
Check our other Portugal Posts
Do you have a question for us or have a comment?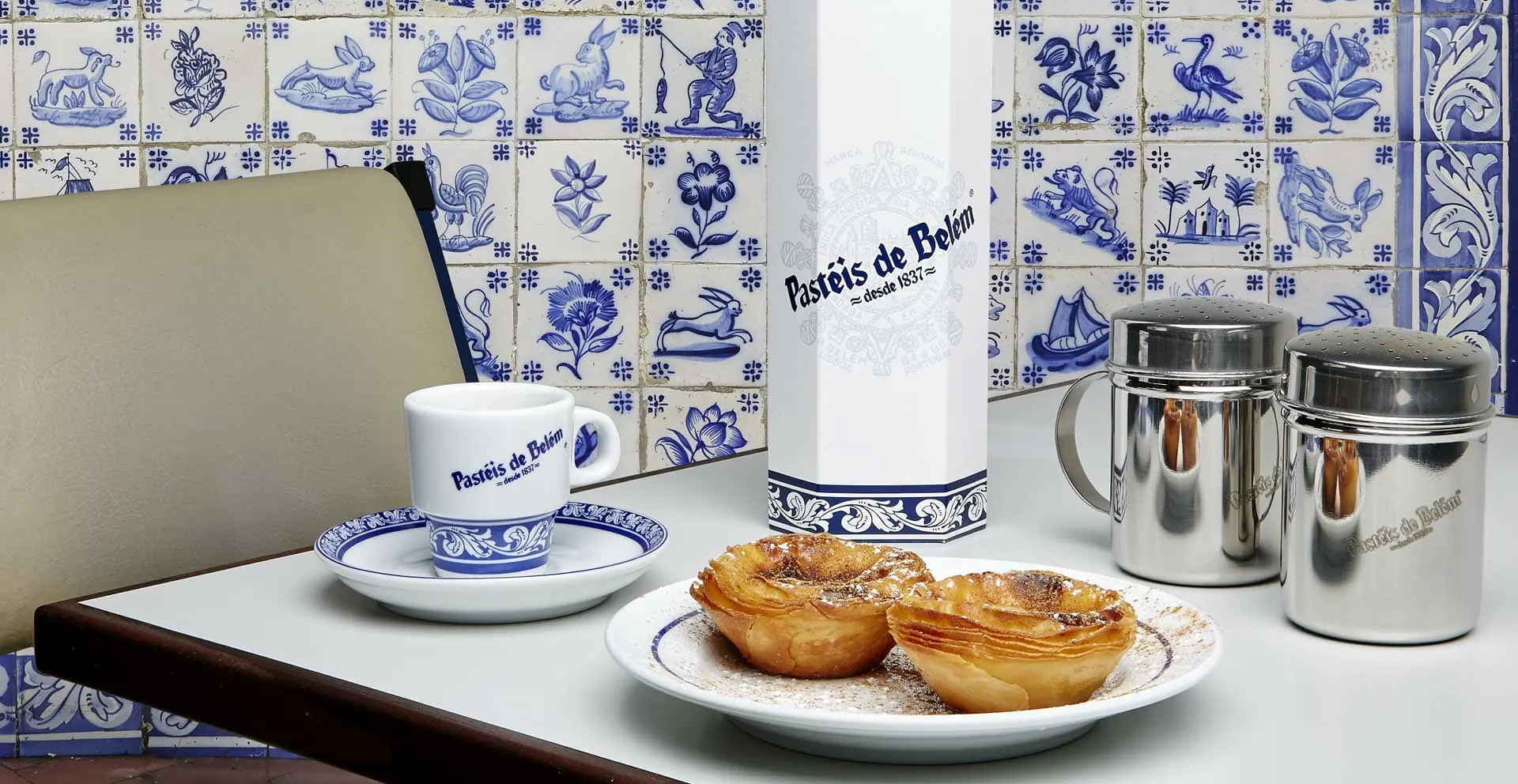 Check out our most recent blog posts