As part of our guest writers series, we are excited to welcome back Martyna Inkielman, a content writer at PhotoAiD. The PhotoAiD app is an excellent service that allows you to take the perfect biometric passport photo from home. You get to choose the image you look best in. We all hate those awful ones most of us have on our passports.
Martyna will be contributing multiple data-based articles that will provide insight to our readers. This article details the top 5 European countries to retire and why. Are you considering living overseas and working as a digital nomad? Many of the factors that Martyna mentions apply to digital nomads as well.
We have been to all of these countries except for Cyprus. It is an island country located in the eastern Mediterranean Sea. It is geographically in Western Asia, but its cultural ties and geopolitics are overwhelmingly European. Cyprus is high on our to-do list and looks incredible.
---
Retirement is a time for well-deserved rest after a long and hard-working life. Many retirees seek the perfect location for their golden years, hoping to improve their quality of life. With its picturesque coastal towns to vibrant cities brimming with culture, Europe surely has a lot to offer. But – with so many places to choose from, it can be hard to decide which is the best. That's why Passport Photo Online put together a 2023 ranking of the best places to retire in Europe based on four metrics: safety, healthcare, affordability, and weather.
Why Should You Retire in Europe?
Retirement in Europe is seen as a time to savor the rewards of hard work rather than the end of your productive life.
With numerous opportunities to learn new things and expand your horizons, retiring in Europe can be a truly enriching and fulfilling experience. Whether you're interested in exploring the local art scene, immersing yourself in a new language or culture, or simply enjoying the countryside's natural beauty, there is always something new and exciting to discover.
Affordable healthcare and a lower cost of living compared to the US makes retiring in Europe a comfortable and stress-free experience. Retirees can easily enjoy a more relaxed lifestyle without sacrificing their standard of living. They can take advantage of the abundant cultural offerings, travel opportunities, and excellent food and wine without breaking the bank.
1. Malta
Malta is the best European country for retirement, and it's not hard to see why. The Mediterranean island offers retirees a combination of great weather, excellent healthcare, and stunning scenery. With its mild climate and plentiful sunshine, Malta's weather is near-perfect, even in the winter when temperatures stay at a comfortable 60°F (15°C). This makes it an ideal location for retirees who enjoy spending time outdoors and engaging in various leisure activities.
Moreover, Malta's healthcare system is world-class, providing high-quality medical care to its residents, which is free or subsidized. Retirees who may have concerns about healthcare costs can rest easy knowing they are in good hands on the island.
Malta is also home to a rich cultural history and picturesque landscapes, making it a great place for exploration and adventure. From the stunning coastlines to the Baroque churches and medieval architecture, there is always something to discover in this beautiful country.
The top three cities to retire in Malta:
Valletta (capital): a peaceful and serene atmosphere
St Julian's: vibrant nightlife scene
Marsaxlokk: seafood galore
2. Cyprus
With its impressive average of 3,314 hours of sunshine each year, Cyprus is ranked as the second-best European country to retire in.
Aside from the weather, Cyprus also offers a lower cost of living compared to many other European countries and affordable healthcare. This can be a huge advantage for retirees who may be looking to make the most of their retirement funds.
Moreover, Cyprus is known for its low crime rates, which can provide an added sense of security and peace of mind for retirees. The friendly, welcoming culture is also a big plus for those looking to retire in a place where they can feel at home.
And when it comes to things to do, Cyprus has plenty to offer. From exploring ancient ruins to soaking up the sun on the beach, you'll never find yourself looking for things to do.
The top three cities to retire in Cyprus:
Paphos: affordable real estate
Limassol: business capital
Nicosia (capital): touristy and lively atmosphere
3. Italy
Italy is an excellent destination for retirees, with many things to offer. Although the cost of living may be average, the country has many other appealing features that make it an ideal place for retirement.
One of the main attractions of Italy is its pleasant climate, which can be experienced in various regions throughout the year. In addition, Italian cuisine is world-renowned, providing retirees with endless opportunities to savor delectable dishes that will leave them feeling satisfied.
Another notable feature of Italy is its breathtaking landscapes, with stunning scenery that is sure to capture your heart. Whether it's the rolling hills of Tuscany, the sun-kissed beaches of Sicily, or the majestic lakes in the north, there are plenty of stunning places to explore and enjoy.
The top three cities to retire in Italy:
Sicily: low cost of living
Rome (capital): mix of culture, history, and food
Padua: friendly and welcoming
4. Sweden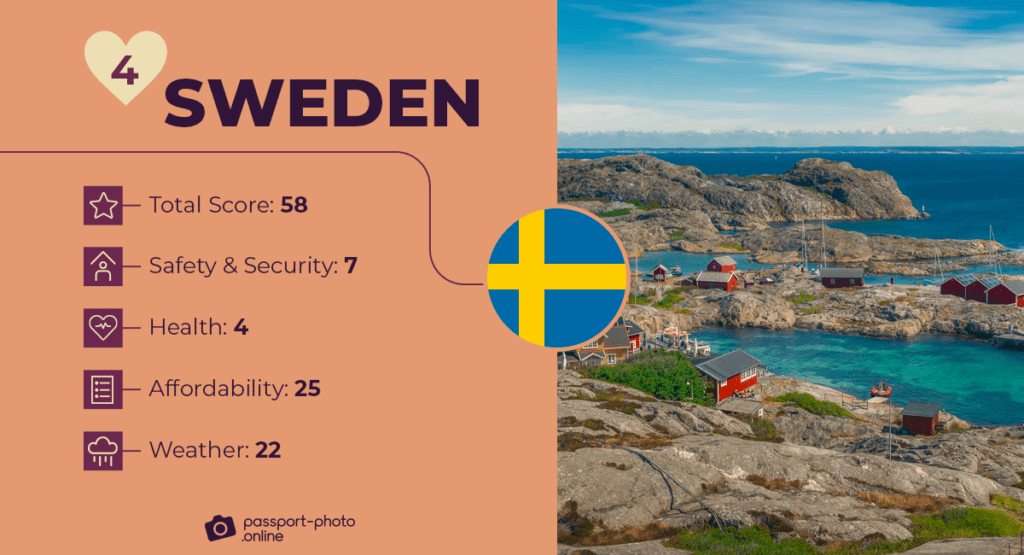 Sweden may not be the most obvious choice when you think of retirement destinations, but it is a remarkable option, securing the fourth spot in the rankings.
One of the reasons Sweden is such an attractive choice is due to its first-rate healthcare system. Retirees can benefit from affordable, high-quality healthcare services, including free preventive care.
Safety is another aspect that Sweden is renowned for, with a low crime rate and minimal risk of natural disasters, making it a peaceful and secure place to retire.
Swedish cities are generally pedestrian-friendly and offer an array of entertainment and dining options. Whether exploring the cultural scene, going to local markets, or trying Swedish delicacies, retirees can find plenty to do and enjoy during their leisure time.
The top three cities to retire in Sweden:
Stockholm (capital): green and diverse
Gothenburg: recreation, culture, and arts
Malmo: warmer climate in winter
5. Spain
Last but not least, there's Spain.
It's one of the sunniest European countries so you can enjoy great weather all year round.
The country is also home to abundant olive groves, vineyards, and fruit orchards, which produce some of the finest ingredients for mouthwatering regional dishes and world-class wines.
Whether you want to savor Catalonia's famous paella, sip Rioja in La Rioja Province, or enjoy a glass of Pedro Ximénez in Andalusia, Spain won't disappoint.
The top three cities to retire in Spain:
Madrid (capital): mix of traditions, culture, and delicious dishes
Alicante: friendly and welcoming with a small-town feel
Valencia: beach town
Traveling soon? Check out if your destination is one of our Country Travel Guides
Best Countries in Europe to Retire Ranking
Are you curious how other countries rank? Check out the ranking of the 37 countries in Europe.
How to Retire in Europe: Actionable Tips
Once you've picked your dream destination, it's time to look into how to establish residency there.
Now—
It's important to understand that each European country has visa and residency requirements.
Some might require evidence of a minimum income level, while others will ask you to show substantial savings or even purchase real estate.
That's why it's best to get professional advice on visas, residence permits, taxes, insurance, and more before you decide to move.
Interested in how you can travel for free? Check out our article here.
Writer's bio
Martyna Inkielman in a content writer at PhotoAiD. She enjoys writing about travel and lifestyle topics. When she's not writing, Martyna can be found exploring new cuisines, painting, and taking analog photos.
© 2023 Wanderers Compass All Rights Reserved
Thank you for learning about the 5 Best Countries to Retire in Europe and stopping by Wanderers Compass Travel Blog. We hope to welcome you back soon!
Check our most recent blog posts
Our favorite travel insurance site!
If you book a trip, don't forget to get travel insurance within 14 days of your first booking. We could not be stronger advocates of being well-insured. Not just for the little stuff but the big things like medical emergencies. We never leave home without it. Over the years, we have used many sites but have now found our go-to place. Squaremouth.com does a fantastic job; it has a user-friendly interface, uses top-rated and reputable insurance carriers, and most policies cover COVID-19 medical issues and cancellations. They also mediate on your behalf if you have problems with your policy.
To empower you as a consumer, we suggest you read our blog post on the importance of travel insurance and how to get the best coverage from top-rated companies for an affordable price.
Medical transport back home from anywhere in the world
They are the premier global air medical transport. One caveat to travel insurance is that medical evacuation usually gets you to the closest facility to care for you. Medjet gets you back to the U.S. to the hospital of your choice once you are stable enough to fly. They cover COVID-related transport as well.
Medjet carries its own policies. The policy is only for transport and no other aspects of travel insurance. They have individual trip policies starting at $99 and annual policies for around $300. Most of their policies limit the age to 74 and younger. Prices are not based on age below that.
To learn more about how Medical Evacuation membership with Medjet Assist works, check out our blog post for a more detailed review.
Hotels, home rentals, BNBs, flights, and other transportation & tours
Expedia is a US-based company whose mission is to power global travel for everyone and everywhere. Whether planning a family vacation, booking for business, or organizing the trip of a lifetime, they are a fantastic resource. Wanderers Compass focuses on independent travel, and using sites like Expedia makes that possible. Every aspect of travel you need, from airfare, accommodations, rental car, and cruises to activities to do at your destination, can be booked on Expedia.
Hotels, Home rentals, BNBs, Flights, and other Transportation & Tours
Booking.com connects millions of travelers to memorable experiences, various transportation options, and incredible places to stay – from homes to hotels and much more. It is one of the world's largest travel marketplaces for established brands and entrepreneurs of all sizes.
We always check Expedia and Booking.com to verify prices. At times, one is sold out of rooms while another at the same place has rooms. As well we often find some European hotels, especially smaller ones, on Booking.com but not on Expedia. It could be they are a Europe-based company. Try both before booking accommodations.
Are you traveling with a family or having an extended stay at your destination?
With over 2 million bookable vacation rentals, VRBO connects homeowners with families and vacationers looking for something more than a hotel for their trip. The VRBO community offers families or groups various rental property types such as condos, cabins, lake rentals, beach houses, etc.
VRBO is under the Expedia group ownership now, which many were worried about, but it hasn't panned out to be a concern. It is a massive network with access to all lodging forms should issues arise. Joelle has used VRBO for many years with her family with no problems.
As the leading marketplace for travel experiences, Viator believes that making memories is what travel is all about. And with 300,000+ experiences to explore—everything from simple tours to extreme adventures (and all the niche, interesting stuff in between)—making memories that will last a lifetime has never been easier.
With industry-leading flexibility and last-minute availability, it's never too late to make any day extraordinary. This one site has it all and has experiences throughout the world. We use them often during our travels, especially for food tours. We especially take the time to read the reviews provided.
An excellent source for travel essentials and guides
We now have our own Amazon Storefront with all our favorite travel accessories and gear in one place. Check out our travel store at the link below.
Amazon is one of the most comprehensive online shopping sources in the world. On behalf of their customers, teams worldwide provide lower prices, better selection, and rapid delivery. They offer a vast inventory, and their 1.7 million small and medium businesses worldwide selling on Amazon.com offer extensive options to customers.
We buy most of our travel books, accessories, and luggage from Amazon. We have ordered up to two days before travel and get what we need.
Welcome Pick-ups
(Airport and sightseeing service)
A global leader in ground transportation for travelers. They help hundreds of companies worldwide enhance their services and boost their revenue with our 5-star ride experiences and hassle-free automation.
Founded in 2015 in Athens, Greece, Welcome Pick-ups goes above and beyond the standard transfer service as the first company to deliver a holistic, in-destination travel experience. From the moment a traveler arrives at a new destination until they return home, Welcome accommodates all their travel needs (transfers, travel products, things to do, information) as the easiest, friendliest, and most personalized solution.
Do you feel like you are wasting time visiting an on-site photographer only to be embarrassed by the photo? Would you like control of the final product? Get the perfect VISA or passport photo online with PhotoAID.
When traveling, you often need to apply for official documents such as a passport, ID, and different kinds of licenses or cards. Those applications require a picture that must meet specific conditions to be accepted, depending on the country. Now, it is possible to take this picture at home without the help of a professional photographer. PhotoAiD allows you to take the perfect biometric photo that will be approved by you without leaving your home.
This article contains affiliate links. If you use these links to buy something, we may earn a small commission at no additional cost to you. Thank you!
Do you have a question for us or have a comment?