Cover photo from Skinos Mastiha Official Website
Our Sixth Featured Libation of the World comes from the island of Chios, Greece.
What would you say if you had to describe Greeks in just a few words? We would say they are some of the most hospitable people we have come across in all our travels. Tourism is a major industry in Greece, but that doesn't always translate to feeling appreciated and welcomed as a guest. One of the most striking traits in Greece is in most restaurants, especially local places; you will be provided at least one and, maybe, several times a free food or drink at every meal. That was our experience not only on the mainland but on Mykonos, Santorini, and Crete.
It expresses their appreciation for your patronage, a gift of sorts to say thank you. In our most recent travels in 2021, we were often greeted with a complimentary appetizer. We would then be given a complimentary small carafe of liquor and dessert at the end of the meal as they left the check. These offers of kind hospitality were always welcome and lovely. In all our travels so far, it is unique to Greece.
Our Introduction to Mastiha
During Joelle's first trip to Greece with her sister, the liquor given complimentary at the end of the meal was almost exclusively Mastiha. (Our 2021 trip was a mix of Mastiha and Vinsanto.) We never missed out on trying something new, so we went for it, not even knowing for sure what we were trying. It was quite a shock the first time. Imagine drinking tree bark when you were least expecting it. Technically that is what you are drinking. To our surprise, we quickly came to enjoy it and were disappointed when it wasn't provided at the meal's end.
Mastiha is created with resin from the Mastiha tree that grows on the island of Chios, Greece. The unique climate on the island's southern end is the only place in the world where the aromatic resin of this quality is cultivated. There is quite a story to this unique herbal liquor with its magical qualities. As you look closely, there are Mastiha products everywhere in Greece. From candies, elixirs, cough drops, digestive aids, toothpaste, deodorant, shampoo, gum, sunscreen, skincare, coffee, cereal bars, a culinary herb…..you get it. The Greeks love their Mastiha; in any form, they can get it.
What is Mastiha?
Mastiha starts as a semi-transparent sap that solidifies in yellowish teardrop blobs. It's native to the southern side island of Chios in Greece. There have been attempts to graft such trees in Italy, Turkey, and northern Chios with no success. It is due to the combination of the volcanic soil of southern Chios, an exceedingly dry micro-climate, and perfected eugenics over generations where only the best-yielding trees were propagated.
Sold whole or ground, mastiha is used as a flavoring in cooking and as a fragrant, refreshing additive to cosmetics and personal hygiene products. It is also found in paint and varnishes; mastic is added to such products for its oily properties and color.
You may have already had some without realizing it. It is extensively used in Eastern Mediterranean and Arab cuisine in desserts, pastries, pudding, candy, fruit preserves, and to flavor beverages like tea or coffee. Mastiha can be used in both sweet and spicy dishes as a spice. It is popular in meat dishes with lamb, fish, poultry, and goat. It can even be a natural chewing gum (mastic gum). When ground and mixed with sugar or salt, mastiha is excellent for flavoring savory or sugary preparations.
What does it taste like?
Musky and aromatic, mastiha has a distinct and refreshing earthy flavor of wood, fresh trees, and pine. It sounds strange, but trust us, it is terrific. When drinking the Mastiha spirits, that is precisely how you feel, refreshed.
History
For almost 3.000 years, the power of mastiha has been around. It has spread throughout the world through emperors and adventurers. Mastiha has traveled to Genoa, Istanbul, Athens, and worldwide as a culinary delicacy known for its excellent digestive attributes.
The English word "masticate" comes from the Latin adaptation of the Greek word "to chew," which is mastichein. Back in the day, before toothpaste, the wealthy would chew mastiha to fight plaque and freshen their breath.
Chios Island
The Island of Chios is the fifth largest of the Greece islands in the northern Aegean Sea and is known for the unique and rare phenomenon of Mastiha cultivation. The local economy has prospered for centuries by cultivating lentisc trees that produce the aromatic "mastiha" resin. Mastiha is a resin retrieved from the mastic evergreen, a shrub of the species Pistacia lentiscus. Native to the Greek island of Chios, mastiha has a teardrop shape when solidified, earning the name "drops or tears of Chios."
Chios is known for its Mastiha, medieval villages, beautiful beaches, and fertile soil. It is a prosperous island known for its wealth due to its strong economy tied to mastiha. It is about a 35 minutes flight from Athens international airport.
What is the Mastiha tree?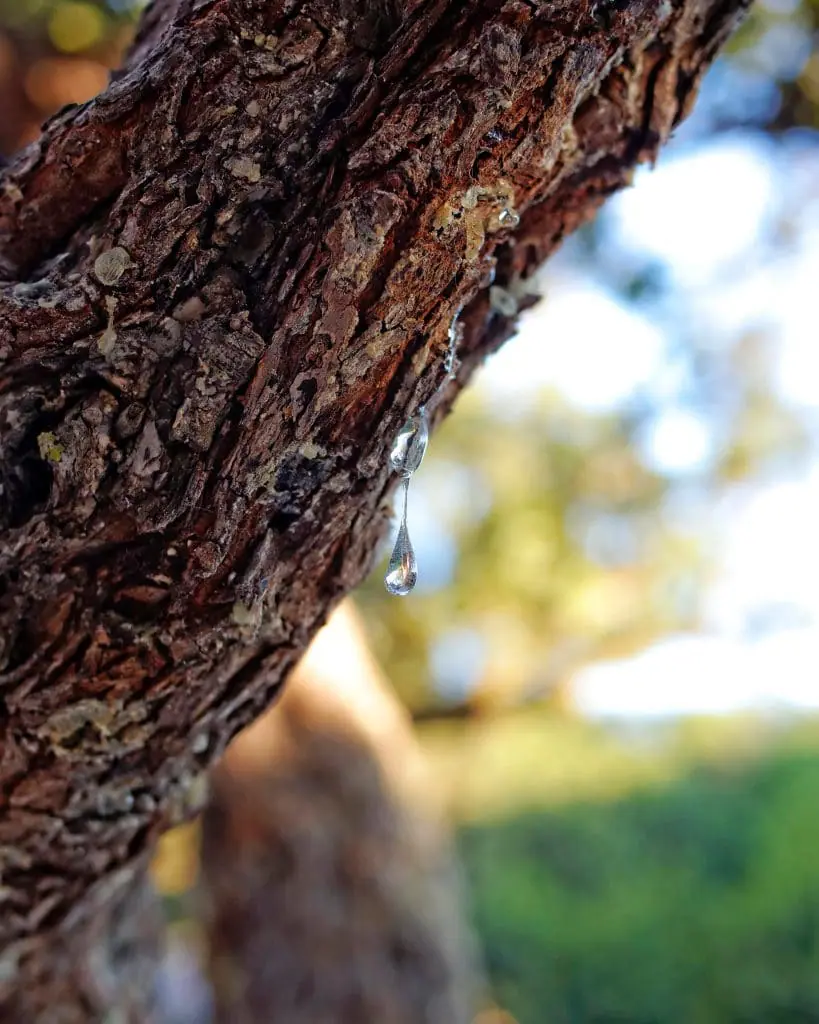 Mastiha trees are known as the "Crying Tree." They are predominantly only cultivated in one place in the world: the small island of Chios. The unique microclimate is the only one that can produce the aromatic resin needed to make Mastiha spirits. Harvesting takes place only one time per year during June and July. The process consists of several "prickings," and it takes several weeks to extract mastiha teardrops. The tree is "crying out" the Mastiha resins that take 10 to 20 days to get solid and collected.
Attaining the resin
About 24 villages in southern Chios Island are known as the mastiha villages. The tree is pruned during the winter months to keep its round shape. This is so the resin can be collected most efficiently. Spring brings back-breaking work that is required to harvest the resin.
The farmworkers prepare "the table" by weeding a round area below the mastic tree and sweeping it. They then spread limestone to create a flat surface where the resin will fall and congeal but not dissolve. They then make shallow incisions starting from the bottom and going to the top; the bottom produces thicker droplets and the top finer ones. About three to four weeks after the incisions are made, they collect the drops from "the table" and pick those remaining on the trunk. If it rains even once, the mastiha resin will be lost.
They gather their resin crop in the fall and clean it by sifting, washing, and removing impurities.
The Mastiha Process
Once the resin is harvested, Mastiha is carefully transferred in wooden coffins covered with boat textiles to a cool warehouse. The village residents pick out only the highest quality resins and clean them by hand. It is a thoughtful and tedious process.
The distillation process begins when Mastiha is mixed with fine alcohol (quality matters) and is put in bronze tanks – called an alembic, which is then heated by fire. This process results in a delicate extract with a unique aroma.
The next step is the blending, which occurs when fine-quality sugar, alcohol, and mineral water are added to complement the mixture and create a distinctive and balanced clear white Mastiha spirit. The spirits are bottled ideally in high-quality glass bottles and corked with a natural cork.
UNESCO and Protecting the Mastic Trees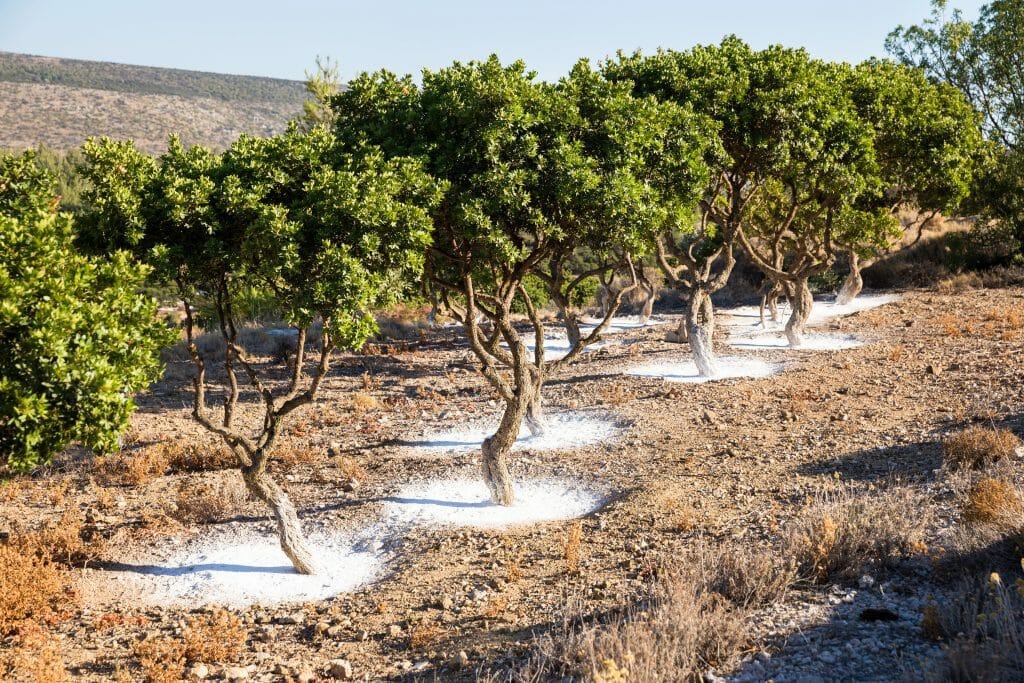 Though mastic trees grow all over the Mediterranean, only the variety in the unique microclimate of Chios's southern area produces the special aromatic sap from which the liqueur is made. Mastiha was given the Protected Designation of Origin (PDO) from the EU, and UNESCO recognizes its traditional harvest as a living heritage of humanity. The EU has also recognized mastiha as a traditional herbal medicine for digestive problems.
In August of 2012, disastrous wildfires spread across the island of Chios, scorching over 31,000 acres of land. As a result, more than half of the island's mastic orchards were destroyed. Because it has a protected designation of origin from the EU, the fire not only impacted Chios farmers, who lost almost 60 percent of their crops, but it also seriously impacted the global supply of the mastiha.
Fun Fact
The trade of mastiha took a big hit after 1900 when Thomas Adams mass-produced chewing gum in the United States under the name Chiclets from the resin of the Mexican sapodilla tree and marketed it worldwide.
Cooking with Mastiha
Mastiha is used as a spice and has to be mixed with salt or sugar to temper its strength because it is potent and can overwhelm the dish's flavor. If you wish to use mastiha, grind the frozen drops in a mortar and pestle. Measure what you have, and following a 1:10 ratio, mix it with salt or sugar. Mastiha is usually added in small amounts, as with all-powerful spices. A little goes a long way.
How to enjoy Mastiha
Served cold and straight-up as a digestive at the end of a meal is how it is most often served in Greece. It is how we first experienced it, and we prefer it that way to this day.
It also can be used in many different types of cocktails. Check out our wide range of cocktail recipes below.
Where to purchase Mastiha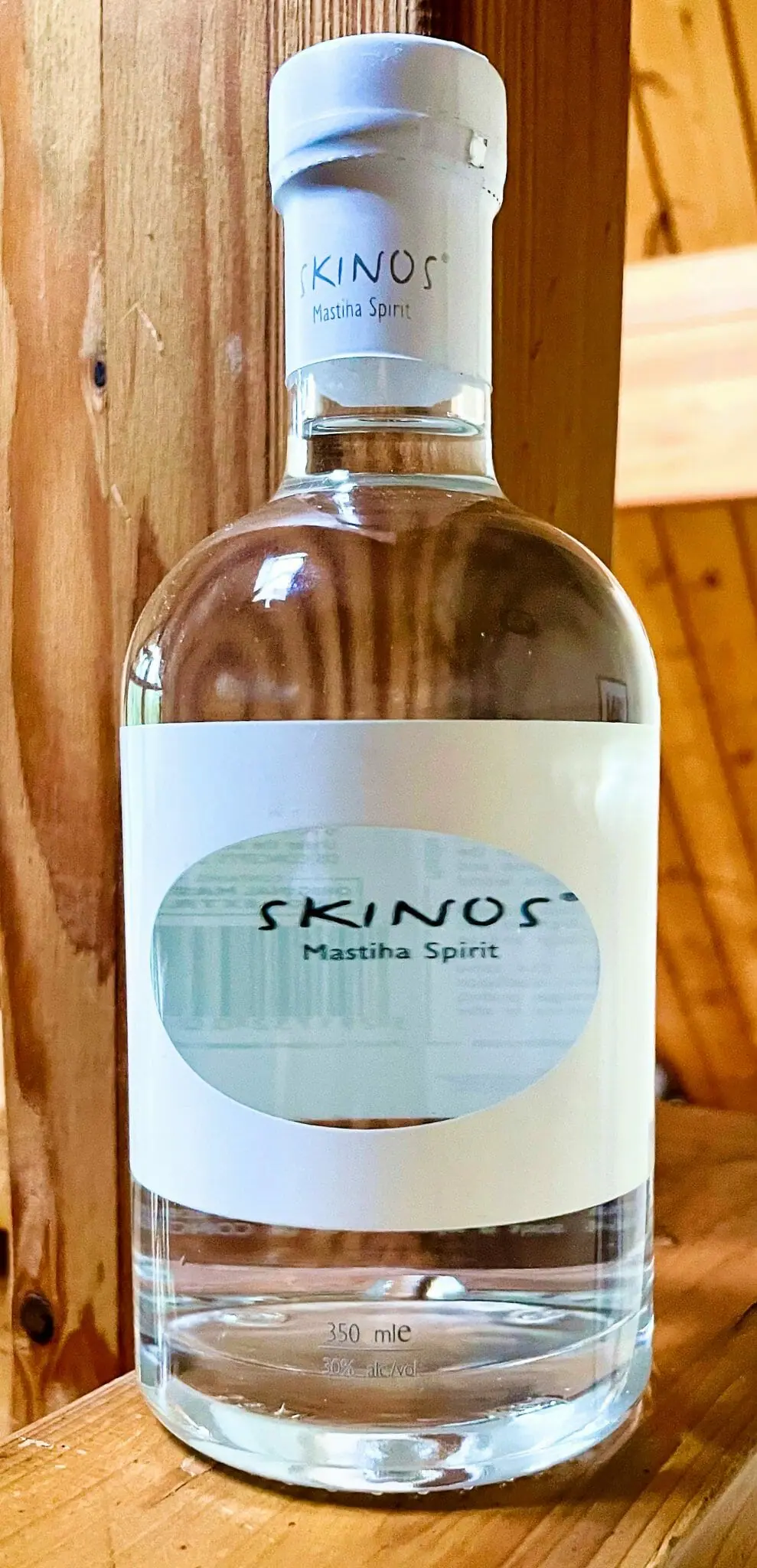 Masthia spirits have gained much greater popularity in recent years. This is believed to be due to the trend of creating new and unique cocktails. Mastiha is seen more and more in bartending competitions worldwide.
As a result, Mastiha can be easily found in most US liquor stores. However, it is fun to bring back from Greece as it is comparatively inexpensive. We always grab some in the duty-free shops before we board the plane in Greece. A sweet grocery store on the main level at the Athens airport has a great selection of Masthiha liquor and other products. Our favorite place to pick some gifts and snacks for the trip home or a bottle or two to launch our visit.
Places in the US to find Mastiha is Total Wine, or if you don't want to go out and live in a large city, you can get some delivered often within an hour or two by Drizly.com (Drizly is an affiliate link, and we may earn a small commission if you order from them). Even Amazon.com has Mastiha Spirits for sale as well as gum and spice.
Our favorite brand of Mastiha spirits is Skinos. It will also be the easiest to find in the US.
If you are interested in purchasing other mastiha products, especially medicinal ones, check out the Mastiha shop. It is fascinating all the products they carry.
May we suggest a few recipes for cocktails?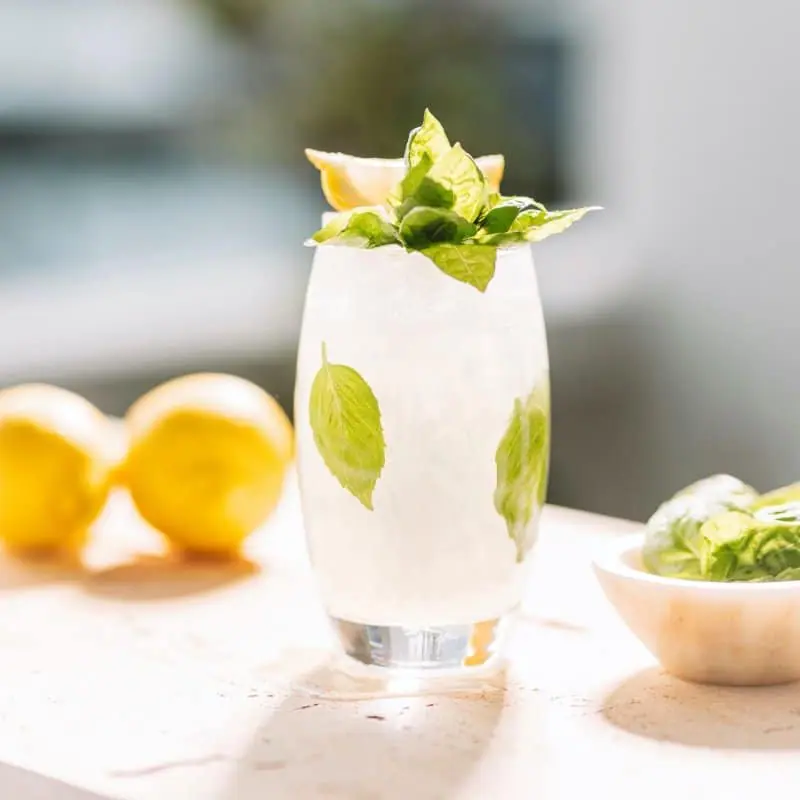 © 2023 Wanderers Compass All Rights Reserved
Planning a trip to Greece? Check out our Greece Travel Guide
Greece Photo Gallery
Check out our most recent blog posts
Our Recommended Travel Resources
Our favorite travel insurance site!
If you book a trip, don't forget to get travel insurance within 14 days of your first booking. We could not be stronger advocates of being well-insured. Not just for the little stuff but the big things like medical emergencies. We never leave home without it. Over the years, we have used many sites but have now found our go-to place. Squaremouth.com does a fantastic job; it has a user-friendly interface, uses top-rated and reputable insurance carriers, and most policies cover COVID-19 medical issues and cancellations. They also mediate on your behalf if you have problems with your policy.
To empower you as a consumer, we suggest you read our blog post on the importance of travel insurance and how to get the best coverage from top-rated companies for an affordable price.
Medical transport back home from anywhere in the world
They are the premier global air medical transport. One caveat to travel insurance is that medical evacuation usually gets you to the closest facility to care for you. Medjet gets you back to the U.S. to the hospital of your choice once you are stable enough to fly. They cover Covid-related transports as well.
Medjet carries its own policies. The policy is only for transport and no other aspects of travel insurance. They have individual trip policies starting at $99 and annual policies for around $300. Most of their policies limit the age to 74 and younger. Prices are not based on age below that.
To learn more about how Medical Evacuation membership with Medjet Assist works, check out our blog post for a more detailed review.
Hotels, home rentals, BNBs, flights, and other transportation & tours
Expedia is a US-based company whose mission is to power global travel for everyone and everywhere. Whether planning a family vacation, booking for business, or organizing the trip of a lifetime, they are a fantastic resource. Wanderers Compass focuses on independent travel, and using sites like Expedia makes that possible. Every aspect of travel you need, from airfare, accommodations, rental car, and cruises to activities to do at your destination, can be booked on Expedia.
Hotels, Home rentals, BNBs, Flights, and other Transportation & Tours
Booking.com connects millions of travelers to memorable experiences, various transportation options, and incredible places to stay – from homes to hotels and much more. It is one of the world's largest travel marketplaces for established brands and entrepreneurs of all sizes.
We always check Expedia and Booking.com to verify prices. At times, one is sold out of rooms while another at the same place has rooms. As well we often find some European hotels, especially smaller ones, on Booking.com but not on Expedia. It could be they are a Europe-based company. Try both before booking accommodations.
Are you traveling with a family or having an extended stay at your destination?
With over 2 million bookable vacation rentals, VRBO connects homeowners with families and vacationers looking for something more than a hotel for their trip. The VRBO community offers families or groups various rental property types such as condos, cabins, lake rentals, beach houses, etc.
VRBO is under the Expedia group ownership now, which many were worried about, but it hasn't panned out to be a concern. It is a massive network with access to all lodging forms should issues arise. Joelle has used VRBO for many years with her family with no problems.
As the leading marketplace for travel experiences, Viator believes that making memories is what travel is all about. And with 300,000+ experiences to explore—everything from simple tours to extreme adventures (and all the niche, interesting stuff in between)—making memories that will last a lifetime has never been easier.
With industry-leading flexibility and last-minute availability, it's never too late to make any day extraordinary. This one site has it all and has experiences throughout the world. We use them often during our travels, especially for food tours. We especially take the time to read the reviews provided.
An excellent source for travel essentials and guides
We now have our own Amazon Storefront with all our favorite travel accessories and gear in one place. Check out our travel store at the link below.
Amazon is one of the most comprehensive online shopping sources in the world. On behalf of their customers, teams worldwide provide lower prices, better selection, and rapid delivery. They offer a vast inventory, and their 1.7 million small and medium businesses worldwide selling on Amazon.com offer extensive options to customers.
We buy most of our travel books, accessories, and luggage from Amazon. We have ordered up to two days before travel and get what we need.
Transportation
Welcome Pick-ups
(Airport and sightseeing service)
A global leader in ground transportation for travelers. They help hundreds of companies worldwide enhance their services and boost their revenue with our 5-star ride experiences and hassle-free automation.
Founded in 2015 in Athens, Greece, Welcome Pick-ups goes above and beyond the standard transfer service as the first company to deliver a holistic, in-destination travel experience. From the moment a traveler arrives at a new destination until they return home, Welcome accommodates all their travel needs (transfers, travel products, things to do, information) as the easiest, friendliest, and most personalized solution.
Discover Europe by Train
Rail Europe sells train and bus tickets for travel across Europe. They cover 24 countries, 105 rail operations, and 20,000 stations. They are the official rail and bus operations agents in the UK, France, Spain, Italy, Germany, Belgium, Austria, Switzerland, Luxembourg, and the Netherlands. Rail Europe continues to add coverage all the time.
It is a fast, easy, and economical way to purchase European train and bus tickets. Eurail passes are also available to buy through their site.
Travel documentation services
Do you feel like you are wasting time visiting an on-site photographer only to be embarrassed by the photo? Would you like control of the final product? Get the perfect VISA or passport photo online with PhotoAID.
When traveling, you often need to apply for official documents such as a passport, ID, and different kinds of licenses or cards. Those applications require a picture that must meet specific conditions to be accepted, depending on the country. Now, it is possible to take this picture at home without the help of a professional photographer. The PhotoAiD app allows you to take the perfect biometric photo that will be guaranteed by yourself without leaving your home.
This article contains affiliate links. If you use these links to buy something, we may earn a small commission at no additional cost to you. Thank you!
Do you have a question for us or have a comment?