Everything you need to know to plan your perfect Cinque Terre visit
Located in Northern Italy, Cinque Terre consists of five villages. Cinque Terre, which stands for the five lands, is a string of old fishing villages that date back to the middle ages nestled into the cliffs along the coastline of the Italian Riviera in the region known as Liguria. The villages connect by mule tracks and could only be reached by sea or rail in years past. In many regards, that is unchanged. You will find virtually no cars in the towns. Where cars would park, you will find dozens of colorful wooden fishing boats lining the streets. There are no large museums or grand boulevards. It is sun, sea, wine, and nature at its best.
Cinque Terre is one of our favorite places on Earth. It is as close to perfection while being rugged and imperfect. During our first visit to this region, it was impossible not to be enchanted by the dramatic beauty of the Ligurian Sea. Still, it was the villages themselves that captured our hearts and imagination. Being in Cinque Terre is beyond anything you can put into words; it comes up short no matter how hard we try.
The Villages
All the villages are on the seafront, surrounded by lush olive trees and vineyard-covered hills. Monterosso, Vernazza, Corniglia, Manarola, and Riomaggiore are postcard-perfect Italian villages that seem surreal when in their presence. These communities have adapted to this hostile and rugged environment by living in compact villages on the coast or small settlements on the hillsides. The homes are built directly on the rock. The streets are steep and narrow, with endless stairs. You will find an intriguing mix of hard-working locals and awed tourists enjoying Cinque Terre's unique combination of Italian culture and stunning nature.
Oh, those images!
Images from Cinque Terre are some of the most famous in the world, and once there, you will understand why. What first strikes us is how colorful it is, as if the colors of the rainbow settled onto these ancient villages. The setting is surreal in many ways. The houses are huddled together in a cornucopia of color, ranging from vivid blues to bright reds, pinks, and oranges. Using natural stone for roofing gives the villages a unique and characteristic appearance. In the foreground is the glittering blue of the Ligurian Sea with the backdrop of the lush green hues of the mountain range. It is paradise, and you may extend your trip to get to know its story better. We met people who did just that.
A photographic gem that a photograph can never do justice
All those incredible photos we have seen truly can't begin to capture what it is like in person. There is something special here. The fact the five villages were built so long ago on terrain that seems almost impossible to live on, more or less build on. This was an isolated and challenging life. The harsh and often violent sea, along with the steep and rugged hillsides where they farm, speaks to the hardiness and resilience of the generations that have called Cinque Terre home. The land continues to require a life of backbreaking work. You may expect the locals to be stoic and harsh, but we found them warm and friendly, with a glint in their eyes and joy of life so many places have lost.
A way of life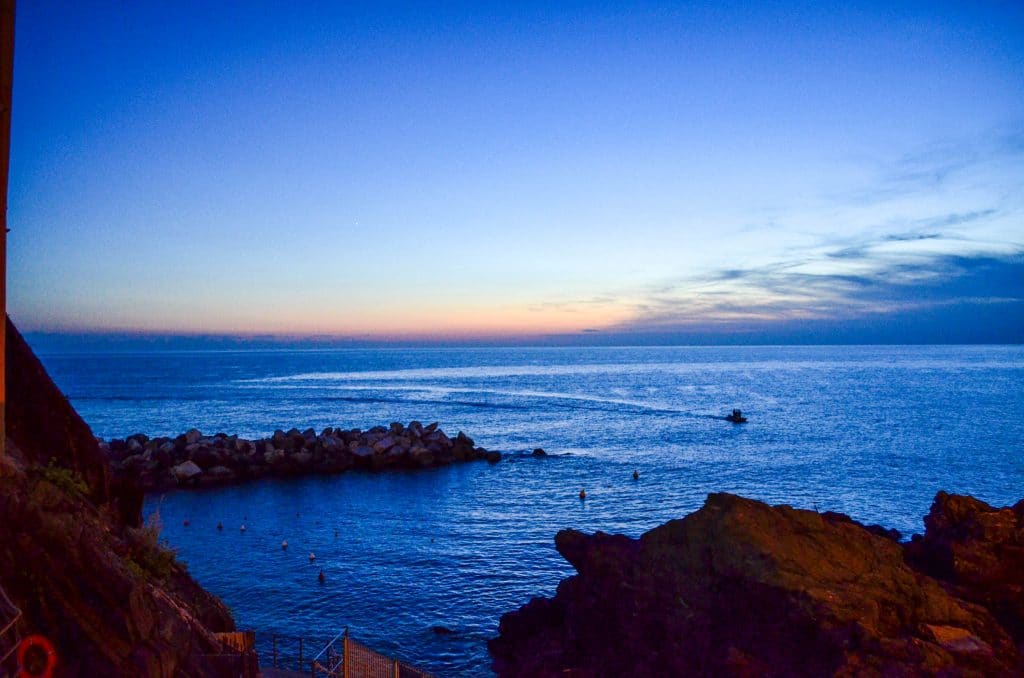 The locals believe in "dolce far niente," or the art of doing nothing. This mindset is about sitting back and relaxing. They value slowing down and enjoying what life has to offer. The work is hard, so they cherish their downtime. Try it when you visit; it may give you a new perspective on your life and travels. We all need to sit and smell the roses.
UNESCO Recognition
UNESCO designated the five villages of Cinque Terre, together with Portovenere, the islands of Palmaria, Tino, and Tinetto, as UNESCO World Heritage sites in 1997. They wrote, "The Ligurian coast between Cinque Terre and Portovenere is a cultural landscape of great scenic and cultural value. The layout and disposition of the small towns and the shaping of the surrounding landscape, overcoming the disadvantages of steep, uneven terrain, encapsulate the continuous history of human settlement in this region over the past millennium."
As a result of the designation in 1999, the National Park of the Cinque Terre was created. This UNESCO status allowed the preservation of the land in the Cinque Terre by becoming a National Park and creating walking trails in each village. As a result, it has offered even greater protections to the region.
Some backgroud on Cinque Terre
Cinque Terre is mentioned in documents dating to the 11th century. Though historical remains found here, such as bones and primitive tools found, prove the presence of the primitive individuals. Monterosso and Vernazza were settled first, and the other villages came later. In the 16th century, the residents reinforced existing forts and built new defense towers to defend against attacks by the Turks. Cinque Terre experienced an economic decline from the 17th to 19th centuries.
Recovery began with building an arsenal near La Spezia and a rail link to Genoa. The railway led to a loss of the population from the villages and a decline in traditional industries. Tourism growth in the 1970s brought some prosperity back to the region. Today, the Cinque Terre relies quite a bit on the money brought in by tourism. The villages and the surrounding countryside, with its many hiking trails, are now the Cinque Terre National Park which offers some of the best hiking in the world.
Agriculture at its core
Nestled within the hilly coastal terrain, these villages were remote for much of their lives. Over the centuries, locals built terraces into the hillside to help them farm against their steep hill backdrop. Although the villages overlook the Ligurian Sea, fishing was not the leading trade for the villages of Cinque Terre. The main trade in Cinque Terre was growing olives and winemaking. These practices were only possible due to the artificial terraces, as they created the right conditions for the grapes and olives to grow. They remain the main crops that grow in this region to this day.
Another crop that does well in this region is lemons, and limoncino is a popular local product. It is similar to the limoncello that harks from the Amalfi Coast of Italy but is creamier. Basil grows well here, and pesto is sold on many store shelves. To this day, the landscape is sustained by traditional farming. That said, the terraced agricultural system and water management are pretty vulnerable. A disaster occurred in October 2021 when torrential rain caused mudslides and deaths in Vernaza and Monterossa. Efforts in the future will need to help farmers keep their livelihoods and maintain the landscape.
Want to learn more about Italy? Check out our Italy Travel Guide
Fun fact about Cinque Terre
The unique biome of the water in the protected harbors of the villages is extremely rich and nurturing for various marine life. It is why the fishing here is so prolific, and the seafood is superb.
The Five Lands of Cinque Terre with Photo Gallery
Manarola
Sitting atop a massive cliff, Manarola is the most photogenic of the five villages. With its narrow alleys, ancient buildings, medieval relics, Gothic churches, and fascinating harbor, it resonates authenticity. There are also many fun shops offering local products and great restaurants. This is the village we fell in love with the most. It draws many day tourists during the peak of the day, which can take away from the experience. But once the last milk run train has left for the evening, the town transforms and is a joy to wander.
Sometimes in the evening, we didn't come across a single soul. Climbing what felt like thousands of steps, we explored the ancient alleys and pathways. Our wanderings revealed great pride and care in this humble community. Even though these buildings were hundreds of years old, they did not abandon them but made a life in them. It was captivating and heartwarming.
There are several hotels and guest houses that you can choose for an overnight stay in Manarola. When Joelle visited with her sister-in-law, they had a small one-bedroom apartment higher in the village. It was perfect. The building was old and had lovely views. Of course, it had a clothesline to dry our laundry. Livings as the locals do.
The village has the highest concentrations of grapevines than any other Cinque Terre village. Manarola's pride is its tasty Sciacchetrà wine, pairing well with cheese or desserts.
What to do in Manarola
Although its narrow lanes are lovely to explore, you must wander along the coast to the Manarola Scenic Viewpoint and admire the contrast of the colorful homes against the green terraces and grey rocks. Deep-sea swimming is popular here though there is no sandy beach. A fun activity is to watch the fishing boats brought down or up by a boom into the ocean. The harbor is high above the water, and the small fishing boats have no way down to the sea other than the boom.
Manarola has some fantastic restaurants (check out our list farther down in the post). Stroll down Via Renato Birolli and Via Antonio Discovo to view all your choices. Enjoy the fresh seafood from the local fisherman. The fresh anchovies in olive oil were incredible.
Other attractions include the Manarola Castle, the Gothic Church San Lorenzo, the Manarola Nativity Scene, Via Belvedere, wineries, sunset boat tours, and strolling the Via Dell'Amore (The Way of Love). This is the best village for adventure enthusiasts; Manarola is a great location to launch from for hikers.
Vernazza
Vernazza is the second most picturesque village in Cinque Terre. It has the only natural harbor in the region that is easily accessible to the town. It is also the most photographed waterfront in Cinque Terre. You will always see some fisherman hauling his boat in or out of the harbor. It is easy to get up close to the water. Vernazza is known for its majestic beauty and colorful waterfront homes stacked upon each other.
This village was once fortified to defend the Cinque Terre villages from sea pirates. The 15th-century lookout tower on the cliff's edge once protected the village from pirates. Reaching the top requires climbing up a steep staircase, but it's well worth it. This unforgettable panoramic experience will bring you back to days long past and will only add to the wonder of Vernazza.
What to do in Vernazza
The best thing to do here is to wander around and take in the buzzing atmosphere of the Piazza Marconi. You'll find rows of colorful buildings throughout this waterfront square containing the best bars, restaurants, and gelato shops.
Wander down the narrow cobblestone streets, explore the impressive Doria castle with gorgeous views, and visit the beautiful Gothic church Santa Margherita d'Antiochia. The building has an eye-catching octagonal bell tower and narrow arched windows that reveal a beautiful sea view. Hike up to various lookout points to get some of the villages' best views.
Corniglia
Not directly adjacent to the sea, Corniglia is the smallest and most relaxed of all the villages. That does not mean, though, it lacks beauty and charm. It is stunning, and the views on all sides are exceptional. Surrounded by vineyards high up the mountainsides, it is famous for its wine. The viewpoint from the village's end is the only place you can view all five lands of Cinque Terre.
If visitors miss a village, this is the one as Corniglia does not have direct sea access. Located about 550 above sea level, you must climb 365 steep stairs from the train station to the town of Corniglia. It is a long climb, but they are wide steps with railings. We took the steps slowly, and the views along the way were worth it. It is easy to stop and rest as you climb. Shuttle buses for a cost are also available. We chose not to take them due to the wait and lines.
What to do in Corniglia
Upon reaching the top, take time to soak in the sweeping views of the Mediterranean and all the villages of Cinque Terre. Stroll down the narrow streets and enjoy the colorful buildings while exploring the bustling village.
Attractions include Oratorio dei Disciplinati di Santa Caterina and Chiesa di San Pietro. San Pietro has a window carved from marble. It was interesting to get up close to the vineyards in Corniglia and watch how they work on these steep hillsides and transport the grapes.
If you want to stay the night, this is the less touristy of the villages. Once the day tourists leave, you won't find many tourists, and you will discover what life in Cinque Terre was like back before it became a well-known destination.
Riomaggiore
This village of Cinque Terre harks back to the early 13th century. Riomaggiore is the southernmost village in Cinque Terre and the first of the five villages if you take the train from La Spezia. It is compact, intimate, colorful, and perched high on the cliff edge, best known for its terraced vineyards and mesmerizing harbor. As the second-largest village, several hotel and restaurant options make it another good choice for visitors.
It has the genuine feel of a small Italian village. Riomaggiore is the ideal place to taste some gelato and limoncinos. We took the time to visit its small pebble beach; the beach wasn't much, but the walk down and setting was worth it. The town is quite hilly, but the panoramic views make it worthwhile.
What to do in Riomaggiore
Attractions in Riomaggiore include its Medieval Castle, the Sanctuary of Our Lady of Montenero, the Church of San Giovanni Battista, and the Oratory of San Rocco. The 19th-century Italian artist Telemaco Signorini's paintings of beautiful Riomaggiore led figuratively put it on the map.
Monterosso al Mer
Monterosso al Mare is the largest of the five coastal fishing villages and is most well known for its beaches, reefs, and crystal-clear turquoise water. It has the best beaches in Cinque Terre and is the only genuinely sandy beach in the villages. It's a beautiful spot for sunbathing and swimming, and you'll find gelato shops, restaurants, and various other shops along the promenade. Paragliding is a popular activity to do here too.
Monterossa al Mar is divided into Old and New Towns. If coming by train, it will drop you off in the Old Town area. The two sections are connected with a tunnel. The five villages' largest hotels, restaurants, and shops are in New Town and have a resorty atmosphere. Here you will also get to see remnants of the Art Nouveau Villa. The Old Town does have a character with many cute shops and places to eat. The village is alone worth visiting for its sweet-smelling lemon trees, olive groves, and white wines.
What to do Monterosso al Mar
There is quite a bit to do in Monterosso al Mar, starting with visiting the walls of the ancient fortress, the Fieschi Castle ruins, and the Aurora Tower. There is also the Gothic 14th Century Church of St. Giovanni the Baptist and the Capuchin Monastery. Next to the church on Piazza Don Giovanni Minzoni is the 16th-century Oratorio dei Neri, aka the Oratory of the Dead. The statue was almost destroyed during WW2.
Not our first choice
Monterosso al Mer was our least favorite of the villages. It felt too touristy and much less authentic compared to the other villages. In the late hours of the evening, it was still primarily tourists out and about. It would not be our choice where we would stay if staying the night in Cinque Terre though it is popular with many visitors. The resorts are known for their premier service and exceptional views. If beaches are your thing, rent some chairs, grab some beverages, kick back, and relax in the sun. It's a great way to spend an afternoon. This is where the best nightlife is in Cinque Terre.
Is a day trip worth it?
Joelle has done it both ways. If it is your first time, the best way to experience Cinque Terre is to plan for a few nights' stay. Trying to do it in one day will be rushing, and you will miss what makes Cinque Terre unique.
The second visit with Ryan was only a day trip. We left Florence by train at 6:30 am and took the last milk run train out of Manarola we could get that night. Believe it or not, we had a couple-hour stop in Pisa on the way from Florence. This was doable since Joelle had been there; we planned the day out intricately with highlights and saw four of the five towns. Corniglia was not a good idea climbing all those steps in the rain. It was a glorious day with a leisurely meal on the piazza in Manarola before catching the last milk run train back to La Spezia and then Florence arriving at 11:30 pm. Having done it both ways, even if you can give it only one night, DO SO!
The sunsets and sunrises of Cinque Terre
Before visiting, we had not read much about sunset or sunrise. It was mind-blowing to discover how spectacular they are. That alone helps you understand why so many people fall in love with this place. So many great Romantic authors, including Byron and Shelley, tried to capture the dazzling beauty of the Cinque Terre in their writings.
The best sunsets were when we were higher up in the villages. Plan your time so you can view them at their peak. Our favorite spot was at the top of Manarola. Another great spot is the high cliffs in Corniglia to get the best vantage point to see the sunset over the Ligurian Sea. The sky will fade from soft pink to an inky dark as the stars begin to wow you; if you can find a trattoria to watch it from while enjoying the local fare, even better!
Map of the Cinque Terre Villages
Guide to Hiking in the Cinque Terre
The Cinque Terre National Park is the smallest in Italy and was designated in 1999. It covers an area of only 15 square miles but packs in that area some gorgeous scenery, with a mix of rocky cliffs, scenic coves, clear blue waters, terraced vineyards, and olive groves linked by a network of trails.
Throughout the Cinque Terre National Park, visitors can explore 48 different hiking paths. The four most popular trails connect the five villages, but others take you up into the backcountry and provide longer alternatives to the main four. With so many options, you can see why hiking is one of the best things to do in Cinque Terre and draws visitors worldwide.
Trails in the Cinque Terre come in three degrees of difficulty: tourist, hiking, and skilled. Also, each path has a number, like 592-2, for Manarola to Corniglia. Some also belong to a route like SVA-2, which refers to the Cinque Terre's coastal path.
Always be prepared
If you plan to head into the mountains, bring proper gear. There are a few things you'll want to pack when hiking here. First and foremost, you'll want good hiking shoes if you take the more challenging trails or plan on walking a lot. You'll also need to bring a refillable water bottle. It also pays to be sun smart, so wear a hat and regularly apply sunscreen. The sun is intense in this section of the world.
Here are the main trails to consider
The Sentiero Alto (High Path) Path #1
The High Path is an old mule track, perhaps dating back to Roman times, which runs along the ridge which separates the coast from the backcountry. The central part is inside the Cinque Terre, starting at Levanto on the west and ending at Porto Venere on the east. It is over 25 miles long. It gets elevated at some points, crossed by many secondary paths that descend towards the sea, La Spezia, and Val di Vara. The Sentiero Alto is straight and well-maintained. The difficulty is a medium level but accessible to everyone reasonably fit and with the right gear. The whole path takes at least ten hours to hike, but splitting the route into several stages is recommended.
Sentiero Azzurro (Blue Path) Path #2
The Blue Path is one of the most popular pedestrian routes in the area because it is doable for most people for its spectacular views provided to the millions of walkers that hike it year-round. This path existed in Medieval times (except for the segment which coincides with the Via dell'Amore (Walk of Love), which dates back to 1900); it was the only road to the coast. From Sentiero Azzurro, dozens of mule tracks break off, which go up to the crest of the hill. Taking this path, you will find a tight network of routes crossing dry stone walls, small populated nuclei, and Santuari (Sanctuaries). Even though walking along the path in a single day is possible, we recommended splitting the walk into stages.
Sanctuary Trail
Halfway up the hill corresponds a Santuario (Sanctuary); the locals are tied to each Cinque Terre village by their deep devotion. Five churches linked to their respective villages by steep mule tracks; believers still use these routes today during annual festivals. The Via dei Santuari (road of the Sanctuaries) is of great historical interest; its horizontal route unites all five buildings of worship. This historical path can be completed on foot, horseback, or bicycle. It provides incomparable views of the Cinque Terre and exceptional historical and spiritual reflection opportunities. A simple route is doable for anyone and can be split up into stages.
Do I need a permit?
YES! To walk the coast path from Monterosso to Corniglia, you need a Cinque Terre Card. You can get them in villages, train stations, and huts at the start of each section of the path. You don't need a permit to walk between Corniglia and Riomaggiore via the hill path.
Best Time to Visit the Cinque Terre
The best time to visit Cinque Terre will depend on whether you want to hike, swim, or go sightseeing. If you'd like to spend time at the beach and swim, summer is when the water is warmest.
The trouble is that the Cinque Terre is busiest in the summer months of July and August. The Italian sun can be intense then, and hiking in that heat is rough. Then there's the fact that many things close down in August when Italians go on holiday.
For comfortable weather and good hiking conditions, it's better to consider planning to visit Cinque Terre in the shoulder season months of April, May, and September.
Plan for the rain
On a rugged stretch of coastline, Cinque Terre's position near the mountains makes it vulnerable to natural disasters. Rockfalls and landslides aren't unusual, but these events have become more common in recent years. On 25 October 2011, torrential rain caused floods and mudslides in Cinque Terre. Nine people were killed, and villages were severely damaged, particularly Vernazza and Monterosso. You will find remembrances of this tragedy in both these villages.
During both our visits, the sea was reported to be rough. It also rained often, so rain gear is a must in this area. The ferry that carried people between the villages was canceled, and the walking trails along the ocean closed. If you look at the photos, we had some nice weather most days, but the sea has a mind of its own.
Sustainability and preserving the magic of Cinque Terre
Some people have blamed the increasing occurrence of these weather events on the massive tourist traffic. It is estimated that 2.5 million people use the trails alone every year. That leads to damage to the environment. The trails can become unstable, leading to unsafe conditions and frequent trail closures. They were closed on both visits, which wasn't an issue since that was not part of our itinerary.
The locals understand the importance of tourism to their community. But what has drawn criticism from the locals is the cruise ship visitors. The mass volumes of people a cruise ship drops on an area are problematic; in Cinque Terre, it must be a nightmare. These cruise people swarm the villages for a few hours, not contributing much to the local economy. The expectation was they would shop and eat, but that has not been the case. There are efforts to ban cruise ships or limit them. To protect this fragile area, something needs to be done. Venice has banned large cruise ships; maybe Cinque Terre can learn from that. There is also talk of capping tourists, but that is only in the talking phases, and it seems it would be nearly impossible to implement except for the cruise ships.
Cruise impact and how to avoid it
If you stay a couple of days, look at the cruise schedules. Avoid the days these ships dump tons of people into these tiny towns. The ships dock in La Spezia, and passengers are brought in. July and August are the busiest months for cruise traffic. The times they tend to visit are between 10 am to 4 pm.
Summer, by default, brings many people to Cinque Terre. Both our visits were in the Fall. If you can visit during the off-season, that is ideal. But one part that can make the difference is staying in the area. Most tourists are day visitors. If you head out early morning and then late afternoon and evening, your experience will be very different. It was also when Manarola felt so authentic and genuine.
How to get to Cinque Terre
Situated on Italy's western coast in Liguria, Cinque Terre is roughly halfway between the cities of Genoa and Pisa. As far as the closest airports go, flying to Pisa or Genoa is your best bet. Both airports cater to many domestic and international destinations, although Pisa has a larger airport.
Once in Italy, the best way to travel to Cinque Terre is by train. To reach the Cinque Terre by train, you first must get to the town of Levanto along the coast to the north or the city of La Spezia to the east. These two places bookend the five villages of the Cinque Terre and are the last stops at either end of the Cinque Terre's local milk run train. La Spezia is the only city in the area that acts as a regional hub.
Train travel is a popular way to get around Italy, and if you need seat reservations on the Le Frecce and Intercity trains, it's best to book in advance at this link. Leave it until too late, especially in the summer, and all the seats may be gone. The other way is with the slower regional trains, which don't have seat reservations.
Arriving by car?
As for seeing the Cinque Terre by car, it comes with some complications. Although it may be a fun and scenic drive for some, the roads throughout the national park are windy and quite challenging. It also can be awful for people who get car sick. They are only wide enough for a single vehicle in many places, so you'll need to drive with caution and take it slow.
Once you've arrived in a village, only local cars may enter, if any at all. You will need to park in the lots at the top of the villages. Each car park has its own hourly or daily rates ranging from 15€ to 25€ per day. We suggest parking in La Spezia or Levanto, which is usually less expensive, and you can take the train there.
Distance between Cinque Terre and other Italian cities by train:
Genoa → Cinque Terre 1,5 hours
Pisa → Cinque Terre 1,5 hours
Florence – Cinque Terre 3 hours
Milan → Cinque Terre 4 hours
Rome → Cinque Terre 5 hours
Venice → Cinque Terre 6 hours
How to get around Cinque Terre
By Train
Running from La Spezia to Levanto and stopping at each of the five villages is a regular regional train that takes 30 minutes end-to-end. The more interesting and enjoyable way to explore Cinque Terre is to take the scenic railway that links the five villages. It only takes about five minutes from one village to the next.
Each of the five towns in the Cinque Terre has a train station, and although faster trains coming into the area don't necessarily stop at each one, there are slower trains that stop at each town. These are referred to as "milk-run" trains because they stop frequently. And may feel sluggish, but getting from the first to the fifth village takes less than 15 minutes. Beware of pickpockets; we learned that the hard way. Check out the shadow box at the end of this article to learn our milk run train led to our first and only experience with a pickpocket in years of travel.
Cinque Terre Train Pass
Working out the best train ticket will depend on how much you plan to take the train in the Cinque Terre. If you plan to go everywhere by train, consider buying the one or two-day Cinque Terre Card Treno at any station for unlimited train travel. Otherwise, look at individual trip tickets, as they may be cheaper.
The train is undoubtedly the most comfortable way to visit the Cinque Terre and the Ligurian Riviera. At each station of the Cinque Terre, you'll find information offices of the National Park, where to get tourist information and purchase the Cinque Terre Card, a special card issued by the National Park.
By Boat
If you prefer to visit Cinque Terre by boat, you're lucky, as ferry services link up the villages with neighboring Levanto and Portovenere. This is more expensive than the train, but a cheaper option is to take one boat trip between villages. Ferry timetables, routes, and costs can be found here.
The one risk you have with boats is they are weather-permitting. The Ligurian Sea is rough, and the ferries are often canceled. During both our visits, they were not running.
Where to stay?
All five villages have accommodations. How you choose will depend on how you prefer to travel. Monterosso may meet your needs if you are more into fancy hotels, pools, and resort-type experiences. The other villages will suit you better if you want a more traditional and authentic experience. By far, our top recommendation is Manarola. Either a hotel or a vacation rental would work well here. Rick Steves, which we are huge fans of, adores Vernazza. Below are links that will provide both hotel and vacation rentals.
Eating in Cinque Terre
Besides all there is to see, Cinque Terre is just as much about the food and wine. You get to enjoy the regional Ligurian cuisine that favors seafood and pesto. Cinque Terre is famous for its fresh seafood. Anchovies are staples, and they are nothing like you imagine. Fresh from the sea makes all the difference. The seafood pasta is the best we have had anywhere. Fun street food you'll find in many places is a seafood cone full of assorted seafood to munch on as you walk.
With so many vineyards, it's little surprise that local wine is on the menu. The wine produced in the Cinque Terre is primarily white wine, with the local specialty being Sciacchetrà, a sweet dessert wine. Ending the meal with the local limoncino would be an excellent way to cap off your evening.
We had four favorite restaurants in Manarola.
Trattoria Dal Billy This place was remarkable at the top of Manarola, with stunning views and sunsets. The climb will be an effort for some to get there. Reservations are a must. By far our favorite place.
Il Porticciolo Is a local favorite with excellent food.
Trattoria La Scogliera Is Popular and is excellent food.
Marina Picolla This restaurant often has poor reviews, but we enjoyed our meals here.
If you are used to Italy and its reasonable prices for food and beverages, you will find that is not the case in Cinque Terre. It can be pricey here.
Final thoughts
The magic and dramatic beauty of Cinque Terre have a way of staying with you long after you leave. Even after two visits, we are anxious to return, and we don't say that about that many places. It honestly captures your heart and soul.
If you want to do these villages right, stay a few days. A day visit may only disappoint. It deserves that time. Cinque Terre is that one-of-a-kind place that should be on everyone's bucket list. If you go, do it right and get the know the kind-hearted locals, take in the magnificent scenery, eat delicious food, hike the stunning extensive hiking trails, and sample the excellent wine. You will soon discover a piece of your heart was left in Cinque Terre, and you will be drawn back to visit again and again.
Perfection comes with bumps in the road
Lessons learned the hard way
It sounds like everything was flawless during our time in Cinque Terre. That is not quite the case. On our first day visiting the villages, we took the milk run train to each village. It was a packed station that morning with tons of tourists. As the train approached, the skies opened up. It was chaotic as everyone tried to board the train to get out of the pouring rain. Relief on the train soon turned into shock when Joelle's wallet was gone. It was the first time in all our travels that, knock on wood, a pickpocket got us. It was carelessness on our part, but that was not the first consideration in the rush to get on the train. Joelle had all her credit cards in that stolen wallet to add salt to the wound.
We got off at the next station, and the ticket agent called the previous one to see if a wallet had been turned in. It had not. The choice was to agonize over it or move on, so we moved on and went on to have a wonderful day. There is no reason to spoil the day; it can't change what happened and only gives the thief the win. Shit happens as it is said, and we weren't going to let it ruin our memories. It has become, over the years, part of the adventure when we tell the story.
Later, when we returned to the station where the theft occurred, we asked the attendant if a wallet had been turned in. He produced a box full of wallets and many passports, but not our missing one. That was eye-opening. They told us the thieves usually grab the cash and maybe some cards, then dump the remains.
Being prepared for these unpleasant situations
We always make several copies of our documents and cards to have with us and leave one at home with family. When this occurred, it was before we had cell phones that had international calling capabilities. After a quick call home to Joelle's husband, he pulled out the papers she had left, made calls, and had all the cards canceled and reordered. The Chase Sapphire Reserve card offers replacement within 48 hours from most anywhere you are in the world. We gave them our following address in Monaco, and the new card was there in short order. Luckily most of our cash and passports were back in the apartment. There was never any attempt to use the cards that were stolen.
This experience was a good lesson. Always separate cards and remove anything you don't need that day from your wallet. Our backpacks are now locked and theft-proof. Check out our favorite backpack on our Recommend Travel Gear and Accessories 2022 list. Joelle has been using the same Travelon Backpack since.
© 2023 Wanderers Compass All Rights Reserved
Check out our most recent blog posts
Our Recommended Travel Resources
Our favorite travel insurance site!
If you book a trip, don't forget to get travel insurance within 14 days of your first booking. We could not be stronger advocates of being well-insured. Not just for the little stuff but the big things like medical emergencies. We never leave home without it. Over the years, we have used many sites but have now found our go-to place. Squaremouth.com does a fantastic job; it has a user-friendly interface, uses top-rated and reputable insurance carriers, and most policies cover COVID-19 medical issues and cancellations. They also mediate on your behalf if you have problems with your policy.
To empower you as a consumer, we suggest you read our blog post on the importance of travel insurance and how to get the best coverage from top-rated companies for an affordable price.
Medical transport back home from anywhere in the world
They are the premier global air medical transport. One caveat to travel insurance is that medical evacuation usually gets you to the closest facility to care for you. Medjet gets you back to the U.S. to the hospital of your choice once you are stable enough to fly. They cover Covid-related transports as well.
Medjet carries its own policies. The policy is only for transport and no other aspects of travel insurance. They have individual trip policies starting at $99 and annual policies for around $300. Most of their policies limit the age to 74 and younger. Prices are not based on age below that.
To learn more about how Medical Evacuation membership with Medjet Assist works, check out our blog post for a more detailed review.
Hotels, home rentals, BNBs, flights, and other transportation & tours
Expedia is a US-based company whose mission is to power global travel for everyone and everywhere. Whether planning a family vacation, booking for business, or organizing the trip of a lifetime, they are a fantastic resource. Wanderers Compass focuses on independent travel, and using sites like Expedia makes that possible. Every aspect of travel you need, from airfare, accommodations, rental car, and cruises to activities to do at your destination, can be booked on Expedia.
Hotels, Home rentals, BNBs, Flights, and other Transportation & Tours
Booking.com connects millions of travelers to memorable experiences, various transportation options, and incredible places to stay – from homes to hotels and much more. It is one of the world's largest travel marketplaces for established brands and entrepreneurs of all sizes.
We always check Expedia and Booking.com to verify prices. At times, one is sold out of rooms while another at the same place has rooms. As well we often find some European hotels, especially smaller ones, on Booking.com but not on Expedia. It could be they are a Europe-based company. Try both before booking accommodations.
Are you traveling with a family or having an extended stay at your destination?
With over 2 million bookable vacation rentals, VRBO connects homeowners with families and vacationers looking for something more than a hotel for their trip. The VRBO community offers families or groups various rental property types such as condos, cabins, lake rentals, beach houses, etc.
VRBO is under the Expedia group ownership now, which many were worried about, but it hasn't panned out to be a concern. It is a massive network with access to all lodging forms should issues arise. Joelle has used VRBO for many years with her family with no problems.
As the leading marketplace for travel experiences, Viator believes that making memories is what travel is all about. And with 300,000+ experiences to explore—everything from simple tours to extreme adventures (and all the niche, interesting stuff in between)—making memories that will last a lifetime has never been easier.
With industry-leading flexibility and last-minute availability, it's never too late to make any day extraordinary. This one site has it all and has experiences throughout the world. We use them often during our travels, especially for food tours. We especially take the time to read the reviews provided.
An excellent source for travel essentials and guides
We now have our own Amazon Storefront with all our favorite travel accessories and gear in one place. Check out our travel store at the link below.
Amazon is one of the most comprehensive online shopping sources in the world. On behalf of their customers, teams worldwide provide lower prices, better selection, and rapid delivery. They offer a vast inventory, and their 1.7 million small and medium businesses worldwide selling on Amazon.com offer extensive options to customers.
We buy most of our travel books, accessories, and luggage from Amazon. We have ordered up to two days before travel and get what we need.
Transportation
Welcome Pick-ups
(Airport and sightseeing service)
A global leader in ground transportation for travelers. They help hundreds of companies worldwide enhance their services and boost their revenue with our 5-star ride experiences and hassle-free automation.
Founded in 2015 in Athens, Greece, Welcome Pick-ups goes above and beyond the standard transfer service as the first company to deliver a holistic, in-destination travel experience. From the moment a traveler arrives at a new destination until they return home, Welcome accommodates all their travel needs (transfers, travel products, things to do, information) as the easiest, friendliest, and most personalized solution.
Discover Europe by Train
Rail Europe sells train and bus tickets for travel across Europe. They cover 24 countries, 105 rail operations, and 20,000 stations. They are the official rail and bus operations agents in the UK, France, Spain, Italy, Germany, Belgium, Austria, Switzerland, Luxembourg, and the Netherlands. Rail Europe continues to add coverage all the time.
It is a fast, easy, and economical way to purchase European train and bus tickets. Eurail passes are also available to buy through their site.
Travel documentation services
Do you feel like you are wasting time visiting an on-site photographer only to be embarrassed by the photo? Would you like control of the final product? Get the perfect VISA or passport photo online with PhotoAID.
When traveling, you often need to apply for official documents such as a passport, ID, and different kinds of licenses or cards. Those applications require a picture that must meet specific conditions to be accepted, depending on the country. Now, it is possible to take this picture at home without the help of a professional photographer. The PhotoAiD app allows you to take the perfect biometric photo that will be guaranteed by yourself without leaving your home.
This article contains affiliate links. If you use these links to buy something, we may earn a small commission at no additional cost to you. Thank you!
Check out our most recent posts
Do you have a question for us or have a comment?