Bringing Italy Home
Limoncello is a sweet and tangy Italian Lemon Liqueur mainly produced in Southern Italy, along the Amalfi coast, and in the region known as the Sorrentine Pennisula. This delightful burst of lemon with a punch is made from the zest of lemons. It is traditionally served chilled at the end of the meal as a digestive. You can enjoy it on its own but also with desserts. Limoncello pairs well with any chocolate type dessert (citrus and chocolate always go well), a pear tart, and can be drizzled-over vanilla ice cream. It beautifully compliments classic Italian tiramisu. That said, you will often observe people enjoying a chilled glass of limoncello midafternoon as it makes a lovely aperitif. Hence, there is no wrong time to enjoy this intriguing drink.
Though it is easier to grab some at the store for those of us who like to have fun in the kitchen, our homemade limoncello recipe will be fun to make. It is an easy recipe with few ingredients. The most crucial part is your lemons need to be organic, so visit your local Whole Foods or other organic markets. Homemade versions make unique and personal gifts too. Find a cool container for the limoncello, add two small liquor glasses, and you have an elegant gift for birthdays, anniversaries, and holidays. Or plan ahead and serve it to cap off your gourmet dinner.
The one aspect of making the homemade limoncello recipe is you need a bit of patience. Usually, it is about a 28-35 day process from start to finish. The longer it sits, the better. Wait it out, though; it will be worth it.
Want to learn more about the history Limoncello? Check out our post of Limoncello which was our December Libation of the World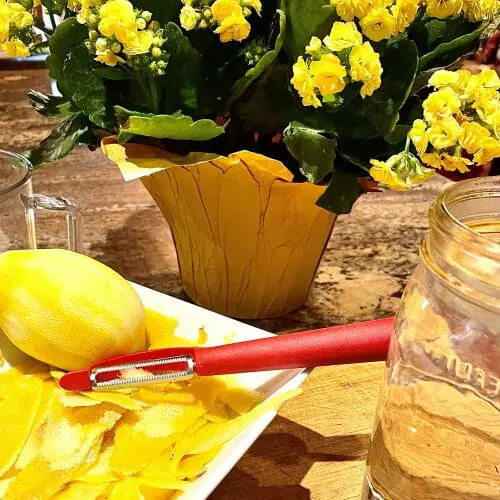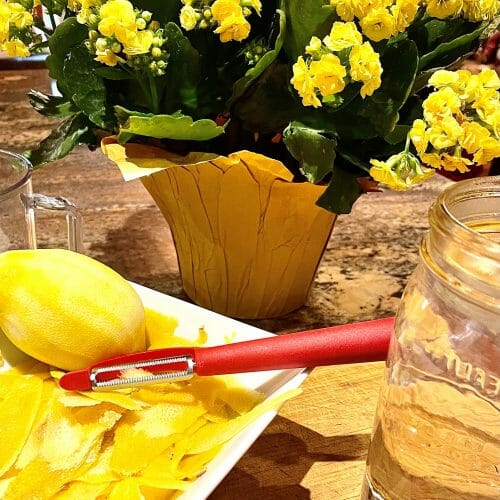 Homemade Limoncello
Citrus Perfection
From start to finish 28 to 35 days
Equipment
Peeler or microplane zester. (I used a Le Creuset swivel peeler, as seen in the pic, that worked beautifully. They run about $14 directly from Le Creuset)

2 One quart mason jars or a One 1 1/2 quart mason jar

Bottles of any size to place limoncello in, mason jars can be used
Ingredients
9

Organic Lemons Unwaxed and Untreated

Found in organic markets

1

Quart

Everclear (100% Vodka can be used but not encouraged)

1.5

Quarts

plus 4 ounces of Water

If you live in an area with chlorinated and/or fluorinated water it may be best to use bottled water.

3 1/2

Cups

White sugar
Instructions
Step One
Peel the 9 organic lemons. Only use the skin and not the white pith. A Microplane zester or a excellent quality swivel peeler works well.

Place the lemon skins in a large jar (mason jars work well) and add alcohol. Seal the jar and allow it to sit for two to three weeks, preferably in a cool place, until it is a bold yellow.
Step two
Bring 1.5 quarts of water to boil and add the 3 1/2 cups of sugar.

When the water cools, add the alcohol-soaked with the lemon rinds. Use a strainer to keep the lemon rings out of the water sugar mixture.

Swirl 4 ounces of water in the jar to capture the remaining lemon mix

Add the 4 ounces to the sugar mix
Step Three
Fill your chosen bottles with Limoncello and seal.

Let stand for two weeks before drinking
Notes
Always serve chilled
In Italy, they often will keep the limoncello in the freezer as the alcohol content prevents freezing. Ideally, chill the glasses as well. 
Alcohol content 60 proof
Check our other Italy Posts and Recipes
Authenticity at the Core Bringing home the best of Hungary We are delighted to…
December 11, 2022
Get to know this Tuscan Marvel "What is the fatal charm of Italy? What…
August 21, 2022
Bringing Home Portugal's Favorite Pastry One of the most important ways to experience a…
August 16, 2022
An Italian Photo Gallery
© 2021 Wanderers Compass All Rights Reserved
Do you have a question for us or have a comment?