Our Featured Libation of the World comes from the island of Santorini, Greece.


Greece, like any country, has unique regions, each with its specialties and persona. One of the most beautiful and fascinating is the island of Thira, known as Santorini to non-Greeks. The island is one of the oldest wine-growing regions in the world and has indigenous vines found in no other place on earth. With such a long history of winemaking that dates back millennia, you can imagine it has its own exceptional libation worthy of special recognition. Vinsanto is a sweet Greek wine made in a passito style (sun-dried grapes) and harks from Santorini, made with Assyrtiko grapes.
First, a bit about Vinsanto's home
The crescent-shaped island of Santorini is surreal in its beauty and has an energy that is hard to describe. The white-washed buildings with the backdrop of the deep azure Aegean Sea are stunning. But Santorini is much more than that; it is home to ancient civilizations and archaeological sites of buried cities 2000 years older than Pompei.
Santorini majestically rises out of the sea with a magnificent caldera (a collapsed volcano crater) sitting cradled within the crescent. The mythical legend of Atlantis is believed to have originated here. It is one of the most photographed locations in the world because the weather is near perfect, and the sea is the deepest of blues.
That impressive caldera is a testament to a massive eruption in 1613 BC. The explosion was one of the most devastating on planet Earth in the last 10,000 years and formed the Santorini we see today. The island is unique in that it is one of the few places in the world where people built after massive destruction and did so right into the rock face of the caldera. This tiny island draws visitors from all over the world to view the mystery of this natural wonder. To add to the mystique of this dramatic, stunning sunsets viewed from the caldera illuminate the horizon in ways that appear to be paintings on canvas.
The Unique Composition
The island of Santorini has rocky dry soil that contains basalt, granite, pumice, obsidian, and ash. It has a high silica oxide and metal content, making the soil acidic. Additionally, the island has scorching sunlight, minimal rainfall, and constant strong winds. You may assume this is the last place fruit can grow to produce wine; however, Santorini is a haven for delicious and unique wines. It is Greece's top destination for wine tourism. Evidence shows that the vines existed on Santorini before the massive eruption almost 4,000 years ago.
What is this island gem Vinsanto?
Vinsanto is a sweet white wine known as the "ambrosia of the gods." It's been renowned since the 12th century; however, it didn't get on the map until the 1700s, when it became favored in Russia. It remains a favorite dessert wine worldwide, often scoring over 90 points in wine competitions. Do not mistake it for Vin Santo, a wine from the Tuscany region of Italy. The main difference is Tuscany's Vin Santo gets its character from barrel aging, whereas Santorini's Vinsanto derives from sun-drying the grapes.
Vinsanto is a naturally sweet, velvety dessert wine. Even though it is red in color, it is produced from overripe white grapes. The grapes have an extra step upon harvesting. They are usually harvested in late August, laid to dry in the harsh Aegean sun for 6-8 days, and made into raisins for practical purposes. This process gives a concentrated, sweet, golden wine with an aroma of dates, quince, dried figs, honey, and caramel. As the wine ages, it darkens and takes on the intense aromas of dried fruit, nuts, coffee, and molasses. It holds a gentle minerality and acidity that balances out its sweetness.
The Vinsanto wine matures for years in oak barrels and then continues to develop in the bottle. The alcohol content is usually around 13%.
What is the main grape variety used?
It belongs to the category of wines with a Protected Designation of Origin – PDO Santorini. According to the regulations, it must come from grapes of the Assyrtiko variety by at least 51%, with the remaining types being traditionally from Santorini. The most common mix we saw was 85% Assyrtiko and 15% Aidani. There is no added sugar allowed in the designation. The blend of the remaining 49% of the grapes makes each Vinsanto very different. We can attest to that from our many tastings.
If you have traveled to Greece, you know it is one of the most hospital countries you will encounter. The tradition at most restaurants is to present you with a "gift" at the beginning and end of your dinner. This is often a complimentary appetizer to start your meal and a complimentary mini bottle of liquor and dessert at the end. In mainland Greece, it is usually Raki liquor. On Santorini, they give you Vinsanto. As you see in the photo with the decanter, they were incredibly generous that evening. How can you not love Greece?
Are you interested in visiting beautiful Santorini? Check out our photo gallery by clicking here.
The Fruit and the Soil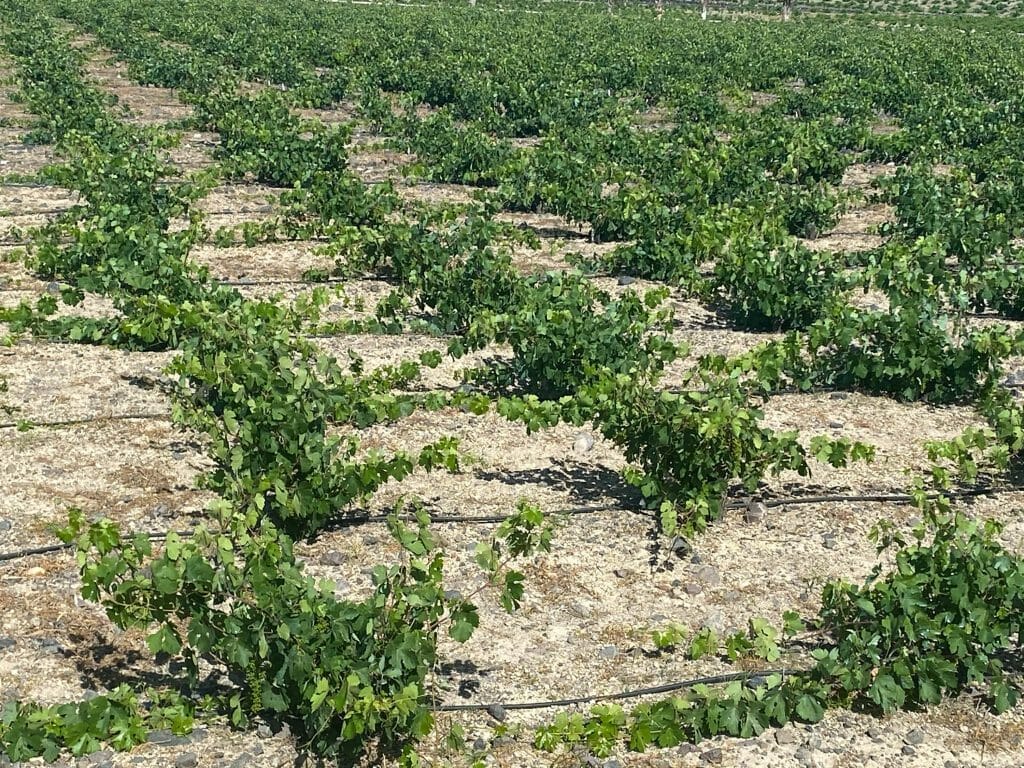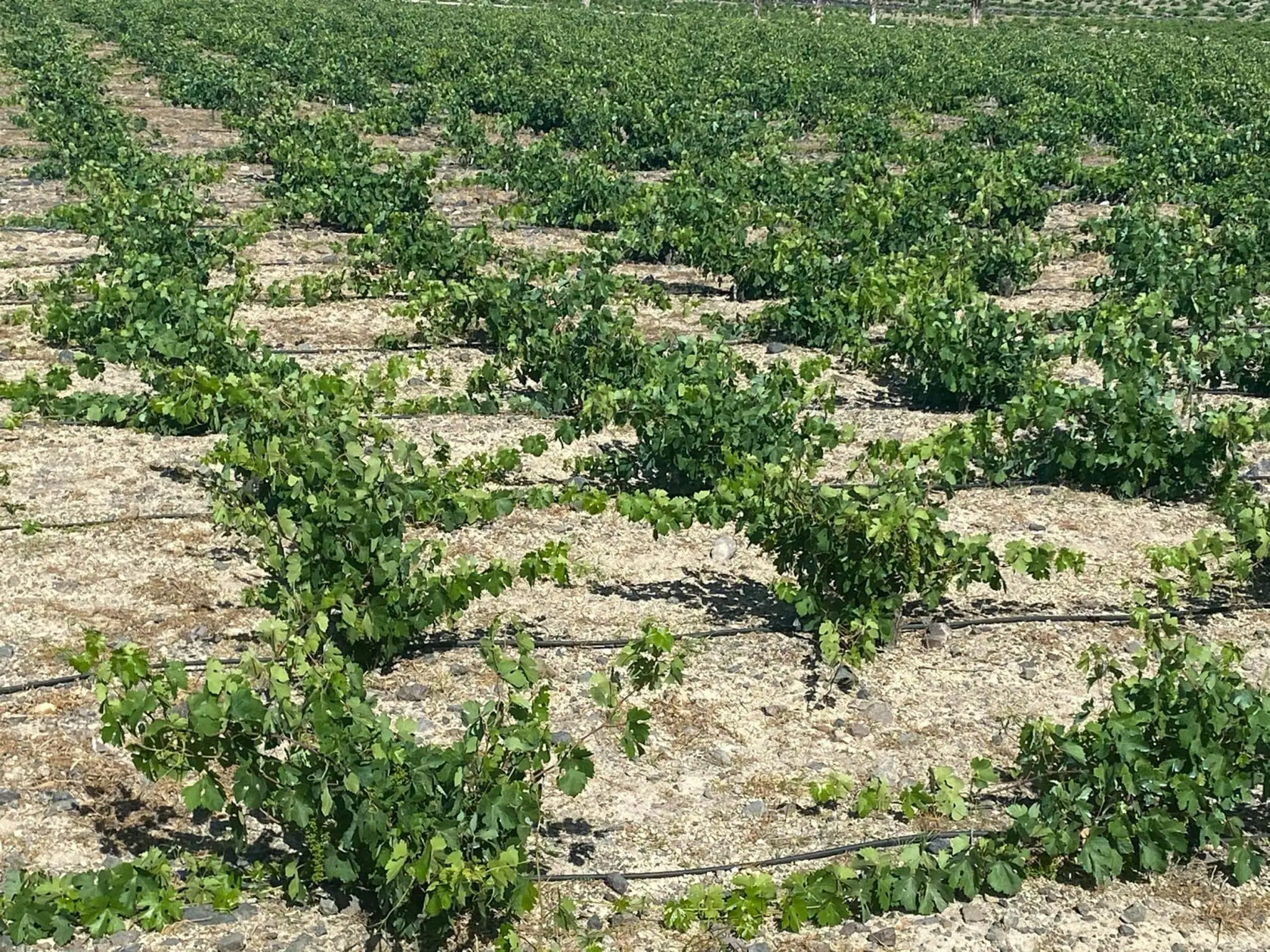 These are not standard grapevines, though. What appears from a distance as fields of low-lying weeds are the grapevines. The vines are trained to form coils, commonly called baskets, that are low to the ground. Grapes grown inside these baskets are protected from wind, and the leaves deflect sunlight.
The minimal rainfall Santorini receives in a year is an added strain on these grapes. Most of the water they need comes from sea mist, which is absorbed by the pumice stones that cover the soil on the island. The pumice then releases the water to the vines. The result of these harsh conditions is a very low fruit yield. In the early years of starting new vines, irrigation lines are used but are removed once established.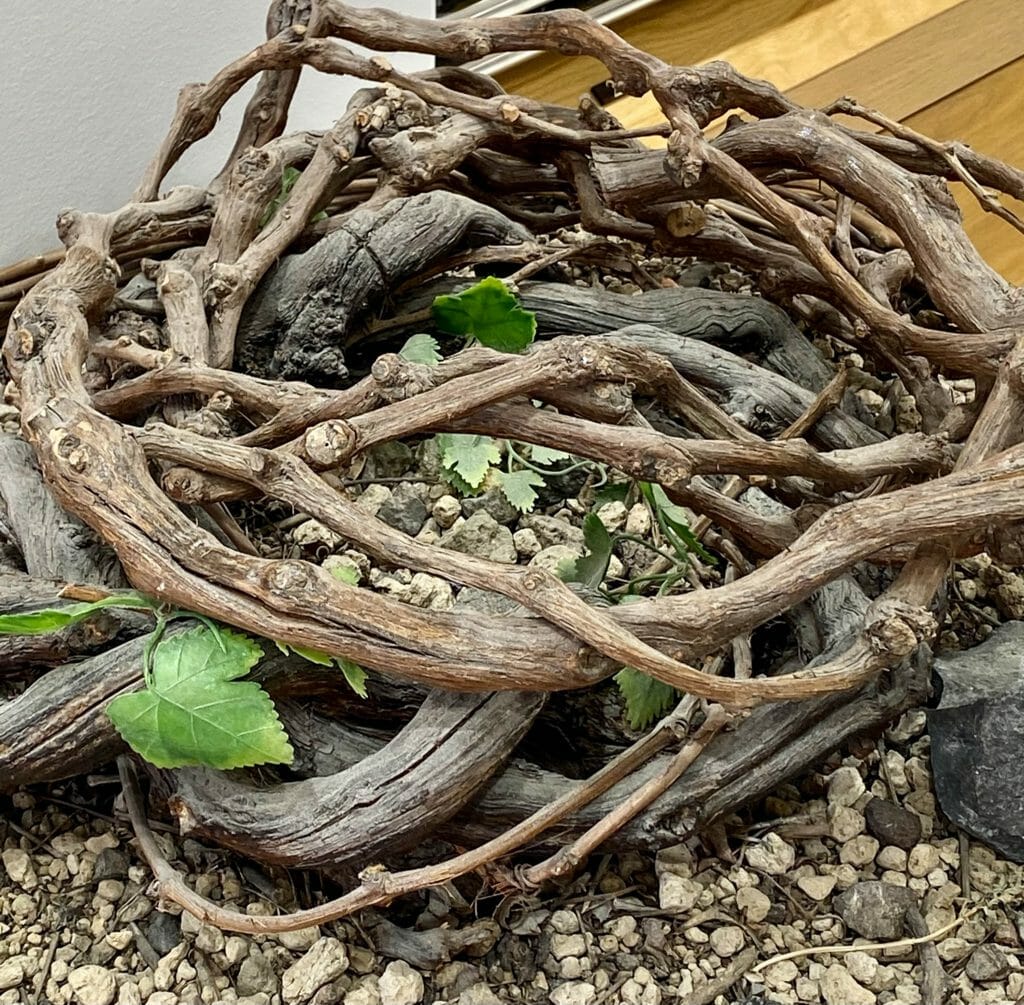 The unique soil and growing conditions bring the wine a lower PH and an enjoyable mineral taste. Wines from Santorini are fresh, acidic, have higher alcohol, and have a bit of salinity. Due to growing in volcanic soil, they are full-bodied wines that have the potential to lay for ten years, which is unusual for white wine. The wine is truly unique and indigenous to the island. There are nine indigenous grape varieties, and the most common is Assyrtiko. Traces of this dry white wine have been found in the prehistoric village of Akrotiri, buried under the volcanic eruption of 1613 BC.
The vines on the island are almost impenetrable by disease. During the late 19th-century phylloxera epidemic, most vineyards in Europe were destroyed, yet the grapes on the island were untouched. After the devastation, more interest grew in Santorini wines. It also strengthened the island's resolve not to introduce varietals other than those indigenous to the island.
How best to experience Vinsanto
The wine tasting was essential to the trip during our visits to Santorini. The first time we took a wine tour that regaled us with the fascinating story of the wines. Our tour guide was an Oenologist (study of wine and winemaking) professor from Athens who did this as his summer job. His passion for wine had us all spellbound. It was an excellent way to be introduced to Santorini wines and something we would encourage you to do. Due to this, on our second visit, we visited wineries independently over several days. We tried every varietal and were amazed at the differences in the wines.
There are over 20 wineries to visit in Santorini. It has more wineries in its small space than anywhere in the world. So there will be plenty to enjoy. In the end, our absolute favorite was Vinsanto.
Picking which is the best can get tricky with Vinsanto as each year, each method, and each winery is unique. Then, of course, some years have better grapes than others. One reputed to be excellent was in 2013. One rule is the older it is, the better it will be. But even in our various tastings, we landed up loving an 8-year Vinsanto vs. the older ones. It is when the wine tastings become even more critical.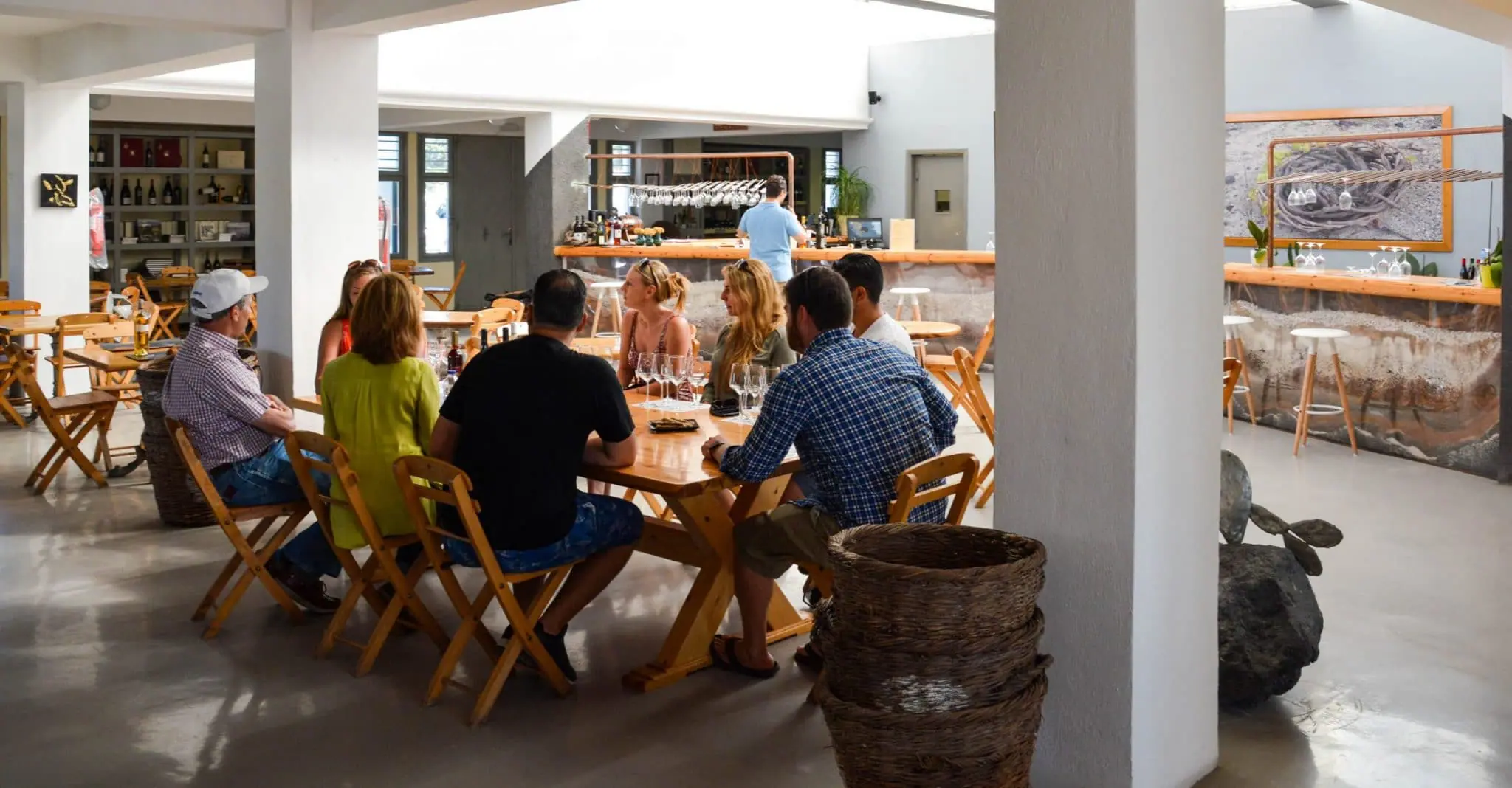 What to pair with the wine
Vinsanto can be enjoyed with any dessert or simply by itself. It is served cold without ice and is usually served at the end of the meal in Greece since it is pretty sweet. It pairs exceptionally well with nutty Greek desserts like baklava or kataifi tart. With a dense chocolate cake, it was superb. We imagine it would go very well with cheese and fruits as well.
It would be a lovely aperitif, but we did not see it served that way in Greece.
Taking Vinsanto home
Since the fruit has low yields and the grapes are tiny, there is limited production. To make it even more restricted, Vinsanto is made from dried grapes, requiring an even higher amount of grapes to produce one bottle. Most Vinsanto wines you can only purchase when visiting the island. One of our regrets was not purchasing more before leaving the island. We anticipated we could buy some at the Athens airport on our way home. Sadly there was only one choice, it was three times the price of what we saw in Santorini, and we did not recognize the winery.
Our advice, buy the one you enjoyed the most in Santorini.
Are you planning a trip to Greece? Check out our Greece Travel Guide here.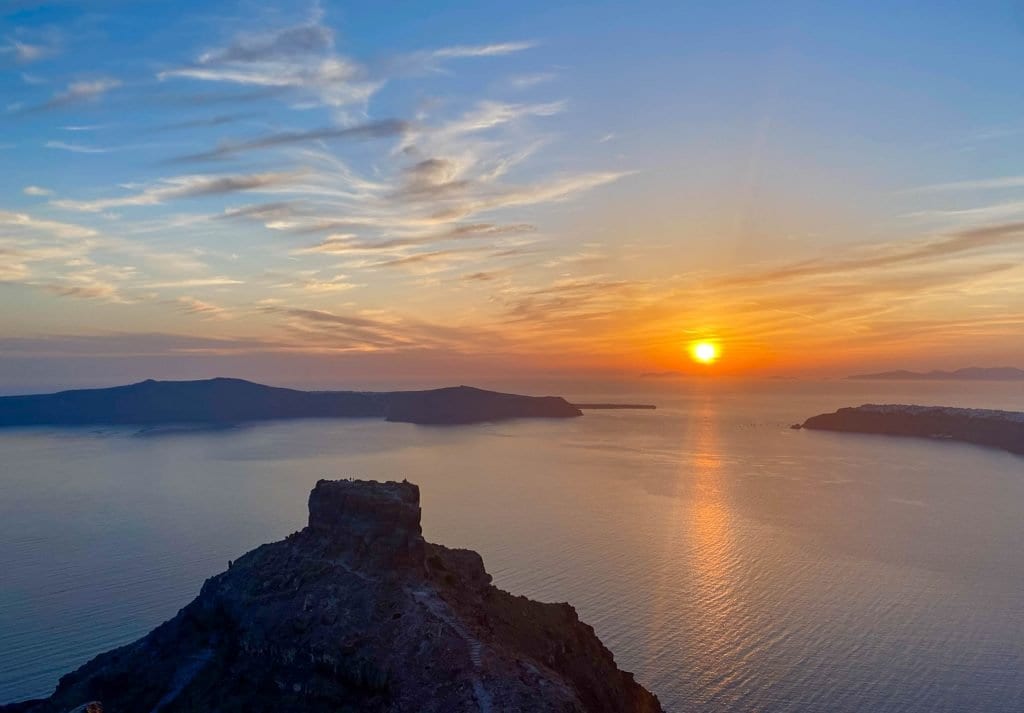 Purchasing Vinsanto at Home
Some of the wineries on Santorini ship Vinsanto and other wines to the US. Santo Winery ships to the US using Fed Ex. It can be quite pricey based on which one you buy but overall less than expected. We ordered some and will report back on how the process went. To reach Santo Wine online ordering, click here.
Once home, it has been challenging to find any Santorini Vinsanto in our local liquor/wine stores. Our search continues, but there are a few options we have seen.
Wine-Search.com will search online stores for any wine, beer, and spirits. When entering Vinsanto, many options pop up from several wineries in Santorini. The collection was impressive. They ship to your home if your state allows it. We have not ordered from this site.

Interestingly there are many Vinsanto's for sale on eBay. We have no idea if this is a reliable source. Therefore, if you purchase any Vinsanto from this method, let us know how it goes.

It is also worth contacting your local specialty liquor store to see what they can order for you.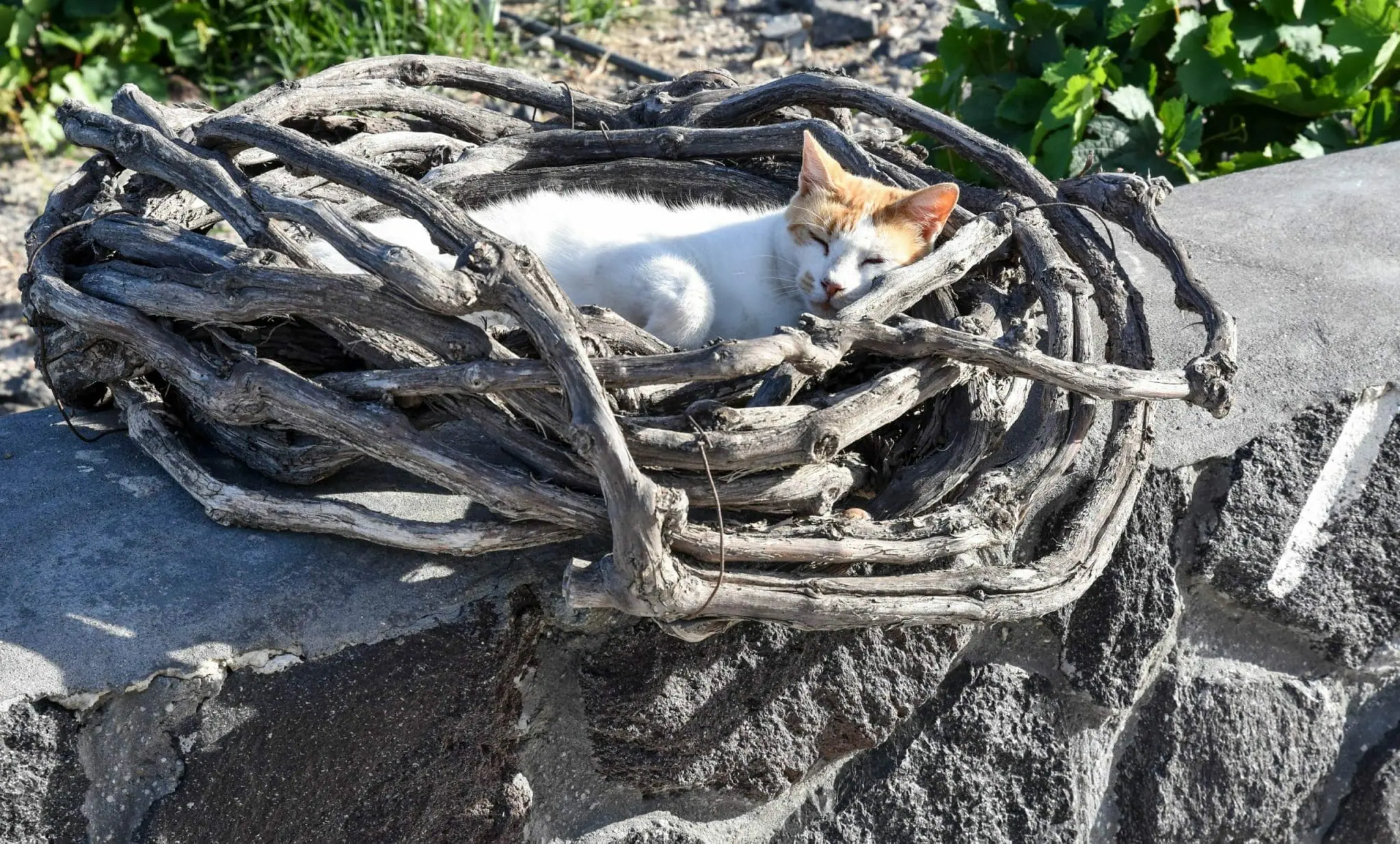 May we suggest a couple of recipes to expand your Vinsanto experience?
Cocktail
---
Dessert
---
---
© 2023 Wanderers Compass All Rights Reserved
Check out our article on Santorini, Greece, by clicking here.
Our Photo Gallery
Check out our most recent blog posts
Our Recommended Travel Resources
Our favorite travel insurance site!
If you book a trip, don't forget to get travel insurance within 14 days of your first booking. We could not be stronger advocates of being well-insured. Not just for the little stuff but the big things like medical emergencies. We never leave home without it. Over the years, we have used many sites but have now found our go-to place. Squaremouth.com does a fantastic job; it has a user-friendly interface, uses top-rated and reputable insurance carriers, and most policies cover COVID-19 medical issues and cancellations. They also mediate on your behalf if you have problems with your policy.
To empower you as a consumer, we suggest you read our blog post on the importance of travel insurance and how to get the best coverage from top-rated companies for an affordable price.
Medical transport back home from anywhere in the world
They are the premier global air medical transport. One caveat to travel insurance is that medical evacuation usually gets you to the closest facility to care for you. Medjet gets you back to the U.S. to the hospital of your choice once you are stable enough to fly. They cover Covid-related transports as well.
Medjet carries its own policies. The policy is only for transport and no other aspects of travel insurance. They have individual trip policies starting at $99 and annual policies for around $300. Most of their policies limit the age to 74 and younger. Prices are not based on age below that.
To learn more about how Medical Evacuation membership with Medjet Assist works, check out our blog post for a more detailed review.
Hotels, home rentals, BNBs, flights, and other transportation & tours
Expedia is a US-based company whose mission is to power global travel for everyone and everywhere. Whether planning a family vacation, booking for business, or organizing the trip of a lifetime, they are a fantastic resource. Wanderers Compass focuses on independent travel, and using sites like Expedia makes that possible. Every aspect of travel you need, from airfare, accommodations, rental car, and cruises to activities to do at your destination, can be booked on Expedia.
Hotels, Home rentals, BNBs, Flights, and other Transportation & Tours
Booking.com connects millions of travelers to memorable experiences, various transportation options, and incredible places to stay – from homes to hotels and much more. It is one of the world's largest travel marketplaces for established brands and entrepreneurs of all sizes.
We always check Expedia and Booking.com to verify prices. At times, one is sold out of rooms while another at the same place has rooms. As well we often find some European hotels, especially smaller ones, on Booking.com but not on Expedia. It could be they are a Europe-based company. Try both before booking accommodations.
Are you traveling with a family or having an extended stay at your destination?
With over 2 million bookable vacation rentals, VRBO connects homeowners with families and vacationers looking for something more than a hotel for their trip. The VRBO community offers families or groups various rental property types such as condos, cabins, lake rentals, beach houses, etc.
VRBO is under the Expedia group ownership now, which many were worried about, but it hasn't panned out to be a concern. It is a massive network with access to all lodging forms should issues arise. Joelle has used VRBO for many years with her family with no problems.
As the leading marketplace for travel experiences, Viator believes that making memories is what travel is all about. And with 300,000+ experiences to explore—everything from simple tours to extreme adventures (and all the niche, interesting stuff in between)—making memories that will last a lifetime has never been easier.
With industry-leading flexibility and last-minute availability, it's never too late to make any day extraordinary. This one site has it all and has experiences throughout the world. We use them often during our travels, especially for food tours. We especially take the time to read the reviews provided.
An excellent source for travel essentials and guides
We now have our own Amazon Storefront with all our favorite travel accessories and gear in one place. Check out our travel store at the link below.
Amazon is one of the most comprehensive online shopping sources in the world. On behalf of their customers, teams worldwide provide lower prices, better selection, and rapid delivery. They offer a vast inventory, and their 1.7 million small and medium businesses worldwide selling on Amazon.com offer extensive options to customers.
We buy most of our travel books, accessories, and luggage from Amazon. We have ordered up to two days before travel and get what we need.
Transportation
Welcome Pick-ups
(Airport and sightseeing service)
A global leader in ground transportation for travelers. They help hundreds of companies worldwide enhance their services and boost their revenue with our 5-star ride experiences and hassle-free automation.
Founded in 2015 in Athens, Greece, Welcome Pick-ups goes above and beyond the standard transfer service as the first company to deliver a holistic, in-destination travel experience. From the moment a traveler arrives at a new destination until they return home, Welcome accommodates all their travel needs (transfers, travel products, things to do, information) as the easiest, friendliest, and most personalized solution.
Discover Europe by Train
Rail Europe sells train and bus tickets for travel across Europe. They cover 24 countries, 105 rail operations, and 20,000 stations. They are the official rail and bus operations agents in the UK, France, Spain, Italy, Germany, Belgium, Austria, Switzerland, Luxembourg, and the Netherlands. Rail Europe continues to add coverage all the time.
It is a fast, easy, and economical way to purchase European train and bus tickets. Eurail passes are also available to buy through their site.
Travel documentation services
Do you feel like you are wasting time visiting an on-site photographer only to be embarrassed by the photo? Would you like control of the final product? Get the perfect VISA or passport photo online with PhotoAID.
When traveling, you often need to apply for official documents such as a passport, ID, and different kinds of licenses or cards. Those applications require a picture that must meet specific conditions to be accepted, depending on the country. Now, it is possible to take this picture at home without the help of a professional photographer. The PhotoAiD app allows you to take the perfect biometric photo that will be guaranteed by yourself without leaving your home.
This article contains affiliate links. If you use these links to buy something, we may earn a small commission at no additional cost to you. Thank you!
Do you have a question for us or have a comment?