Who better to speak to the importance of food when traveling than Anthony Bourdain? He will be quoted often on this topic of Dining Abroad. He inspired people to experience international cultures through food while encouraging them to be brave enough to embrace the unknown.
The Food
Food is an intricate part of the travel and cultural experience. It would be best to embark on this quest with a sense of adventure and a willingness to experiment in ways you had not imagined. People speak through their food. It is a window into their heart, culture, and traditions. We need to take the time to listen to them and appreciate the story while dining abroad.
The core of most cultures lives in food; it is what family, friends, and communities gather around. As we, the traveler, enter their world, sharing that food is a means to show respect for what is important to them. We are guests in their home at that moment, and while there, choose to be a good one. The value of that should never be diminished or dismissed.
Even when dining in Lisbon and a full-size octopus arrives on your plate and you have no idea what the parts are or if you can eat them.
Blushing, Joelle subsequently asks, "is there any part we can't eat."
No, eat it all. Really? Ok then, we dig in.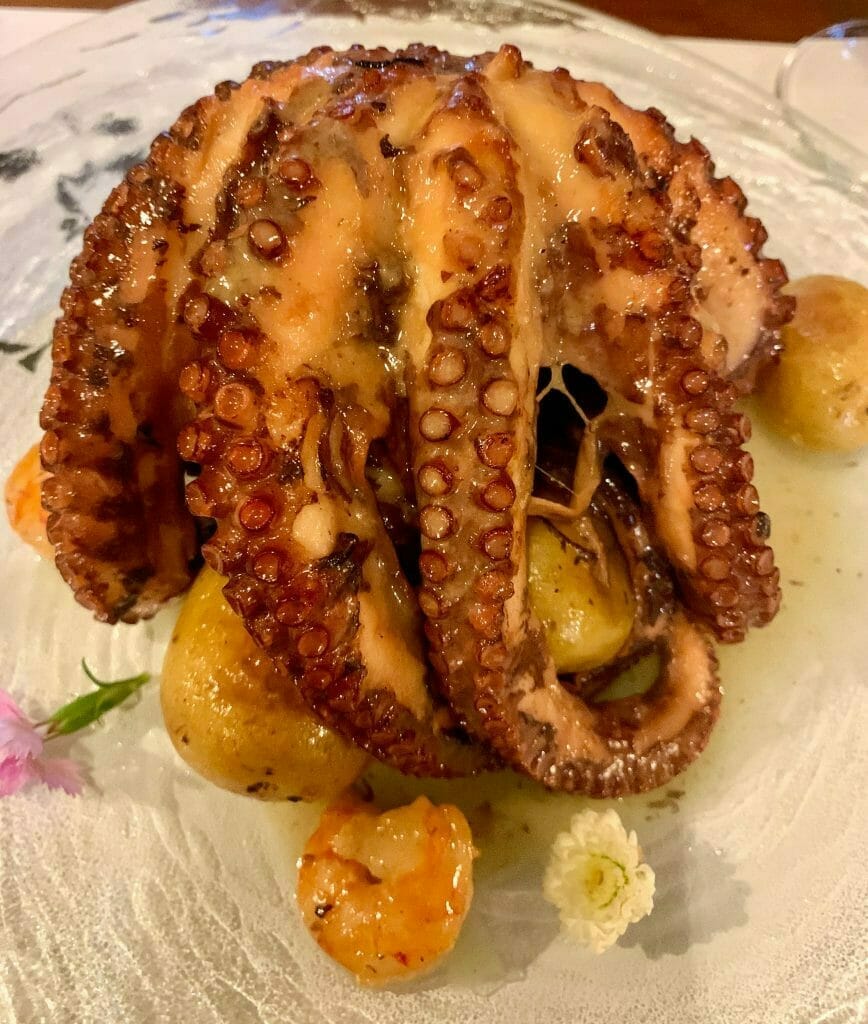 Why be so bold, because every table around us ordered it. When we asked about it, the look of pride in the server's eyes hints at the value of having this experience. Later, when the Chef comes out to speak to us about the meal but only talks about the Octopus, we realize what this simple act meant to him. Then he regaled us with fresh octopus stories and how nobody in Lisbon does it better than he does. It was the icing on the cake of the incredible dining abroad experience.
Was it good? It was. We found it flavorful, fresh, and not chewy or fishy—truly a unique experience.
It was like no other Octopus we had ever had before. But that is a lot of Octopus to eat, and the tentacles were a bit creepy.
Seek unique and authenticity when dining abroad
We are firm believers in seeking off-the-beaten-path authentic local cuisine. Whether a hole in the wall with three tables or an upscale restaurant, seek out the region's cuisine. You can get a burger at home.
Please don't order a burger! Just don't!
Travel is the time to take your palate on an adventure. Why should it only be your eyes that get to experience adventure? The rewards and memories will be incredible.
Will there be times you will find it a less than-desirable dining experience? Sure, it will, but the stories will be well worth it. Traveling is a journey, and food is an essential component.
How to make the most of your culinary adventures when dining abroad
Before you go, research the cuisine and unique specialties of the regions you visit. It will enhance your dining experience on every level.
Avoid touristy restaurants, especially on busy waterfronts or near tourist draws. Google reviews of the restaurant before you enter any dining establishment.
Find where locals eat. Ask the hotel desk, the Uber driver, or the Airbnb owner where the locals go. Pick their brains, and ask what their favorite restaurant is and where tourists don'don't Our Octopus experience in Lisbon was such a case. Our host was so excited when we asked that we were willing to do what he suggested. He made the reservations and walked us there the day before to ensure we could find the place. It would not have been easy otherwise. He said he lived his whole life in Lisbon, and other than his mother, no one in Lisbon made Octopus better.
Query people about the next place you are heading to. We were in Zagreb, Croatia, and the staff asked where we were going next, which was Pula. They said, oh, one of the team is from there; let us find her. She was glowing as she shared suggestions for the best places for regional food. We took her guidance and ate off the beaten path at an authentic Konoba full of locals.
Ask your server for suggestions from the menu. What is traditional? Is it a local favorite? Of all the choices, what do you think is the best? They may initially seem irritated, as was the case in a Bosnian restaurant we visited. But then he engaged and picked our whole menu. We trusted him and had a delicious and authentic meal!
Don't be afraid to explore food you never imagined trying. Some of our best memories are from those experiences. We suggest avoiding raw food that smells odd, looks old, or seems not recently caught. It is ok to ask the server if the item is in season or fresh. We often ask if they recommend it today or this time of year.
Most of us will not speak the language, especially regarding food. Use Google Translate. In a restaurant, the server can read it easily. The easiest; "Can you pick for us? We trust you." Have them point out what they are picking out to see the price, so you don't get sticker shock at the end. Once you do this, the server becomes more attentive and excited about your visit. Their pride is so apparent and quite touching.
Allow yourself to wander off the beaten path, get lost, and find a hole-in-the-wall eatery. If you get a little nervous about that, Google it before going in, just in case the reviews are awful. One advantage of Google reviews is you might learn what the best dishes to order are.
Take the time to find some local produce markets and street food stands. You will get an inside look at the food locals buy for their meals there. Most of these markets serve local specialties, so you get an inside perspective of what the people enjoy.
Dining abroad should be an adventure; make it one.
Finally, stand back, watch, and absorb.
As we travel, we have collected a few recipes to share with our readers from our dining abroad experiences. Click here to see the recipes you may want to try for yourself.
The libations and beverages while dining abroad
One of the true pleasures of dining abroad is learning what that country or local region has as its favorite beverage. It can be so varied and distinct. We found it is as central to the experience as the food is. At times we have found it outshined the food.
In Greece, most restaurants end the meal with a complimentary shot of Mastiha, which tastes a lot like tree bark because it is. It takes getting used to, but you expect it with the bill with time, and you are disappointed when it does not. They serve it with such pride and glint in their eye, and it would be insulting to refuse. It is a gift; accept it with the same manners and grace as any gift.
Espresso is a classic end to a meal in most European countries, and they surprisingly seem put off when you say no. As if to question how can you digest your food without coffee? In Europe, that honestly is a good question.
Seek local traditions
While in Croatia, we were often offered grappa at the end of our meal. In Pula, the server joined us with his shot. While in Iceland, they can begin the meal with a shot of Brennivin. In Portugal, Port was served during meals or even at the beginning. The French often have Pernod, Suze, or a Kir Royal as an aperitif. In Italy, it was often Aperol. In Scotland, whiskey and so on.
Rarely a day goes by we don't stop at a pub for a beer to rest our feet, preferably a dark brew.
Wine accompanies all our evening meals. It would not be a meal without it.
When dining abroad, we have found that most European restaurants are happy to help you pick the wine and offer many complimentary tastes to help you decide. As if to commit to a whole bottle of anything you have not tried first is silly. This rule also applies to beers, especially when choosing a microbrew. In France's Normandy region, there are wide varieties of Hard Cider.
Look around you and inquire
Regional drinks culturally are an essential part of dining abroad as the food. It is rare to look around at a restaurant and not see some alcoholic beverage on the table. It starts from the beginning until the completion of the meal. These meals run long, so you rarely see people drunk as it accompanies food.
But then there are many ways to enjoy these libations outside cafes, restaurants, and bars.
Wineries, Breweries, Whisky Distilleries, Port Houses, Meaderies, Cider houses, Coffee roasters, Rum Production Facility……..
We visit these on all our travels, both internationally and in the U.S.; we can't begin to describe what we learn and the fun we have. In some places, the tastings are free or for a small fee. Engage your pourer, and your three samples can turn into 10. Next thing you know, they are opening" "special bottles." You go in planning 15 minutes, and 2 hours later, you walk out. The people you meet are extraordinary, and they will talk your ear off if you show genuine interest.
We do have a warning. You will want to take some home with you; those bottles are heavy!! Keep track if you plan to pack them. If you are forced to drink three bottles the night before your flight, it will make for a miserable flight home. Many places can ship directly if you can't be without them. The price tag is hefty, but it is an option.
Often a country or region has specialty liquor that it is famous for. We have gathered a few of our favorites, shared their history, and thrown in a few recipes to try. Check out our Libations of the Worlds page.
How to make the most of your visits to wineries, breweries, and production facilities?
Before leaving for the trip, take the time to research the alcoholic drinks and beverages of that country or region. Learn the history and the work behind the product.
If going to wineries, Port houses, breweries, and such, go midweek if possible, as there will be fewer crowds, and you get more personal service. Midweek they are more liberal in the number of tastings than stated and larger pours. When done with your tasting, ask if they have anything else, in particular, they suggest trying. Most of the time, not all, they will start pouring more for free. This is more likely to occur when there are not many guests around.
There are often behind-the-scenes aspects that are not open to many. If the place is quiet next thing, you know, you are in the back room having a barrel tasting.
Book in advance, especially in peak season. We planned a day in Douro Valley in Portugal to visit the vineyards. It was the offseason, but we learned quickly that the best port vineyards were booked solid. We were able to get some in, but not our first choices. In Porto, the Port House tours were often full as well. This was often the case along the Whisky trail in Scotland. We always travel shoulder seasons, so this is even more important for peak travel season.
Engage the pourer. Be inquisitive. We have discovered the pourer often does this work because they are passionate about it. If you show genuine interest, you will be well rewarded.
Try something new. Stop yourself from saying, "I don't like that." Try how they prepare it, or the varietals used could be a different experience for your taste buds.
Want to try many different ones, but you have to drive? Ask if they have samplers or flights. They can be five to ten different pours of beer. Wine and Port can be three to five. You don't have to each get your own flight; you can share. Or each gets different flights so you can taste a wider variety of their collections. We often get one white and one red flight at wineries.
We tend always to buy something if we enjoy the product. Let them know early which ones you are considering buying or have decided to buy. If they think you are purchasing something, you will normally find much more attention is given to bigger pours.
Heading to the bar or pub?
If you have a hard time deciding what to order, tell your server that. They will often offer you samples to help you discover what you would prefer.
Ask if they have flights or samplers. Share one, or each gets different ones so you can try many of the brews on tap.
Raising your glass to the time-honored practice of clinking glasses and wishing good cheer exists worldwide. The act of raising glasses is a universal experience. The distinct action and the words used have many variations. Therefore, take the time to learn the drinking toast tradition or ask your server to teach you. Repeat the best you can, and they will often enjoy helping your pronunciation. It can bring many a giggle and or some rolled eyes in jest. Make sure to thank them in their local language for their effort. Appreciation and kindness go a long way.
Seek places away from tourist areas. You can have a brew or cocktail with many Americans around at home. Avoid that when overseas.
Ask for locally made beers or wine, not just for the country but the region. Seek recommendations from local favorites.
With Gastropubs throughout the world, it has redefined the Pub/Bar dining abroad experience. The most delicious meals of your trip can be found in these settings.
Sit in a location to people-watch because it is essential to make the experience all it can be.
We have found some of the most incredible places are the ones you go down into. This means don't be afraid of going underground. In Croatia, on the island of Krk, yes, no vowel, the restaurant has the original 2000-year-old Roman walls of the city and relics on display found when building the restaurant. Therefore, it was a bar, restaurant, and museum.
Mingle if you can. Meet and get to know the locals. They tend to be inquisitive. Read cues.
If you hear music, enter. It can be a language all of its own; it tells stories and brings communities together. You can be in a small village pub in Ireland when suddenly the locals break out in song. It is an experience that always stays with you.
Lastly, on the safety side, always drink water, and get at least a snack while consuming alcohol.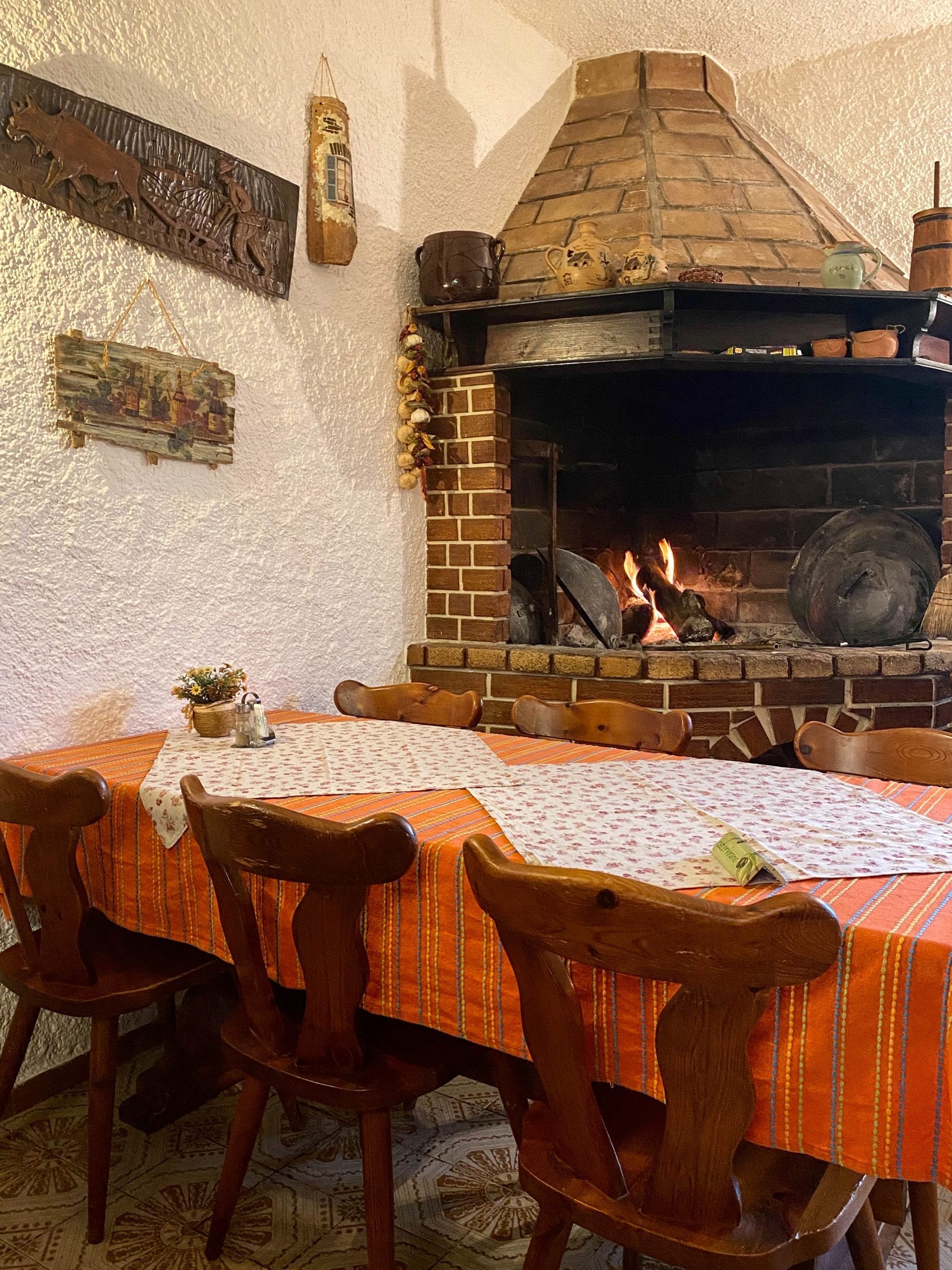 We hope you will join us as we explore the cuisine and libations of each region we visit. We will tantalize your palate, share cultural elements, and inspire you to make the most of your dining abroad experience.
© 2023 Wanderers Compass All Rights Reserved
Our Dining Abroad Mouth-Watering Food & Drink Gallery
Check out our most recent blog posts
Our Recommended Travel Resources
Our favorite travel insurance site!
If you book a trip, don't forget to get travel insurance within 14 days of your first booking. We could not be stronger advocates of being well-insured. Not just for the little stuff but the big things like medical emergencies. We never leave home without it. Over the years, we have used many sites but have now found our go-to place. Squaremouth.com does a fantastic job; it has a user-friendly interface, uses top-rated and reputable insurance carriers, and most policies cover COVID-19 medical issues and cancellations. They also mediate on your behalf if you have problems with your policy.
To empower you as a consumer, we suggest you read our blog post on the importance of travel insurance and how to get the best coverage from top-rated companies for an affordable price.
Medical transport back home from anywhere in the world
They are the premier global air medical transport. One caveat to travel insurance is that medical evacuation usually gets you to the closest facility to care for you. Medjet gets you back to the U.S. to the hospital of your choice once you are stable enough to fly. They cover Covid-related transports as well.
Medjet carries its own policies. The policy is only for transport and no other aspects of travel insurance. They have individual trip policies starting at $99 and annual policies for around $300. Most of their policies limit the age to 74 and younger. Prices are not based on age below that.
To learn more about how Medical Evacuation membership with Medjet Assist works, check out our blog post for a more detailed review.
Hotels, home rentals, BNBs, flights, and other transportation & tours
Expedia is a US-based company whose mission is to power global travel for everyone and everywhere. Whether planning a family vacation, booking for business, or organizing the trip of a lifetime, they are a fantastic resource. Wanderers Compass focuses on independent travel, and using sites like Expedia makes that possible. Every aspect of travel you need, from airfare, accommodations, rental car, and cruises to activities to do at your destination, can be booked on Expedia.
Hotels, Home rentals, BNBs, Flights, and other Transportation & Tours
Booking.com connects millions of travelers to memorable experiences, various transportation options, and incredible places to stay – from homes to hotels and much more. It is one of the world's largest travel marketplaces for established brands and entrepreneurs of all sizes.
We always check Expedia and Booking.com to verify prices. At times, one is sold out of rooms while another at the same place has rooms. As well we often find some European hotels, especially smaller ones, on Booking.com but not on Expedia. It could be they are a Europe-based company. Try both before booking accommodations.
Are you traveling with a family or having an extended stay at your destination?
With over 2 million bookable vacation rentals, VRBO connects homeowners with families and vacationers looking for something more than a hotel for their trip. The VRBO community offers families or groups various rental property types such as condos, cabins, lake rentals, beach houses, etc.
VRBO is under the Expedia group ownership now, which many were worried about, but it hasn't panned out to be a concern. It is a massive network with access to all lodging forms should issues arise. Joelle has used VRBO for many years with her family with no problems.
As the leading marketplace for travel experiences, Viator believes that making memories is what travel is all about. And with 300,000+ experiences to explore—everything from simple tours to extreme adventures (and all the niche, interesting stuff in between)—making memories that will last a lifetime has never been easier.
With industry-leading flexibility and last-minute availability, it's never too late to make any day extraordinary. This one site has it all and has experiences throughout the world. We use them often during our travels, especially for food tours. We especially take the time to read the reviews provided.
An excellent source for travel essentials and guides
We now have our own Amazon Storefront with all our favorite travel accessories and gear in one place. Check out our travel store at the link below.
Amazon is one of the most comprehensive online shopping sources in the world. On behalf of their customers, teams worldwide provide lower prices, better selection, and rapid delivery. They offer a vast inventory, and their 1.7 million small and medium businesses worldwide selling on Amazon.com offer extensive options to customers.
We buy most of our travel books, accessories, and luggage from Amazon. We have ordered up to two days before travel and get what we need.
Transportation
Welcome Pick-ups
(Airport and sightseeing service)
A global leader in ground transportation for travelers. They help hundreds of companies worldwide enhance their services and boost their revenue with our 5-star ride experiences and hassle-free automation.
Founded in 2015 in Athens, Greece, Welcome Pick-ups goes above and beyond the standard transfer service as the first company to deliver a holistic, in-destination travel experience. From the moment a traveler arrives at a new destination until they return home, Welcome accommodates all their travel needs (transfers, travel products, things to do, information) as the easiest, friendliest, and most personalized solution.
Discover Europe by Train
Rail Europe sells train and bus tickets for travel across Europe. They cover 24 countries, 105 rail operations, and 20,000 stations. They are the official rail and bus operations agents in the UK, France, Spain, Italy, Germany, Belgium, Austria, Switzerland, Luxembourg, and the Netherlands. Rail Europe continues to add coverage all the time.
It is a fast, easy, and economical way to purchase European train and bus tickets. Eurail passes are also available to buy through their site.
Travel documentation services
Do you feel like you are wasting time visiting an on-site photographer only to be embarrassed by the photo? Would you like control of the final product? Get the perfect VISA or passport photo online with PhotoAID.
When traveling, you often need to apply for official documents such as a passport, ID, and different kinds of licenses or cards. Those applications require a picture that must meet specific conditions to be accepted, depending on the country. Now, it is possible to take this picture at home without the help of a professional photographer. The PhotoAiD app allows you to take the perfect biometric photo that will be guaranteed by yourself without leaving your home.
This article contains affiliate links. If you use these links to buy something, we may earn a small commission at no additional cost to you. Thank you!
Do you have a question for us or have a comment?