Our Eighth Featured Libation of the World comes from lovely Portugal
When thinking of Europe, you picture all the beautiful and vibrant countries and the cultures that go with them. One such place is brilliant Portugal. In a place like Portugal, you would expect that it has to have a special drink to match its culture. With the number of vineyards they have, you may think wine would be their focus, and it is. However, this is not your average wine. It is a specific wine known only to Portugal. A potent, rich, and sweet drink that most whither at the comparison. Visiting the Duoro Valley in Portugal, you have to try the Port. Let's pour some Port wine while we learn more about this delicious nectar.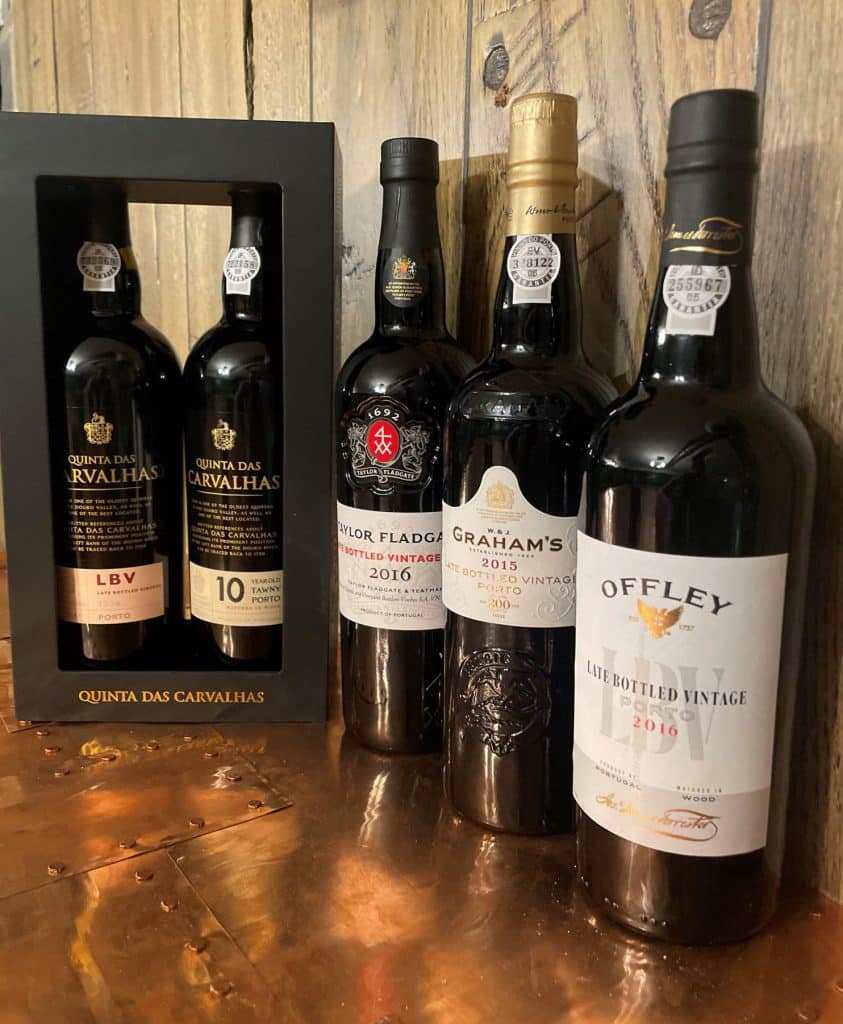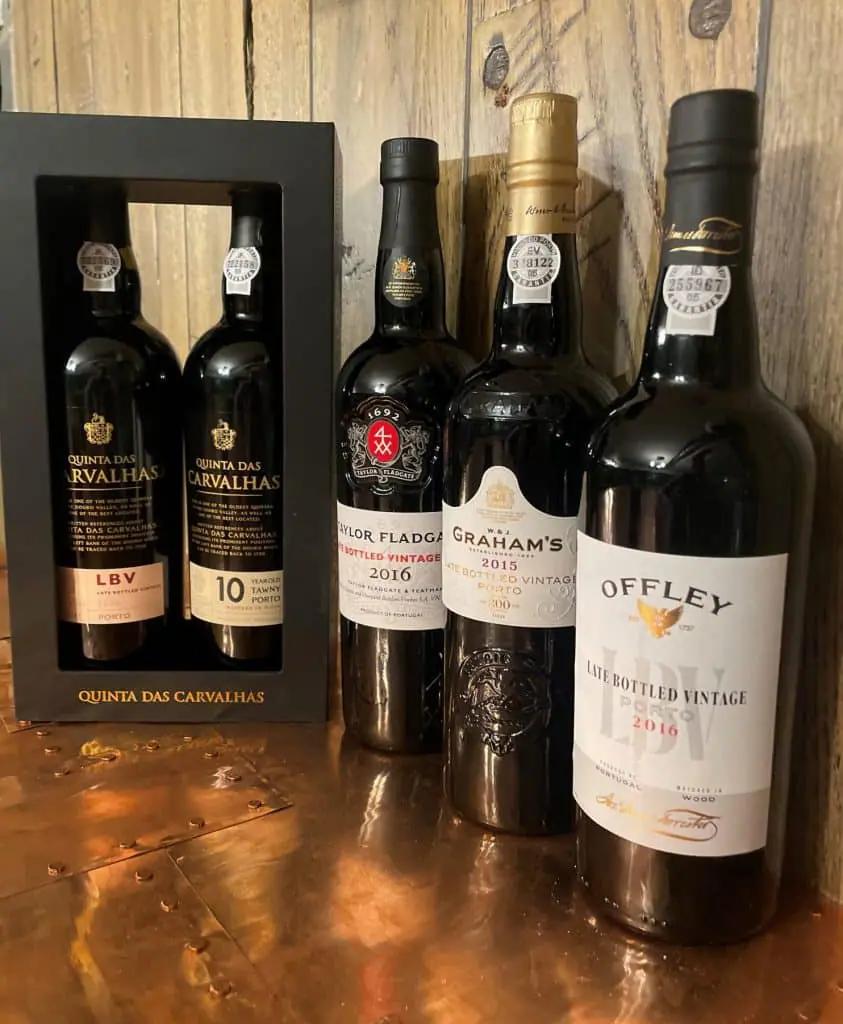 What is Port Wine?
Port wine (also known as Vinho do Porto or Port) is a Portuguese fortified wine produced in the Douro Valley of northern Portugal. Port wine is typically a sweet red wine, often served with dessert, although it also comes in dry, semi-dry, and white varieties. Other port-style fortified wines are produced outside Portugal. These countries are Argentina, Australia, Canada, France, India, South Africa, Spain, and the United States. However, under the European Union Protected Designation of Origin guidelines, only wine from Portugal can be labeled "Port."
Types of Port Wine
There are many different types of port, which are, in most cases, distinguished by varied aging techniques.
Ruby Port
Distinctively fruit-forward flavors often characterize Ruby Port due to reduced reductive aging in oak barrels. The wine must age for at least two years, but this usually occurs in huge balseros barrels or steel tanks. This results in a smoother profile while retaining its fruity profile. Labeling as a reserve refers to the high-quality grape they are using.
Tawny Port
Tawny describes a variety that has undergone more extensive barrel aging. Consequently, it tends to have a spicier profile with less emphasis on the fruits. Tawny Port labels tend to show age, indicating the minimum time spent in the wood barrels of all the mixed in the final blend. If no age is given, it will likely mean it spent 3 years aging. Reserves will have had at least 7 years in the casks.
White and Rose Port
White Port is made of white grapes. It is mainly used as a cocktail ingredient but makes a good aperitif too. Rosé Port is a derivative of Ruby Port. The wine has undergone a short maceration time, like a rosé wine, to create a distinctive pink color.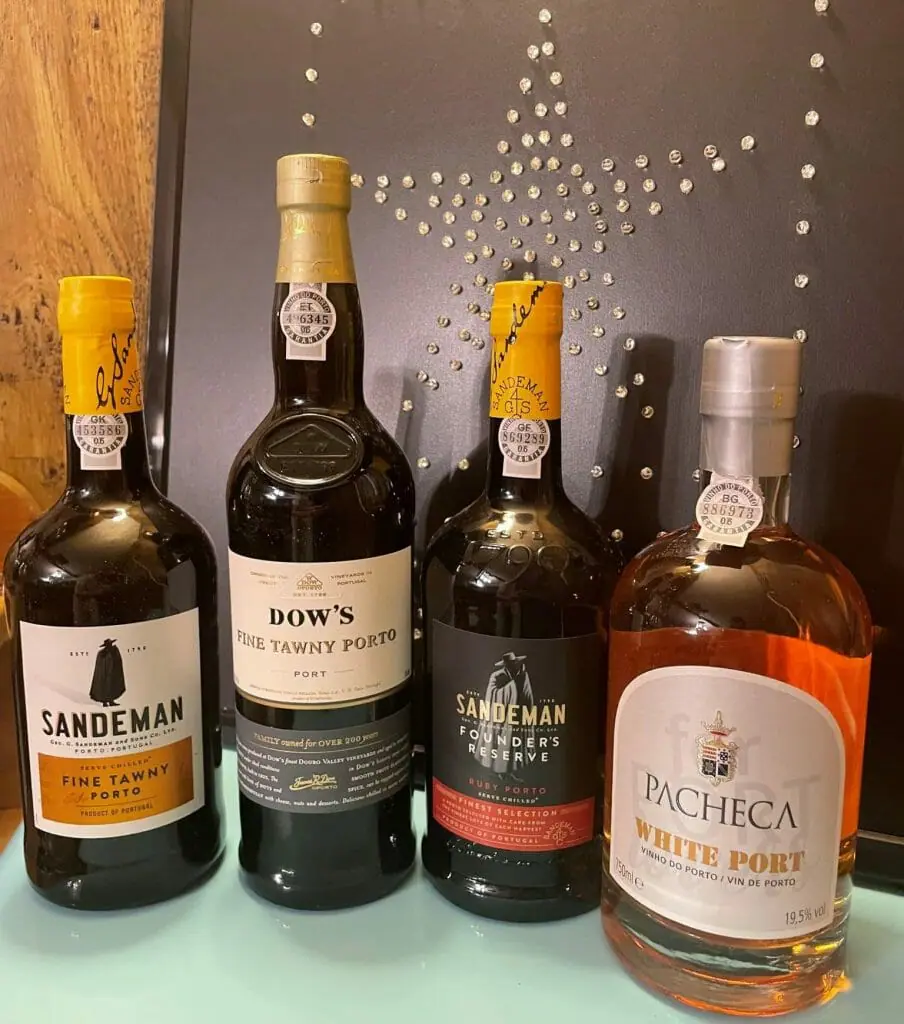 Vintage Port
If the harvest was especially excellent, the producers might choose to declare a vintage, which I.V.D.P must approve. The bottle will reflect a year that all the contents of the bottle came from that harvest. These are aged in barrels or vats for a maximum of 2 1/2 years before bottling. They are bottled with sediment that consists of the remaining grape solids. This allows the port to continue aging in the bottle. In most cases, they will spend an additional decade bottle aging but may go much longer.
Late Bottled Vintage Port
Most often referred to as "L.B.V.," a late bottled vintage port emerged during the 1960s when the popularity of Vintage Port lessened. Rather than being bottle-aged, producers left their wine in the barrel. Traditionally, L.B.V. port is bottled unfiltered, which results in a similar albeit more affordable alternative to vintage port. However, some producers have started filtering and fining L.B.V. Port before it is bottled. Traditionally, L.B.V. port is bottled unfiltered, which results in a more affordable alternative to vintage port. However, some started filtering and fining L.B.V. port before bottling.
Colheita Port
The term describes port wine that has spent a significant amount of time barrel-aging. Colheita Port must age for at least seven years, but it can spend decades aging in wooden barrels.
Crusted Port
Crusted Port combines several vintages and allows producers to create new flavors with a unique blend. Vintage and late bottled vintage varieties crusted port is bottled with sediment.
Region and production
Port is produced from grapes grown and processed in the demarcated Douro region. The wine produced is then fortified by adding a neutral grape spirit known as aguardiente to stop the fermentation. This leaves residual sugar in the wine and boosts the alcohol content. The fortification spirit is sometimes referred to as brandy, but it bears little resemblance to commercial brandies. The wine is then stored and aged, often in barrels stored in a lodge (same meaning as "cellar"), as in Vila Nova de Gaia, before being bottled. The wine received its name, "Port," in the latter half of the 17th century from the seaport city of Porto at the mouth of the Douro River.
Porto is still where much of the product was brought to market and exported to other European countries. The Douro valley, where Port wine is produced, was defined and established as a protected region. The Douro was thus an official appellation in 1756, making it the third oldest, after Chianti (1716) and Tokaj (1730).
The valley of the Douro River in northern Portugal is a microclimate optimal for cultivating olives, almonds, and especially grapes, necessary for making Port wine. The region around Pinhão and São João da Pesqueira is considered the center of Port production. It is known for its picturesque Quintas – estates clinging to almost vertical slopes dropping down to the river. The conditions where the grapes are grown are harsh, and the terrain makes for difficult labor in the scorching heat.
Wine regions
The demarcation of the Douro River Valley includes a broad swath of pre-Cambrian schist and granite land. Beginning around the village of Barqueiros (43 miles upstream from Porto), the valley extends eastward almost to the Spanish border. The region is protected from the influences of the Atlantic Ocean by the Serra do Marão mountains. The area is subdivided into three official zones: the Baixo (lower) Corgo, the Cima (higher) Corgo, and the Douro Superior.
Baixo Corgo – The westernmost zone located downstream from the river Corgo, is centered in the municipality of Peso da Régua. This region is the wettest port production zone, receiving an annual average of 35 in of rain, and has the coolest average temperature. The grapes grown here are used mainly to produce inexpensive ruby and tawny ports.
Cima Corgo – Located upstream from the Baixo Corgo, this region is centered on the town of Pinhão. The summertime average temperature of the region is a few degrees higher, and annual rainfall is about 27 inches). The grapes grown in this zone are considered higher quality and are used in the bottlings of Vintage, Reserve, aged Tawny, and Late Bottled Vintage Ports.
Douro Superior – The easternmost zone, extending almost to the Spanish border. This is the least cultivated region of Douro, partly due to the difficulties of navigating the river past the rapids of Cachão da Valeira. This is the aridest and warmest region of the Douro. The overall terrain is relatively flat, which offers the potential for mechanization.
What is the main grape variety used?
Over a hundred varieties of grapes (castas) are sanctioned for Port production. However, only five (Tinta Barroca, Tinto Cão, Tinta Roriz (Tempranillo), Touriga Francesa, and Touriga Nacional) are widely cultivated and used. Touriga Nacional is widely considered the most desirable Port grape, but the difficulty in growing it and the small yields cause Touriga Francesa to be the most commonly planted grape.
White Ports are produced the same way as red Ports, except that they use white grapes – Donzelinho Branco, Esgana-Cão, Folgasão, Gouveio, Malvasia Fina, Rabigato, and Viosinho. While a few shippers have experimented with Ports produced from a single variety of grapes, all Ports commercially available are from a blend of different grapes. Since the Phylloxera (aphid-like insect) crisis, most vines are grown on grafted rootstock. One notable exception is the Nacional area of Quinta do Noval, which, since being planted in 1925, has produced some of the most expensive vintage Ports.
Grapes grown for Port are generally characterized by their small, dense fruit, which produces concentrated and long-lasting flavors, suitable for long aging. While the grapes used to create Port made in Portugal are strictly regulated by the Instituto, do Vinho do Porto, wines from outside this region that describe themselves as Port may be made from other varieties.
Are you interested in visiting beautiful Portugal? Check out our Portugal Travel Guide to guide you in planning your next adventure
The Character of Port
Port wine is typically richer, sweeter, heavier, and higher in alcohol content than unfortified wines. The addition of distilled grape spirits causes this. It fortifies the wine and halts fermentation before all the sugar is converted to alcohol. This results in a wine usually with 19% to 20% alcohol.
Port from Portugal comes in several styles, divided into two categories: wines matured in sealed glass bottles and wines that have matured in wooden barrels.
Without exposure to air, the former experience what is known as "reductive" aging. This process leads to the wine losing its color very slowly and produces a smoother wine on the palate and less tannic.
The latter, matured in wooden barrels, whose permeability allows a small amount of exposure to oxygen, experience what is known as "oxidative" aging. They, too, lose color but at a faster pace. They also lose volume to evaporation ( called angel's share), leaving a slightly more viscous wine.
The I.V.D.P. (Instituto dos Vinhos do Douro e Porto) further divides Ports into two categories: regular Ports (standard rubies, three-year-old Tawny, and white Ports) and Categorias Especiais, special categories, which include everything else.
How best to experience Port
Port, like other wine, should be stored in a cool but not cold, dark location (as light can damage the Port), at a steady temperature (such as a cellar), with the bottle laid on its side if it has a cork, or standing up if it is stoppered. You can serve White Port cold, and you should serve between 15 and 20 °C (59–68 °F). Tawny Port may also be served slightly cooler.
Going to any vineyard is a great way to enjoy some beautiful scenery while doing some tastings. All our winery experiences in Duoro Valley were friendly and informative. There are plenty of Port Houses in Porto to visit while exploring this beautiful city; they are all just as welcoming and knowledgeable.
If you want the best experience, we suggest walking across to the Porto warehouse side of the river and taking a tour of one of the Port Houses there. You will need tickets, so order in advance if you have time constraints. During our visit, we found many were booked. Luckily we had dedicated our afternoon to this side of the river so we could easily return in a couple of hours for the tour and tasting. Our favorite visit was the Calem Port House, and it was indeed a unique experience. Walking through the historic Port House while learning about Port production and the characteristics of all the different types of Ports. The best part is the generous tasting of Ports included at the end. We will be returning to explore more Port Houses, it was just that much fun.
What to pair with the Port
Most people serve Port after meals as a dessert wine in English-speaking countries. It pairs with cheese, nuts, or chocolate. As for White and Tawny Ports, they usually are served as apéritif. In Europe, all types of ports are frequently consumed as apéritifs. We feel there is no wrong time to enjoy such a tasty libation, even with a meal.
One of our favorite places in Portugal was the walled city of Obidos. Check out our blog post-Obidos: Portugal Perfection.
Taking Port home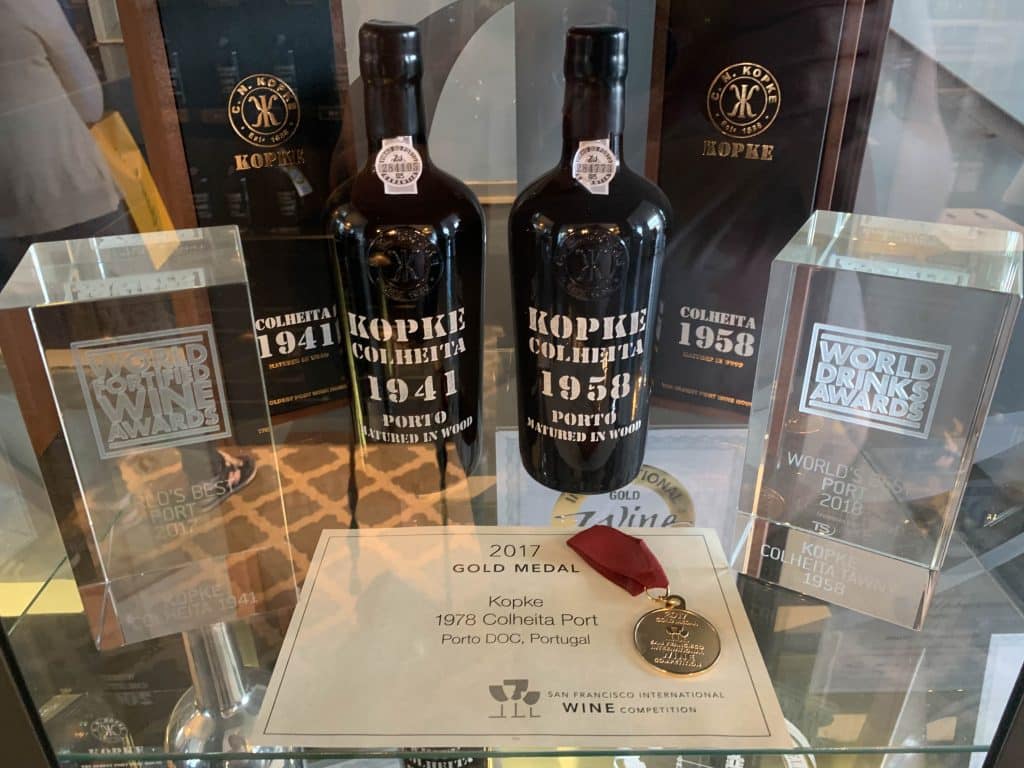 Though you can find an extensive collection of Ports back in your home country, the specific one you enjoyed during tastings in Portugal will not likely be there. Especially ones with limited production. Any exceptional ones you enjoy, you should purchase when in Portugal. One of our regrets was not purchasing more.
Purchasing Port at Home
you can find Port in every quality store where alcohol is carried. It is hugely popular worldwide, and many places have some incredible Port collections for sale. It can be pricey compared to the prices in Portugal. You will have sticker shock. The prices in Portugal for quality Ports are shockingly low at times. This is why you should get all you can while in Portugal.
We buy Port in our local liquor/wine stores. Depending on the location, large-scale stores like Total Wine will often have an excellent Port collection to choose from. If you don't see it in the store, check what they have online; you may be able to special order it. Costco even has a Kirkland Port that is quite good.
Drizly.com is an online company that delivers to your door and best serves those living in bigger cities. This is a newer site, and it has a pretty impressive inventory.
We found a site called Wine-Searcher.com which will search online sources worldwide for any wine, beer, and spirits. They have an extensive Port collection online. They will ship to your home if your state allows it.
May we suggest a couple of recipes to expand your Port experience?
Refreshing and Tangy
Port and Tonic
Ingredients
4 ounces White Port Wine
8 ounces of tonic water
1 orange slice
2 lemon slices
2 lime slices
Ice


Add ice to a tall glass. Add the sliced fruits. Pour the White Port wine. Stir gently while pressing the fruits so some juice is released. Pour in the tonic water and stir.

Adapted from Wine Lover Magazine
Classic and Elegant
Porto Negroni
Ingredients
1 ounce Tawny Port
1 ounce of Gin
2 Tbsp Campari
Fresh orange Zest
Ice

Add ingredients to a cocktail shaker with ice. Stir for several seconds and strain into an old-fashioned glass over 2 ice cubes. Garnish with orange zest.

Recipe adapted from Portcocktails.com
Delicious Ruby Gem
Portuguese Daisy
Ingredients
2 ounces Ruby Red Port Wine
1 ounce of Brandy
2 Tbsp Fresh Lemon Juice
1 tsp of Simple Syrup
1 tsp Grenadine
Orange Slice
Ice


Combine all ingredients into a cocktail shaker with ice. Shake for 20 seconds. Strain into a chilled glass and serve. Garnish with an orange slice.


Fabulous and Creamy
Valentino's Delight
Ingredients
2 Tbsp Ruby Port
1 1/2 ounce bourbon
2 Tbsp Coffee liquor
1 1/2 ounces of heavy cream
Chocolate sprinkles
Crushed Ice


Combine all ingredients with the crushed ice into a cocktail shaker. Shake until the shaker gets cool—strain into a chilled Martini glass. Sprinkle on the chocolate sprinkles.

Adapted from Wine Lover Magazine
Where to stay when visiting Porto or Duoro Valley
Our recommendation is the stay as close to the river in either location. It all revolves around the river and it is the heart of the Port region.
We believe it is important to price out properties on various sites. Expedia is a US-based company, whereas Booking.com is Europe based. Not all properties appear on both. If the establishment has a website, check the price there as well.
© 2023 Wanderers Compass All Rights Reserved
Our Port Photo Gallery
© 2023 Wanderers Compass All Rights Reserved
Check out our most recent blog posts
Our favorite travel insurance site!
If you book a trip, don't forget to get travel insurance within 14 days of your first booking. We could not be stronger advocates of being well-insured. Not just for the little stuff but the big things like medical emergencies. We never leave home without it. Over the years, we have used many sites but have now found our go-to place. Squaremouth.com does a fantastic job; it has a user-friendly interface, uses top-rated and reputable insurance carriers, and most policies cover COVID-19 medical issues and cancellations. They also mediate on your behalf if you have problems with your policy.
To empower you as a consumer, we suggest you read our blog post on the importance of travel insurance and how to get the best coverage from top-rated companies for an affordable price.
Medical transport back home from anywhere in the world
They are the premier global air medical transport. One caveat to travel insurance is that medical evacuation usually gets you to the closest facility to care for you. Medjet gets you back to the U.S. to the hospital of your choice once you are stable enough to fly. They cover COVID-related transport as well.
Medjet carries its own policies. The policy is only for transport and no other aspects of travel insurance. They have individual trip policies starting at $99 and annual policies for around $300. Most of their policies limit the age to 74 and younger. Prices are not based on age below that.
To learn more about how Medical Evacuation membership with Medjet Assist works, check out our blog post for a more detailed review.
Hotels, home rentals, BNBs, flights, and other transportation & tours
Expedia is a US-based company whose mission is to power global travel for everyone and everywhere. Whether planning a family vacation, booking for business, or organizing the trip of a lifetime, they are a fantastic resource. Wanderers Compass focuses on independent travel, and using sites like Expedia makes that possible. Every aspect of travel you need, from airfare, accommodations, rental car, and cruises to activities to do at your destination, can be booked on Expedia.
Hotels, Home rentals, BNBs, Flights, and other Transportation & Tours
Booking.com connects millions of travelers to memorable experiences, various transportation options, and incredible places to stay – from homes to hotels and much more. It is one of the world's largest travel marketplaces for established brands and entrepreneurs of all sizes.
We always check Expedia and Booking.com to verify prices. At times, one is sold out of rooms while another at the same place has rooms. As well we often find some European hotels, especially smaller ones, on Booking.com but not on Expedia. It could be they are a Europe-based company. Try both before booking accommodations.
Are you traveling with a family or having an extended stay at your destination?
With over 2 million bookable vacation rentals, VRBO connects homeowners with families and vacationers looking for something more than a hotel for their trip. The VRBO community offers families or groups various rental property types such as condos, cabins, lake rentals, beach houses, etc.
VRBO is under the Expedia group ownership now, which many were worried about, but it hasn't panned out to be a concern. It is a massive network with access to all lodging forms should issues arise. Joelle has used VRBO for many years with her family with no problems.
As the leading marketplace for travel experiences, Viator believes that making memories is what travel is all about. And with 300,000+ experiences to explore—everything from simple tours to extreme adventures (and all the niche, interesting stuff in between)—making memories that will last a lifetime has never been easier.
With industry-leading flexibility and last-minute availability, it's never too late to make any day extraordinary. This one site has it all and has experiences throughout the world. We use them often during our travels, especially for food tours. We especially take the time to read the reviews provided.
An excellent source for travel essentials and guides
We now have our own Amazon Storefront with all our favorite travel accessories and gear in one place. Check out our travel store at the link below.
Amazon is one of the most comprehensive online shopping sources in the world. On behalf of their customers, teams worldwide provide lower prices, better selection, and rapid delivery. They offer a vast inventory, and their 1.7 million small and medium businesses worldwide selling on Amazon.com offer extensive options to customers.
We buy most of our travel books, accessories, and luggage from Amazon. We have ordered up to two days before travel and get what we need.
Welcome Pick-ups
(Airport and sightseeing service)
A global leader in ground transportation for travelers. They help hundreds of companies worldwide enhance their services and boost their revenue with our 5-star ride experiences and hassle-free automation.
Founded in 2015 in Athens, Greece, Welcome Pick-ups goes above and beyond the standard transfer service as the first company to deliver a holistic, in-destination travel experience. From the moment a traveler arrives at a new destination until they return home, Welcome accommodates all their travel needs (transfers, travel products, things to do, information) as the easiest, friendliest, and most personalized solution.
Do you feel like you are wasting time visiting an on-site photographer only to be embarrassed by the photo? Would you like control of the final product? Get the perfect VISA or passport photo online with PhotoAID.
When traveling, you often need to apply for official documents such as a passport, ID, and different kinds of licenses or cards. Those applications require a picture that must meet specific conditions to be accepted, depending on the country. Now, it is possible to take this picture at home without the help of a professional photographer. PhotoAiD allows you to take the perfect biometric photo that will be approved by you without leaving your home.
This article contains affiliate links. If you use these links to buy something, we may earn a small commission at no additional cost to you. Thank you!
Do you have a question for us or have a comment?