Bring Ireland into your home with this delicious adaptation of the official Guinness Beef Stew Recipe.
It was Ryan's first international vacation and our first visit to Ireland. Our very first stop was in Dublin, Ireland. Where else would a beer lover go when they first arrive but Guinness Brewery? Even if it is still morning and you just landed. You might as well start strong, and what a start it was! First on the agenda was the tour and taking a class at the Guinness Academy. After several tastings and being certified in pouring a Guinness, it was time to get something to eat at the Brewery. Of course, we ordered some traditional Guinness Beef Stew. OMG, it was amazing!
That was in 2014; we have not forgotten how delicious it was. Fast forward to 2023, and we visited the only Guinness location in the US at Guinness Open Gate Brewery in Halethorpe, Maryland, on St. Patricks Day. It was the perfect time to try more of that official Guinness Beef Stew. It was even better than we remembered. As a result, we became determined to replicate the recipe the best we could while still having a fresh memory of our meal.
Time to practice
After some research and experimentation, we have a recipe that brings us back to that delicious stew we had at Guinness. It is a relatively simple recipe with two core ingredients: high-quality beef and Guinness beer. Do not skimp on either!
We tried making Guinness Bread with Molasses to add something extra to the mix and keep with the theme. It was fantastic, especially with some Irish butter. Rounding off the meal, why not pour yourself a Guinness beer? If you are at the Guinness Brewery, there are many choices other than the standard stout, so sample away. Make a meal to remember, or if you have a few pints, maybe remember in a bit of a fog.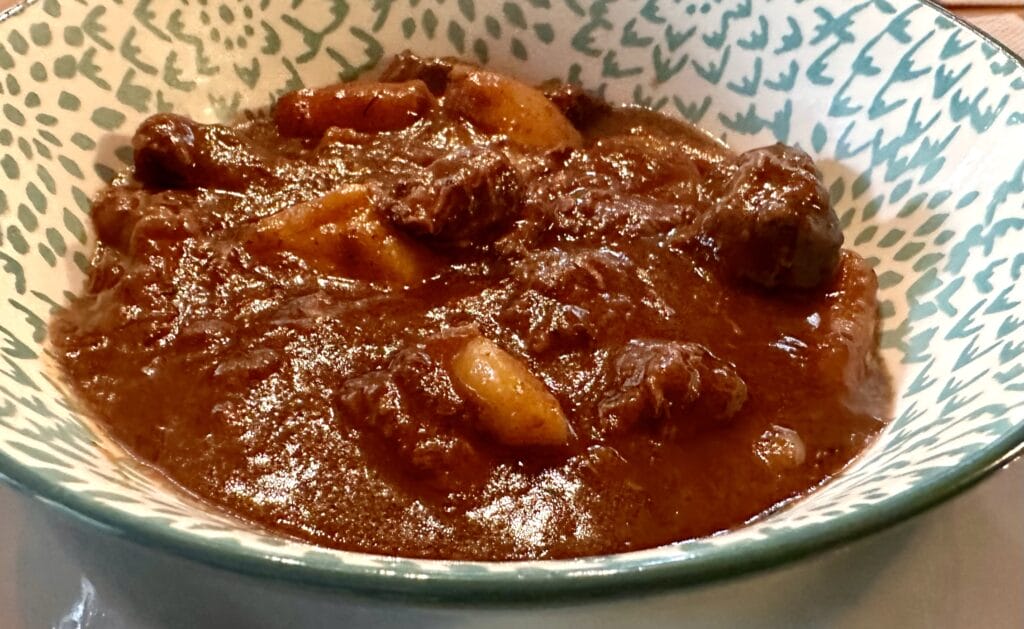 May we suggest serving this beef stew with some Guinness Irish brown bread with molasses? It is the perfect accompaniment. Check out our recipe here.
Let's get cooking!
Traditional Guinness Beef Stew
An adaptation of the official Guinness Beef Stew
Equipment
Dutch over or oven proof casserole dish

We use Le Creuset which never fails!
Ingredients
2 1/2

pounds

Chuck beef roast, fat trimmed, cut into 1 1/2 inch squares. Lamb can be substituted.

Use high-quality and ideally organic chuck roast.

2

medium

Yellow onions sliced (not chopped)

If prefer a milder onion flavor you can use sweet onions or pearl onions

3

Celery stalks, chopped

4

Carrots, cut into 1 inch chunks

2

cloves

Fresh Garlic, chopped

3

tbsp

All purpose flour

1 1/2

can

Guiness Draught Stout 15.9 ounces

1

cup

Beef stock

do not use beef broth

1

tbsp

Dark brown sugar

2

tbsp

Tomato paste

1

tsp

Dijon mustard

2 -3

sprigs

Fresh thyme

can subsitute 1 tsp dried thyme

2

Bay leaves

Sea salt, add to taste

Fresh ground black pepper, add to taste

10

ounces

Baby or red potatoes. Peeling is optional

1.5-inch chunks
Instructions
In a heavy-bottom lidded ovenproof casserole dish or Dutch oven, heat the olive oil over medium-high heat. Add the meat in batches and sear each side until lightly browned on all sides. Place each batch onto a bowl until all the meat is browned. If the pan gets dry add a little more oil as needed.

Add the onions, garlic, celery, and carrots. Cook for 5 minutes, until the vegetables are starting to soften. More oil can be added if needed. Season with some salt and pepper.

Using a small sifter, sprinkle with the flour and cook, stirring often, for 2 to 3 minutes.

Add the 1 15.9 ounce can of Guinness Draught beer, stock, brown sugar, tomato paste, and dijon mustard. Bring to a boil, stirring and scraping to dissolve all the browned bits on the bottom of the pan.

Return the meat to the pan, along with the thyme and bay leaves. Season with salt and black pepper to your preferred taste and cover with the lid. Bring to a gentle boil then turn the heat to low and simmer gently for 2 hours.

Check the stew occasionally, stirring the pot.

Add the potatoes and continue to simmer for 1 hour, until the potatoes and meat are tender.

At this point, I find adding a bit more beer adds more flavor to the final product. It can be up to half a can but keep a close eye on the consistency. This is optional.

Season with salt and black pepper, remove and discard the bay leaves and thyme stems, and serve.

The stew can also be done in an oven at 325 degrees for 2 hours before adding the potatoes.
Notes
It is important to take the time to sear the beef, to keep the moistness and flavor.
Bacon can be added for flavor. Use 4-5 slices cut into small strips and add to the vegetables while they are sauteing.
You can add additional vegetables if you wish for some variation. Options include mushrooms, sweet potatoes, collard greens, and root vegetables like parsnips. Lamb and mutton can be used in place of beef.
For those who like some grains in their stew, try adding a cup of pearl barley at the same time as the potatoes.
Prefer not to use alcohol? Other options are root beer, beef or
vegetable stock, Coke, apple cider, and even coffee.
Though Guinness beer is best, you can substitute it with a nice porter, stout, or dark beer.
The stew thickness can vary based on your preference. If you prefer thicker you can cook it a bit longer until you reach the desired consistency.
The most important part is the beef is tender. Keep a close eye on that.
Though not traditional sprinkle with some flat-leaf parsley or green onions when serving.
We love to serve the stew with Guinness Brown Bread with Molasses. The recipe can be found on our recipe page.
Guinness beef stew is sometimes served on top of mashed potatoes or in the case of our visit to the Baltimore location on top of the stew. In these cases, you will often not see potatoes within the stew.
Preparation Slide Show
Considering an Ireland adventure? Check out our Ireland Travel Guide

Our Guinness Brewery Photo Gallery
(Dublin, Ireland and Baltimore, Maryland)
© 2023 Wanderers Compass All Rights Reserved
Check out our Ireland Posts
May you never forget what is worth remembering, nor ever remember what is best…
September 13, 2023
Bring Ireland into your home with this delicious adaptation of the official Guinness Beef…
May 20, 2023
Our choice of bread to accompany our Traditional Guinness Irish Stew "Guinness is good…
May 20, 2023
Do you have a question for us or have a comment?