Our Seventh Featured Libation of the World comes from Fabulous France
Grand Marnier is a sophisticated libation that brings me back to childhood and many wonderful memories. Growing up in a French household, the classic bottle always stood out among my father's bottles in his collection. My parents were well known for their dinner parties, where my mother served her traditional French fare. It was always days of work in preparation and loved by all. The dinners lasted 6 hours or more; even as a child, I adored them.
Every delicious evening was capped off with my father bringing out all his liqueurs for a digestif. By far, Grand Marnier was the favorite, and the classic elegant bottle always graced our table. As a child, my parents would allow me to dip a sugar cube into one liqueur of choice. I always chose Grand Marnier, and my love for this delectable gem grew from there.
Grand Marnier in Cuisine
The use of Grand Marnier went way beyond the closing of a lovely meal. It was used by my mom often in her cooking. Recipes that come alive with this liqueur are Crepes Suzette, Buche de Noel, Grand Marnier Souffle, Tiramisu, Duck L'Orange, bread pudding, and cranberry sauce, to name a few. It is also perfect for pouring over ice cream or coffee at the end of a meal. In my adult years, I enjoyed it neat at the end of a meal and later in various cocktails.
When I travel internationally, it is the liqueur I always buy Duty-Free on my way home. My husband is especially a huge fan of it. The price is better than anywhere in the U.S., and the bottle is larger, which can be challenging to find in stores.
Let us delve into this extraordinary spirit keeping in mind I may have some bias due to its connection to my childhood memories, heritage, and native country.
Some Grand Marnier history
Grand Marnier was created in 1880 by Louis-Alexandre Marnier Lapostolle by blending premium cognac with distilled bitter orange. Grand Marnier is a cognac-based orange-flavored liqueur. The cellar master and master blender of Grand Marnier selects cognacs from five growing crus (Grande Champagne, Petite Champagne, Borderies, Fins Bois, and Bons Bois) in the Cognac region. They then blend them with a bitter orange distillate crafted from a wild orange variety called Citrus Bigaradia from Haiti. The result is a unique liqueur with bold and distinctive flavors.
Grand Marnier was a family-owned business since the 1880s. Since 1921 the Grand Marnier cellars have been located in the 17th-century Castle of Bourg-Charente, in the Cognac region of France. In March 2016, the Campari Group, an Italian spirit and wine conglomerate, purchased the business.
In addition to its flagship Cordon Rouge product, Grand Marnier also produces cognac-based orange-flavored liqueurs using rare and XO cognacs. Grand Marnier's Grande Cuvée Collection includes Cuvée du Centenaire (blended with XO cognacs), Cuvée 1880 (blended with Grande Champagne XO Cognac), and Quintessence. Created in 2011, Quintessence blends rare cognacs, some more than 100 years old, sourced exclusively from Grande Champagne and fetched from Grand Marnier's private cellar, Paradis. Grand Marnier also features Cordon Rouge as an ingredient in Raspberry Peach, another of its liqueur offerings.
Grand Marnier Timeline: Over 200 years of Perfection
1827 The Founding
Jean Baptiste Lapostolle, a distiller of fine fruit liqueurs, built what would become Grand Marnier's first distillery in Neauphle-le-Château, a small city outside of Paris. It would be another 50 years before his granddaughter's marriage would bring Grand Marnier to the family.
1876 The Alliance
In 1876, Julia, the granddaughter of Jean Baptiste Lapostolle, married Louis-Alexandre Marnier. La Maison Marnier Lapostolle commenced.
1880 Creating this Unique Blend
Louis-Alexandre Marnier had what some may call an odd idea to combine refined French Cognac with a rare variety of bitter orange from Haiti in the Caribbean. It was the beginning of Grand Marnier.
1880 The Naming
The story of Grand Marnier is one of a strong friendship between two ambitious innovators, Louis-Alexandre Marnier Lapostolle and César Ritz. You might recognize Ritz from the luxury Ritz Hotels. When Louis-Alexandre created his recipe, he named it Curaçao Marnier. César Ritz came up with the name 'Grand Marnier.' It was the beginning of a brilliant marketing future.
1892 Iconic Labeling
Louis-Alexandre immediately trademarked the iconic bottle — inspired by the silhouette of a traditional cognac still — along with the red ribbon and the wax seal. These elements became the signature of Cordon Rouge, which is recognized worldwide to this day.
1880-1914 Prestigious Launch
Grand Marnier was a liqueur of its own and became a must-have at Parisian Soirées during the culturally exciting time of La Belle Époque. During these decadent times, Grand Marnier was served in prestigious locations like the Savoy Hotel and the Ritz Hotel.
1927 A Grand Century
Icons are special — they all share a magnetic power and allure. That's why, to commemorate the 100th anniversary of La Maison, some of the finest artists created original designs of the famous bottle inspired by the Art Nouveau style. The marketing genius continues.
1980s The Cocktail
Grand Marnier greatly expanded its trade, primarily to the United States, where the Grand Margarita became a great success in the '80s. It was when it entered the cocktail world, and it became even more popular.
2016 Campari Acquisition
Campari Group acquired the Grand Marnier brand, which, after almost 200 years, continues to represent an icon of French sophistication worldwide. The original location where the Cognac and bitter orange essence was created remains in the exact location to this day.
Timeline Adapted from the Grand Marnier Official Site
Some background on Cognac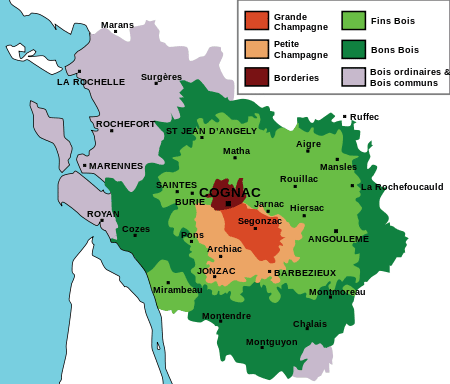 Cognac is a type of brandy from a specific region of France. After the distillation and during the aging process, Cognac is also called "eau de vie" or water of life. It is produced by twice-distilling grapes in any designated growing region. The white wine used in making Cognac is very dry, acidic, and thin; though it has been characterized as "undrinkable," it is excellent for distillation and aging.
Once distillation is complete, it must be aged in oak casks for at least two years.
To be called Cognac, it must meet strict requirements. It must be made only from a set list of grape varieties for it to be considered a true cru. The wine must be at least 90% Ugni blanc (known in Italy as Trebbiano), Folle Blanche, and Colombard, while up to 10% of the grapes used can be Folignan, Jurançon blanc, Meslier St-François (also called Blanc Ramé), Sélect, Montils, or Sémillon.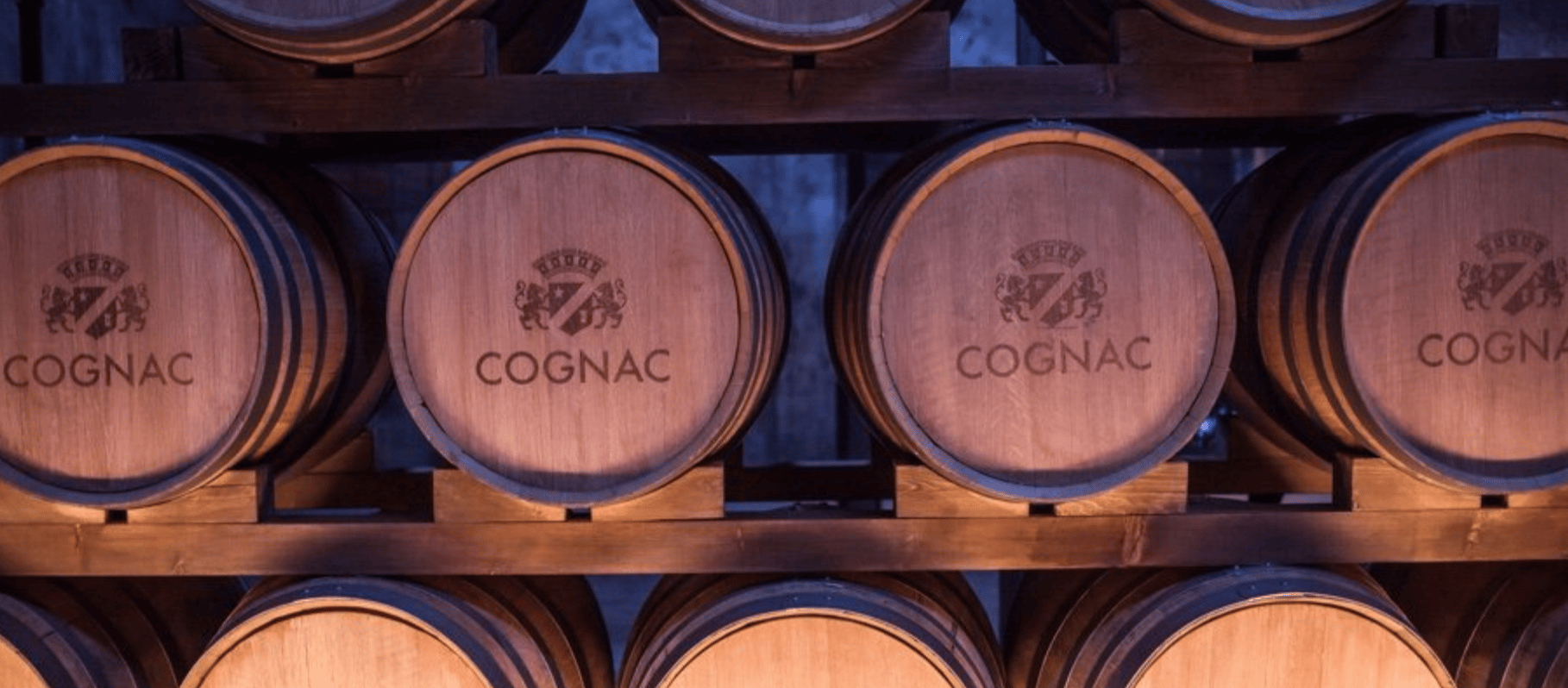 The Magical Alchemy of Grand Marnier
Louis -Alexander Marnier Lapostolle had the curious idea to create something unique and avant-garde. His brilliant concoction combined French Cognac with a rare variety of bitter Haitian oranges.
Cognac is a centuries-old liquor crafted to exacting standards by master blenders. Grapes are sourced from the finest Ugni Blanc grapes, located about 280 miles southwest of Paris. Only the best grapes for Cognac are used, and they have maintained traditional methods for processing. White wine is distilled in copper pot stills, and each batch is double-distilled for 24 hours. It is then aged in Limousin and Troncaisoak oak casts to achieve the perfect complexity. This process harnesses the aromatic heart of the liquid, resulting in the "eau de vie" (water of life) that will become Cognac.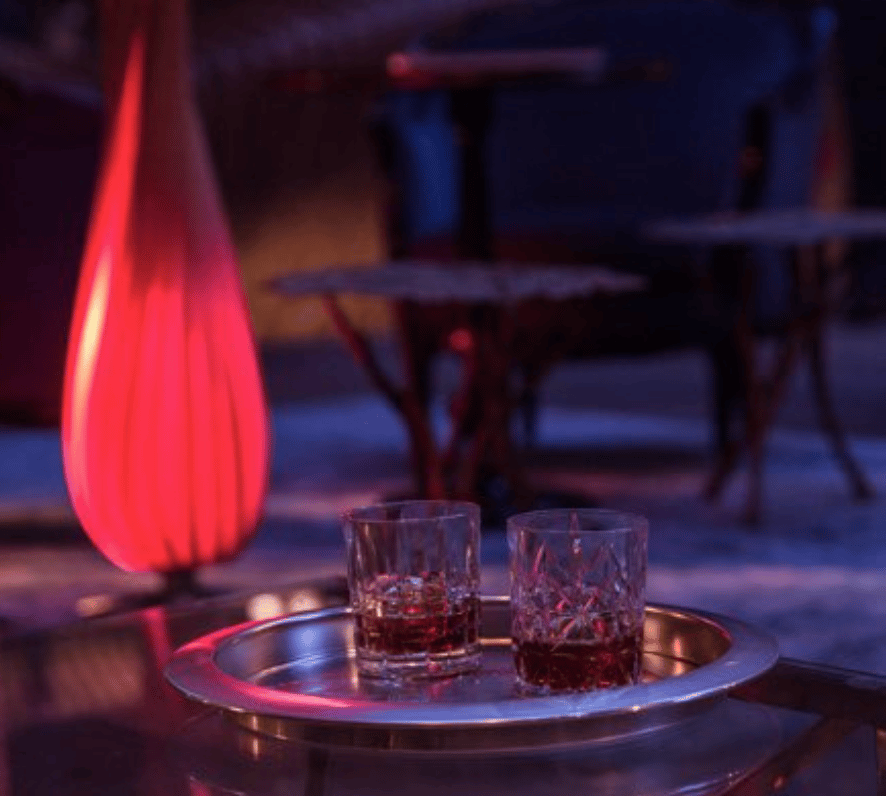 Orange is the core of Grand Marnier's unique and complex flavors. In the early days of the liqueur, oranges were an exotic luxury only for special occasions. The aromatic Haitian Citrus Bigaradia is the only variety of oranges used to make Grand Marnier. The oranges are handpicked while still green and at their fragrant peak. The orange peels are dried in the sun to enhance the flavor retention of the essential oils in their skin. The dry skins are sent to the distillery at Chateau de Bourg-Charente in France. They are then macerated in neutral alcohol, where a slow distillation occurs.
The beautiful Chateau de Bourg-Charente is a 13th-century castle atop a hill at the border of France's Petite and Grande Champagne regions. It is where they age and blend their cognacs, along with distilling the orange essence of Grand Marnier.
The Marriage
The cognac and orange distillate are carefully combined in Gaillon-Aubevoye, northwest of Paris. Master blenders skillfully follow the time-honored traditions passed down through the generations. This is where the final product is poured into the iconic bottle. The bottle is shaped like a cognac still and is finished with the famous red ribbon and red wax seal. The labeling is a symbol of authenticity and exceptional quality. It brings elegance to the distinctive bottle.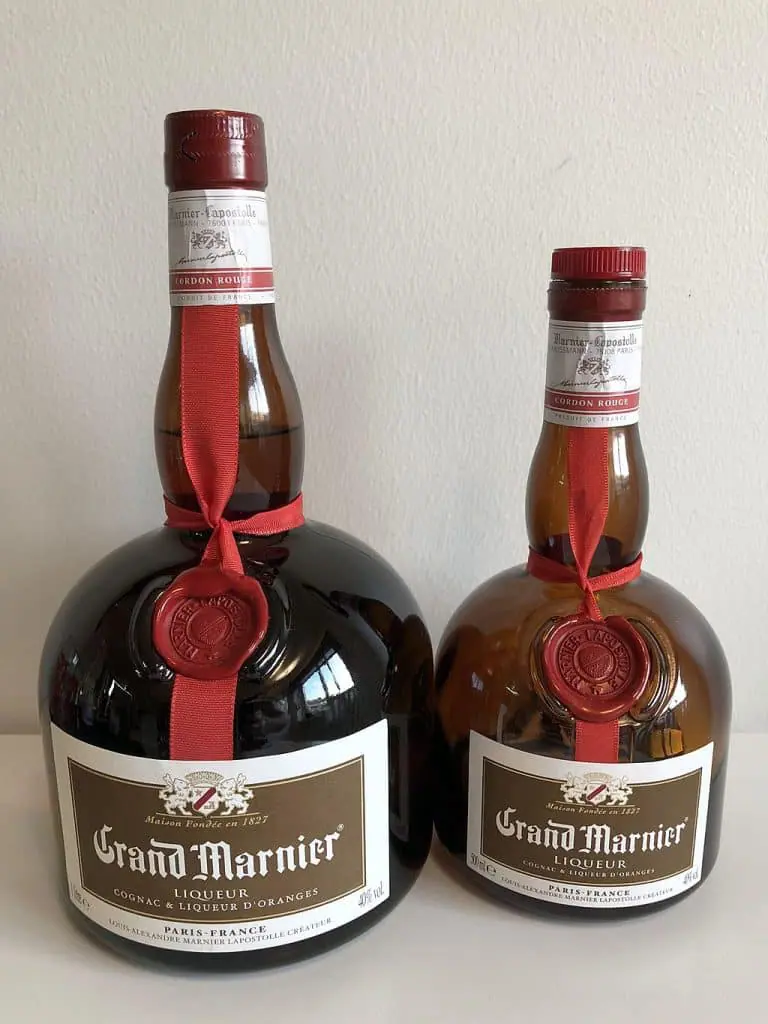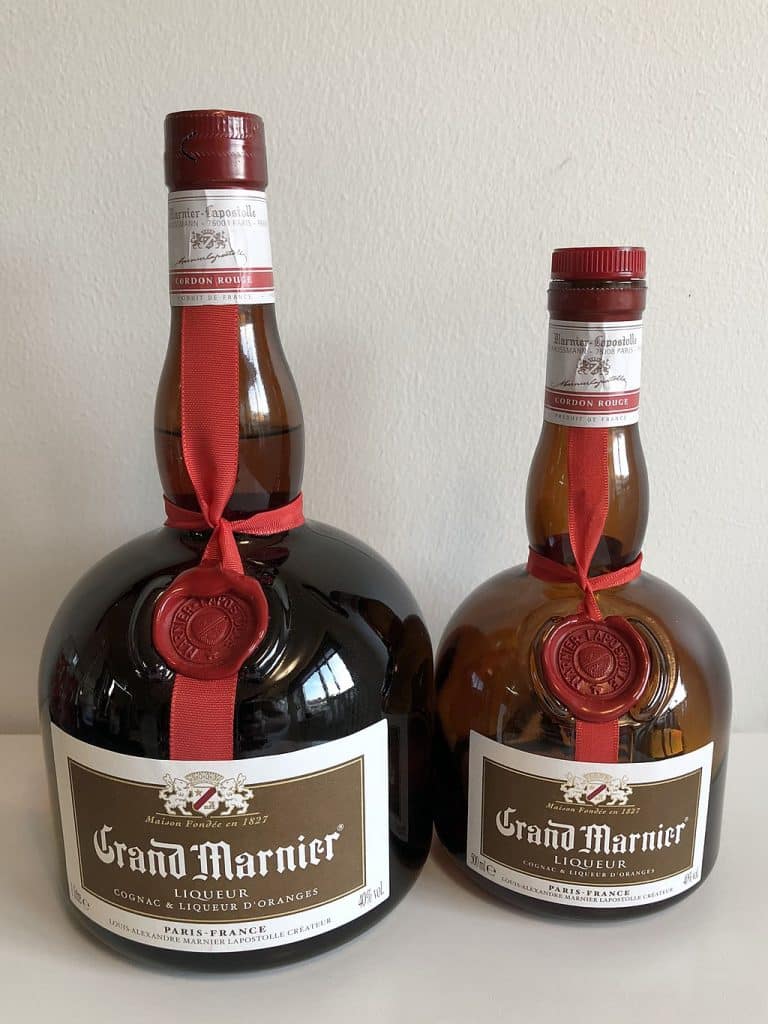 Grand Marnier Fun Facts
Grand Marnier contains 40% alcohol by volume.
The country of origin is France.
It is flammable, which is why we find it in dishes such as Crepes Suzette
Grand Marnier is commonly consumed "neat" as a cordial or a digestif.
It can be used as an alternative to Cointreau or triple sec, orange-flavored liqueurs made from neutral spirits.
In 2001, Grand Marnier's Cordon Rouge won the Gold Medal at the San Francisco Spirits Competition, one of many awards and recognitions over its lifetime.
Neat and Warmed Grand Marnier?
Grand Marnier was served neat, at room temperature, and in a shot glass at my parent's dinner parties. The pour was usually about an ounce. I wrongly assumed that was the best way to enjoy it.
It was on a flight on the now-defunct Northwest Airlines I learned otherwise. I received a free upgrade to the first-class cabin that day and requested a Grand Marnier after my meal. The flight attendant offered to warm it up for me. I had never heard of doing that and said why not. She went on to espouse the best way to drink this liqueur. I think of that conversation to this day because it is my favorite way to enjoy the digestif. The slight heating releases its heavenly bouquet and titillates your palate. Once you have it this way, it will be hard to return to the old way.
I put it in an average-powered microwave for about 10-15 seconds. Some places suggested placing boiling water into a snifter, pouring it out, and adding the Grand Marnier. I don't feel it is as good this way, and the glass gets very hot. At upscale restaurants, they usually have brandy snifter warming set-ups. It seems more work than necessary, but it is quite the show.
Where to purchase Grand Marnier?
As I mentioned, I rarely travel internationally and do not return without some Grand Marnier. I prefer to buy it in the duty-free shop on my way home. I always leave room in my carry-on luggage for it, but even if your luggage is packed tight, you can carry it in the bag they provide in the duty-free shop. The bottle size I buy overseas is one liter, whereas, in the U.S., it is the smaller size in most cases.
Grand Marnier is in virtually every liquor store in the US. It is imported from France. Grand Marnier has knock-offs; I have never found one comparable or close to the same quality.
When I need to purchase at home, I will buy it at Costco or Total Wine as they tend to be better priced.
If you live in a big city, you could have Grand Marnier or any alcoholic beverage delivered to your door within hours by Drizly .com. Even Amazon.com has it available for purchase.
Does the glass matter?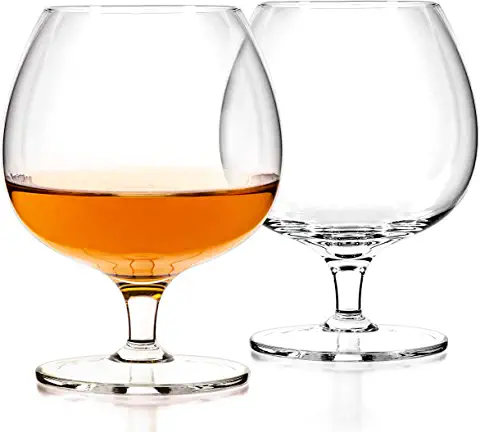 Grand Marnier is traditionally served in a brandy snifter or a shot glass. It is by far more elegant in a snifter but not a necessity. I usually use a shot glass. If serving guests, a snifter does make an excellent presentation and an ideal way to take in the aromas, especially if heated.
Final Thoughts
If someone asks me what my favorite liqueur is, there would be no hesitation; Grand Marnier wins hands down. Maybe it is the connection to my heritage or childhood memories. I believe it is because it is deliciously elegant and smooth.
Most larger liquor stores have mini bottles available if you are hesitant to purchase a large bottle for your first try. I have no doubt you will see why it has stood the test of time and won so many awards and recognition worldwide.
Cheers!

May we suggest a few Grand Marnier recipes for cocktails?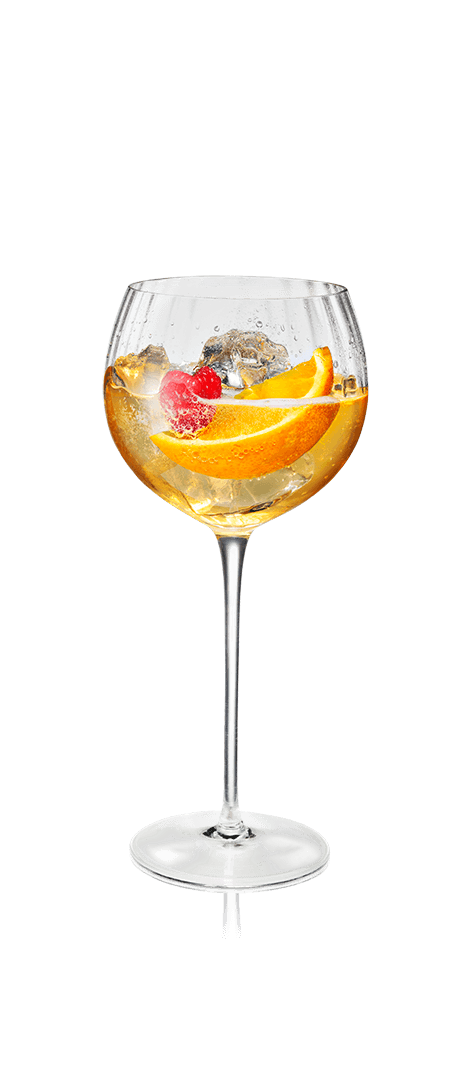 Photos from the Grand Marnier Offical Website
---
---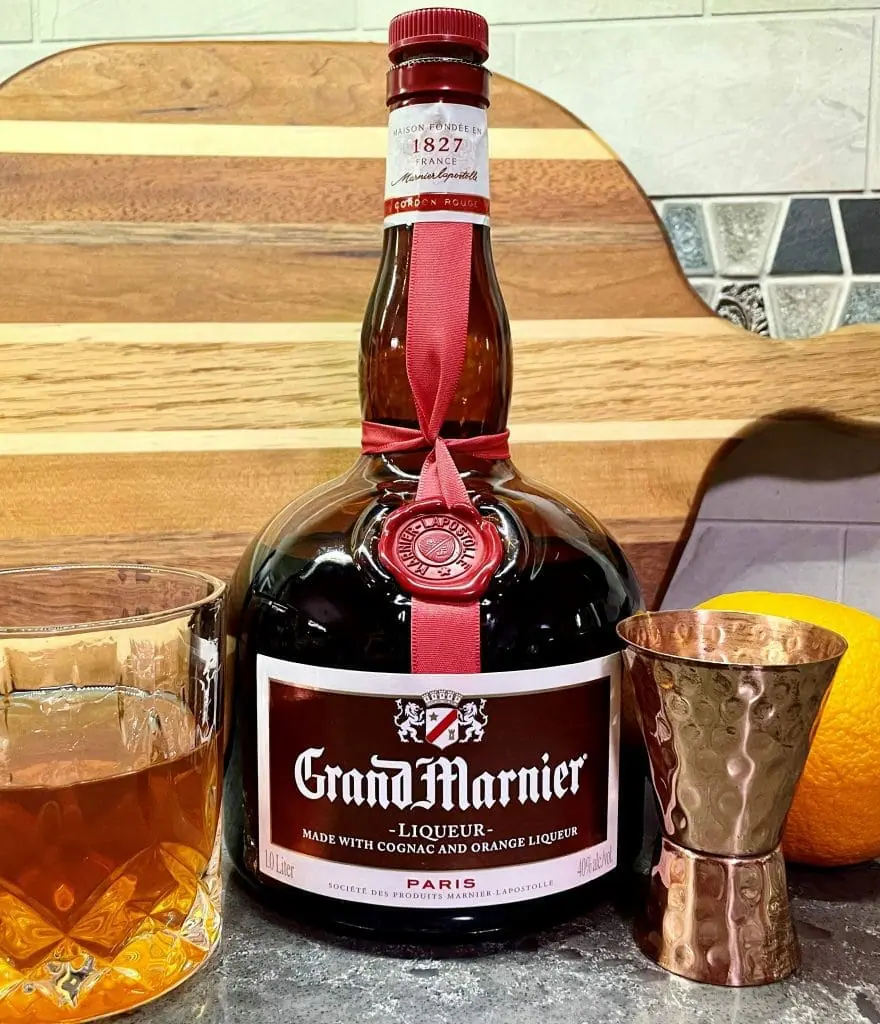 ---
---
---
---
Planning a trip to France? Check out our France Travel Guide
© 2023 Wanderers Compass All Rights Reserved
France and Grand Marnier Photo Gallery
© 2022 Wanderers Compass All Rights Reserved
Check out most recent blog posts
Our Recommended Travel Resources
Our favorite travel insurance site!
If you are booking a trip, don't forget to get travel insurance within 14 days of your first booking. We could not be stronger advocates of being well-insured. Not just for the little stuff but the big stuff like medical emergencies. We never leave home without it. Over the years, we have used many sites but have now found our go-to place. Squaremouth.com does a fantastic job; it has a user-friendly interface, they use top-rated and reputable insurance carriers, and most policies cover Covid medical issues and cancellations. They also mediate on your behalf if you have problems with your policy.
To empower you as a consumer, we suggest you read our blog post on the importance of travel insurance and how to get the best coverage from top-rated companies for an affordable price.
Medical transport back home from anywhere in the world
They are the premier global air medical transport. One caveat to travel insurance is that medical evacuation usually gets you to the closest facility to care for you. Medjet gets you back to the U.S. to the hospital of your choice once you are stable enough to fly. They cover Covid-related transports as well.
Medjet carries its own policies. The policy is only for transport and no other aspects of travel insurance. They have individual trip policies starting at $99 and annual policies for around $300. Most of their policies limit the age to 74 and younger. Prices are not based on age below that.
To learn more about how Medical Evacuation membership with Medjet Assist works, check out our blog post for a more detailed review.
Hotels, home rentals, BNBs, flights, and other transportation & tours
Expedia is a US-based company whose mission is to power global travel for everyone and everywhere. Whether planning a family vacation, booking for business, or organizing the trip of a lifetime, they are a fantastic resource. Wanderers Compass focuses on independent travel, and using sites like Expedia makes that possible. Every aspect of travel you would need, from airfare, accommodations, rental car, and cruises, to activities to do at your destination, can be booked on Expedia.
Hotels, Home rentals, BNBs, Flights, and other Transportation & Tours
Booking.com connects millions of travelers to memorable experiences, various transportation options, and incredible places to stay – from homes to hotels and much more. It is one of the world's largest travel marketplaces for established brands and entrepreneurs of all sizes.
We always start with Expedia to check prices, but it sometimes says it is sold out. We then try Booking.com, and we find it lists plenty of rooms. It could be they are a Europe-based company. Try both before booking accommodations.
Are you traveling with a family or having an extended stay at your destination?
With over 2 million bookable vacation rentals, VRBO connects homeowners with families and vacationers looking for something more than a hotel for their trip. The VRBO community offers families or groups various rental property types such as condos, cabins, lake rentals, beach houses, etc.
VRBO is under the Expedia group ownership now, which many were worried about, but it hasn't panned out to be a concern. It is a massive network that has access to all forms of lodging should issues arise. Joelle has used VRBO for many years with her family with no problems.
As the leading marketplace for travel experiences, Viator believes that making memories is what travel is all about. And with 300,000+ experiences to explore—everything from simple tours to extreme adventures (and all the niche, interesting stuff in between)—making memories that will last a lifetime has never been easier.
With industry-leading flexibility and last-minute availability, it's never too late to make any day extraordinary. This one site has it all and has experiences throughout the world. We use them often during our travels, especially for food tours. We especially take the time to read the reviews provided.
Tripadvisor, the world's largest travel guidance platform, helps hundreds of millions of people each month become better travelers, from planning to booking to taking a trip. Travelers worldwide use the Tripadvisor site and App to discover where to stay, what to do, and where to eat based on guidance from those who have been there before.
With more than 1 billion reviews and opinions from nearly 8 million businesses, travelers turn to Tripadvisor to find deals on accommodations, book experiences, reserve tables at popular restaurants, and discover great places to see nearby. We use them for guidance and research on every trip; it is a valuable app for the independent traveler.
Welcome Pick-ups
(Airport and sightseeing service)
A global leader in ground transportation for travelers. They help hundreds of companies around the world enhance their services and boost their revenue with our 5-star ride experiences and hassle-free automation
Founded in 2015 in Athens, Greece, Welcome Pick-ups goes above and beyond the standard transfer service as the first company to deliver a holistic, in-destination travel experience. From the moment a traveler arrives at a new destination until they return home, Welcome accommodates all their travel needs (transfers, travel products, things to do, information) as the easiest, friendliest, and most personalized solution.
Discover Europe by Train
Rail Europe sells train and bus tickets for travel across Europe. They cover 24 countries, 105 rail operations, and 20,000 stations. They are the official rail and bus operations agents in the UK, France, Spain, Italy, Germany, Belgium, Austria, Switzerland, Luxembourg, and the Netherlands. Rail Europe continues to add coverage all the time.
It is a fast, easy, and economical way to purchase European train and bus tickets. Eurail passes are also available to buy through their site.
An excellent source for travel essentials and guides
We now have our own Amazon Storefront with all our favorite travel accessories and gear in one place. Check out our travel store at the link below.
Amazon is one of the most comprehensive online shopping sources in the world. On behalf of their customers, teams worldwide provide lower prices, better selection, and rapid delivery. They offer a vast inventory, and their 1.7 million small and medium businesses worldwide selling on Amazon.com provide extensive options to customers.
We buy most of our travel books, accessories, and luggage from Amazon. We have ordered up to two days before travel and get what we need.
Thoughtfully Designed | Meticulously Constructed | Quality Guaranteed.
We have used this luggage for years, left briefly to try others, and returned to Travelpro. Travelpro luggage is carried by crews from over 90 airlines worldwide.
Travelpro takes the time to learn what travelers want and need, then builds it. The key factor for us is that it must be lightweight upfront and resistant to rough handling. Their luggage is the best, and we could not recommend it enough. It is our go-to luggage.
This article contains affiliate links. If you use these links to buy something, we may earn a small commission at no additional cost to you. Thank you!
Do you have a question for us or have a comment?