Our Fourth Featured Libation of the World comes from beautiful Iceland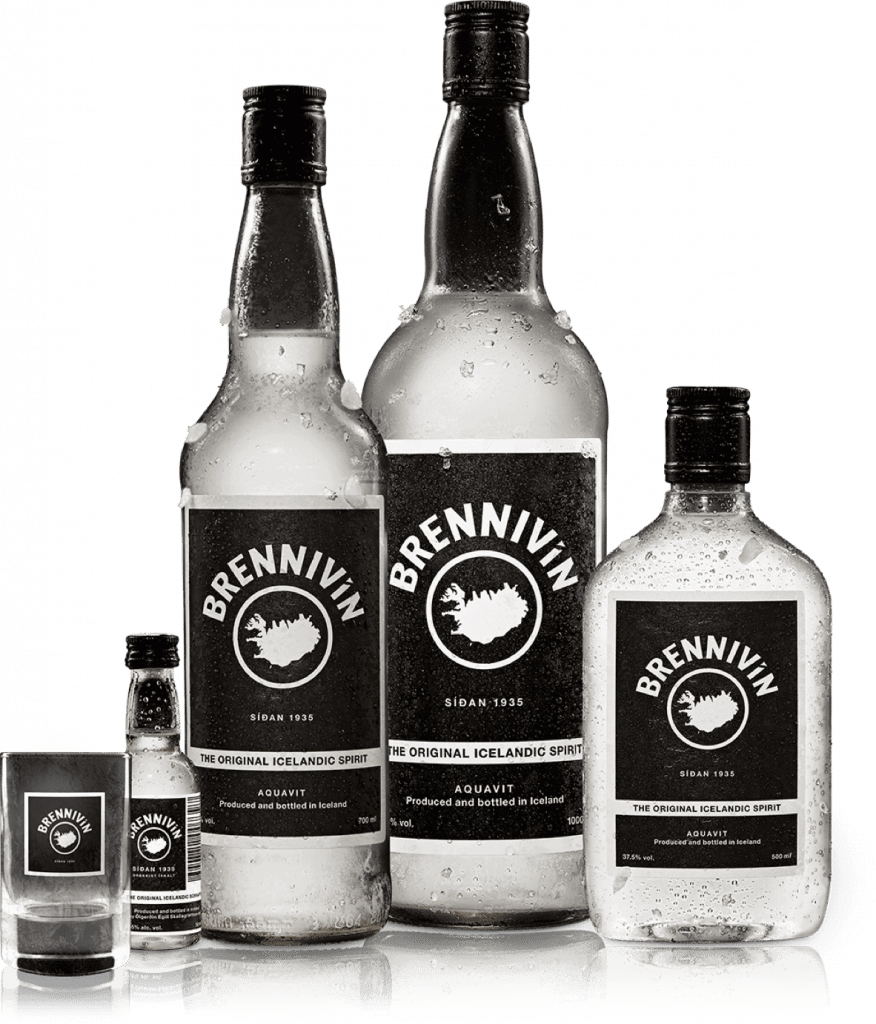 To think about Iceland, you will naturally think of its dramatic scenery. It is awe-inspiring, untouched, pristine, and unique. At every turn, you meet raw beauty that few other places in this world can rival.

On the other side, there is the ruggedness, the harshness of extreme cold, and vast stretches of barren lands. Those lands are full of powerful natural elements from the howling winds, rushing rivers, and violent volcanos. And yet, out of all of that, the Icelandic people produce wonderful things.
Brennivín, just like Iceland, is unique. The people of Iceland craft this spirit by combining their pure, natural water and distilling it with other elements to create a crisp and somewhat harsh liquor. It is as if they bottled Iceland itself, and that is why it is our choice for the January libation of the month.
What is this Icelanic beverage?
Brennivín is considered a type of aquavit (a distilled liquor principally produced in Scandinavian nations) that is distinctively Icelandic. Many consider it to be Iceland's signature distilled beverage. Brennivín is a clear distilled herbal spirit that people often describe as having fresh rye bread notes. It has a subtle sweetness that is blended with the Icelandic water. It is bottled at 40% ABV (80 proof) and is not a drink for those faint of heart.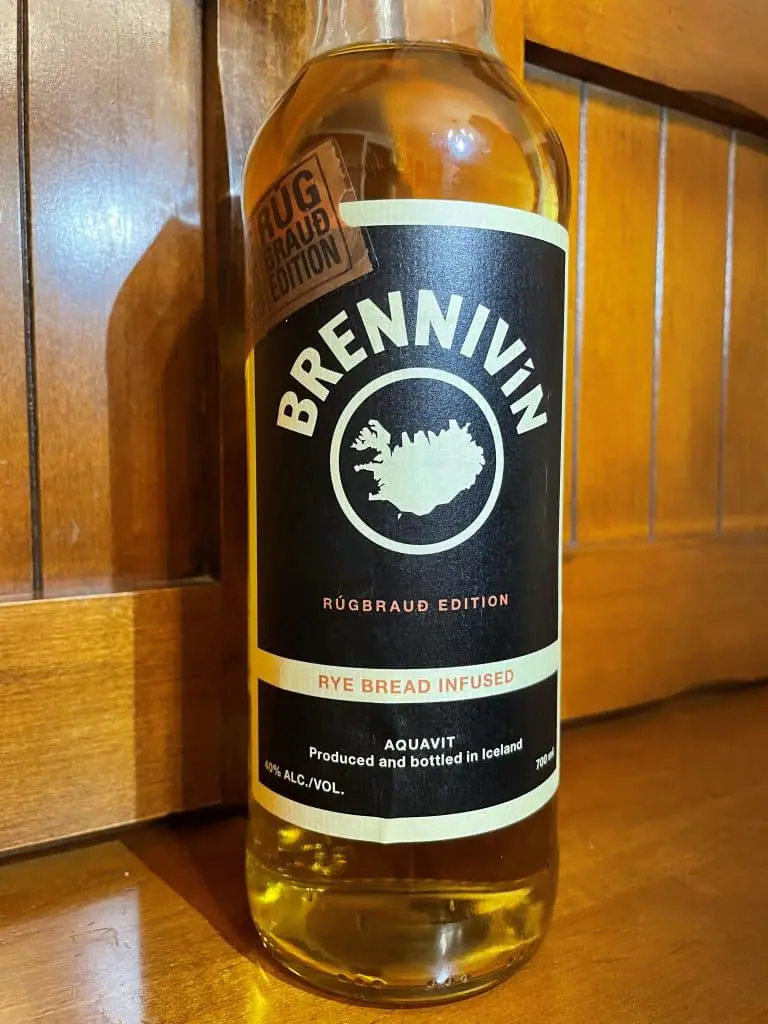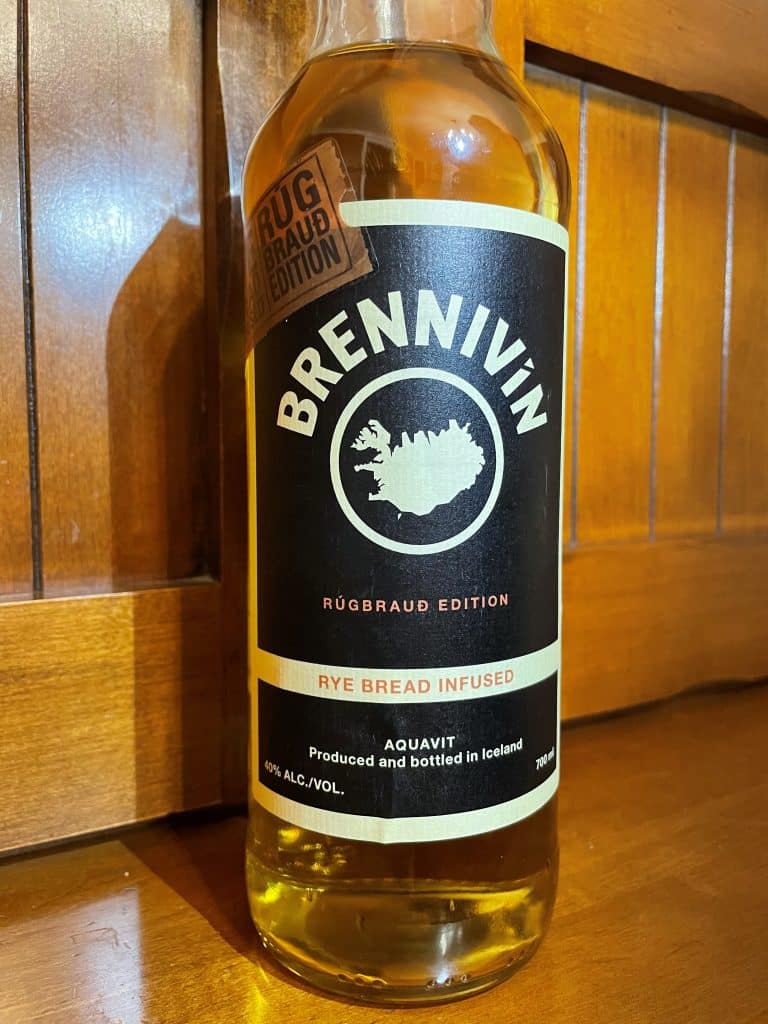 There is more to this drink than many would think. The word "brennivín" means "burning wine," rightfully named. It comes from the same root as brandy, namely brandewijn, whose roots are from the Dutch language.
A variation of the same word is used in other North Germanic languages. In Swedish, the liquor is referred to as "brännvin," in Danish as "brændevin," in Norwegian as "brennevin," and in Faroese as "brennivín."
Brennivín was first introduced in 1935 when prohibition in Iceland was partially lifted. They chose the classic white and black label for the product to make it look unappealing and ultimately limit demand. The label had the opposite effect, as Brennivín quickly became a popular drink. Today, the Brennivín label is a well-known symbol for Iceland's signature drink and of Iceland itself.
Some Brennivín history
In 1262, Icelanders became subjects of the King of Norway. In 1397, the Kalmar Union between the Nordic countries put Iceland, Norway, Greenland, and the Faroe Islands under the Danish crown. Beer could not easily survive the long ocean journey, but malt and honey were still freely traded between Scandinavia and Iceland. Icelanders could make mead and beer, but in 1602, the Danish King instituted a trade monopoly, the "Einokunarverslun," in Iceland.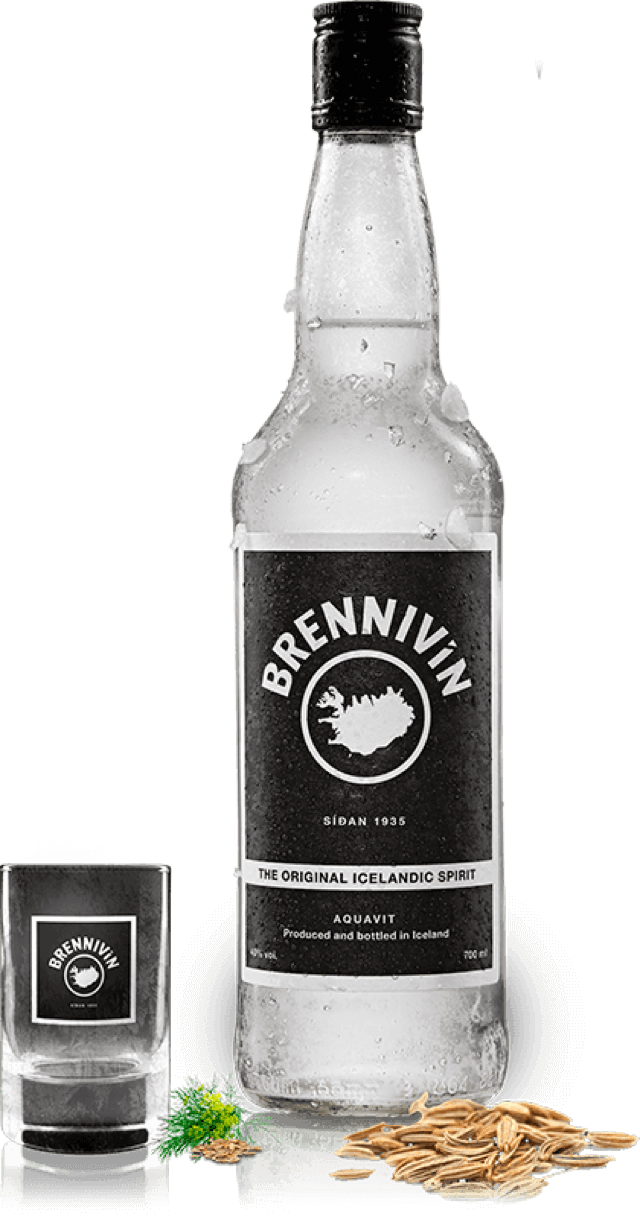 As a result, only special Danish merchants could trade with Iceland. The Icelandic people could not deal with anyone else. Spirits did not take up much of the valuable space on ships like mead, beer, honey, and malt. It also doesn't spoil and could sell for a much higher price.
Improving the flavor
The distillation techniques of the time (known as "burning") meant that the resulting spirits (known as "burnt wine" or "brann-vin") were often not palatable. To improve the taste, people would infuse the spirits with herbs. Caraway was available even in Iceland's harsh climate and used to flavor the shipments of spirits from Denmark. This is how Brennivin aquavit was born.
The trade monopoly ended in 1786. Thirty years later, modern distillation techniques made their way to Scandinavia. By then, the taste for various aquavits was well set in Nordic countries. Most preferred them flavored with herbs over cleaner available spirits. Although the trade monopoly ended, the Danish Distilling Company maintained a monopoly on distillation in Denmark and its territories, including Iceland.
Prohibition Comes to Iceland
Distilling their own spirits was not allowed for Icelanders. In 1908, a prohibition referendum was passed in Iceland. Starting in 1912, all alcohol imports of any kind would stop, and there would be no more beer, wine, or distilled spirits. All remaining alcoholic beverages had to be consumed or destroyed by 1915.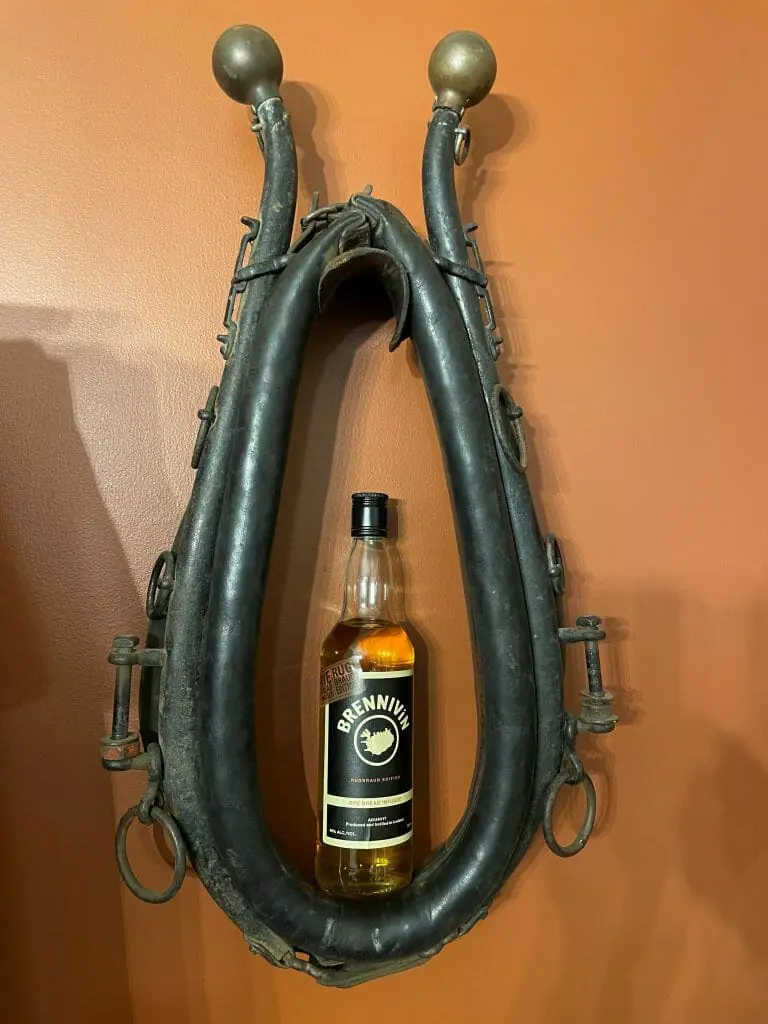 In 1918 Iceland regained its independence from Denmark. Without prohibition, the Danish monopoly on distillation would no longer apply. Prohibition was partially repealed in 1935. The newly independent government would control the production, distribution, and sale. Beer would remain illegal until March 1, 1989.
Since the Icelanders were no longer chained by the Danish Distilling Company, they could make whatever they desired. The Icelandic government set up the State Alcohol Company of Iceland, known as the "AVR," which still exists today as the "ATVR." One of the few spirits the AVR made a decision to produce was caraway-flavored Brennivín.
The Herbs, and the Process
Brennivín is distilled from fermented grain mash. It combines with Iceland's pure, delicate water, which has a high-pH level (8.4) and is then flavored only with caraway. Steeping herbs in alcohol to create schnapps is a folk tradition in Nordic countries which has been long-held. Brennivín is still the traditional drink for the mid-winter feast of Þorrablót.
In great contrast to the colorful labels of French and Italian spirits of the time, the government of Iceland demanded a stark black and white label for the newly legal spirit. The green bottle originally displayed a white skull on the black label to warn against consumption which was later replaced by the map of Iceland and a clear bottle. This is why it was sometimes called "svarti dauði" (black death). The hope was to make the product visually unappealing and limit demand, but they failed. Brennivín became the drink of choice for Icelanders for decades and became a treasure brought home by travelers. In 2014, it finally became legal to import to America. The herbal spirit known as Brennivín had almost become a symbol of Iceland itself by then.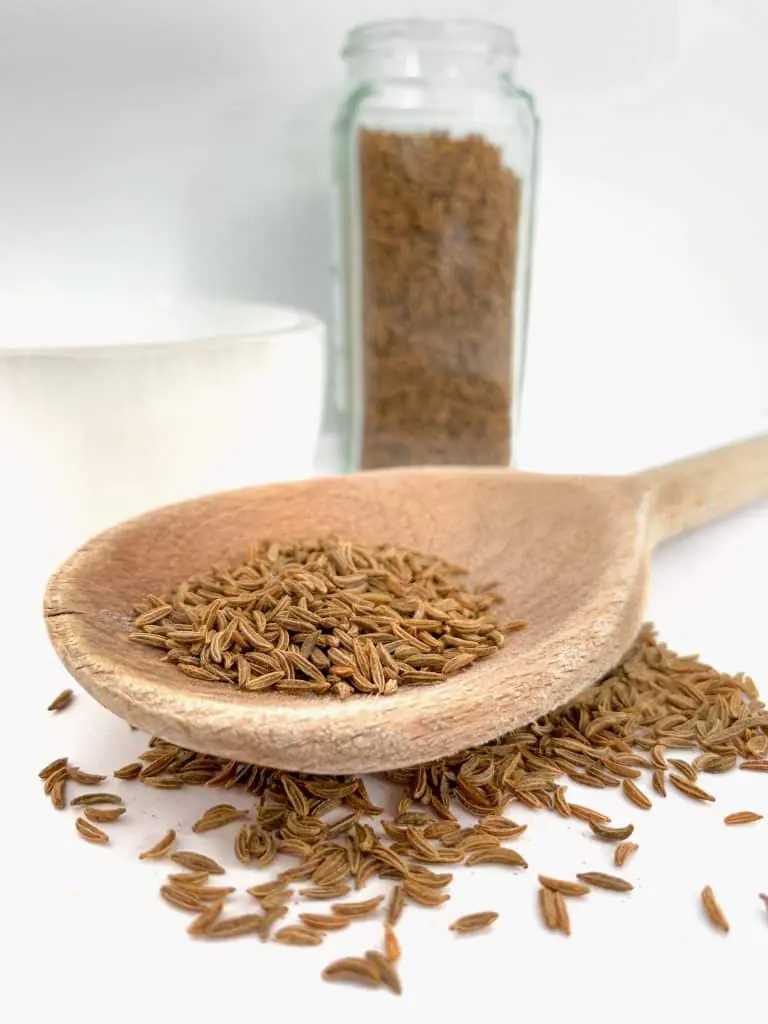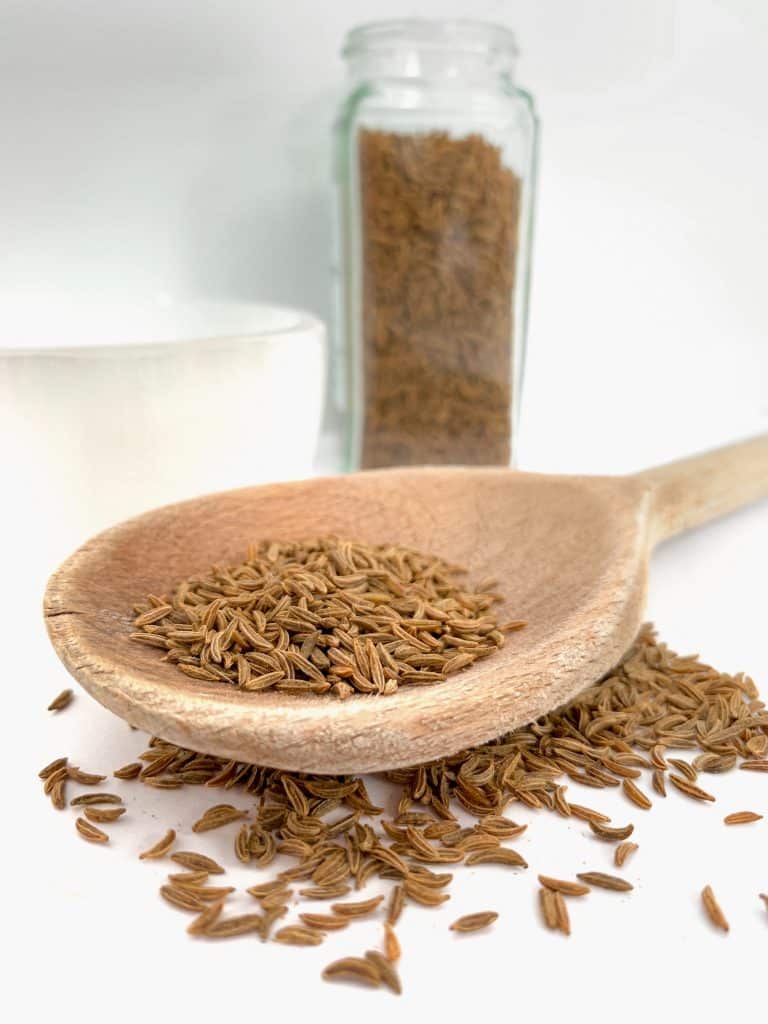 Other versions are made with rye or aging them in different barrels, like sherry casks. However, the original seems always to be the favorite. Sometimes there is no need to mess with a classic. Various other Icelandic distilleries produce different brands of brennivín, which all have their own characteristics.
What is the caraway herb?
Caraway seeds, also known as Persian cumin, are highly aromatic and have a distinctive mild anise flavor that adds a welcome and subtle licorice hint to many dishes. People describe the taste often as earthy, with a touch of citrus and pepper. Caraway's distinctive licorice-like flavor is due to the presence of anethole, which you will find in black licorice. They are high in antioxidants and often aid in digestive health.
The wildflower caraway grows well in Iceland and is treasured for its tasty seeds. The Caraway Seeds is grown on Viðey Island, a small island not far from Reykavik, the capital city of Iceland. They are sweeter and have a more distinctive taste than the caraway seeds people usually buy. This makes them especially good for baking and putting in hot beverages such as coffee or a cup of hot cacao. The Caraway seeds used for 64° Brennivín mostly come from Viðey; in this version, they also add angelica seeds. Wormwood is also used on some versions of Brennivin.
Licorice anyone?
The fact that the favored alcohol drink of Iceland is Brennivin would not surprise many who have visited. You will soon discover a pattern from the airport duty-free to every shop that sells candy. Much of their candy has some form of licorice. Chocolate-covered licorice, sugar-coated licorice, licorice pellets, soft licorice, toffee licorice, hard candy flavored licorice are only a few options you will find. The question lies did the love of licorice candy come before or after the licorice-flavored spirit?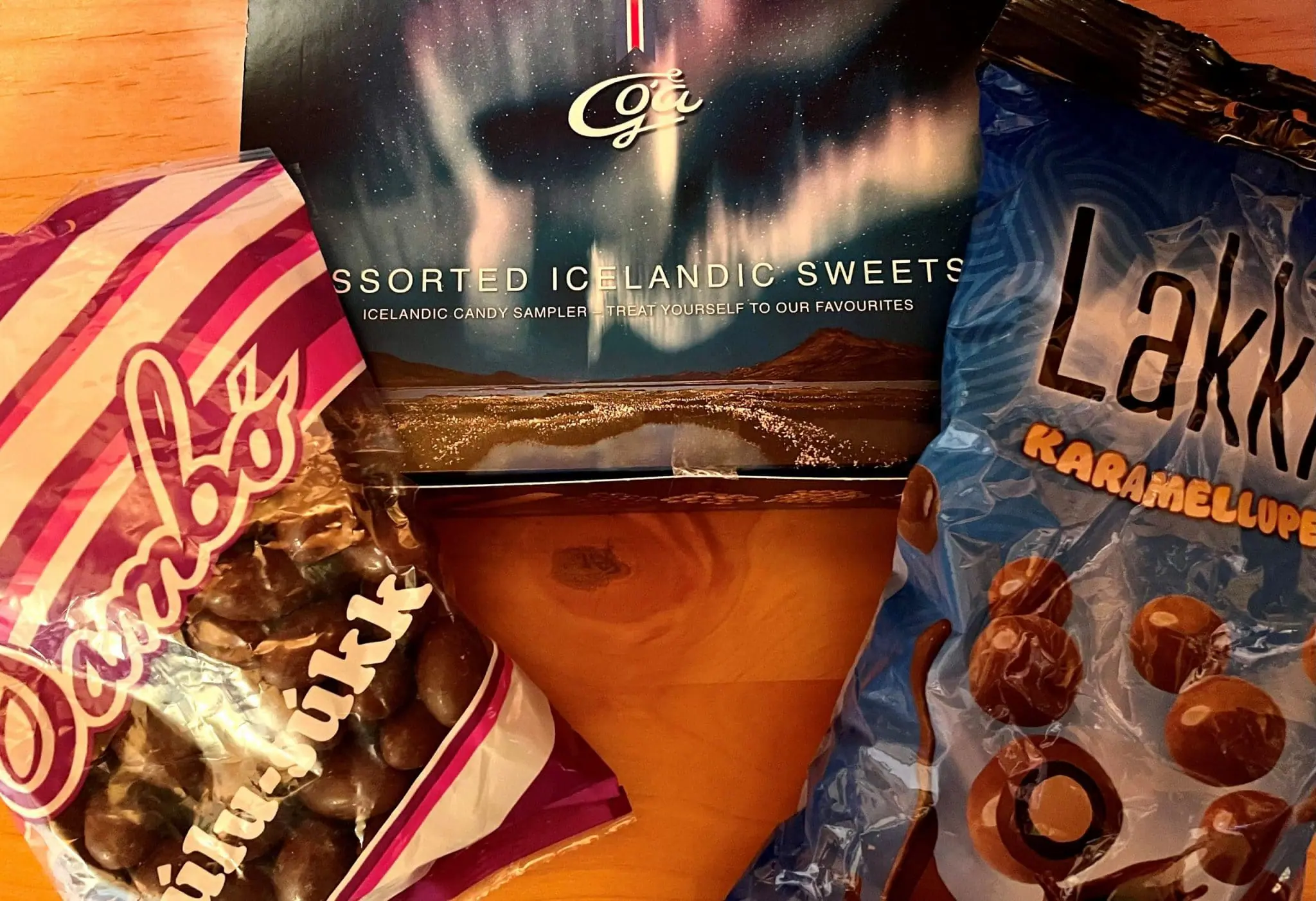 How best to experience Brennivín
Today, Icelanders typically drink Brennivín chilled, often right out of a freezer. Many also enjoy it as a shot, with a beer, or as a base for cocktails. It often takes the place of gin in classic cocktails or of a lighter rum in tropical drinks.
Joelle's first introduction to Brennivin was during a meal at the Apothecary Restaurant in Reykavik. She chose a multi-course Icelandic-themed menu that commenced with a shot of Brennivin. Not the usual introduction, but when in Iceland…..
It is also the traditional accompaniment to the uniquely Icelandic hákarl, a type of fermented shark meat.
We want to try a mixed drink with Brennivin to see if it helps spice up a classic recipe. We may skip the shark, but then again, you know how we travel.
Taking Brennivín home
Brennivín is for sale in various sizes, and the cost is a little higher than you expect it to be as it is in Iceland, after all. You will find Brennivín often during your travels around Iceland and in the Duty-free store at the airport. There are other Brennivín versions, but it seems they are not nearly as popular as the classic black and white label version of Brennivín.
The best price anywhere in Iceland for Brennivin is at the airport duty-free. A tip a pilot gave a family member was to buy alcohol before leaving the airport as the prices in the liquor stores are much higher. He said that is what they do when they come home. Interestingly Brennivin is less expensive than most six-packs of beer in Iceland. Brennivin has the lowest cost of all spirits in Iceland, which may also be a reason for its popularity.
We bring several bottles home each trip as many friends and family members have grown to like its unique taste. It is a must-have from Iceland, and you will need to save room in your luggage for some.

Planning a trip to Iceland? Check out our Iceland Travel Guide here.
Purchasing Brennivín in the United States
Export of Brennivín from Iceland to the United States began in early 2014. Export to Germany Canada followed. Sales to Denmark and Sweden came a bit later.
Once home, it is easy to find Brennivin in our local liquor/wine stores. Large-scale stores like Total Wine, depending on the location, will often have it in stock. If you don't see it in the store, check what they have online; you may be able to special order it.
Drizly.com is an online company that delivers to your door, and best serves those living in bigger cities. This is a new site, and it has a pretty impressive inventory. We found a site called Wine-Searcher.com which will search online sources worldwide for any wine, beer, and spirits. They have Brennivin available. They will ship to your home if your state allows it.

It is also worth contacting your local specialty liquor store to see what they can order for you.
If you found a great source, we would love to hear about it. Contact us by clicking here or leaving a comment at the bottom of the page.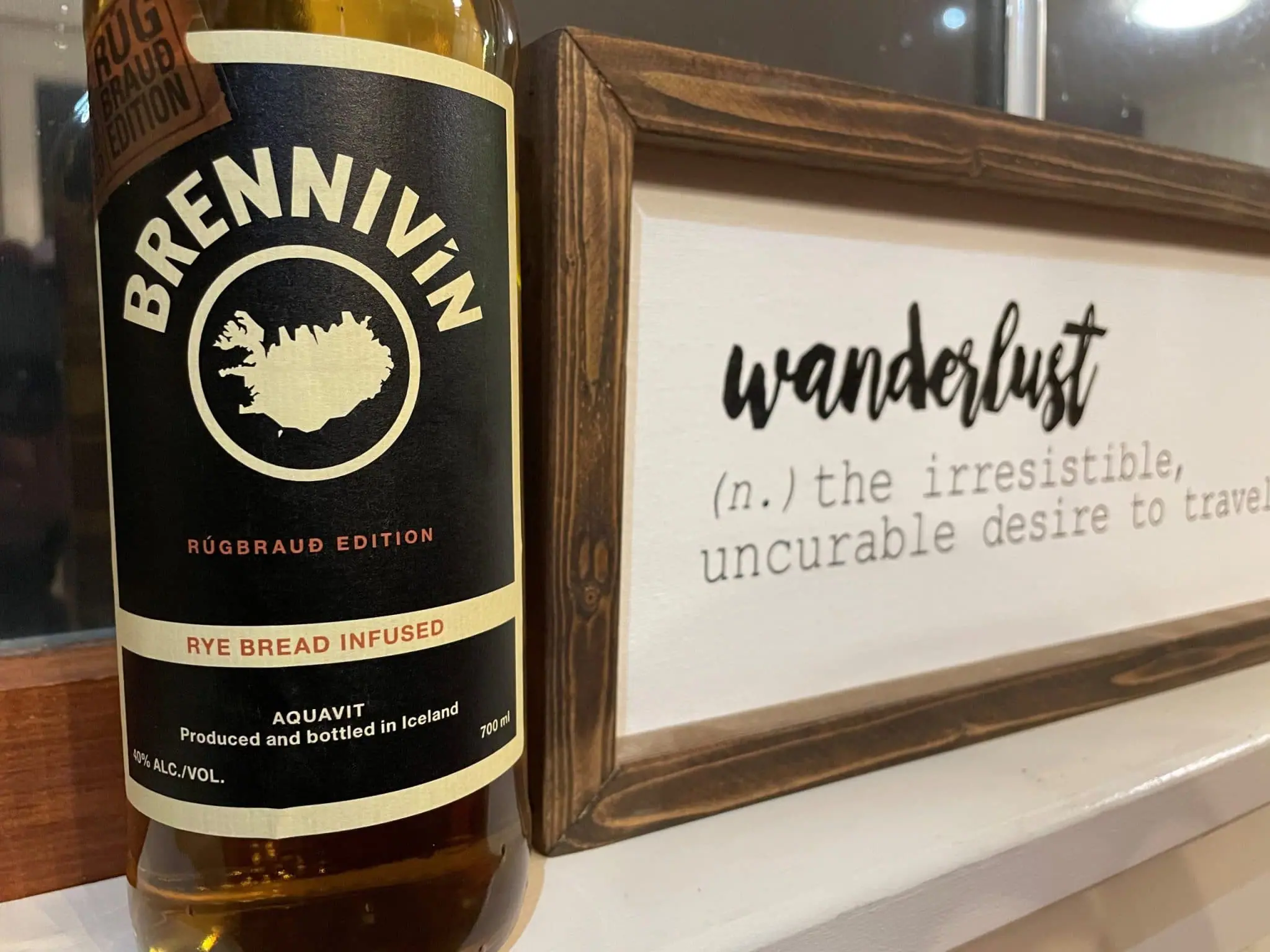 May we suggest a few recipes for cocktails?
---
---
---
Check out our Iceland: Summer and Winter Comparative Photo Gallery by clicking here.
Iceland/Brennivin Photo Gallery
© 2022 Wanderers Compass All Rights Reserved
Check out our Iceland blog posts
"THE PROBLEM WITH DRIVING AROUND ICELAND IS THAT YOU'RE BASICALLY CONFRONTED BY A NEW…
October 13, 2021
Our ultimate guide and photo gallery of Iceland's Glacier Lagoons. Join us on a…
September 29, 2021
Want to learn about Wanderers Compass?
Our Recommended Travel Resources
Our favorite travel insurance site!
If you are booking a trip, don't forget to get travel insurance within 14 days of your first booking. We could not be stronger advocates of being well insured. Not for the little stuff but the big stuff like medical emergencies. We never leave home without it. Over the years, we have used many sites but have now found our go-to place. Squaremouth.com does a fantastic job; it has a user-friendly interface, they use top-rated and reputable insurance carriers, and most policies cover Covid medical issues and cancellations. They also mediate on your behalf if you have problems with your policy.
Medical transport back home from anywhere in the world
They are the premier global air medical transport. One caveat to travel insurance is that medical evacuation usually gets you to the closest facility to care for you. Medjet gets you back to the U.S. to the hospital of your choice once you are stable enough to fly. They cover Covid-related transports as well.
Medjet carries its own policies. The policy is only for transport and no other aspects of travel insurance. They have individual trip policies starting at $99 and annual policies for $295. Most of their policies limit the age to 74 and younger. Prices are not based on age below that.
Hotels, home rentals, BNBs, flights, and other transportation & tours
Expedia is a US-based company whose mission is to power global travel for everyone and everywhere. Whether planning a family vacation, booking for business, or organizing the trip of a lifetime, they are a fantastic resource. Wanderers Compass focuses on independent travel, and using sites like Expedia makes that possible. Every aspect of travel you would need, from airfare, accommodations, rental car, and cruises, to activities to do at your destination, can be booked on Expedia.
Hotels, Home rentals, BNBs, Flights, and other Transportation & Tours
Booking.com connects millions of travelers to memorable experiences, various transportation options, and incredible places to stay – from homes to hotels and much more. It is one of the world's largest travel marketplaces for established brands and entrepreneurs of all sizes.
We always start with Expedia to check prices, but it sometimes says it is sold out. We then try Booking.com, and we find it lists plenty of rooms. It could be they are a Europe-based company. Try both before booking accommodations.
Are you traveling with a family or having an extended stay at your destination?
With over 2 million bookable vacation rentals, VRBO connects homeowners with families and vacationers looking for something more than a hotel for their trip. The VRBO community offers families or groups various rental property types such as condos, cabins, lake rentals, beach houses, etc.
VRBO is under the Expedia group ownership now, which many were worried about, but it hasn't panned out to be a concern. It is a massive network that has access to all forms of lodging should issues arise. Joelle has used VRBO for many years with her family with no problems.
Tripadvisor, the world's largest travel guidance platform, helps hundreds of millions of people each month become better travelers, from planning to booking to taking a trip. Travelers worldwide use the Tripadvisor site and App to discover where to stay, what to do, and where to eat based on guidance from those who have been there before.
With more than 1 billion reviews and opinions from nearly 8 million businesses, travelers turn to Tripadvisor to find deals on accommodations, book experiences, reserve tables at delicious restaurants, and discover great places to see nearby. We use them for guidance and research on every trip; it is a valuable app for the independent traveler.
Discover Europe by Train
Rail Europe sells train and bus tickets for travel across Europe. They cover 24 countries, 105 rail operations, and 20,000 stations. They are the official rail and bus operations agents in the UK, France, Spain, Italy, Germany, Belgium, Austria, Switzerland, Luxembourg, and the Netherlands. Rail Europe continues to add coverage all the time.
It is a fast, easy and economical way to purchase European train and bus tickets. Eurail passes are also available to buy through their site.
An excellent source for travel essentials and guides
Amazon is one of the most comprehensive online shopping sources in the world. On behalf of their customers, teams worldwide provide lower prices, better selection, and rapid delivery. They offer a vast inventory, and their 1.7 million small and medium businesses worldwide selling on Amazon.com provide extensive options to customers.
We buy most of our travel books, accessories, and luggage from Amazon. We have ordered up to two days before travel and get what we need.
Thoughtfully Designed | Meticulously Constructed | Quality Guaranteed.
We have used this luggage for years, left briefly to try others, and returned to Travelpro. Travelpro luggage is carried by crews from over 90 airlines worldwide.
Travelpro takes the time to learn what travelers want and need, then builds it. The key factor for us is that it must be lightweight upfront and resistant to rough handling. Their luggage is the best, and we could not recommend it enough. It is our go-to luggage.
Travel documentation made more accessible
iVisa.com is dedicated to providing customers with a simple, fast, and reliable way to get travel documentation for their journey. Their online application process makes getting visas, health declarations, or passport photos a breeze, all from your home's comfort. As a leading independent company in the travel documentation industry, they take pride in making global travel more accessible for everyone. Ultimately, it is a simple and affordable travel resource to complete the necessary entry documents for your international travel.
This section contains affiliate links. If you use these links (the ads with photos are NOT affiliate links) to buy something, we may earn a small commission at no additional cost to you. Thank you!
Do you have a question for us or have a comment?