"We are all Greeks. Our laws, our literature, our religion, our arts have their root in Greece."

Percy bysshe shelley
Top Five Destinations In Greece
Athens is A city that boasts a history like no other. The Acropolis, Temple of Zeus, Olympic stadium, and the cobblestone and marble streets in the Plaka district, to name a few sites, await your exploration.
Santorini The Jewel of the Aegean Sea, this tiny scenic island is the gem of the Greek Isles with gorgeous beaches and villages of white-washed homes covering every inch of steep hillsides.
Meteora is In the heart of Northern Greece and home to some of the most incredible Orthodox churches and Monasteries perched precariously on bluffs. A UNESCO World Heritage site for both art and nature. It will take your breath away.
Crete This southernmost island is the largest in Greece. This is where to experience brilliant civilizations' remnants, gorgeous mountains, fertile valleys, steep gorges, spectacular beaches, and the best-persevered bronze age relics in Greece.
Zakynthos is One of the most beautiful islands all over the Mediterranean, known for its turquoise water, white sand beaches, and chalk-white cliffs that make it exceptionally memorable. It is also known for the best nightlife in Greece.
Did you know?
Greece Stats
Population: 10.74 million
Capital City: Athens
Currency: Euro (EUR)
Government type: Unitary Parliamentary Republic
President: Katerina Sakellaropoulou
Ethnic groups: Greek 91%, Albanian 4.5%
Languages: Greek
Religions: Eastern Orthodox
Motto: Freedom or Death
US State Department Risk Level: 3 due to Covid.
Terrorist groups: NA
GDP 194.4 billion
The official name of Greece is the Hellenic Republic.
Greece has been in a recession since 2012, the longest on record for an advanced western economy.
Greece provides 7% of the world's marble.
It is one of the sunniest countries on earth, with 250 days of sunshine.
Greece has over 2000 islands.
No point in Greece is more than 85 miles (137 kilometers) from water. Greece has about 9,000 miles of coastline, the 10th longest in the world.
Tourism accounts for 16% of the GDP.
80% of Greece is mountainous
There are no navigable rivers in Greece.
Greek's highest elevation is the legendary home of Zeus and other Olympian gods and goddesses, Mount Olympus, at 9,750 feet (2,917 meters). Its lowest elevation is the Mediterranean Sea or sea level.
About 10% of Greek adults are unemployed. Even with a college education, it's hard to find a job.
Top inventions by the Greeks: Watermill, maps, medicine, surgical instruments, caliper, crane, shower, lighthouse, odometer, surveying tools, vending machine, the steam engine, grenades, Lasik surgery, and Caller ID.
Industry: Agriculture, Tourism, Mining, Manufacturing.
Life expectancy is 81 years old.
The literacy rate is 95%.
Funs facts
The Olympic Games originated in Greece.
Greek civilization has been strongly influential on language, politics, science, art, and philosophy.
The first Greek civilizations are believed to be 4000 years ago, 1600 BC, by the Mycenaeans of Crete.
Greece was the world's first democracy.
Voting is required by law for every citizen about the age of 18.
Feta, which is made from goat's milk, is Greece's national cheese.
Greece is known for its beautiful marble.
Greece is the third leading producer of olives. Olive trees have existed in Greece since ancient times.
Athens's name comes from the Great Goddess Athena, its patron Goddess, and its heroes' protector.
Ancient Greeks loved sports and worshipped athletes. They loved running, jumping, and throwing the javelin and discus. It is believed the Gods wanted their bodies to be near perfection.
They have one of the lowest divorce rates in the EU.
Greece traditionally also has the highest abortion rate.
Greece is the leading producer of sea sponges.
The first Olympic Games took place in 776 B.C. The first Olympic champion was a Greek cook named Coroebus, who won the sprint race.
The ancient Greeks are often called the inventors of mathematics because they were the first to make it a theoretical discipline.
The work of Greek mathematicians such as Pythagoras, Euclid, Archimedes, and Apollonius lies at the basis of modern mathematics.
Greek workers get at least one month of paid vacation every year.
Greece organized the first municipal dump in the Western world around 500 B.C.
The saying taking the bull by its horns comes from the Greek myth of Hercules saving Crete.
Men are mandated to serve in the military for 12-18 months.
Greece Map
Good to know before you go
A tip is typically expected at restaurants, but some round up the bill to include gratuity. Check the bill first. If there is no added tip, leave 5 to 10 percent. Bartenders are not usually tipped but rounding to the nearest euro is common. Taxi or Uber round-up. Porters one euro per bag. Housekeeping 1 euro a night. Concierge 5-10 euros if provided good service. No tipping at spas is expected.
Credit cards are readily used, but small vendors may not have machines, so have cash available.
Driving in Greece must be taken seriously. Greece has a high accident rate, and caution is required. Roads in Greece vary widely in quality and state of repair. Major cities will connect with wide multi-lane highways, but you will find one-lane per direction roads in other places. On the Islands, it is narrow and very treacherous. Huge buses leave little room for cars. You will see lots of damage to vehicles due to tight roads.
There are speed cameras, but you are more likely to be subject to a roadside check. The police have the power to take your license. Drive the speed limit!
Greeks do not wave with an open hand. In fact, it is considered an insult to show the palm with the fingers extended. Greeks wave with their palm closed.
Smoking is common in Greece, but smoking indoors is not permitted and is strictly enforced.
Greeks have been stereotyped as being laid back and somewhat disorganized. It is more of a lifestyle of taking life a bit more relaxed. You are on vacation; take on that mindset. Remember the "slowly" culture.
One of the things you should know about Greece is that pedestrians rank low on the food chain! If you assume that cars will stop for you to cross a crosswalk, please think again!
While in Greece, you will most likely spot illegally parked cars. You may see cars parked on the pavement, under a clear "No-parking" sign, or even on the street, blocking other parked cars.
Ferries are a prevalent form of transportation, but going to islands farther out like Santorini could require a full day of travel on sometimes rough seas and crowded boats. These boats run late often, and due to that, you feel like a herd of cattle. We experienced this from Athens to Santorini. We were on the "fast" ferry, on relatively good seas, and were hours late. On disembarking, due to jamming people into the car deck to offload them quickly to save time, we saw people pass out or get knocked over. Once on the dock, it was chaos. We learned later from other travelers a flight would have been less than an hour and the same cost. Look at all your options!
You may have grown up in a country where toilet paper goes down the toilet. This is generally not the case in Greece. You will find small bins next to the toilet for toilet paper. Only human waste goes in the toilet. At first, it was surely odd; you will adjust, we did.
Food is a huge part of Greek culture. It has to do with much more than just flavors and dishes. It has to do with the excellent ingredients, the lengthy procedure in preparing the food, and the culture of sharing dishes with others.
"It's all Greek to me" – it is a complex language to learn, along with having the Greek alphabet. Learning a few words in Greek will earn you at least some smiles, show respect, and maybe you will be rewarded with a treat!
In Greece, mastiha (μαστίχα) is a sweet liqueur made with the mastiha resin from the mastic evergreen shrub from the Greek island of Chios. It tastes like tree sap because it is. It's a liquor, but you will see it in many other forms such as candy, medicinal use, flavored stomach remedies, lozenges, the spice for cooking, desserts, and even lotions. It is musty and aromatic. It is a staple in Greece. Restaurants will often offer a shot of it at the end of your meal along with the bill. It is a cultural gift, and you should accept it as such. Mastiha grows on you to the point you get disappointed when it doesn't accompany the bill. It is a great Greek gift to bring home.
Nepotism is common in Greece, as family members are always there to help one another in times of need. Strong emotional bonds between family members play an important role in this culture. Family bonds make the social structure strong.
The people of Greece are known for their warm hospitality.
Celebrating name days (birth date of the saint after whom one is named) is more common than celebrating birthdays. Exchanging gifts with family and friends usually takes place on 'namedays.'
The Greeks are very proud of their cultural heritage. Religion plays an important role in their life. Every holiday or festival has a religious background. Easter (not Christmas) is the major religious holiday. The Church greatly influenced the politics in Greece.
Though Greece has a mild climate, the islands are not a year-round destination. Most of the islands shut down for most purposes on October 1. We were there until September 30, and around us, on both Santorini and Mykonos, the hotels were putting everything away to lock up. Many servers, winery tours, and guides we spoke with were leaving the next day. Athens is where most lived in the off-season. They described the islands as desolate in the offseason.
Greece is very safe to visit. It is 39th in the world of safest countries.
---
When to go to Greece
The best time to visit Greece is outside the busy summer peaks, during spring (April to June) and early autumn (September and October). Temperatures are warm but not stifling, and you'll find that destinations are open but still relatively quiet.
For some, their favorite time to visit Greece is springtime, when wildflowers explode into a colorful feast for the eyes across the countryside. Easter celebrations, particularly on Crete, offer pageantry, fireworks, and feasting.
Fall offers the opportunity to participate in centuries-old olive harvest traditions in the country known for olive oil production.
Summer brings steamy, hot weather and hordes of visitors to the main sights and on the islands. The period from November to February is colder, but city attractions remain open and are wonderfully quiet.
Island destinations close down for the winter and often as early as October 1.
Summer 68-90°F (20-32°C)
Spring 60-76°F (8-24°C)
Fall 53-82°F (12-28°C)
Winter 44-57°F (7-14°C)
Our Favorite Greece Resources
This resource section contains some Amazon affiliate links. If you use these links to buy something, we may earn a small commission at no additional cost to you. Thank you!
Travel Books/Guides
Greece was a single-country trip taken by Joelle with her sister. It was the first trip for both, so the research was in-depth and fascinating. The more we studied, the more excited we got. These resources were fantastic for planning and, once there, served us well.
Lonely Planet's Greece (Country Guide) by Lonely Planet
A passport to the most relevant, up-to-date advice on the highlights Greece has to offer and what hidden discoveries await you. Experience the Acropolis of Athens, get lost in Rhodes" Old Town, and watch the sunset in Santorini, wander the windmills of Mykonos. Great photography and lots of details to aid in planning. Discover this travel guide here.
Rick Steves Greece: Athens and Peloponnese by Rick Steves
Full disclosure, we are huge Rick Steve's fans, it will be rare we do not recommend one of his wonderful guides, and for Greece, it is no different. We love his travel style and perspective. His off-the-beaten-path approach, together with his independent travel philosophy, matches well with how we travel. The guides never disappoint. This book made the cut into our suitcase and was a fantastic resource. Find this must-have guide here.
DK Eyewitness Greece, Athens and the Mainland (Travel Guide) by DK Eyewitness
The ideal travel companion, full of insider advice on what to see and do, plus detailed itineraries and comprehensive maps for exploring this ancient country. Everything you need to know is clearly laid out within color-coded chapters. Discover the best of Greece, Athens, and the Mainland in this beautifully illustrated guide. Find this guide here.
Moon Guide Greek Islands & Athens: Island Escapes with Timeless Villages,
Scenic Hikes, and Local Flavors (Travel Guide)
We are huge fans of the Moon Guide and this one is pretty special. Highly recommend it. Well illustrated and with good maps. Find the right islands for you, with strategic itineraries for different timelines, budgets, and activities, whether you want to lounge on the best beaches, linger in ancient villages, explore the outdoors, or island-hop for a little taste of everything. Find this guide here.
Our favorite websites
2. US Department of State Bureau of Consular Affairs Greece Country Info
We cannot encourage you enough to visit this website as you plan and prepare for your trip. This is the US Federal Government addressing the safety, security, travel risk, entry, exit, visa documents mandates, emergency US and Embassy contacts, health, local laws, special circumstances, threats, traveler vulnerabilities, government warnings, and transportation in Greece. This is your best and most reliable resource for all this important info. Check back often before you go, as things can change quickly. Being prepared is essential in all travel, but especially internationally.
Greece International Travel Information (state.gov)
3. The Center of Disease Control and Prevention (CDC) Travelers Health Resource
This CDC travel resource provides essential health info for your specific destination. Using their tool, you can determine which vaccines, medications, and health advice recommendations are needed for Greece.
CDC's Travelers Health Page for Greece
Our favorite maps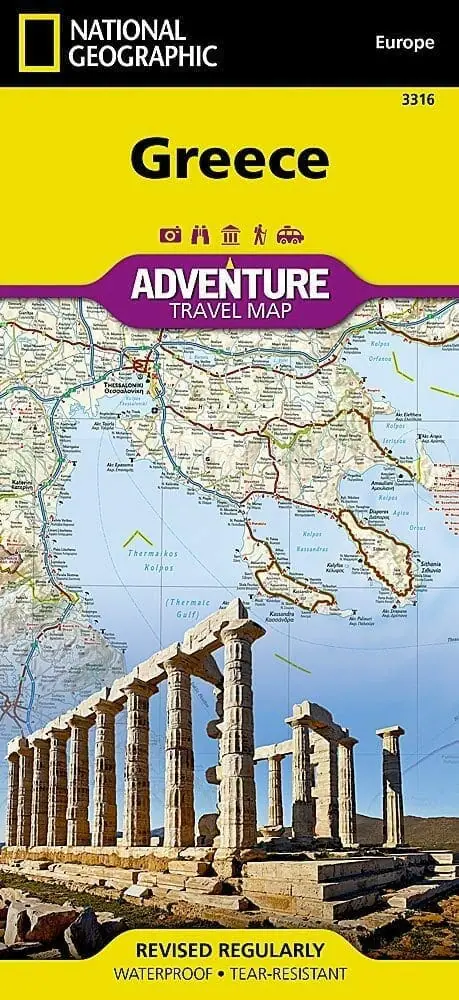 Greece National Geographic Adventure Map 3316
Easy-to-read maps with practical road and travel information. Explore the rich history, spectacular beaches, and magical islands of Greece. Major sites and landmarks are well-marked. Mapped road network with distances and designations for major highways to the off-the-beaten-path roads. Though we default to Google Maps, this came in handy when service was poor or during construction detours. Find this essential map here.
Our favorite apps
Rome2rio: Trip Planner Trip and Holiday Organizer Enter any address, landmark, or city in the app will instantly display all your travel options, and booking info, along with accommodation providers and things to do. Find it on your local App Store.
Rick Steve's Audio Europe This App includes a vast library of Rick Steve's audio content. Get cultural and travel info. Includes self-guided tours of top attractions and historic walks. A must-have. Find it on your local App Store.
Visit Greece Explore Greece with this Greek National Tourism App Found in your App store
Greek Islands Travel Guide Offline maps and tours. Find it in your App Store.
Greek by Nemo Turn your phone into your Greek teacher. Easy to use. Essential words and phrases with audio Find it on your App Store.
Google Translate We used this often to practice proper pronunciations of Greek words. As we always encourage, it is essential to learn the basics to greet and thank people in the local language. Google Translate was an easy app to use. If needed, you can enter text in English, and it will speak back in Greek to aid in communicating with locals. Furthermore, it came in very handy to translate text into images instantly.
Do you have a favorite Greece travel resource? Share your favorites in the comments section at the bottom of this page or
© 2023 Wanderers Compass All Rights Reserved
Our Greece Photo Gallery
Our favorite travel insurance site!
If you book a trip, don't forget to get travel insurance within 14 days of your first booking. We could not be stronger advocates of being well-insured. Not just for the little stuff but the big things like medical emergencies. We never leave home without it. Over the years, we have used many sites but have now found our go-to place. Squaremouth.com does a fantastic job; it has a user-friendly interface, uses top-rated and reputable insurance carriers, and most policies cover COVID-19 medical issues and cancellations. They also mediate on your behalf if you have problems with your policy.
To empower you as a consumer, we suggest you read our blog post on the importance of travel insurance and how to get the best coverage from top-rated companies for an affordable price.
Medical transport back home from anywhere in the world
They are the premier global air medical transport. One caveat to travel insurance is that medical evacuation usually gets you to the closest facility to care for you. Medjet gets you back to the U.S. to the hospital of your choice once you are stable enough to fly. They cover COVID-related transport as well.
Medjet carries its own policies. The policy is only for transport and no other aspects of travel insurance. They have individual trip policies starting at $99 and annual policies for around $300. Most of their policies limit the age to 74 and younger. Prices are not based on age below that.
To learn more about how Medical Evacuation membership with Medjet Assist works, check out our blog post for a more detailed review.
Hotels, home rentals, BNBs, flights, and other transportation & tours
Expedia is a US-based company whose mission is to power global travel for everyone and everywhere. Whether planning a family vacation, booking for business, or organizing the trip of a lifetime, they are a fantastic resource. Wanderers Compass focuses on independent travel, and using sites like Expedia makes that possible. Every aspect of travel you need, from airfare, accommodations, rental car, and cruises to activities to do at your destination, can be booked on Expedia.
Hotels, Home rentals, BNBs, Flights, and other Transportation & Tours
Booking.com connects millions of travelers to memorable experiences, various transportation options, and incredible places to stay – from homes to hotels and much more. It is one of the world's largest travel marketplaces for established brands and entrepreneurs of all sizes.
We always check Expedia and Booking.com to verify prices. At times, one is sold out of rooms while another at the same place has rooms. As well we often find some European hotels, especially smaller ones, on Booking.com but not on Expedia. It could be they are a Europe-based company. Try both before booking accommodations.
Are you traveling with a family or having an extended stay at your destination?
With over 2 million bookable vacation rentals, VRBO connects homeowners with families and vacationers looking for something more than a hotel for their trip. The VRBO community offers families or groups various rental property types such as condos, cabins, lake rentals, beach houses, etc.
VRBO is under the Expedia group ownership now, which many were worried about, but it hasn't panned out to be a concern. It is a massive network with access to all lodging forms should issues arise. Joelle has used VRBO for many years with her family with no problems.
As the leading marketplace for travel experiences, Viator believes that making memories is what travel is all about. And with 300,000+ experiences to explore—everything from simple tours to extreme adventures (and all the niche, interesting stuff in between)—making memories that will last a lifetime has never been easier.
With industry-leading flexibility and last-minute availability, it's never too late to make any day extraordinary. This one site has it all and has experiences throughout the world. We use them often during our travels, especially for food tours. We especially take the time to read the reviews provided.
An excellent source for travel essentials and guides
We now have our own Amazon Storefront with all our favorite travel accessories and gear in one place. Check out our travel store at the link below.
Amazon is one of the most comprehensive online shopping sources in the world. On behalf of their customers, teams worldwide provide lower prices, better selection, and rapid delivery. They offer a vast inventory, and their 1.7 million small and medium businesses worldwide selling on Amazon.com offer extensive options to customers.
We buy most of our travel books, accessories, and luggage from Amazon. We have ordered up to two days before travel and get what we need.
Welcome Pick-ups
(Airport and sightseeing service)
A global leader in ground transportation for travelers. They help hundreds of companies worldwide enhance their services and boost their revenue with our 5-star ride experiences and hassle-free automation.
Founded in 2015 in Athens, Greece, Welcome Pick-ups goes above and beyond the standard transfer service as the first company to deliver a holistic, in-destination travel experience. From the moment a traveler arrives at a new destination until they return home, Welcome accommodates all their travel needs (transfers, travel products, things to do, information) as the easiest, friendliest, and most personalized solution.
Do you feel like you are wasting time visiting an on-site photographer only to be embarrassed by the photo? Would you like control of the final product? Get the perfect VISA or passport photo online with PhotoAID.
When traveling, you often need to apply for official documents such as a passport, ID, and different kinds of licenses or cards. Those applications require a picture that must meet specific conditions to be accepted, depending on the country. Now, it is possible to take this picture at home without the help of a professional photographer. PhotoAiD allows you to take the perfect biometric photo that will be approved by you without leaving your home.
This article contains affiliate links. If you use these links to buy something, we may earn a small commission at no additional cost to you. Thank you!
Check out our newest blog posts
Do you have a question for us or have a comment?