Bring the British recipe into your home or to a picnic with this delicious Scotch Egg adaptation.
British cuisine sadly doesn't always have the best reputation. Though they are not known for their culinary masterpieces, there is some excellent food to be had. One we have always enjoyed is the British Classic, the Scotch Egg.
The origin of this British classic is one of great debate, but London's Fortnum & Mason Department Store claims that they invented the Traditional Scotch Egg in 1738 as a traveling snack for the wealthy. Despite its name, it has nothing to do with Scotland, though you will find it on many Scottish menus.
Why are Scotch Eggs called Scotch Eggs?
It is believed the dish is named after the process of "scotching." Scotching any food is the act of covering it in a meat paste and breadcrumbs.
How are fascination was born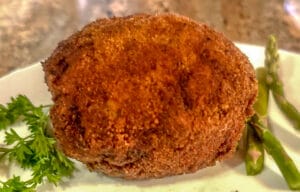 Our first experience with Scotch Eggs was in Scotland near the Dunnottar Castle in the seaside town of Stonehaven. The tantalizing creation featured a crispy outer layer enveloping a tender and flavorful sausage coating, hugging a perfectly boiled egg. It was delicious, and ever since, if a Scotch Egg is on the menu, we order it. Our last Scotch Egg was in an unexpected place, Williamsport Pennslyvania, at the Irish pub Moon & Raven Public House in the summer of 2023. Even better it was one of the best ones yet. It was the inspiration to make it our next recipe for the blog.
Our favorite part of the Scotch Egg lies within the soft, golden yolk that elevates the taste profile and adds a burst of flavor to each bite. As you bite into the crispiness, savor the harmonious blend of savory, smoky, and scrumptious layers that make this deep-fried delicacy an absolute delight and heavenly treat for your taste buds.
Is it served for breakfast?
Traditional Scotch eggs are a type of British snack and buffet food. They're often served at holiday parties as part of a classic cold buffet with sausage rolls, as a snack, or lunch on the go. As a matter of fact, in the UK, you will find these in every grocery store and mini-market. They are sold in ready-to-eat packs and can be enjoyed cold. These often will come with a harder yolk. We prefer a runny yolk freshly made and served warm.
How to Serve Scotch Eggs
Scotch eggs are perfect as a snack on their own. But you can also serve them with your favorite dipping sauce, such as aioli mayo, ketchup, or hot mustard. Add them to salads or sandwiches for a delicious and filling meal. They are a great source of protein that keeps you satisfied for hours.
In the US, they are often in the menu's appetizer section, and we have usually found them in gastro-pubs. Americans love their breakfast eggs, and this would be an excellent and fun egg preparation, especially when having company.
But having a cold pint of beer with your Scotch Egg at breakfast may be frowned upon.
Finding the best Scotch Egg recipe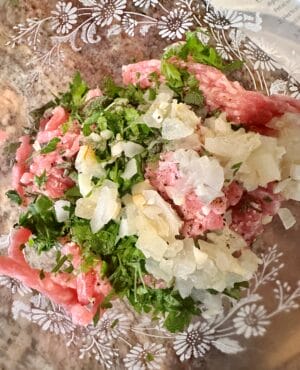 Now, to find the right recipe. As always, we did lots of research, read many reviews, and looked at many "traditional" and "authentic" recipes. We learned quickly they can differ in many ways, except for the eggs, sausage, and breadcrumbs. So off we went to our test kitchen (it is just a regular kitchen in fact) to develop our version of the Scotch Egg.
We found success, and it will be something we both make often in our homes. It is simple, easy, a bit messy, and so much fun. For guests who do not know what they are, it is always a fun surprise to discover what is in the center of that ball of breadcrumbs. Try it for yourself!
Let's get cooking!
Traditional Scotch Egg
This deletable British staple starts with layer of tender, creamy egg, wrapped in seasoned sausage, and rolled in scrumptious breadcrumb coating then fried until golden and crispy. Every bite is a burst of flavor on your taste buds.
Equipment
1 Deep fat fryer or saucepan

1 Pot to boil eggs

1 Cast iron fry pan or baking dish
Ingredients
8

X-Large

Eggs

1

lb

Pork sausage meat

Any choice

1

tbsp

Olive oil

1/2

cup

Mild or Sweet onions finely chopped

1

clove

Finely minced garlic

1/2

tsp

Fresh ground black peppercorns

5

sprigs

Thyme finely chopped

If you can use fresh do so

1

tbsp

Parsley finely chopped

1

tsp

Fresh sage

Optional but did add a nice flavor

1

tsp

English mustard

Any form of hot mustard like Colmans

1 /2

cup

All purpose flour

May need more so have for standing by

2

tbsp

Milk

3/4

cup

Plain dried breadcrumbs

Avoid panko, browns very dark

1/2-1

cup

Cooking Oil with a high smoke point

If you can fully submerge the egg that is ideal but not required
Instructions
Bring a large pan of water to the boil. Carefully lower in 8 eggs and cook for 6 1/2 minutes for a runny yolk, or 7 1/2 minutes for a slightly more firm yolk. Lift out with a slotted spoon and place into an ice water bath immediately or run under a cold tap until completely cold. Peel and set aside. They seem to peel better from an ice bath and fully cooled.

Heat the olive oil in a frying pan and gently cook the onions and garlic for 8-10 minutes until soft and translucent. Do not brown. Set aside to cool slightly.

Place the onions and garlic in a large bowl with the sausage meat, black pepper, herbs, and mustard. Season with salt and mix everything well with your hands, almost into a paste. Divide into 6 balls.

Place the peeled eggs in a bowl with some of the flour. Make sure they are well coated.

Flatten the sausage meat mixture between 2 sheets of saran wrap, parchment paper, or tin foil until it's as flat as possible. Place a floured egg in the middle of the sausagemeat. Using your hands, shape the meat evenly around the egg until completely sealed. Place the eggs on a baking tray. Repeat with the remaining eggs. Cover and chill for at least 30 minutes.

Beat the 2 remaining eggs with the milk. Line up 3 bowls – one with the remaining flour,, another with the egg mixture, and a third with the breadcrumbs. Roll each sausage-encased egg in the order of the bowls – first in the flour, then egg mixture, and finally in the breadcrumbs. Chill again for 15 minutes.

Heat oil to 170 degrees and put in 2-3 eggs at a time as soon as the oil gets heated. In my our case we used a small saucepan so the eggs could be fully submerged so we did one egg at a time. Deep fry the eggs covered with sausage for 5 minutes until crisp and golden brown. Do not let it get dark brown. Drain on paper towels and repeat with the remaining eggs.

Place the eggs in a cast iron pan or a baking dish. Place in the preheated oven for 8 minutes.

Enjoy hot with a little sea salt and a dipping sauce. Can be served at room temperature as well.
Notes
Serving size is 1-2 Scotch eggs per person. It would be a meal if you had two.
Prepare to the end of step 6 the day before frying. The yolks do remain runny.
Once cooked and cooled, the Scotch eggs can be stored in an airtight container in the fridge for up to 3 days and should be brought to room temperature to serve.
Frying and then baking the fried scotch eggs will result in perfect cooking of the inner meat and that brings a fluffiness to the Scotch Egg. If you wish to save that step you can fry eggs for 7-8 minutes and do not bake.
For those who wish to avoid frying you can bake the eggs in the oven at 300 degrees for 30 minutes.
Several recipes we saw only had salt and pepper added to the sausage meat. It seemed bland to us but that is an option.
If you can get hold of some farm-fresh local eggs it will make for a much darker yolk which will enhance the presentation.
Serving the Scotch Egg on a bed of greens or julienned pickled vegetables adds a lovely touch.
Traditional Scotch Egg Preparation Slide Show
Considering a United Kingdom adventure? Check out our England and Scotland Travel Guides

Our United Kingdom and Scotch Egg Photo Gallery
© 2023 Wanderers Compass All Rights Reserved
Check out all our recipes
Do you have a question for us or have a comment?