"Portugal has a peaceful feel about it. I sit on the terrace overlooking the vineyard there and I feel cut off from the world. You need that sort of thing."

Cliff Richard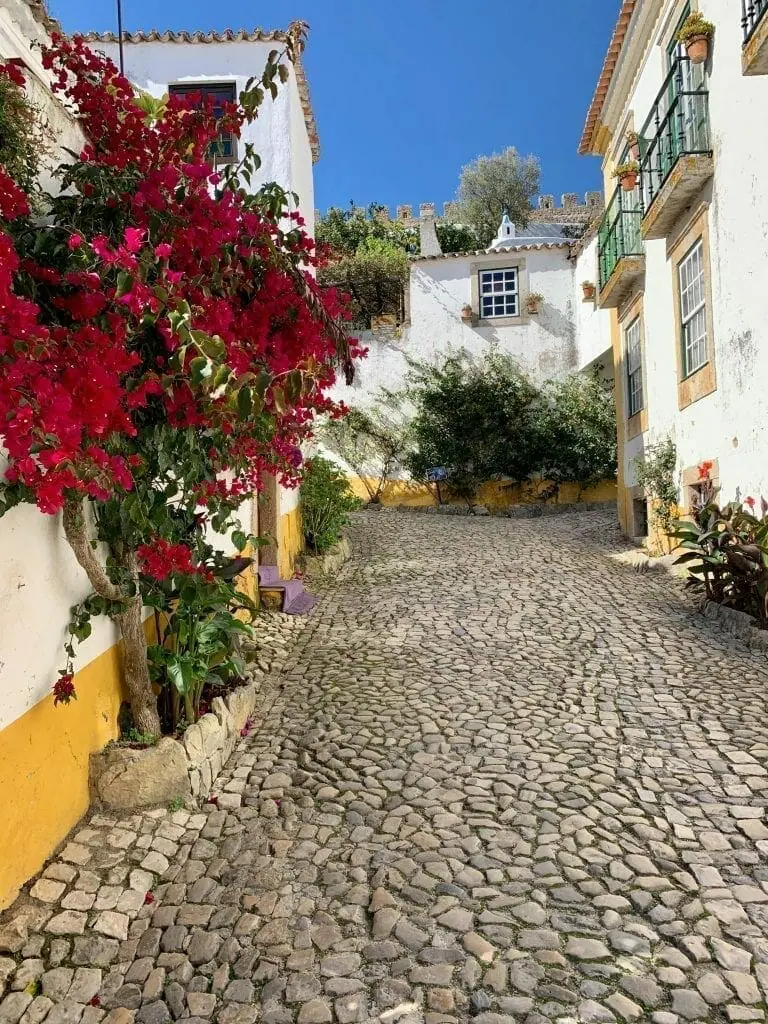 One of Europe's most well-preserved walled medieval towns is the remarkable town of Obidos. The enchanting village is one of Portugal's top destinations. Why buy a postcard when you can visit this postcard-picture-perfect town and make one of your own from the many gorgeous photos you will take? 
First impressions that blow you away are always something to cherish. Obidos was our first stop in Portugal after our flight to Lisbon. The drive was just over an hour on wide well-marked modern highways. Upon arrival, it was love at first sight.
We were awestruck by this little gem of Obidos. It has charm, rich history, friendly locals, and beautiful sights. Join us as we take you on a journey through this picturesque wonder.
One of the Seven Wonders of Portugal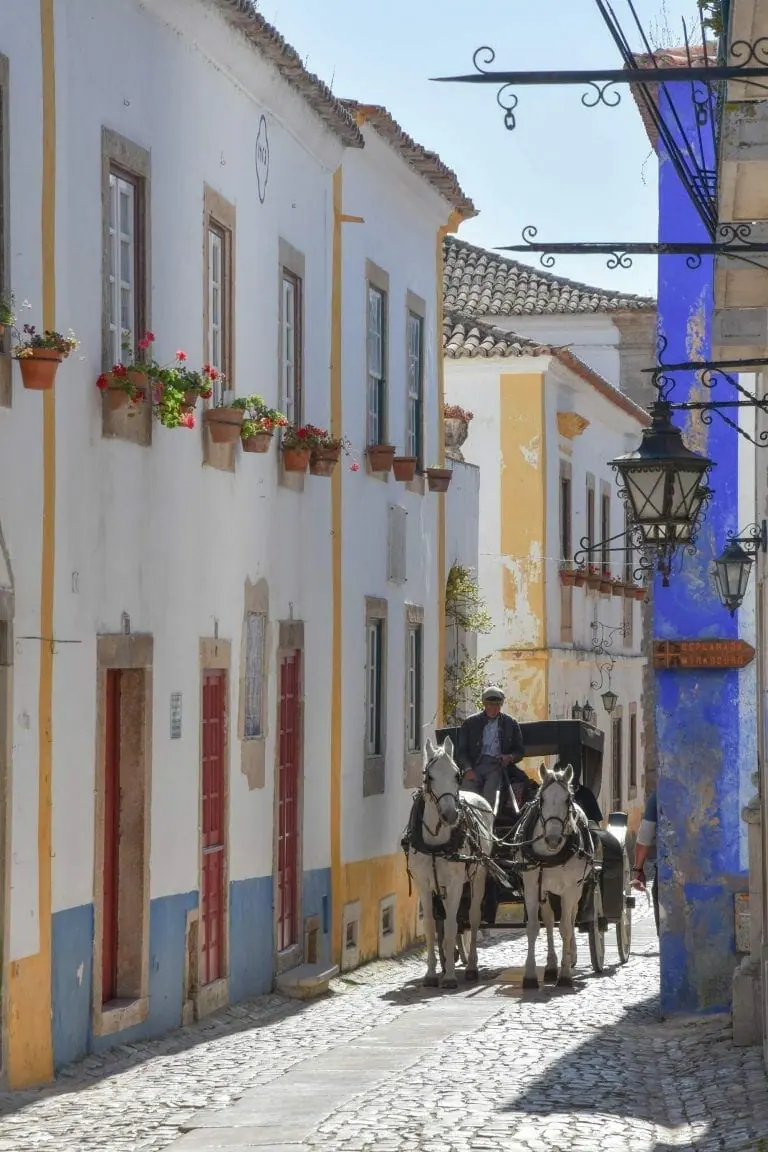 Obidos is a lovely town of narrow cobbled stone streets and whitewashed houses, with vibrant bougainvillea draping gothic doorways. Above it is an imposing stone castle. A 39-foot wall that remains intact to this day surrounds the town. The entire town is a National Monument and a UNESCO City of Literature. It is one penned of the seven wonders of Portugal.
The town was founded originally as a Roman settlement and outpost dating back to Portugal's Roman occupation. Obidos was abandoned around the 5th century after Roman's fall. In 713, the Moors took over the area and fortified the town. In 1148 it fell to the first King of Portugal, Afonso Henriques. The Moorish influence remains to this day.  
A Town for a Wedding Present
People refer to this town as the Wedding town present. In 1228 King Dinis showed his soon-to-be bride Obidos, and she fell instantly in love; we can see why. King Dinis then gave the town as his wedding gift to his new Queen. This tradition continued with later Kings until the 19th century. Shortly after gifting it to his new Queen, the King remodeled the castle and the walls. The Queens managed the town over the centuries and took on many construction projects. These included the impressive Aqueduct built in the 16th century at the town entry. An earthquake in 1755 did cause significant damage to the castle and other buildings.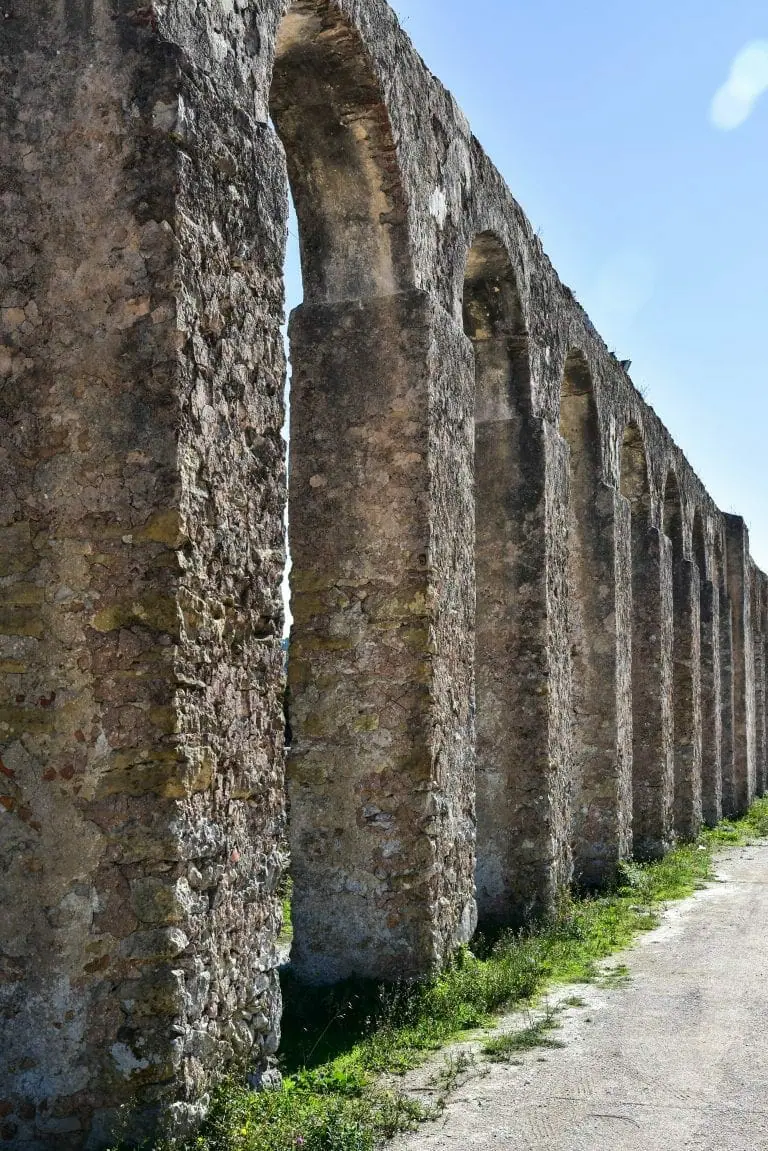 When approaching Obidos, the massive Aqueduct greets you. Built by Queen Catherine of Austria in the 14th century, it is 2 miles long and was created to bring water to the castle from the nearby mountains. It remains incredibly intact and oddly where we parked our car while visiting the town. Yes, this almost 600-year-old structure now sits on the city-paid dirt lot.
Royal patronage over the centuries helped Obidos retain its charming and unique personality. Considering its popularity, we expected it to be touristy, but it has maintained authenticity and warmth.
Obidos Castle
The Obidos Castle rests above the town, watching over its kind and loyal citizens. The castle is a mix of Romanesque, Gothic, and Baroque architecture. It is a stone structure in a trapezoidal design and has withstood many battles throughout its years, including Napolean Bonapart.
After being abandoned for many years, restoration began in 1948 and returned to its original glory. It is now a luxury hotel that likely would have pleased many previous royal owners.
The castle on the hill is surrounded by a fortified 39-foot high battlement over a mile long and fully encircles the town. These walls are magnificent in their size and power. They are incredibly intact. It is easy to imagine what a foreboding sight it was to oncoming aggressors. Visitors can climb atop the wall and walk around the town. The views are breathtaking.
Visiting the Medieval Town
Park at one of the two lower gravel lots; we parked in the south lot, where you can get a great view of the Aqueduct that spans a few kilometers and stops before the town's main gate. From there, walk along the Aqueduct, then cross the street to the welcome center with bathrooms and shops. Check with the helpful staff for suggestions on how to layout your visit.
We suggest starting by going to the Museum Paroquial de Óbidos before entering the town. It will give some good perspective about what you will see and learn some of its stories. The history of this fantastic town spans over 1000 years.
Check out our list of top to-dos in Obidos. Click here.
Entering the Porta de Vila
After a quick stop at the museum, you will reach the city gate, Porta de Vila. Although it doesn't seem that impressive since it is not massive or ornate, we assure you this town saves its essence after crossing the threshold. Watch out for the occasional horse-drawn carriage. Yes, horse-drawn carriages are there to add to the mystique.
To the right, after you enter the gate, is the Porta da Vila, a gorgeous archway and balcony covered in those classic blue and white Portuguese-painted tiles. It took us back at first by how striking the tiles were. We saw many of these tiles over the next two weeks; this speaks authentic Portugal.
Once past the gate, stick to the left as the road splits to an upper and a lower route. This street is Rua Direita, which is the town's main drag. This street will take you straight to the city's north end, where the castle is located.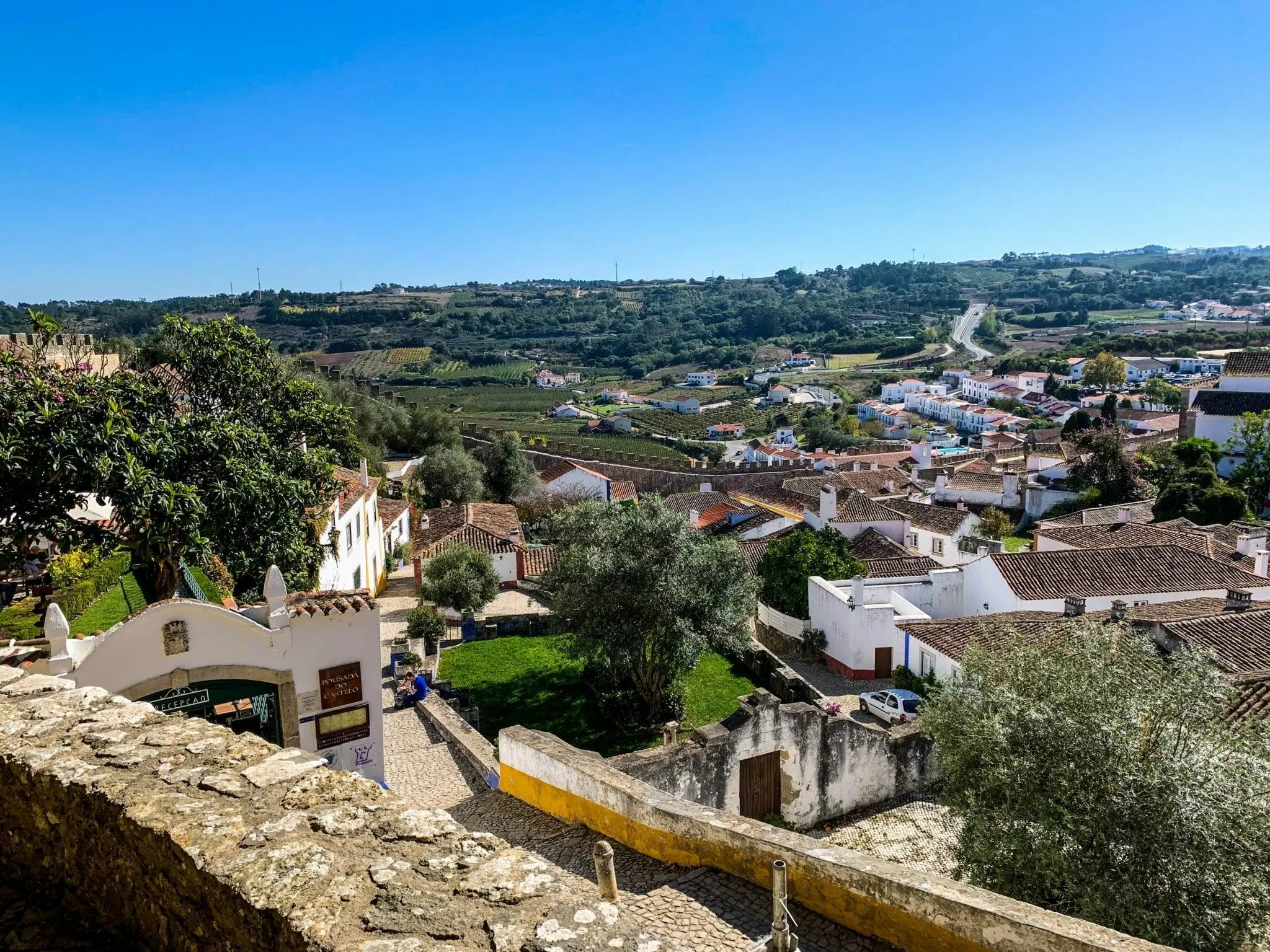 Every building is brightly painted white with blue or gold trim. Move along this cobble-stone street and admire all the colorful flowers bursting out of small alley gardens, planters, and balconies. Bright banner flags are strung across the houses to bring more flair to the town. This town is full of treats for all your senses.
Many handicraft shops, cafes, restaurants, and bars are on this bustling street. Obidos is a great place to wander aimlessly because of its peaceful beauty. We also found the locals warm and friendly.
Local Pastries and the famous Ginja de Obidos
We sure wish we had known more about well-known local specialties and culinary treats before our arrival. With much walking ahead, may we suggest a 1.50 euro expresso to pep yourself up? There were multiple barista locations to choose from. How about grabbing a Pasteis de Nata to enjoy along with that espresso? Pasteis de Nata is a delectable Portuguese custard tart, and Portugal is famous for them. The locals love their pastries, and there are many other confections to discover as you stroll down the main Rua Direta.  
Now that you have some food in you, we recommend trying the Ginja de Obidos liqueur, a local delicacy.
Ginja of Obidos is the home of this famous liquor. It is a Portuguese sweet cherry liqueur that is delicious. You will come across many places that offer a shot served in a delicate chocolate cup. We don't know what we enjoyed more, the alcohol or eating the cup after. To our shock, the cost; was only 1 euro. We may have enjoyed a few during our stroll. Bottles of Ginja are for sale in various sizes and are very reasonable. You will find Ginja of Obidos often during your travels. Click here to see our article on it.
Onward toward the Castle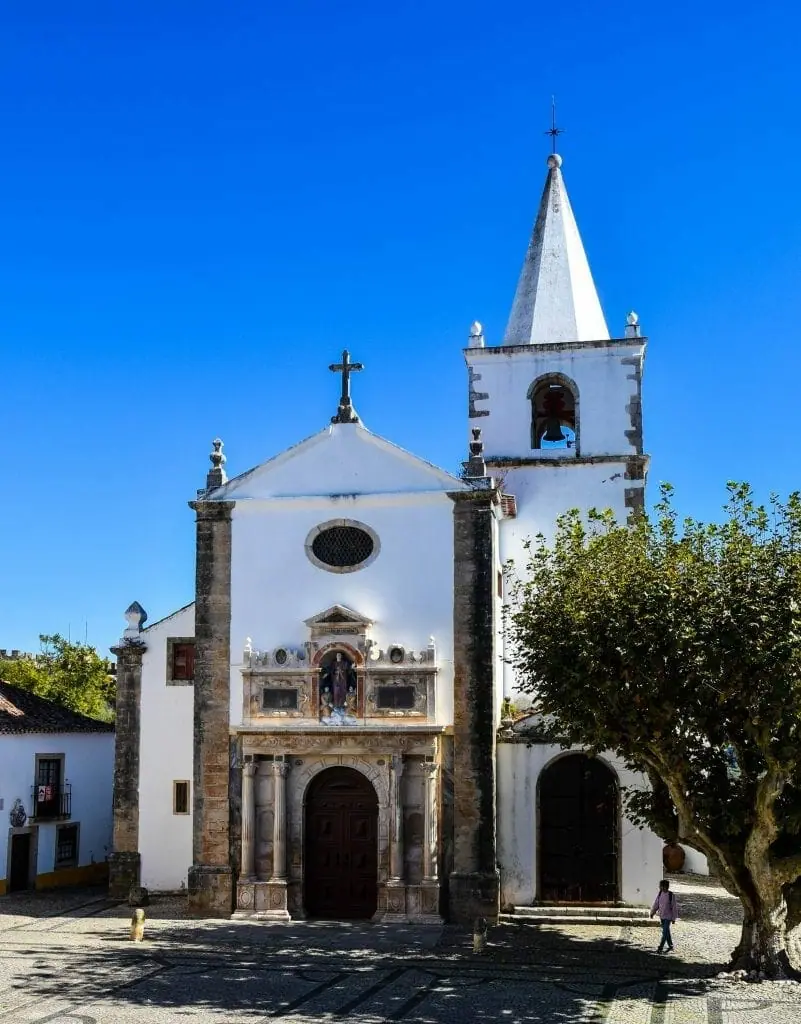 Continuing down the main street, two-thirds of the way down, the area opens up to the right. You will find the small Santa Maria square with a 15th-century fountain. The best feature in this square is the lovely Church of Santa Maria. A historical church built in the 16th century has an entrance with Renaissance Pillars, and the church consists of three rooms delineated by several columns. The interior is ornate with beautiful Azulejo tile paintings and astonishing frescoes of Gothic religious art. The Azulejo tile, usually blue, you will come to love and expect everywhere in Portugal.  
Take the time to visit the Museum Municipal de Óbidos on one side of the square to see more beautiful artwork and antiquities. There is also a collection of archaeological treasures from the Middle ages.
The square here is a lovely place to rest your feet, unwind and take in the idyllic setting. Let your imagination take you back to what it was all those years ago.
The Royal Castle
Rua Direta has led you to the main square and the magnificent castle area. Livraria de Santiago will be right before you, which is something to check out. It is a beautiful old church that is now a bookstore. Make your way to the right; this path will take you up some winding steps and a few terraces. These terraces provide excellent views of the beautiful expansive valleys below.
As you continue, it leads you to the front of Obidos castle, now a beautiful luxury hotel. There are some small courtyards you can explore. Though you can't visit without being a guest, there is a way in. A restaurant at the hotel, Pousada de Obidos, has a menu of regional delicacies and a fantastic Portuguese wine collection. Have a delicious meal and get a peek at the castle interior.
The north end of town has a special section all its own. This area is Old Arms Square. It consists of the castle, but here is where so much more happens throughout the year. This is where many festivals take palace. The Old Arms square castle area has places for animals, games, and an outdoor stage/pavilion.
Annual Festivals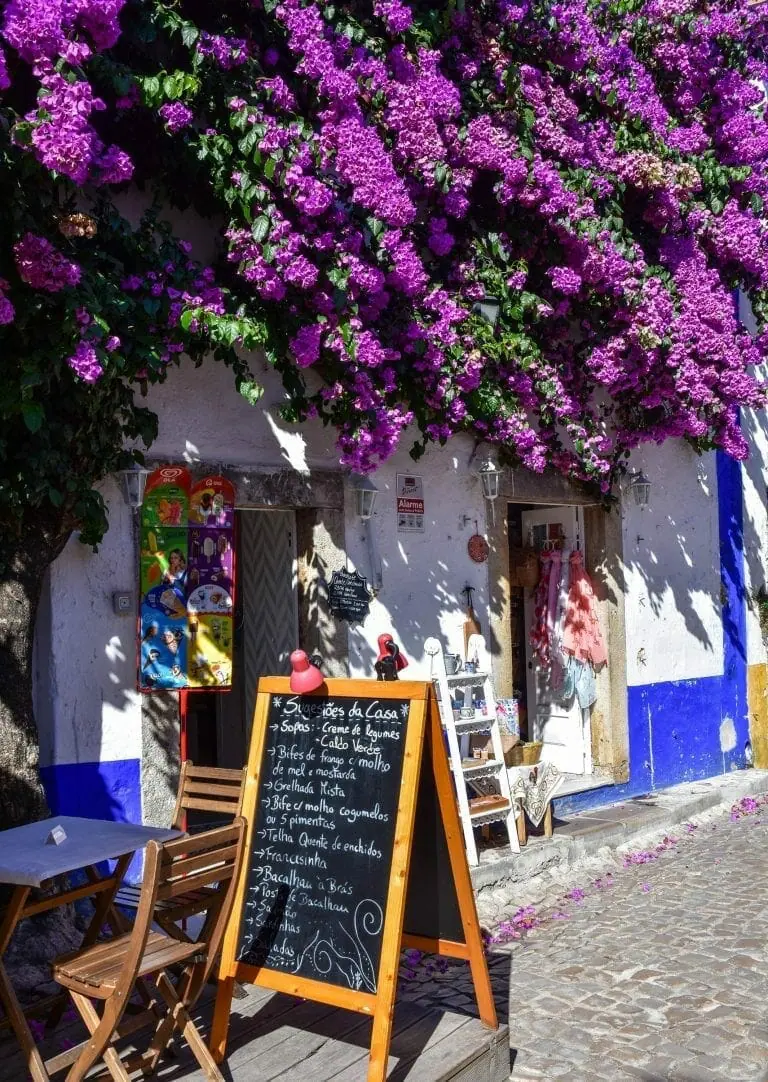 In the summer, a weeks-long Obidos Medieval Market festival transports you back in time. The festival occurs in July and August. It happens over three four-day weekends. It recreates the Middle Ages in this medieval wonder of Obidos. There are knights, noblemen, minstrels, jugglers, dancers, fortune tellers, and beggars. There are frequent theatre performances and concerts throughout the festival. Stands throughout the grounds offer a vast collection of incredible food, Portuguese artisans, live animals, and medieval weapons and tool displays. There are even a few nights with a traditional medieval supper. Many come in costume; if you choose to do so, you can rent one locally.
Obidos has a famous annual Chocolate festival in March and April. It is usually only open Friday, Saturday, and Sunday. The festival is known to be a paradise for chocolate lovers and a joy for the senses. It is full of lavish pastries, chocolate sculptures, and more confectionaries than you can imagine. It draws masters in the field for competition. Of course, you will find extensive entertainment, including a fashion show, with chocolate costumes.
Beer, Literary, and Christmas festivals occur throughout the year. If you can, plan your trip around catching one of these. You won't be disappointed; it will be the icing on the cake on the treat they call Obidos. 
The Fortified Walls of Obidos
These immense walls are striking in their entirety. There are locations to walk along the top of the fortified walls. Appreciating the magnificence of this fortified wall stretching over a mile is well worth the hike. It remains in impeccable condition. Your reward is stunning views. 
Be warned, there are no handrails, and most areas are 40 feet above the ground. We do not recommend it for people who dislike heights or have young children.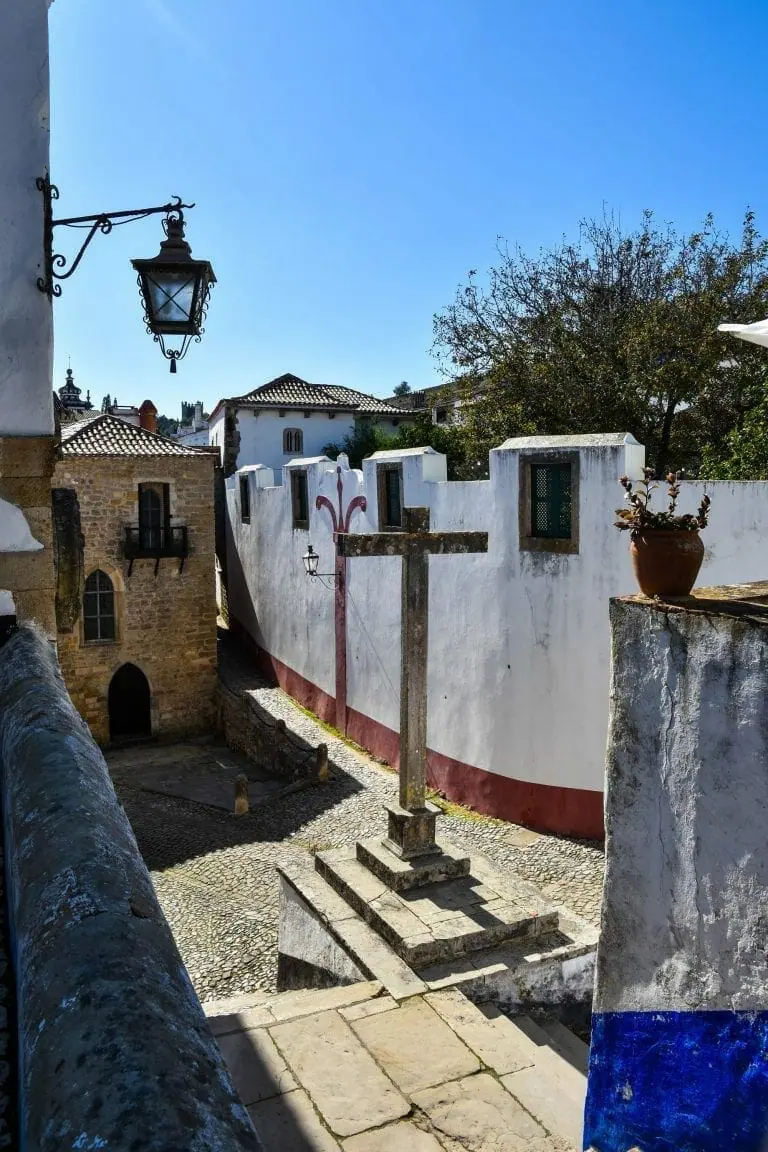 Wandering outside of the walled town
Now that you have seen most significant sights, walk to the trails outside the city walls. These paths will give a different perspective on the city. Enjoy the lush vegetation along the western border. Make your way back inside and start walking the rest of the streets. This town is relatively small, and it won't take that long. It is quiet and relaxing. 
After visiting the whole town, it's time to settle in for authentic Portuguese food in one of the many small and charming restaurants.
Petrarum Domus Restaurante is the one we chose. It looked upper scale with a bit higher prices than we found during much of our Portugal travels but still reasonable. The food was delicious.
Final thoughts
We arrived at Obidos, tired and weary from our flight; we imagined only a quick stop but stayed for hours. Needless to say, it was perfect and set the tone for a fantastic and memorable trip.
We stopped here because it logistically fit in on our path, not expecting to be blown away. We wished we could have given it more time and researched it more before arriving.
It was the best introduction to Portugal we could imagine. The warmth and grace of the Portuguese people made the day even more exceptional. It was the beginning of many beautiful experiences with the lovely citizens of Portugal and their stunning country.
Want to learn more about Portugal? Click here to go to our Portugal Travel Guide.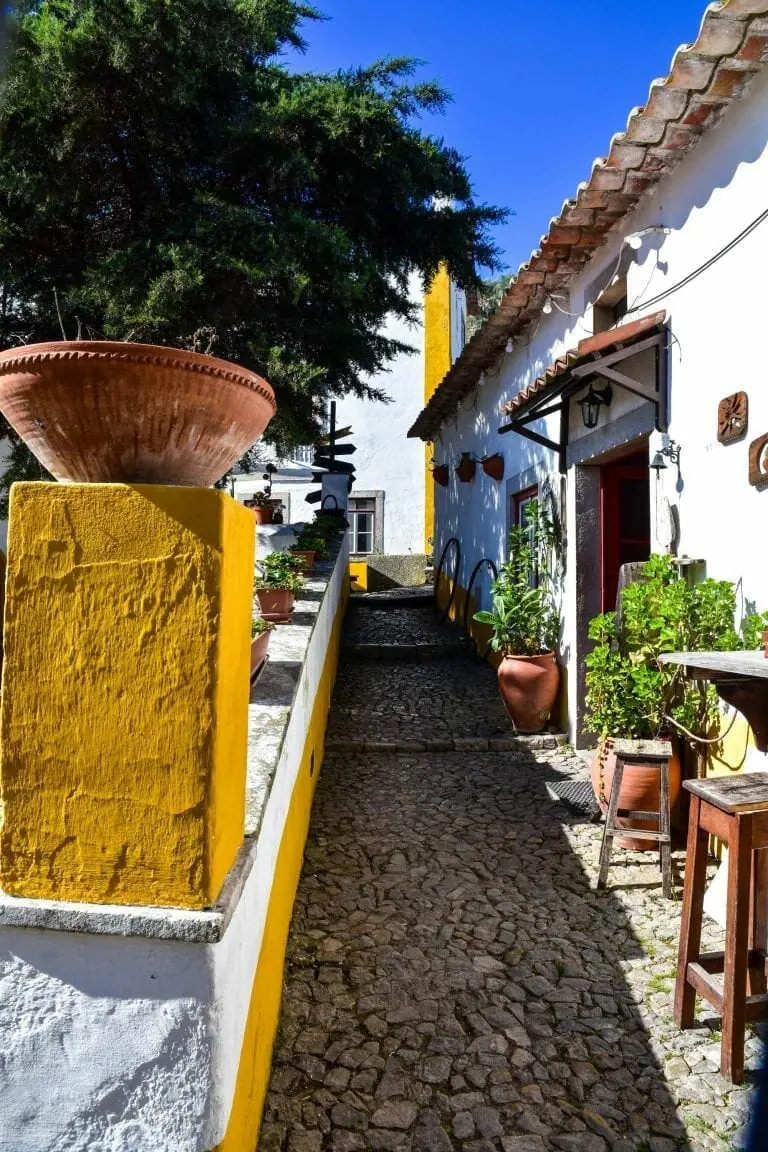 Things to do in Obidos
Obidos Castle Is one of Portugal's well-preserved medieval castles that served as a royal palace. It is now a luxurious hotel. Walk the battlements and ramparts that offer views of the surrounding valley and over the village's lovely bright homes.
Church de Santa Maria Is in the main square of Obidos. The beautiful renaissance church has artwork and tile paintings throughout the structure. This church is historically significant as this is where King Afonso V married his cousin, eight years old Isabel, in 1444. Now before you are too outraged, he was ten years old at the time.
Library de Santiago Church A church now a book store retains some of its original architectural characters.
Church da Misericordia Is a church from 1498 and is used to exhibit local art.
Ginja de Obidos You can't miss out on this delicious cherry liquor, a local delicacy served in chocolate cups. It is made from sour cherries but is smooth and sweet. An absolute must! Click here for our article on it.
Rue Direita The main drag is filled with local handicrafts and souvenirs. The building along the street have fascinating architectural and decorative details.
Municipal Museum Has several art pieces by famous female artist Josefa D'Obidos. 
Town Walls These imposing battlements surround the town 39 feet high and remain intact. Find the staircase near Porta da Vila, where you can climb up on the walls and walk all the way around.
Church de Sao Pedro Is a 13th-century church where one of the world's greatest female artists, Josefa D'Óbidos, was entombed.
Stay the night in Obidos Castle Though we did not do so, we have friends who have, and they loved it. It is magical to wander the streets at night once all the day visitors have left. Click HERE to learn more about the luxury hotel.
© 2023 Wanderers Compass All Rights Reserved
Our Obidos Gallery
Check out our most recent blog posts
Our Recommended Travel Resources
Our favorite travel insurance site!
If you are booking a trip, don't forget to get travel insurance within 14 days of your first booking. We could not be stronger advocates of being well-insured. Not just for the little stuff but the big stuff like medical emergencies. We never leave home without it. Over the years, we have used many sites but have now found our go-to place. Squaremouth.com does a fantastic job; it has a user-friendly interface, they use top-rated and reputable insurance carriers, and most policies cover Covid medical issues and cancellations. They also mediate on your behalf if you have problems with your policy.
To empower you as a consumer, we suggest you read our blog post on the importance of travel insurance and how to get the best coverage from top-rated companies for an affordable price.
Medical transport back home from anywhere in the world
They are the premier global air medical transport. One caveat to travel insurance is that medical evacuation usually gets you to the closest facility to care for you. Medjet gets you back to the U.S. to the hospital of your choice once you are stable enough to fly. They cover Covid-related transports as well.
Medjet carries its own policies. The policy is only for transport and no other aspects of travel insurance. They have individual trip policies starting at $99 and annual policies for around $300. Most of their policies limit the age to 74 and younger. Prices are not based on age below that.
To learn more about how Medical Evacuation membership with Medjet Assist works, check out our blog post for a more detailed review.
Hotels, home rentals, BNBs, flights, and other transportation & tours
Expedia is a US-based company whose mission is to power global travel for everyone and everywhere. Whether planning a family vacation, booking for business, or organizing the trip of a lifetime, they are a fantastic resource. Wanderers Compass focuses on independent travel, and using sites like Expedia makes that possible. Every aspect of travel you would need, from airfare, accommodations, rental car, and cruises, to activities to do at your destination, can be booked on Expedia.
Hotels, Home rentals, BNBs, Flights, and other Transportation & Tours
Booking.com connects millions of travelers to memorable experiences, various transportation options, and incredible places to stay – from homes to hotels and much more. It is one of the world's largest travel marketplaces for established brands and entrepreneurs of all sizes.
We always start with Expedia to check prices, but it sometimes says it is sold out. We then try Booking.com, and we find it lists plenty of rooms. It could be they are a Europe-based company. Try both before booking accommodations.
Are you traveling with a family or having an extended stay at your destination?
With over 2 million bookable vacation rentals, VRBO connects homeowners with families and vacationers looking for something more than a hotel for their trip. The VRBO community offers families or groups various rental property types such as condos, cabins, lake rentals, beach houses, etc.
VRBO is under the Expedia group ownership now, which many were worried about, but it hasn't panned out to be a concern. It is a massive network that has access to all forms of lodging should issues arise. Joelle has used VRBO for many years with her family with no problems.
As the leading marketplace for travel experiences, Viator believes that making memories is what travel is all about. And with 300,000+ experiences to explore—everything from simple tours to extreme adventures (and all the niche, interesting stuff in between)—making memories that will last a lifetime has never been easier.
With industry-leading flexibility and last-minute availability, it's never too late to make any day extraordinary. This one site has it all and has experiences throughout the world. We use them often during our travels, especially for food tours. We especially take the time to read the reviews provided.
Tripadvisor, the world's largest travel guidance platform, helps hundreds of millions of people each month become better travelers, from planning to booking to taking a trip. Travelers worldwide use the Tripadvisor site and App to discover where to stay, what to do, and where to eat based on guidance from those who have been there before.
With more than 1 billion reviews and opinions from nearly 8 million businesses, travelers turn to Tripadvisor to find deals on accommodations, book experiences, reserve tables at popular restaurants, and discover great places to see nearby. We use them for guidance and research on every trip; it is a valuable app for the independent traveler.
Welcome Pick-ups
(Airport and sightseeing service)
A global leader in ground transportation for travelers. They help hundreds of companies around the world enhance their services and boost their revenue with our 5-star ride experiences and hassle-free automation
Founded in 2015 in Athens, Greece, Welcome Pick-ups goes above and beyond the standard transfer service as the first company to deliver a holistic, in-destination travel experience. From the moment a traveler arrives at a new destination until they return home, Welcome accommodates all their travel needs (transfers, travel products, things to do, information) as the easiest, friendliest, and most personalized solution.
Discover Europe by Train
Rail Europe sells train and bus tickets for travel across Europe. They cover 24 countries, 105 rail operations, and 20,000 stations. They are the official rail and bus operations agents in the UK, France, Spain, Italy, Germany, Belgium, Austria, Switzerland, Luxembourg, and the Netherlands. Rail Europe continues to add coverage all the time.
It is a fast, easy, and economical way to purchase European train and bus tickets. Eurail passes are also available to buy through their site.
An excellent source for travel essentials and guides
We now have our own Amazon Storefront with all our favorite travel accessories and gear in one place. Check out our travel store at the link below.
Amazon is one of the most comprehensive online shopping sources in the world. On behalf of their customers, teams worldwide provide lower prices, better selection, and rapid delivery. They offer a vast inventory, and their 1.7 million small and medium businesses worldwide selling on Amazon.com provide extensive options to customers.
We buy most of our travel books, accessories, and luggage from Amazon. We have ordered up to two days before travel and get what we need.
Thoughtfully Designed | Meticulously Constructed | Quality Guaranteed.
We have used this luggage for years, left briefly to try others, and returned to Travelpro. Travelpro luggage is carried by crews from over 90 airlines worldwide.
Travelpro takes the time to learn what travelers want and need, then builds it. The key factor for us is that it must be lightweight upfront and resistant to rough handling. Their luggage is the best, and we could not recommend it enough. It is our go-to luggage.
This article contains affiliate links. If you use these links to buy something, we may earn a small commission at no additional cost to you. Thank you!
Do you have a question for us or have a comment?