Explore this monumental fortification with us, one of the most outstanding in Europe
Many things come to mind when thinking of Scotland, like war and magnificent structures. Being Scotland, you would typically think of castles as they would usually be involved in those categories. We love our castles, architecture, and history, especially military history. Not a castle; however, Fort George is one of the most impressive locations we have been to. Fort George is the finest example of 18th-century military engineering anywhere in the British Isles; the scale is monumental. Because of this, it is one of the most outstanding fortifications in Europe.
Strategically located on a peninsula jutting into the Moray Firth, the army base was designed to evade capture. Fort George is not a structure to be messed with because of the sophisticated defense standards, with heavy guns covering every angle. Today, the Fort would cost nearly £1 billion to build and equip. The funny part is that the army base never fired a shot in anger and was virtually obsolete when it was completed.
Our visit
Our visit to this impressive fortress was one of pure joy and excitement. It was a typically crisp and windy day in Scotland during May. The weather broke, and we had the welcome of the sun and even a lovely rainbow. The biggest treat: we were the only visitors on the entire Fort. Besides the few workers and military personnel there, we had it all to ourselves. Being void of people showed off the scale and beauty of this complex.
Where Is Fort George in Scotland?
Address: Near Ardersier, Inverness, IV2 7TDUK
Travel times from the major cities in Scotland are:
Inverness is 20 minutes away from Fort George
Edinburgh/Glasgow 3 hours and 15 minutes
Are you planning a trip to Scotland? Check out our Scotland Travel Guide for great tips and essential information.
The architecture of the Fort
Lieutenant-General William Skinner and the Adam family of architects built the Fort. Skinner was the designer and first governor of Fort George. Fort George took 22 years to complete; the Jacobite threat had subsided by then. But it has served the British Army for 250 years since.
The complex layout includes:
ramparts
massive bastions
ditches
firing steps
The boundary walls and what they housed
accommodation for a governor, officers, an artillery detachment, and a 1,600-strong infantry garrison
more than 80 guns
a magazine for 2,672 gunpowder barrels
ordnance and provision stores
a brewhouse
a chapel
Defenses were heavily concentrated on the landward side of the peninsula as Jacobite assault was expected from this direction. Furthermore, long stretches of the rampart and smaller bastions protected the remaining seaward sides with little worry of a ship making it to shore.
The History of the Fort George
The first Fort George was built in 1727 in Inverness; it was a large fortress capable of housing 400 troops on a hill beside the River Ness on the site of (and incorporating portions of) the medieval castle that had been rebuilt as a citadel by Oliver Cromwell but later abandoned. During the 1745 rising, the Jacobites seized the Fort, which then they had it blown up in 1746 to prevent the Hanoverians from using it as a base.
The threat of the Jacobites
Between 1745–1746 the Jacobite Rising was the last attempt by the Stuart dynasty to regain the thrones of Scotland, England, and Wales from the Hanoverians. Fort George was intended as the main garrison fortress in the Scottish Highlands and was named after George II. It was one of the ruthless measures introduced by the government to suppress Jacobite ambitions after the nearby Battle of Culloden. In 1747 Colonel William Skinner, the King's Military Engineer for North Britain, let a contract to rebuild the fortress at a new location.
Still an active army base
When the Jacobite threat was over, the Fort became a recruiting base and training camp for the rapidly expanding British Army in the late 1700s. Many Highland lads passed through Fort George's gates to fight for the British Empire across the globe.
Between 1881 and 1964, the Fort served as the depot of the Seaforth Highlanders.
Is Fort George still in use?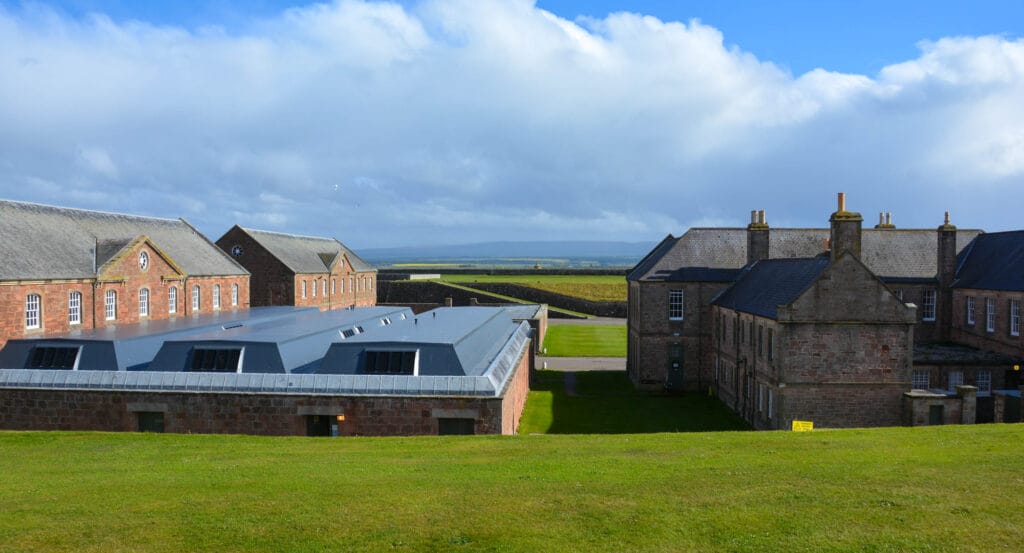 Fort George is currently the home of the Black Watch, 3rd Battalion, The Royal Regiment of Scotland (3 SCOTS). During our visit, we saw some young soldiers out and about the base. No formations or exercises were going on during our time at the fort.
An overview of what to see and do during your visit
What makes visiting Fort George exceptional is while it is still an active military base in use, the public is welcome.
Walk around the main rampart, more than 1km in length, which encloses an area the size of five football pitches.
Explore the Fort's history in the Highlanders Museum, Scotland's largest regimental museum outside Edinburgh (The Highlanders' Museum at Fort George has limited access at the moment due to essential maintenance work.)
Enter the grand magazine, designed to hold 2,672 gunpowder barrels and now home to a superb collection of weapons.
Visit the historic barrack rooms to see a graphic recreation of soldiers' living conditions in centuries gone by.
Enjoy the peace of the garrison chapel, probably designed by Robert Adam.
Don't miss the dog cemetery – one of only two in Scotland – the resting place of regimental mascots and officers' dogs.
Look out from the ramparts for dolphins hunting and playing off the point
Take their fun fact-finding quiz (also in Scots.)
Tour through the Fort with our audio guide using your mobile phone with internet access – included in the ticket price.
The view across the Moray Firth from the cannon platform is stunning. Keep an eye open for the resident dolphins. Bring along a pair of binoculars if you have them.
While in the area, check out these sites
Cawdor Castle. 17-minute drive. 14th-century castle with expansive grounds that is supposedly the inspiration for the story of Macbeth. Visitors can enjoy a nine-hole golf course, a walled garden, and 'the big wood' – a remnant of an ancient Caledonian forest with several footpaths running through it.
Inverness Castle. 26-minute drive. A red sandstone castle that overlooks the River Ness in the city center. The castle is not open to the public, but you can visit the grounds for photo opportunities of Inverness from the elevated hilltop position.
Clava Cairns. 22-minute drive. One of the oldest historic sites in Britain. Clava Cairns is a prehistoric burial cairn estimated to be 4,000 years old. There are several standing stones and the remains of an ancient cemetery.
Nairn Beach. 19-minute drive. A wide golden sand beach that is several miles in length. Nairn Beach opens up to a large estuary to the west, a haven for waterfowl. The area towards Nairn offers easy access to cafés and public toilets.
Culloden Battlefield. 23-minute drive. The site of the last pitched battle to be fought on British soil was when British government soldiers brought the Jacobite uprising to a bloody finale. The centerpiece is a large memorial and markers for each clan that died in the battle. The site has a visitor center with a museum, a café, and a gift shop.
Things to Do in the Fort George Area
Inverness is a city on Scotland's northeast coast, where the River Ness meets the Moray Firth. It's the largest city and the cultural capital of the Scottish Highlands. Its Old Town features 19th-century Inverness Cathedral, the mostly 18th-century Old High Church, and an indoor Victorian Market selling food, clothing, and crafts. The Contemporary Inverness Museum and Art Gallery trace local and Highland history. 20 min drive to the city center.
Explore the famous Loch in an attempt to find the Loch Ness Monster. We don't know if you will find it, but we know you will find endless natural beauty to photograph and stunning castles like the beautiful Urquhart Castle ruins. 30 min drive to the northern end.
Closer to the East is a substantial distillery concentration. There is no better way to experience something authentically Scottish than to taste whisky. We enjoyed Glen Moray Distillery during our visit.
Everything from Inverness to the West is the Highlands. Due to this, it is the largest local government area in the United Kingdom. These intense, rugged, and mountainous landscapes will have you exploring for days.
Check out our post on one of our favorite places in Scotland; Edinburgh Castle.
When To Visit Fort George
Like most of Scotland, it has a temperate maritime climate with cold and humid winters and mild summers. The annual average temperature is 48°F (9°C), and it rains throughout the year. In Scotland, you always need to plan for chilly temps and rain. Bring an umbrella or rain jacket. The area also can get quite windy. Snow is uncommon but possible.
Scotland doesn't have extremes, so plan accordingly, and no time of year should be a deterrent.
Opening Hours and Entry Costs
1 April to 30 September
Daily 9:30 to 5:30 (Last entry 4:30)
1 October to 31 March
Daily, 10:00 to 4:00 (Last entry 3:00)
Average Length of Visit: 1.5 – 2 hours
All visitors must have a ticket
Admission
Adult: (aged 16-64) £10.00
Concession (aged 65+) £8.00
Child (aged 7-15) £6.00
Children must be accompanied by an adult aged 16+
Child Under 7 (aged 0-6) £0.00
Entry is free, but a ticket is required. Please add any Child Under 7 tickets to your booking.
Children must be accompanied by an adult aged 16
Family Ticket Packages are available
To book your tickets online, click here
There is a way to keep the cost down
Get the HES Explorer Pass
It's a wee bit expensive if you're not a Historic Environment Scotland member, but you can save money by joining before you visit. Membership of HES allows unlimited free entry to all their sites across Scotland, and there are a ton! To learn more about purchasing a HES Explorer pass, click here.
Facilities
Visitors with disabilities are treated on an equal basis with all other visitors, and entry is charged at the appropriate admission category rate – Adult/Concession/Child. Proof of disability is not required.
For disabled visitors that need help visiting the sites, they offer free entry for accompanying carers. These can be added when making your booking. Please note this is limited to two carers per transaction.
Toilets, mobility scooters, a restaurant/cafe, a shop, and water bottle refills are available on-site.
Ear Defenders: A limited number of adult and children's ear defenders are available at this site. Please ask a member of staff if you want to borrow them.
Dogs: Assistance dogs are permitted at all our sites and within roofed areas.
Visitors' dogs are allowed at Fort George but not in roofed areas. Dogs must be kept on a lead and not left unattended at any time. Owners must pick up after their dogs.
Where to stay when visiting
The largest city nearest to Fort George is Inverness, and it would be an ideal location to stay to visit the whole area. This part of Scotland deserves at least one night. We spent one night in Inverness during our travels and wished we allowed for more.
We believe it is important to price out properties on various sites. Expedia is a US-based company, whereas Booking.com is Europe based. Not all properties appear on both. If the establishment has a website, check the price there as well.
Final Thoughts
If you are in Scotland, especially northern Scotland, Fort George is one of those cant-miss places. It is historical, massive, and beautiful. The setting alone is worth a visit. You can learn its history or just take a relaxing walk around the grounds. This place has a little something for everyone; nature, history, military, architecture, and more. We have no doubt when visiting one of the largest and most historic Forts in all of Europe; you will be impressed.
You may even be as lucky as we were and catch a rainbow.
© 2023 Wanderers Compass All Rights Reserved
Check out the official website for Fort George for more information.
Fort George Photo Gallery
Our Recommended Travel Resources
Our favorite travel insurance site!
If you book a trip, don't forget to get travel insurance within 14 days of your first booking. We could not be stronger advocates of being well-insured. Not just for the little stuff but the big things like medical emergencies. We never leave home without it. Over the years, we have used many sites but have now found our go-to place. Squaremouth.com does a fantastic job; it has a user-friendly interface, uses top-rated and reputable insurance carriers, and most policies cover COVID-19 medical issues and cancellations. They also mediate on your behalf if you have problems with your policy.
To empower you as a consumer, we suggest you read our blog post on the importance of travel insurance and how to get the best coverage from top-rated companies for an affordable price.
Medical transport back home from anywhere in the world
They are the premier global air medical transport. One caveat to travel insurance is that medical evacuation usually gets you to the closest facility to care for you. Medjet gets you back to the U.S. to the hospital of your choice once you are stable enough to fly. They cover Covid-related transports as well.
Medjet carries its own policies. The policy is only for transport and no other aspects of travel insurance. They have individual trip policies starting at $99 and annual policies for around $300. Most of their policies limit the age to 74 and younger. Prices are not based on age below that.
To learn more about how Medical Evacuation membership with Medjet Assist works, check out our blog post for a more detailed review.
Hotels, home rentals, BNBs, flights, and other transportation & tours
Expedia is a US-based company whose mission is to power global travel for everyone and everywhere. Whether planning a family vacation, booking for business, or organizing the trip of a lifetime, they are a fantastic resource. Wanderers Compass focuses on independent travel, and using sites like Expedia makes that possible. Every aspect of travel you need, from airfare, accommodations, rental car, and cruises to activities to do at your destination, can be booked on Expedia.
Hotels, Home rentals, BNBs, Flights, and other Transportation & Tours
Booking.com connects millions of travelers to memorable experiences, various transportation options, and incredible places to stay – from homes to hotels and much more. It is one of the world's largest travel marketplaces for established brands and entrepreneurs of all sizes.
We always check Expedia and Booking.com to verify prices. At times, one is sold out of rooms while another at the same place has rooms. As well we often find some European hotels, especially smaller ones, on Booking.com but not on Expedia. It could be they are a Europe-based company. Try both before booking accommodations.
Are you traveling with a family or having an extended stay at your destination?
With over 2 million bookable vacation rentals, VRBO connects homeowners with families and vacationers looking for something more than a hotel for their trip. The VRBO community offers families or groups various rental property types such as condos, cabins, lake rentals, beach houses, etc.
VRBO is under the Expedia group ownership now, which many were worried about, but it hasn't panned out to be a concern. It is a massive network with access to all lodging forms should issues arise. Joelle has used VRBO for many years with her family with no problems.
As the leading marketplace for travel experiences, Viator believes that making memories is what travel is all about. And with 300,000+ experiences to explore—everything from simple tours to extreme adventures (and all the niche, interesting stuff in between)—making memories that will last a lifetime has never been easier.
With industry-leading flexibility and last-minute availability, it's never too late to make any day extraordinary. This one site has it all and has experiences throughout the world. We use them often during our travels, especially for food tours. We especially take the time to read the reviews provided.
An excellent source for travel essentials and guides
We now have our own Amazon Storefront with all our favorite travel accessories and gear in one place. Check out our travel store at the link below.
Amazon is one of the most comprehensive online shopping sources in the world. On behalf of their customers, teams worldwide provide lower prices, better selection, and rapid delivery. They offer a vast inventory, and their 1.7 million small and medium businesses worldwide selling on Amazon.com offer extensive options to customers.
We buy most of our travel books, accessories, and luggage from Amazon. We have ordered up to two days before travel and get what we need.
Transportation
Welcome Pick-ups
(Airport and sightseeing service)
A global leader in ground transportation for travelers. They help hundreds of companies worldwide enhance their services and boost their revenue with our 5-star ride experiences and hassle-free automation.
Founded in 2015 in Athens, Greece, Welcome Pick-ups goes above and beyond the standard transfer service as the first company to deliver a holistic, in-destination travel experience. From the moment a traveler arrives at a new destination until they return home, Welcome accommodates all their travel needs (transfers, travel products, things to do, information) as the easiest, friendliest, and most personalized solution.
Discover Europe by Train
Rail Europe sells train and bus tickets for travel across Europe. They cover 24 countries, 105 rail operations, and 20,000 stations. They are the official rail and bus operations agents in the UK, France, Spain, Italy, Germany, Belgium, Austria, Switzerland, Luxembourg, and the Netherlands. Rail Europe continues to add coverage all the time.
It is a fast, easy, and economical way to purchase European train and bus tickets. Eurail passes are also available to buy through their site.
Travel documentation services
Do you feel like you are wasting time visiting an on-site photographer only to be embarrassed by the photo? Would you like control of the final product? Get the perfect VISA or passport photo online with PhotoAID.
When traveling, you often need to apply for official documents such as a passport, ID, and different kinds of licenses or cards. Those applications require a picture that must meet specific conditions to be accepted, depending on the country. Now, it is possible to take this picture at home without the help of a professional photographer. The PhotoAiD app allows you to take the perfect biometric photo that will be guaranteed by yourself without leaving your home.
This article contains affiliate links. If you use these links to buy something, we may earn a small commission at no additional cost to you. Thank you!
Do you have a question for us or have a comment?
Check out our most recent posts