Our day started in Lake Como, Italy, specifically Varenna; our next stop for the night was in a small village in the Swiss Alps. As is our norm, though, there were castles to see along the way, and one small town we entered in the Italian region of Switzerland had three of them. Our visit was not looking hopeful, though, as it was pouring rain, and the cloud layer was very low. We considered moving to our next destination, but the weather looked no better there. We are thankful we persevered as we were charmed by all that Bellinzona, Switzerland, has to offer. The reward for our persistence was the weather cleared for us to enjoy some of the views the city has to offer.
Bellinzona is the only location in Switzerland with medieval military architecture. It's one of the few spots in Europe with stunning natural scenery and a fascinating past. It was also the subject of conflict between several global powers in the 8th century.
What is Bellinzona known for?
Bellinzona, Switzerland, is most well-known for its three main castles from the 15th century and the defensive walls and rampart around the entire valley. The fortifications of Bellinzona are among the most important examples of medieval defensive architecture of its kind in Europe. The three castles are Castelgrande, Castello di Montebello, and Castello di Sasso Corbaro. All of these castles have also been designated as UNESCO World Heritage Sites. The three castles provide magnificent views of the city and the surrounding mountains, all the way to Lake Maggiore.
The Castelgrande is located on a rocky peak overlooking the valley, with fortified walls protecting the old town and connecting to the Montebello. The third castle, Sasso Corbaro, is located high above the city on an isolated rocky promontory southeast of the other two castles.
A Little History of Bellinzona
The city was first mentioned in AD 590 and played a considerable part in the early history of Lombardy because of its strategic location. A possession of the bishops of Como in the 8th century, it was the setting for frequent conflict between the Lombardian cities of Como and Milan in the 14th and 15th centuries. Occupied by the French in 1499 but was taken by Uri Canton in 1500. The French king ceded it to Uri, Schwyz, and Unterwalden cantons in 1503. It became the capital of the Bellinzona Canton of the Helvetic Republic in 1798 and, in 1803, became the joint capital with Locarno and Lugano of the newly formed Ticino Canton. It has been the permanent political capital of the canton since 1878. A Canton is a subdivision of a country established for political or administrative purposes.
The primary purpose of the fortresses was to defend the city from Italy. Italians attacked it three years after the Swiss confederation declined to cede its territory to them in 1422. The Italians, though, could not annex it formally.
What makes Bellinzona, Switzerland, worth visiting?
There are, of course, the three castles, but there is so much more. The picturesque corners, squares, courtyards, and this Lombardy town's beautifully restored old buildings. Its alleyways are lined with historic Patrician houses and beautiful churches. The charm of the medieval city will fascinate but look more closely as there is bustling modern energy. This is Switzerland, after all. Numerous boutiques, cafés, and specialist shops offering culinary delicacies invite you to linger and window-shop. Every Saturday, the historic city center has a large weekly market.
Let us not forget it is a UNESCO Heritage site. The Declaration of Outstanding Universal Values, according to UNESCO, 2000 read as follows.
"The fortifications of Bellinzona are the only visible example in the Alpine arc of medieval military architecture made up of several castles joined by fortified walls to protect the population. The walls blocked the entire Ticino Valley, and the ramparts surrounded the village. Bellinzona is, therefore, a unique case among the imposing fortifications of the fifteenth century, both for its size, influenced by the site and its topography, and for the excellent state of conservation of the whole".
Where is Bellinzona, Switzerland?
The tranquil village of Bellinzona has a strategic location where the valley narrows on the way to the Alpine passes of St. Gotthard, San Bernardino, and Lucomagno. Its excellent location made it popular with several rulers as a location for their defensive fortifications. The city's topography is perfect for constructing strategic fortresses, as the rocky hillside encompasses the entire eastern part of the valley where Bellinzona sits.
The city is the gateway to Italy for those traveling from the north and to the Alps for those coming from the south. The city is the capital of Ticino Canton in Southern Switzerland and is on the Ticino River at the foot of the Alps. To Bellinzona's south lies the fertile Po River Valley and the city of Milan, while to the north lies the high alpine passes of St. Gotthard Nufenen, Lukmanier, and St. Bernard. The Ticino River flows into Lake Maggiore, allowing further access to present-day Italy.
Map of Bellinzona. Switzerland
How to get to Bellinzona Switzerland
Travel times by car from Bellinzona are the following:
Lugano, Switzerland, 20 minutes (renowned for its stunning lakeside settings and Mediterranean climate.)
Lucerne Switzerland 1 hour and 25 minutes
Zurich, Switzerland 1 hour and 40 minutes
Lake Como, Italy 1 hour and 12 minutes
Milan, Italy, 2 hours
During holidays, drive times may increase significantly.
As a result of its ideal location, Bellinzona is relatively easy to reach by train from other Swiss cities. Bellinzona Station is the appropriate train stop. It is on the Swiss Federal Railways' Gotthard line. The station has been nicknamed Porta del Ticino since the opening of the Gotthard Base Tunnel in 2016

15 Top Things to See in Bellinzona, Switzerland
1 . Of course, seeing the castles should be your first activity. They are well done and provide breathtaking panoramas of the area. There is a path to walk to the castles, but it gets steep at times; on a mild weather day would be fun. We saw many people walking it even in the rain.
Castles
Castelgrande is an ancient structure that dates back to the first century. The castle was fortified in the 13th century. The museum at Castelgrande is one of a kind. The museum has excellent exhibits of the period from the Neolithic village well into the 20th century. We stopped at the restaurant west of the museum and had a lovely light meal. Our cheese came sizzling. The castle can be reached by taking an elevator from the foot of the rock to the castle grounds or by climbing steep, narrow streets from the city center through the city wall onto the castle grounds. We did the latter, and it was an effort.
Castello di Montebello is rich in culture and diversity because its heritage dates back to the 14th century. The castle was originally built for the Rusconi family, and this family occupied it for several generations. The lovely old castle is perched on a hillside with breathtaking views. The castle walls of Montebello houses the Archaeological and Civic Museum.
Castello di Sasso Corbaro was constructed within half a year in the year 1479, and it was during this period that the castle gained its name for its unique features and architecture. Unlike the other two castles, Sasso Corbaro is not integrated into the city walls. During peacetime, the tower was used as a prison. The view from here is magnificent, and the castle itself is fantastic.
Now let's see the town
2. The Bellinzona Art Museum is definitely for you if you have the soul of an artist. You will like the artwork and discover a lot about the history and culture of the area.
3. Visit the magical Chiesa Collegiate dei SS Peitro e Stefano Church. Sitting the heart of Old Town and is the town's grandest and most important religious building.
4. Piazza Indipendenza is a lovely piazza where locals gather.
5. Palazzo Civico di Bellinzona is a fabulously renovated town hall with beautiful stained glass windows and frescos. The tourist office is located here.
6. Stroll Bellinzona's historic town has old buildings, winding streets, lovely cafes, and various interesting restaurants. You can immerse yourself in its breathtaking landmarks and authentic culture while exploring on foot.
Outdoor Activities Anyone?
7. Although this area's parks and castles are frequently mentioned, the city is within the Swiss Alps, with many stunning lakes to enjoy. Bellinzona's snow-covered peaks, alpine forests, and crystal-clear lakes transport you to another world.
8. You can engage in various outdoor activities while visiting the area for its natural beauty, making your trip even more memorable. For instance, it offers mountain biking, skiing, and hiking activities. These activities will allow you to discover the breathtaking scenery.
9. Take a boat trip to Lake Maggiore or Lake Lugano.
How about some markets and festivals?
10. Drop by the Saturday market; the market stretches from Piazza Nosetto to the Old Town. Visitors can sample unique foods for moderate prices under colorful stalls.
11. Bellinzona also hosts a unique Grape Harvest Festival called 'PerBacco!,' generally lasting four days. Locals and tourists can come together and explore the city while sampling fresh wines from the Ticino region. The festival also hosts entertainment and music.
12. Are you an avid shopper? There are lots of fascinating stores here. You can find a wide range of high-quality, locally produced goods.
How about something different
13. The Soto Code Escape Room is for those who want to try something more modern.
14. Drive San Bernadino Pass, one of Switzerland's great passes, is known for its stunning views. The twisting roads, though, may require a bit of fortitude.
15. Looking for the thrill? Go Bungee jumping on the Verzasco Dam. Made famous by being featured in the opening scene of James Bond's Golden Eye.
Interesting Facts About Bellinzona
Bellinzona is a largely Italian-speaking region despite being in Switzerland. This is because Italian is the official language. However, some people speak French and German too.
Due to its location in the southern region of Switzerland, it experiences a warm climate. It experiences warm, dry summers. The temperature can increase to 80 degrees throughout the summer.
Roughly 20,000 people live there, the second-largest city in Ticino.
The name derives from zona bellica, referring to "war zone."
Castelgrande was built on top of a Roman castle in the middle of the city.
Every year in September, the Bellinzona film festival, which is quite well known, takes place. It draws numerous famous people from throughout the world.
Bellinzona's culture is primarily influenced by Italian culture, but you can also see traces of German and French culture in the city's cuisine and way of life.
In the 19th and 20th centuries, Bellinzona was a significant hub for trade. As a result, it played an essential part in the development of the entire region. However, this city's economy no longer solely depends on trade. It now houses numerous industries and businesses, making it a well-liked destination for businessmen.
It is home to a unique festival called Rabadan, which occurs in February each year. The festival takes over the whole town and lasts for 5 days.

The Most Attractive Feature
Bellinzona's natural beauty alone is a reason to visit, in our opinion… but as you might guess, it is the castles we came for. Bellinzona is a fantastic choice, especially if you love art, architecture, nature, and excellent food.
When to Visit Bellinzona?
Bellinzona is best in May, June, September, and October. The consistently fantastic weather makes these months great, and the city isn't too busy with tourists. It receives an average of 102.8 days of rain or snow per year, so there are many sunny days. The area is known for the wind, which helps cool you down on hot summer days. You will be able to bike and enjoy a lot of outdoor sports. With gorgeous lakes nearby, a day on the water may be perfect.
Winters here can bring snow, but the views of the snow-covered Alps will captivate you. Then, of course, there is skiing, snowboarding, and snow-shoeing in the area too. The temps in the winter rarely get above freezing. The annual snowfall is around 12 inches.
If you wish to participate in various festivals and activities, the summer and fall are the best times to visit. You will enjoy the local culture and traditions, but remember that summer is also the busiest travel time. If you only stay for a few days, enjoying all the outdoor activities may be challenging.
Where to Stay In Bellinzona?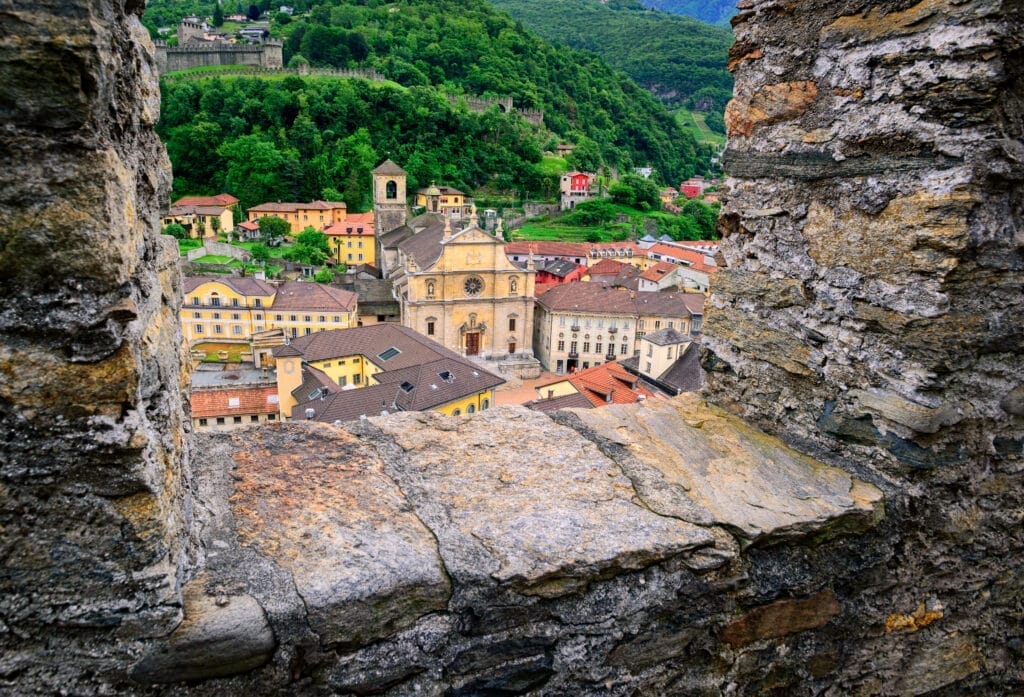 Our visit to Bellinzona was after a two-night stay in Lake Como. Our travels took us north to a small village in the Alps called Engelberg.
The region Bellinzona is in has lots of activities and sites well worth a few day visit. Many great accommodations are available in Bellinzona, from upscale hotels to bed and breakfasts. We suggest staying central so all the sights are easy to walk.
We believe it is important to price out properties on various sites. Expedia is a US-based company, whereas Booking.com is Europe based. Not all properties appear on both. If the establishment has a website, check the price there as well.
Final Thoughts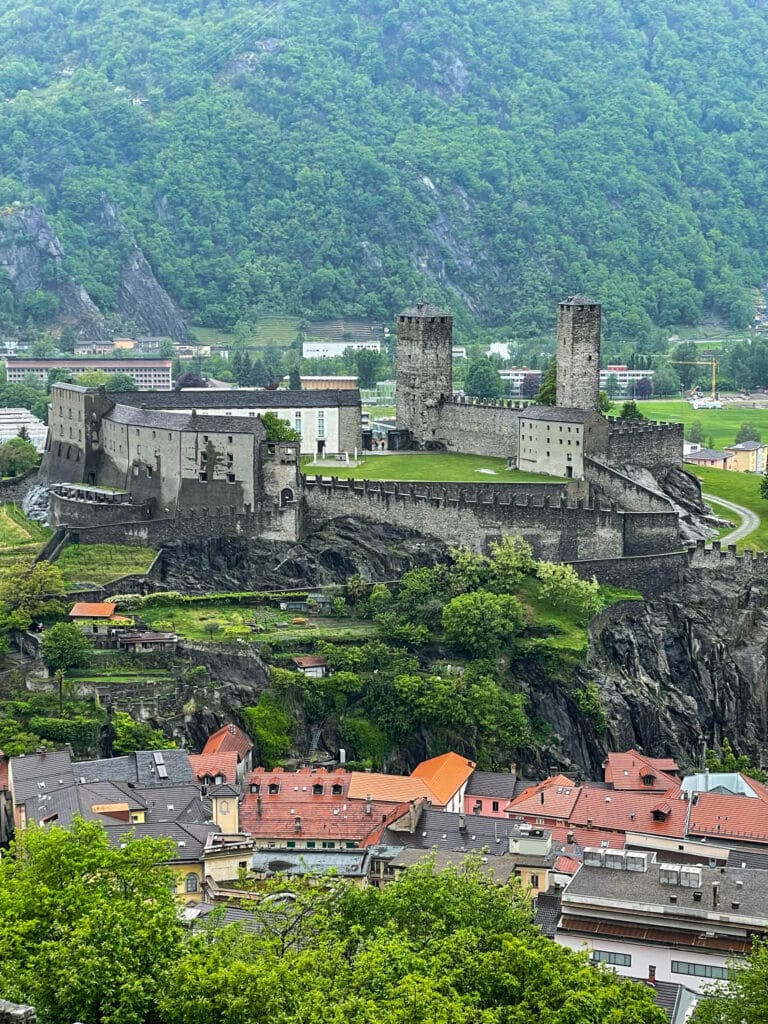 We find so much to love when we explore Bellinzona. Everything speaks of ancient magnificence, from birds chirping to the old walls and castles that narrate tales of the past.
However, from the perspective of a nature lover, this city appears to be a jewel in the Swiss crown. Mountains, forests, and blue lakes take your breath away with their beauty and leave you feeling as though you are in a little piece of heaven.
Bellinzona is a slice of Italy in Switzerland which gives you an excellent combination of a beautiful ancient city, rich culture, great food, Swiss excellence, and all in one of the most beautiful parts of Europe. Well, worth a stop and maybe even a few days of your time.
Check out the official website for Bellinzona for more information.
© 2023 Wanderers Compass All Rights Reserved
Bellinzona, Switzerland Photo Gallery
Our Recommended Travel Resources
Our favorite travel insurance site!
If you book a trip, don't forget to get travel insurance within 14 days of your first booking. We could not be stronger advocates of being well-insured. Not just for the little stuff but the big things like medical emergencies. We never leave home without it. Over the years, we have used many sites but have now found our go-to place. Squaremouth.com does a fantastic job; it has a user-friendly interface, uses top-rated and reputable insurance carriers, and most policies cover COVID-19 medical issues and cancellations. They also mediate on your behalf if you have problems with your policy.
To empower you as a consumer, we suggest you read our blog post on the importance of travel insurance and how to get the best coverage from top-rated companies for an affordable price.
Medical transport back home from anywhere in the world
They are the premier global air medical transport. One caveat to travel insurance is that medical evacuation usually gets you to the closest facility to care for you. Medjet gets you back to the U.S. to the hospital of your choice once you are stable enough to fly. They cover Covid-related transports as well.
Medjet carries its own policies. The policy is only for transport and no other aspects of travel insurance. They have individual trip policies starting at $99 and annual policies for around $300. Most of their policies limit the age to 74 and younger. Prices are not based on age below that.
To learn more about how Medical Evacuation membership with Medjet Assist works, check out our blog post for a more detailed review.
Hotels, home rentals, BNBs, flights, and other transportation & tours
Expedia is a US-based company whose mission is to power global travel for everyone and everywhere. Whether planning a family vacation, booking for business, or organizing the trip of a lifetime, they are a fantastic resource. Wanderers Compass focuses on independent travel, and using sites like Expedia makes that possible. Every aspect of travel you need, from airfare, accommodations, rental car, and cruises to activities to do at your destination, can be booked on Expedia.
Hotels, Home rentals, BNBs, Flights, and other Transportation & Tours
Booking.com connects millions of travelers to memorable experiences, various transportation options, and incredible places to stay – from homes to hotels and much more. It is one of the world's largest travel marketplaces for established brands and entrepreneurs of all sizes.
We always check Expedia and Booking.com to verify prices. At times, one is sold out of rooms while another at the same place has rooms. As well we often find some European hotels, especially smaller ones, on Booking.com but not on Expedia. It could be they are a Europe-based company. Try both before booking accommodations.
Are you traveling with a family or having an extended stay at your destination?
With over 2 million bookable vacation rentals, VRBO connects homeowners with families and vacationers looking for something more than a hotel for their trip. The VRBO community offers families or groups various rental property types such as condos, cabins, lake rentals, beach houses, etc.
VRBO is under the Expedia group ownership now, which many were worried about, but it hasn't panned out to be a concern. It is a massive network with access to all lodging forms should issues arise. Joelle has used VRBO for many years with her family with no problems.
As the leading marketplace for travel experiences, Viator believes that making memories is what travel is all about. And with 300,000+ experiences to explore—everything from simple tours to extreme adventures (and all the niche, interesting stuff in between)—making memories that will last a lifetime has never been easier.
With industry-leading flexibility and last-minute availability, it's never too late to make any day extraordinary. This one site has it all and has experiences throughout the world. We use them often during our travels, especially for food tours. We especially take the time to read the reviews provided.
An excellent source for travel essentials and guides
We now have our own Amazon Storefront with all our favorite travel accessories and gear in one place. Check out our travel store at the link below.
Amazon is one of the most comprehensive online shopping sources in the world. On behalf of their customers, teams worldwide provide lower prices, better selection, and rapid delivery. They offer a vast inventory, and their 1.7 million small and medium businesses worldwide selling on Amazon.com offer extensive options to customers.
We buy most of our travel books, accessories, and luggage from Amazon. We have ordered up to two days before travel and get what we need.
Transportation
Welcome Pick-ups
(Airport and sightseeing service)
A global leader in ground transportation for travelers. They help hundreds of companies worldwide enhance their services and boost their revenue with our 5-star ride experiences and hassle-free automation.
Founded in 2015 in Athens, Greece, Welcome Pick-ups goes above and beyond the standard transfer service as the first company to deliver a holistic, in-destination travel experience. From the moment a traveler arrives at a new destination until they return home, Welcome accommodates all their travel needs (transfers, travel products, things to do, information) as the easiest, friendliest, and most personalized solution.
Discover Europe by Train
Rail Europe sells train and bus tickets for travel across Europe. They cover 24 countries, 105 rail operations, and 20,000 stations. They are the official rail and bus operations agents in the UK, France, Spain, Italy, Germany, Belgium, Austria, Switzerland, Luxembourg, and the Netherlands. Rail Europe continues to add coverage all the time.
It is a fast, easy, and economical way to purchase European train and bus tickets. Eurail passes are also available to buy through their site.
Travel documentation services
Do you feel like you are wasting time visiting an on-site photographer only to be embarrassed by the photo? Would you like control of the final product? Get the perfect VISA or passport photo online with PhotoAID.
When traveling, you often need to apply for official documents such as a passport, ID, and different kinds of licenses or cards. Those applications require a picture that must meet specific conditions to be accepted, depending on the country. Now, it is possible to take this picture at home without the help of a professional photographer. The PhotoAiD app allows you to take the perfect biometric photo that will be guaranteed by yourself without leaving your home.
This article contains affiliate links. If you use these links to buy something, we may earn a small commission at no additional cost to you. Thank you!
Do you have a question for us or have a comment?
Check out our most recent posts