Madrid was my initial stop on my first visit to Spain and this region of Europe. I was traveling with a friend I had known for decades, and it was her first visit. Our itinerary included the three major cities of Spain: Madrid, Seville, and Barcelona. When speaking with friends who had been to Madrid, almost everyone mentioned the Mercado de San Miguel as a must-do. Visiting markets has always been a highlight of my travels because it often gives a glimpse of the locals, their food, traditions, and culture. When people spoke of this Market, they lit up, which intrigued me.
As a result, our first destination was the spectacular Mercado de San Miguel. The doors of this Market opened over 100 years ago when it started as a wholesale food market. It sits in an impressive historical building with expansive windows that stream warm natural light to the interior. This once wholesale food venue now stands out as one of the world's leading gastronomic markets. Visitors can experience Spain's essence and flavors from every corner of this fascinating and diverse country.
It could not have been a better choice to launch our trip to Spain. The Market showcased the delicious food that Spain has to offer the world in all its glory and colors.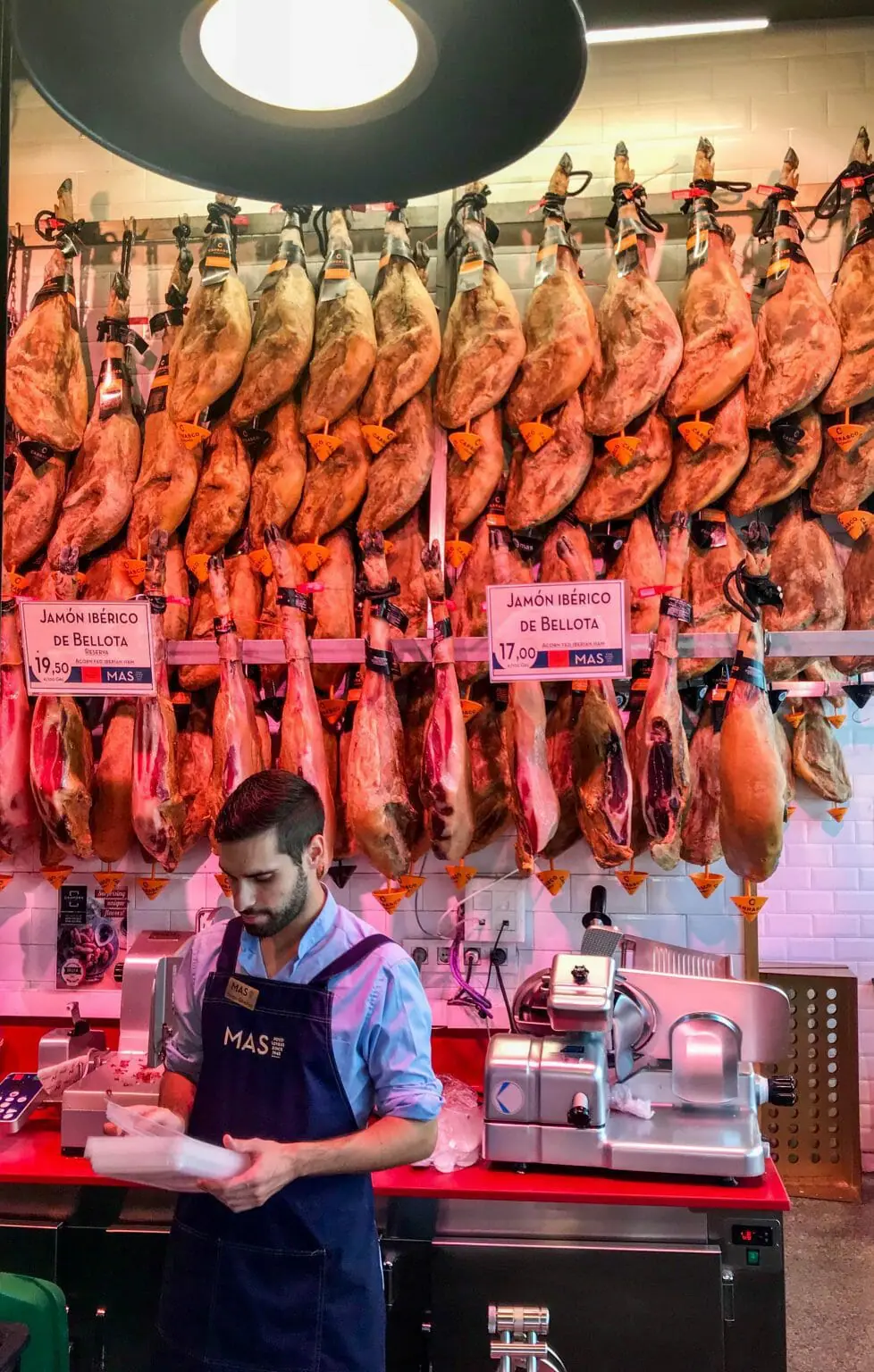 The Market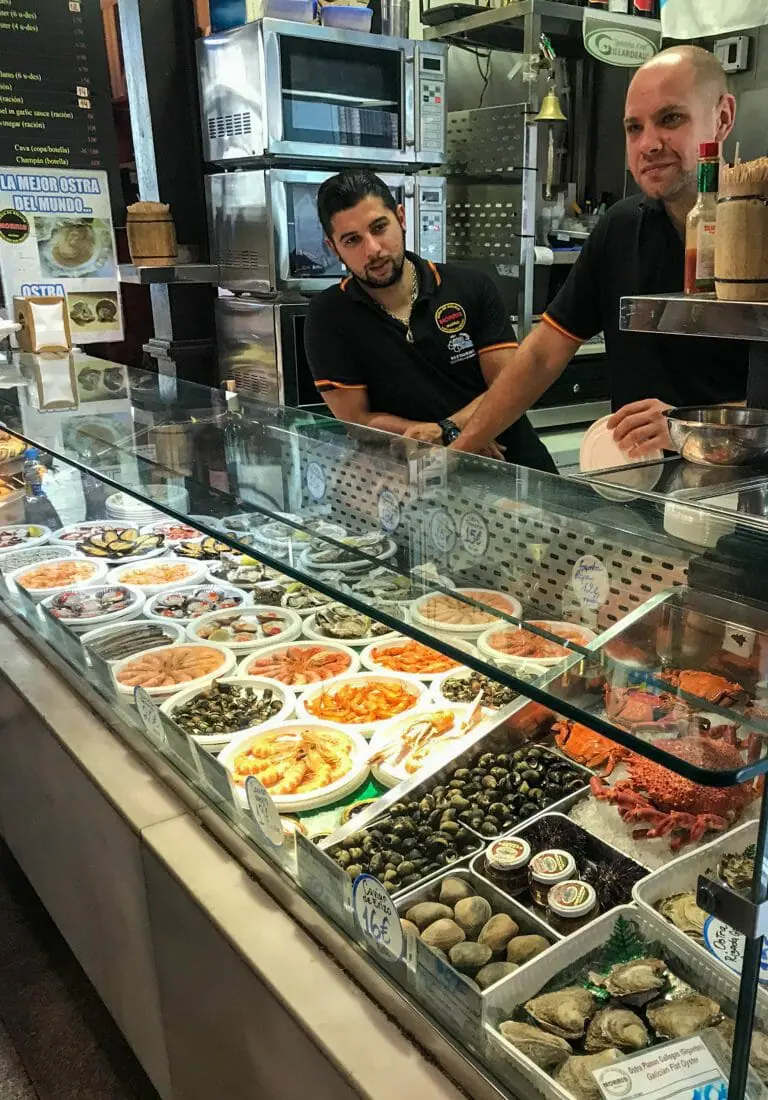 At the Mercado de San Miguel, you'll find all the best Spanish cuisine offers. Its referred to as a monument to the incredible cuisine of Spain. I would have to agree wholeheartedly. There are over 26 stands and carts that provide top-quality items. The prices are very reasonable, even cheap, and all the food is as fresh as you can imagine. In many cases, it is made as you watch.
The freshest fish and seafood are brought in daily from Galicia. Some of the seafood for sale was unique and a little odd, yet they sure were being purchased by many locals. The classic Mediterranean rice dishes were prepared with a flare; the Paella was superb, the best we had in Spain. The exquisite cheeses from Castile, Asturias, and the Basque Country are on a beautiful display, and samples were offered for some. So, if you want, try some, but you may bring some back to your hotel room.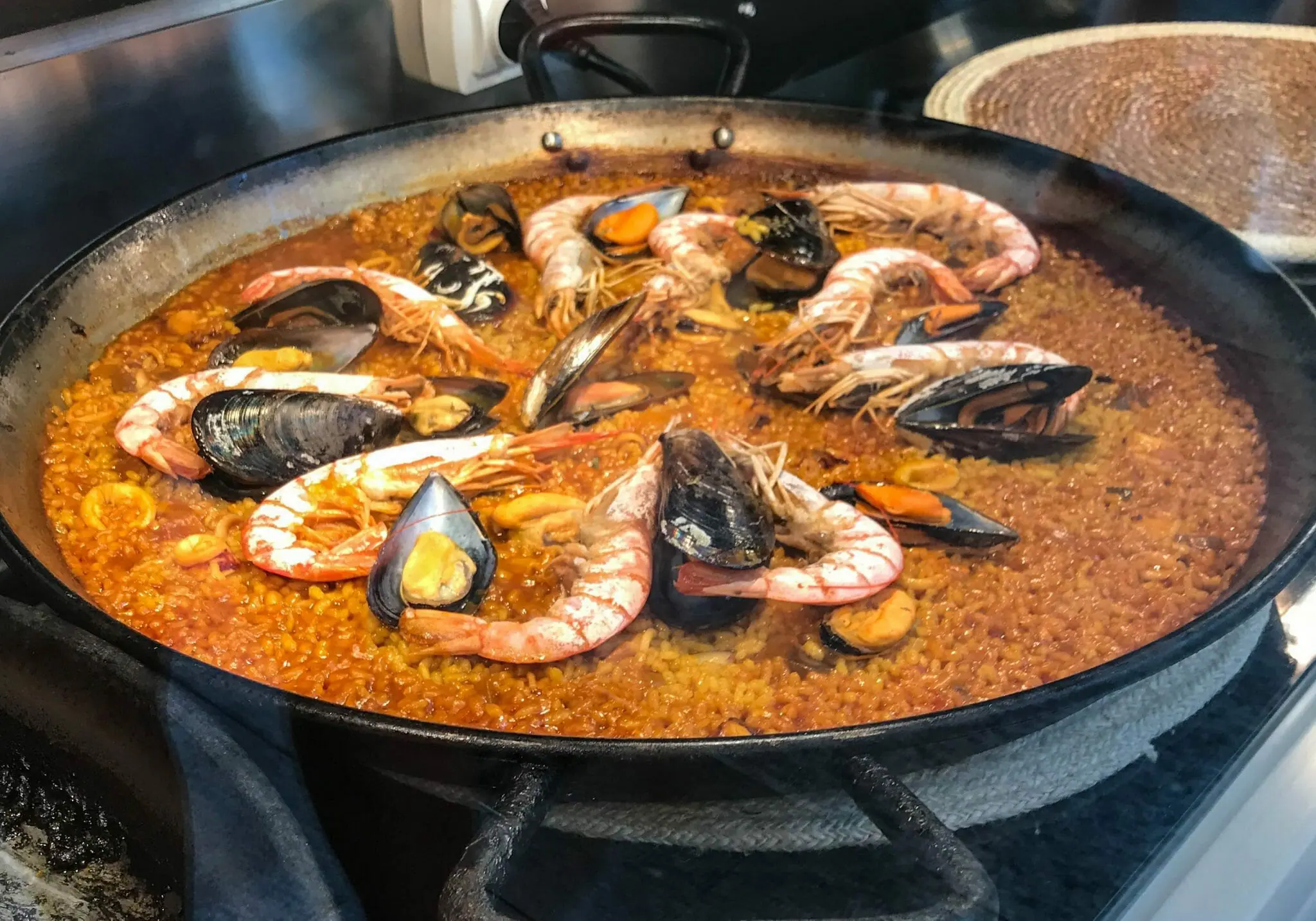 Spain is known for its Iberian ham; you will find the finest on display at the Market. The selection of cured meats was extensive. How about some specialty cured meat in a paper cone, which seemed sought out by many? And oh, the prosciutto!!! It may even beat out Italian prosciutto.
Of course, there were beautiful desserts and bakery products. Various forms of nuts in paper cones were popular snacks. What is Spain without olives and olive oils? Add to all that the colorful and delectable fruits and produce.
What is all that delicious food without an Aperol Spritz or a glass of champagne? It may have been lunchtime, but everyone seemed to have an alcoholic drink in hand.
Oh, the Tapas!
What stood out, and that wasn't easy as everything blew us away, was the Tapas. The glorious, huge, stunning Tapas. In my two trips to Spain, nowhere else came close to the presentation, beauty, and quality of Tapas offered at the San Miguel market. Not only were they gorgeous, but they were also a joy for the palate.
There were what felt like over 100 varieties. As a result, what limits you is how much room you have for all that food. Whether visiting to eat here or take home (which many locals did), the Tapas are simply perfection.
Check out all the variations of Tapas at the Market
Full of Energy
The ambiance of the San Miguel market was bustling, loud, and energetic. Packed with people chatting away, it felt at times like a community event where friends gather versus a food market. This Market draws 10 million visitors a year, so you can expect large crowds most of the time. That said, we never felt closed in and unable to view what we wanted. The waits for purchases were relatively quick and efficient. Vendors were friendly and patient.
Many Spaniards shop and gather for a drink and food at the Market. San Miguel is a social hub for the locals. Many of the stands offer alcoholic beverages of all kinds. They were pretty popular in this Market; as a result, they seemed to draw many there. I have to say I was surprised to see so much champagne being poured at a food market. This is Europe, though; what is a meal without a lovely glass of wine or champagne to complement it? Cocktails were big, too, and seemed to be Aperol Spritz was the favorite, but many choices were available.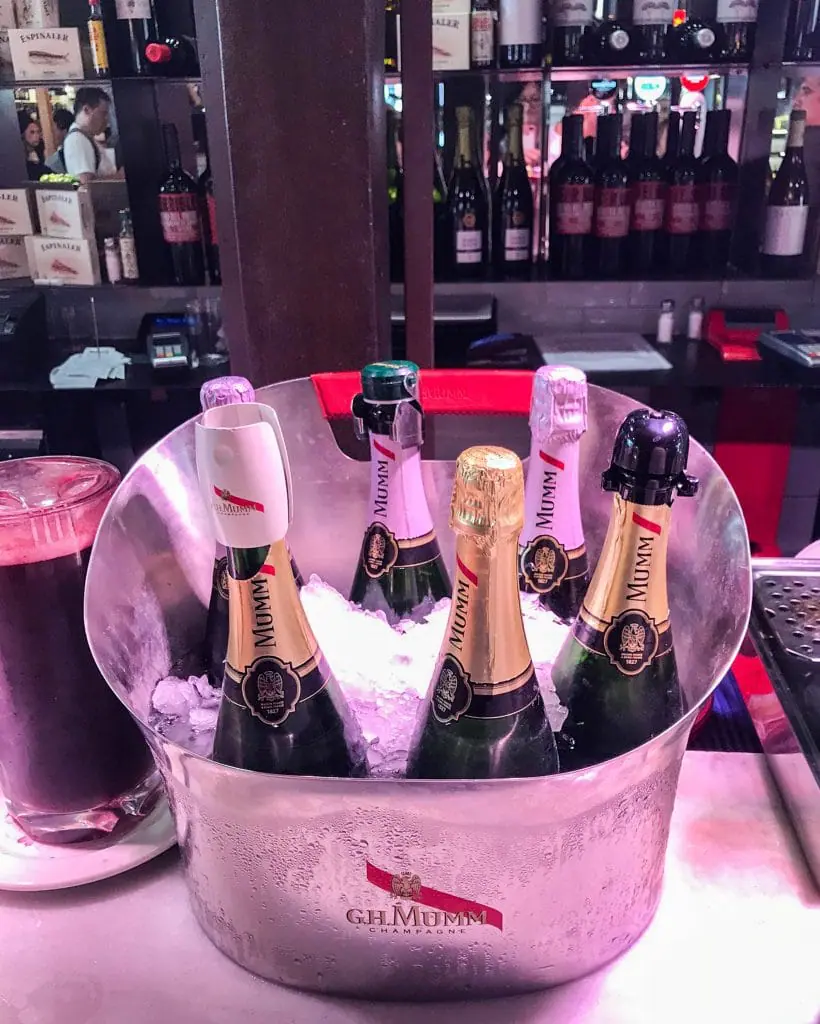 Popular for locals and tourists
The Mercado is a huge tourist draw, and the outsiders are pretty obvious; they are the ones standing there with their mouths hanging open in awe and unable to decide where to begin.
Be warned that seating can be challenging at peak hours, but we saw many juggling food and drinks while standing expertly.
It took several trips to all the shops and various stands to decide which of these spell-binding Tapas I would choose. It was a difficult decision! As a result, I may have taken more than I should have. In the end, each was delicious; there were no regrets.
A bit later, I was satiated after a lovely glass of wine, lots of Tapas, fresh mozzarella balls, and some of the best prosciutto I have ever tasted.
Picture Perfect
Did I mention this was a photographer's playground? Taking photos at any market is a blast, and the Mercado de San Miguel was no exception. I had so much fun! So many colors and textures to capture.
One Impressive Market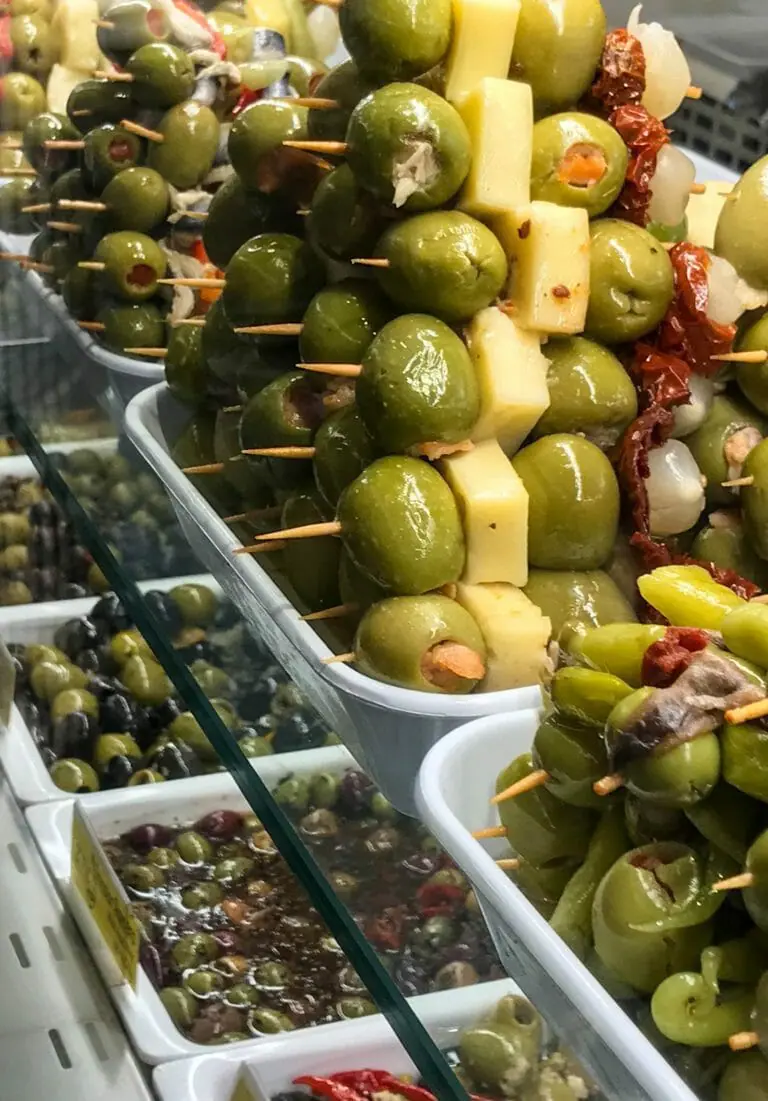 I was genuinely in awe of this Market. Having visited many markets worldwide (one of my favorite things to do during travel), Mercado de San Miguel is one of the best I have ever experienced.
When in Madrid, Spain, do not miss this gem. It is in the city's heart and is easy to access via public transportation or Uber. It is an indoor market, so the weather is never a concern. There are many hotels nearby that are within walking distance.
Mercado de San Miguel is a gift to the senses, a food lover's paradise, a cultural immersion, a joy to photograph, and a ton of fun to boot!
© 2023 Wanderers Compass All Rights Reserved
Check out the official website for the Mercado de San Miguel.
Warning the opening video will make you hungry!
Official website of the Mercado de San Miguel
Address
Plaza de San Miguel, s/n
28005 Madrid
OPENING HOURS
From Sunday to Thursday from 10:00 to 24:00
Fridays, Saturdays, and Holiday eves from 10:00 to 01:00
Planning a trip to Spain? Check out our Spain Travel Guide
Explore more of Spain – Check out our Spain blogs posts
Ronda, Spain, is part of the White Towns of the Andalucía region of Southern…
A Visitor Guide "Setenil de las Bodegas,where the sky is rock….. " Gerardo Diego…
"Oh, lovely Spain! Renowned, romantic land!" Rochdale Table of Contents Top Five Destinations In…
Mercado de San Miguel Photo Gallery
Check out our lastest blog posts
Our Recommended Travel Resources
Our favorite travel insurance site!
If you are booking a trip, don't forget to get travel insurance within 14 days of your first booking. We could not be stronger advocates of being well-insured. Not just for the little stuff but the big stuff like medical emergencies. We never leave home without it. Over the years, we have used many sites but have now found our go-to place. Squaremouth.com does a fantastic job; it has a user-friendly interface, they use top-rated and reputable insurance carriers, and most policies cover Covid medical issues and cancellations. They also mediate on your behalf if you have problems with your policy.
To empower you as a consumer, we suggest you read our blog post on the importance of travel insurance and how to get the best coverage from top-rated companies for an affordable price.
Medical transport back home from anywhere in the world
They are the premier global air medical transport. One caveat to travel insurance is that medical evacuation usually gets you to the closest facility to care for you. Medjet gets you back to the U.S. to the hospital of your choice once you are stable enough to fly. They cover Covid-related transports as well.
Medjet carries its own policies. The policy is only for transport and no other aspects of travel insurance. They have individual trip policies starting at $99 and annual policies for around $300. Most of their policies limit the age to 74 and younger. Prices are not based on age below that.
To learn more about how Medical Evacuation membership with Medjet Assist works, check out our blog post for a more detailed review.
Hotels, home rentals, BNBs, flights, and other transportation & tours
Expedia is a US-based company whose mission is to power global travel for everyone and everywhere. Whether planning a family vacation, booking for business, or organizing the trip of a lifetime, they are a fantastic resource. Wanderers Compass focuses on independent travel, and using sites like Expedia makes that possible. Every aspect of travel you would need, from airfare, accommodations, rental car, and cruises, to activities to do at your destination, can be booked on Expedia.
Hotels, Home rentals, BNBs, Flights, and other Transportation & Tours
Booking.com connects millions of travelers to memorable experiences, various transportation options, and incredible places to stay – from homes to hotels and much more. It is one of the world's largest travel marketplaces for established brands and entrepreneurs of all sizes.
We always start with Expedia to check prices, but it sometimes says it is sold out. We then try Booking.com, and we find it lists plenty of rooms. It could be they are a Europe-based company. Try both before booking accommodations.
Are you traveling with a family or having an extended stay at your destination?
With over 2 million bookable vacation rentals, VRBO connects homeowners with families and vacationers looking for something more than a hotel for their trip. The VRBO community offers families or groups various rental property types such as condos, cabins, lake rentals, beach houses, etc.
VRBO is under the Expedia group ownership now, which many were worried about, but it hasn't panned out to be a concern. It is a massive network that has access to all forms of lodging should issues arise. Joelle has used VRBO for many years with her family with no problems.
As the leading marketplace for travel experiences, Viator believes that making memories is what travel is all about. And with 300,000+ experiences to explore—everything from simple tours to extreme adventures (and all the niche, interesting stuff in between)—making memories that will last a lifetime has never been easier.
With industry-leading flexibility and last-minute availability, it's never too late to make any day extraordinary. This one site has it all and has experiences throughout the world. We use them often during our travels, especially for food tours. We especially take the time to read the reviews provided.
Tripadvisor, the world's largest travel guidance platform, helps hundreds of millions of people each month become better travelers, from planning to booking to taking a trip. Travelers worldwide use the Tripadvisor site and App to discover where to stay, what to do, and where to eat based on guidance from those who have been there before.
With more than 1 billion reviews and opinions from nearly 8 million businesses, travelers turn to Tripadvisor to find deals on accommodations, book experiences, reserve tables at popular restaurants, and discover great places to see nearby. We use them for guidance and research on every trip; it is a valuable app for the independent traveler.
Welcome Pick-ups
(Airport and sightseeing service)
A global leader in ground transportation for travelers. They help hundreds of companies around the world enhance their services and boost their revenue with our 5-star ride experiences and hassle-free automation
Founded in 2015 in Athens, Greece, Welcome Pick-ups goes above and beyond the standard transfer service as the first company to deliver a holistic, in-destination travel experience. From the moment a traveler arrives at a new destination until they return home, Welcome accommodates all their travel needs (transfers, travel products, things to do, information) as the easiest, friendliest, and most personalized solution.
Discover Europe by Train
Rail Europe sells train and bus tickets for travel across Europe. They cover 24 countries, 105 rail operations, and 20,000 stations. They are the official rail and bus operations agents in the UK, France, Spain, Italy, Germany, Belgium, Austria, Switzerland, Luxembourg, and the Netherlands. Rail Europe continues to add coverage all the time.
It is a fast, easy, and economical way to purchase European train and bus tickets. Eurail passes are also available to buy through their site.
An excellent source for travel essentials and guides
We now have our own Amazon Storefront with all our favorite travel accessories and gear in one place. Check out our travel store at the link below.
Amazon is one of the most comprehensive online shopping sources in the world. On behalf of their customers, teams worldwide provide lower prices, better selection, and rapid delivery. They offer a vast inventory, and their 1.7 million small and medium businesses worldwide selling on Amazon.com provide extensive options to customers.
We buy most of our travel books, accessories, and luggage from Amazon. We have ordered up to two days before travel and get what we need.
Thoughtfully Designed | Meticulously Constructed | Quality Guaranteed.
We have used this luggage for years, left briefly to try others, and returned to Travelpro. Travelpro luggage is carried by crews from over 90 airlines worldwide.
Travelpro takes the time to learn what travelers want and need, then builds it. The key factor for us is that it must be lightweight upfront and resistant to rough handling. Their luggage is the best, and we could not recommend it enough. It is our go-to luggage.
This article contains affiliate links. If you use these links to buy something, we may earn a small commission at no additional cost to you. Thank you!
Do you have a question for us or have a comment?