"If you cannot do great things, do small things in a great way"

Napolean Hill
Full of Charm and Rich in History
It was another castle hunting day on the spectacular Istria Peninsula in Croatia. Our destination is Hum, Croatia.
It had been a successful day so far, but the road became concerning as we headed to our next castle. Driving down what appeared to be a private dirt road, at times single lane, we passed homes where people gave us looks as if to say, "Are you lost?" We started doubting Google Maps, which has been our stalwart on all our trips. Once off the dirt road, we found ourselves climbing a curvy mountain road within a dense forest without signage or towns. Close to abandoning the road, we pushed forward. Google Maps deserved our faith.
Then suddenly, at the top of the hill, Hum emerged. As our goal was the castle, we were surprised to learn as we approached the entry gate that we were about to visit the smallest city in the world, based on population. That title did cause us to worry; would it be a tourist trap?
But there was a castle, which was our original goal, so we could ignore the touristy side if needed. We had learned from our castle hunting treks that incredible castles could be found hiking through farmers' fields, deep within thick forests, in the middle of a river, or on a sandy beach. The search is often as fun as the reward at the end.
This time it wasn't just the castle that made the trip worth it; this tiny village brimming with charm captivated us. It may have helped that the views alone were stunning.
Is Hum Croatia really that small?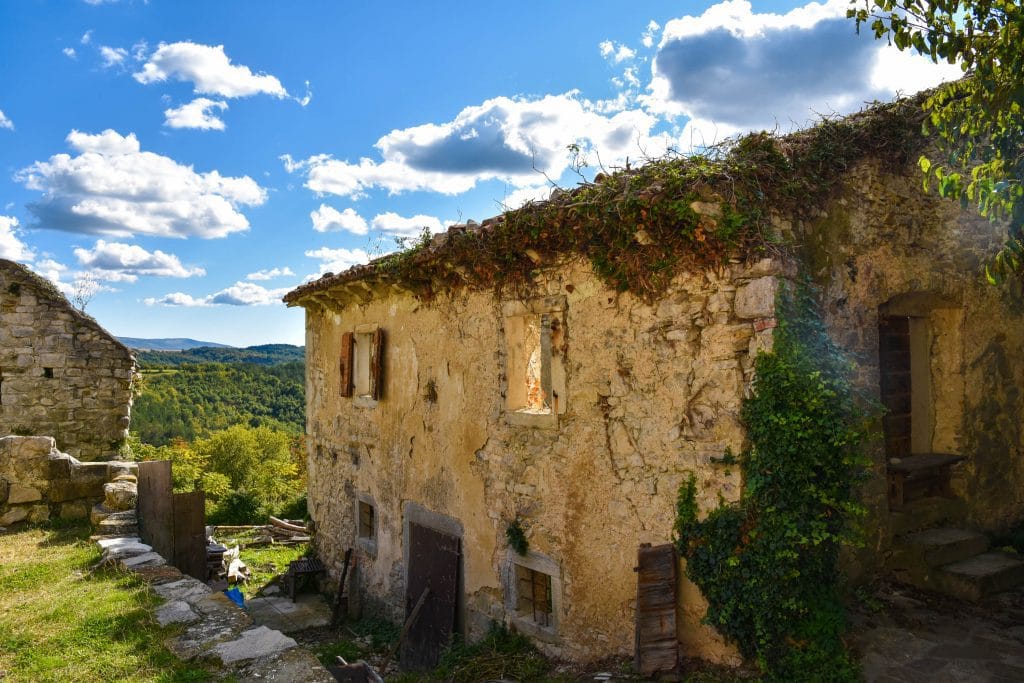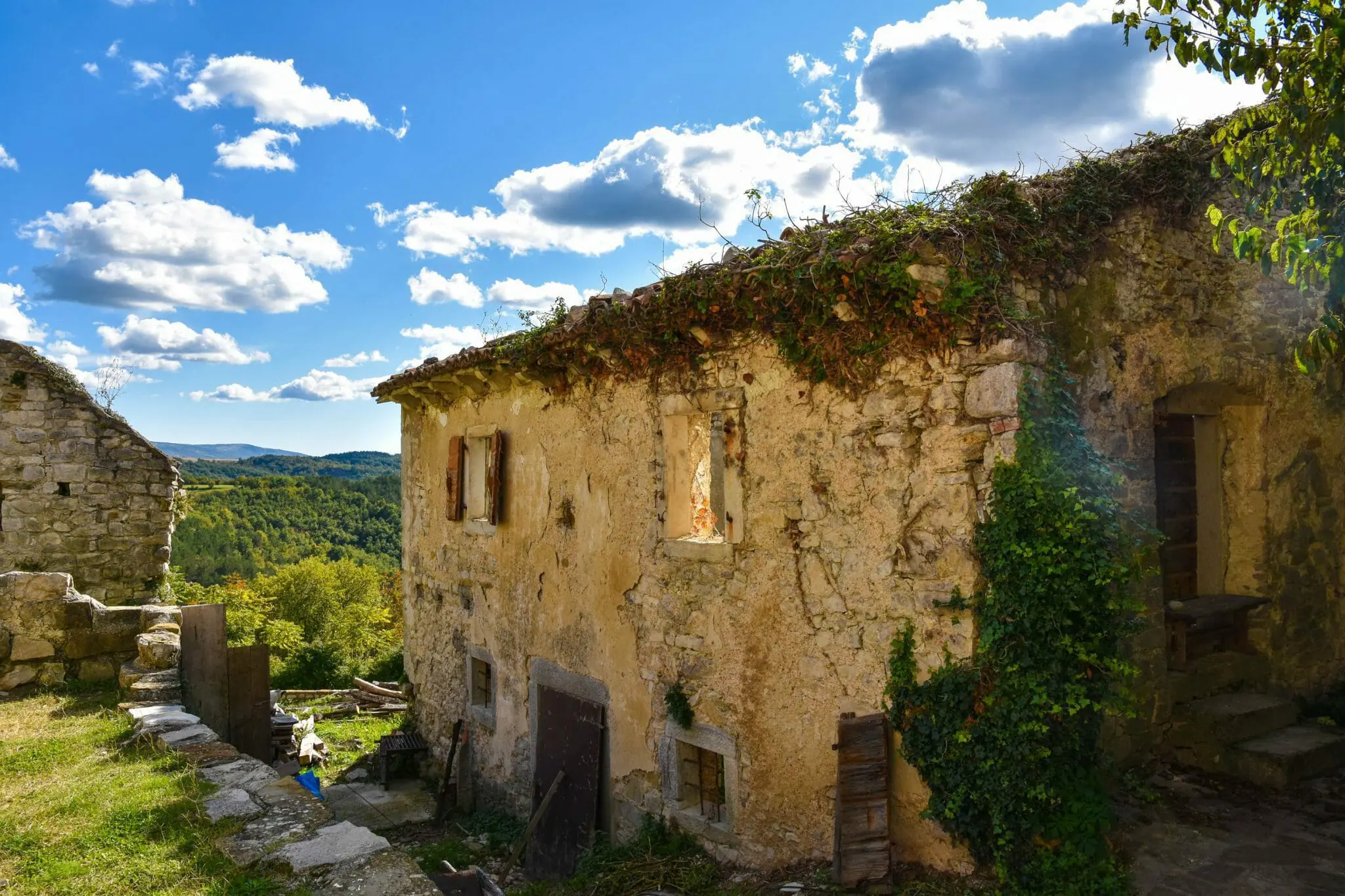 Hum, pronounced Hume, is reputed to be the smallest town in the world, with a population of 30 based on the 2011 census. Though not officially noted in the Guinness World Book of Records, it seems that is the case, nonetheless. The village operates as a whole city with a mayor, elections, and administration facilities.
Located in the center of the Istrian Peninsula, it is technically a settlement of the greater town of Buzet. The city is 300 feet long by 90 feet wide and has only two streets. On those two streets, there are a total of 20 buildings. It sits on top of a hill at over a 1000-foot elevation with sensational views of the dense forest and expansive valley.
Records recognize Hum as far back as the 12 century.
A fun fact about Hum on the 1921 census reported 100% of the town spoke Italian. How could that be? It was because Istrian Italians populated most of the Istrian region at that time. In 1920 Istria was annexed to Italy, and after World War 2, Istria was returned to Croatia. This provides a rich history to the area with trilateral cultural roots in Croatian, Slovenian, and Italian.
The Legend of Hum Croatia
As with many medieval towns, a legend explains their existence. The story goes that the Giants building the towns in the Mirna River valley had some remaining stones. Not wanting to leave the few remaining stones unused, they made the miniature fortress city of Hum.
Planning a trip to Croatia? Check out our Croatia Travel Guide
Hum, Croatia in the Middle Ages
This medieval city was fully walled at one time, and all the homes were built within those walls. Much of that wall remains. It is unusual that no homes were built outside this tiny town, but as small as it was, it likely was their best chance for defense. There is a double-door main gate with cooper door shields and handles adorned with a Giogoltic script. There is also a castle, watchtower, and two churches: St Jerome, which was built in the 12th century, and the Assumption of the Blessed Virgin Mary, which was built in 1802 in the place of a previous church. The churches are small and worth a visit.
St Jerome has beautiful frescos to enjoy. On its walls, it is adorned with some of the oldest examples of ancient Croatian Glagolitic writing from the Middle Ages.
For those who like to hike, there is a fascinating 2-mile hiking path between Hum and the village of Roc called the Giogolitic Alley. The path has many large stone sculptures dedicated to the ancient Croatian script. Each stone sculpture represents a letter of the old alphabet, which is reported to have been used until the last century.
How often do you get to hike an alphabet trail?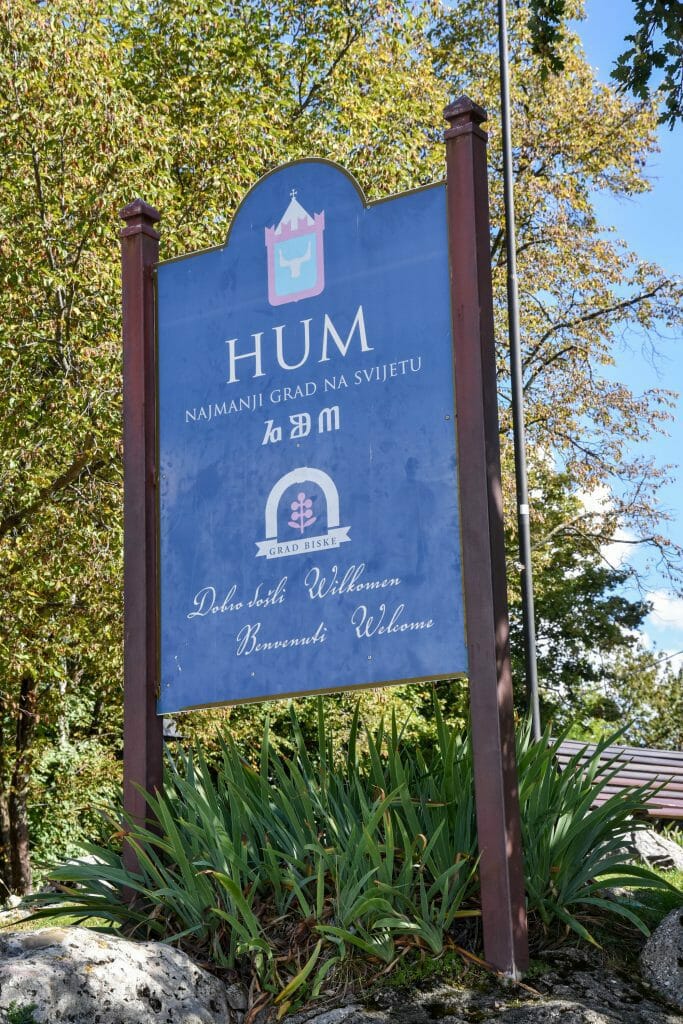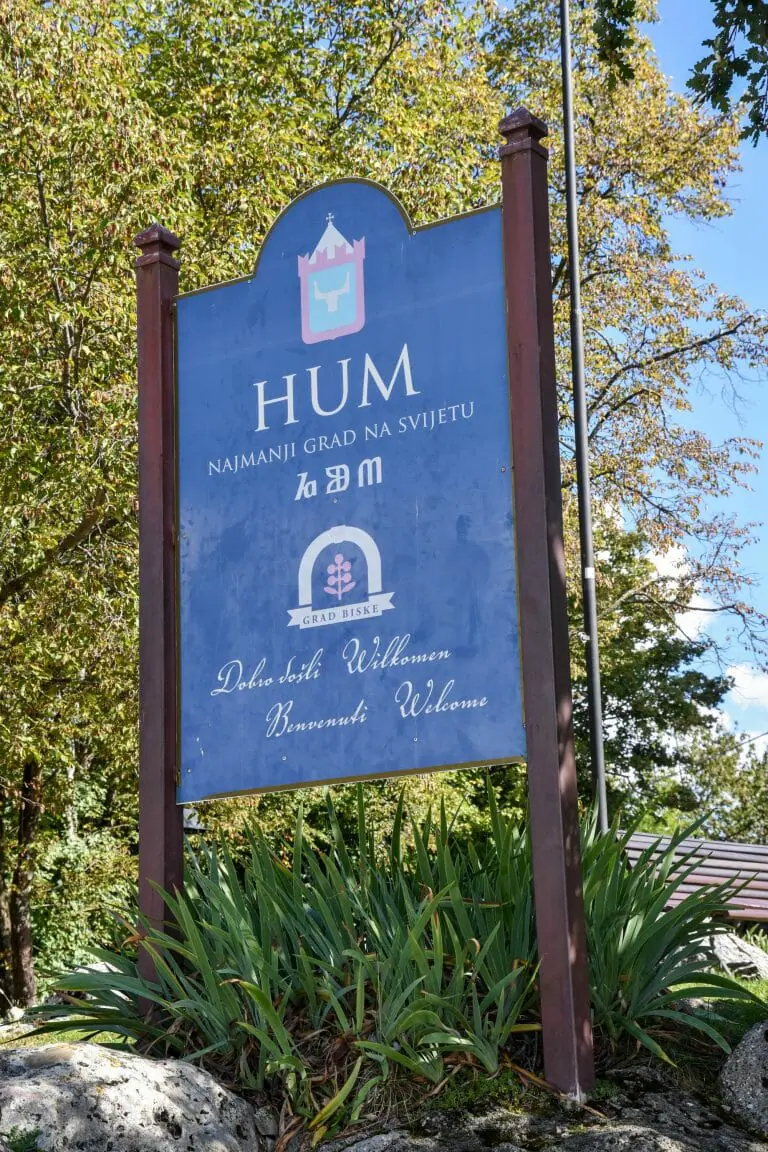 How can this be an actual city?
Hum has a sitting government with annual elections on June 11th of each year, known as the Day of Hum, where the men in the town gather in the City Lodge, engraving votes on a wooden stick. Yes, the men have maintained the tradition that only men can vote.
The village also contains an administrative and public affairs facility.
Our Hum, Croatia Visit
The day we visited was gorgeous and quite warm for late October. Due to it being a weekday, we were one of just a handful of people.
We felt we had Hum to ourselves.
In a town so small, we expected there would not be much to see or do. That turned out not to be the case. There is the castle, museum, two churches, lovely cobblestone streets to stroll, the hike to the hill town of Roc along Giogolitic Alley, or you can sit on one of the wooden benches on the edge of town to watch the sunset.
Of course, there is always shopping and grabbing a bite to eat.
Several quality shops, taverns, a wine bar, and a restaurant sit on the two streets that make up Hum. Many local delicacies can be sampled for free in the lovely little shops that grace this town. One shopkeeper suggested we try their local champagne beer. She set us up on this quaint little table outside overlooking the village and beautiful valley while we enjoyed this impressive brew. Loving both beer and champagne; it was quite the perfect blend. (See the pic in the photo gallery below)
Champagne beer, though, is not what made Hum famous. As small and out of the way as this town is, it has deep traditions and cherished products, specifically Humska Biska, a traditional Istrian brandy made with mistletoe and herbs.
It makes an excellent souvenir too!
Other local specialties in the shops are homemade Istrian delicacies such as truffles, cheese, olive oils, wine, honey, sausages, and varied flavored Rakija's. When given a chance, never pass on trying the truffles! One of our personal favorites from this region.
Want to learn more about the food of the Istria region, especially truffles? Check out our post on Croatian Cuisine
Spoiler alert, we loved it!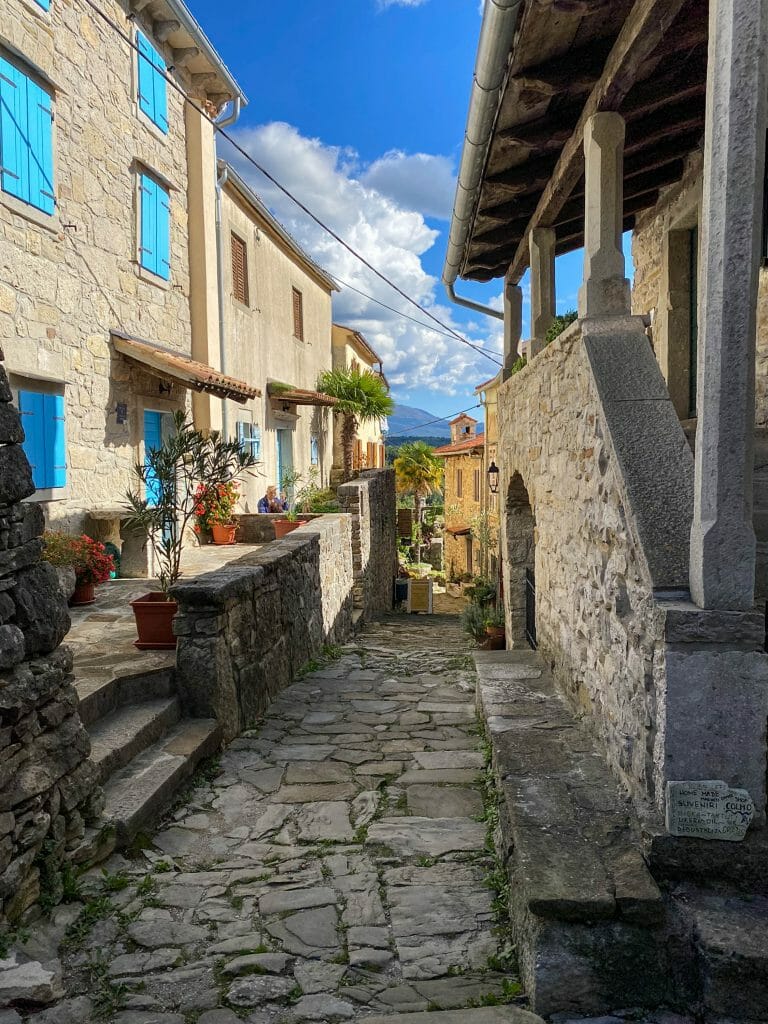 Festival!
Now when you are known for such a unique product as Mistletoe brandy, a festival would be in order to celebrate it. Hum holds the Grappa Festival each October, showcasing their local specialty brandy. Producers from all over the region come to display their craft and seek to win the big prize.
The day we visited was the week before the festival. We wish we could have stayed for it, but we were going to be halfway down the west coast of Croatia by the weekend!
Maybe next time!
Getting to Hum, Croatia
The area has a rich history dotted with incredible hill towns, medieval castles, and glorious countryside. Hum is one of many beautiful destinations to visit in the area. Therefore, we found having a car provides a unique chance to wander off the beaten path and explore such treasures.
Visiting Hum would take only a few hours, at most, of your time, even with stopping for lunch. A car would offer the chance to explore the area further.
During the tourist season, there are bus tours that do stop in Hum. Taxi and Uber are always an option but could be pricey, and getting one to take you back could be a challenge.
Hum is two and a half hours from the Croatia capital Zagreb. It could be a possible day trip, but it would make for a long day. Most people will stay in some of the closer, bigger cities, such as Opatija (where we were staying), Rijeka, and Motovun are easy drives. Though we seem to have taken the rougher route, there are better roads to reach Hum.
Want to spend the night in the smallest city in the world?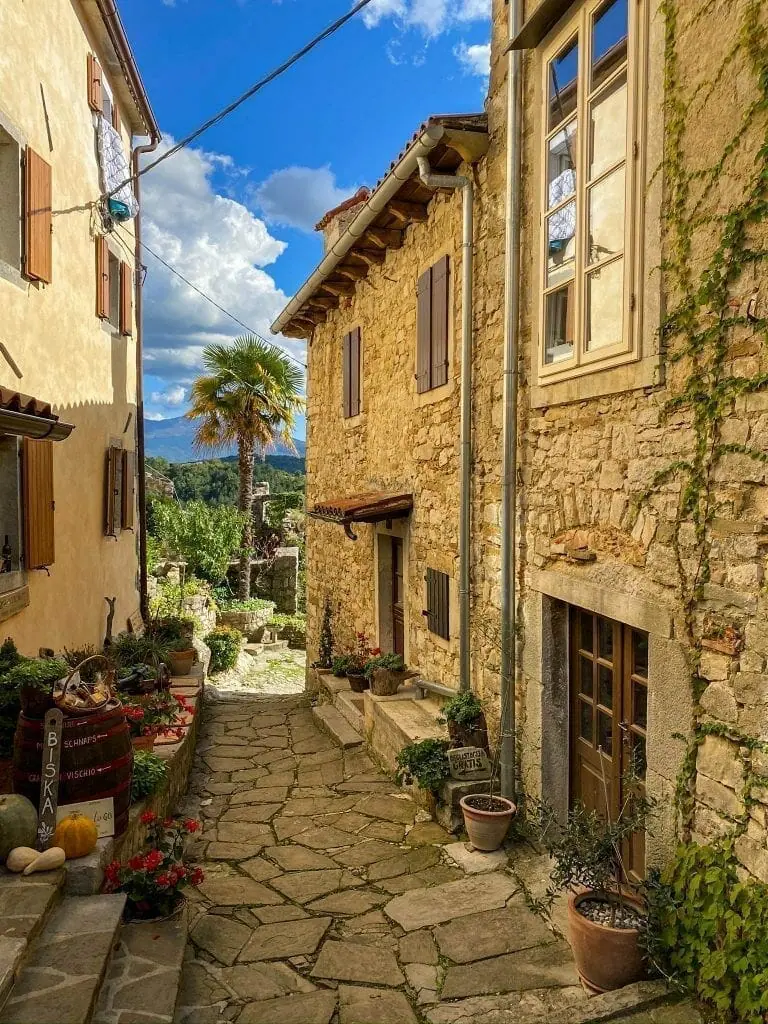 Surprisingly, we saw signage for some small vacation rentals in town. Some were in the few modern buildings within the city walls, and some were in the ancient structures.
Of the few accommodations available within Hum, they appear to be apartments or rooms within homes. Booking.com seems to have the most complete list. There are also lovely options close by but outside the town itself. Check out the options by clicking HERE.
With the controversy surrounding Air BnBs' and such, it would be fascinating to hear how the few villagers here feel about this. Based on their hospitality, I may expect they enjoy having a guest or two stay the night.
We believe it is important to price out properties on various sites. Expedia is a US-based company, whereas Booking.com is Europe based. Not all properties appear on both. If the establishment has a website, check the price there as well.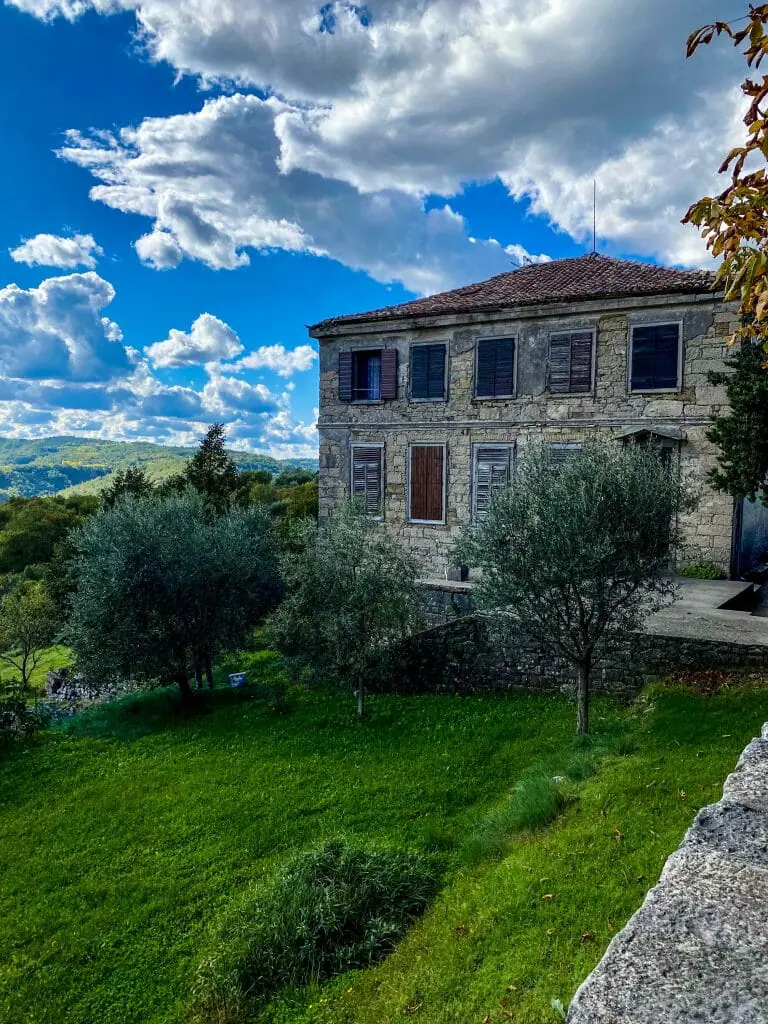 Final Thoughts
An adventurous path led us to a charming village that was much more special than the Venetian castle we first sought.
Hum Croatia is a picture-perfect ancient village and so much fun to photograph!! Joelle may have stopped every three steps to take another pic. The cobblestone streets and ancient buildings take you back to days past. The landscape that surrounds it, which includes some vineyards, is breathtaking.
There is a presence in this tiny town that speaks to the pride of its few residents. The welcome is kind, and the warmth is genuine. We so enjoyed the people we had a chance to chat with while shopping. The residents have preserved the ancient authenticity of Hum while keeping the village livable for its residents, including several children in their count.
It was one of our many memorable stops because of the magnificence of Croatia as a whole.
Ultimately, we came for the castle but found the town the best part. How often do you get to visit the smallest city in the world?
© 2023 Wanderers Compass All Rights Reserved
Hum, Croatia has a town webpage, but it is pretty bare-bones. Check it out by clicking the link below.
Want to explore Croatia? Check out our others posts on this beautiful country
Our Hum, Croatia Photo Gallery
Check out our other Croatia Posts
Our Recommended Travel Resources
Our favorite travel insurance site!
If you book a trip, don't forget to get travel insurance within 14 days of your first booking. We could not be stronger advocates of being well-insured. Not just for the little stuff but the big things like medical emergencies. We never leave home without it. Over the years, we have used many sites but have now found our go-to place. Squaremouth.com does a fantastic job; it has a user-friendly interface, uses top-rated and reputable insurance carriers, and most policies cover COVID-19 medical issues and cancellations. They also mediate on your behalf if you have problems with your policy.
To empower you as a consumer, we suggest you read our blog post on the importance of travel insurance and how to get the best coverage from top-rated companies for an affordable price.
Medical transport back home from anywhere in the world
They are the premier global air medical transport. One caveat to travel insurance is that medical evacuation usually gets you to the closest facility to care for you. Medjet gets you back to the U.S. to the hospital of your choice once you are stable enough to fly. They cover Covid-related transports as well.
Medjet carries its own policies. The policy is only for transport and no other aspects of travel insurance. They have individual trip policies starting at $99 and annual policies for around $300. Most of their policies limit the age to 74 and younger. Prices are not based on age below that.
To learn more about how Medical Evacuation membership with Medjet Assist works, check out our blog post for a more detailed review.
Hotels, home rentals, BNBs, flights, and other transportation & tours
Expedia is a US-based company whose mission is to power global travel for everyone and everywhere. Whether planning a family vacation, booking for business, or organizing the trip of a lifetime, they are a fantastic resource. Wanderers Compass focuses on independent travel, and using sites like Expedia makes that possible. Every aspect of travel you need, from airfare, accommodations, rental car, and cruises to activities to do at your destination, can be booked on Expedia.
Hotels, Home rentals, BNBs, Flights, and other Transportation & Tours
Booking.com connects millions of travelers to memorable experiences, various transportation options, and incredible places to stay – from homes to hotels and much more. It is one of the world's largest travel marketplaces for established brands and entrepreneurs of all sizes.
We always check Expedia and Booking.com to verify prices. At times, one is sold out of rooms while another at the same place has rooms. As well we often find some European hotels, especially smaller ones, on Booking.com but not on Expedia. It could be they are a Europe-based company. Try both before booking accommodations.
Are you traveling with a family or having an extended stay at your destination?
With over 2 million bookable vacation rentals, VRBO connects homeowners with families and vacationers looking for something more than a hotel for their trip. The VRBO community offers families or groups various rental property types such as condos, cabins, lake rentals, beach houses, etc.
VRBO is under the Expedia group ownership now, which many were worried about, but it hasn't panned out to be a concern. It is a massive network with access to all lodging forms should issues arise. Joelle has used VRBO for many years with her family with no problems.
As the leading marketplace for travel experiences, Viator believes that making memories is what travel is all about. And with 300,000+ experiences to explore—everything from simple tours to extreme adventures (and all the niche, interesting stuff in between)—making memories that will last a lifetime has never been easier.
With industry-leading flexibility and last-minute availability, it's never too late to make any day extraordinary. This one site has it all and has experiences throughout the world. We use them often during our travels, especially for food tours. We especially take the time to read the reviews provided.
An excellent source for travel essentials and guides
We now have our own Amazon Storefront with all our favorite travel accessories and gear in one place. Check out our travel store at the link below.
Amazon is one of the most comprehensive online shopping sources in the world. On behalf of their customers, teams worldwide provide lower prices, better selection, and rapid delivery. They offer a vast inventory, and their 1.7 million small and medium businesses worldwide selling on Amazon.com offer extensive options to customers.
We buy most of our travel books, accessories, and luggage from Amazon. We have ordered up to two days before travel and get what we need.
Transportation
Welcome Pick-ups
(Airport and sightseeing service)
A global leader in ground transportation for travelers. They help hundreds of companies worldwide enhance their services and boost their revenue with our 5-star ride experiences and hassle-free automation.
Founded in 2015 in Athens, Greece, Welcome Pick-ups goes above and beyond the standard transfer service as the first company to deliver a holistic, in-destination travel experience. From the moment a traveler arrives at a new destination until they return home, Welcome accommodates all their travel needs (transfers, travel products, things to do, information) as the easiest, friendliest, and most personalized solution.
Discover Europe by Train
Rail Europe sells train and bus tickets for travel across Europe. They cover 24 countries, 105 rail operations, and 20,000 stations. They are the official rail and bus operations agents in the UK, France, Spain, Italy, Germany, Belgium, Austria, Switzerland, Luxembourg, and the Netherlands. Rail Europe continues to add coverage all the time.
It is a fast, easy, and economical way to purchase European train and bus tickets. Eurail passes are also available to buy through their site.
Travel documentation services
Do you feel like you are wasting time visiting an on-site photographer only to be embarrassed by the photo? Would you like control of the final product? Get the perfect VISA or passport photo online with PhotoAID.
When traveling, you often need to apply for official documents such as a passport, ID, and different kinds of licenses or cards. Those applications require a picture that must meet specific conditions to be accepted, depending on the country. Now, it is possible to take this picture at home without the help of a professional photographer. The PhotoAiD app allows you to take the perfect biometric photo that will be guaranteed by yourself without leaving your home.
This article contains affiliate links. If you use these links to buy something, we may earn a small commission at no additional cost to you. Thank you!
Do you have a question for us or have a comment?