Mobile Payment Apps are now the preferred form of payment when traveling internationally. Europe is becoming increasingly cashless, so it is best to be prepared.
*When traveling, we prefer Apple Pay because we are iPhone users. Most of the information here will apply to other Mobile Pay apps such as Google Pay.*
Our inspiration for this article came after our most recent trip to the United Kingdom and the remote Faroe Islands. As always, we brought about $250 worth of each currency. Ultimately, we came home using less than $30 worth of each. Europe as a whole is becoming a cashless system. It was striking in both places. That was not the case just a few years ago.
With Europe going contactless, using a mobile payment app will save you time, eliminate your need to pull out your wallet, and is the most secure method of payment to protect you from credit card and identity theft.
What has changed?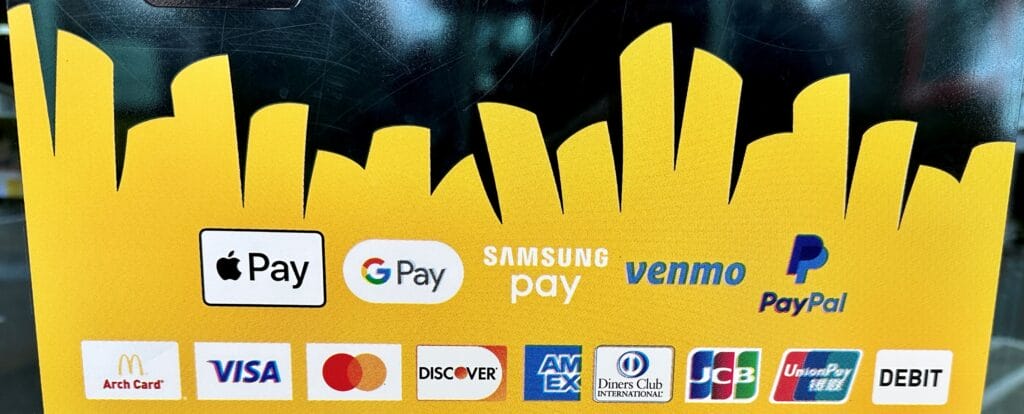 Well, several things have. First, technology is getting better and more secure. Second Covid happened. Contactless payment is widely preferred in Europe. Most locals and visitors we have observed pay with their mobile app.
At one business in Edinburgh, we chose to pull out our credit cards to pay to test the water. The machine was out of our reach, so we handed the card to the bartender, who immediately stepped back and said I can't touch that, even though it would never be out of my sight. That is mainly for security purposes so no one can accuse them of stealing any info off the card, but it also may help avoid disease spread.
We think they may have carried a bit far because Edinburgh airport, which we were at four times during this trip, is 100% cashless. With so much cash left, we planned to use it in Duty-Free. That wasn't happening; every vendor and Duty-Free is unable to take cash. We needed to use our Apple Pay or a credit card, even purchasing a bottle of water.
What surprised us even more was the Faroe Islands. Even the tiniest cafe in a remote town serving mainly locals used Apple Pay. It was notable that most of the locals were using that method, too. Covid has changed a lot of behaviors, and contactless payment is the wave of the future.
Sharing our experience made us realize there is a gap in knowledge about mobile payments
Mentioning our observations to friends and family upon our return, most expressed concern that using Apple Pay was not secure. It is the complete opposite; it is the most secure form of payment you can use.
Another frequent comment was that your phone must be on the internet to use Apple Pay. Many people have their phones in airplane mode when traveling unless they are at their hotel. You DO NOT need an internet connection; only the vendor machine needs a connection. You can use Apple Pay even on an airplane.
So, let's talk about how to use Apple Pay and what makes it so safe.
*We have observed that many places that take Apple Pay also have the Google Pay logo on the machines. The information that follows does apply to both.*
What are mobile payment apps like Apple Pay?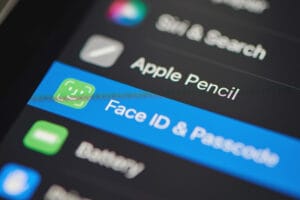 Mobile Pay is a payment platform that allows you to make payments from your bank account or a credit card without carrying cards or cash. Apple Pay is Apple's contactless payment technology for all iOS devices, allowing shoppers to pay for goods and services using their smartphones and Apple watches. With it, users can place their iPhone or Apple Watch up to a contactless card terminal, and then, along with Face ID, users will scan their faces to authenticate a purchase. Entering a passcode is an option as well. Older phones will use different ID practices, such as fingerprint technology.
Apple Pay is safe and secure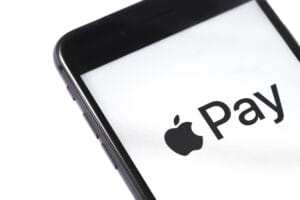 Apple Pay minimizes the risk of your credit card information being stolen. With Apple Pay, a system account number and a transaction-specific dynamic authentication token are used to process the transfer. So Apple never exchanges the real credit or debit card numbers with retailers or transmits them with the order as they encrypt your number. It doesn't need credit card details to process payment; instead, it uses a device account number, thus making your credit details more secure.
Since there is no requirement for a credit card to be present or taken out of your view, the risk of a stolen number is smaller. You also avoid pulling out your wallet, allowing a potential thief to know its location.
Another consideration is that major stores, including Target and Home Depot, have recently suffered credit card hacks. By eliminating the use of credit information as part of the purchase, Apple Pay avoids that.
Apple Pay is an adaptation of the EMVCo standard and is regarded as the most reliable payment system by many industry experts.
What about privacy concerns?
Apple does not monitor the purchases of customers or the stores they shop in. This provides more privacy. That may not be the case for the bank credit card you use. Apple is not the one you should worry about. Using device account numbers against the credit card often makes purchases with the stores much more confidential as they do not see the customer's identity and other information, such as the billing address.
The Pros of Apple Pay

1. Compatibility: Apple Pay is compatible with the major banks' debit cards and supports all credit cards like Visa, MasterCard, AmEx, among others. It has a user-friendly interface making it easy to use.

2. Secure: Apple Pay minimizes the risk of your credit card information being stolen. It doesn't need credit card details to process payment rather it uses a device account number thus making your credit details more secure.

3. Easy to use: It has a simple user interface. Your smartphone can easily identify you with Face ID or fingerrints on older models to let you click OK to authenticate the payment. Biometric security features are easier to use. If your phone is stolen they can not use your Apple Pay.

4. Private transaction: Once you use Apple Pay, the retailers will not be able to track your private information like credit card details, address, and others. No information is stored for your transaction.

5. No risk of stolen credit cards: You don't need to carry your credit cards everywhere you go. That said if your phone dies or is stolen always carry at least one credit card on you along with some cash.

6. Free of charge: Credit card payments, PayPal payments, and banks charge a transaction fee. Apple Pay is free of charge thus, retailers will be able to sell goods or services without any fee charges. This is the case with Google Pay too.

7. No internet connection: You don't need an internet connection for you to use Apple Pay. It can be used everywhere and does not accumulate any roaming charges. It can also be used when your phone is in airplane mode. That is one aspect many people are not aware.

8. Convenience: We always have the phone next to us wherever we go. Thus, we can easily use the phone to make payments.

9. Load all in one place: You can load your debit, credit, loyalty, and gift cards into your phone. Gyft and Stocard apps allow you to load your loyalty and gift cards into your phone wallet app.

10. Quick mode of payment: It is the fastest mode of payment and once payment is processed, you get a verification notification on your phone for the transaction.
Apple Pay does not reduce the reward points you get on your credit card.
Apple Pay is only the intermediary in which you use your credit card. We use our Chase Sapphire Reserve and accumulate our points the usual way toward free travel or cash back. No impact vs. using the card itself. So why not make your transaction more secure and still get the fantastic rewards that can lead to free travel?
Interested in how you can travel for free? Check out our article here.
How Much Does Apple Make From Apple Pay?
Compared to our incomes, Apple makes a lot of money from Apple Pay. But that income for Apple is less than 1% of their net quarterly profits. It is a drop in the bucket in comparison to the revenue it generates from its iPhone or AirPods business.
It is reported that Apple makes around 15 cents per every $100 spent via Apple Pay. This is tiny compared to the bank's 3-6% they make on every transaction. So why do it? If people see the Apple Pay logo and how convenient and secure the system is, that will lead to more iPhone sales, which is Apple's cash cow. However, Apple Pay is tied to a credit card, which brings enormous profits to the banks that hold that card.
How Do You Set Up Apple Pay For Use With A New (Or Additional) Credit Or Debit Card?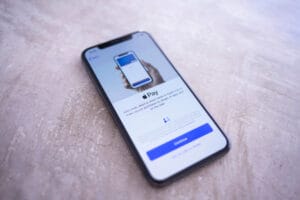 Setting up Apple Pay to use your credit or debit card is fast and easy.
Open the Wallet app on your iPhone. It comes as a default on all iPhones.
Tap the + button in the upper right corner, then tap continue.
Select the type of card you want to add: debit or credit card.
There are two ways of entering your card information. You can manually type in the card name and number or let your iPhone gather your data from the card by taking a picture of it.
Position your credit card in the white frame outline on the card image capture screen. Using optical character recognition software, your device's camera will autofocus, and then you'll see white text and numbers overlay the text and numbers on your credit or debit card.
You'll be taken to a screen that asks you to enter the 3-digit security code from the back of the card.
On the next screen, your bank will process the information and then give you the option of verifying that you want to add the card. Options include calling a phone number, entering a code sent via email or text, or using the bank's mobile application. Some banks vary on which options they allow.
Once they verify your card, you're done. It will appear at the top of the Wallet app and if it is usable immediately.
How to use Apple Pay for a purchase
When you want to pay for a product at a contactless terminal, there are two ways to make the transaction. Our preferred method is to take our iPhone out and from any position, even locked. Double-click the right-side button; the card pops up in a format that an NFC reader can pick up. You will enter a code, or FaceID will activate it depending on your iPhone model. Hover the phone over the NFC reader, and once read, you will hear a beep, and the phone will produce a subtle vibration.
Another method is to bring your iPhone to the register's NFC reader. Launching the app is unnecessary – your iPhone will know you are attempting to make a payment. The screen will show you the total amount and the card you wish to use. To confirm the price, scan your face with Face ID or enter your passcode to authenticate the transaction. Older phones may have different options. Within seconds, the transaction is complete.
The sweet and secure part is that the store does not have your credit card number, and your credit card has never left your wallet.
Using Apple Pay for Online Purchases
In an era of cybercrime, Apple Pay is a great way to stay safe while shopping online. The vendor does not get your credit card number as it is encrypted. Often, your shipping address will be pre-populated.
Apple Pay vs. Google Pay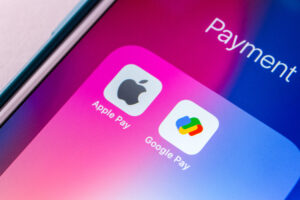 Apple Pay and Google Pay are usually accepted wherever contactless payments are supported. Both Google Pay and Apple Pay offer similar functionalities and security measures. Neither charges the user fees. This can include shopping online or in apps, in stores, and when making ATM withdrawals from ATMs that support contactless technology. We have observed in Europe, a few places only taking Apple Pay and not Google Pay, but the majority take both.
Which is best for you may come down to the device you have and which user interface you prefer. If you have an Apple phone, you can use either Apple Pay or Google Pay – Android users can usually only access Google Pay and Google Wallet.
How much cash in local currency do I need when traveling abroad?
We would get around $100 worth of local currency for a two-week trip based on recent experiences. Cash may serve you better if you plan to shop at many farmer's or artisan markets, but many are also going toward contactless payment.
Germany is a country that is predominantly a cash-based society compared with the rest of Europe. We have a planned trip there shortly and will report back if behavior changes.
Final thoughts
When on your dream trip overseas, do all you can to make the trip as flawless as possible. The United States is behind Europe in protecting our credit card info. Contactless payment and cashless transactions is by far the preferred method. This has been the case in all our European and Central American travels. Security and privacy are achieved with Apple Pay and similar products.
© 2023 Wanderers Compass All Rights Reserved
Traveling soon? Check out if your destination is one of our Country Travel Guides
Check out our most recent posts
Our Recommended Travel Resources
Our favorite travel insurance site!
If you book a trip, don't forget to get travel insurance within 14 days of your first booking. We could not be stronger advocates of being well-insured. Not just for the little stuff but the big things like medical emergencies. We never leave home without it. Over the years, we have used many sites but have now found our go-to place. Squaremouth.com does a fantastic job; it has a user-friendly interface, uses top-rated and reputable insurance carriers, and most policies cover COVID-19 medical issues and cancellations. They also mediate on your behalf if you have problems with your policy.
To empower you as a consumer, we suggest you read our blog post on the importance of travel insurance and how to get the best coverage from top-rated companies for an affordable price.
Medical transport back home from anywhere in the world
They are the premier global air medical transport. One caveat to travel insurance is that medical evacuation usually gets you to the closest facility to care for you. Medjet gets you back to the U.S. to the hospital of your choice once you are stable enough to fly. They cover Covid-related transports as well.
Medjet carries its own policies. The policy is only for transport and no other aspects of travel insurance. They have individual trip policies starting at $99 and annual policies for around $300. Most of their policies limit the age to 74 and younger. Prices are not based on age below that.
To learn more about how Medical Evacuation membership with Medjet Assist works, check out our blog post for a more detailed review.
Hotels, home rentals, BNBs, flights, and other transportation & tours
Expedia is a US-based company whose mission is to power global travel for everyone and everywhere. Whether planning a family vacation, booking for business, or organizing the trip of a lifetime, they are a fantastic resource. Wanderers Compass focuses on independent travel, and using sites like Expedia makes that possible. Every aspect of travel you need, from airfare, accommodations, rental car, and cruises to activities to do at your destination, can be booked on Expedia.
Hotels, Home rentals, BNBs, Flights, and other Transportation & Tours
Booking.com connects millions of travelers to memorable experiences, various transportation options, and incredible places to stay – from homes to hotels and much more. It is one of the world's largest travel marketplaces for established brands and entrepreneurs of all sizes.
We always check Expedia and Booking.com to verify prices. At times, one is sold out of rooms while another at the same place has rooms. As well we often find some European hotels, especially smaller ones, on Booking.com but not on Expedia. It could be they are a Europe-based company. Try both before booking accommodations.
Are you traveling with a family or having an extended stay at your destination?
With over 2 million bookable vacation rentals, VRBO connects homeowners with families and vacationers looking for something more than a hotel for their trip. The VRBO community offers families or groups various rental property types such as condos, cabins, lake rentals, beach houses, etc.
VRBO is under the Expedia group ownership now, which many were worried about, but it hasn't panned out to be a concern. It is a massive network with access to all lodging forms should issues arise. Joelle has used VRBO for many years with her family with no problems.
As the leading marketplace for travel experiences, Viator believes that making memories is what travel is all about. And with 300,000+ experiences to explore—everything from simple tours to extreme adventures (and all the niche, interesting stuff in between)—making memories that will last a lifetime has never been easier.
With industry-leading flexibility and last-minute availability, it's never too late to make any day extraordinary. This one site has it all and has experiences throughout the world. We use them often during our travels, especially for food tours. We especially take the time to read the reviews provided.
An excellent source for travel essentials and guides
We now have our own Amazon Storefront with all our favorite travel accessories and gear in one place. Check out our travel store at the link below.
Amazon is one of the most comprehensive online shopping sources in the world. On behalf of their customers, teams worldwide provide lower prices, better selection, and rapid delivery. They offer a vast inventory, and their 1.7 million small and medium businesses worldwide selling on Amazon.com offer extensive options to customers.
We buy most of our travel books, accessories, and luggage from Amazon. We have ordered up to two days before travel and get what we need.
Transportation
Welcome Pick-ups
(Airport and sightseeing service)
A global leader in ground transportation for travelers. They help hundreds of companies worldwide enhance their services and boost their revenue with our 5-star ride experiences and hassle-free automation.
Founded in 2015 in Athens, Greece, Welcome Pick-ups goes above and beyond the standard transfer service as the first company to deliver a holistic, in-destination travel experience. From the moment a traveler arrives at a new destination until they return home, Welcome accommodates all their travel needs (transfers, travel products, things to do, information) as the easiest, friendliest, and most personalized solution.
Discover Europe by Train
Rail Europe sells train and bus tickets for travel across Europe. They cover 24 countries, 105 rail operations, and 20,000 stations. They are the official rail and bus operations agents in the UK, France, Spain, Italy, Germany, Belgium, Austria, Switzerland, Luxembourg, and the Netherlands. Rail Europe continues to add coverage all the time.
It is a fast, easy, and economical way to purchase European train and bus tickets. Eurail passes are also available to buy through their site.
Travel documentation services
Do you feel like you are wasting time visiting an on-site photographer only to be embarrassed by the photo? Would you like control of the final product? Get the perfect VISA or passport photo online with PhotoAID.
When traveling, you often need to apply for official documents such as a passport, ID, and different kinds of licenses or cards. Those applications require a picture that must meet specific conditions to be accepted, depending on the country. Now, it is possible to take this picture at home without the help of a professional photographer. The PhotoAiD app allows you to take the perfect biometric photo that will be guaranteed by yourself without leaving your home.
This article contains affiliate links. If you use these links to buy something, we may earn a small commission at no additional cost to you. Thank you!
Do you have a question for us or have a comment?