Mdina, Malta, is for curious travelers. It is a city that will capture your imagination and, as a result, leaves you in awe. It is known as the "Silent City" because it became uninhabited after the 1565 Great Siege of Malta. The government stripped it of its capital status and gave it to present-day Vittoriosa. People started leaving Mdina behind, and it became almost a ghost town. Therefore, the "Silent City" nickname refers to the lack of inhabitants. Mdina has a small population (about 500 people) living within the city walls. The things to do here are top-rate.
This place has a rich, turbulent, and unique history. It fell into the hands of several different empires. From the Romans to the Arabs, many rulers governed this town. They not only governed it but also made it prosperous in their time. That's why today you can feel the amalgamation of many different cultures in its attractions. Even the name, Mdina, is a metamorphic form of Arabic.
Mdina Malta is next to Rabat's city, contributing excellent cultural-historical value. Rabat's history traces back 4000+ years and attracts thousands of tourists yearly. When tourists visit Mdina, they usually spend some time in Rabat because Rabat has more cafes and many exciting things to see.
Where is Mdina, and how to get there?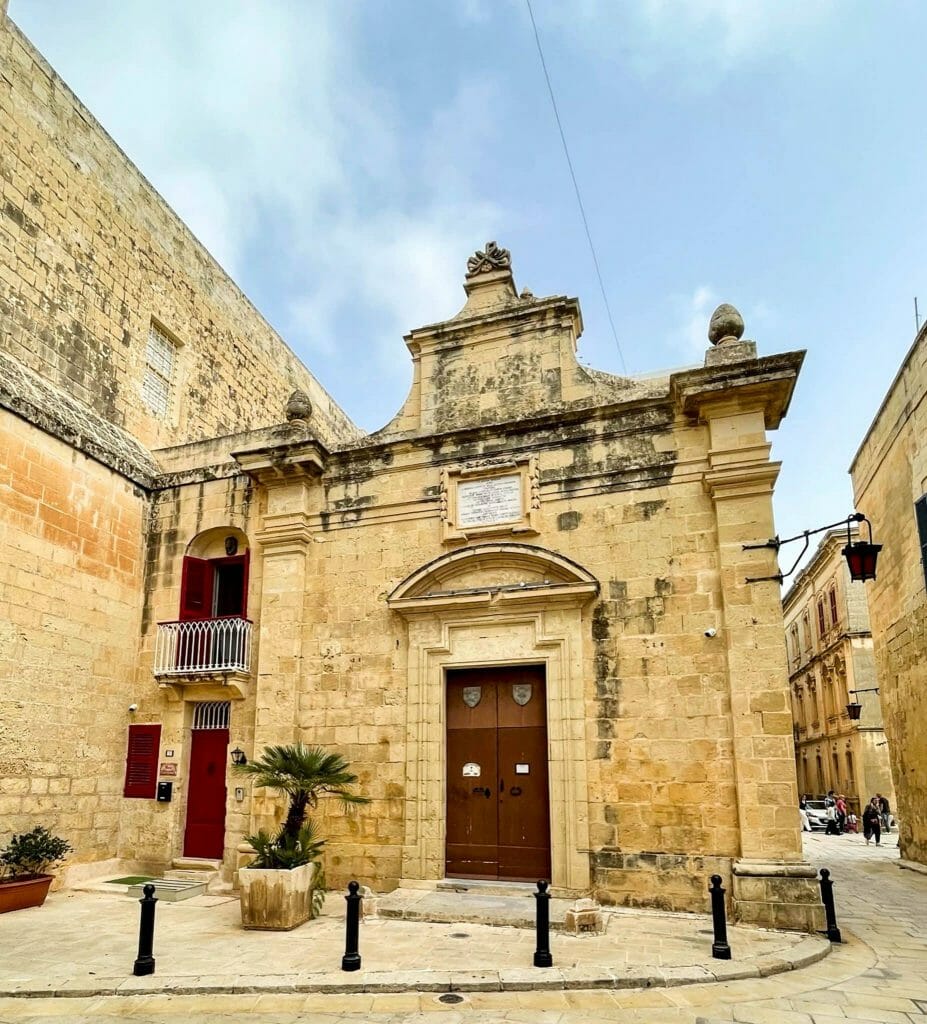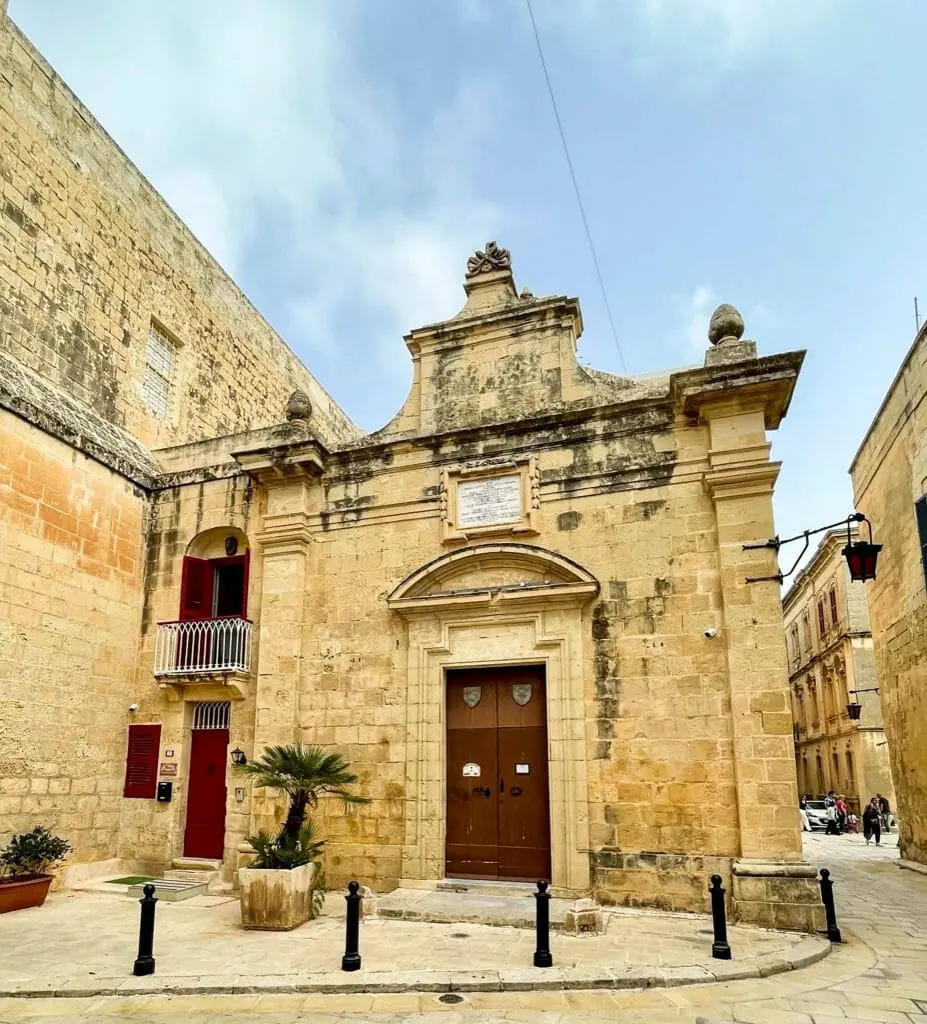 Most people arrive in Malta by plane at the international airport or by ferry from Italy, but Valetta is also a stop on many Mediterranean cruises. Once in the country, traveling to Mdina is quick as the island is tiny.
Mdina is located near the center of the island nation of Malta. As you approach, Mdina's immense ancient ramparts rise from the surrounding countryside. As prepared as you are for the view, it still stops you in your tracks, and you will scream, "pullover; I need to take pics." Many people will be joining you along the roadside. It is no less impressive at night versus day. As you approach, the town has a fairy-tale charm, which will grow stronger as you enter.
We had a rental car and did park in a pay lot right next to the main gate of Mdina. Those car lots, though, likely are busy at peak season. There are no cars within the city walls of Mdina but for residents.
Taxis are an option in Malta but can be pretty pricey. Most visitors will come to this city from Valletta, a walled town with a rich history. If coming by bus, you need to catch bus 51 from Valletta, and it will take you straight to Mdina in 30 minutes for an absolute bargain of $2.
Map of Mdina Malta
Considering a trip to Malta? Check out our Malta Country Guide.
Mdina and Malta's Turbulent History
Malta has a long history of many occupations due to its strategic location in the Mediterranean Sea. Even Napoleon and Hitler occupied the island of Malta. As a result of Mdina's elevated location in the center of the island, it was a highly desirable location for the rulers. You can view the whole island and the sea from Mdina, providing warning of approaching enemies.
The ancient fortified town of Mdina dates back to the Bronze Age, ~2000 BC. The impressive fortifications were built by the many occupiers Malta has known. This includes the Romans, Arabs, Normans, Spaniards, and Knights of St John. Through St Paul's shipwreck, Mdina, at the time Melite, can be found in the Bible!
Mdina was the old capital city of Malta when the Phoenicians occupied it. The Romans subsequently conquered Malta in 218 BC. The Eastern Romans/Byzantines acquired the island in the 6th century AD. The footprint of the city was much larger back then, its walls enclosing a large part of neighboring Rabat. Its size reduction was an attempt be make it more defensible by the Byzantines. The Byzantines were overrun by the Arab forces around 870 AD, who then changed the city's name to Mdina.
In 1090 AD, the Normans took over, bringing Christianity back to Malta. As a result, many noble families settled in Mdina. But the occupations were not over. The Normans were followed by the Germans, which were followed by the Angevins from France. The Maltese noble families grew in stature after a 1482 Royal Charter 1482 from King Alfonso V confirmed the right of the Maltese people to hold a degree of independence. A local government and University were set up in Mdina.
Mdina's Knights of the Military Order of Saint John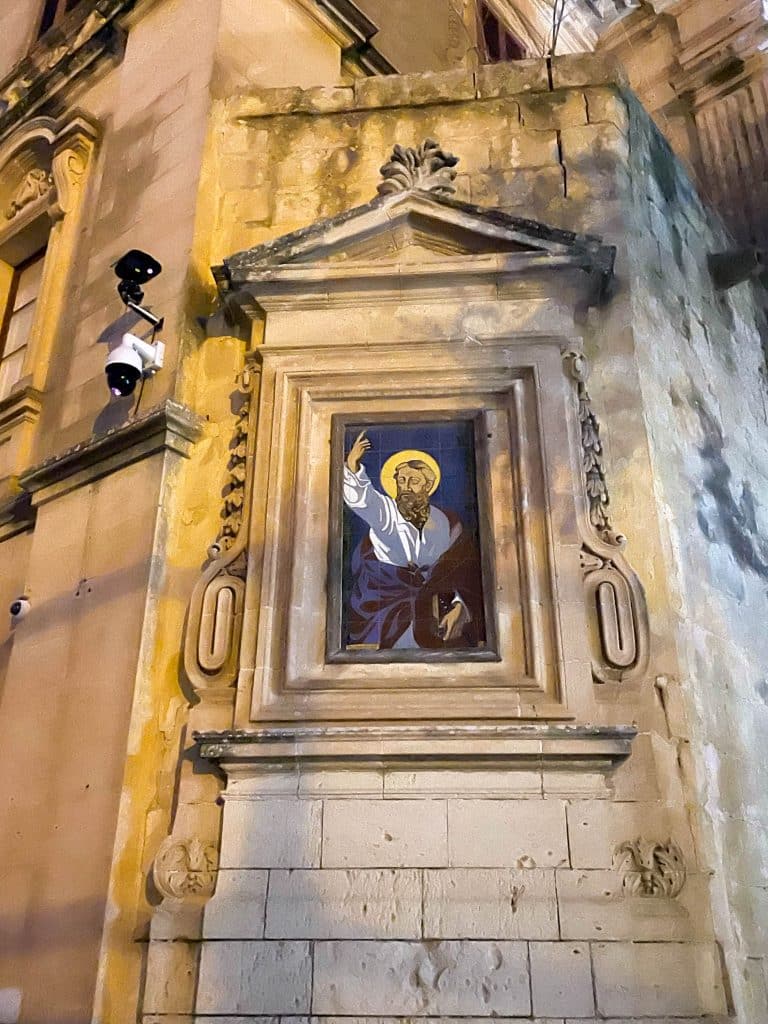 When the Knights of the Military Order of Saint John arrived on the island around 1530, Malta's self-governing power was lost. As a result, resentment grew among the nobles. The Knights, though, found Mdina's fortifications weak, and the Knights wanted to be closer to the harbor, so they made their base Birgu. This left the nobles isolated in Mdina, but the city lost its capital status. In the following years, the Knights were in constant battle with the Islamic Ottoman Empire over the rule of the Mediterranean. It came to a head in 1565 in the form of the Great Siege. The Ottomans tried to take Mdina but retreated when the city fired its cannon.
Only after the highly destructive earthquake of 1693 did the Knights of St John move back to Mdina. In 1722 Grand Master Vilhena ordered the restoration of Mdina. French architect de Mondion was tasked with introducing many French Baroque elements to the city. Most of the fortifications and the city gates were completely redone.
The French invaded Malta in 1798. This led to a two-year uprising and blockade that led to the Maltese people setting up a National Assembly, which met in Mdina. In 1800 the French surrendered, and Malta became a British protectorate.
Mdina – Interesting Facts
Did you know that Mdina was also introduced as the King's Landing in Game of Thrones? This reason alone attracts a lot of tourists to this town.
Mdina's location has also been used in other major films and TV series. For example, you can see the structure and sights of this town on Cutthroat Island, Treasure Hunt, The Sign of Four, and Agora.

The city was nearly destroyed after a devasting earthquake in Sicily in 1693. Surprisingly, no civilians were killed.
Although it is a small town, it welcomes more than 700,000 tourists annually.
Most tourists know this place as the "Silent City" but don't know that it is also known as the "Noble City" (Citta' Notabile). In the 12th century, aristocratic families from different regions and cultures lived in Mdina and built beautiful royal buildings according to their status. This is why Mdina is also one of the prime examples of a walled city.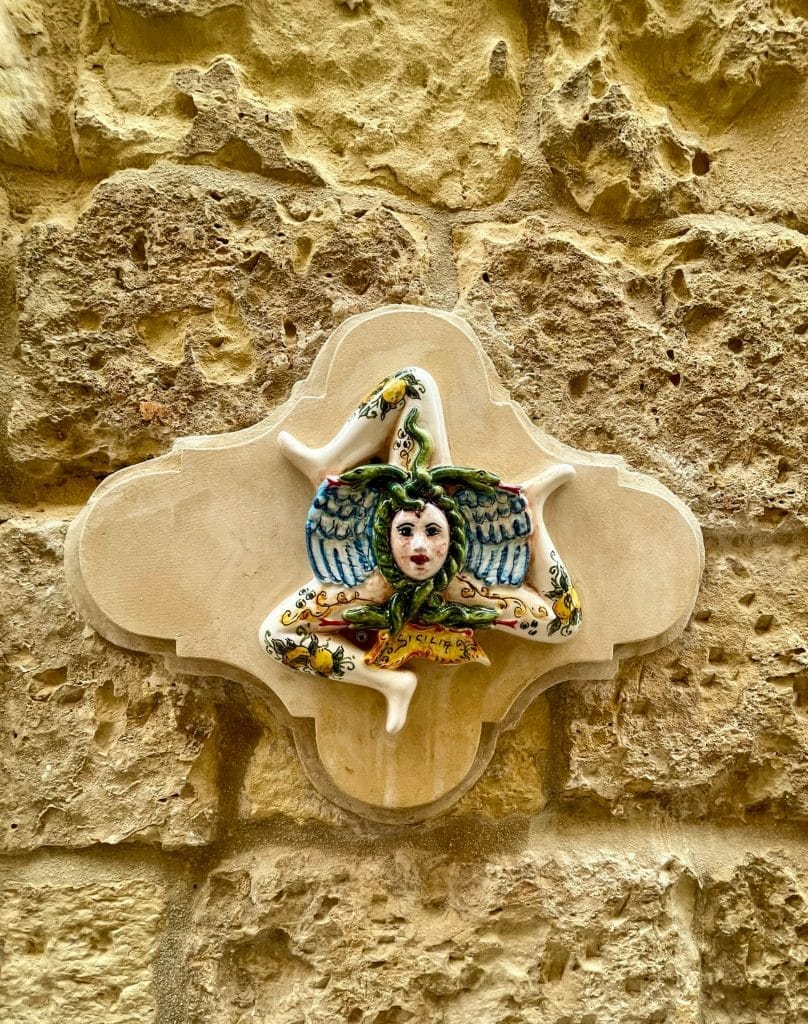 It is located on the top of the highest hill in Malta. The ancient rulers of this town were aware of its strategic location, so they made it a noble city, giving it high status. If you visit this place, you will also understand the importance of the location. However, this top-of-the-hill position also gives Mdina a downside. A little autumn wind will make you feel chilly.
Tourists cannot use cars in the city, but residents within the walls can use their vehicles.
Mdina has many old buildings, but the most famous church in the middle of town is not as old. This is because the earthquake of 1693 destroyed the original church. The church you see today was redesigned by Lorenzo Gafa (a professional sculptor and architect who built many other churches).
This small town also has its own soccer team called "Mdina Knights."
Top 16 Things to do in Mdina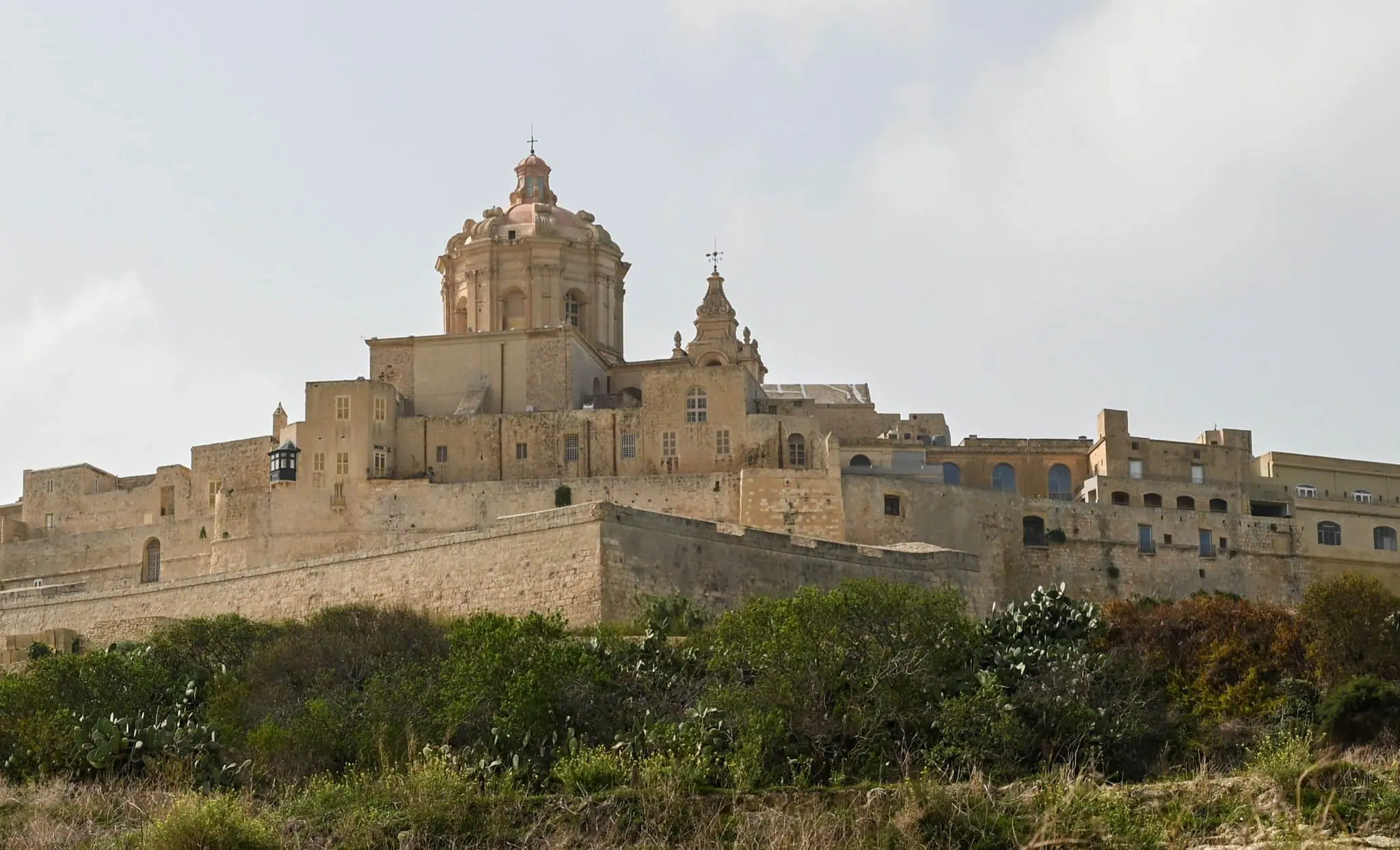 You first need to understand that it is a tiny town. As you pass through its main gate, you discover its silence, ancient buildings, and enchanting alleyways. You won't find many regular shops or gift shops here, just a handful of little stores, an ice cream shop, and some restaurants.
Therefore, in 30 minutes, you can walk most of this walled city, but both times we found ourselves just drawn in by its magic. We spent much longer, especially in the evening. It is easy to fully absorb yourself photographing Mdina. The various gates and the exterior is well worth exploring as well.
Visit the impressive St Paul's Cathedral. Dedicated to the Patron Saint of Malta, St Paul's Cathedral is Baroque in style and was built during the 17th century after the original was destroyed in the devastating 1693 earthquake, after taking in the Cathedral museum next door.

2. Check out the intricate maze street plan. It is the most obvious influence of the Arab occupation as it models an old Islamic urban design.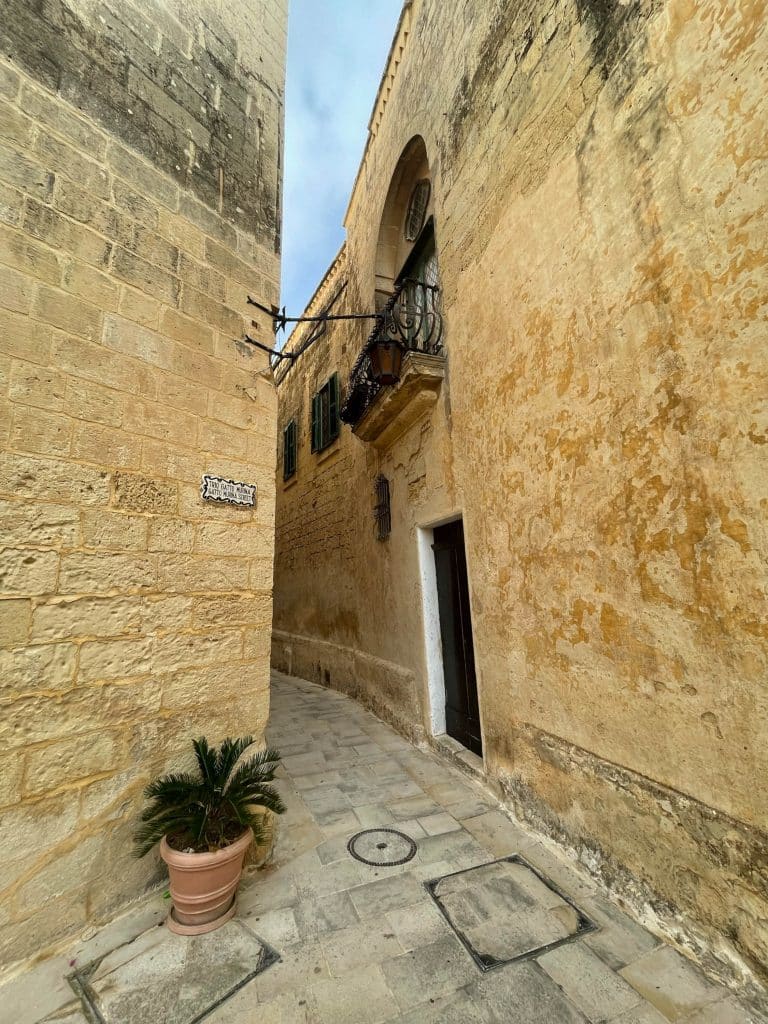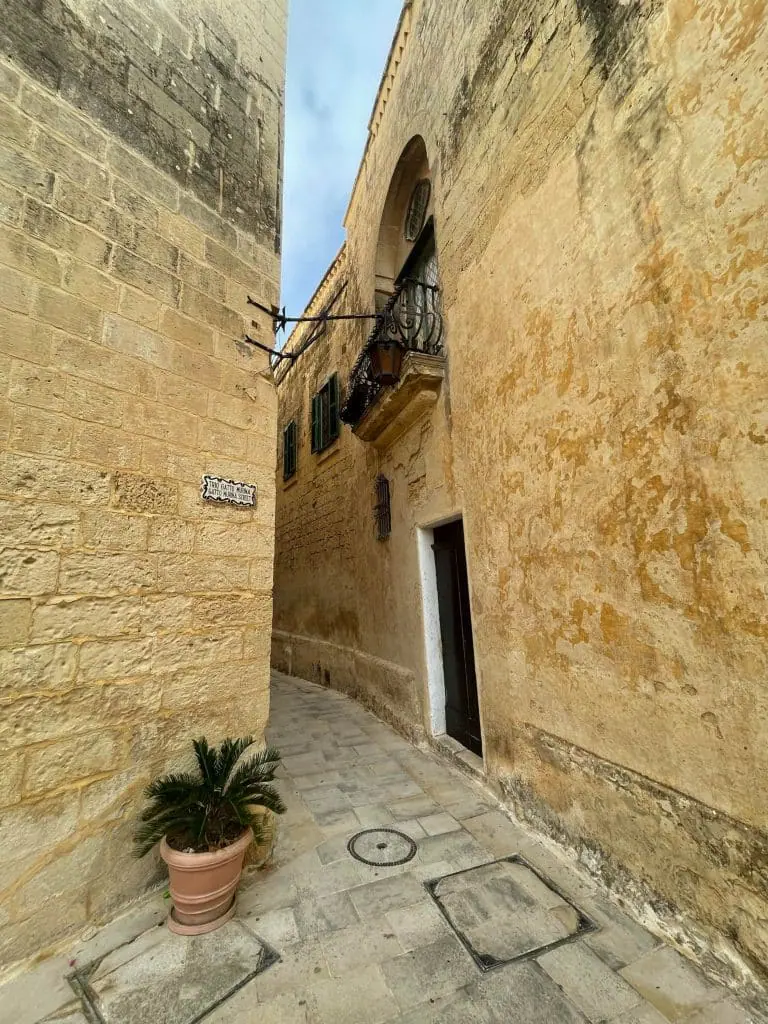 3. See the magnificent Palazzo Falson Historic House Museum. The museum is located in a medieval townhouse and was a family residence for the Maltese nobility. It is named after the Falson family. It has seventeen rooms of historic domestic belongings and several antique collections.

4. Want to see the prison life of Mdina? Visit Mdina's Dungeons. They have an extensive collection of instruments of torture. Wander through the authentic passageways and chambers which run under the Vilhena Palace, with sound effects of the dark side of medieval Mdina.

5. Slowly wander the streets and take in the architecture the noble families built. Do not let those tiny doors deceive you; they lead to properties with vast interiors. Maybe you will have a glance.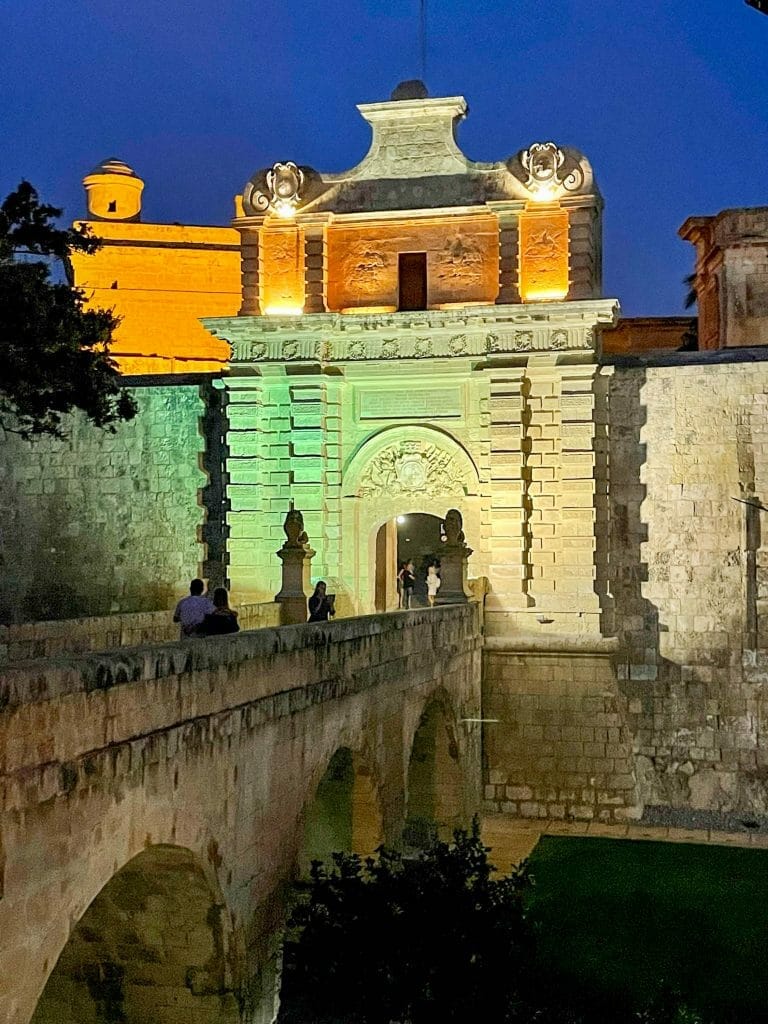 6. Fan of the Game of Thrones? As you approach Mdina gate, you'll see sculptures of weapons, lions guarding the gate, and Grandmaster de Vilhena's crest, seen in the show as Kings Landing.

7. Find an event at Palazzo de Piro. A 17th-Century imposing structure huddled in the bastions of Mdina and nearby majestic baroque St Pauls Cathedral. This magnificent Palace offers one of the most spectacular panoramas of the Maltese coastline. There's always something happening at the Palazzo, from live jazz nights to art exhibitions.

8. Spend a romantic evening at the De Mondion Restaurant in 17th-century Xara Palace. This is in one of only two hotels in Mdina. We did not visit the restaurant, but the reviews are glowing, and the views are stunning.

9. Travel back in time with the Knights of Malta Experience to discover the epic history of Malta. Great options for kids as it brings to life the characters that play roles in the turbulent history of Malta.
10. Stroll through the lush, green Buskett Gardens. Planted initially as a hunting ground by the Knights of Malta, it is now an excellent place for a picnic. Grab some food in Rabat and relax and enjoy the gorgeous setting.

11. Stop by the National Museum of Natural History, located in an 18th-century Vilhena palace that was also once a hospital for cholera sufferers and British troops during the 19th century and tuberculosis patients in the early 20th century,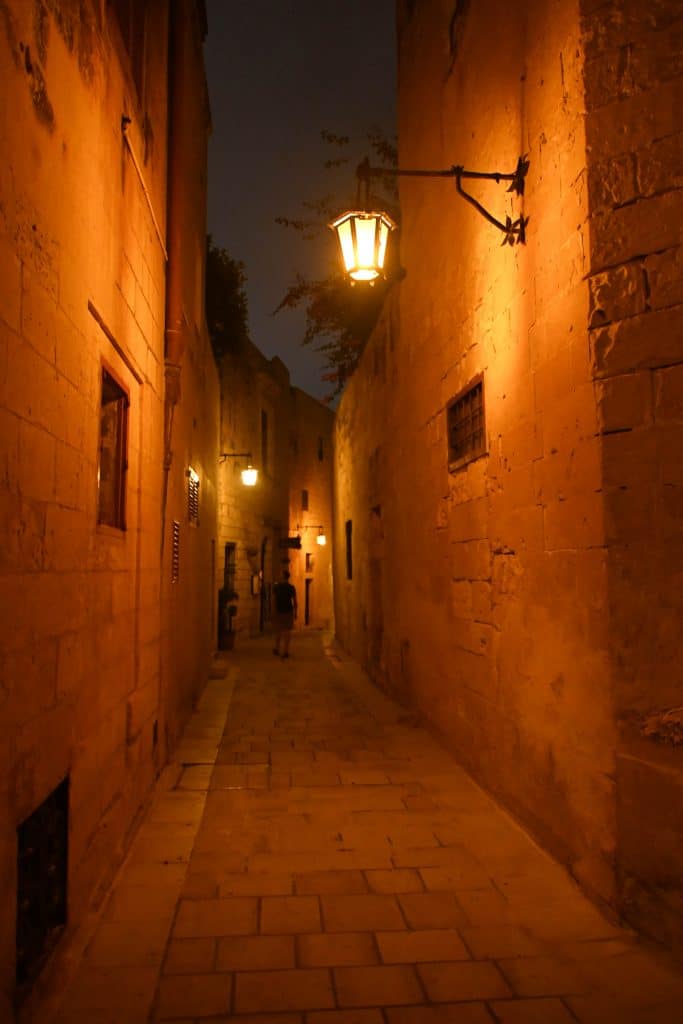 12. Walk down the dimly lit streets after dark to see the private residences where only a handful of residents live. Silence permeates the air, and you understand quickly why it still keeps its name, the Silent City.

13. Attend special events, such as Grand Prix or Medieval Performances.

14. Stop for tea and cake at the Fontanella Tea Garden. Famous for their homemade cakes, with generous portion sizes. With seating both downstairs and upstairs, the upstairs offers the most spectacular views.

15. Pay a visit to St Paul's Catacombs outside Mdina's city walls. A series of corridors, cavities, and rooms still bear the original work carved into the stone. The underground chambers were a resting place believed to have been used up to the 8th century.
16. Explore the city fortifications from the outside the city. Leave through any of the city gates and study the defensive structures built centuries ago. They have excellent pathways, benches, and open lawn areas outside of the city walls. As a result, you can get up close to the walls.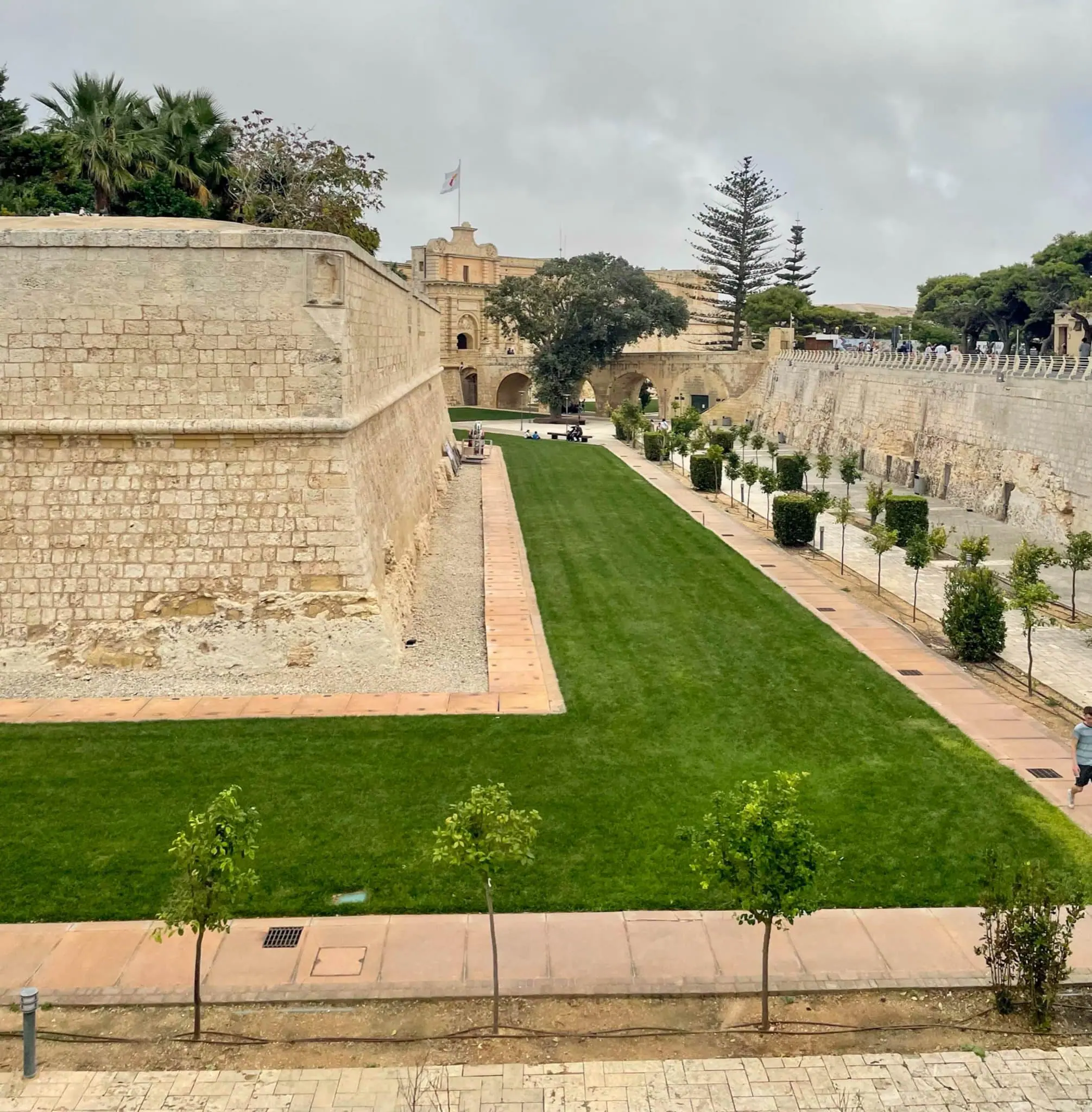 Mdina's Most Attractive Feature
We can say the most attractive feature of Mdina is "Silence." Our first visit was in the evening. It was so peaceful and mystical as if the walls had so many stories to tell. You could find yourself stepping back in time and imagining its bustling days long ago.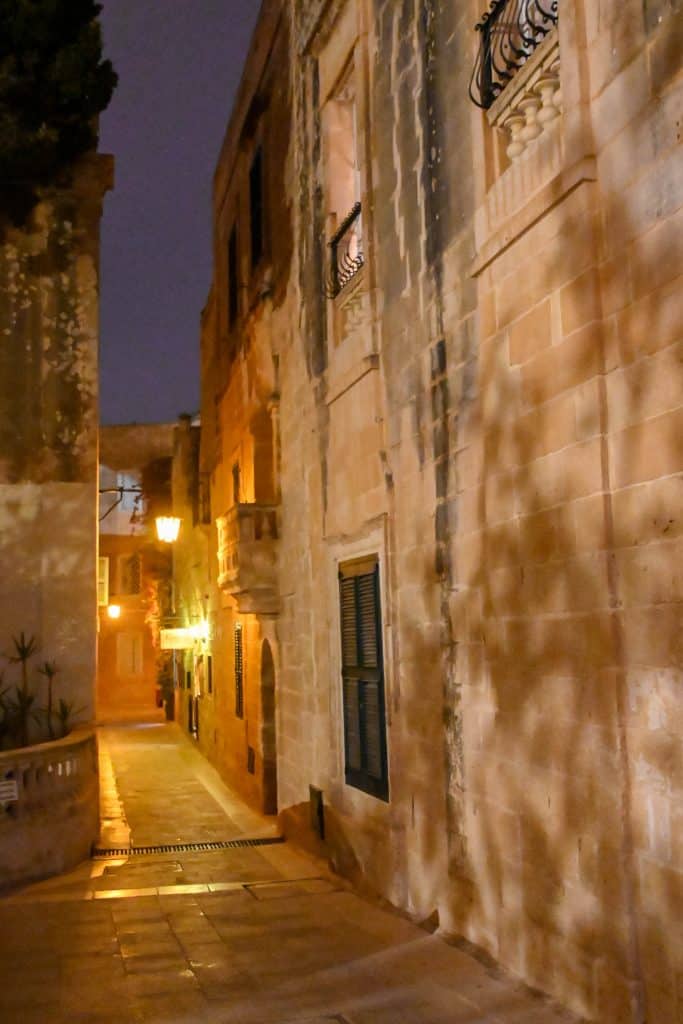 You will find this small fortified town eerily quiet. Do visit it, especially once the sun has set. No one will bother you or push you into disillusionment. Sit quietly and enjoy the silence in the air. Your only companion will be the dim light of the street lamps.
In almost every small town in the world, you won't experience an atmosphere of silence or stillness because the construction development is going on continuously. But in Mdina, there are no disturbing noises of modernization. Malta is a country going through a tremendous amount of reconstruction. This has caused quite a strain on many of its residents and fear of the over-modernization of the country. In Mdina, you will have no sense of that chaos. Even tourists respect the atmosphere of this city and prefer to keep it quiet. Instead of using bicycles or cars, they go for a calm walk.
It is because of this feature that it is a photographer's paradise. Photographing this city at night was so much fun, and having whole streets to yourself. Mdina so struck us at night we returned during the day. We are glad we did it that way; though we enjoyed our day visit, it wasn't nearly as impressive as our visit in the evening.
Malta captured our hearts, and we dedicated a blog post to this great country. Check out Exploring Mighty Malta: A Visitor Guide
When To Visit Mdina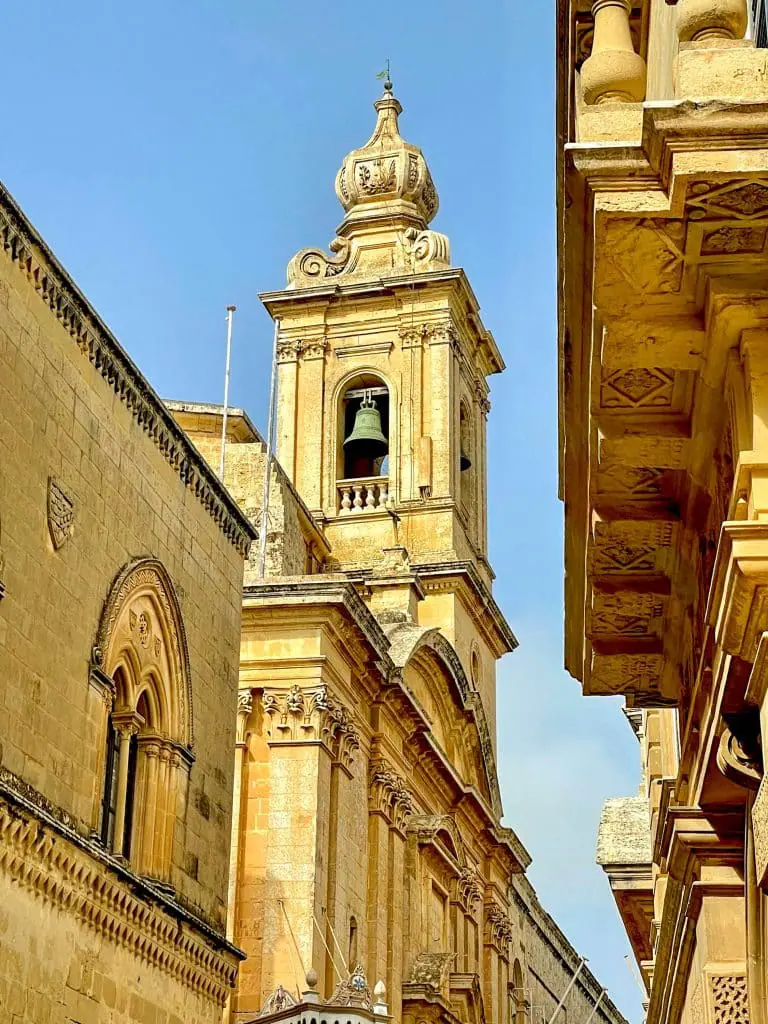 Malta's weather is one of the primary reasons people come to the Maltese islands throughout the year, with its warm summers, mild winters, and over 3,000 hours of sunshine. The best time to visit Mdina, Malta, is late summer or in the shoulder months of May and October. Malta's summer temps are reasonable, rarely getting over the low 80's. The ideal months in our view, are September and October when average temps stay in the 70s—spring temps average in the 60s. Winter highs are in the 50s, so it is a mild climate year-round.
Malta has become a trendy tourist destination, especially among Europeans. During the summer months, you'll find crowded beaches and resort areas. Even the Blue Lagoon, the famous swimming area of Comino accessible only by boat, can get quite congested in peak season. Likely, Mdina will get busy as well. We visited in the fall, and during our evening visit to Mdina, we had the place primarily to ourselves. During our day visit, crowds were low too.
Dining in Mdina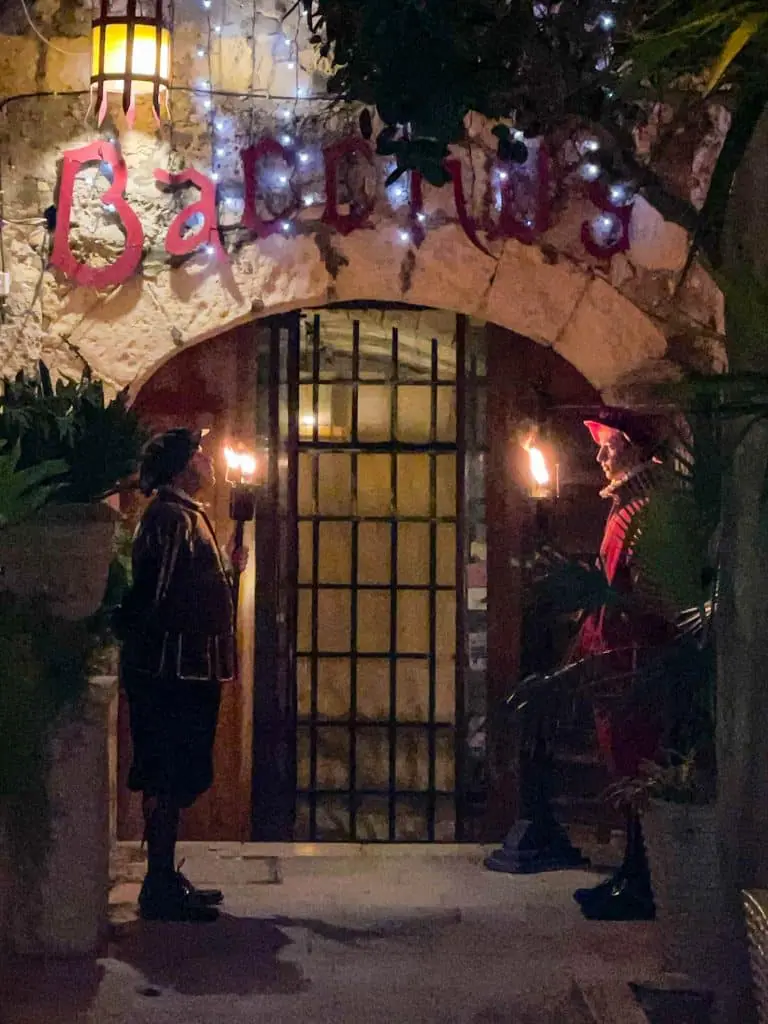 As for accommodations in Mdina, there are few dining choices in the small fortified town. But the options there are pretty good. Our hotel recommended Bacchus, and the concierge made the reservations for us. Bacchus offers fine culinary delights in a beautiful medieval building in the heart of Mdina. The restaurant is inside a building that dates back to 1658 with outstanding architecture ranging from the Roman to the Medieval, thus making Bacchus a unique setting. The fare was a mix of French and Mediterranean cuisine. We had a delicious and relaxed meal.
De Monidan restaurant is situated in the 17th-century Xara Palace, which is also a hotel. It is rated as one of the top restaurants in Malta. The restaurant offers a stunning 180-degree view of Malta. Its baroque architecture and attentive service create an enchanting atmosphere that makes for an ideal stop for a romantic dinner. De Mondion offers fine Modern Mediterranean cuisine combining seasonal products to create tantalizing dishes. We did not get to dine here, but the reviews are exceptional.
Are you looking for a cafe for delicious desserts and coffee or tea? Give Fontanella Tea Garden a visit. It is one of the most popular cafes on the island. It is perched on Mdina's Bastions walls and spread around a central courtyard. As a result, Fontanella offers fantastic and unique panoramic views of the east side of Malta, stretching to the sea. Fontanella is famous for its view and homemade desserts, especially its cakes! The menu contains basic dishes such as baguettes, wraps, salads, and pizzas. Fontanella is a perfect place to have a slice of cake after a day of exploring Mdina.
Keep in mind nearby Rabat has extensive choices for eating out. You can easily walk from Mdina to Rabat, as it sits right outside the fortified walls.
Where to Stay in Mdina
Mdina is tiny and a very protected little gem. As a result, there are only two accommodations; Xara Palace Relais & Chateaux and St Agatha Bastion are both highly rated. The latter looks quite pricey. Just outside the ancient city's walls is Rabat, which has many choices.
Keep in mind that Malta is a small island, the total length is 27 miles, and the width is only nine miles. Mdina is at one of the island's highest points in the center. That puts you pretty central to everything. That said, you are not near the ocean but have ocean views in the distance. During our time in Malta, we were on the water at the Malta Hilton in the St Julians area, which we loved. But when we return, it would be very tempting to stay inside the fortified walls of Mdina. The walled city has a magical atmosphere at night -and you'll be one of the few people walking the silent streets.
Click the links below search for accommodations and vacation rentals in Malta. Compare each site, as not all options are available at both locations. Always look closely at recent reviews before booking.
Final Thoughts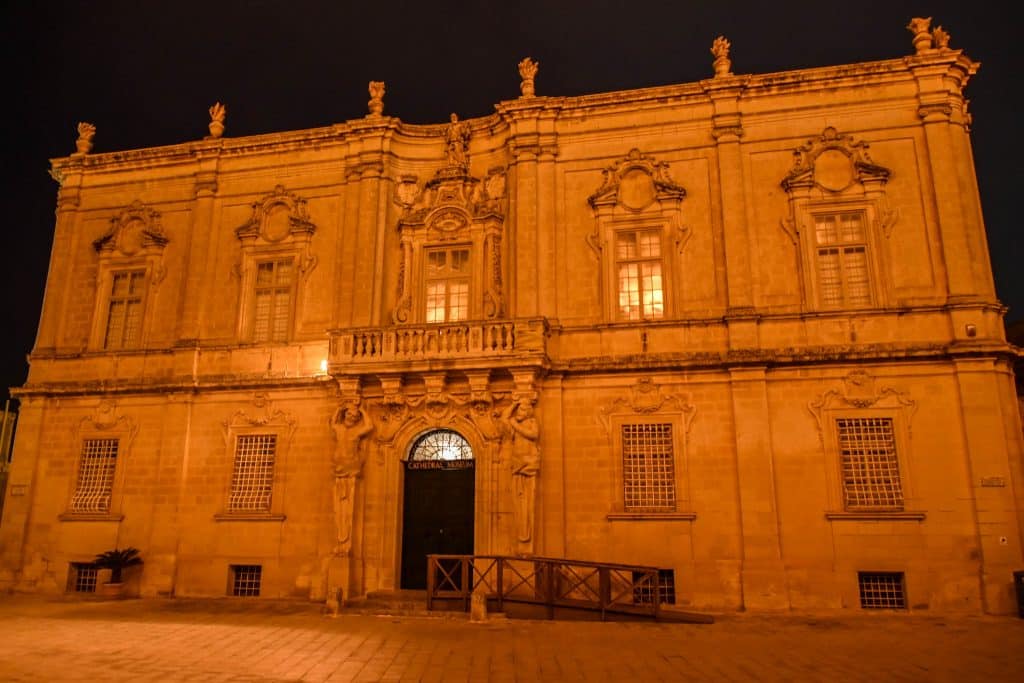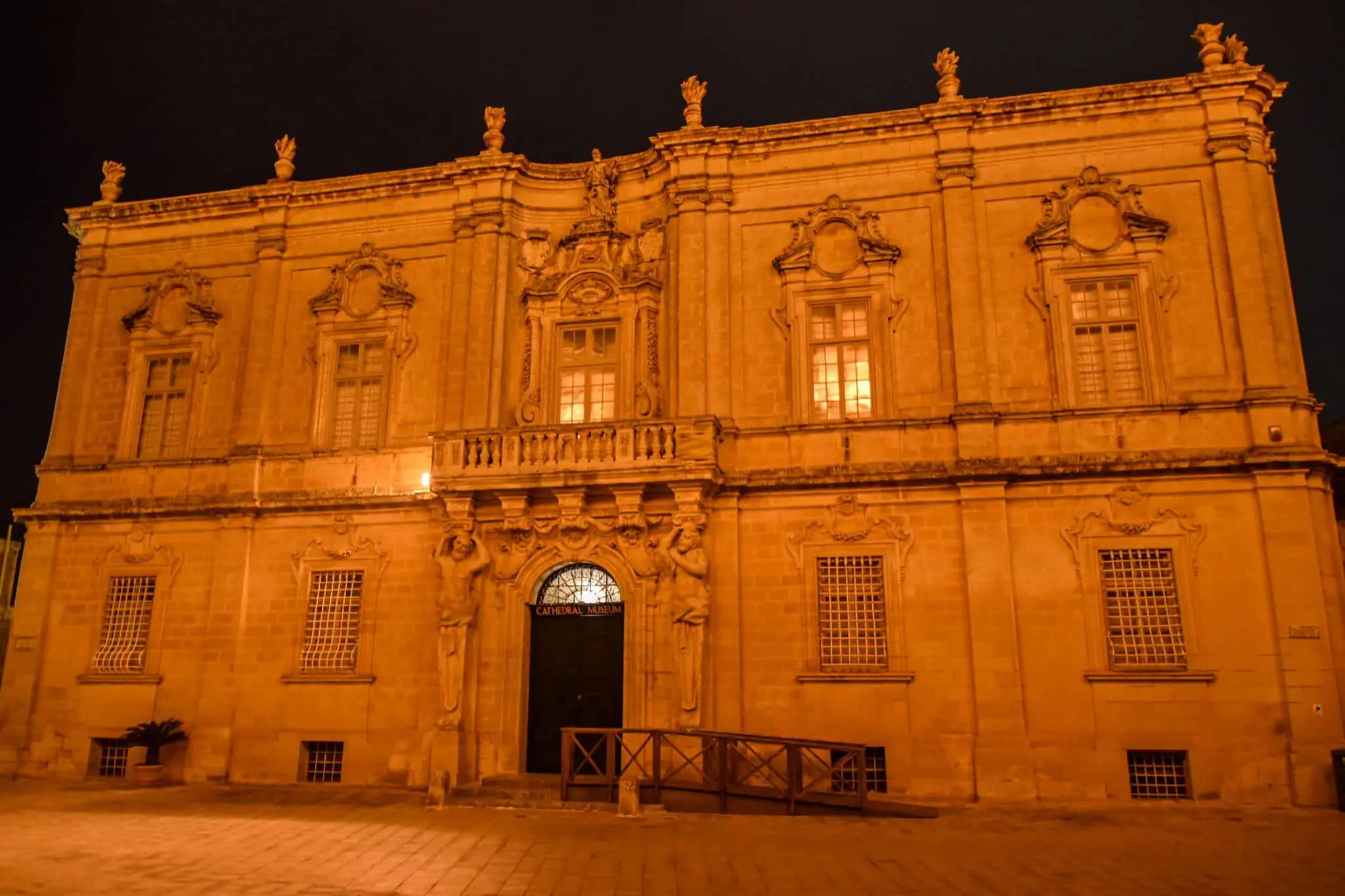 Mdina, Malta, is one of Europe's most beautiful fortified cities. Despite its compact size, the Silent City is a must-see even in Malta. Its historical significance to the island is a core part of its history. It's a small town compared to its ancient days but no less impressive. After the fall of the Roman Empire, the authorities significantly reduced its size. Their main goal was to make it safer from attacks and protect its inhabitants.
Surprisingly it is not yet a World Heritage Site, but it is on the tentative UNESCO list, and soon it will become an official World Heritage Site in Malta.
The ancient narrow streets, the stunning architecture, and the great vibes of Mdina assure a memorable experience you will never forget.
© 2023 Wanderers Compass All Rights Reserved
MdinaPhoto Gallery
Our Recommended Travel Resources
Our favorite travel insurance site!
If you book a trip, don't forget to get travel insurance within 14 days of your first booking. We could not be stronger advocates of being well-insured. Not just for the little stuff but the big things like medical emergencies. We never leave home without it. Over the years, we have used many sites but have now found our go-to place. Squaremouth.com does a fantastic job; it has a user-friendly interface, uses top-rated and reputable insurance carriers, and most policies cover COVID-19 medical issues and cancellations. They also mediate on your behalf if you have problems with your policy.
To empower you as a consumer, we suggest you read our blog post on the importance of travel insurance and how to get the best coverage from top-rated companies for an affordable price.
Medical transport back home from anywhere in the world
They are the premier global air medical transport. One caveat to travel insurance is that medical evacuation usually gets you to the closest facility to care for you. Medjet gets you back to the U.S. to the hospital of your choice once you are stable enough to fly. They cover Covid-related transports as well.
Medjet carries its own policies. The policy is only for transport and no other aspects of travel insurance. They have individual trip policies starting at $99 and annual policies for around $300. Most of their policies limit the age to 74 and younger. Prices are not based on age below that.
To learn more about how Medical Evacuation membership with Medjet Assist works, check out our blog post for a more detailed review.
Hotels, home rentals, BNBs, flights, and other transportation & tours
Expedia is a US-based company whose mission is to power global travel for everyone and everywhere. Whether planning a family vacation, booking for business, or organizing the trip of a lifetime, they are a fantastic resource. Wanderers Compass focuses on independent travel, and using sites like Expedia makes that possible. Every aspect of travel you need, from airfare, accommodations, rental car, and cruises to activities to do at your destination, can be booked on Expedia.
Hotels, Home rentals, BNBs, Flights, and other Transportation & Tours
Booking.com connects millions of travelers to memorable experiences, various transportation options, and incredible places to stay – from homes to hotels and much more. It is one of the world's largest travel marketplaces for established brands and entrepreneurs of all sizes.
We always check Expedia and Booking.com to verify prices. At times, one is sold out of rooms while another at the same place has rooms. As well we often find some European hotels, especially smaller ones, on Booking.com but not on Expedia. It could be they are a Europe-based company. Try both before booking accommodations.
Are you traveling with a family or having an extended stay at your destination?
With over 2 million bookable vacation rentals, VRBO connects homeowners with families and vacationers looking for something more than a hotel for their trip. The VRBO community offers families or groups various rental property types such as condos, cabins, lake rentals, beach houses, etc.
VRBO is under the Expedia group ownership now, which many were worried about, but it hasn't panned out to be a concern. It is a massive network with access to all lodging forms should issues arise. Joelle has used VRBO for many years with her family with no problems.
As the leading marketplace for travel experiences, Viator believes that making memories is what travel is all about. And with 300,000+ experiences to explore—everything from simple tours to extreme adventures (and all the niche, interesting stuff in between)—making memories that will last a lifetime has never been easier.
With industry-leading flexibility and last-minute availability, it's never too late to make any day extraordinary. This one site has it all and has experiences throughout the world. We use them often during our travels, especially for food tours. We especially take the time to read the reviews provided.
An excellent source for travel essentials and guides
We now have our own Amazon Storefront with all our favorite travel accessories and gear in one place. Check out our travel store at the link below.
Amazon is one of the most comprehensive online shopping sources in the world. On behalf of their customers, teams worldwide provide lower prices, better selection, and rapid delivery. They offer a vast inventory, and their 1.7 million small and medium businesses worldwide selling on Amazon.com offer extensive options to customers.
We buy most of our travel books, accessories, and luggage from Amazon. We have ordered up to two days before travel and get what we need.
Transportation
Welcome Pick-ups
(Airport and sightseeing service)
A global leader in ground transportation for travelers. They help hundreds of companies worldwide enhance their services and boost their revenue with our 5-star ride experiences and hassle-free automation.
Founded in 2015 in Athens, Greece, Welcome Pick-ups goes above and beyond the standard transfer service as the first company to deliver a holistic, in-destination travel experience. From the moment a traveler arrives at a new destination until they return home, Welcome accommodates all their travel needs (transfers, travel products, things to do, information) as the easiest, friendliest, and most personalized solution.
Discover Europe by Train
Rail Europe sells train and bus tickets for travel across Europe. They cover 24 countries, 105 rail operations, and 20,000 stations. They are the official rail and bus operations agents in the UK, France, Spain, Italy, Germany, Belgium, Austria, Switzerland, Luxembourg, and the Netherlands. Rail Europe continues to add coverage all the time.
It is a fast, easy, and economical way to purchase European train and bus tickets. Eurail passes are also available to buy through their site.
Travel documentation services
Do you feel like you are wasting time visiting an on-site photographer only to be embarrassed by the photo? Would you like control of the final product? Get the perfect VISA or passport photo online with PhotoAID.
When traveling, you often need to apply for official documents such as a passport, ID, and different kinds of licenses or cards. Those applications require a picture that must meet specific conditions to be accepted, depending on the country. Now, it is possible to take this picture at home without the help of a professional photographer. The PhotoAiD app allows you to take the perfect biometric photo that will be guaranteed by yourself without leaving your home.
This article contains affiliate links. If you use these links to buy something, we may earn a small commission at no additional cost to you. Thank you!
Do you have a question for us or have a comment?
check out our most recent blog posts