All roads in the gorgeous southern province of Scania, Sweden, lead to the seaside city of Malmö. It is the ideal blend of old-world charm with modern cosmopolitan vibes. Malmö is far down the western shoreline of Sweden on the southernmost tip. It is the third-largest city in Sweden and the largest city in the Swedish county of Skåne. With a population of over 316,000 as of 2021, you will find everything you expect from a larger European city. What makes Malmo unique is, at the city's heart, sits a historic center with a slower-paced atmosphere.
The city center has many historical buildings, churches, parks, and a grand castle to watch over it. A canal surrounds all of that and separately acts as a protective moat around Malmö Castle and its fortifications. This city is a perfect day trip from Copenhagen, Denmark. It is a fantastic way to see another country without hassle. That is how we came to see Malmo. Our flight landed in Copenhagen, and we made a beeline to Malmö, Sweden. It was about a 30-minute trip and quite a scenic one to boot.
History
The earliest known mention of Malmö city dates back to 1275 and is believed to have been founded just before that. It was an important city due to the herring fishery and the German Hanseatic League frequenting the markets. King Eric of Pomerania (King of Denmark from 1396 to 1439) granted the city arms in 1437.
Late in the 15th century, Malmö was one of Denmark's second-largest and most visited cities. Malmö's oldest square is the 1540s Stortorget, once Europe's largest market square. It remains much as it was back then, with the 1544 town hall and impressive renovated Dutch Renaissance facade as a beautiful backdrop for the square. The center point of the square is the King Karl X Gustav equestrian statue.
During the 16th century Protestant Reformation, Malmö became one of the first cities in Scandinavia to convert to the Protestant denomination fully. After signing the Treaty of Roskilde with Denmark in 1658, Malmö and the Skåneland region came under the control of Sweden. But the Danes did not give up easily and laid siege but could not defeat the Swedish forces holding it. Due to the wars of Charles XII of Sweden (reigned 1697-1718) and the bubonic plague, the population dropped enormously by 1727.
The industrialized era arrives in Malmo
It would be a while before Malmö regained its footing. That began in the 19th century with the opening of the Kockums shipyard when it became one of the world's largest. The Southern Main Line was built in the next two decades, enabling Malmö to become a center of major manufacturers in the textile and mechanical industries. It became one of the earliest industrialized towns in Scandinavia with a rapidly growing population.
Post-Industrialism brought hardships to Malmö
Malmö struggled to adapt to post-industrialism. The dissolution of the Swedish-Norwegian Union occurred during a turbulent period between (1905-1914). But in 1914, The Three Kings Meeting (Norway, Denmark, and Sweden) were held in Malmö. The Scandinavian Kings reached an internal understanding and a common line about remaining neutral in the ongoing World War as long as Scandinavian rights were respected. This commenced an offensive and defensive alliance to protect Sweden, Norway, and Denmark from all aggressions.
Unemployment in the city was the highest in Sweden, and as a result, the population diminished to 100,000. The city ran into some disrepair. The Swedish financial crisis of the 1990s pushed it into deeper trouble.
But then came the bridge
The forethought of the leaders in the late 20th century led to the design and construction of the Öresund Bridge, which was completed in 2000. Malmö subsequently transformed drastically. It formed a connection to Denmark that brought an economic boom. The city was revitalizing, and the integration into the European Union contributed to its growth.
Word spread beyond the Nordic nations, resulting in a large influx of immigrants from around the world settling in Malmo. In the last two decades, Malmö has had one of Sweden's strongest employment growth rates. The city also attracts students through Malmö University, founded in 1998, and other higher education facilities.
Todays Malmö
Malmö is a diverse city with inhabitants from 179 different nationalities. In 2019, approximately 55.5% of the municipality's population (190,849 residents) had at least one parent born abroad. The Middle East, Horn of Africa, former Yugoslavia, and Denmark are the primary sources of immigration. Malmö has a young population by Swedish standards, with almost half of the population under 35 (48.2%).
The Öresund Bridge
The Öresund Bridge is an impressive piece of architecture and the lifeblood of Malmö, Sweden. It is scenic to get from Copenhagen to Malmö by car or train. There is symbolism that goes beyond a bridge. In days past, the province of Skåne was part of Denmark. The Swedes and Danes didn't get along so well. The Öresund bridge, figuratively and literally, has reunited the people who were once on opposing sides.
The bridge is 10 miles long and costly for those who only make a one-time round trip. When we went, it was around 50 euros to cross the bridge. Since we visited, they have restarted the border checks due to Covid, which must be tedious for travelers. If you plan, you can purchase the tickets online to save some cost. Once we had our rental car license plate number, after we landed in Denmark, we bought the round-trip bridge ticket online.
The "Bridge," referred to by many, has quite an international following. The TV series The Bridge (Bron in Swedish) is a Scandinavian crime and drama television series created and written by a Swedish screenwriter. Riding on the tide of Nordic Noir and Swedish crime, the series was first aired in 2011 and quickly gained enormous popularity. Today the series has acquired a large international cult following, and fans travel worldwide to check out the filming locations in Malmö and Copenhagen.
Let's Visit Malmo
Well, of course, you start at the Malmöhus Castle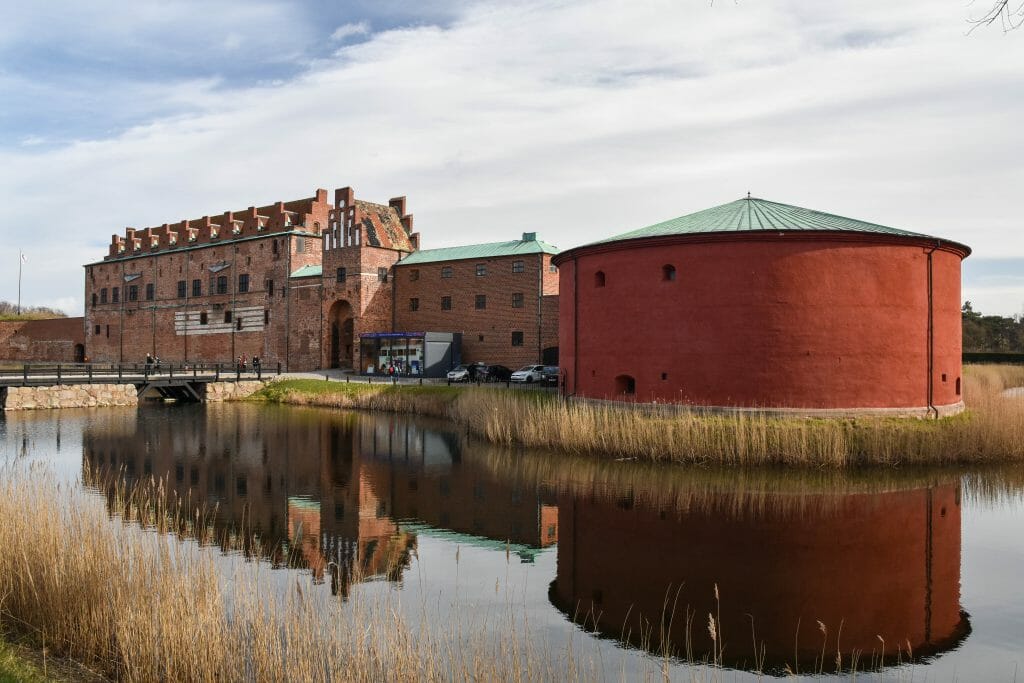 Malmöhus Slott, also known as Malmö Castle, is a suitable place to park and start your walk around the town. It is one of the city's oldest, largest, and most significant buildings. In 1434, this citadel was constructed on the beach south of the town. This fortress did not take its current form until the mid-16th century. Malmö was Sweden's most fortified city due to the castle and several other fortifications, but only Malmöhus Castle remains.
Inside you will find the very well-done Malmö history museum and cultural complex. This has a wide range of museums & buildings exploring history, culture & seafaring.
After you have completed your visit to the castle, you can walk outside through the expansive Slottsträdgården, Slottsparken, and Kungsparken area. Walk around the gardens and waterways as you move east towards the historic old town. Gamla kyrkogården, Malmö's old cemetery, is southeast of this area. It is a beautiful and peaceful walk before hitting the town.
Lilla Torg Square
Head two blocks north to Lilla Torg, a lively square dating to the 1600 century lined with bars, cafes & half-timbered houses. The brick, old architecture, and bright colors are beautiful and create a place that sends you to a different time. The pedestrian areas and alleys around here are fun to walk through. Lively crowds and bicycles everywhere fill the shops and restaurants as you walk the stone streets. We wish to return to wander more and stop in a few places for food and beer.
Stortorget square
The much larger Stortorget square is at the northeast corner of Lilla Torg. The main attractions here are the Charles X Gustav sculpture that towers over the center of the square, a small fountain, and the Town Hall (Malmö Rådhus.) Inside there is a great restaurant, Rådhuskällaren, with an excellent rating. It is beautiful and serves Scandinavian and Swedish cuisines.
Walk a block east past Stortorget Square; you will arrive at the gorgeous St. Peter's Church. This church dates to the 1300s. This is a brick gothic church with flying buttresses that are so distinctive for that style. When entering the church, the almost blinding white interior will stun you.
Exploring Beyond the Historic Old Town
Malmö, Sweden, is not all quaint medieval squares. You should visit Davids Hall and Triangeln into Malmo's Soho – Mollevangen or Molle, with its vibrant nightlife, multicultural food scene, and daily fruit and vegetable market on Mollevangstorget.
Pildammsparken is a 15-minute walk south of the old town. This large park was built in 1914 when Malmö hosted the Baltic Exhibition. The large garden was designed for this event. They never took the Russian part of the exhibition down due to the outbreak of World War I. There are walking trails and a large lake. There are several activities to choose from, including; the Pildammsteatern outdoor theater, Margareta Pavilion, and a restaurant. On the other side of the lake is Bloom in the Park, a wonderful place to eat and relax.
Malmö University contributes to making Malmö a vibrant university town. The wealthier live in this area. They chose the ultra-modern, high-density Vastra Hamnen (Western Harbour) district, which housed shipyards until the mid-1980s. Home to a 190-meter sculptural Turning Torso building, which you often spot while strolling, it is the highest in Scandinavia. Vastra Hamnen combines living, working, education, and leisure areas and is carbon neutral.
While in this area, do not miss St. John's Church, a short walk north. Built between 1903-1907, this art nouveau Lutheran church has a fascinating and lovely design. It features wood and stone-carved roses inside and out.
Malmö Map
Malmö has no official tourism site, but you can get info here at the Visit Sweden site.
What to do in Malmö
The first choice is easy, go biking. There are 250 miles of biking paths, with 40% of commuting done on bicycles.
Stroll the many city center parks. Wander the cobbled stone streets. Kayak the canals.
Taking a "FIKA" means having a coffee break, but FIKA is more about socializing than getting your coffee. Best paired with something sweet and good company, this daily break is a Swedish custom. Thanks to FIKA, you find no shortage of cute cafes.
Western Harbour Malm is on the shoreline of the Öresund Sound and sits on what used to be the Kockums shipyard. The city took on this formerly run-down area and, working with internationally renowned property developers and architects, turned it into a fascinating sustainable neighborhood where people live, work, and play. Worth a visit; it is a happening place.
Malmo Beaches The 1 1/2 mile long Ribersborg beach is where the beautiful residents of Malmö and visitors worldwide enjoy swimming, sunbathing, or just general relaxing around in the summer months. It is a 40-minute walk from the city center.
Art, Science, and History. Visit the Malmo Art Museum, City Museum, Museum of Natural History, and the Science and Maritime House Museum, which all reside in the Malmo Castle. There also is the Moderna Museum which is housed in an old power station.
Malmofestivalen is Scandinavia's biggest festival, Malmöfestivalen covers all styles and types of music, cultural events & 'happenings,' art & design, kid events, sport & lifestyle, food & drink, and much more. It is scheduled for the last week of August.
Shopping, what cosmopolitan city doesn't have great shopping?
How to get around Malmo
In its Sustainable Urban Mobility Plan, the city says, "Walking, cycling and public transport are the first choices for all who work, live or visit Malmö. These travel choices, together with efficient and environmentally friendly freight and car traffic, are the basis of the transport system in the dense and sustainably focused city – a transport system designed for the city and its people."
It's affordable, easy, and safe to use the city's public transportation and well-kept bike paths. Malmö has been named one of the most bike-friendly cities in the world. But beware at all times, as there are a lot of bicycles in Malmo. Look both ways before crossing the bike path.
Where to eat
A culturally diverse community means diverse foods. Falafel and kebabs are huge in Malmö. It has a strong reputation for being a culinary stronghold. Here are the top eating options in Malmo.
Vollmers Fine Dining at a Michelin two-star restaurant, local ingredients, and natural flavors.
Mineral Looking for a Swedish restaurant with original green meals? Mineral serves excellent vegetarian food influenced by traditional Swedish cuisine and international flavors.
Malmö Saluhal In a former roofless freight depot in the city center lies the food market Malmö Saluhall – one of the city's most popular food hubs and an excellent example of innovative Swedish architecture.
Jalla Jalla Malmö is known as the falafel capital of Sweden. Jalla Jalla, famous for its delicious food and funky tunes, is one of the most renowned falafel shops in town.
Where to stay
Since we only went for a day trip, we can't speak directly about where to stay. Here are links to Booking.com and Expedia for accommodations in the Malmö area. Read reviews carefully.
We believe it is important to price out properties on various sites. Expedia is a US-based company, whereas Booking.com is Europe based. Not all properties appear on both. If the establishment has a website, check the price there as well.
Climate in Malmo
Malmö is known for its mild climate despite its latitude. Average high temperatures remain above freezing in winter, with prolonged snow cover being rare. Summers range on average in the low 70s. The rainiest months are in the summer. Therefore there is no wrong time to visit.
Final thoughts
Malmö, Sweden, is the perfect day trip for those who dislike staying in one spot too long. Add another country to your list while learning some incredible history. Experience the beautiful and historic city center. There is so much more than an old Swedish town. Dive into its diverse culture, assortments of fine local and foreign cuisine, and an array of activities for more unique experiences. Hit the pubs for lunch or stay for a bit to enjoy its young and vibrant nightlife. We enjoyed our visit and the surrounding countryside and will dedicate an entire day next time.
© 2023 Wanderers Compass All Rights Reserved
Planning a visit to Sweden? Check out our Sweden Travel Guide
Malmö Photo Gallery
Check out our most recent blog posts
Our Recommended Travel Resources
Our favorite travel insurance site!
If you book a trip, don't forget to get travel insurance within 14 days of your first booking. We could not be stronger advocates of being well-insured. Not just for the little stuff but the big things like medical emergencies. We never leave home without it. Over the years, we have used many sites but have now found our go-to place. Squaremouth.com does a fantastic job; it has a user-friendly interface, uses top-rated and reputable insurance carriers, and most policies cover COVID-19 medical issues and cancellations. They also mediate on your behalf if you have problems with your policy.
To empower you as a consumer, we suggest you read our blog post on the importance of travel insurance and how to get the best coverage from top-rated companies for an affordable price.
Medical transport back home from anywhere in the world
They are the premier global air medical transport. One caveat to travel insurance is that medical evacuation usually gets you to the closest facility to care for you. Medjet gets you back to the U.S. to the hospital of your choice once you are stable enough to fly. They cover Covid-related transports as well.
Medjet carries its own policies. The policy is only for transport and no other aspects of travel insurance. They have individual trip policies starting at $99 and annual policies for around $300. Most of their policies limit the age to 74 and younger. Prices are not based on age below that.
To learn more about how Medical Evacuation membership with Medjet Assist works, check out our blog post for a more detailed review.
Hotels, home rentals, BNBs, flights, and other transportation & tours
Expedia is a US-based company whose mission is to power global travel for everyone and everywhere. Whether planning a family vacation, booking for business, or organizing the trip of a lifetime, they are a fantastic resource. Wanderers Compass focuses on independent travel, and using sites like Expedia makes that possible. Every aspect of travel you need, from airfare, accommodations, rental car, and cruises to activities to do at your destination, can be booked on Expedia.
Hotels, Home rentals, BNBs, Flights, and other Transportation & Tours
Booking.com connects millions of travelers to memorable experiences, various transportation options, and incredible places to stay – from homes to hotels and much more. It is one of the world's largest travel marketplaces for established brands and entrepreneurs of all sizes.
We always check Expedia and Booking.com to verify prices. At times, one is sold out of rooms while another at the same place has rooms. As well we often find some European hotels, especially smaller ones, on Booking.com but not on Expedia. It could be they are a Europe-based company. Try both before booking accommodations.
Are you traveling with a family or having an extended stay at your destination?
With over 2 million bookable vacation rentals, VRBO connects homeowners with families and vacationers looking for something more than a hotel for their trip. The VRBO community offers families or groups various rental property types such as condos, cabins, lake rentals, beach houses, etc.
VRBO is under the Expedia group ownership now, which many were worried about, but it hasn't panned out to be a concern. It is a massive network with access to all lodging forms should issues arise. Joelle has used VRBO for many years with her family with no problems.
As the leading marketplace for travel experiences, Viator believes that making memories is what travel is all about. And with 300,000+ experiences to explore—everything from simple tours to extreme adventures (and all the niche, interesting stuff in between)—making memories that will last a lifetime has never been easier.
With industry-leading flexibility and last-minute availability, it's never too late to make any day extraordinary. This one site has it all and has experiences throughout the world. We use them often during our travels, especially for food tours. We especially take the time to read the reviews provided.
An excellent source for travel essentials and guides
We now have our own Amazon Storefront with all our favorite travel accessories and gear in one place. Check out our travel store at the link below.
Amazon is one of the most comprehensive online shopping sources in the world. On behalf of their customers, teams worldwide provide lower prices, better selection, and rapid delivery. They offer a vast inventory, and their 1.7 million small and medium businesses worldwide selling on Amazon.com offer extensive options to customers.
We buy most of our travel books, accessories, and luggage from Amazon. We have ordered up to two days before travel and get what we need.
Transportation
Welcome Pick-ups
(Airport and sightseeing service)
A global leader in ground transportation for travelers. They help hundreds of companies worldwide enhance their services and boost their revenue with our 5-star ride experiences and hassle-free automation.
Founded in 2015 in Athens, Greece, Welcome Pick-ups goes above and beyond the standard transfer service as the first company to deliver a holistic, in-destination travel experience. From the moment a traveler arrives at a new destination until they return home, Welcome accommodates all their travel needs (transfers, travel products, things to do, information) as the easiest, friendliest, and most personalized solution.
Discover Europe by Train
Rail Europe sells train and bus tickets for travel across Europe. They cover 24 countries, 105 rail operations, and 20,000 stations. They are the official rail and bus operations agents in the UK, France, Spain, Italy, Germany, Belgium, Austria, Switzerland, Luxembourg, and the Netherlands. Rail Europe continues to add coverage all the time.
It is a fast, easy, and economical way to purchase European train and bus tickets. Eurail passes are also available to buy through their site.
Travel documentation services
Do you feel like you are wasting time visiting an on-site photographer only to be embarrassed by the photo? Would you like control of the final product? Get the perfect VISA or passport photo online with PhotoAID.
When traveling, you often need to apply for official documents such as a passport, ID, and different kinds of licenses or cards. Those applications require a picture that must meet specific conditions to be accepted, depending on the country. Now, it is possible to take this picture at home without the help of a professional photographer. The PhotoAiD app allows you to take the perfect biometric photo that will be guaranteed by yourself without leaving your home.
This article contains affiliate links. If you use these links to buy something, we may earn a small commission at no additional cost to you. Thank you!
Do you have a question for us or have a comment?