"THE PROBLEM WITH DRIVING AROUND ICELAND IS THAT YOU'RE BASICALLY CONFRONTED BY A NEW SOUL-ENRICHING, BREATH-TAKING, LIFE-AFFIRMING NATURAL SIGHT EVERY FIVE GODD*** MINUTES. IT'S TOTALLY EXHAUSTING."

Stephen Markley
Iceland is where fire meets ice, where raw nature puts on a show that compares to few others. It is a place that is full of life and also extremely barren. It is mysterious, powerful, and majestic. A paradise that few have ventured to see. The question then becomes; when is the best season to visit Iceland?
Iceland is "now on the map" and is becoming a popular destination for travelers. It is the number one industry on the island. Why not? It has everything from a modern cosmopolitan city with a young vibe, a thriving art scene, and incredible cuisine to vast inhabited lands untouched by man. The landscape is unique to any part of the world, and when you think you have seen it all, it blows you away again. How many places can you find one of the most famous luxury spas in the world and, thirty minutes later, hike to an actively erupting volcano, then end your day with a city with thriving nightlife? This is Iceland, a must for everyone's bucket list.
Did we mention it has the deepest black sand beaches in the world, lagoons filled with icebergs, waterfalls that seem at every turn, massive glaciers, some of the freshest seafood in the world, Northern Lights, the Midnight Sun, and Puffins!
This is not our first Iceland Rodeo
Iceland has no rodeos, in case you got a bit excited there. We are referring to the fact that we are so drawn to Iceland we have been there four times. Twice in the winter and twice in the late summer. They were completely different experiences and all wonderful, which had us often asked when the best season to visit Iceland is.
Joelle was the first to go. Her first visit was a brief one. At all times, Icelandair offers a great deal for a free layover on any flight to and from Europe. Many people choose Icelandair's airline to get to Europe as their fares tend to be very reasonable for flights. All their flights have a layover in Reykjavik, Iceland.
That was what happened on Joelle's first visit. Icelandair had the best prices when heading to France solo for a family wedding. When she read about a stopover in Iceland for no additional cost, she grabbed it, not missing any opportunity to see someplace new. It was a short visit, 34 hours, but what a magnificent 34 hours it was! She fell in love with the country and its beauty. A couple of years later, she and her husband were joined by her brother and sister-in-law for a one-week trip in late winter. Snowmobiling on a glacier and exploring an ice cave were highlights of that fantastic trip (see pics in Open Space Gallery below). The dramatic differences in the settings during the two seasons were remarkable.
Wanderers Compass travels to Iceland
A few years later, we made a stopover for a few days on the way to a Nordic nation adventure. It was late winter Iceland trip, and we saw incredible sights and some crazy weather. Ryan wanted to return during the summer months one day.
In the summer of 2021, Ryan learned he had some use-it-or-lose-it vacation time. It was an easy decision about where to go. The trip was a five-day driving adventure, not long enough, but appreciative of the time we did have.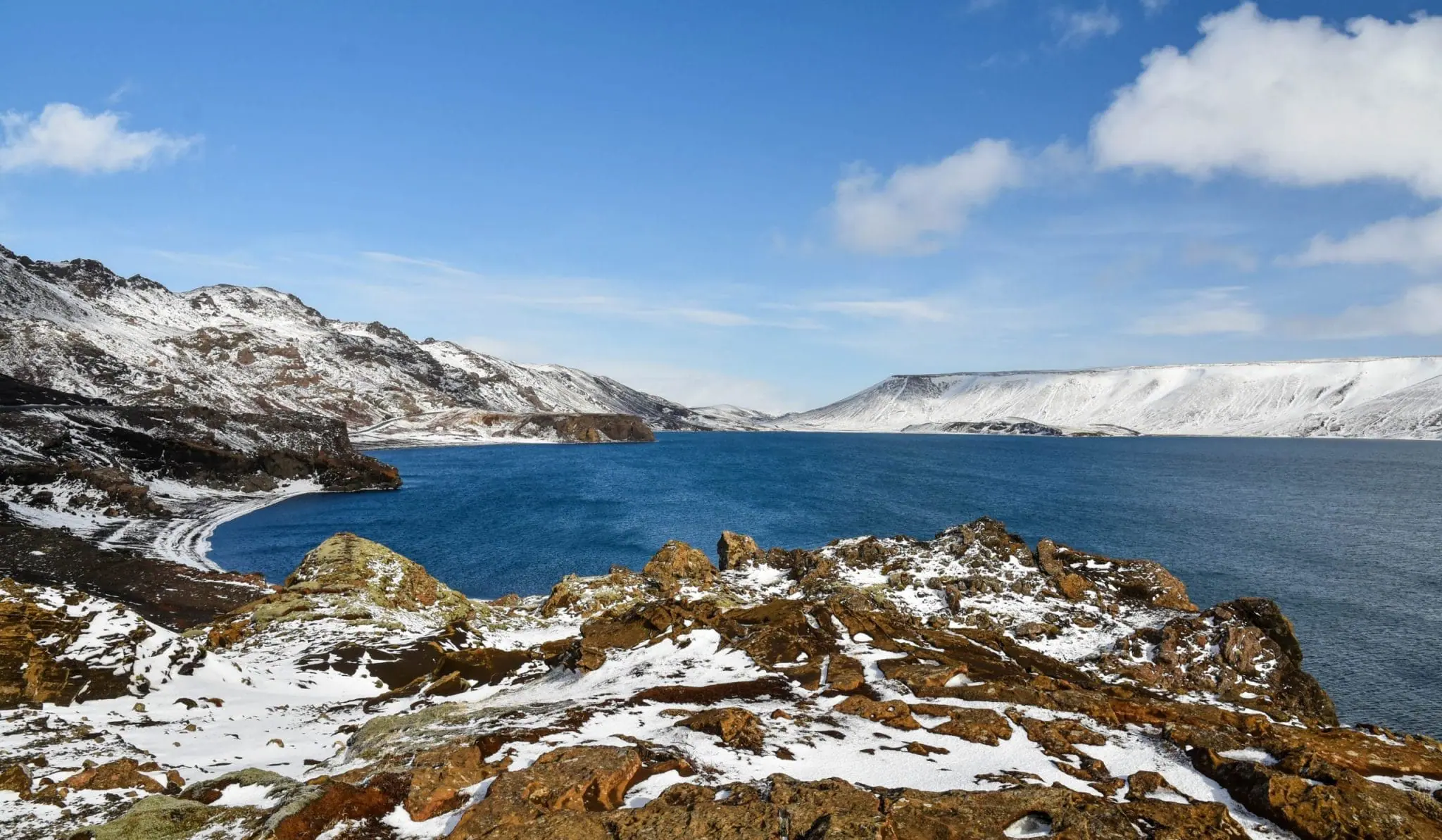 When is the best season to visit Iceland?
We have received a common question from friends, family, and readers: when is the best time to go? That is the most challenging question to answer, as we could go on about the pro and cons of each. But then we realize we can present facts about the weather, which we will, and other reasons for each season, but why not let you decide based on the photos?
What draws you to a place? What intrigues you the most when you see the photos? We also have a unique perspective as we will do several sides-by-side pictures based on the season. You then can compare what calls to you.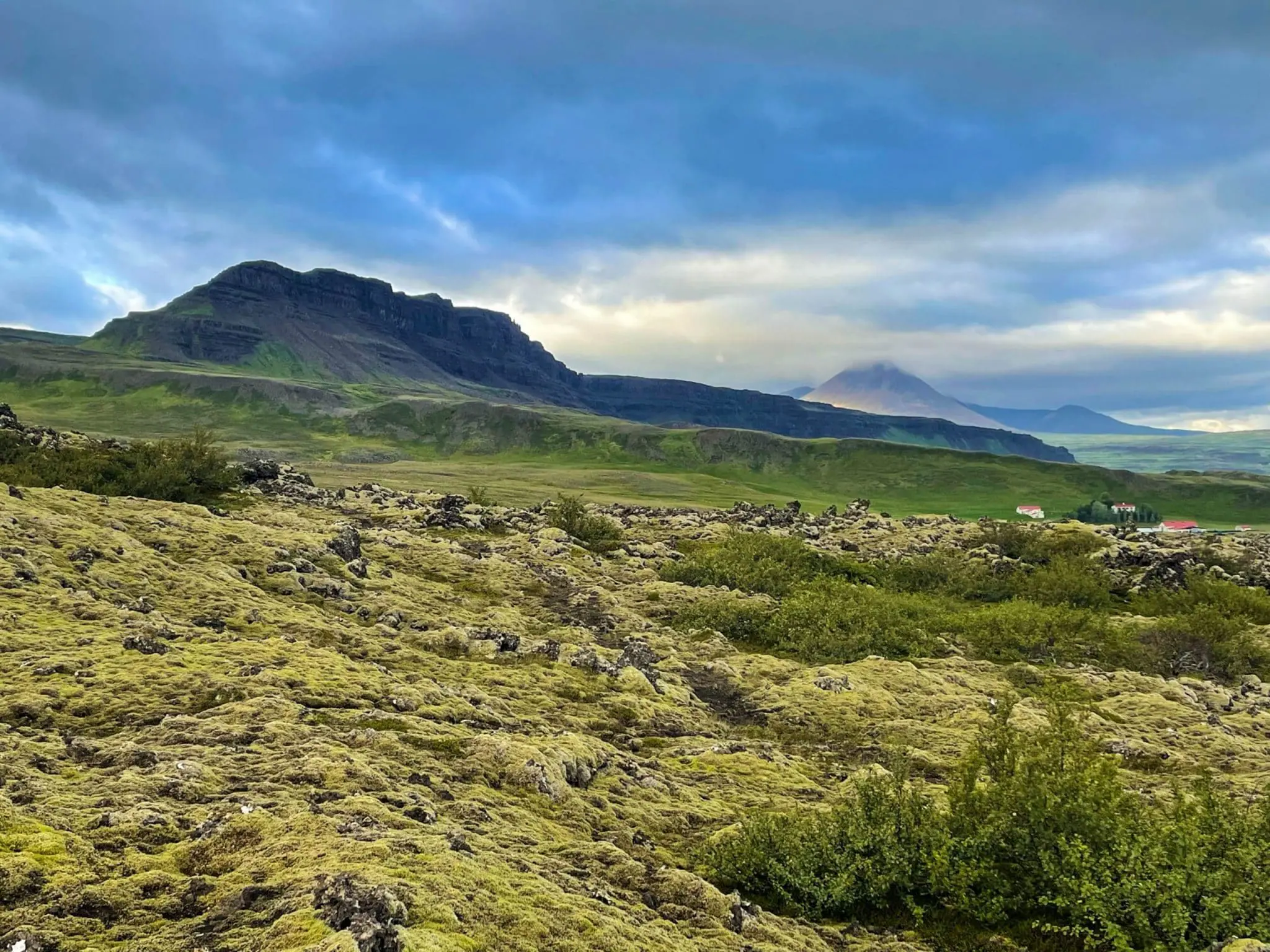 What is our favorite season to visit Iceland?
Do we have a favorite time to visit Iceland? We have never had a bad trip to Iceland. We have had some crazy weather and dangerous driving conditions, but that only made it a grander adventure. Joelle, if she had to pick one, it would be winter. The scenery is close to perfection, with the whitest snow and deepest blues you will ever see. It is pristine, and it is mother nature at its very best. There is peacefulness and power at the same time.
Then there is awe to stand in the snow, with biting freezing wind at your back while watching boiling water come from the ground before you. While it is 32 degrees and snowing, you are in a bathing suit outdoors for hours, unfazed by the cold in water that naturally comes heated up from the earth. Then there are the people. Resilient, tough, talented, kind, and friendly. They are the icing on the cake. This is Iceland, a never-ending wonder.
The Weather
Let us discuss Iceland's weather and the pros and cons of the best season to visit. Here are some basic facts:
There is never hot weather in Iceland. Average summer temps are 46-58°F. When we visited, we did see it get into the low 60s. Winters don't go much below freezing as the mild gulf stream air moderates the temperature.
Summer 46-58 °F (8-14 °C)
Spring 31-49 °F (-1-9 °C)
Fall 33-53°F (1-12 °C)
Winter 30-39 °F (-1-4 °C)
This is a very windy place year-round. It is said it is the 3rd windiest place on earth, and the first two don't have inhabitants. (that is a fact Icelandair likes to share)
Iceland has a lot of precipitation; it comes year-round as rain in the summer, snow in the winter, and a mix of both in the Spring and Fall. September is their wettest month of the year.
If you don't like the weather, the saying in Iceland goes, "wait two minutes, and it will change." That was our experience.
With wetness likely impacting any time of year you go, your best friend will be waterproof pants, good waterproof boots, and a hooded rain-resistant coat/jacket. Leave the umbrella home; we are talking wind that sometimes knocks doors off cars.
There is sunshine and a lot of it. It is the land of the midnight sun. There are 21 hours of sunlight, which translates to short winter days, leaving you more hours to catch the Northern Lights.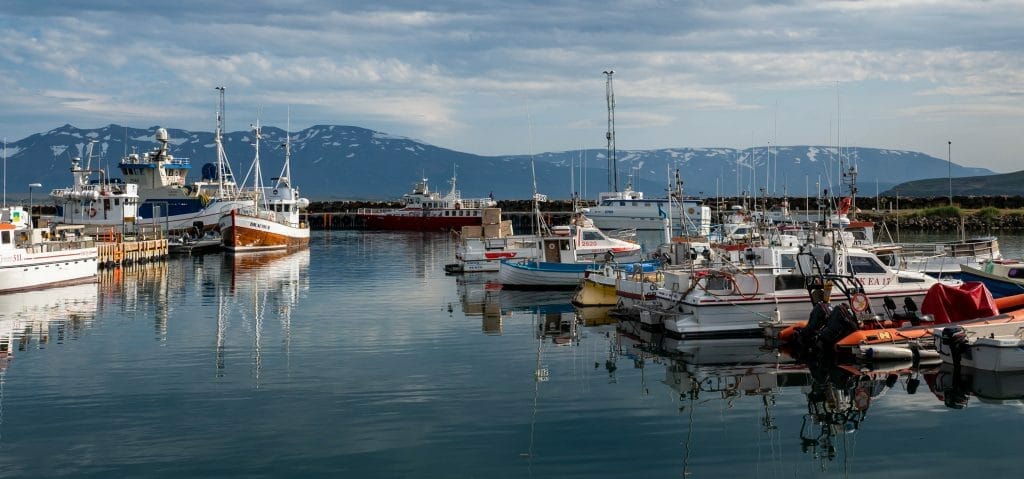 Iceland's Seasons
Though the most popular time to visit Iceland is in the summer months, visitors are drawn to Iceland year-round. The seasons and experiences are so vastly different. The winter brings a pristine beauty not seen in many places on Earth. While surrounded by the whitest snow, you will find hot springs with boiling water from the earth's core. It is when "fire meets ice" is on its most remarkable display. If we discourage a time, it would be December and January, which days are very short. Of course, unless you seek the Northern Lights, there lies the issue. Is there a wrong time or the best season to visit Iceland?
One of the biggest dangers in Iceland is the weather, which can be unpredictable and changes fast, especially between regions. The saying goes, wait two minutes, and it will change, and it does. During summer, the weather patterns are reasonably tame, though heavy and sporadic rainfall is not uncommon. In winter, they can be extreme. Heavy snow and rain mean that many roads become impassable: If you do not prepare adequate equipment and clothing, the consequences could be dire.
Summers are beginning to trend warmer in recent years, reaching the 60s, which is said to be due to global warming. Evenings can be cold in the summer. Dress in layers, but that is the rule to follow year-round. Winters don't get much below freezing during the day, but the stiff winds make it feel much colder. Iceland has mild temps overall; it is more storms and wind that can play havoc. It makes for a pretty fantastic adventure.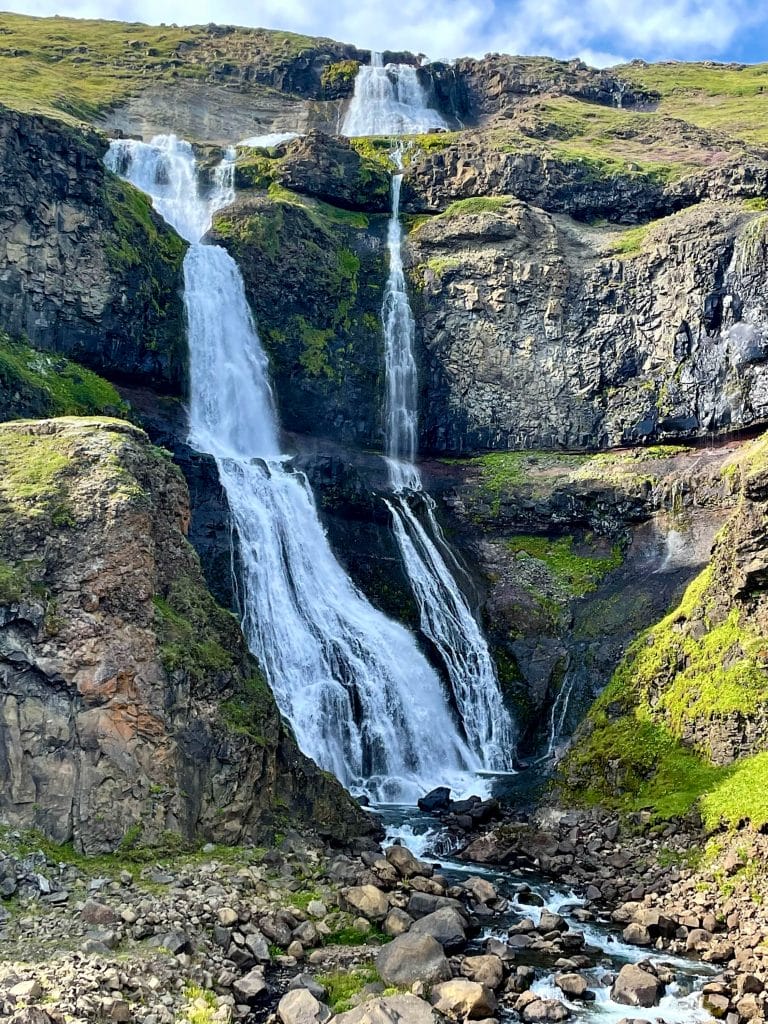 Planning a trip to Iceland? Check out our Iceland Travel Guide here.
Now let's embark on our visual journey of Iceland's wonderful seasons.
We will provide the visual tools to determine the season that most interests you. There are four sections with comparisons based on winter and summer: open Spaces, Reykjavik, Siglufjordur, and the Blue Lagoon.
The Wide Open Spaces of Iceland
Most of the Island of Iceland has wide-open spaces, with few inhabitants on much of the island. The population of Iceland is 350,000 people, and 80% of them live in the two cities, Reykjavik to the south and Akuyeri to the north. The landscape is rugged and gentle at the same time. There are massive glaciers, rugged mountains, endless fields for grazing, and beaches to wander. It is as dramatic in the summer as it is in the winter.
The seasons in Iceland are always unpredictable. The winter season though the most impressive and also the most challenging. In both visits in the winter, severe storms hit that made driving treacherous and scary at times. That said, what fun it was! We would not trade it in hindsight. We know people who did Ring Road over ten days in the winter with no issues. Our suggestion is to go and don't worry about the weather. However, stay on top of it at all times and plan accordingly.
Open Spaces Gallery
We have tried and tested lots of travel gear and accessories. Check out our page on our favorite travel gear.
Reykjavik
Reykjavik is the capital of the country of Iceland. It is where 60% of the 350,000 on the island live. This charming "big" city has incredible food, shopping, lively bars, vibrant nightlife, lovely colorful houses, landmark sites, unique districts, waterfront, excellent museums, and cultural richness. It has it all!
Having stayed in Reykjavik on all four trips, it is impressive how it does not matter the weather in this city. There was a significant snowstorm at one time, and the streets were passable, and people were out and about. In the picture below, you may not even tell which is summer and which is winter if not for the flowers or snow on the ground.
All Seasons Reykjavik Gallery
Siglufjordur
Siglufjordur is a quaint, picturesque fishing village that is the northernmost town in Iceland. It sits on the spectacular narrow Hedinsfjordur coastal fjord less than 30 miles
from the arctic circle. The striking beauty of this fjord, with its steep, dramatic mountains, seems to cradle this small village. The lovely, bright, colorful homes and businesses that grace the water's edge are postcard perfect. A charming harbor with a massive fjord in the background is breathtaking.
We have had the privilege to visit here both in the winter and summer. Both are spectacular but so completely different. The comparatives are striking. The winter is the perfect time for the Northern Lights and skiing, with a top destination for heli-skiers. In the summer, hiking, boating, and fishing are popular here. The village of Siglufjordur is a well-kept secret that few get to experience, but those who fall in love with this little piece of Iceland heaven.
Siglufjourdur Photo Gallery
Blue Lagoon Resort and Spa
Just a short drive from Reykjavík, the Blue Lagoon is one of the world's most well-known spas that draw people to Iceland solely to soak in its seawater with magic powers. The setting is in the middle of an 800-year-old massive lava field. The water in the lagoon comes from the Svartsengi Geothermal Power Plant in the distance.
A brilliant idea was born due to a request made by one of the power plant employees, which must have sounded crazy at the time. Valur Margeirsson asked permission to swim in the geothermal pool created by the Svartsengi plant. He had psoriasis and did not want to swim in a public pool. The soothing water healed his skin. When others with the same condition tried it, their skin improved significantly. Today the Blue Lagoon Clinic is an internationally recognized psoriasis treatment facility. Insurance companies worldwide have been known to cover visits to the facility for people with psoriasis.
The majority of guests come for the serenity the Blue Lagoon provides. Imagine soaking in geothermally heated seawater rich in minerals and surrounded by epic landscapes. Relaxing in this environment is good for your skin and brings tranquility to your mind, body, and soul. The iconic white silica mud mask is also free to all lagoon guests, and you will see many white-masked clients wandering with big grins on their faces.
People spend all day in the water
We were skeptical; how could someone spend hours in this water? All we can say is trust us; you can. Joelle has been three times, Ryan once. There is something special here, and time melts away. The Blue Lagoon is enormous, and it can take a while to roam all the space in the healing waters.
Over time the site has expanded to include an exclusive hotel/resort with gourmet restaurants and a spa extraordinaire. That is a bit rich for our blood, but you can experience the Blue Lagoon with a day visit and still leave in awe. We have done this in the summer and winter. Winter is best—nothing like spending hours outside in a swimsuit in freezing weather and being utterly comfortable. It is delightful when it is snowing.
Reservations are a must a Blue Lagoon! Visit their official site for more info by clicking here.
---
A Winter and Summer Video
Because it is all about showing you both the good and crazy side of travel, don't let the winter driving discourage you, it is very much part of Iceland's adventure.
Where to stay in Iceland
Depending on where you are in Iceland there could be plentiful choices or only a tiny handful. In the two big cities, you will find many choices and most of the hotels are very nice. Iceland can be pricey so be prepared to open up your wallet a bit more. In the more remote areas, the places are limited and rustic. Do your research. We always stay at the Hilton Nordica in Reykjavik, they do a great job. Downtown Reykavickk has nice options and it is nice to be able to get out in the evening for a stroll. The waterfront has many good choices too.
It is important to price out properties on various sites. Expedia is a US-based company, whereas Booking.com is Europe based. Not all properties appear on both, so check both. If the establishment has a website, check the price there as well.
Final thoughts
We hope this has guided you on what may be your favorite season to visit Iceland. Do you like cold weather, snow, northern lights, or spring-like weather with green fields and rain? Let us know what season you are most interested in seeing.
If you do go, we would love to hear about your experience. Whatever you pick, remember to get out and enjoy this beautiful world. Stay prepared, and always remember to make the best of whatever comes your way. A bad situation creates a learning experience and a good story, but a bad attitude makes for a miserable time.
Iceland is an extraordinary destination. We can't recommend it enough, no matter the season. We hope this remarkable country finds its way onto your bucket list.
© 2023 Wanderers Compass All Rights Reserved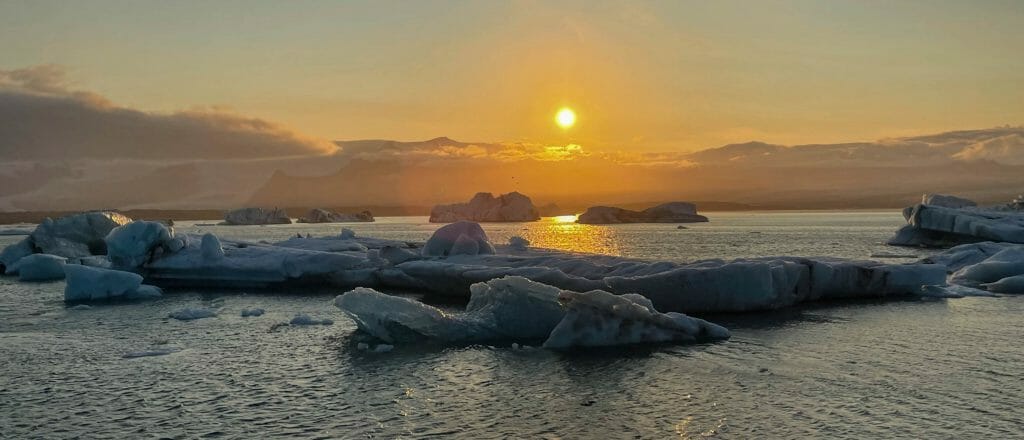 Check out our most recent blog posts
Our Recommended Travel Resources
Our favorite travel insurance site!
If you book a trip, don't forget to get travel insurance within 14 days of your first booking. We could not be stronger advocates of being well-insured. Not just for the little stuff but the big things like medical emergencies. We never leave home without it. Over the years, we have used many sites but have now found our go-to place. Squaremouth.com does a fantastic job; it has a user-friendly interface, uses top-rated and reputable insurance carriers, and most policies cover COVID-19 medical issues and cancellations. They also mediate on your behalf if you have problems with your policy.
To empower you as a consumer, we suggest you read our blog post on the importance of travel insurance and how to get the best coverage from top-rated companies for an affordable price.
Medical transport back home from anywhere in the world
They are the premier global air medical transport. One caveat to travel insurance is that medical evacuation usually gets you to the closest facility to care for you. Medjet gets you back to the U.S. to the hospital of your choice once you are stable enough to fly. They cover Covid-related transports as well.
Medjet carries its own policies. The policy is only for transport and no other aspects of travel insurance. They have individual trip policies starting at $99 and annual policies for around $300. Most of their policies limit the age to 74 and younger. Prices are not based on age below that.
To learn more about how Medical Evacuation membership with Medjet Assist works, check out our blog post for a more detailed review.
Hotels, home rentals, BNBs, flights, and other transportation & tours
Expedia is a US-based company whose mission is to power global travel for everyone and everywhere. Whether planning a family vacation, booking for business, or organizing the trip of a lifetime, they are a fantastic resource. Wanderers Compass focuses on independent travel, and using sites like Expedia makes that possible. Every aspect of travel you need, from airfare, accommodations, rental car, and cruises to activities to do at your destination, can be booked on Expedia.
Hotels, Home rentals, BNBs, Flights, and other Transportation & Tours
Booking.com connects millions of travelers to memorable experiences, various transportation options, and incredible places to stay – from homes to hotels and much more. It is one of the world's largest travel marketplaces for established brands and entrepreneurs of all sizes.
We always check Expedia and Booking.com to verify prices. At times, one is sold out of rooms while another at the same place has rooms. As well we often find some European hotels, especially smaller ones, on Booking.com but not on Expedia. It could be they are a Europe-based company. Try both before booking accommodations.
Are you traveling with a family or having an extended stay at your destination?
With over 2 million bookable vacation rentals, VRBO connects homeowners with families and vacationers looking for something more than a hotel for their trip. The VRBO community offers families or groups various rental property types such as condos, cabins, lake rentals, beach houses, etc.
VRBO is under the Expedia group ownership now, which many were worried about, but it hasn't panned out to be a concern. It is a massive network with access to all lodging forms should issues arise. Joelle has used VRBO for many years with her family with no problems.
As the leading marketplace for travel experiences, Viator believes that making memories is what travel is all about. And with 300,000+ experiences to explore—everything from simple tours to extreme adventures (and all the niche, interesting stuff in between)—making memories that will last a lifetime has never been easier.
With industry-leading flexibility and last-minute availability, it's never too late to make any day extraordinary. This one site has it all and has experiences throughout the world. We use them often during our travels, especially for food tours. We especially take the time to read the reviews provided.
An excellent source for travel essentials and guides
We now have our own Amazon Storefront with all our favorite travel accessories and gear in one place. Check out our travel store at the link below.
Amazon is one of the most comprehensive online shopping sources in the world. On behalf of their customers, teams worldwide provide lower prices, better selection, and rapid delivery. They offer a vast inventory, and their 1.7 million small and medium businesses worldwide selling on Amazon.com offer extensive options to customers.
We buy most of our travel books, accessories, and luggage from Amazon. We have ordered up to two days before travel and get what we need.
Transportation
Welcome Pick-ups
(Airport and sightseeing service)
A global leader in ground transportation for travelers. They help hundreds of companies worldwide enhance their services and boost their revenue with our 5-star ride experiences and hassle-free automation.
Founded in 2015 in Athens, Greece, Welcome Pick-ups goes above and beyond the standard transfer service as the first company to deliver a holistic, in-destination travel experience. From the moment a traveler arrives at a new destination until they return home, Welcome accommodates all their travel needs (transfers, travel products, things to do, information) as the easiest, friendliest, and most personalized solution.
Discover Europe by Train
Rail Europe sells train and bus tickets for travel across Europe. They cover 24 countries, 105 rail operations, and 20,000 stations. They are the official rail and bus operations agents in the UK, France, Spain, Italy, Germany, Belgium, Austria, Switzerland, Luxembourg, and the Netherlands. Rail Europe continues to add coverage all the time.
It is a fast, easy, and economical way to purchase European train and bus tickets. Eurail passes are also available to buy through their site.
Travel documentation services
Do you feel like you are wasting time visiting an on-site photographer only to be embarrassed by the photo? Would you like control of the final product? Get the perfect VISA or passport photo online with PhotoAID.
When traveling, you often need to apply for official documents such as a passport, ID, and different kinds of licenses or cards. Those applications require a picture that must meet specific conditions to be accepted, depending on the country. Now, it is possible to take this picture at home without the help of a professional photographer. The PhotoAiD app allows you to take the perfect biometric photo that will be guaranteed by yourself without leaving your home.
This article contains affiliate links. If you use these links to buy something, we may earn a small commission at no additional cost to you. Thank you!
Do you have a question for us or have a comment?