"How strange and beautiful it looked in the late afternoon light! I can still recapture that first glimpse – see the sheer grey stone walls and towers against the pale yellow sky, the reflected castle stretching towards us on the brimming moat, the floating patches of emerald-green water-weed."

Dodie smith on Castles
How we became Castle Hunters
Our fascination and love of castles, in effect, started on our very first day in Ireland. It was the inspiration that led us to coin ourselves Castle Hunters. Simply put, it was love at first sight. We have never wavered since on that energy and passion we found at our first castle, Trim Castle in Ireland.
The privilege of exploring these magnificent architectural wonders is truly a gift. They capture your imagination in ways it is difficult to put into words. Fairy tales are based on these whimsical structures for that reason. The mighty walls of these majestic fortifications have stood proudly for centuries.
These epic structures transport you back to when life was simple yet harsh. Life was cold, dark, and austere, even in the most elaborate medieval structures. These were the fortified residences of royalty and nobility. Existence was difficult for these castle residents. Nonetheless, there is something so romantic and charming about them and their inhabitants.
Castle designs were about protecting their owners and kingdoms from their enemies. As a result, the Medieval castle was the core of military defense for a thousand years. They were fortresses that took horrific beatings; however, they remain standing today in all their glory.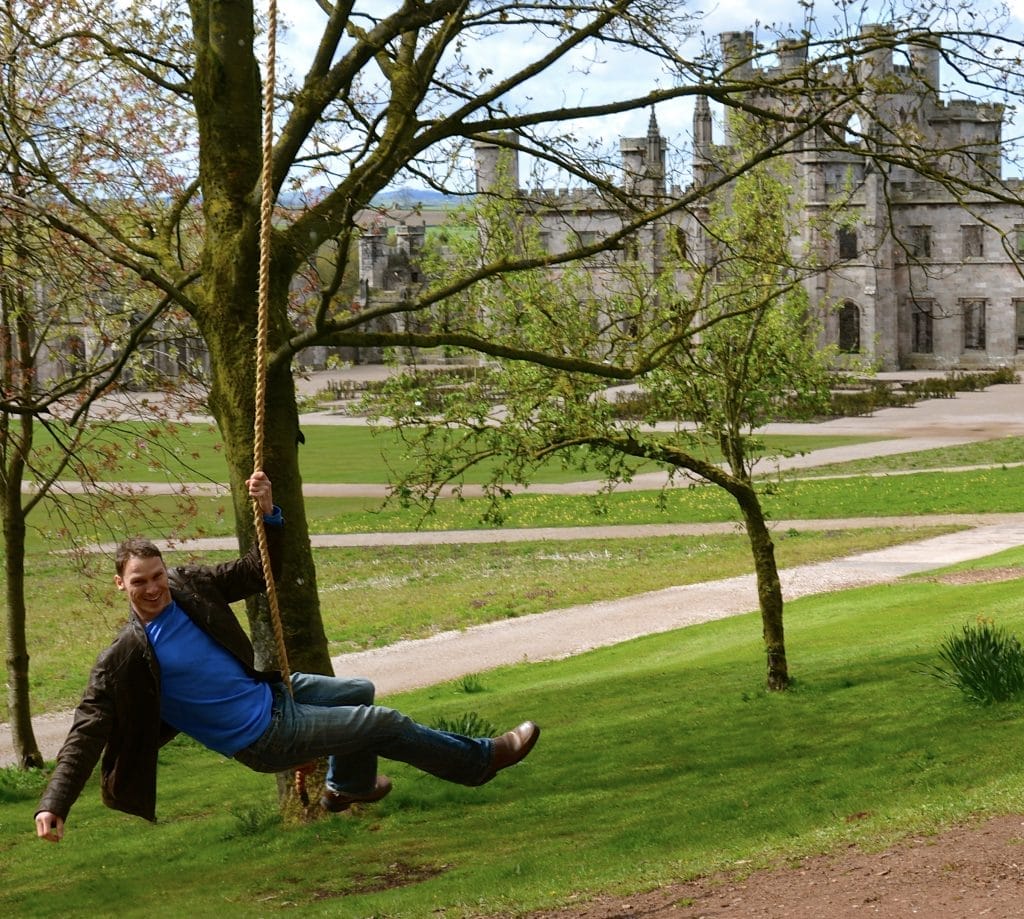 So you ask, are they not all the same?
To our surprise, the answer is no. These massive structures did not have modern machinery or highly educated engineers with computer models. Yet they remain standing, always captivating. They are iconic, a testament to time—many in extraordinary settings.
They are high atop mountains, deep in a forest, on beaches, or in the middle of a river. In the heart of a city or on treacherous precipices. Even a tiny backpack can prevent you from visiting some locations as the passages are extremely narrow. Despite this, our ancestors somehow built these structures without cranes, vehicles, or modern technology to carry the stones.
Each castle holds a unique character, style, stone, architecture, and magic. You sense its soul, its heartbeat, and you feel the life in it while you begin hearing the voices that once echoed through these huge stone chambers. Your imagination will transport you if you let it tell its story.
Even the simplest of ruins still capture our hearts. All of a sudden, in our minds, we can see it in all its glory.
Make no mistake about it. We love everything, castle. Without a doubt, it is a bit of an obsession.
Ed Sheeran's song Castle on the Hill speaks to their presence to this day. There is nothing like spying on that castle on the Hill to make the heart happy.
To conclude, we hope our fascination with castles is contagious, and you find the magic "within their walls" as well. Once in a while, give them a try. They will steal your heart and imagination in time, and you can become part of the Castle Hunters tribe. Join us on the hunt!
Our Running Castle Hunters Count
360
Check out our master castle list HERE
---
Let's test your knowledge
© 2023 Wanderers Compass All Rights Reserved
Our Castle Posts
May you never forget what is worth remembering, nor ever remember what is best…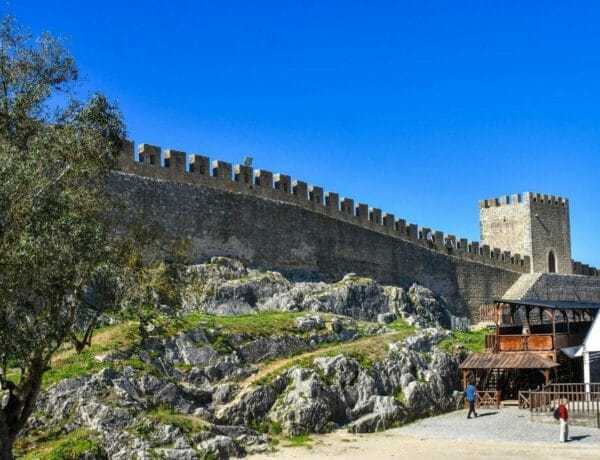 Obidos is Portugal at its very finest. This walled medieval town with an imposing…
Exploring this magnificent castle and its history After walking the Royal Mile, we visit…
Castle Hunters Gallery
Check out our newest blog posts
Our Recommended Travel Resources
Our favorite travel insurance site!
If you book a trip, don't forget to get travel insurance within 14 days of your first booking. We could not be stronger advocates of being well-insured. Not just for the little stuff but the big things like medical emergencies. We never leave home without it. Over the years, we have used many sites but have now found our go-to place. Squaremouth.com does a fantastic job; it has a user-friendly interface, uses top-rated and reputable insurance carriers, and most policies cover COVID-19 medical issues and cancellations. They also mediate on your behalf if you have problems with your policy.
To empower you as a consumer, we suggest you read our blog post on the importance of travel insurance and how to get the best coverage from top-rated companies for an affordable price.
Medical transport back home from anywhere in the world
They are the premier global air medical transport. One caveat to travel insurance is that medical evacuation usually gets you to the closest facility to care for you. Medjet gets you back to the U.S. to the hospital of your choice once you are stable enough to fly. They cover Covid-related transports as well.
Medjet carries its own policies. The policy is only for transport and no other aspects of travel insurance. They have individual trip policies starting at $99 and annual policies for around $300. Most of their policies limit the age to 74 and younger. Prices are not based on age below that.
To learn more about how Medical Evacuation membership with Medjet Assist works, check out our blog post for a more detailed review.
Hotels, home rentals, BNBs, flights, and other transportation & tours
Expedia is a US-based company whose mission is to power global travel for everyone and everywhere. Whether planning a family vacation, booking for business, or organizing the trip of a lifetime, they are a fantastic resource. Wanderers Compass focuses on independent travel, and using sites like Expedia makes that possible. Every aspect of travel you need, from airfare, accommodations, rental car, and cruises to activities to do at your destination, can be booked on Expedia.
Hotels, Home rentals, BNBs, Flights, and other Transportation & Tours
Booking.com connects millions of travelers to memorable experiences, various transportation options, and incredible places to stay – from homes to hotels and much more. It is one of the world's largest travel marketplaces for established brands and entrepreneurs of all sizes.
We always check Expedia and Booking.com to verify prices. At times, one is sold out of rooms while another at the same place has rooms. As well we often find some European hotels, especially smaller ones, on Booking.com but not on Expedia. It could be they are a Europe-based company. Try both before booking accommodations.
Are you traveling with a family or having an extended stay at your destination?
With over 2 million bookable vacation rentals, VRBO connects homeowners with families and vacationers looking for something more than a hotel for their trip. The VRBO community offers families or groups various rental property types such as condos, cabins, lake rentals, beach houses, etc.
VRBO is under the Expedia group ownership now, which many were worried about, but it hasn't panned out to be a concern. It is a massive network with access to all lodging forms should issues arise. Joelle has used VRBO for many years with her family with no problems.
As the leading marketplace for travel experiences, Viator believes that making memories is what travel is all about. And with 300,000+ experiences to explore—everything from simple tours to extreme adventures (and all the niche, interesting stuff in between)—making memories that will last a lifetime has never been easier.
With industry-leading flexibility and last-minute availability, it's never too late to make any day extraordinary. This one site has it all and has experiences throughout the world. We use them often during our travels, especially for food tours. We especially take the time to read the reviews provided.
An excellent source for travel essentials and guides
We now have our own Amazon Storefront with all our favorite travel accessories and gear in one place. Check out our travel store at the link below.
Amazon is one of the most comprehensive online shopping sources in the world. On behalf of their customers, teams worldwide provide lower prices, better selection, and rapid delivery. They offer a vast inventory, and their 1.7 million small and medium businesses worldwide selling on Amazon.com offer extensive options to customers.
We buy most of our travel books, accessories, and luggage from Amazon. We have ordered up to two days before travel and get what we need.
Transportation
Welcome Pick-ups
(Airport and sightseeing service)
A global leader in ground transportation for travelers. They help hundreds of companies worldwide enhance their services and boost their revenue with our 5-star ride experiences and hassle-free automation.
Founded in 2015 in Athens, Greece, Welcome Pick-ups goes above and beyond the standard transfer service as the first company to deliver a holistic, in-destination travel experience. From the moment a traveler arrives at a new destination until they return home, Welcome accommodates all their travel needs (transfers, travel products, things to do, information) as the easiest, friendliest, and most personalized solution.
Discover Europe by Train
Rail Europe sells train and bus tickets for travel across Europe. They cover 24 countries, 105 rail operations, and 20,000 stations. They are the official rail and bus operations agents in the UK, France, Spain, Italy, Germany, Belgium, Austria, Switzerland, Luxembourg, and the Netherlands. Rail Europe continues to add coverage all the time.
It is a fast, easy, and economical way to purchase European train and bus tickets. Eurail passes are also available to buy through their site.
Travel documentation services
Do you feel like you are wasting time visiting an on-site photographer only to be embarrassed by the photo? Would you like control of the final product? Get the perfect VISA or passport photo online with PhotoAID.
When traveling, you often need to apply for official documents such as a passport, ID, and different kinds of licenses or cards. Those applications require a picture that must meet specific conditions to be accepted, depending on the country. Now, it is possible to take this picture at home without the help of a professional photographer. The PhotoAiD app allows you to take the perfect biometric photo that will be guaranteed by yourself without leaving your home.
This article contains affiliate links. If you use these links to buy something, we may earn a small commission at no additional cost to you. Thank you!
Do you have a question for us or have a comment?