"And then you go to a place that stops you in your tracks and makes you wonder how you got so lucky just to be there. As our ship entered the foggy caldera and I caught my first glimpses of Santorini, I knew it would be one of those places."

Alex in Wanderland
There are those photos that intrigue us. That captures our imagination and makes us want to take the next plane to see it ourselves. We ponder, though, does it look like that? Could those photos be so edited that they are more make-believe than reality? Santorini, Greece, is one of those places. With its dramatic scenes of red rock formations of sheer cliffs towering 1000 feet over the sea, spectacular whitewash Cycladic buildings seem carved into the mountainside while they appear to hang off precipices precariously. Interspersed in these whitewashed cave-like buildings are brilliant azure dome churches that seem to merge with the sea. To complete the scene, those charming old windmills give Santorini a fairy tale appearance.
Santorini is a crescent-shaped island that majestically rises from the turquoise Aegean Sea. A magnificent caldera (a crater of a collapsed volcano), which is thought to be where the Atlantis myth originated, sits cradled within the crescent and is an astonishing sight. To add to the mystique of this wonder, dramatic, stunning sunsets illuminate the horizon in ways that appear to be paintings on canvas. You wonder how this place is even possible.
Welcome to the Santorini Magic
This Jewel of the Aegean Sea is in the southern Cyclades islands of Greece. It is a short flight from Athens. Santorini is precisely like those beautiful photos but even more incredible to the point it becomes surreal. It is mind-blowingly breathtaking and sometimes difficult to wrap your head around.
As you wander in awe, you keep asking yourself, how lucky am I to be here? People live here, and every day this is what they experience. Are they in wonder all the time? As you stroll through cities like Oia in awe, you are confident it can't get better, but it does. It is a place where you can completely lose track of time.
I wish I could do Santorini justice in this post. The pictures I attach still come up short. I feel my words are wholly inadequate to describe this extraordinary place and will fail to portray Santorini for the exceptional wonder it is; however, I will try, hoping to capture your curiosity along the way.
What drew me to Greece
In 2017 my nephew took a trip to Greece and posted incredible photos on Facebook. They captured my interest, and I kept returning to them. Greece had not been on my radar as a must-visit. His photographs and stories from Greece changed that for me. I wondered if my sister, who was at a very different stage in her life with kids still at home, would be willing to go with me. She said, to my excitement, absolutely she would love to. We moved quickly from there and, as a result, had our trip booked in a few days.
Our brother recently went to Spain with Costco Travel and had a great experience. We checked it out for Greece, and the prices were quite remarkable. Since I traditionally plan every trip element, I priced it separately using the same hotels and ferry passages. Costco beat it, and I am good at getting deals. What attracted me the most was they only provided us with transportation and hotels. For the rest, we were entirely on our own for excursions, sightseeing, and meals. I am about deals and independence; it made the choice easy.
Want to learn more about Greece? Check out our Greece Travel Guide page here. It is full of great info for anyone considering travel to this incredible country.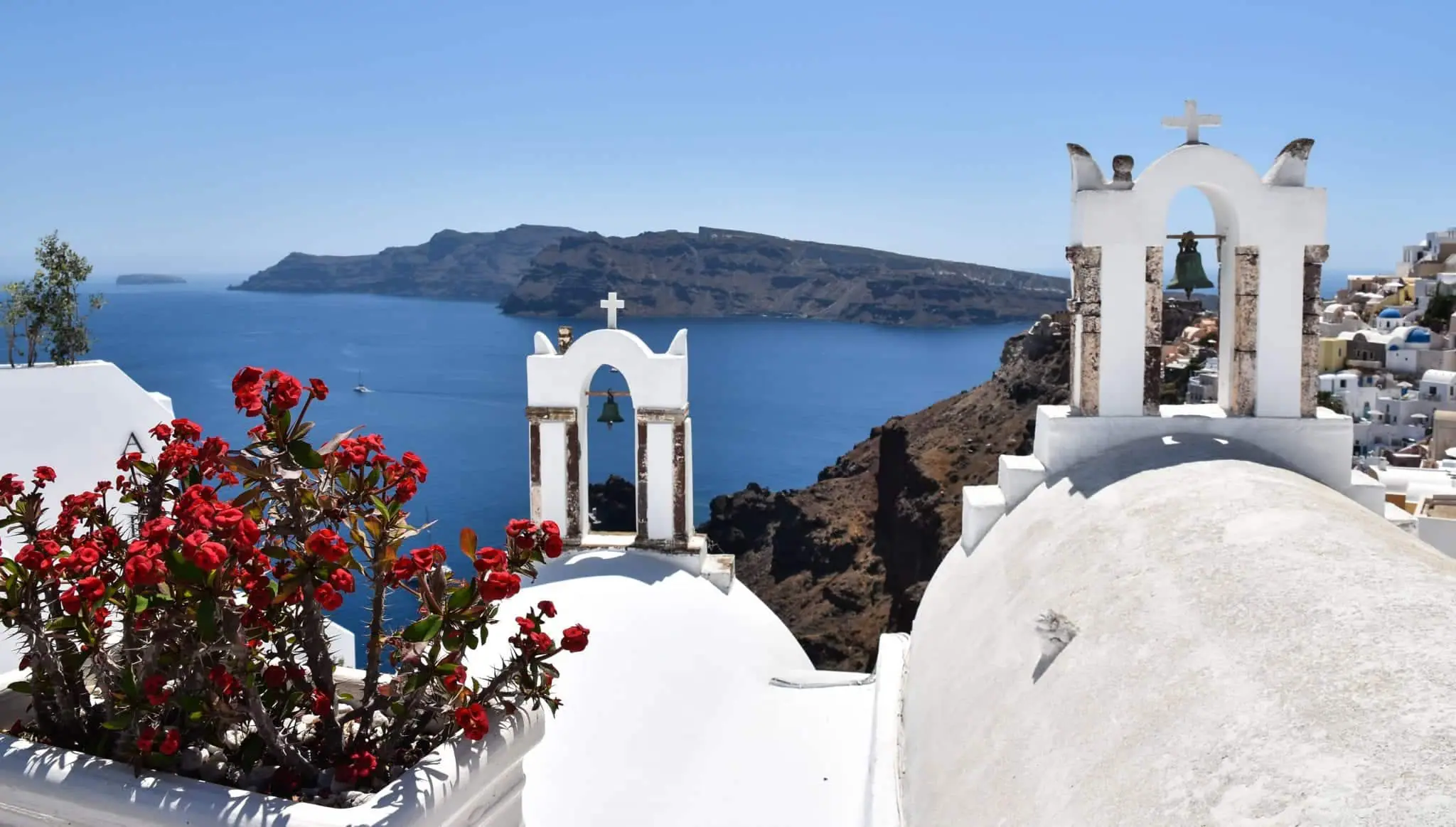 We could pick our hotels from a large selection in the Costco Travel package. Each destination had additional perks, such as a high tea in Athens and wine tasting in Santorini. Their deposit was minimal, and they have a fantastic cancellation policy. The travel staff answered questions quickly and was a wealth of info. They allowed flexibility in the planning and made changes as needed. The process was a breeze. If you want to explore that option for your upcoming travel, click the link here for Costco Travel to see if they offer trips to your next destination.
On my return trip with Ryan, we planned it all ourselves. It made it even more exceptional. This time we stayed on the Caldera in Imerovigli. It was close to perfection, and if you can stay on the Caldera, DO!
No matter what option you pick to plan your trip, Santorini will be amazing.
There were many elements; we would have done differently if we had known more about Greece. I share some here in this post. Especially involving our travels to and from Santorini.
Getting to Santorini
Santorini is one of the farthest south of Greece's islands with residents and is directly north of Crete. There are only two ways to get there, by boat or plane. Most travelers will be coming from Athens. Of course, you could take a private yacht, but since that is not likely for our travel community or us, we shall present what we commoner folks will do.
By Sea
My sister and I spent our first few days in Athens, which I highly recommend before Santorini. We took the "rapid" ferry from Athens. Rapid is a bit of a misnomer.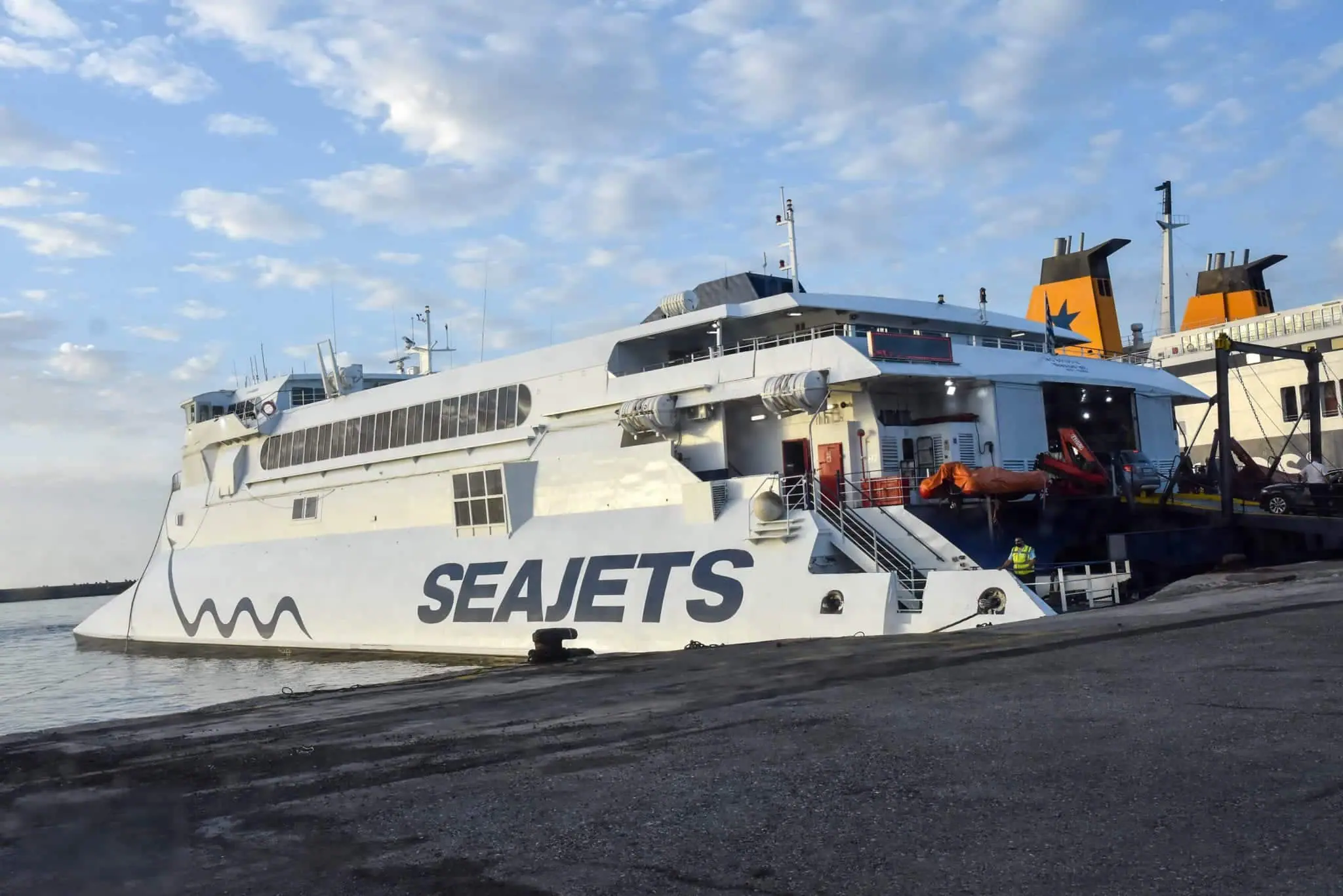 A car service arranged through Costco Travel picked us up well before dawn to get us to the port outside of Athens, arriving a long time before we could even board. Another hour of sleep would have been much appreciated.
The boat was a beautiful modern vessel with comfortable and spacious seating. There was plenty of room to move around, and people were not on top of each other. More oversized luggage is left in the belly of the ship and is easily accessible to anyone. Only smaller carry-on luggage is permitted in the passenger areas.
Greeted by a gorgeous sunrise shortly after departure, we were sure this would be a fun-filled boat trip. Eight hours later, we can assure you it wasn't. After a while, all you see is the sea. There is nothing to do but sleep or read. You then realize you could be sightseeing but are on a boat you can't get off for hours.
The Ferry Ride
As is traditional for the Greek ferries, they ran late despite no weather delays, and the seas were calm. As we approached Santorini, the crew told us to gather where the cars were in the ship's belly. It was late September and very hot. Once in port, the passengers were herded like cattle while the crew screamed at everyone to move faster. It was a nightmare in that heat.
A passenger near us passed out. Once on the dock, finding our ride with the mass of people in a small area was chaos. Luckily our shuttle service was excellent and had clear signage for us. The long lines to climb out of the port were extra slow as it was a narrow road with many hairpins. I was sure one of those huge buses would push us over the cliff's precipice.
Cruise ships are another method to reach the island. Many colossal cruise ships dock in Santorini. That brings massive crowds that pack buses full. We never met anyone who came to Santorini on a cruise ship, and it would be of value to hear about their experiences.
By Air
We learned later from people we met in Santorini who also used Costco Travel that we could have dropped the ferry part of our package and bought our own flights. They said the flight cost them less than the ferry credit they received back from Costco travel. The flight lasted less than an hour, and they had all day in Santorini after a quick ride from the airport to the hotel. Learning that, I assure you I will never do that ferry ride again!! Ryan and I already have our flights booked from Athens to Santorini. In cases of an hour or two ferry ride, fine, but not all day. A lesson learned the hard way. Imagine what the slow ferry is like and what must occur for either ferry in bad weather. Yep, flying only in the future.
Flights often leave from Athens, and Sky Express is the carrier with the most flights. Flights are easy to self-book on their website and available on Expedia and other services. We booked some the other day for an upcoming trip to Greece. They were less than 70 euros a person, included a checked bag, and were cancellable with a small fee. There are many flights a day to choose from.
What does Santorini entail?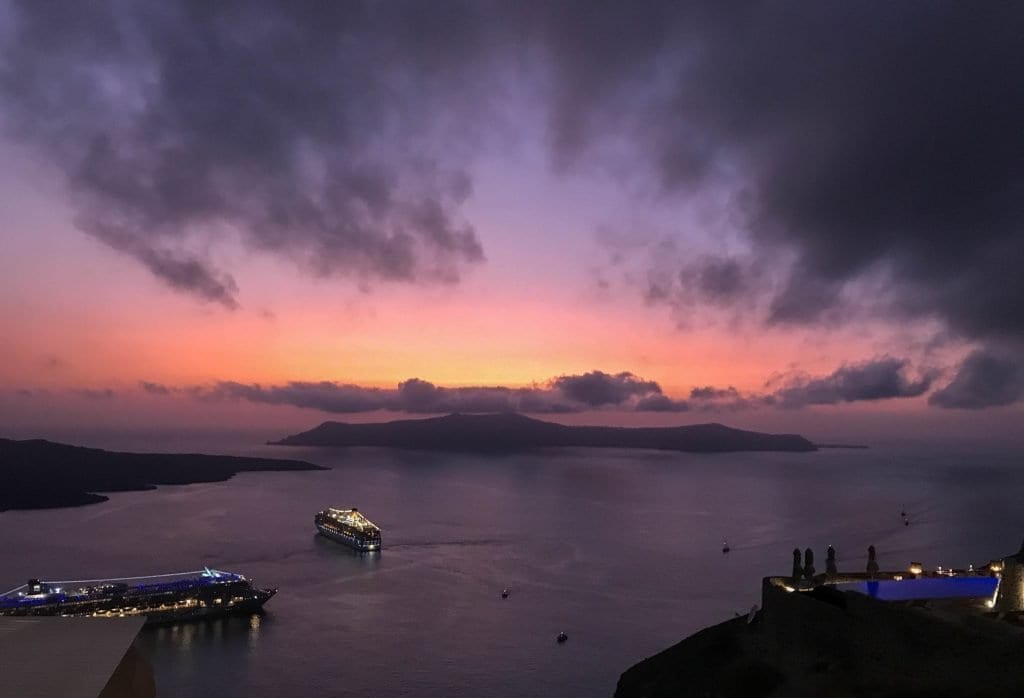 The Santorini archipelago encompasses five islands. This area is Thira to the Greeks. The main island is the island of Thira, which is 15 miles long. Outside of Greece, it is Santorini, as we will call it in this post. The permanent population of this island is 15,000 people. This population doubles during the travel season with seasonal workers. The other islands often visited by boat on day trips are Palea Kameni, Thirassia, and Nea Kameni.
On the Island of Santorini, there are the main cities tourists draw to. Fira, the island's capital, Oia, Imerovigli, and Firostefani, are all perched high on the cliffs overlooking the caldera. There are many lovely little villages, the ancient Akrotiri archeological site, an extensive collection of fantastic wineries, and some unique beaches.
Let's delve a bit into the History of Santorini
This island is a result of a natural catastrophe around 1400 BC. Greece is in an active earthquake region of the world. The events at the time in Santorini were extreme. A violent volcanic eruption reshaped the whole island and wiped out the entire Minoan civilization at the same time. The Minoans had come from Crete around 1800 BC.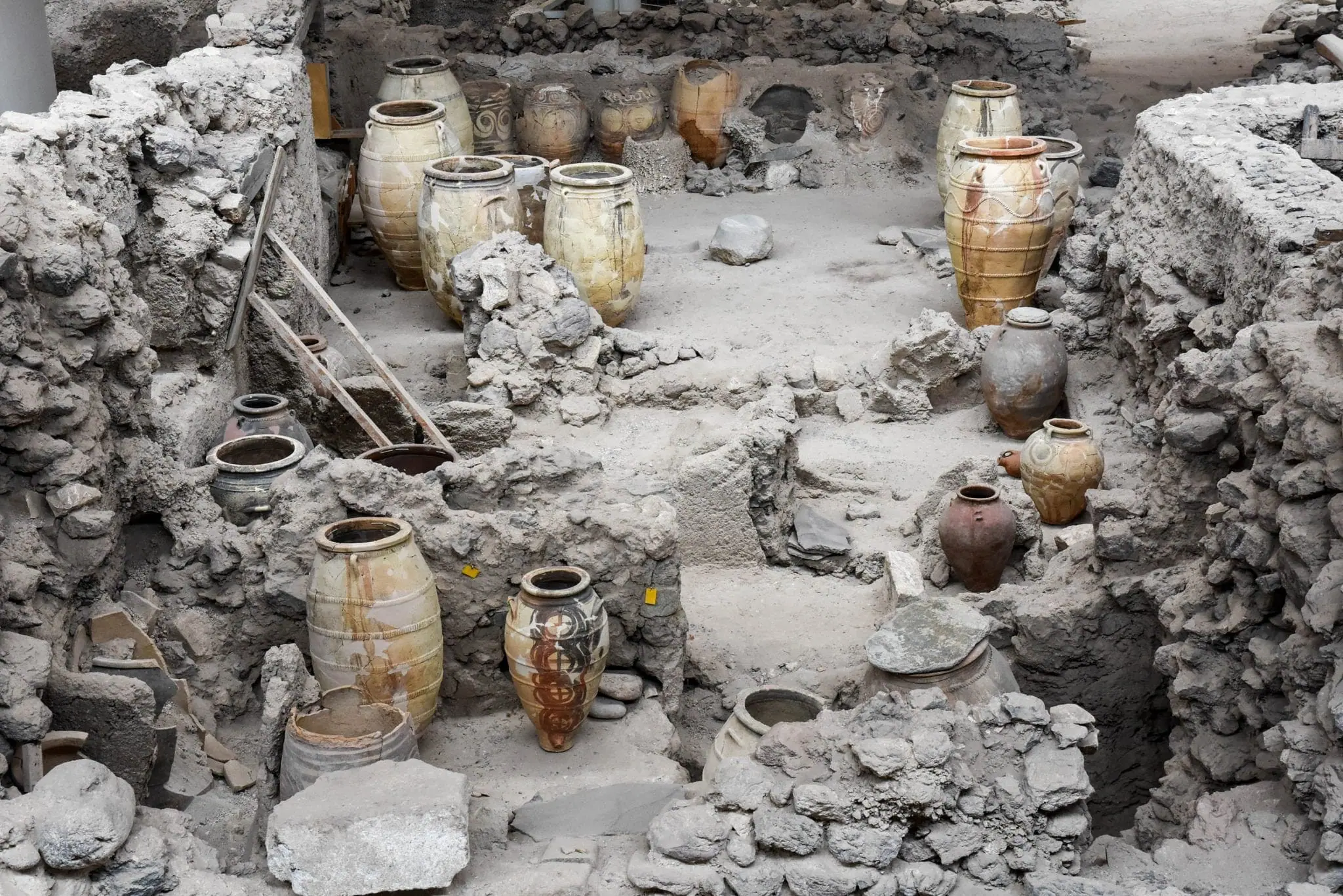 The island welcomed new residents around the 3rd century, but it was still an active volcanic region, and frequent eruptions kept reshaping the landscape. The last major earthquake was in 1956 and devastated Oia and Thira. They rebuilt yet again, and tourism thrived as a result.
When to go to Santorini
The island deserves at least two nights and more if possible. There is a definitive season. The island is "open" from April to September for practical purposes. This is real. When my sister and I were there in the very last days of September, we immediately noticed things were being put into storage. We questioned, and they said the hotel was closing on October 1st. We learned that was the case for much of the island. We asked every server we encountered if they were leaving. They all were leaving the same day we were returning home to Athens.
We spoke with several servers who said they make so much money during the season they don't work in the off-season. They work long days, often seven days a week, and share living space with many people to keep costs down in Santorini. Our wine tour guide was a professor who taught viticulture (the study of grape cultivation) and enology (the study of winemaking and wines) in Athens. He gave tours during the travel season and left back to Athens the next day.
The weather during peak season can be hot and usually very dry. It rarely rains in Santorini. I can't speak for visiting in the off-season. I have looked; some places are open, but I am unsure how many businesses and restaurants are. The beauty will be there, but it gets windy and cold in the off months. Ferry and flights are run less often during the off-season.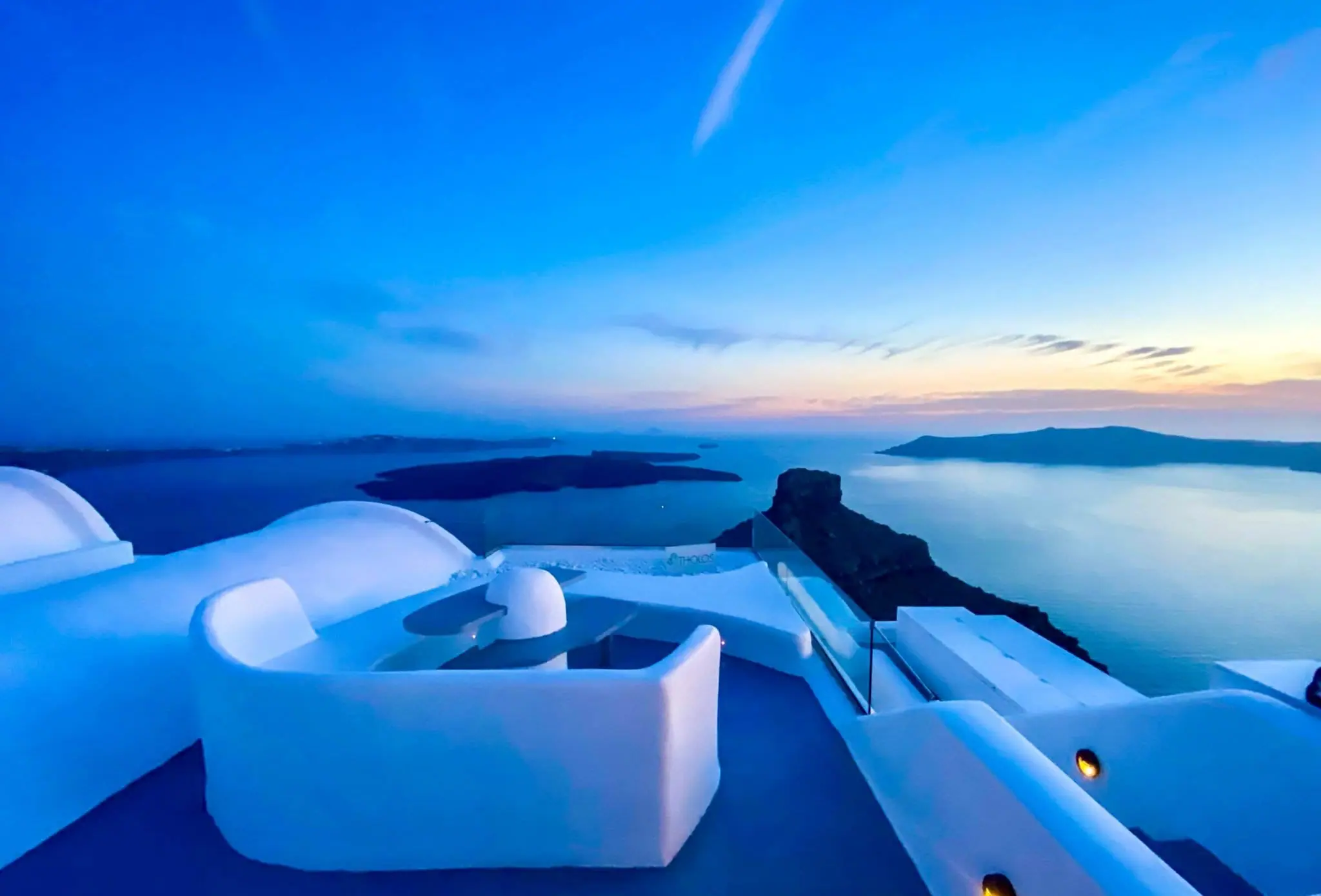 Cruise Ship Impact
I would assess cruise ship schedules before you set your dates on Santorini. If you plan a few days for a stopover, maybe try to go on days when the bigger cruise ships aren't in the docks. The mass arrival of the people on the ships can be genuinely overwhelming. In 2021 if Greece reopens, this may be the very year to avoid that situation. You can find the cruise ship calendar here.
Getting around Santorini
There are many ways to get around the island. The most common method seems to be buses for tourists.
By Bus
The central hub for all bus traffic is Fira, right outside the main pedestrian section of town. It is a bustling depot with packed buses and many tourists trying to figure out what to do. This is also where hotel shuttle buses drop people off, so there is a lot of activity and traffic. We took these buses several times. They were huge modern buses that were clean and timely.
In the end, I found some of the scariest moments in my travel years on these buses. The bus took the road to Oia from Fira on narrow, curvy streets on 1000-foot-high cliffs with no real barrier. It seemed to be a death trap, and I was seriously shaking. These buses are enormous, and when they crossed a tight turn, it was beyond scary.
The bus drivers seem so focused on staying on the schedule that they travel at high speeds on these treacherous roads. I was shaking the whole time, and my sister laughed at me. I can't imagine driving a car in that chaos. When I return, I will never go on those roads again. You can stay on interior roads. When we return to Santorini to see all the off-beaten path magic, I can assure you we will pick our roads carefully.
By Taxi
Taxis are readily available, and many seem to take advantage of them. In Fira, the central location is near the bus depot. This might be a small island, but you pay a lot to take a taxi.
By Car or ATV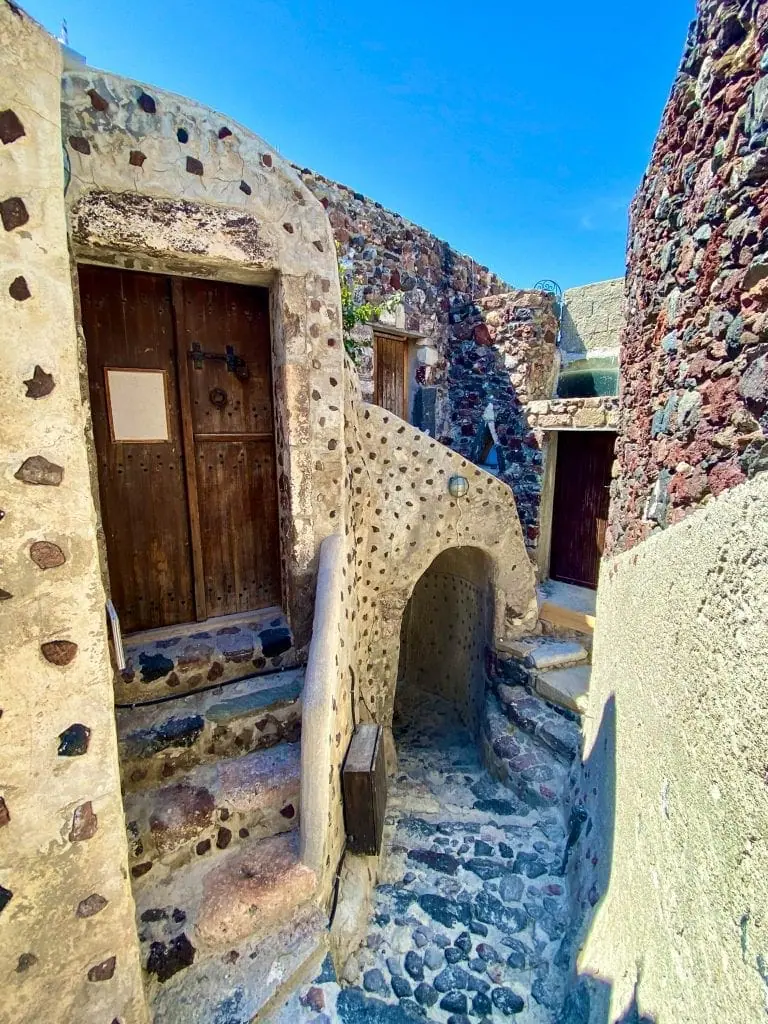 Cars will bring you to places you may have never been able to visit. Traffic is slow on the island in busy areas; therefore, take a deep breath, and you will get there in time.
Renting ATVs is very popular in Santorini, and they are reasonably priced. Since car parking is limited on the island, an ATV can be ideal for getting away from the main tourist draws. They are also great for those wanting to get to some of the more remote beaches and towns. A family member recently rented one for a full day and reported back you must tell people what a blast they are. An ATV doesn't move too fast, which is a good thing. I did witness two ATV accidents, so please ride with caution!
Rental car rates are very reasonable as most tourists don't seem to rent them. Many major US-based rental car companies, such as Avis and Hertz, are available on Santorini.
International Driving Permit (IDP) is a requirement in Greece. I know of cases when U.S. travelers were denied their rental because they did not have one. Go to any AAA office, and you can purchase one for $20, along with the cost of a passport-size photo. Learn more about an IDP at AAA here.
By Guided Tours
Guided tours are popular; therefore, they book out early. If you don't rent a car, they are an excellent alternative. They are a fantastic way to learn more about the island and its history. We would suggest that you seek out smaller group guided tours. Our wine tour was a small group tour; we moved quickly between stops and went into smaller, more authentic places. They cost a bit more; as a result, the experience is much richer and more personal. Book ahead if there is a must-do on your list.
By Donkey
Yes, that is an option. They are on the Caldera side of the island and haul people on their backs up from the port. These poor animals seem miserable, especially with large tourists on them. I would never take this route because alternate ways exist to climb the hill without torturing an animal.
Top 9 Destinations in Santorini
1. Oia
2. Hike Fira to Oia along the Caldera Edge
3. Agios Church in Firostefani
4. Boat trip to the Caldera and Islands
5. Fira
6. Wineries
7. Prehistoric Akrotiri and Ancient Thira archeological sites
8. Beaches: Kokkini (Red beach) and Aspri (White beach) boat ride required to access, and Mesa Pigradia (Black Beach)
9. Ammoudi Port
What is there to do and see
Santorini deserves at least three days of your time. As small as this place is, there is a lot to keep you busy. It would be ideal if you made the time to sit back and absorb the beautiful scenery at your accommodation or in restaurants overlooking the caldera. It would seem a crime not to take a deep breath of the sea air and become one with the beauty surrounding you.
I will detail the main destinations and activities while on the island.
Oia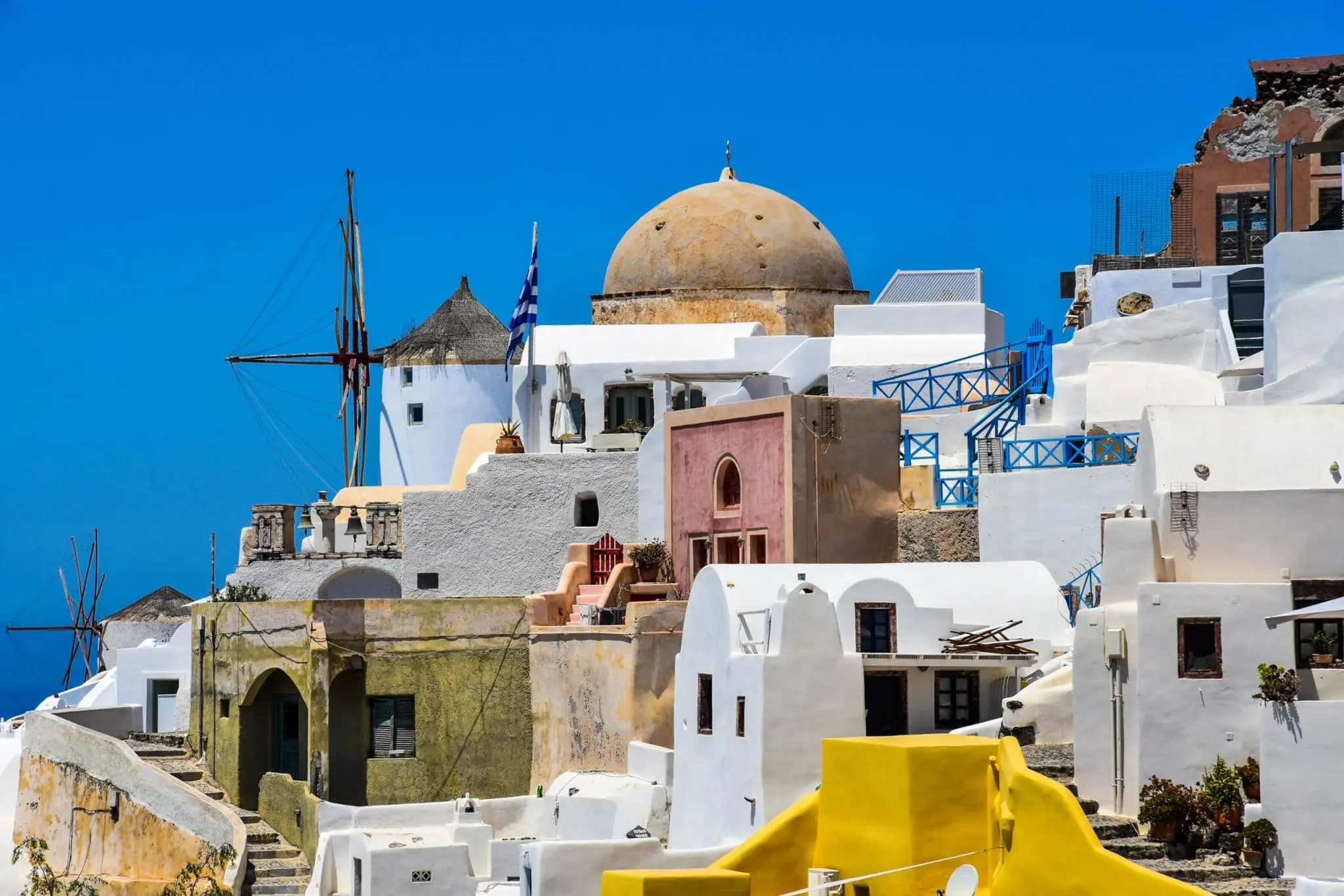 The images you have likely seen of Santorini or Greece in general during your life were likely of Oia. It is pronounced EE-ah. Its beauty surpasses all you can imagine, and then it is even more spectacular than any picture that can be viewed. The large village of whitewashed homes among azure domed churches and romantic windmills is more of a movie set vs. an actual living city. It is idyllic until you realize you are 1000 feet up on massive cliffs. The town is spectacular; adding to that, it overlooks the caldera within the Aegean sea to add to the fantastic experience. If you only stare at this one-of-a-kind vista, you will leave completely satisfied.
Many believe Oia's is an old city, but it isn't. Oia was destroyed in 1956 by a devastating earthquake. The locals rebuilt it intending to make it as perfect as possible. They succeeded, and the world rewarded them. It reminds me a bit of Venice concerning tourists; the main streets are packed, especially on cruise days, but wander a bit off that main path into the winding streets, and you will be well rewarded with few people to impede your way.
To learn more about the impact of over-tourism in Santorini, click here to jump to the sidebar.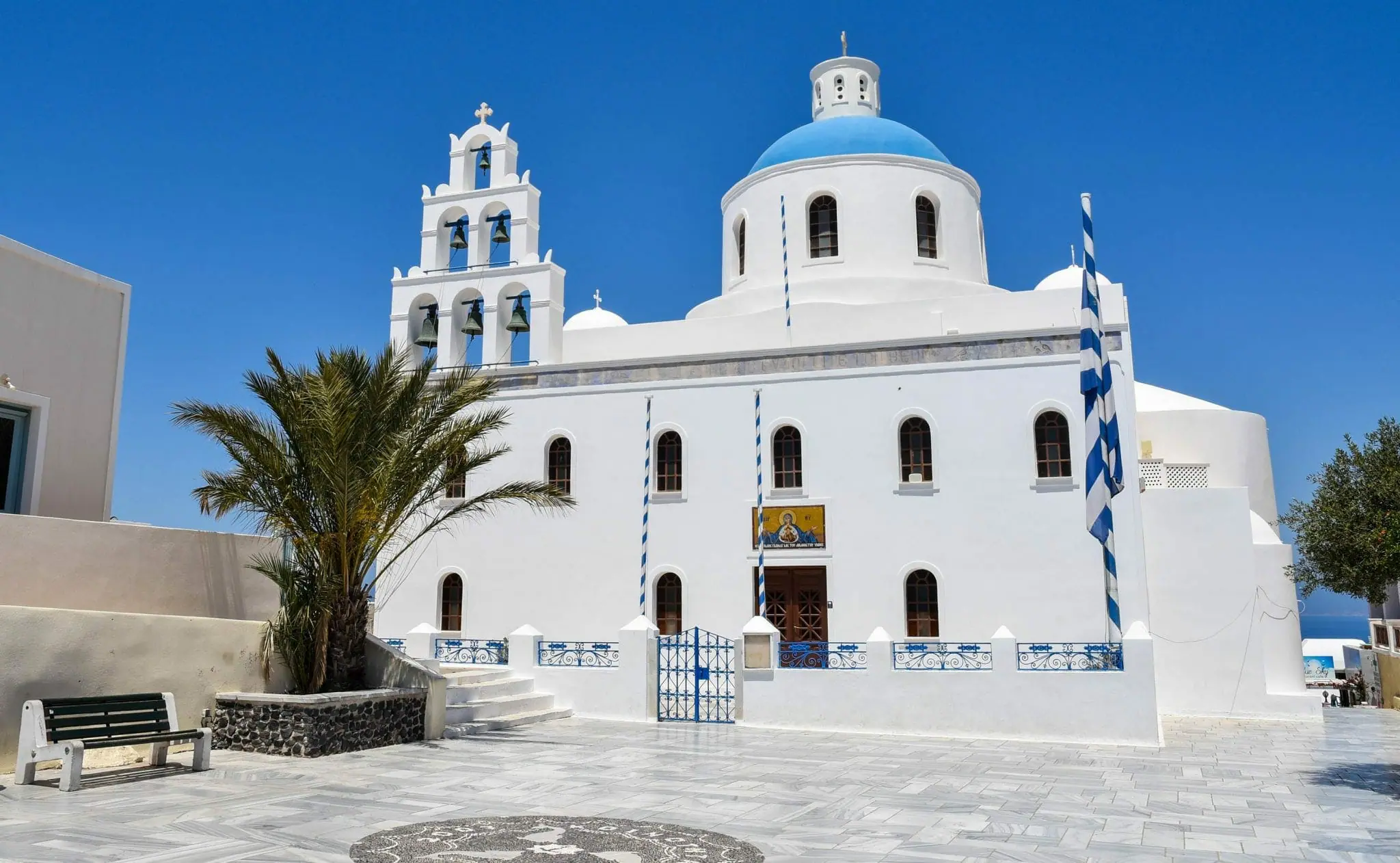 The best thing to do in Oia is to stroll through the streets. Where you are sure it can't get better, and it does. Visit Cave Houses, specifically designed to keep the house cool in the summer and warm in the winter. Some cave houses are churches, wine-pressing rooms, and many are shops.
You may notice a strange phenomenon; many beautiful Chinese brides with their grooms in full wedding attire and the bridal parties following suit, walking around Oia. Photographers are following close behind them. For the story behind these bridal parties, see the Movies Filmed In Santorini sidebar.
Once you arrive, head toward the farthest tip of Oia, the island's end. There you will find the remains of Oia Castle. It is the ruins of the Castle of Agios Nikolaus, built by the Venetians to defend against intruders. There is not much left of the castle, but this is the prime spot to view the famous sunsets of Oia, Santorini.
Ammoudi Port
An entry to a set of long steps next to the castle takes you to Ammoudi Port. It is a picturesque and charming harbor but, as a result, can be very busy. It is an easy hike down but a strenuous hike back up. There are roads to the port if you would prefer to drive. It is well worth a visit. Some tour boats are launched from this port. The views from below and the water are stunning. Katina is a beautiful fish tavern in the harbor and a favorite of tourists and locals. It's a wonderful place to watch the sunset, but you need a reservation.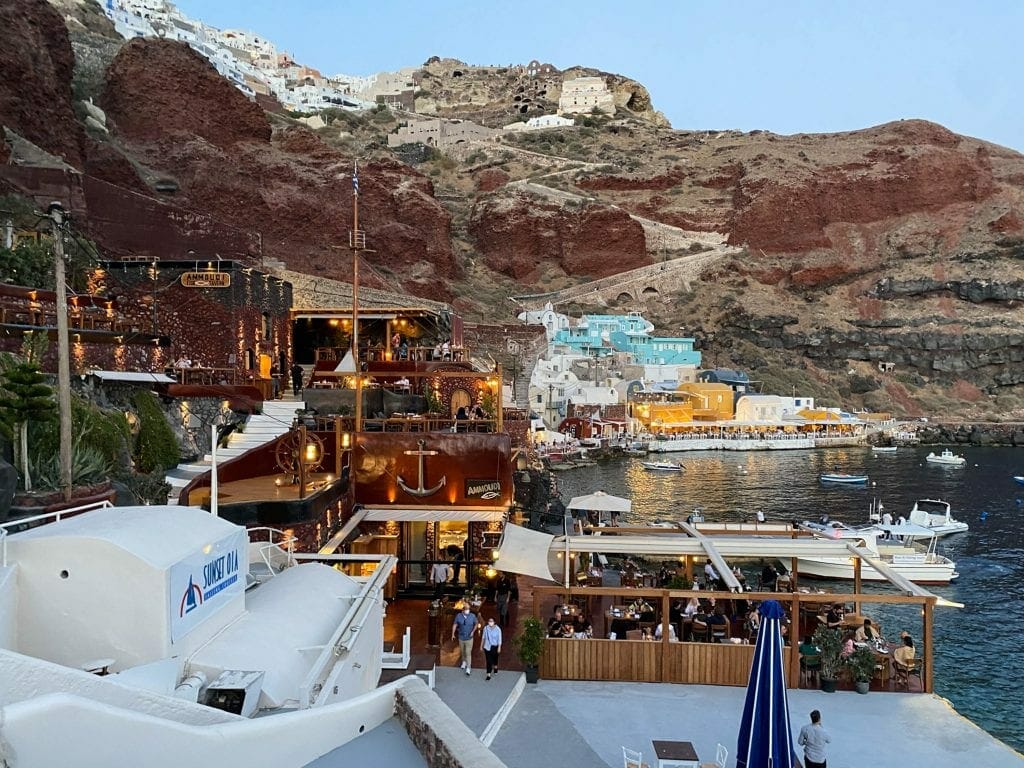 Oia is more about stunning views than anything. There are many shops to wander in and restaurants to grab food or a drink. There is a Naval Maritime Museum. Ultimately, it's about beauty; if you are a photographer, you will be in heaven on earth.
Fira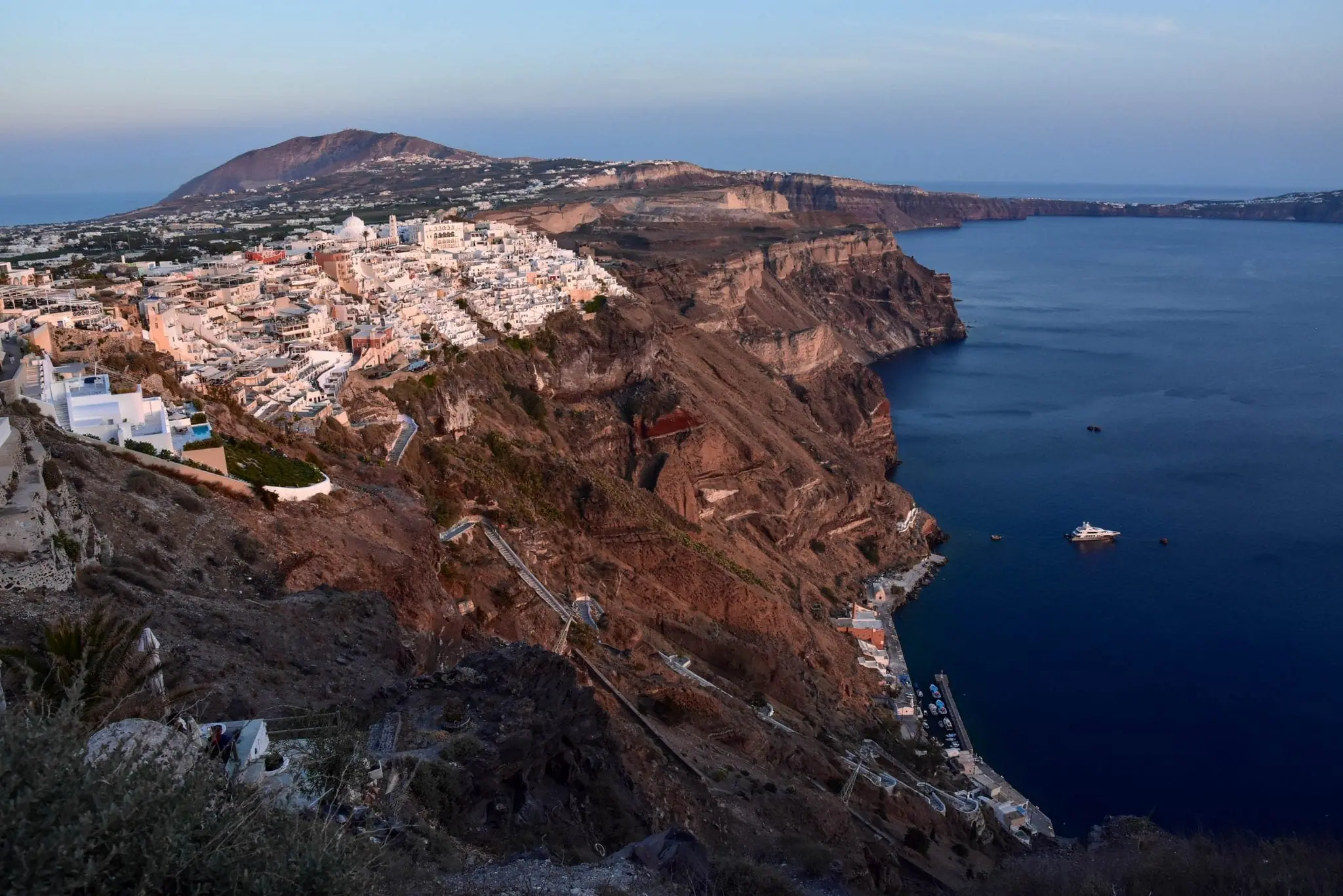 The town of Fira is pretty amazing and has the same feel as Oia, but not as dramatic of a setting; pretty close, though. Fira is high on the cliffs overlooking the caldera and the turquoise Aegean sea. Therefore the sunsets are beautiful from any vantage point in Fira.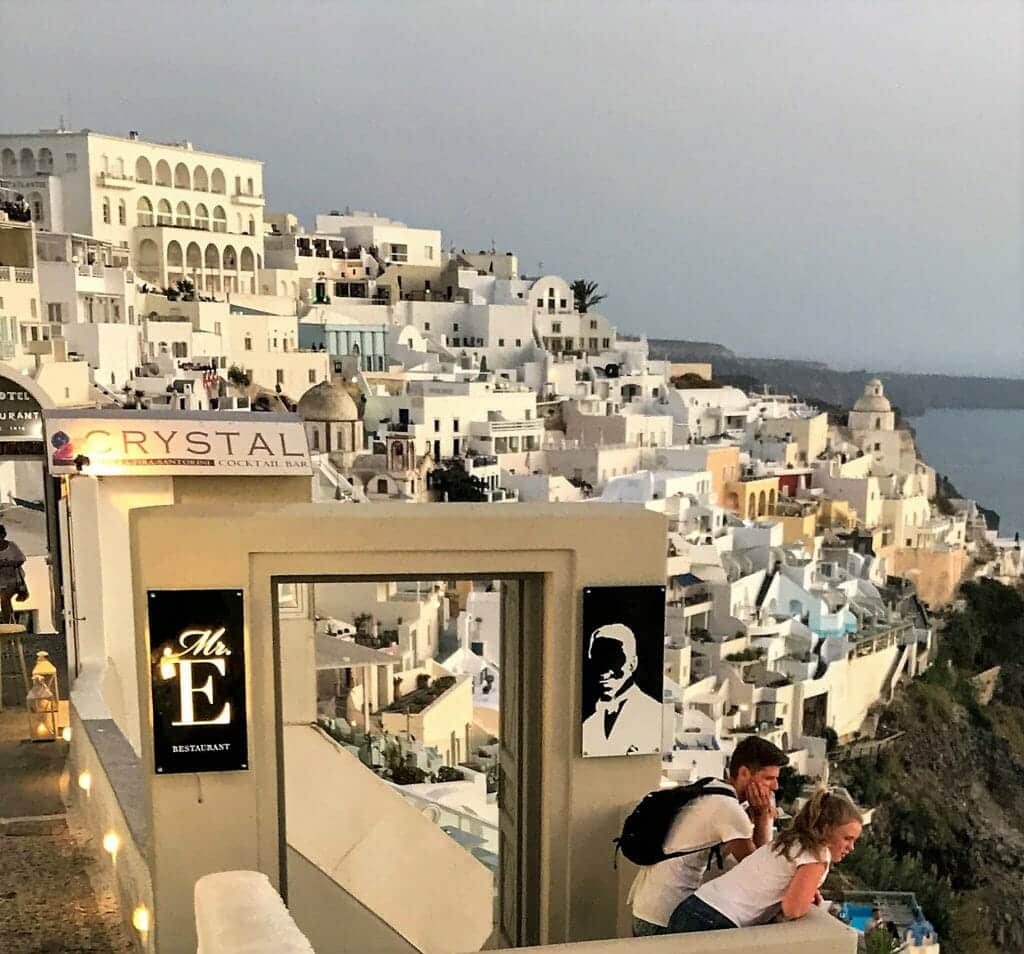 It is the island's capital city and feels like an actual city, as this is where the hub of the island's business is done. It is the home of the main port and where the cruise ships and ferries dock. There are four ways to reach the port: vehicles, cable cars, walking, or donkeys. If you walk, you must share the path with the donkeys and their droppings; therefore, watch your step!
The flow of people can be massive, and as a result, the town suffers from it. As beautiful as the setting is, the main streets are full of aggressive salespeople trying to scoop you into their store, restaurant, or bar.
A bustling nightlife draws many to Fira that goes well into the night. The town at night is spectacular, and it would be easy to walk for hours.
The most varied selection of dining on the island can be found in Fira. It is the largest city on the island, so that is to be expected. Though if you are counting on a particular place, you must make a reservation; restaurants fill quickly.
Where have we been? See our country list here.
Though the tourist shops can be fun for some and seem to be where many cruise tourists spend their time, look beyond there. Fira is full of character, charm, and things to do. Wander the endless labyrinth of alleys. Night or day, they are full of surprises. There are two lovely Cathedrals and the fantastic Museum of Prehistoric Fira. In addition, you can share the stairway that takes you down to the port with the donkeys.
Other worthy sites are the Archaeological Museum of Thira, Gold Street, the views (always stop for the views), and the Megaro Gyzi Museum.
It is easy to get lost in the streets, so take a map to find your way back, especially if you plan to take the night's last shuttle to your hotel. If you miss it, the taxi will be pricey. Also, parking can be a challenge during the busy tourist season.
Firostefani and Imerovigli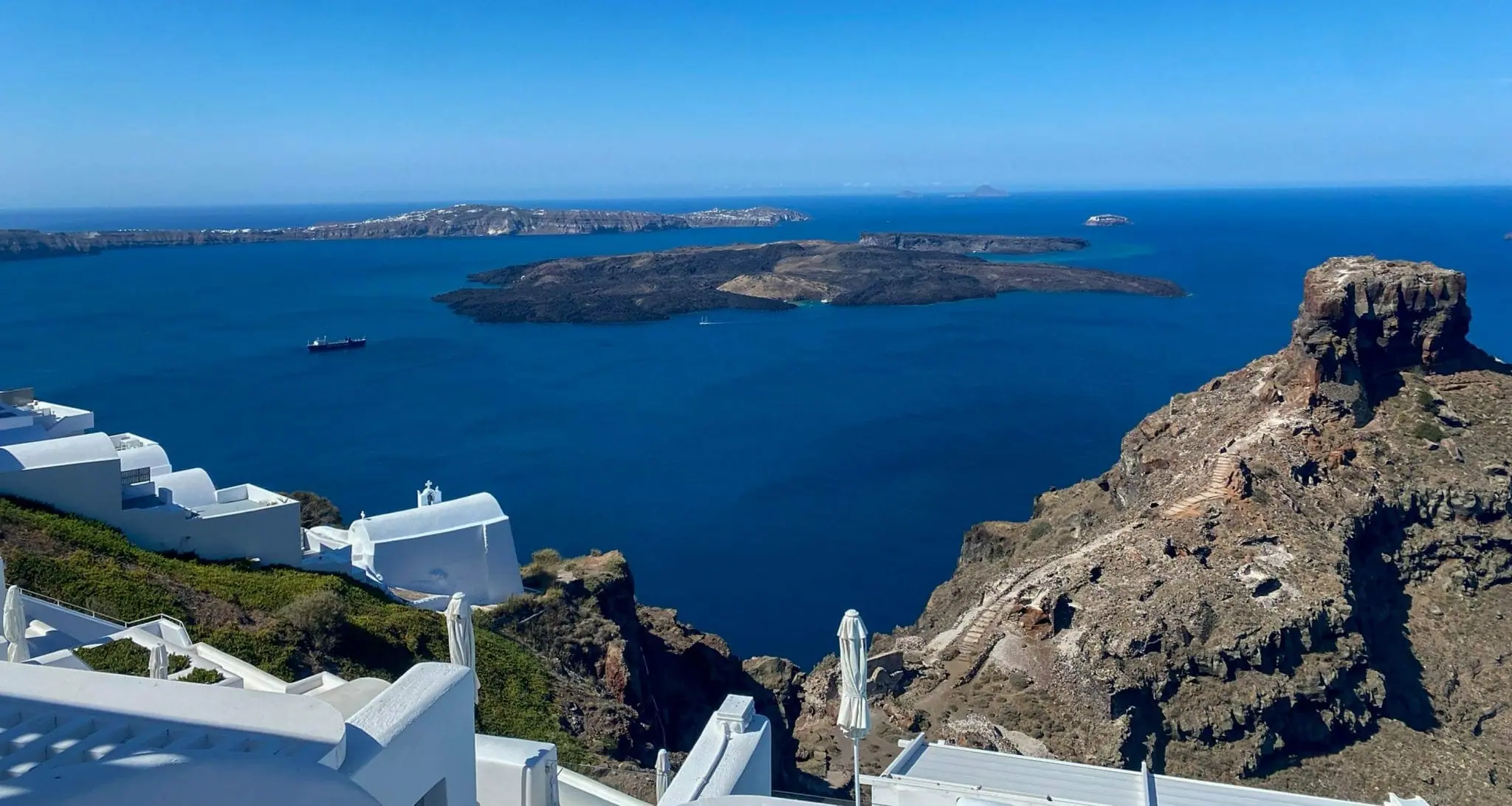 These two lovely cities are perched high on the cliffs overlooking the dramatic caldera. They both sit between Oia and Fira. Firostefani is closer to Fira and only a 15-minute walk. Imerovigli is closer to Oia. These two towns have several hotels and many wonderful shops and restaurants. It is a way to avoid crowds while enjoying the spectacular scenery and partaking in the best Santorini offers.
Imerovigli is the more peaceful and serene of these two cities. It is the highest elevation of the two, and you won't find many tourists when walking around. The views and sunsets are amazing, especially of the caldera since the city is not built up.
Sunsets are lovely in Firostefani. We had been warned that Skaros Rock could block your view, but we thought it added to the beauty of the evening. The Agios church in Firostefani is well worth a visit. Firostefani is an excellent place if you want fewer crowds and to be within walking distance of the central hub of Fira.
Wineries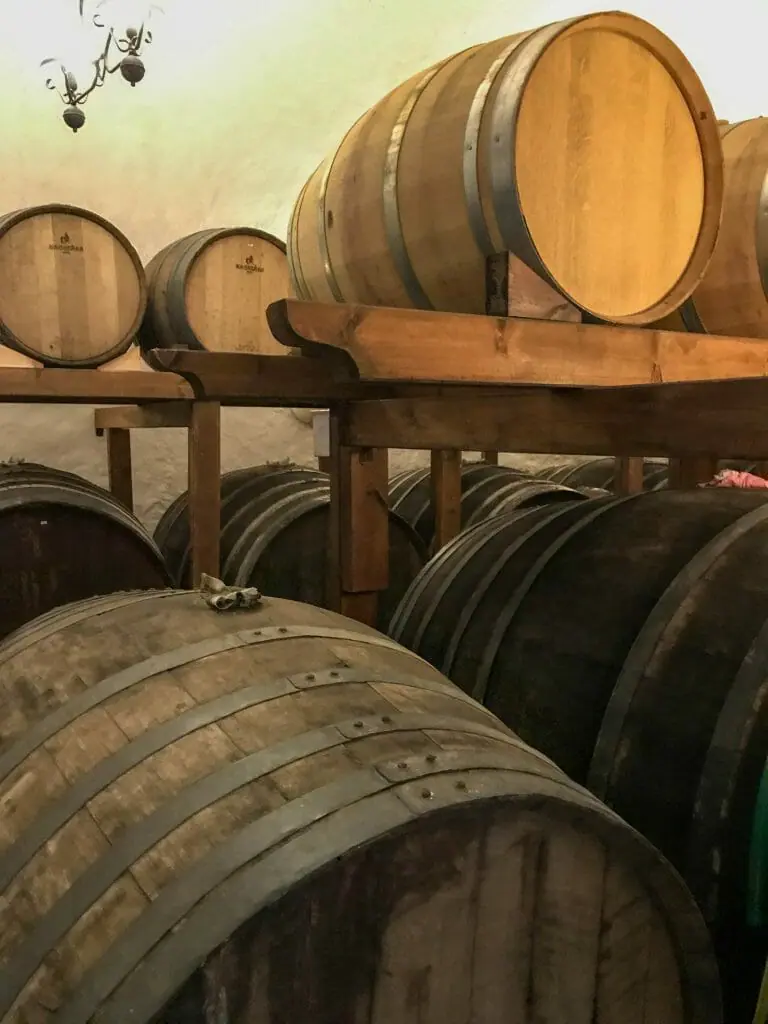 Most people have no idea that Santorini is respected for its wine. I didn't know when I first visited. Wine from this region has been produced since ancient times, more than 3,500 years ago. In Santorini, the vineyards are some of the oldest in the world and likely the longest in active cultivation. In the middle ages, Venetian influence put Santorini wine on the map. The sweetness known in Tuscany wines can still be found in Santorini's famous Vinsanto wine.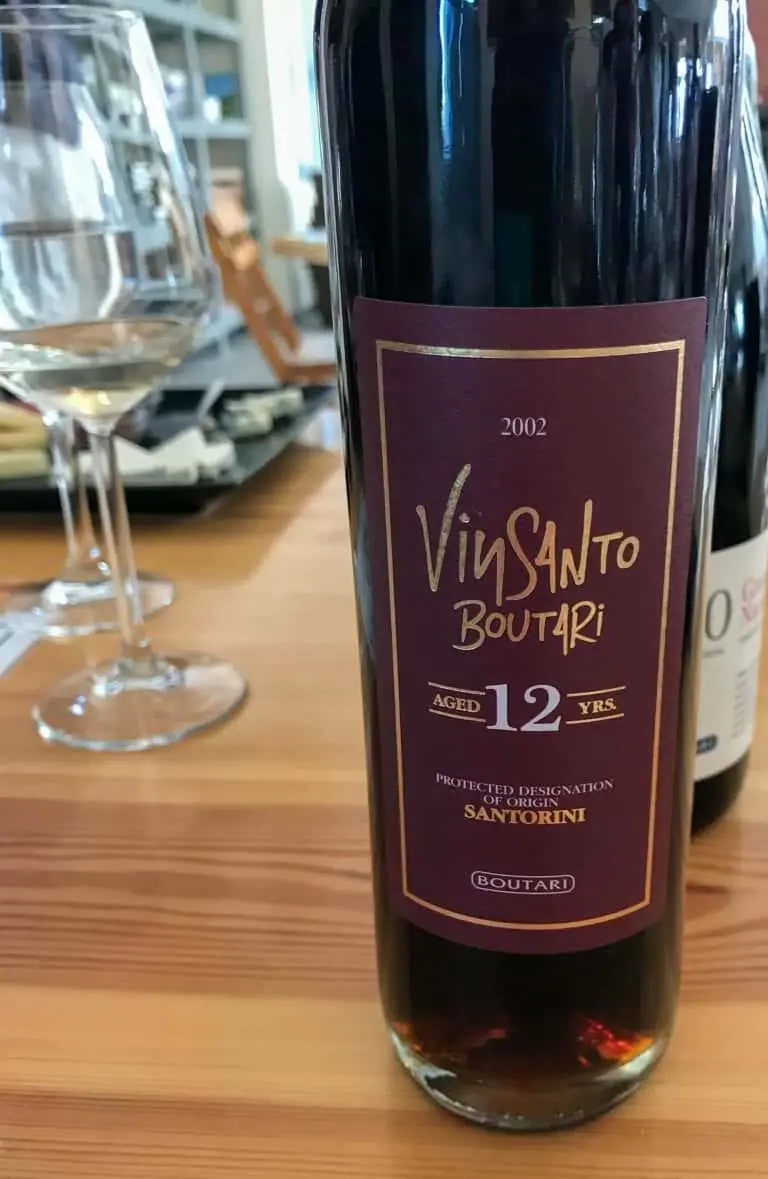 Wine tourism is a reason alone to come to this extraordinary island. There are over twenty wineries to visit, some with wine museums. Many of these wineries are in lovely settings with gorgeous views. The tasting rooms are elegant and impressive. Some have kept the original feel, which is a step back in time. You can do tastings of these unique wines and experience rare grape varieties you would never find anywhere else in the world.
At some of the newer, larger wineries, you will see how they experiment with vines growing on a trellis. They are also studying different irrigation methods. If these experiments succeed one day, we may find more of these unique and lovely Santorini wines in our local wine shop.
Not the Typical Vineyards
Touring the vineyards will be quite a shocking experience as what looks like a field of not-so-healthy weeds is the grapevines of Santorini. There is no real dirt in Santorini; it is porous soil rich in porcelain and pumice. There is little to no organic content, and it is devoid of nutrients.
The vines are propagated from rootstock and not cuttings. The vine is formed into a round basket where the grapes grow (see picture below), and as a result, this protects them from the harsh winds coming from the sea. The mist from the sea is how these vines and grapes are naturally watered, the way they have been for centuries. The yield is tiny, therefore making the production small and exclusive. The best wines from Santorini are Assyrtiko, Aidani and Athriri, and Vinsanto.
It may be worth saving space in your suitcase to bring home some unique wines.
Visiting the Wineries
You can schedule visits yourself or take a tour. My sister and I took a guided tour led by an Athens viticulture and enologist professor. We walked through the vineyards and visited old and new wineries. It was a fascinating afternoon. I highly recommend taking a tour. During my second trip there, we explored even more of the wineries. There are so many to choose from. As a wine lover, I have visited many wineries around the world. In truth, I have to say these were some of the most fascinating.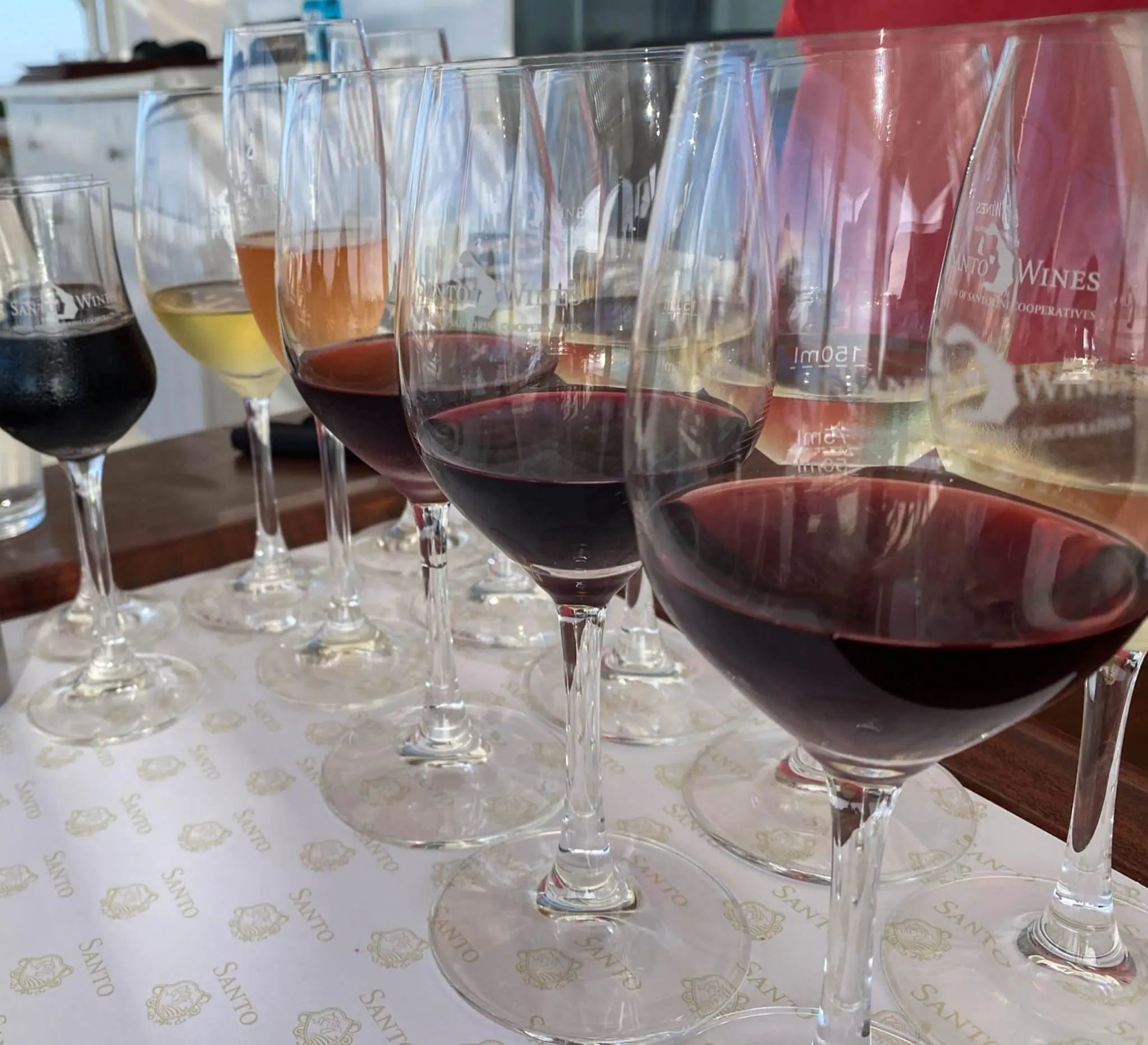 Some better-known wineries offering a diverse experience would be Boutari, Santos, Galam, Koutsoyannolpoulos, Cavalas, Venetsanos, Artemis, and Argyros.
Santo Winery has mixed reviews, but we enjoyed it. The views are the best of all the island wineries, and their collection is extensive. It was the most lovely Vinsanto we had experienced on the island, and we brought several bottles home. As large as it is, reservations are a must, especially for sunset.
Gaia Winery has a cooking class that is very reasonably priced and is a blast. The chef is personable, and wine is generously poured. A highlight of the Santorini experience.
Wine tasting is a must-do activity when on Santorini. You will miss out if you skip it!
In the meantime, for those beer lovers, there is a brewing company on the island. Santorini Brewing Company is near Argyros Winery. They are locally brewed, and they do tastings.
Beaches
There are many beaches in Santorini, but they are not the draw for which the other Greek islands are known. They are also off the beaten path and not near the bigger island attractions. If you are looking for a white-sand resort beach, you will not find it here. I would call it a unique educational experience due to the volcanic nature of Santorini. The beaches are usually of red or black volcanic pebbles. There are three that are worth a visit if you have the time: Kokkini (Red Beach) and Aspri (White Beach), and Mesa Pigradia (Black Beach).
Along the southern arc of Santorini, more colorful beaches are not easily accessible or ideal for swimming. They are near Akirotiri, Aspri (White Beach), and Mesa (Red Beach). These are popular with hikers due to access being a bit of a challenge.
Black Sand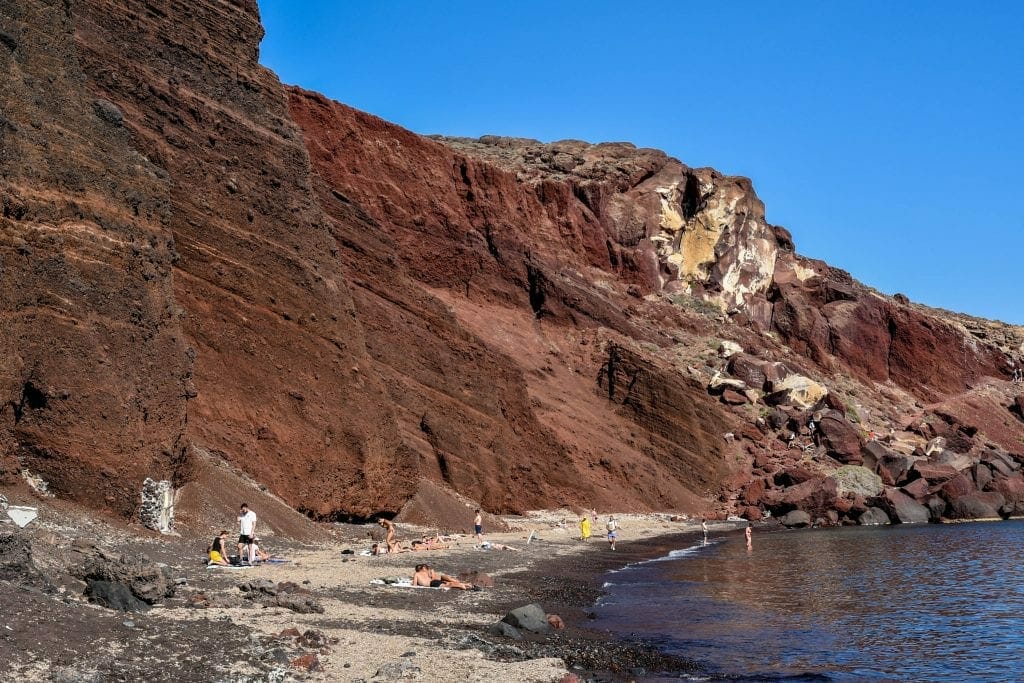 The black sand beaches of Kamari and Perissa are on the island's southeast corner. A mountain separates them, but you can hike between the two or take a taxi-boat ride. These beaches are suitable for hikers; several hotels have sections reserved with lounge chairs and food and drink service. They shuttle you down from the hotel at set times of the day. It is an easy drive if you have a car.
Most visitors to Santorini do their lounging in the sun at hotel pools. Others do it on boat trips that take you to the caldera and the other islands in the archipelago.
Caldera Aegean Sea trips
From above on the cliffs of Oia, the crystal clear azure waters of the Aegean Sea and the caldera call to you. As beautiful and tempting as this view is, viewing Oia from the sea must be even more stunning. There is a multitude of boat excursions to choose from. The most popular option is boat trips to the caldera center's active volcanic islets. There is also Palea Kameni Island, with its hot springs you can enjoy, or Nea Kameni Island, where you can hike up to the crater. Longer day trips will also include the island Thirasia.
These trips can depart from Thira or Ammoudi ports. Many will offer hotel pickup. There are tour boats, catamaran cruises, and even private sailings. Sunset tours are prized and can be pretty pricey. Get out at least once on the water; the views alone are worth it.
Boats and Seasickness
Remember that these boats are out on the ocean, which can be rough, and those prone to seasickness should be prepared. I am easily seasick and have found my go-to remedy. Meclizine is similar to Dramamine but causes less drowsiness; you only need one daily pill. I had decent results with Dramamine but incredible success with Meclizine during severe seas in Norway.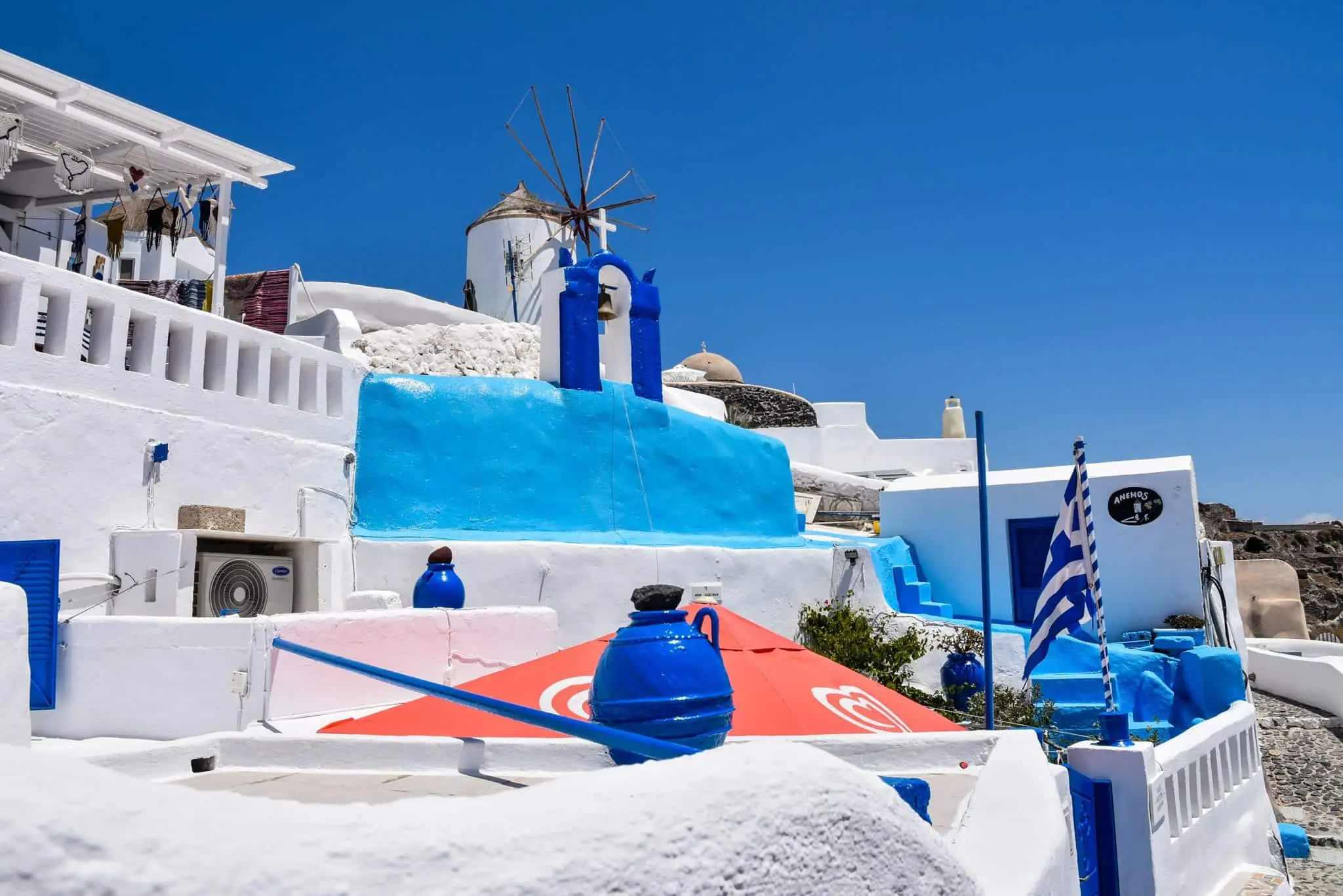 Akrotiri Archaeological Site of Prehistoric Thira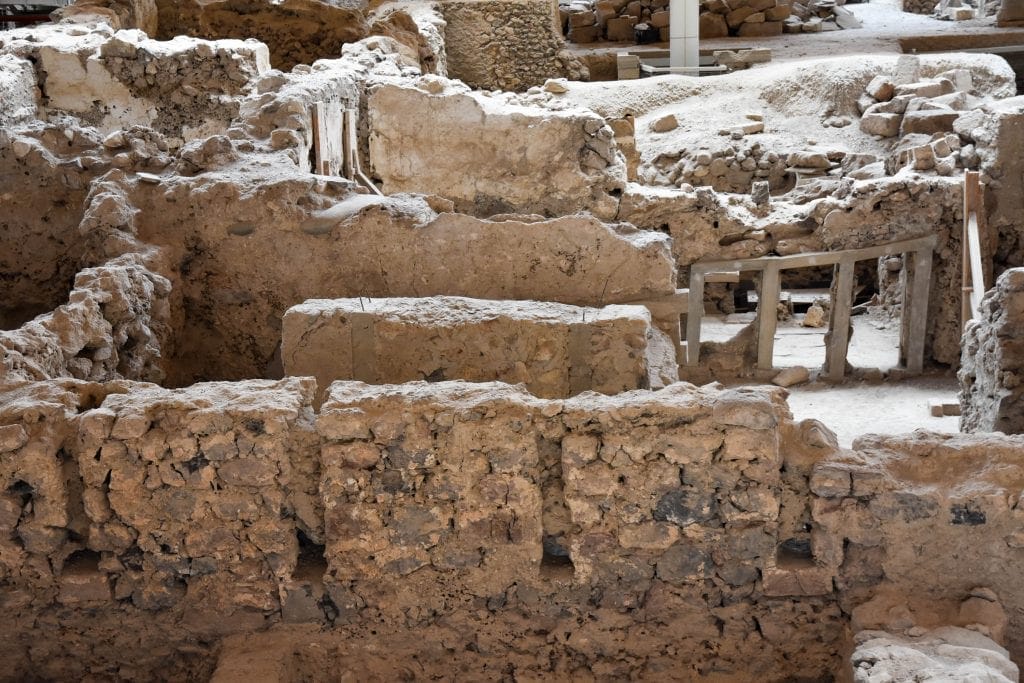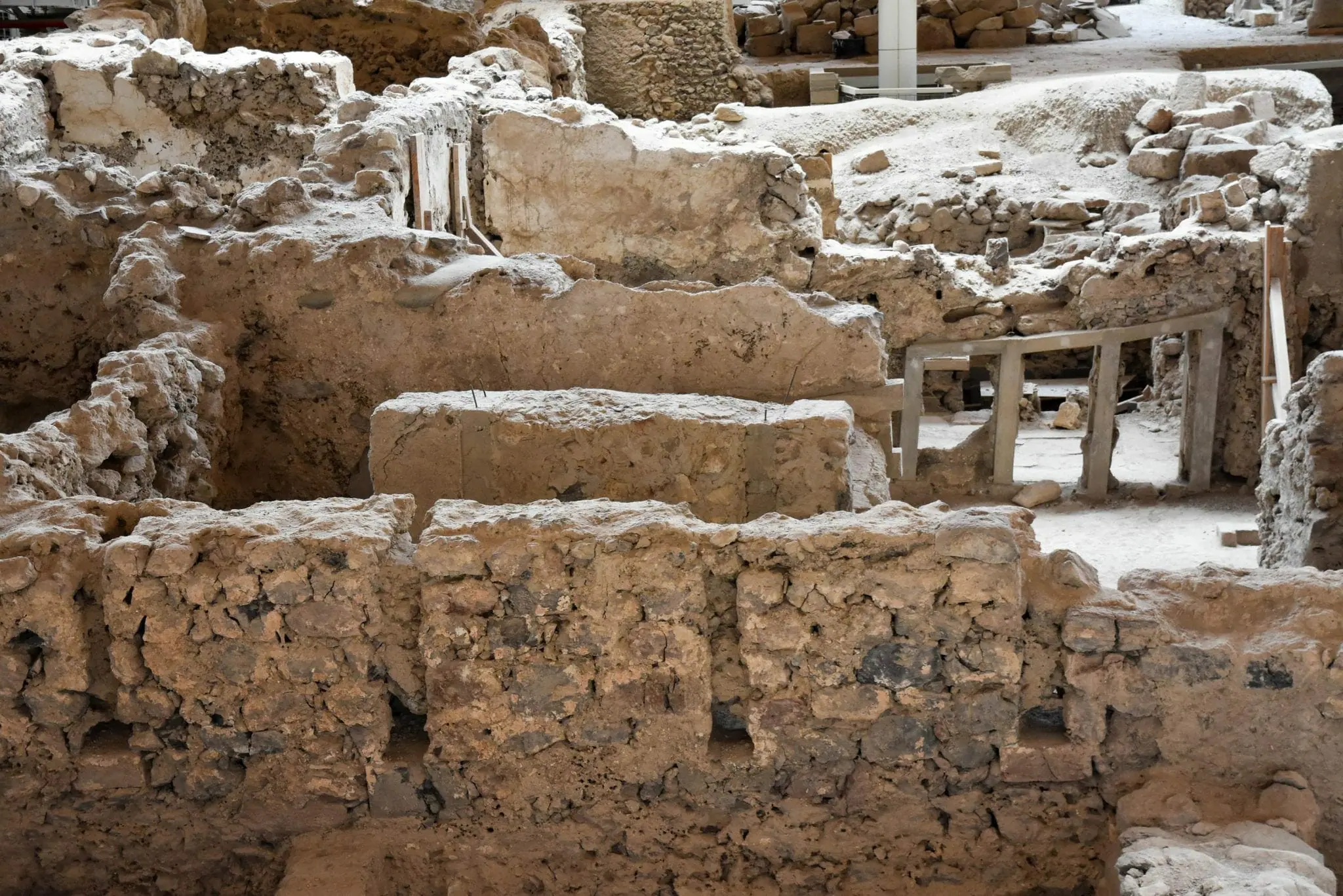 Before the massive eruption around 1600 BC, the inhabitants fled the island leaving behind a city that would shortly be buried in ash. This site is currently being meticulously excavated with only a single-digit percentage exposed. This is comparable to Pompei but almost 2,000 years older. You can explore the area on elevated ramps that take you through the streets and around the prehistoric city. The amazing part is it is all inside, so you are protected from the hot sun of Santorini. This incredible find has yet to fully reveal the stories it will tell.
Some recovered artifacts are on display at Fira's Museum of Prehistoric Thira.
Smaller Villages worth a visit
Santorini has many lovely small villages that seem a million miles away from the more crowded big cities of Fira and Oia. The charm and character of these villages are quintessential of authentic Greece. If you have the time, there are two I recommend.
Megalochori is this tiny village away from the ocean, but it is classic Greek. My sister and I stayed at the Vedema Resort in this little village. We wandered it late in the evening and found it captivating. The cobblestone streets and old whitewashed buildings are home to many locals who are here year-round. The multiple churches are fascinating and beautiful. There were many restaurants to choose from. One of the oldest wineries, Gavalas Winery, also resides in this little village.
Pyrgos is the former capital of Santorini and is the best-preserved and highest village on the island, with panoramic views of both sides of the island, which are beyond comparison.
Have you sensed that this island is a bit about stunning views?
Pyrgos is a perfect alternative for watching the sunset without the crowds. It is known to have some of the best higher-end restaurants on the island and a wonderful place to watch the sunset with dinner. Ideally, you must make reservations in advance, even before arriving in Santorini.
For the adventurous souls – The Fira to Oia walk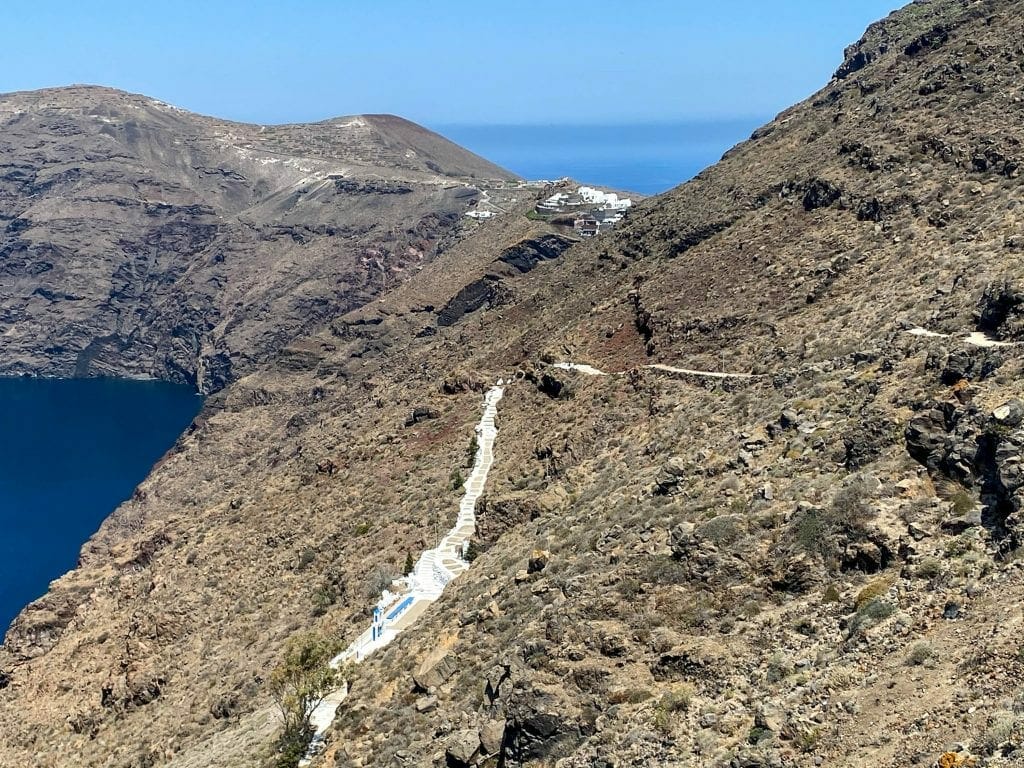 The walk is not for those who fear heights or precipices. I don't speak of experience as we met people who hiked it and warned us. This breathtaking walk is also one of the top experiences in Santorini. It is a 6.6-mile walk that takes around 2 hours for the average walker if you don't stop every few steps to enjoy the fantastic views.
The hike takes you along the caldera's ring and through the towns of Oia, Imerovigli, and Firostefani, ending in Fira or vice versa. It is a moderate challenge; you don't have to be in exceptional shape. It is just getting close to the edge in some places, but most of the time, it is fine, we were told.
If you are there in the summer, it can be sweltering, and this hike is not to be done in the scorching sun and heat. Early morning is ideal during the summer months. It is well-marked and easy to follow. Maybe next time…..
Castles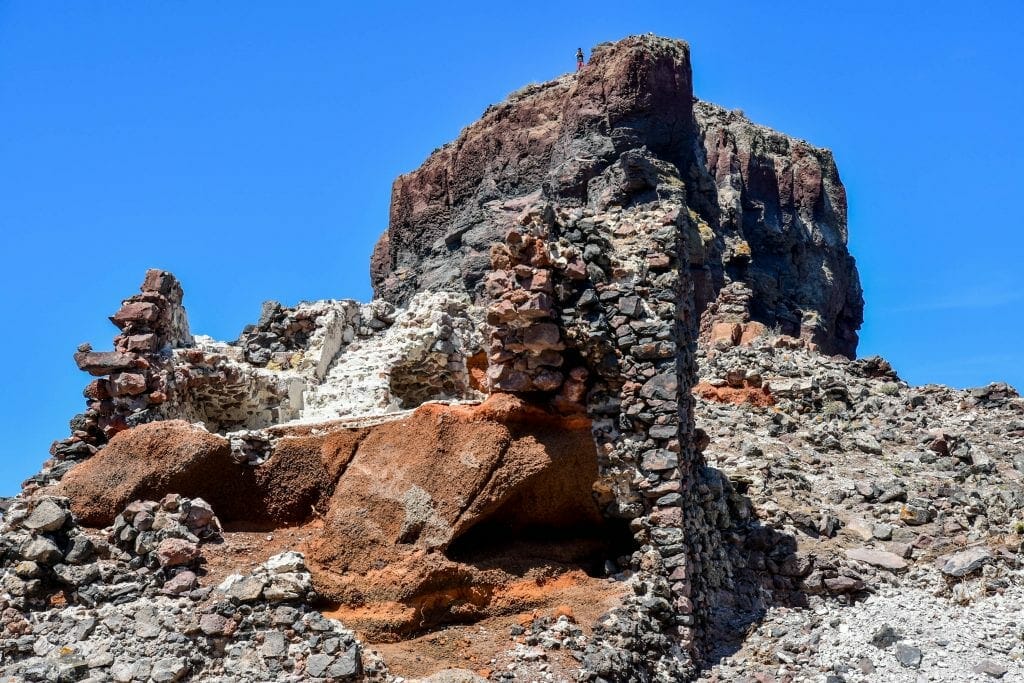 For Castle Hunters like us, there are five castles in Santorini. Many from the days when the Venetians lived in Santorini. We only saw Oia Castle and Skaros Rock on the trip with my sister. The next time, I will hit them all! Castles in Santorini are:
Kasteli of Agios Nikolaos, also known as Oia Castle
Kasteli of Pyrgos
Skaros Rock
Kasteli of Akrotiri
Emporio Castle
Food and Libations
Santorini is not known for its food as the island of Crete is. That doesn't mean the cuisine will disappoint you. You will have a wide array of greek food to choose from. There are quick, affordable eats to exceptional dining. All the classic Greek dishes such as moussaka, souvlaki, fava bean puree, stuffed grape leaves, Tamara spread, fried calamari, baklava, and white eggplant dishes are on the menu.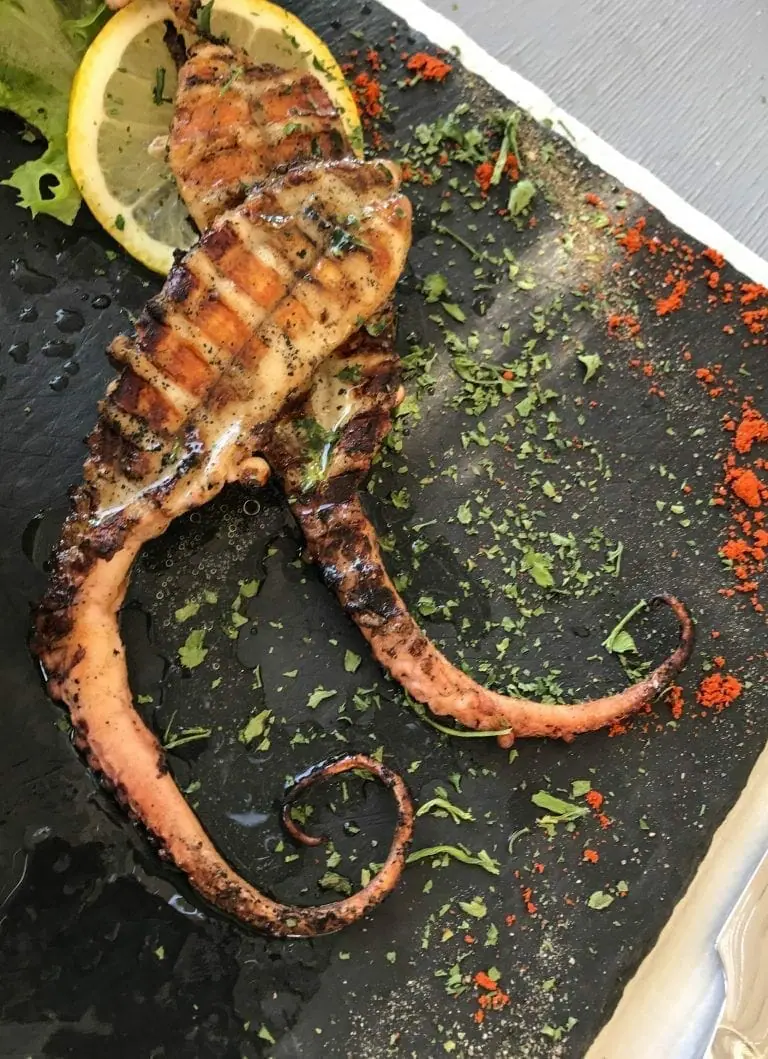 Of course, this is the place of incredibly fresh seafood, grilled octopus, and sea bass that seems to be on all the menus, and it was delicious. They love their sea bass and other white fish, which is always the most expensive item on the menu as it is priced based on weight. We tried it in Santorini, and I expected it to be exceptional. It was pretty good but not worth the cost.
Santorini is known for its cherry tomatoes, which are incredible and fresh, as you are right at the source. The tomato fritters are to die for. Seek them out.
Our Favorite Meal
Our favorite meal on the island was at a restaurant called Kokkalo. It is in Fira but away from the main tourist area on a side street. It has lovely views of the city and the landscape outside of Fira. The service was impeccable, and the staff was welcoming and friendly. The food was creative and delicious, and the presentation was creative. It was well priced, and the restaurant was quite beautiful. Kokkalo is quite popular among locals and tourists; therefore, reservations are a must! It was one of our better meals while in Greece.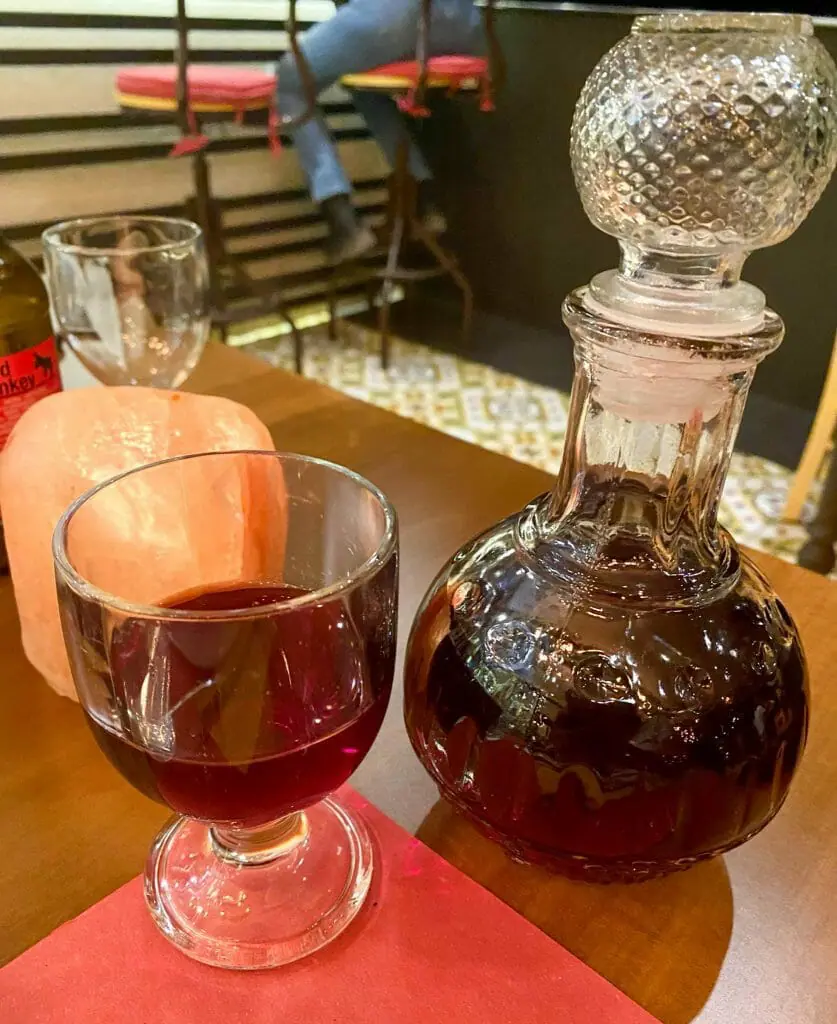 Enjoy, of course, some local wines with all your meals. Ask your server for suggestions. The prices are pretty fair, especially if you are used to U.S. prices for wine. There is also a great beer on the island called Red Donkey by the Santorini Brewing Company. The shirts from the brewery are awesome, and I brought a few back as gifts. My husband still wears his years later though it is a bit worn now.
We found all the Greeks we met on the island spoke excellent English. All the menus were also available in English, and all servers were knowledgeable, engaging, and attentive.
Final Thoughts
Santorini, Greece, captures your heart, and let go long after getting home. It pulls you back, and you become transformed by its mystique all over again. The images imprinted in your mind never leave you and, in time, feel like only a dream. Even when I look at some of my photos, I still find myself in awe of the beauty of this unique wonder. I plan to return, hopefully, in 2021. I believe I will go without a doubt with new eyes and appreciation. Crossing my fingers that it will happen.
Kaló taksídi!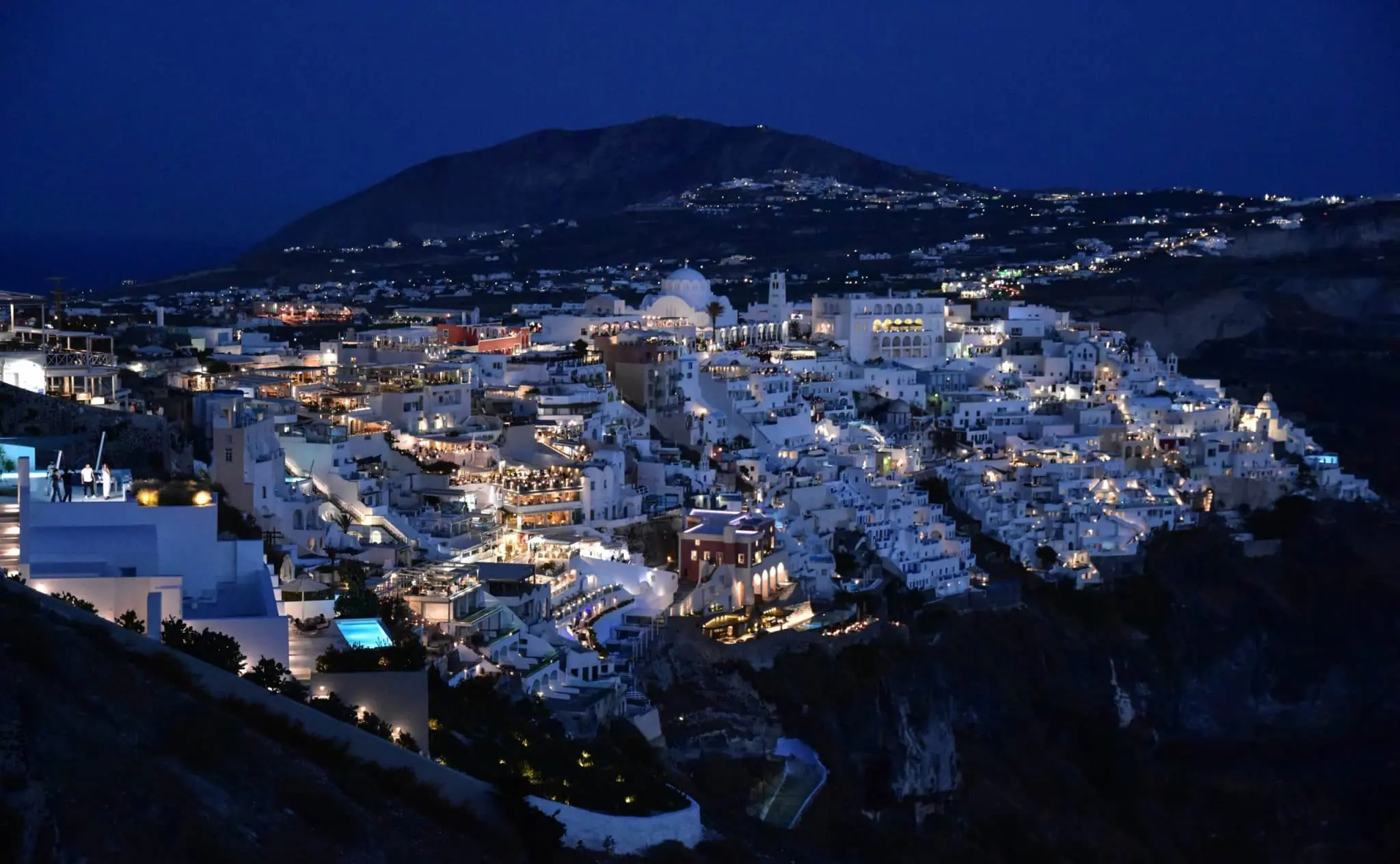 Our Favorite Santorini Resources
Santorini Travel Guides
Lonely Planet's Greece (Country Guide) by Lonely Planet
Find this guide here
Rick Steves Greece: Athens and Peloponnese by Rick Steves
Find this guide here
Moon Guide Greek Islands & Athens: Island Escapes with Timeless Villages,
Scenic Hikes and Local Flavors (Travel Guide)
Find this guide here
Our Favorite Santorini Websites
1. Santorini.net A website dedicated to Santorini is full of info you will appreciate when planning your trip.
Click here
2. Santorini.net Cruise schedule info Learn what days to avoid the bigger destinations in Santorini's massive cruise ship crowds.
Click here
3. Visit the Greece website Within the bigger Greece tourist site, there is a Santorini page with some good info.
Click here
Our favorite apps
Rome2rio: Trip Planner Trip and Holiday Organizer Enter any address, landmark, or city in the app will instantly display all your travel options, and booking info, along with accommodation providers and things to do. Find it on your local app store.
Rick Steve's Audio Europe This app includes a vast library of Rick Steve's audio content. Get cultural and travel info. Includes self-guided tours of top attractions and historic walks. A must-have. Find it on your local app store.
Visit Greece Explore Greece with this Greek National Tourism App Found in your App store
Greek Islands Travel Guide Offline maps and tours. Find it in your App Store.
Greek by Nemo Turn your phone into your Greek teacher. Easy to use. Essential words and phrases with audio Find on your App Store.
Google Translate We used this often to practice proper pronunciations of Greek words. As we always encourage, learning the basics of greeting and thanking people in the local language is essential. Google translate was an easy app; therefore, we suggest trying it out before you leave. If needed, you can enter text in English, which will speak back in Greek to aid in communicating with locals. Furthermore, it came in very handy to translate text into images instantly.
Do you have a favorite Santorini travel resource? Share your favorites in the comments section at the bottom of this page, or email us by clicking here.
The Impact of Over Tourism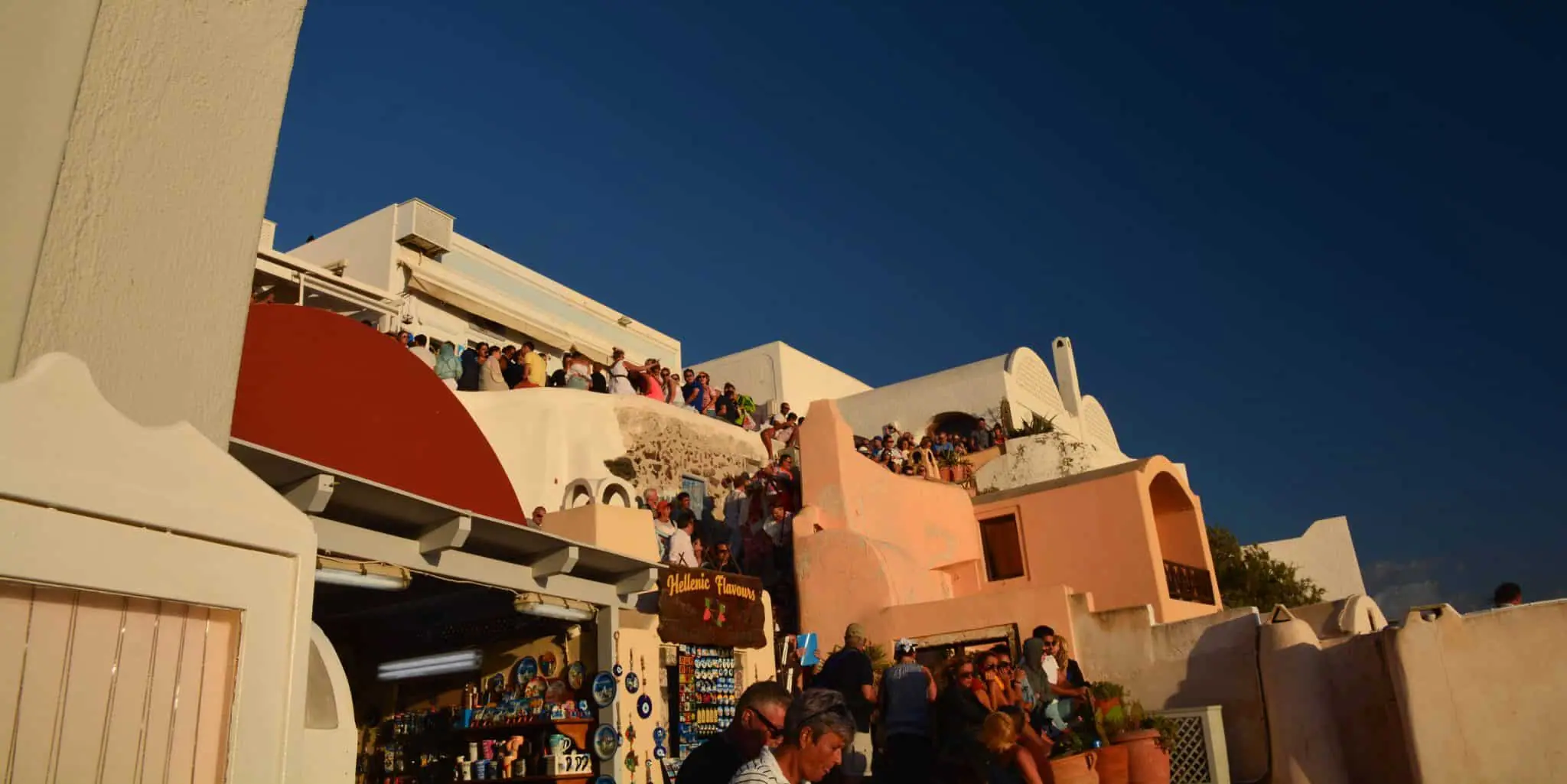 Santorini is one of the top islands in the world people visit; therefore, that comes with a price. During peak season, it is mauled by tourists, especially in Oia. Every tourist on the island seems to flock to Oia each afternoon to lock in their spot to watch the mind-blowing sunsets. We were caught in the rush, unaware of what was going on as the mass movement began long before sunset. The crush of people was extreme. We left and found our way back to Fira. Maybe the sunset wasn't as dramatic there, but it was still beautiful without Oia's craziness.
Santorini needs to address the sustainability of this tourism crush urgently. It seems the cultural soul of the island is at stake. The island's economy is undeniably heavily dependent on tourism, so efforts are ongoing to expand investments while promoting diversification and employment outside that realm. Santorini is a seasonal destination, and there is talk of expanding the season, but it seems that could only exacerbate the problem. One effort under consideration is to limit people to only coming for day visits, which could particularly make a significant impact. Agents of change need to intervene so Santorini's uniqueness can be preserved for many generations.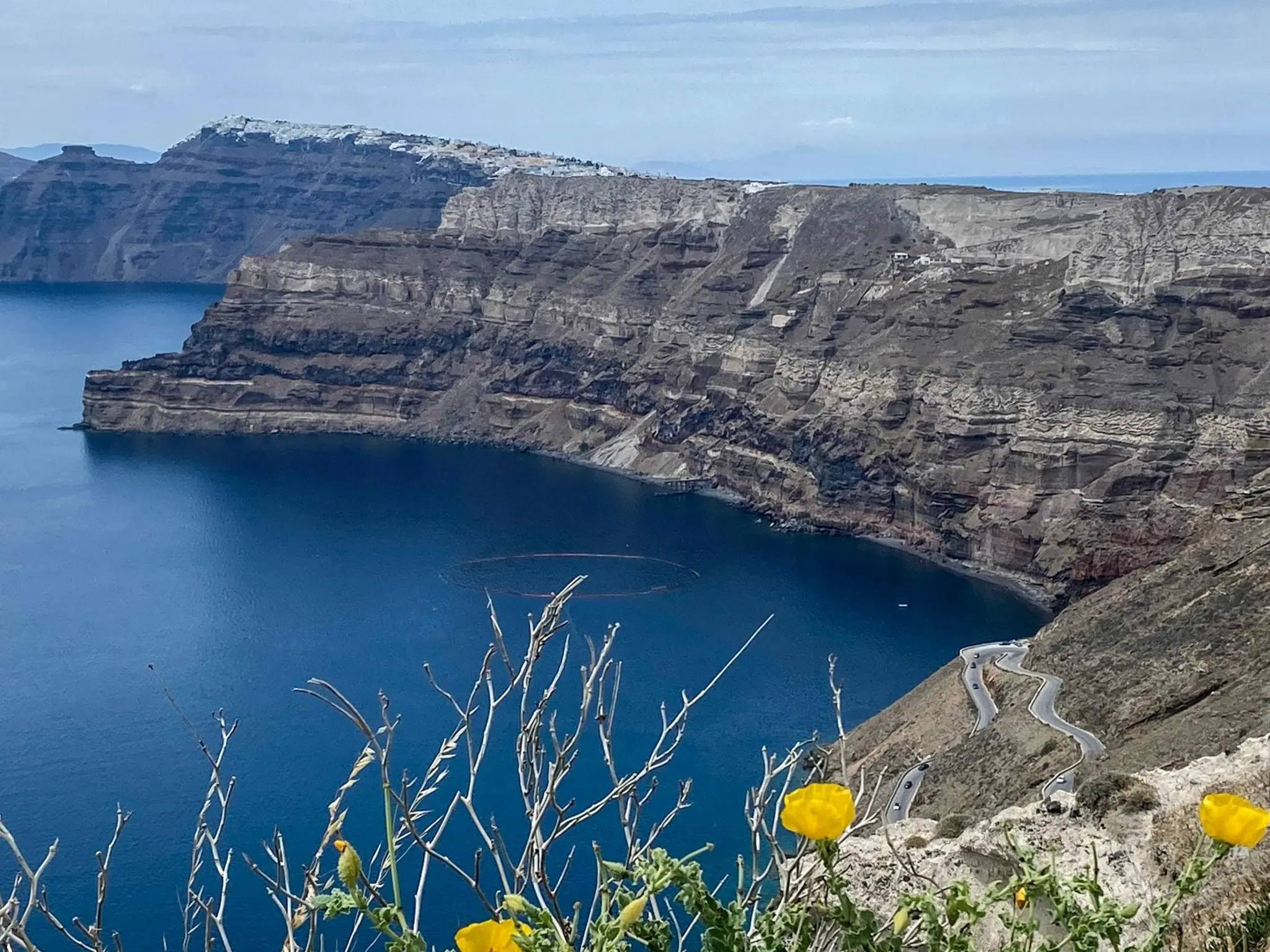 How to reduce your impact
That serious discussion aside, every traveler still should place Santorini on their bucket list. With this intention, it is worth planning your visits outside the peak season. Or plan your visits when the cruise ships aren't in port. There are so many wonders on this beautiful island away from the "popular" tourist places. Breakaway from the main draws, as we always encourage you to go off the beaten path. While there, we ask you to be a good guest no matter where you spend your time. Care for the beauty you are blessed to be sharing with the residents of this island.
© 2023 Wanderers Compass All Rights Reserved
Our Santorini Greece Photo Gallery
Our Recommended Travel Resources
Our favorite travel insurance site!
If you book a trip, don't forget to get travel insurance within 14 days of your first booking. We could not be stronger advocates of being well-insured. Not just for the little stuff but the big things like medical emergencies. We never leave home without it. Over the years, we have used many sites but have now found our go-to place. Squaremouth.com does a fantastic job; it has a user-friendly interface, uses top-rated and reputable insurance carriers, and most policies cover COVID-19 medical issues and cancellations. They also mediate on your behalf if you have problems with your policy.
To empower you as a consumer, we suggest you read our blog post on the importance of travel insurance and how to get the best coverage from top-rated companies for an affordable price.
Medical transport back home from anywhere in the world
They are the premier global air medical transport. One caveat to travel insurance is that medical evacuation usually gets you to the closest facility to care for you. Medjet gets you back to the U.S. to the hospital of your choice once you are stable enough to fly. They cover Covid-related transports as well.
Medjet carries its own policies. The policy is only for transport and no other aspects of travel insurance. They have individual trip policies starting at $99 and annual policies for around $300. Most of their policies limit the age to 74 and younger. Prices are not based on age below that.
To learn more about how Medical Evacuation membership with Medjet Assist works, check out our blog post for a more detailed review.
Hotels, home rentals, BNBs, flights, and other transportation & tours
Expedia is a US-based company whose mission is to power global travel for everyone and everywhere. Whether planning a family vacation, booking for business, or organizing the trip of a lifetime, they are a fantastic resource. Wanderers Compass focuses on independent travel, and using sites like Expedia makes that possible. Every aspect of travel you need, from airfare, accommodations, rental car, and cruises to activities to do at your destination, can be booked on Expedia.
Hotels, Home rentals, BNBs, Flights, and other Transportation & Tours
Booking.com connects millions of travelers to memorable experiences, various transportation options, and incredible places to stay – from homes to hotels and much more. It is one of the world's largest travel marketplaces for established brands and entrepreneurs of all sizes.
We always check Expedia and Booking.com to verify prices. At times, one is sold out of rooms while another at the same place has rooms. As well we often find some European hotels, especially smaller ones, on Booking.com but not on Expedia. It could be they are a Europe-based company. Try both before booking accommodations.
Are you traveling with a family or having an extended stay at your destination?
With over 2 million bookable vacation rentals, VRBO connects homeowners with families and vacationers looking for something more than a hotel for their trip. The VRBO community offers families or groups various rental property types such as condos, cabins, lake rentals, beach houses, etc.
VRBO is under the Expedia group ownership now, which many were worried about, but it hasn't panned out to be a concern. It is a massive network with access to all lodging forms should issues arise. Joelle has used VRBO for many years with her family with no problems.
As the leading marketplace for travel experiences, Viator believes that making memories is what travel is all about. And with 300,000+ experiences to explore—everything from simple tours to extreme adventures (and all the niche, interesting stuff in between)—making memories that will last a lifetime has never been easier.
With industry-leading flexibility and last-minute availability, it's never too late to make any day extraordinary. This one site has it all and has experiences throughout the world. We use them often during our travels, especially for food tours. We especially take the time to read the reviews provided.
An excellent source for travel essentials and guides
We now have our own Amazon Storefront with all our favorite travel accessories and gear in one place. Check out our travel store at the link below.
Amazon is one of the most comprehensive online shopping sources in the world. On behalf of their customers, teams worldwide provide lower prices, better selection, and rapid delivery. They offer a vast inventory, and their 1.7 million small and medium businesses worldwide selling on Amazon.com offer extensive options to customers.
We buy most of our travel books, accessories, and luggage from Amazon. We have ordered up to two days before travel and get what we need.
Transportation
Welcome Pick-ups
(Airport and sightseeing service)
A global leader in ground transportation for travelers. They help hundreds of companies worldwide enhance their services and boost their revenue with our 5-star ride experiences and hassle-free automation.
Founded in 2015 in Athens, Greece, Welcome Pick-ups goes above and beyond the standard transfer service as the first company to deliver a holistic, in-destination travel experience. From the moment a traveler arrives at a new destination until they return home, Welcome accommodates all their travel needs (transfers, travel products, things to do, information) as the easiest, friendliest, and most personalized solution.
Discover Europe by Train
Rail Europe sells train and bus tickets for travel across Europe. They cover 24 countries, 105 rail operations, and 20,000 stations. They are the official rail and bus operations agents in the UK, France, Spain, Italy, Germany, Belgium, Austria, Switzerland, Luxembourg, and the Netherlands. Rail Europe continues to add coverage all the time.
It is a fast, easy, and economical way to purchase European train and bus tickets. Eurail passes are also available to buy through their site.
Travel documentation services
Do you feel like you are wasting time visiting an on-site photographer only to be embarrassed by the photo? Would you like control of the final product? Get the perfect VISA or passport photo online with PhotoAID.
When traveling, you often need to apply for official documents such as a passport, ID, and different kinds of licenses or cards. Those applications require a picture that must meet specific conditions to be accepted, depending on the country. Now, it is possible to take this picture at home without the help of a professional photographer. The PhotoAiD app allows you to take the perfect biometric photo that will be guaranteed by yourself without leaving your home.
This article contains affiliate links. If you use these links to buy something, we may earn a small commission at no additional cost to you. Thank you!
Do you have a question for us or have a comment?