Review of our visit to The Scotch Whisky Experience:
an Edinburgh, Scotland, icon
Are you a fan of Scotland? How about Whisky? Better yet, Scotch Whisky? Maybe you are curious and want to learn about it or extend your knowledge of this magnificent spirit. Many resources are online, but that's not as fun as a hands-on approach. What if that hands-on experience is in stunning Scotland and next to the beautiful Edinburgh castle? Would you be tempted? Ryan was, and what an incredible experience it was.
Welcome to The Scotch Whisky Experience.
So what is the Scotch Whisky Experience? It is a five-star visitor attraction that has inspired guests for over 30 years and is located in a beautiful historic building that was once a primary school. It sits on the hill a few doors down from the Edinburgh Castle entry gate on the Royal Mile. There is much to see and learn here. Stop by and visit their whisky shop to find a nice bottle of whisky from their vast collection. The knowledgeable staff will guide you to find the perfect bottle of whisky. Enjoy lunch or dinner at their delicious and well-reviewed restaurant Amber, but the best thing they have to offer is their tours.
The Tours Offered at The Scotch Whisky Experience
The whisky tours are the perfect journey through the world of Scotch whisky. They are storytellers, passionate about sharing their love for Scotch whisky and Scotland. Because of this, the tours will widen your knowledge, explore flavors and create unforgettable whisky memories. There are five levels of tours, Silver, Platinum, Gold, Tasting Tales, and a Taste of Scotland, with prices ranging from 21-95 pounds. It is an impressive experience that is very visually stimulating. You learn so much as you move from room to room. After the tour, you can visit the tasting room and experience even more whiskies at the bar. The knowledgeable and engaging staff will guide you all the way.
Joelle took a silver tour, the lowest cost one, where several tastings were offered. It was exceptional on every level, you get to keep the glass too. She then added to the tour with several more tastings at the tasting room and had lunch at Amber. Previously she had not been a big fan of whisky but now has a new perspective and appreciation after her experience. The tours are excellent, but if you have a passion for whisky and you really want to treat yourself, may we suggest The Scotch Whisky Training School?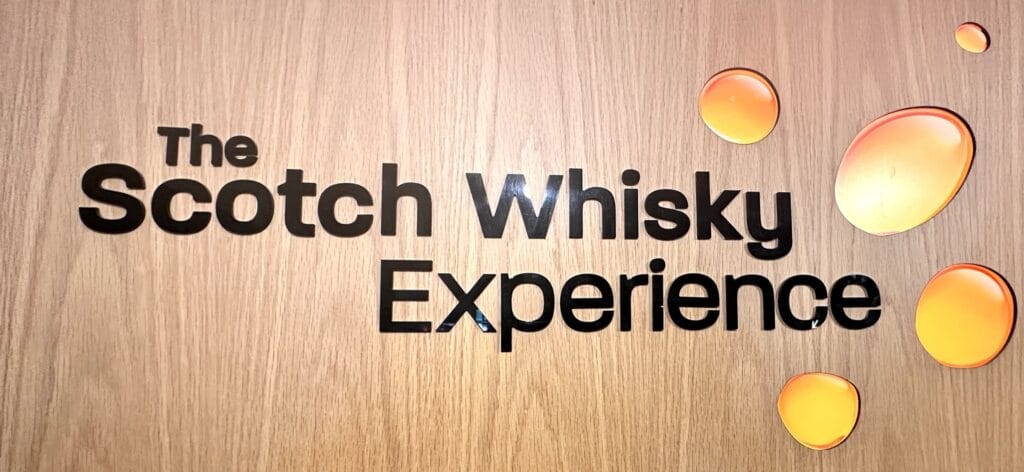 ---
A List of Tours Available
&
What is Included in a Scotch Whisky Tour
Info from the Scotch Whisky Website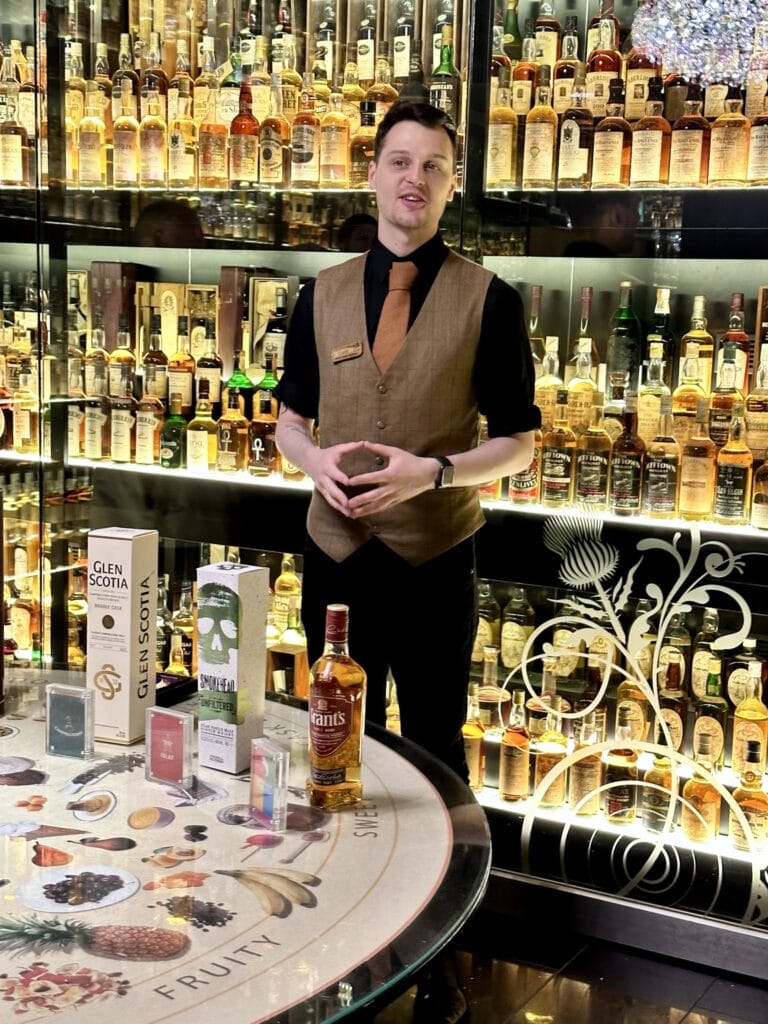 The Silver Tour
Ideal for first-timers and families
A guided tour plus a nosing and tasting of single malt or blended Scotch whisky in one of The World's Largest Collections of Scotch Whisky.
Duration 50 minutes for £21 per adult
The Gold Tour
Get a real taste for whiskies
After enjoying a full Silver Tour, you'll enjoy an introductory tasting tray of 4 contrasting regional single malts. Assisted by their experienced guides and provided with tasting notes, you'll be able to compare the regions to find your perfect dram.
Duration 70-90 minutes for £34 per adult
The Platinum Tour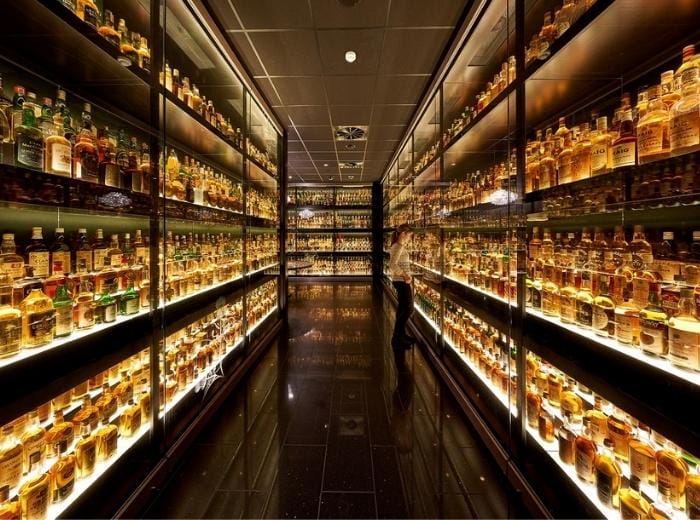 A whisky lover's dream
An early evening tour, which includes a tutored nosing & tasting of 4 single malts & 1 deluxe blended Scotch whisky.
Duration 90 minutes once or twice a day for £45.00 per adult.
Tasting Tales
Scotch whisky paired with Scottish food *Likely to sell out.
Savour a fully tutored tasting of four Scotch whiskies paired with canapé-sized tasters. LIMITED AVAILABILITY Only offered on selected dates
Duration 60 minutes for £45 per adult.
A Taste of Scotland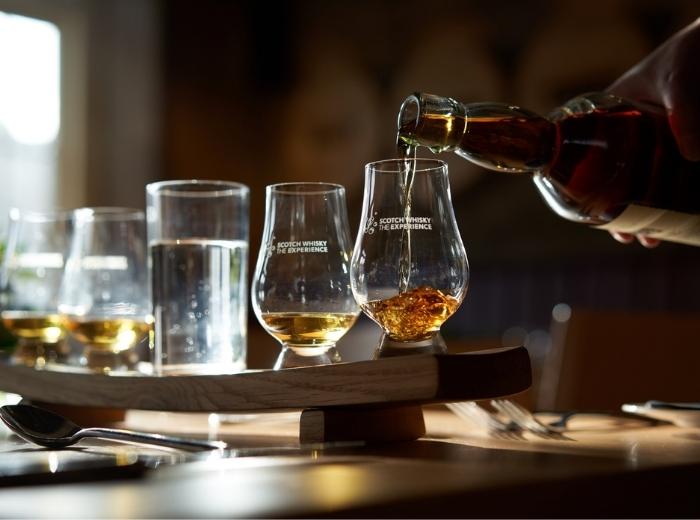 A Scottish blend of whisky and cuisine
Enjoy a Platinum whisky tour, followed by our renowned Taste of Scotland tasting menu in their Amber Restaurant. The meal is three courses with a paired dram of whisky with dessert.
Duration 3 hours for £90 per adult.

What languages does Scotch Experience offer?
The Scotch Whisky Experience offers British Sign Language and American Sign Language on the Silver tour, as well as subtitles in the following languages: Dutch, English, French, German, Italian, Spanish, and Swedish.
---
Scotch Whisky Training School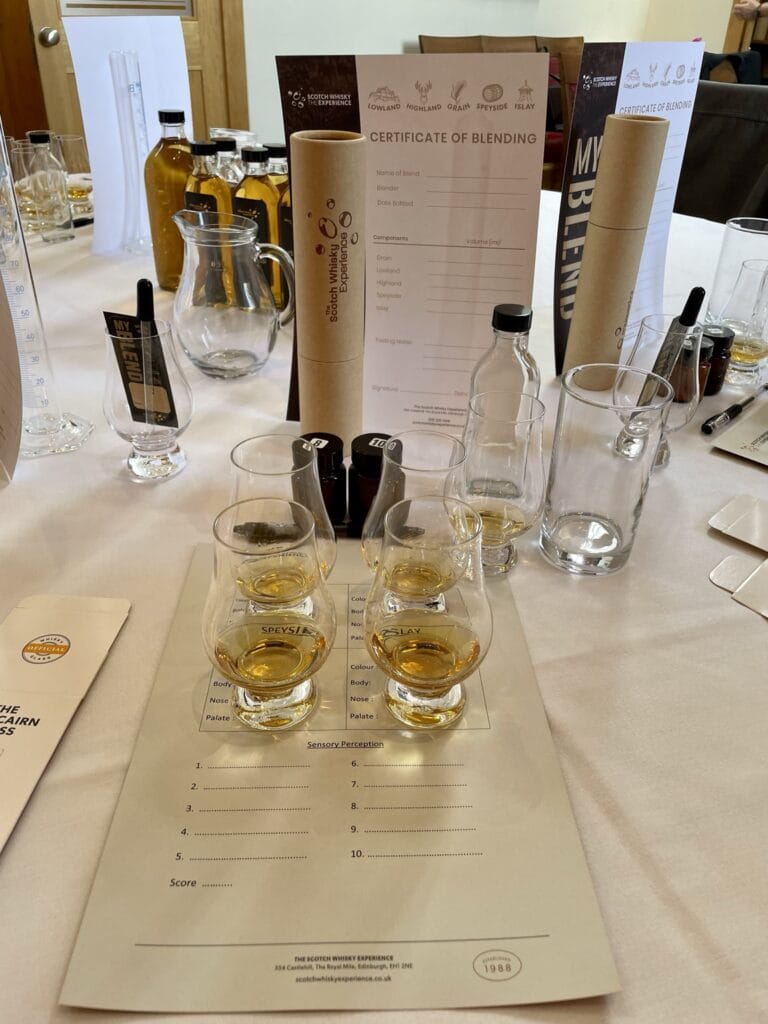 During our first visit to Edinburgh years ago, Ryan had read about the school. The class is offered monthly, and we lucked out because it was scheduled the day before our arrival on our next trip. We adjusted our dates and landed two days earlier than planned so Ryan could attend. That was the best decision he could have made!
The all-day class is offered for 250 pounds and is conducted with a small group. The immersion course gives you a fun-filled day of learning, eating, and drinking in a relaxing environment. The class combines hands-on activities and different learning styles to make the day entertaining, highly educational, and informative.
Our day in class
Your day begins in a room filled with the most fantastic and extensive whisky collection you will ever see while having tea, coffee, and shortbread. You then go upstairs to the classroom and learn about whiskey production. Before you know it, you have your first break with more tea, coffee, and a tasty assortment of pastries. Next, you will learn whisky differences and history to understand how they vary from each country and region and why they are the way. After that, you will take a quiz with your group.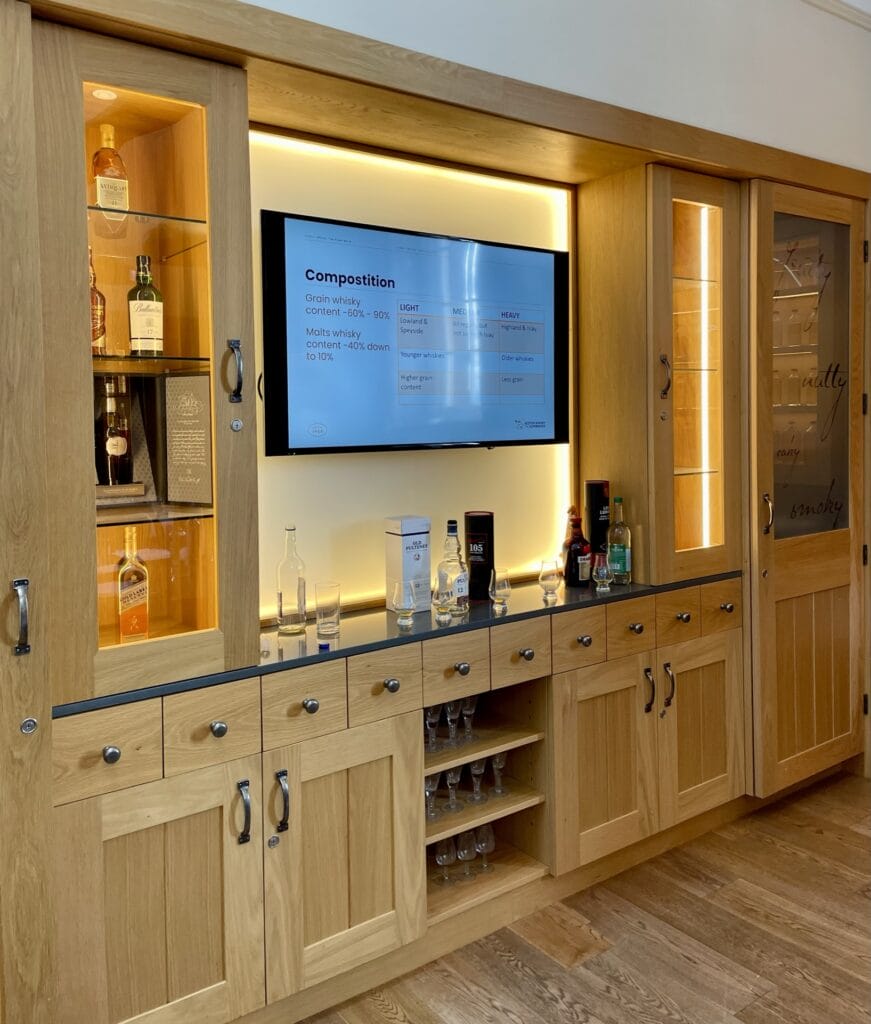 Now that you are halfway done with your day, you will go downstairs to the award-winning Amber restaurant for lunch; the food is fantastic. After lunch, you go back to class, where you test your senses, do a few whisky tastings, and learn how to decipher the whisky notes from each region of Scotland. Now comes the extra fun part; with this new knowledge, your instructor gives you a 10cl bottle you will use to blend whisky from each region or Scotland. Once you are done, you get to label it with the blend percentages, name it, and put it in a little package to take home to drink or gift it. You will also get to take home a tasting glass from class.
Finally, you will finish the day learning about the sales and marketing of whisky before taking a 40-minute test. You will get a nice "Certificate of Expertise" if you pass the exam. The Scotch whisky industry recognizes the certificate. It is a fantastic and fun souvenir you won't want to miss out on; take it home and frame it. Remember to take notes and pay close attention throughout the day.
---
Whisky School Itinerary
9.00 am Welcome & coffee in the World's Largest Collection of Scotch
Whisky
9.30 am Malt & Grain whisky production
10.45 am Coffee
11.00 am Spirit of deception: The difference between Scotch whisky and
come of its competitors
11.30 am A History of the Origins & Development of Scotch Whisky
12.00 pm Team Quiz
12.30 pm Lunch in our award-winning restaurant, Amber
1.30 pm Tutored tasting & sensory perception
2.45 pm The Art of Blending – introduction to Blending and opportunity to blend your own 100 ml blended Scotch Whisky.
3.45 pm Selling and serving Scotch Whisky.
4.15 pm "Certificate of Expertise in the Sales & Service of Scotch Whisky."
A 40-minute exam to ensure that candidates leave with the
knowledge & skill required to help them sell Scotch Whisky.
5.00 pm Close
---
Our instructor
Ryan's instructor Lenka was an incredible host and made the experience exceptional. She has been doing this for decades, and her passion and enthusiasm for Scotch whisky made Ryan an even bigger fan. The training will impart an advanced level of whisky knowledge, enabling enthusiasts to speak with authority and professionals to sell and upsell confidently. If you are a professional, it will help you sell and upsell confidently.
Before you leave, you will receive their extensive training materials to keep for your reference. They include your test handouts and notes, an excellent training manual, a copy of your schedule, questions and answer booklet, and a poster of the Scotland regions of whisky; Ryan will likely frame.
Amber Restaurant
Amber Restaurant & Whisky Bar is the perfect place to discover Scotland's offerings. Ryan had lunch with his class, and Joelle had lunch at the bar. Both meals were delicious and plentiful. The presentation was well done with some flair. The servers make great suggestions on what whisky to pair with your food.
The restaurant has won many awards in the two decades they have been open. Choose from over 450 drams in Amber's whisky bar, from well-known favorites to hidden gems ready to discover. It is very popular so we suggest a reservation.
Full transparency: We paid the full advertised cost for both the class and the tour, as any guest would. The school and tour were done with the public and we were not given any special access. We were simply that impressed.
Where to stay when visiting Edinburgh
There are vast choices for accommodation in Edinburgh. Prices do not need to be outrageous. We strongly suggest staying in the city, as it is an intricate part of the experience. You will want to eat most of your meals out, so a place with a kitchenette is not a necessity.
On our two visits, we stayed near Edinburgh Castle and the next time near Calton Hill, both great locations.
We believe it is important to price out properties on various sites. Expedia is a US-based company, whereas Booking.com is Europe based. Not all properties appear on both. If the establishment has a website, check the price there as well.
Final thoughts
If you love whisky, want to expand your knowledge, or try something new, go to The Scotch Whisky Experience, take one of the several tours they offer, and become amazed at the knowledge you will gain. If you really want to advance your understanding, book the whisky school. Even novice whisky drinkers can become connoisseurs in a day. Ryan thinks it is more than worth it. Below are the class links and the Scotch Whisky Experience home page. Check them out for an experience you will never forget! Add to that you have time in Edinburgh, a magical and vibrant cultural treasure. It is a living Harry Potter world full of enchantment and charm, oh, and whisky. What more can you ask for?
© 2023 Wanderers Compass All Rights Reserved
The Scotch Whisky Experience Photo Gallery
with some Edinburgh pics for fun
Our Recommended Travel Resources
Our favorite travel insurance site!
If you book a trip, don't forget to get travel insurance within 14 days of your first booking. We could not be stronger advocates of being well-insured. Not just for the little stuff but the big things like medical emergencies. We never leave home without it. Over the years, we have used many sites but have now found our go-to place. Squaremouth.com does a fantastic job; it has a user-friendly interface, uses top-rated and reputable insurance carriers, and most policies cover COVID-19 medical issues and cancellations. They also mediate on your behalf if you have problems with your policy.
To empower you as a consumer, we suggest you read our blog post on the importance of travel insurance and how to get the best coverage from top-rated companies for an affordable price.
Medical transport back home from anywhere in the world
They are the premier global air medical transport. One caveat to travel insurance is that medical evacuation usually gets you to the closest facility to care for you. Medjet gets you back to the U.S. to the hospital of your choice once you are stable enough to fly. They cover Covid-related transports as well.
Medjet carries its own policies. The policy is only for transport and no other aspects of travel insurance. They have individual trip policies starting at $99 and annual policies for around $300. Most of their policies limit the age to 74 and younger. Prices are not based on age below that.
To learn more about how Medical Evacuation membership with Medjet Assist works, check out our blog post for a more detailed review.
Hotels, home rentals, BNBs, flights, and other transportation & tours
Expedia is a US-based company whose mission is to power global travel for everyone and everywhere. Whether planning a family vacation, booking for business, or organizing the trip of a lifetime, they are a fantastic resource. Wanderers Compass focuses on independent travel, and using sites like Expedia makes that possible. Every aspect of travel you need, from airfare, accommodations, rental car, and cruises to activities to do at your destination, can be booked on Expedia.
Hotels, Home rentals, BNBs, Flights, and other Transportation & Tours
Booking.com connects millions of travelers to memorable experiences, various transportation options, and incredible places to stay – from homes to hotels and much more. It is one of the world's largest travel marketplaces for established brands and entrepreneurs of all sizes.
We always check Expedia and Booking.com to verify prices. At times, one is sold out of rooms while another at the same place has rooms. As well we often find some European hotels, especially smaller ones, on Booking.com but not on Expedia. It could be they are a Europe-based company. Try both before booking accommodations.
Are you traveling with a family or having an extended stay at your destination?
With over 2 million bookable vacation rentals, VRBO connects homeowners with families and vacationers looking for something more than a hotel for their trip. The VRBO community offers families or groups various rental property types such as condos, cabins, lake rentals, beach houses, etc.
VRBO is under the Expedia group ownership now, which many were worried about, but it hasn't panned out to be a concern. It is a massive network with access to all lodging forms should issues arise. Joelle has used VRBO for many years with her family with no problems.
As the leading marketplace for travel experiences, Viator believes that making memories is what travel is all about. And with 300,000+ experiences to explore—everything from simple tours to extreme adventures (and all the niche, interesting stuff in between)—making memories that will last a lifetime has never been easier.
With industry-leading flexibility and last-minute availability, it's never too late to make any day extraordinary. This one site has it all and has experiences throughout the world. We use them often during our travels, especially for food tours. We especially take the time to read the reviews provided.
An excellent source for travel essentials and guides
We now have our own Amazon Storefront with all our favorite travel accessories and gear in one place. Check out our travel store at the link below.
Amazon is one of the most comprehensive online shopping sources in the world. On behalf of their customers, teams worldwide provide lower prices, better selection, and rapid delivery. They offer a vast inventory, and their 1.7 million small and medium businesses worldwide selling on Amazon.com offer extensive options to customers.
We buy most of our travel books, accessories, and luggage from Amazon. We have ordered up to two days before travel and get what we need.
Transportation
Welcome Pick-ups
(Airport and sightseeing service)
A global leader in ground transportation for travelers. They help hundreds of companies worldwide enhance their services and boost their revenue with our 5-star ride experiences and hassle-free automation.
Founded in 2015 in Athens, Greece, Welcome Pick-ups goes above and beyond the standard transfer service as the first company to deliver a holistic, in-destination travel experience. From the moment a traveler arrives at a new destination until they return home, Welcome accommodates all their travel needs (transfers, travel products, things to do, information) as the easiest, friendliest, and most personalized solution.
Discover Europe by Train
Rail Europe sells train and bus tickets for travel across Europe. They cover 24 countries, 105 rail operations, and 20,000 stations. They are the official rail and bus operations agents in the UK, France, Spain, Italy, Germany, Belgium, Austria, Switzerland, Luxembourg, and the Netherlands. Rail Europe continues to add coverage all the time.
It is a fast, easy, and economical way to purchase European train and bus tickets. Eurail passes are also available to buy through their site.
Travel documentation services
Do you feel like you are wasting time visiting an on-site photographer only to be embarrassed by the photo? Would you like control of the final product? Get the perfect VISA or passport photo online with PhotoAID.
When traveling, you often need to apply for official documents such as a passport, ID, and different kinds of licenses or cards. Those applications require a picture that must meet specific conditions to be accepted, depending on the country. Now, it is possible to take this picture at home without the help of a professional photographer. The PhotoAiD app allows you to take the perfect biometric photo that will be guaranteed by yourself without leaving your home.
This article contains affiliate links. If you use these links to buy something, we may earn a small commission at no additional cost to you. Thank you!
Check out our most rcent blogs posts
Do you have a question for us or have a comment?