Explore this iconic ecclesiastical historic site with us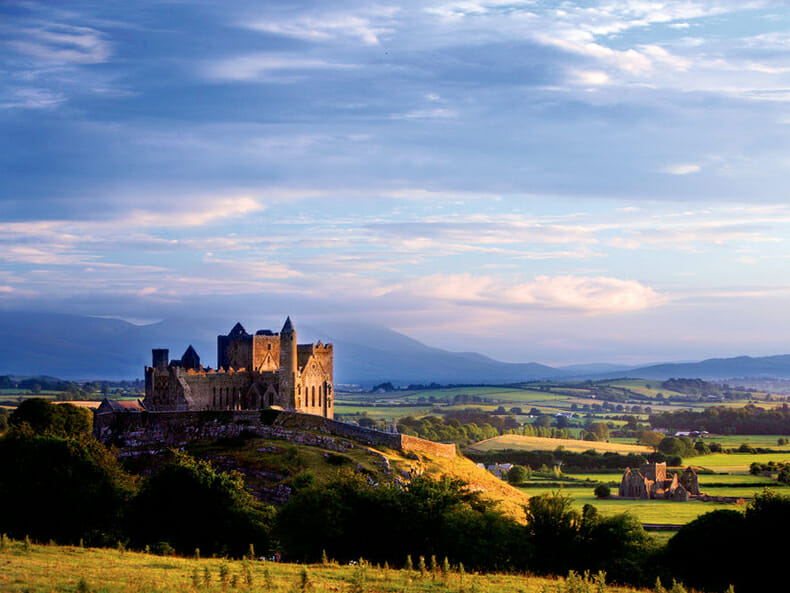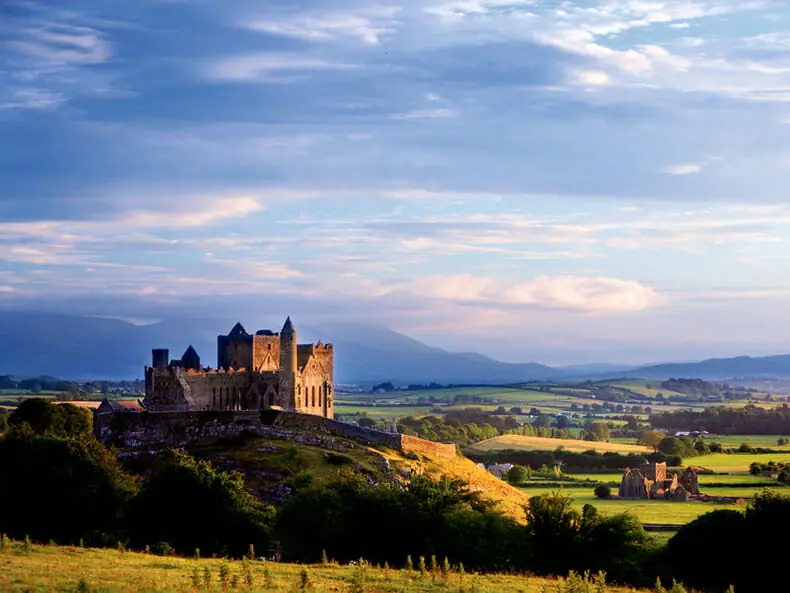 To see an iconic ecclesiastical site in Ireland, visit the Rock of Cashel. A one-of-a-kind beauty reveals Ireland's long heritage and 1500-plus years of history. It is also known as the "Cashel of Kings" and "St. Patrick's Rock." It is an ancient monument situated in the majestic archaeological site of Cashel in County Tipperary.
The Rock of Cashel is a group of medieval structures. Its main complex comprises five buildings – The Round Tower, The Cathedral, St Patrick's High Cross, Cormac's Chapel, and St Dominick's Abbey. The monuments rise 200 feet into the air. Although it was built in the 5th century, most of the buildings that remain today were constructed much later, in the 12th to 15th centuries.
As a result of the name of this site, most people think of it as a fortress. But in reality, that is not the case. It is famous because it was the seat of the Kings of Munster, some of Ireland's most ancient provincial leaders. The Kings resided in it for several hundred years before the Norman invasion. There is little left from that time except for some of the most impressive collections of Celtic art in Europe.
So it's better to use the term an ancient royal site of the Kings of Munster. Its royal status may be one reason why Queen Elizabeth visited it in 2011.
Our visit
It was 2013, and it was our first trip to Ireland and Ryan's first international travel. Our four-country adventure commenced with Ireland, followed by the United Kingdom, France, and Italy. It could not have been a better choice to launch our travels. From the first moment, we were in awe of the Emerald Isle. It was where our love for castles and medieval history began. Rock of Cashel had a castle at one point, but it is long gone.
There was something special about this place. Maybe it is because we had it almost to ourselves. The setting is stunning on top of a dramatic outcrop of limestone in the Golden Vale. The beautiful views of the countryside take your breath away. The Rock of Cashel is iconic in its historical significance, but it also carries an aura while there that captures the imagination. It was one of our favorite stops in Ireland.
Since our first castles in Ireland in 2013, we have visited close to 350 castles to date. Considering this quest began in 2013, we feel it is quite an accomplishment. If you want to check out our Master Castle list, click here.
Where Is Rock of Cashel?
This royal historic site is located in County Tipperary, just 1/4 mile from the Cashel town center. It is located right next to the main M8 motorway. You can get there easily by bus, car, or train. There are paid public parking lots in town, and you walk up to see the Rock of Cashel from there.
Address: St. Patrick's Rock of Cashel
Cashel
Co. Tipperary
E25 KX44
Travel times from the major cities in Ireland are:
Dublin: By car, 2 hours. By bus or train, 1.5-2 hours.
Shannon: by car, 1 hour and ten minutes. By bus or train, it takes about 3.5 hours.
Galway: By car, 2 hours. By bus or train is about 4-5 hours.
To map out your transportation options and times, use the RometoRio app.
The Town of Cashel

We loved the charming town of Cashel. There are several excellent accommodations, lovely shops, and places to eat. Like any Irish town, it has many places to grab a cold brew. There are many activities and other historical sites to visit. Check out the list farther down the page of top things to see and do in Cashel.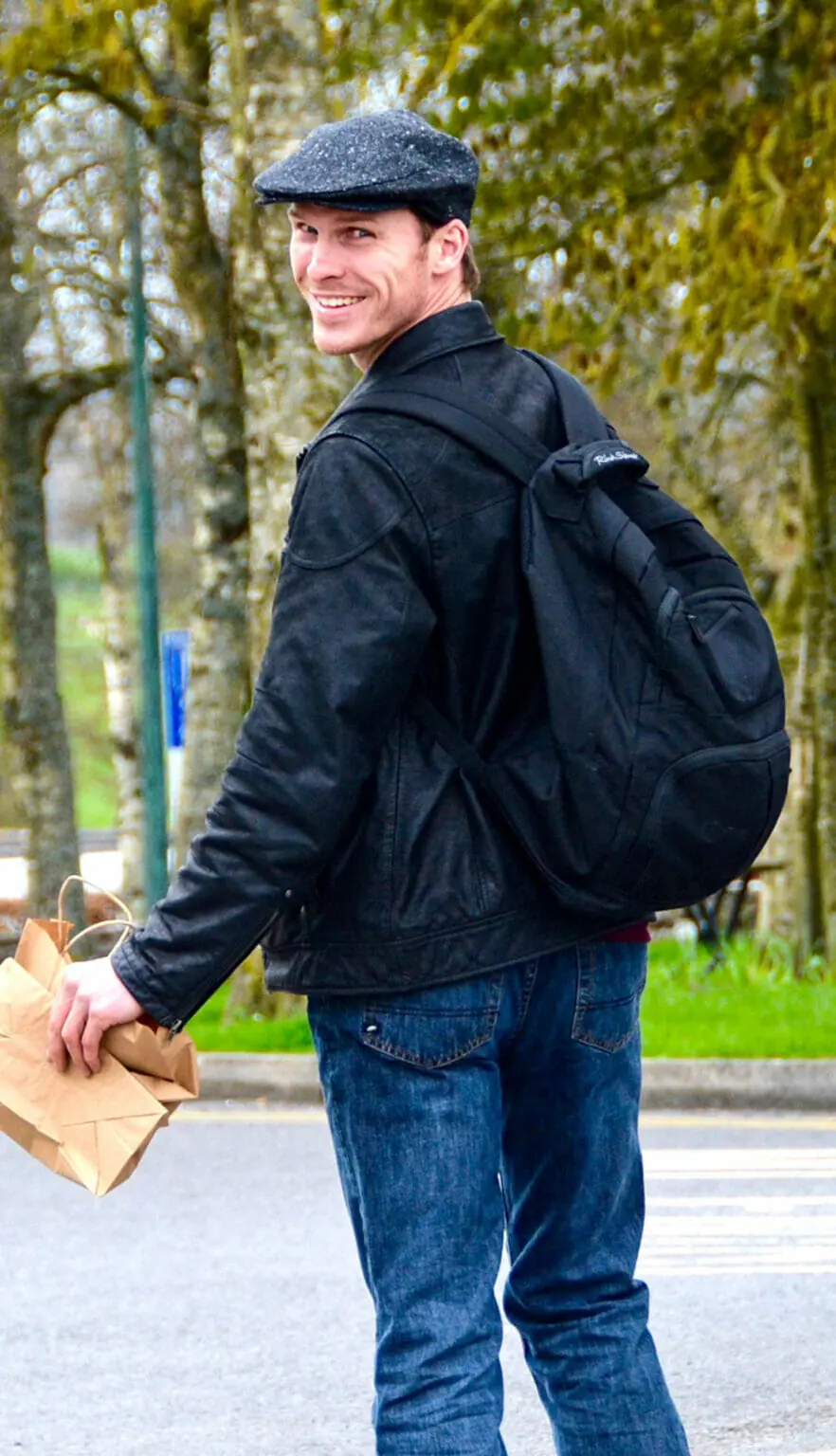 Cashel is where Ryan bought his first wool Irish cap. At the base of the walk up to the Rock of Cashel, there was this small shop we had to stop in. Back in the day, when Joelle still was buying a lot of postcards. With her lovely Irish accent, the sweet shopkeeper assisted Ryan in choosing the perfect cap. That cherished cap accompanied him on many trips over thousands of miles in the next several years.
Sadly he lost it in Germany in 2018 at the Cologne Cathedral, which broke his heart. That Irish cap is still mentioned often. He hasn't found an Irish cap since that fit so well. The day he lost it, we observed several people who were struggling, wearing attire too thin for the weather. We could only hope it was found by one of them and it kept their head warm during the cold nights ahead.
Rock of Cashel History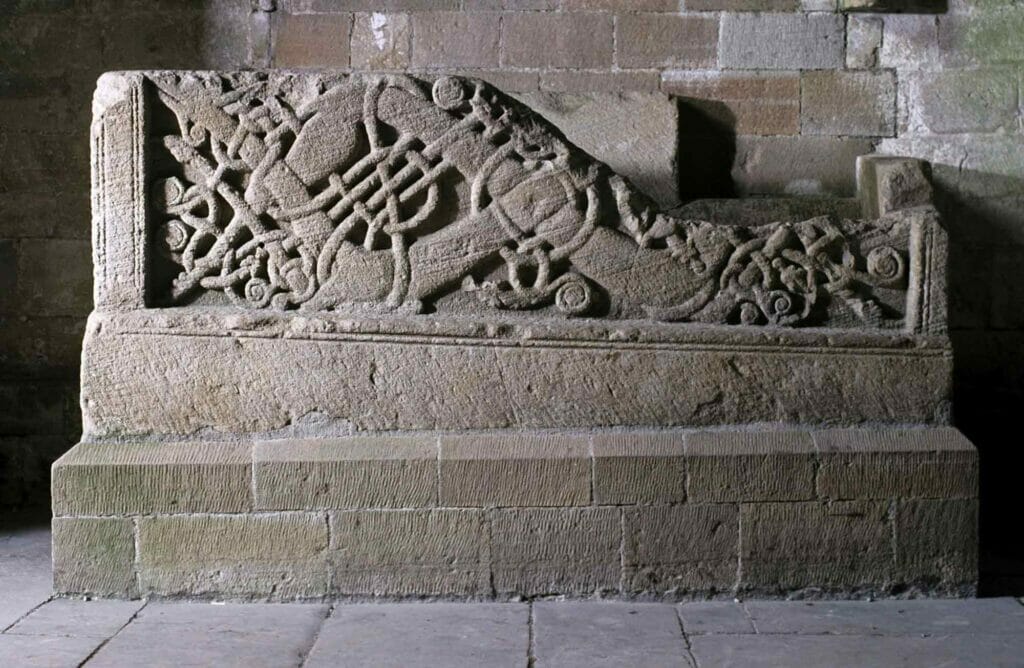 The history of this site is fascinating.
Legend has it that Saint Patrick, the patron said of Ireland, banished Satan from the cave he lived in nearby. As a result, Satan bit off a mountain. However, it broke his tooth, and he spat it into its new location. That's how the mysterious limestone hill came to be.
But let's talk about historical data.
Experts believe that the first main structure of the castle was built in the 4th century AD – almost 100 years before Saint Patrick set foot in these lands.
The Eoganacht family built the original structure on the limestone hill and called it Cashel, which means "a stone" or "a fortress" in their dialect. However, most of the structures in Cashel Rock today are not from the Eoganacht family. They were built between the 12th and 15th centuries.
After a few years of its construction, due to Cashel's strategic location, the Kings of Munster seized it and built a stronghold there. Two Irish Kings were prominent in the history of the Rock of Cashel; King Aengus and King Brian. King Aengus, Ireland's first Christian ruler, was said to have been baptized into the religion here in 432 AD by St. Patrick himself. Brian Boru, the only Irish King to ever unite Ireland for any length of time, was also crowned at the Rock in 990 AD.
This site is also important from a religious point of view. In the 12th century, King Muirchertach Ua Briain turned the place into a religious center by donating the Rock of Cashel to the church.
Rock of Cashel – Interesting Facts


The tallest building on the site, the round tower, is remarkably well-preserved and stands 90 feet tall. It is the oldest building on the Rock of Cashel, almost 1,000 years old.

According to old legends, the Rock of Cashel originated in the Devil's Bit, a high mountain located around 20 miles north of Cashel. It is where it originated before St Patrick spit it out.

Most of the original 12th-century structures were destroyed by battles. Fortunately, the most impressive vestige of St Patrick's Cathedral is still there. Although it is no longer in its original form, you can still see its ruins and imagine its original majestic structure.

Ireland's first Christian King, Aengus, was baptized here by Saint Patrick himself.

The Rock of Cashel is more than just a historical site for the Irish. It symbolizes their bravery and survival because the Rock of Cashel has fought against many foreign invaders and defended Ireland's true culture. The Irish pay homage to the Rock with absolute respect and love.

At the back of Cormac's Chapel sits an ancient sarcophagus that is reported to possess the body of Tadhg, King Cormac's brother. The coffin is engraved with intricate details of two intertwining beasts that grant eternal life.

Queen Elizabeth II's visit in 2011 was remarkable and historic. The visit received extensive media attention.

One of the tallest crosses on the Rock of Cashel, Scully's cross, built in 1867, was destroyed by a massive lightning strike in 1976.

Cormac's Chapel is said to be one of the most well-preserved examples of Romanesque architecture in all of Ireland. The 13th-century Gothic cathedral was built between 1230 and 1270.

More than 350,000 tourists visit the Rock of Cashel every year.
The Most Attractive Feature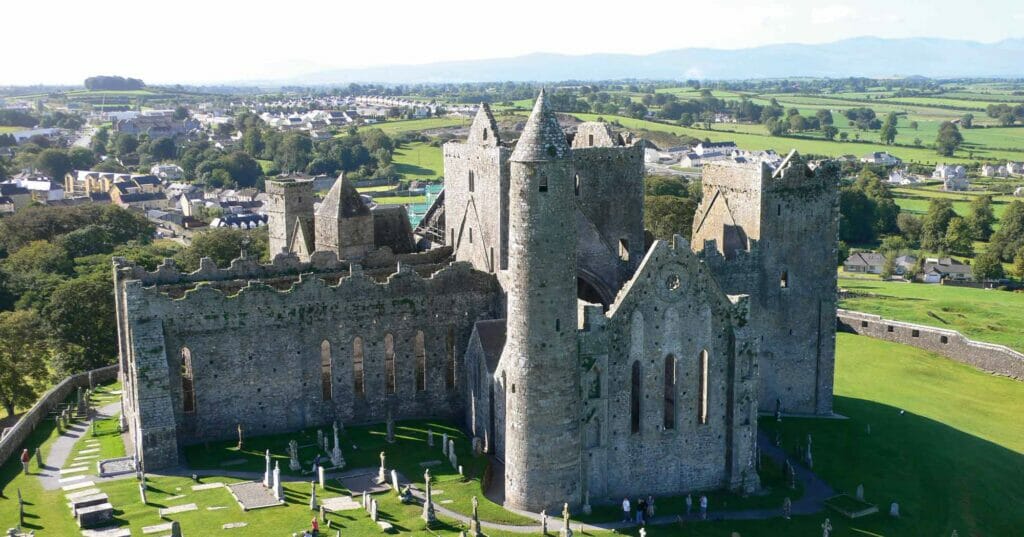 Though the whole site is fascinating, it is the largest remaining structure, St. Patrick's Cathedral. Built between 1235 and 1270. The building's most attractive feature is its transepts with triple lancet windows.
Things to Do in the Cashel area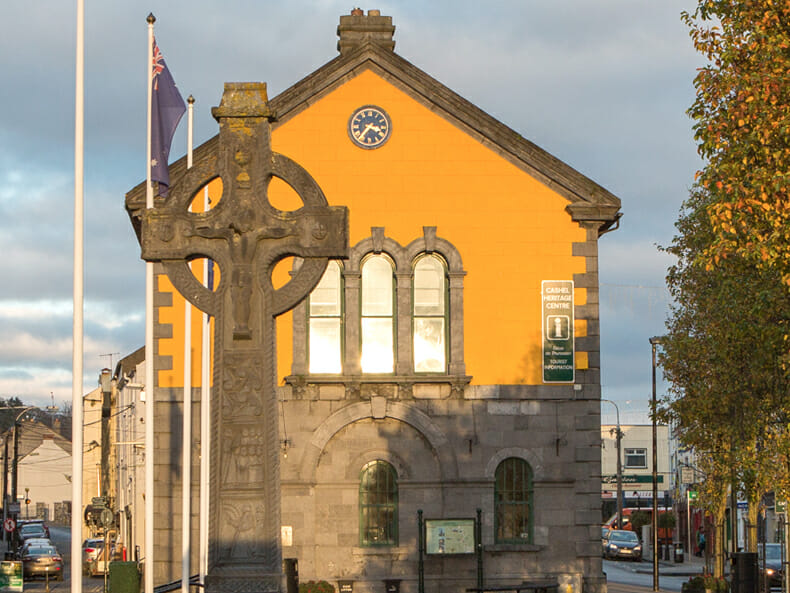 Rock of Cashel is just 1/4 mile from Cashel. Below are many things to do while in the Cashel area.
Visit Davern's Bar on 20 Main Street. It offers both drinks and delicious local cuisine. It is the perfect place if you have a short visit.
Rockhouse Restaurant is also trendy. It is located on Ladyswell Road. The best thing about this place is that they offer homemade, fresh, tasty, and reasonably priced food. They also have many different types of coffee and teas.
Explore the Cashel Folk Village. It's a museum with incredible history and artifacts. You will learn a lot about the Great Famine in Ireland and the War of Independence that occurred here. This cultural museum is a must if you're interested in Ireland's early history.
The Cashel Palace Hotel is a luxurious hideaway. If you are going on a honeymoon, choose this hotel as it offers all the amenities newlyweds would look for, like contemporary Irish cuisine, luxury accommodations, spa facilities, and much more.

Chez Hans is also a great restaurant serving the perfect seasonal food. The unique feature of this restaurant is that it is located in a 19th-century church. That Victorian vibe gives it a special feel.
Check out our post on one of our favorite places in Ireland; Cliffs of Moher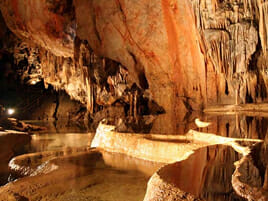 Mitchelstown Caves are located in County Tipperary, about 7 miles east of Mitchelstown. The tours are approximately 1 mile long, going through several caverns with examples of different formations, many of which are given colorful names.

Enjoy the natural pool (Shannon Pot) in nearby County Cavan. This excellent picnic spot near Cashel offers ample parking for tourists. You will also find many good restaurants around.

If you want to visit the top-rated Catholic Church in Cashel, visit the Cashel Parish Office. You will meet a strong religious community here. This place became the authority for religious organizations in Ireland.

Take in some of the excellent walking trails in the area, such as St. Declan's Way, Glen of Aherlow, Tipperary Heritage Way, Cahir Park, Clonmel Heritage Trail, Bansha Wood, and Slievenamon.

Other popular sites include Cashel Heritage Center, Hore Abbey, Athassel Abbey, Glengarra Woods, Swiss Cottage, Holy Cross Abbey, and Cahir Castle.

Are you planning a trip to Ireland? Check out our Ireland Travel Guide for great tips and essential information.

TIP
A Local unique feature that is a must-do
Shannon Pot should not be missed. An aquifer-fed naturally fluctuating pool is the traditional source of the River Shannon. The shimmering oval swimming pool in Shannon Pot is the perfect place to relax and enjoy the area's beauty.

When you visit Shannon Pot, you will feel like you have been whisked away to a magical place. Take a walk through the fields and feel part of quintessential Ireland with roaming sheep and beautiful views.
You will soon find you forget about your busy life for a while and enjoy the simplicity of nature.
When To Visit The Rock of Cashel
Summer is the ideal time to visit Cashel. But at this historic site, you could find large crowds during the Summer; keep in mind it has 350,000 visitors a year. The crowds could take the fun out of sightseeing. If you are there in the Summer, come in the morning when it first opens or at the end of the day.
When we visited there in Spring and were only two other people there. If you want to see this place calmly while enjoying the surroundings, visit it during off-season months, such as March or September.
Opening hours and Entry Costs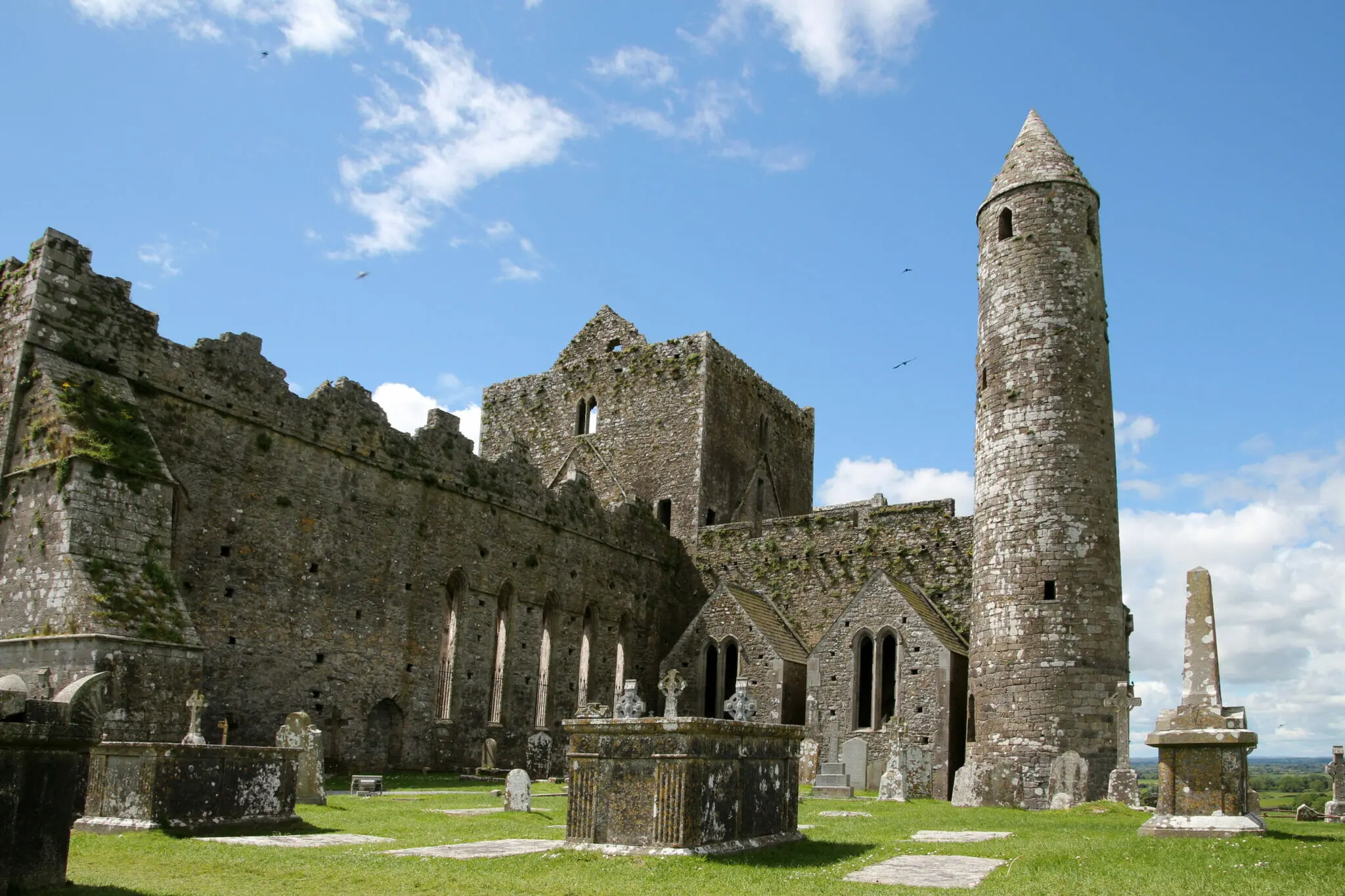 Mid–March – Mid-October
Daily 09:00 – 17:30
Mid-October – Mid-March
Daily 09:00 – 16:30
The last admission is 45 minutes before closing time; this is strictly adhered to.

Average Length of Visit: 1 – 1.5 hours
All visitors must have a ticket
Admission
To book your tickets online, click here
Adult: €8.00
Group/Senior: €6.00
Child/Student: €4.00
Family: €20.00
Facilities
Public toilets and car/coach park close to the site
Credit Card Facilities available
Phone number: 062 61437
Email: rockofcashel@opw.ie
Please note
They are closed from 24 – 26 December inclusive.
Please note that all groups must have reservations.
The tour times of the Chapel and the General Guided tours can change at any time due to weather and if they have work going on inside.
Cormac's Chapel visit is by guided tour only. There are limited tickets for the interior tour of Cormac's Chapel, and they can only be purchased at the site. Please call ahead for tour times, as these can change at short notice.
Where to eat in Cashel?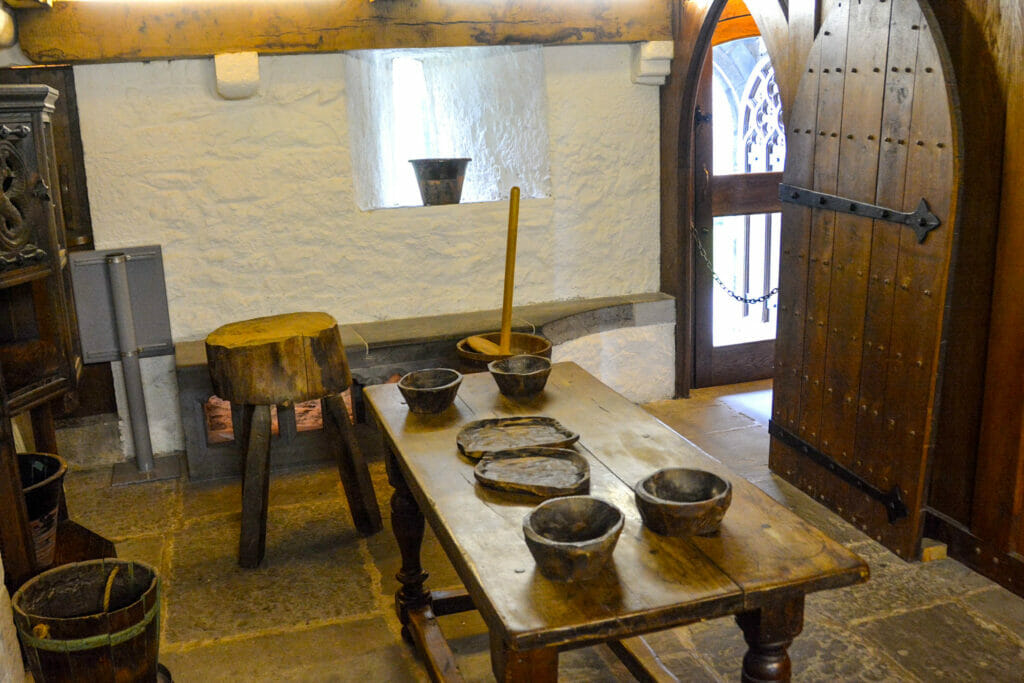 During our visit, we only had time for a little shopping, but there are many dining choices in Cashel and the surrounding area. Here is a link that lists some establishments to grab a bite from the town of Cashel visitor website.
Where to stay when visiting
There are many wonderful places to spend the night near the Rock of Cashel. Having been to Ireland twice, we especially adore the B&Bs. Below we will list out some of the ones available. All the options we mention seem impressive and well-reviewed.
B&Bs that are worth looking into 1. Copperfield House B&B 2. Ashmore House B&B 3. Palm Grove House B&B 4. Cashel Town B&B
Hotels in Cashel: 1. Baileys Hotel 2. Horse & Jockey Hotel 3. Dundrum House Hotel, Golf and Leisure Resort 4. Aulber House Guesthouse 5. Cashel Palace Hotel
We believe it is important to price out properties on various sites. Expedia is a US-based company, whereas Booking.com is Europe based. Not all properties appear on both. Check places out on the links below. If the establishment has its own website, check pricing there as well.
Final Thoughts
The Rock of Cashel is one of Ireland's most popular tourist attractions. We continue to speak of it more so than many of the other places we visited in Ireland. When we return one day, there is no doubt we will stay in the area overnight. If your schedule allows it, we strongly encourage you to do so. The stunning Rock of Cashel and the surrounding area are what most of us imagine Ireland to be like. It will make you fall in love with the magnificent Emerald Isle, and its memory will stay long after you leave.
© 2023 Wanderers Compass All Rights Reserved
Check out the official website for the Rock of Cashel for more information.
Rock of Cashel Photo Gallery
Our favorite travel insurance site!
If you book a trip, don't forget to get travel insurance within 14 days of your first booking. We could not be stronger advocates of being well-insured. Not just for the little stuff but the big things like medical emergencies. We never leave home without it. Over the years, we have used many sites but have now found our go-to place. Squaremouth.com does a fantastic job; it has a user-friendly interface, uses top-rated and reputable insurance carriers, and most policies cover COVID-19 medical issues and cancellations. They also mediate on your behalf if you have problems with your policy.
To empower you as a consumer, we suggest you read our blog post on the importance of travel insurance and how to get the best coverage from top-rated companies for an affordable price.
Medical transport back home from anywhere in the world
They are the premier global air medical transport. One caveat to travel insurance is that medical evacuation usually gets you to the closest facility to care for you. Medjet gets you back to the U.S. to the hospital of your choice once you are stable enough to fly. They cover COVID-related transport as well.
Medjet carries its own policies. The policy is only for transport and no other aspects of travel insurance. They have individual trip policies starting at $99 and annual policies for around $300. Most of their policies limit the age to 74 and younger. Prices are not based on age below that.
To learn more about how Medical Evacuation membership with Medjet Assist works, check out our blog post for a more detailed review.
Hotels, home rentals, BNBs, flights, and other transportation & tours
Expedia is a US-based company whose mission is to power global travel for everyone and everywhere. Whether planning a family vacation, booking for business, or organizing the trip of a lifetime, they are a fantastic resource. Wanderers Compass focuses on independent travel, and using sites like Expedia makes that possible. Every aspect of travel you need, from airfare, accommodations, rental car, and cruises to activities to do at your destination, can be booked on Expedia.
Hotels, Home rentals, BNBs, Flights, and other Transportation & Tours
Booking.com connects millions of travelers to memorable experiences, various transportation options, and incredible places to stay – from homes to hotels and much more. It is one of the world's largest travel marketplaces for established brands and entrepreneurs of all sizes.
We always check Expedia and Booking.com to verify prices. At times, one is sold out of rooms while another at the same place has rooms. As well we often find some European hotels, especially smaller ones, on Booking.com but not on Expedia. It could be they are a Europe-based company. Try both before booking accommodations.
Are you traveling with a family or having an extended stay at your destination?
With over 2 million bookable vacation rentals, VRBO connects homeowners with families and vacationers looking for something more than a hotel for their trip. The VRBO community offers families or groups various rental property types such as condos, cabins, lake rentals, beach houses, etc.
VRBO is under the Expedia group ownership now, which many were worried about, but it hasn't panned out to be a concern. It is a massive network with access to all lodging forms should issues arise. Joelle has used VRBO for many years with her family with no problems.
As the leading marketplace for travel experiences, Viator believes that making memories is what travel is all about. And with 300,000+ experiences to explore—everything from simple tours to extreme adventures (and all the niche, interesting stuff in between)—making memories that will last a lifetime has never been easier.
With industry-leading flexibility and last-minute availability, it's never too late to make any day extraordinary. This one site has it all and has experiences throughout the world. We use them often during our travels, especially for food tours. We especially take the time to read the reviews provided.
An excellent source for travel essentials and guides
We now have our own Amazon Storefront with all our favorite travel accessories and gear in one place. Check out our travel store at the link below.
Amazon is one of the most comprehensive online shopping sources in the world. On behalf of their customers, teams worldwide provide lower prices, better selection, and rapid delivery. They offer a vast inventory, and their 1.7 million small and medium businesses worldwide selling on Amazon.com offer extensive options to customers.
We buy most of our travel books, accessories, and luggage from Amazon. We have ordered up to two days before travel and get what we need.
Welcome Pick-ups
(Airport and sightseeing service)
A global leader in ground transportation for travelers. They help hundreds of companies worldwide enhance their services and boost their revenue with our 5-star ride experiences and hassle-free automation.
Founded in 2015 in Athens, Greece, Welcome Pick-ups goes above and beyond the standard transfer service as the first company to deliver a holistic, in-destination travel experience. From the moment a traveler arrives at a new destination until they return home, Welcome accommodates all their travel needs (transfers, travel products, things to do, information) as the easiest, friendliest, and most personalized solution.
Do you feel like you are wasting time visiting an on-site photographer only to be embarrassed by the photo? Would you like control of the final product? Get the perfect VISA or passport photo online with PhotoAID.
When traveling, you often need to apply for official documents such as a passport, ID, and different kinds of licenses or cards. Those applications require a picture that must meet specific conditions to be accepted, depending on the country. Now, it is possible to take this picture at home without the help of a professional photographer. PhotoAiD allows you to take the perfect biometric photo that will be approved by you without leaving your home.
This article contains affiliate links. If you use these links to buy something, we may earn a small commission at no additional cost to you. Thank you!
Do you have a question for us or have a comment?
Check out our most recent posts