Join us as we explore the ancient splendor and beauty of Prague
This post on Prague is a quick capture of our travels as they occur. Though we often post on social media during our adventures, many have requested that we do so on the blog. The focus will be the photography and our first impressions while experiencing the city. The photos in this post will be from our iPhones vs. our Nikon since we can process them quickly while traveling.
Let's pay a visit to stunning Prague.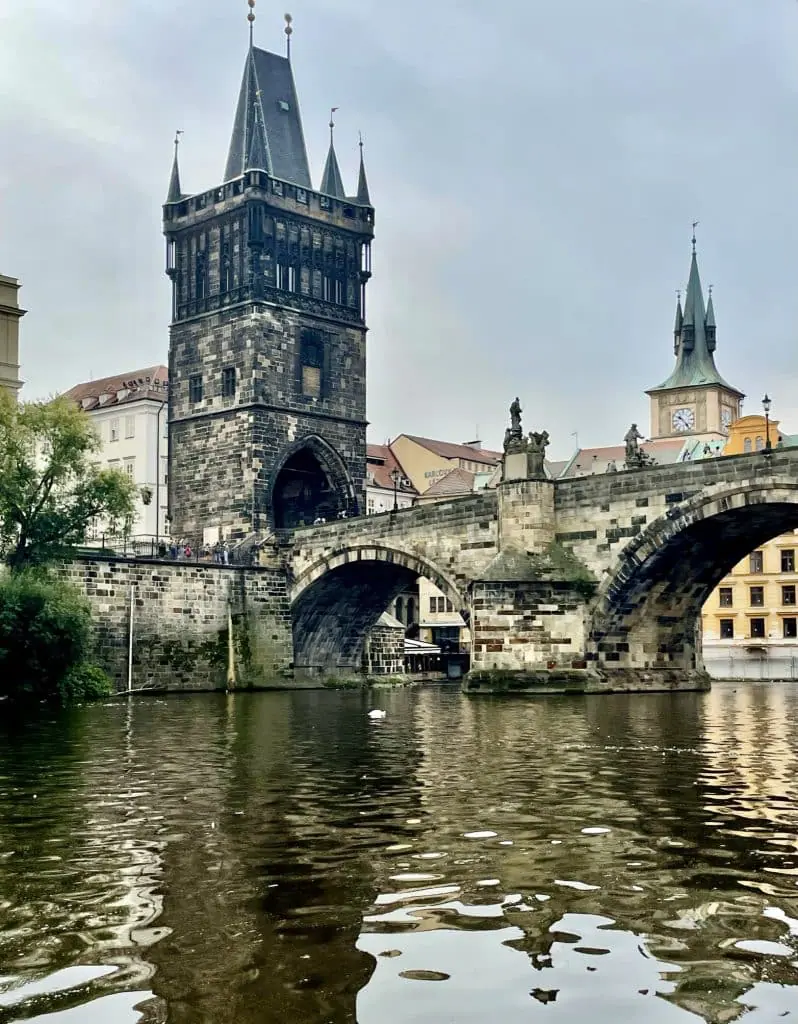 A bit about Prague
Prague is the capital of Czechia and its largest city, with a population of 1.3 million. It is the historical capital of Bohemia. Founded in the late 9th century, Prague has been a capital city throughout its history. The city has a fascinating and turbulent history. It is graced with Romanesque, Gothic, Renaissance, and Baroque architecture. It was an important city to the Habsburg monarchy and Austro-Hungarian Empire. There is almost a fairy tale beauty about this city. Some have called it too beautiful to wrap their head around. It has a vitality and pulse that emanates from its very soul.
Prague's historic center is a UNESCO World Heritage Site famous for its 14th-century medieval architecture. It was left largely undamaged by World War II, leaving a well-preserved labyrinth of cathedrals, bridges, and cobblestone streets that attract worldwide visitors. The city has over ten major museums and is home to the oldest University in Central Europe.
Prague has five distinct areas: Old Town, New Town, Lesser Town, Zizkov, and Vinojrady. These are the areas that are best to stay in when visiting Prague. An extensive modern public transportation system connects the city and makes it easy to get around.
Fun Fact
Czechia is also known as the Czech Republic. For those wondering why two names are still floating out there, as of April 2016, Czechia is the country's official name. Think of it as how Ireland stands for the Republic of Ireland. You will rarely hear I am going to the Republic of Ireland. Google, as of 2017, replaced the Czech Republic with Czechia.
When a local mentioned their country during our visit, they always referred to it as the Czech Republic. It appears Google is more on board than the Czechs.
The top things to do and see in Prague
Spend the day at Prague Castle and the environs. Prague Castle is the city's most impressive structure. It occupies an area of almost 750,000 square feet, and the Guinness Book of Records recognizes it as the largest ancient castle in the world.

Go on a beer crawl. Prague is the world's beer capital, as Czechia has the highest beer consumption per capita anywhere in the world. Beer has a long history in the Czech Republic, with beer brewing taking place as early as 993. One of the most famous Czech beers is the Pilsner Urquell, the world's first pilsner beer.

Take a tour of the Prague Astronomical Clock is mounted on an exterior wall of Old Town Hall in Old Town Square. At the top of the hour, a procession of moving characters featuring the twelve apostles and a skeletal figure representing death is set into motion. The clock is an engineering marvel that dates back to 1410. The special mechanisms display astronomical information such as the positions of the sun, moon, and sometimes planets.

Wander Old Town Square, also known as Staromestske namestil, is in the heart of Prague's Historic district. It's been Prague's main public square since the 10th century and its central marketplace until the 20th century. It is one of the most beautiful but busiest areas in the city.

Walk across The Charles Bridge is perhaps the most iconic structure in Prague. Completed at the start of the 15th century, the Charles Bridge is a stone pedestrian bridge that connects the Old Town with the Lesser Town over the Vltava River.

Stroll past the Dancing House. This unusual building is one of the most eye-catching structures in Prague. It is next to the river in New Town; it is by renowned architect Frank Gehry. The inspiration came from iconic dancers Fred Astaire and Ginger Rogers.

Seek out the John Lennon Wall, one of the more unusual attractions in the city. Located in the Lesser Town, it's a wall dedicated to the musician who became a pacifist hero to many of Czechia's youth. It was getting a makeover during our visit.

Gaze upon the Infant Jesus of Prague, located in the Lesser Town, is a 16th-century wooden statue of Jesus housed in the Church of Our Lady Victorious. Legend says the statue spoke to a priest praying before it. According to the priest, it asked him to: "Have pity on me, and I will have pity on you. Give me my hands, and I will give you peace. The more you honor me, the more I will bless you."

Visit the Jewish Quarter of Prague, a UNESCO World Heritage site since 1992. It serves as a reminder of a tragic part of the world's history but also for its undeniable beauty and charm.

Take a boat ride on the Vltava river and view this stunning city from the water. Learn about the historical floods and the devastation they have caused.

Enjoy a long stroll on either side of the Vltava River at dusk. You will be enchanted by the wide promenades, lovely parks, eateries, and bridges.

Attend a Classical Concert in one of many churches offering evening performances.

Prague Visit Details
Prague 4 nights in early September 2022
Final four nights of a 14-day trip that included; Budapest, Bratislava, and Vienna
It was our first visit to Prague
Accommodations
Hotel Pylton Hotel in Old Town Prague (we do not recommend it)
(Free with Platinum American Express Points)
How we got around
Walked 39 miles, and public transportation was used rarely.
Pre-purchased tickets/events:
Prague Castle Guided Tour, Strahov Library tour, Devils Channel boat ride, Astronomical Clock
The weather was sunny, primarily with short periods of rain. Temps were in the mid-70s.
Our favorite moments and highlights
We arrived late after a full day of travel from Vienna. Though tired, we pushed ourselves out for a "short walk." That walk went over four miles and took a few hours. Once out and about, the city of Prague captivated and intrigued us. We kept going hoping for it to reveal more of its story. Walking down deserted alleys, along the peaceful waterfront, across ancient bridges, and through historical squares, Prague took hold. As we headed back to our side of the river over the Charles Bridge, we understood the magic and draw of this magnificent city. With such a solid first evening, it set the whole visit on a positive note.
Our hotel was right on the edge of Old Town, which was an ideal location to end and start the day. Though we did not enjoy our hotel, the location was great. We will stay in Old Town or across the river in Lesser Town if we visit again.
Devils Channel boat ride on a small vessel was the perfect quick boat trip on the river; it allowed us to go down some smaller canals. The views from the river are beautiful, but you don't need to get on a massive boat with hundreds of people to get the experience. We enjoyed our 45-minute boat trip while learning more about Prague and the river's history.
Oh that Library
In our research before visiting Prague, we learned that private tours of the Strahov Library were possible. It is one of the world's most beautiful and well-preserved Monastic libraries. An email request later, we had booked what would be one of the most amazing experiences of our trip; a private tour of this magnificent ancient library with Ivana. For 60 euros a person, we had an hour tour with photography permission. Check out the pictures in our photo gallery for a small sampling of what we saw. If you are interested in a private tour, contact Erika at erika@strahovskyklaster.cz. You can buy regular tickets to see the library, but you are not allowed the enter the libraries. It is still well worth even getting a glimpse from a distance.
Prague Castle
Prague Castle, the largest castle in the world, is impressive. From the moment you arrive in Prague, your eyes go to this massive structure on the hill above Lesser Town. It seems to be visible from wherever you are in the city. At night it is a dramatic sight. The castle grounds are enormous. There is changing of the guard at noon with all the pomp and circumstance it deserves. Make sure to catch that; we did so by accident, and what a treat. Entering the castle grounds is free after a security check, but various sites have an entry fee inside.
It is easy to spend a whole day at Prague Castle, especially if you wander the fabulous streets around the castle. There are several Palaces, lots of dining and shops, bars, breweries, gardens, terraces, Strahov Library and Monastery, and so much more. Give yourself a whole day here, then stroll down the hill for dinner in Lesser Town.
Old Town
Old Town is, well, the heart of Prague. It seems where most of the activities and restaurants are. We stayed on the edge of Old Town, and it was fantastic starting and ending each day by passing through Old Town Square and the Astronomical Clock. There was always something magical about this area, no matter how many times we passed.
Our Favorite Meal
On our last full day, we had a three-hour lunch at one of the best meals we have ever had during our travels. The Mlynec Restaurant is in Old Town, on the water, with a view of the Charles Bridge. The setting and decor are perfect. It is the quality and service of a Michelin Star, but they can not ever receive that rating due to their large size. The nice part is the price point is much lower than what a Michelin Star would charge. We expected to go for a nice lunch but had a gourmet meal served to us like royalty.
Everything was exceptional, and the presentation alone was astonishing. Though we loved everything, our favorites were the Smoked Veal Tartare (it comes smoking), Foie Gras, Mushroom Cream Soup, and Shrimp, which were mind-blowing. Our only regret is that we found this on our last day; we would indeed have returned. We can not recommend Mlynec Restaurant enough! It alone would bring us back to Prague!
It is all about the beer
Prague is all about its beer; more is consumed here per capita than anywhere else in the world. There was not a day we did not try some of the local offerings. Two places we went, though, had some exceptional brews that added to our beer repertoire. Our favorite place was U Kunstatus in Old Town. It is an expansive craft beer-tasting venue with indoor and outdoor seating. They have a selection of over 100 craft brews from small craft breweries. They do flights with generous pours.
U Kunstatus was the location of the House of the Lords of Kunstat. It has one of the best-preserved 12th-century underground Romanesque Palaces in the world. They offer good light fare to accompany your beer tasting, but this place is all about the beer. The selection of dark beers was extensive and delicious. The staff was terrific and knowledgeable. If you love beer, don't miss out on U Kunstatus, it is a special place!
Our second favorite was the Pivovar Sv. Norbert Brewery and Beer Garden. Beer has been brewed here by the Monks since the 17th century. It is across from the Strahov Library near Prague Castle and has indoor and outdoor seating. The place is extensive, and they give brewery tours. We ate lunch here, and the food was traditional Czech and delicious. They have an exceptional dark beer on tap.
Observations and Commentary
Prague was our last stop in this four-country adventure. Our previous stops were Budapest, Bratislava, and Vienna. We picked, in our view, the perfect order. Prague had a different aura than our other stops; it was edgy, chaotic, and messy. The spectacular beauty was apparent from the moment we arrived, but the environment took a little getting used to. Many young people are partying throughout the city, especially in Old Town. There are cannabis shops on every block, and it is a smell you walk through frequently as you wander. People will offer to sell you weed. The streets are a bit messier and crowded. For the first time on this trip, we saw frequent beggars and the homeless.
All that said, not once did we feel unsafe or was anyone aggressive. We walked for hours into the late hours of the night without a map and without fear of making a wrong turn. People were always kind, friendly, and welcoming. The young people partying were well-behaved, and we rarely saw anyone outwardly drunk. There was organized chaos if you will. If, at first, Prague is off-putting, don't let it deter you, keep an open heart, and the magic of Prague will surely capture you.
Learning the history
Learning about Prague's and the Czech Republicsturbulent and often violent history was eye-opening. This country has been through a lot of pain, especially in the last century. The country was initially occupied by the Nazis and suffered great horrors during the occupation. Hope briefly returned when they were "saved" by the Russians, only to fall under Communist rule for over four decades. Finally, a free democracy rose after the fall of the Soviet Union in 1989. The nation is finally coming into the light and thriving. The wounds, though, are raw, and what they endured is frequently brought up in conversations. We saw resilient, determined, and confident Czechs cherishing what they have and moving forward with strength and hope.
Tidbits
We did not buy a Prague city pass and never regretted that decision. It does not come with public transportation, which is very inexpensive.
Apple Pay was the only method we used to pay for anything. It is the preferred method. The Czech Republic has its currency, but euros are accepted in many places. The conversion was not good for the euros; use local currency for the best value.
Public transportation ran frequently and was efficient. We only used trolleys a few times and never entered a metro station. Google maps worked perfectly, helping to know where, when, and which trolley we could catch. We used Apple Pay to buy tickets right on the moving trolley.
The churches in Prague are everywhere and marvelous. Interestingly, in the least religious country in Europe.
We found Prague the most expensive of the four cities we visited. That surprised us; we thought it would be Vienna. It is still much more reasonable than most Western European destinations, but it is not inexpensive.
We felt safe everywhere, even late into the evening. Prague has many young people, providing youthful energy and an active social scene.
Where to stay when visiting Prague
Our recommendation is to stay in Old Town as it is an ideal location to stay to visit the whole city.
We believe it is important to price out properties on various sites. Expedia is a US-based company, whereas Booking.com is Europe based. Not all properties appear on both. If the establishment has a website, check the price there as well.
Thank you for joining us on our adventure through the magnificent city of Prague
© 2023 Wanderers Compass All Rights Reserved
By clicking the city name, you can check out Budapest, Vienna, and Bratislava On-the-go Posts.
Photo Gallery of Prague
Checkout our most recent blog posts
Our favorite travel insurance site!
If you book a trip, don't forget to get travel insurance within 14 days of your first booking. We could not be stronger advocates of being well-insured. Not just for the little stuff but the big things like medical emergencies. We never leave home without it. Over the years, we have used many sites but have now found our go-to place. Squaremouth.com does a fantastic job; it has a user-friendly interface, uses top-rated and reputable insurance carriers, and most policies cover COVID-19 medical issues and cancellations. They also mediate on your behalf if you have problems with your policy.
To empower you as a consumer, we suggest you read our blog post on the importance of travel insurance and how to get the best coverage from top-rated companies for an affordable price.
Medical transport back home from anywhere in the world
They are the premier global air medical transport. One caveat to travel insurance is that medical evacuation usually gets you to the closest facility to care for you. Medjet gets you back to the U.S. to the hospital of your choice once you are stable enough to fly. They cover COVID-related transport as well.
Medjet carries its own policies. The policy is only for transport and no other aspects of travel insurance. They have individual trip policies starting at $99 and annual policies for around $300. Most of their policies limit the age to 74 and younger. Prices are not based on age below that.
To learn more about how Medical Evacuation membership with Medjet Assist works, check out our blog post for a more detailed review.
Hotels, home rentals, BNBs, flights, and other transportation & tours
Expedia is a US-based company whose mission is to power global travel for everyone and everywhere. Whether planning a family vacation, booking for business, or organizing the trip of a lifetime, they are a fantastic resource. Wanderers Compass focuses on independent travel, and using sites like Expedia makes that possible. Every aspect of travel you need, from airfare, accommodations, rental car, and cruises to activities to do at your destination, can be booked on Expedia.
Hotels, Home rentals, BNBs, Flights, and other Transportation & Tours
Booking.com connects millions of travelers to memorable experiences, various transportation options, and incredible places to stay – from homes to hotels and much more. It is one of the world's largest travel marketplaces for established brands and entrepreneurs of all sizes.
We always check Expedia and Booking.com to verify prices. At times, one is sold out of rooms while another at the same place has rooms. As well we often find some European hotels, especially smaller ones, on Booking.com but not on Expedia. It could be they are a Europe-based company. Try both before booking accommodations.
Are you traveling with a family or having an extended stay at your destination?
With over 2 million bookable vacation rentals, VRBO connects homeowners with families and vacationers looking for something more than a hotel for their trip. The VRBO community offers families or groups various rental property types such as condos, cabins, lake rentals, beach houses, etc.
VRBO is under the Expedia group ownership now, which many were worried about, but it hasn't panned out to be a concern. It is a massive network with access to all lodging forms should issues arise. Joelle has used VRBO for many years with her family with no problems.
As the leading marketplace for travel experiences, Viator believes that making memories is what travel is all about. And with 300,000+ experiences to explore—everything from simple tours to extreme adventures (and all the niche, interesting stuff in between)—making memories that will last a lifetime has never been easier.
With industry-leading flexibility and last-minute availability, it's never too late to make any day extraordinary. This one site has it all and has experiences throughout the world. We use them often during our travels, especially for food tours. We especially take the time to read the reviews provided.
An excellent source for travel essentials and guides
We now have our own Amazon Storefront with all our favorite travel accessories and gear in one place. Check out our travel store at the link below.
Amazon is one of the most comprehensive online shopping sources in the world. On behalf of their customers, teams worldwide provide lower prices, better selection, and rapid delivery. They offer a vast inventory, and their 1.7 million small and medium businesses worldwide selling on Amazon.com offer extensive options to customers.
We buy most of our travel books, accessories, and luggage from Amazon. We have ordered up to two days before travel and get what we need.
Welcome Pick-ups
(Airport and sightseeing service)
A global leader in ground transportation for travelers. They help hundreds of companies worldwide enhance their services and boost their revenue with our 5-star ride experiences and hassle-free automation.
Founded in 2015 in Athens, Greece, Welcome Pick-ups goes above and beyond the standard transfer service as the first company to deliver a holistic, in-destination travel experience. From the moment a traveler arrives at a new destination until they return home, Welcome accommodates all their travel needs (transfers, travel products, things to do, information) as the easiest, friendliest, and most personalized solution.
Do you feel like you are wasting time visiting an on-site photographer only to be embarrassed by the photo? Would you like control of the final product? Get the perfect VISA or passport photo online with PhotoAID.
When traveling, you often need to apply for official documents such as a passport, ID, and different kinds of licenses or cards. Those applications require a picture that must meet specific conditions to be accepted, depending on the country. Now, it is possible to take this picture at home without the help of a professional photographer. PhotoAiD allows you to take the perfect biometric photo that will be approved by you without leaving your home.
This article contains affiliate links. If you use these links to buy something, we may earn a small commission at no additional cost to you. Thank you!
Do you have a question for us or have a comment?