Historic downtown Frederick: A blend of historic charm with a contemporary edge
With all our international traveling, sometimes we forget to learn about our country's great history or to take the time to discover the wonderful local places the United States offers. You know you have found a gem when you can do both in one stop. Frederick, Maryland, checks those two boxes perfectly. It may seem like a typical mid-sized city center, but there is so much more. You will soon discover its charming ambiance, beautiful central canal, fantastic waterfront, friendly local shops, and top-notch restaurants, surrounded by an area rich in U.S. history. We came for the excellent craft beer, again and again, only to adore all that Historic Frederick, Maryland, has to offer. So let's find a good place to park, put on some walking shoes, and prepare for an evening outside in this historic and vibrant place.
Where is Frederick, Maryland?
Frederick, Maryland, is located in northern Maryland and just south of Pennsylvania. It has easy access to Virginia, West Virginia, Pennsylvania, and the D.C. area. The city is 1 hour 20 min from DC & Annapolis, Maryland, and 1 hour and 5 min from Baltimore. It is immediately off Highways 70 and 270.
First, something about Frederick, Maryland
Frederick, Maryland, was founded sometime before 1730 and was an important crossroad during colonial times. The city was once the Maryland state capital. There are plenty of historical places to see, monuments, and museums throughout the city and the surrounding area.
One impressive historical stop is the National Park Service's 1780s Thomas Farm, where you can learn about the people who lived and worked there, including free and enslaved blacks, French immigrants, farmers, and millers. The Hessian Barracks, built in the 1700s, is a popular place to visit. The Mt Olivet Cemetery in town is where the writer of the Star Spangled Banner, Francis Scott Key, now rests in peace. The cemetery is in itself a poignant stop.
The Civil War played out in this area, and you can visit the Monocacy National Battlefield. One of the more notable events there during the war was when 8,000 wounded soldiers were brought to Federick after the Battle of Antietam in 1862. The National Museum of Civil War Medicine resides in Frederick as a result.
Plenty of fun and educational family activities make this area a great day or weekend trip.
This is a city that has invested in its future
The Frederick, Maryland, city planners have done the city proud; with foresight and investment in its future, they have an award-winning destination. While preserving the past, they also brought a lively and contemporary scene to the area to the present. The elegant art galleries, live music, vibrant street murals, tons of specialty shops, great food options, small and large scale community events, live theater…….the list goes on and on. Now if we have filled your brain with background on Frederick, it's time to tantalize your palate with some great beer and spirits, the real reason we stopped here.
Historic Frederick, Maryland Beer Trail
The canal (Carroll Creek Park) walk starts at East Patrick Street and ends at West Patrick Street, about one mile away. This is the more built-up end that goes through the city by many breweries and restaurants. The lovely brick pathways line both sides of the canal, with multiple bridges, fountains, and artworks throughout this side.
The path continues west for pleasant walking or bike riding by many parks for another mile and a half. This may be a good idea after all the food and drinks you are about to sample. Do not worry; we won't judge you. Start at the east side with a lovely cluster of breweries that will have something for every beer lover… and food lover, for that matter. Most breweries offered food from their kitchen or a food truck outside the brewery.
Historic Downtown Frederick, Maryland Breweries
Anyone who follows Wanderers Compass knows we love craft beers (especially dark brews) and seek them out during our worldwide travels. Having been to some of the top beer capitals in the world, such as Prague, Dublin, Mexico City, Bern, Brussels, Munich, Lisbon, Copenhagen, and Budapest, we think we have a discerning palate. We enjoy the breweries here, so we stop by Frederick often because of the craft beer quality, variety, and fantastic setting.
The U.S. has many great beer scenes, and Federick should be on the map. The breweries here are growing in popularity. Additionally, the area has much to do and see, especially for families. We saw many kids at the breweries, so after a day of fun with the kids, the parents can grab the kids a bite to eat while the grownups enjoy a cold craft brew. Oh, and bring that family dog too!
Most of the images used below are from our visits but a few are from the respective websites of each location.
First up is Idiom Brewing Co. This rustic brick building with large, exposed beams can be a lively place. You will feel at home with a friendly staff, live music, and dogs everywhere. Oh yeah, there is excellent beer as well. Stop at the food truck, sit down, and enjoy people-watching by the water inside or outside.
The founders of Idion Brewing began craft brewing years ago while visiting friends who had moved to a small town outside Portland, Oregon. Things have paid off for them. It is one of the favorite stops in Frederick and is a prominent place with two distinct rooms, each with a bar. Their menu is extensive, diverse, and unique. If you love dark beers, we have always enjoyed their offerings.
Directly attached next door to Idiom is Steinhardt Brewing. With the same style of brick building and a large single room, it has more of a modern touch as it is a new location for them. You have lovely views of the stainless steel tanks behind the large bar, where you will find an impressive beer selection.
The Steinhardt namesake landed in America when John George Steinhardt immigrated from Munich, Germany, in 1927. Nearly 100 years later, his son Jim and his son's wife Daria carry the tradition of old-world Bavarian and Belgian-style beer.
You are going to want to do more than one flight. There will be another food truck waiting for you in the parking lot on the side of the building. We enjoyed talking to the staff and joked with the new bartender in training as we learned a little about the beers. They also have a patio area by the water, and with Idiom right there, it is easy to bounce back and forth to each if you choose. Bring your dogs so they can enjoy the canal and patio.
Walk across the pedestrian bridge, and you will find two more breweries ready to serve you. Right on the corner is Smoketown Creekside.
Here is a place with a warm and trendy interior that, of course, makes fantastic beers. Hang out on the patio or play cornhole inside. They won't disappoint. Another family and dog-friendly place; you can't go wrong here. This is the second location of the original Smoketown. It made its home in an old firehouse, which looks fantastic. If you are in the area, it is only 20 minutes southwest, and we bet it is as good as Smoketown Creekside.
This is the largest of the breweries in the area. There is often entertainment on the schedule, and there can be a cover charge on some nights with bigger headliners. They have excellent beers and lots of great dark brews. We brought some home more than once.
In the same building as Smoketown Creekside is Attaboy. This taproom has changing drafts, a beer garden, and rotating food trucks. A contrast in looks and style of the places across the creek, this place has a dark modern industrial feel. Dark paints and metal chairs give it that feel, but it has a warm environment. They love family and dogs in this area, as they welcome both.
The taproom has a changing set of beers on tap. They have lots of creativity and experimentation here. Choose from NEIPAS, IPAS, Pales, Belgians, seasonal beers with fruit, mixed fermentation, and barrel-aged to tame whatever mood you are in.
They also have another location called The Barrel House which specializes in small-batch barrel-aged beers. It is their dedicated space for Barrel Aging & Blending in downtown Frederick. The area is 6500 sq. ft. for the taproom and production. Vaulted wood ceilings and polished cement floors make it a great place to book for parties, weddings, private events, and hourly rentals. They also have a private fenced-in beer garden and a dance floor.
On the west end of the canal area and three blocks, north is Brewer's Alley. With a long and rich history, the building is an attraction in its own right. For over 153 years, Brewer's Alley has been a fixture in Frederick's social and economic landscape. They have seen the Civil War, including the ransoming of the city by the Confederate army. It has seen a farmers' market, an opera house, and a theatre. Many local historical events have happened here as well. Some of the old opera house features have been restored to give a unique style to this establishment.
With so much history, it is no surprise Brewer's Alley continues the rich history with this brewery. Their beer is delicious, and they do offer flights. The location has two parts inside: the boisterous and busy bar and the restaurant seating, where you can enjoy their food in a quieter setting. There are two outside areas as well: sit on the beautiful front patio or go to the rooftop deck with a covered area. Brewers Alley has the whole package, in our opinion. Since 1996 they have been making locals happy with their craft beer, and we don't think they are going anywhere.
Home brewing was a passion for Nick & Keith, and we can still see that passion today. After 17 years, they reunited and created Olde Mother Brewing; they didn't skip a beat. Olde Mother has many beer styles, which are great for washing down a meal or quenching your thirst. Speaking of style, they have no shortage of that inside the unassuming storefront. It is warm, colorful, and has incredible energy.
Opened in October 2015, they quickly outgrew their brewing system and upgraded to a larger brewhouse; we can see why. This is a fun establishment that won't disappoint. There is even a meat market attached in the back. Don't worry about the location. They are still in the historic district and are only a short three-block walk north of Brewer's Alley, six blocks from the canal. Street parking seemed easy to get.
Rockwell Brewing is farther from the main tourist area in the city's northeast corner. After years of being home-brewing buddies, co-owners Paul Tinney and Matt Thrasher opened this establishment in March 2017. They were inspired by the beers they made and Frederick's craft brewery scene. They put the inspiration to good use. Combine that with Head Brewer Scott McKernon, and his home brewing and chemistry background; you know they make delicious beer. Who can resist a beer called Bitchin Comaro? You will find stouts, porters, reds, IPAs, blondes, occasional barrel-aged, and more here.
Relax on the front patio or get comfortable in their inviting inside with a style you expect from a modern craft brewery. They told us they would open a second location in Frederick in the late Spring of 2023.
Across the street and one building up from Rockwell is a smaller, low-key brewery in a strip mall that will surprise you. It doesn't seem like much outside but has a nice styling and a more intimate hometown feel. Dog and family-friendly, as always. They do not have food or food trucks, but you can bring your own, which makes it a nice place to plan a get-together or small party.
Now the beers surprised us. They have nine on tap and can compete with any larger brewery. Midnight Run was started in a garage more than ten years ago by Rich & Brent. Home-brewing alchemists with degrees in both culinary arts & mechanical engineering. This helps you understand why their beers are so good; we wouldn't steer you wrong.
Farthest from the canal in the northeast corner sits Monocacy Brewing Company. Brewmaster Tom Flores and his talented brewers use their combined 50 years of brewing experience, formal education, and internationally recognized credentials to create unique beer.
In 2012, Monocarcy opened in a former Ice Cream plant, and that beautiful brick building is put to good use. They have a rotating selection of year-round and limited-release beers, and you will want to stop to try them all. Grab a flight, get something from one of the rotating food trucks, and sit outside. Their outdoor space is shaded with large trees, is fenced in, and has a small fountain to relax by. Don't forget to bring your dogs. They also have a nice seating area to gather inside, so don't miss out.
The exposed brick and floor-to-ceiling windows make for a bright and warm setting to dine and watch the activity on East Patrick Street. Some of the smaller breweries in the area do not have tasting rooms, but often, you can find the beers here on JoJo's menu.
If you're looking for more of a laid-back but lively atmosphere with a broad and excellent craft beer menu, JoJo's has you covered at the Tap House. During our visit, they had 20 brews or cider on draft. They also offer many bottled brews, wine, and cocktails. They also feature a Daily Happy Hour, rotating specials, and a late-night light menu. It is the perfect evening out with friends, but remember, it is a popular place for dinner.
We only have pictures from the website but will get our own soon.
This was one of the first stops we made when exploring Frederick, Maryland while looking for a place for a sit-down dinner. The reviews were positive, and they had a reputation for having a nice beer collection. From the moment we walked in, we were impressed. It has an intimate community feel. The bar was buzzing, and the list of drafts on tap was long. The electronic boards present all their options and show how much is left in the keg. They serve many local brews but also have some excellent international options.
The food is delicious and is reflective of a gastro pub. The place is small and can get very busy. Getting a table at peak weekend dinner times could be challenging, so call ahead.
For those who prefer spirits
McClintock Distillery is home to great and unique liquors. We were wowed the moment we saw it and loved every moment of our visit. Established in an old brick auto shop, the owner painstakingly restored this structure to its natural beauty. Also natural are the ingredients to make their products. The building is in a lovely nook on the canal near most of the great breweries and shops. They use local ingredients and help reduce the impact of transportation. We were surprised by everything we tried; it was hard to pick a favorite. Ultimately, we spent a pretty penny on the bottles to take home.
McClintock opened their Back Bar to utilize the high-quality local ingredients and make fantastic cocktails. Both of their areas are beautiful and relaxing. This isn't the only distillery in Frederick; however, you can't go wrong when you combine a perfect location, a beautifully restored stylish building, and fantastic spirits.
Outside of downtown Frederick, Maryland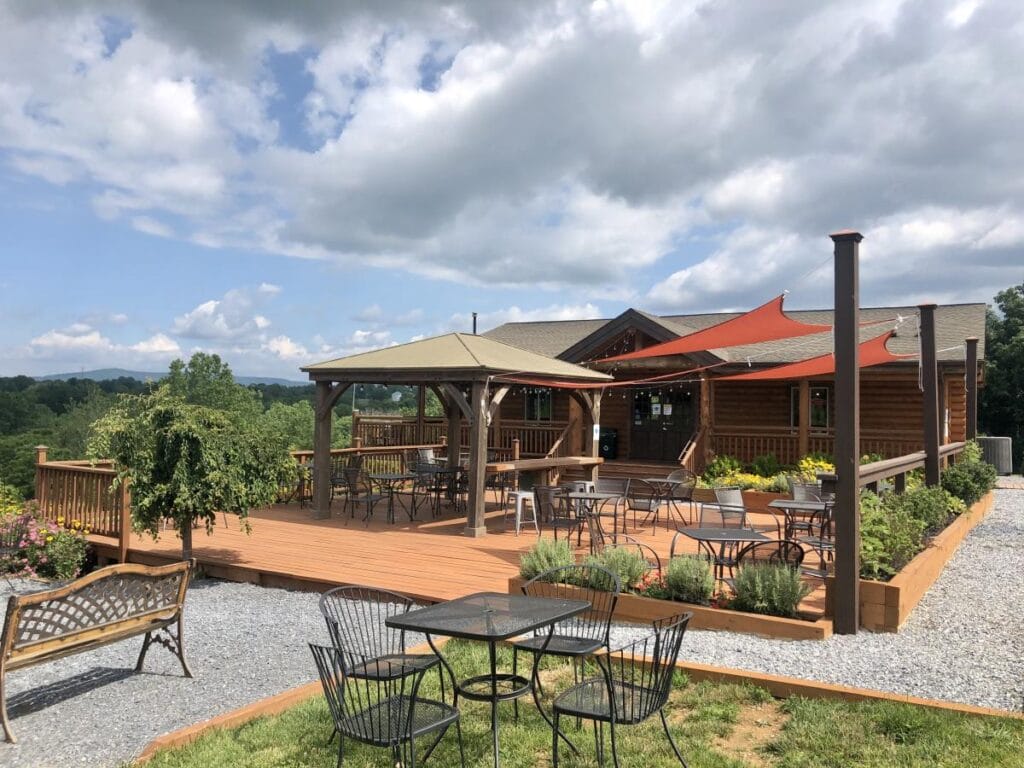 Frederick County has a vast collection of wineries, breweries, meaderies, and distilleries for those wishing to wander out more. There are many unique tasting room experiences in the tranquil countryside. Drink in the view while sampling locally-produced wine, hard cider, mead, beer, and spirits from 21 different locations. Check this link with a map to learn more about Federick County craft beverage options.
Are you interested in exploring more historical landmarks in Frederick County? Check out this link.
For those Irish Beer Lovers, did you know that the only Guinness location in the United States is in Baltimore, Maryland, just an hour away from Frederick? We loved our visit to the Guinness Open Gate Brewery.
Where to stay when visiting
There are many hotels, inns, and BnBs to stay the night near Frederick, Maryland. The two times we stayed in the area, we stayed in the Hampton Inn.
We believe it is important to price out properties on various sites. Expedia is a US-based company, whereas Booking.com is Europe based. Not all properties appear on both. Check places to stay out on the links below. If the establishment has a website, check pricing there as well.
Final Thoughts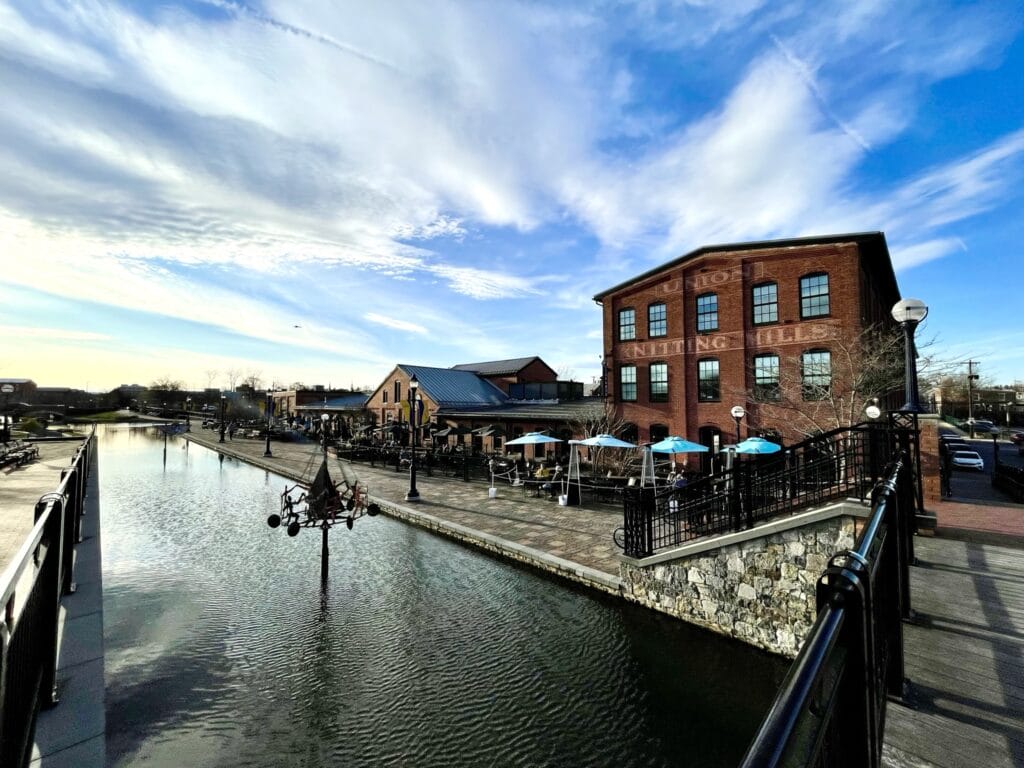 Frederick is the perfect place to take a day trip or stay a weekend with the family. Get outside, and learn some American history. Take your time to discover your favorite part of the city. Take in all the fantastic local beer and food scene this charming town offers, then try some more.
Enjoy the canal and local shopping while appreciating the old architecture in the center of the historic district. If traveling in the area or internationally, take the time to enjoy a quieter and more personal space in Maryland and the tri-state area. We love coming back every time.
Photo Gallery of Frederick, Maryland
Our Recommended Travel Resources
Our favorite travel insurance site!
If you are booking a trip, don't forget to get travel insurance within 14 days of your first booking. We could not be stronger advocates of being well-insured. Not just for the little stuff but the big stuff like medical emergencies. We never leave home without it. Over the years, we have used many sites but have now found our go-to place. Squaremouth.com does a fantastic job; it has a user-friendly interface, they use top-rated and reputable insurance carriers, and most policies cover Covid medical issues and cancellations. They also mediate on your behalf if you have problems with your policy.
To empower you as a consumer, we suggest you read our blog post on the importance of travel insurance and how to get the best coverage from top-rated companies for an affordable price.
Medical transport back home from anywhere in the world
They are the premier global air medical transport. One caveat to travel insurance is that medical evacuation usually gets you to the closest facility to care for you. Medjet gets you back to the U.S. to the hospital of your choice once you are stable enough to fly. They cover Covid-related transports as well.
Medjet carries its own policies. The policy is only for transport and no other aspects of travel insurance. They have individual trip policies starting at $99 and annual policies for around $300. Most of their policies limit the age to 74 and younger. Prices are not based on age below that.
To learn more about how Medical Evacuation membership with Medjet Assist works, check out our blog post for a more detailed review.
Hotels, home rentals, BNBs, flights, and other transportation & tours
Expedia is a US-based company whose mission is to power global travel for everyone and everywhere. Whether planning a family vacation, booking for business, or organizing the trip of a lifetime, they are a fantastic resource. Wanderers Compass focuses on independent travel, and using sites like Expedia makes that possible. Every aspect of travel you would need, from airfare, accommodations, rental car, and cruises, to activities to do at your destination, can be booked on Expedia.
Hotels, Home rentals, BNBs, Flights, and other Transportation & Tours
Booking.com connects millions of travelers to memorable experiences, various transportation options, and incredible places to stay – from homes to hotels and much more. It is one of the world's largest travel marketplaces for established brands and entrepreneurs of all sizes.
We always start with Expedia to check prices, but it sometimes says it is sold out. We then try Booking.com, and we find it lists plenty of rooms. It could be they are a Europe-based company. Try both before booking accommodations.
Are you traveling with a family or having an extended stay at your destination?
With over 2 million bookable vacation rentals, VRBO connects homeowners with families and vacationers looking for something more than a hotel for their trip. The VRBO community offers families or groups various rental property types such as condos, cabins, lake rentals, beach houses, etc.
VRBO is under the Expedia group ownership now, which many were worried about, but it hasn't panned out to be a concern. It is a massive network that has access to all forms of lodging should issues arise. Joelle has used VRBO for many years with her family with no problems.
As the leading marketplace for travel experiences, Viator believes that making memories is what travel is all about. And with 300,000+ experiences to explore—everything from simple tours to extreme adventures (and all the niche, interesting stuff in between)—making memories that will last a lifetime has never been easier.
With industry-leading flexibility and last-minute availability, it's never too late to make any day extraordinary. This one site has it all and has experiences throughout the world. We use them often during our travels, especially for food tours. We especially take the time to read the reviews provided.
Tripadvisor, the world's largest travel guidance platform, helps hundreds of millions of people each month become better travelers, from planning to booking to taking a trip. Travelers worldwide use the Tripadvisor site and App to discover where to stay, what to do, and where to eat based on guidance from those who have been there before.
With more than 1 billion reviews and opinions from nearly 8 million businesses, travelers turn to Tripadvisor to find deals on accommodations, book experiences, reserve tables at popular restaurants, and discover great places to see nearby. We use them for guidance and research on every trip; it is a valuable app for the independent traveler.
Welcome Pick-ups
(Airport and sightseeing service)
A global leader in ground transportation for travelers. They help hundreds of companies around the world enhance their services and boost their revenue with our 5-star ride experiences and hassle-free automation
Founded in 2015 in Athens, Greece, Welcome Pick-ups goes above and beyond the standard transfer service as the first company to deliver a holistic, in-destination travel experience. From the moment a traveler arrives at a new destination until they return home, Welcome accommodates all their travel needs (transfers, travel products, things to do, information) as the easiest, friendliest, and most personalized solution.
Discover Europe by Train
Rail Europe sells train and bus tickets for travel across Europe. They cover 24 countries, 105 rail operations, and 20,000 stations. They are the official rail and bus operations agents in the UK, France, Spain, Italy, Germany, Belgium, Austria, Switzerland, Luxembourg, and the Netherlands. Rail Europe continues to add coverage all the time.
It is a fast, easy, and economical way to purchase European train and bus tickets. Eurail passes are also available to buy through their site.
An excellent source for travel essentials and guides
We now have our own Amazon Storefront with all our favorite travel accessories and gear in one place. Check out our travel store at the link below.
Amazon is one of the most comprehensive online shopping sources in the world. On behalf of their customers, teams worldwide provide lower prices, better selection, and rapid delivery. They offer a vast inventory, and their 1.7 million small and medium businesses worldwide selling on Amazon.com provide extensive options to customers.
We buy most of our travel books, accessories, and luggage from Amazon. We have ordered up to two days before travel and get what we need.
Thoughtfully Designed | Meticulously Constructed | Quality Guaranteed.
We have used this luggage for years, left briefly to try others, and returned to Travelpro. Travelpro luggage is carried by crews from over 90 airlines worldwide.
Travelpro takes the time to learn what travelers want and need, then builds it. The key factor for us is that it must be lightweight upfront and resistant to rough handling. Their luggage is the best, and we could not recommend it enough. It is our go-to luggage.
This article contains affiliate links. If you use these links to buy something, we may earn a small commission at no additional cost to you. Thank you!
Do you have a question for us or have a comment?
Check out our most recent posts