The designated UNESCO World Heritage Site Douro Valley in Northern Portugal attracts wine lovers worldwide. The birthplace of Port Wine, it has a centuries-old winemaking culture with 250 indigenous grape varieties. Duoro Valley was the first demarcated wine-producing region in the world, established in 1756.
But the Douro Valley is more than just a well-known wine region.
It has a beautiful wild landscape, the world's third-largest river, stunning riverbanks, spectacular steep slopes covered with vineyards, and charming small towns. Once inside the valley, you will find many great restaurants, first-class accommodations, and luxurious spas that will make your entire experience unforgettable.
Our Visit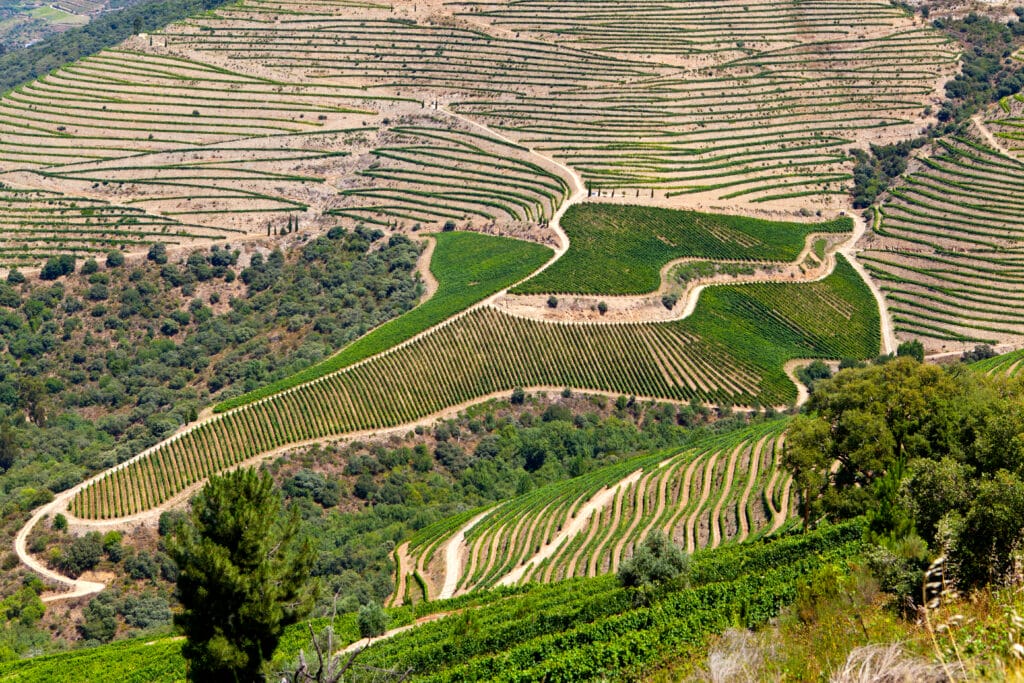 We made a day trip by car from Porto during our fall visit. The roads in Portugal were excellent, and the scenery along the way was well worth it. We could go at our own pace and make random stops along the way. At one point, a man we met at one of the wineries suggested heading up to Miradouro São Leonardo de Galafura for the spectacular views of the Douro Valley. It was one of my favorite parts of the day.
If you don't have a car, we recommend taking the boat trip if you are only on a one-day trip. Since it is impossible to drive through the entire valley in a single day, you will get an excellent sampling of the valley from the water. The boat trip is the most efficient way to see and experience the valley's main attractions. There are also many options for day tours from Porto or nearby areas.
If you can, a private tour would take your experience to the next level if you have the time and travel with your family. Private tours can be tailored to your specific interests. For example, they can assist you in arranging wine tastings or dinners of delectable Portuguese food in a unique location in the valley.
Where is Douro Valley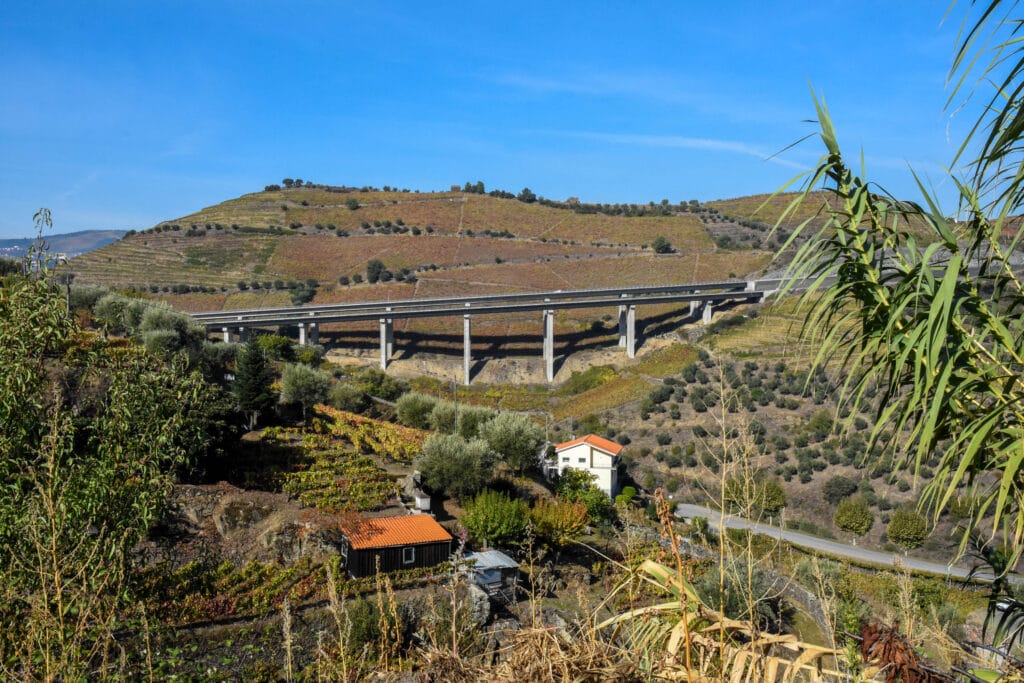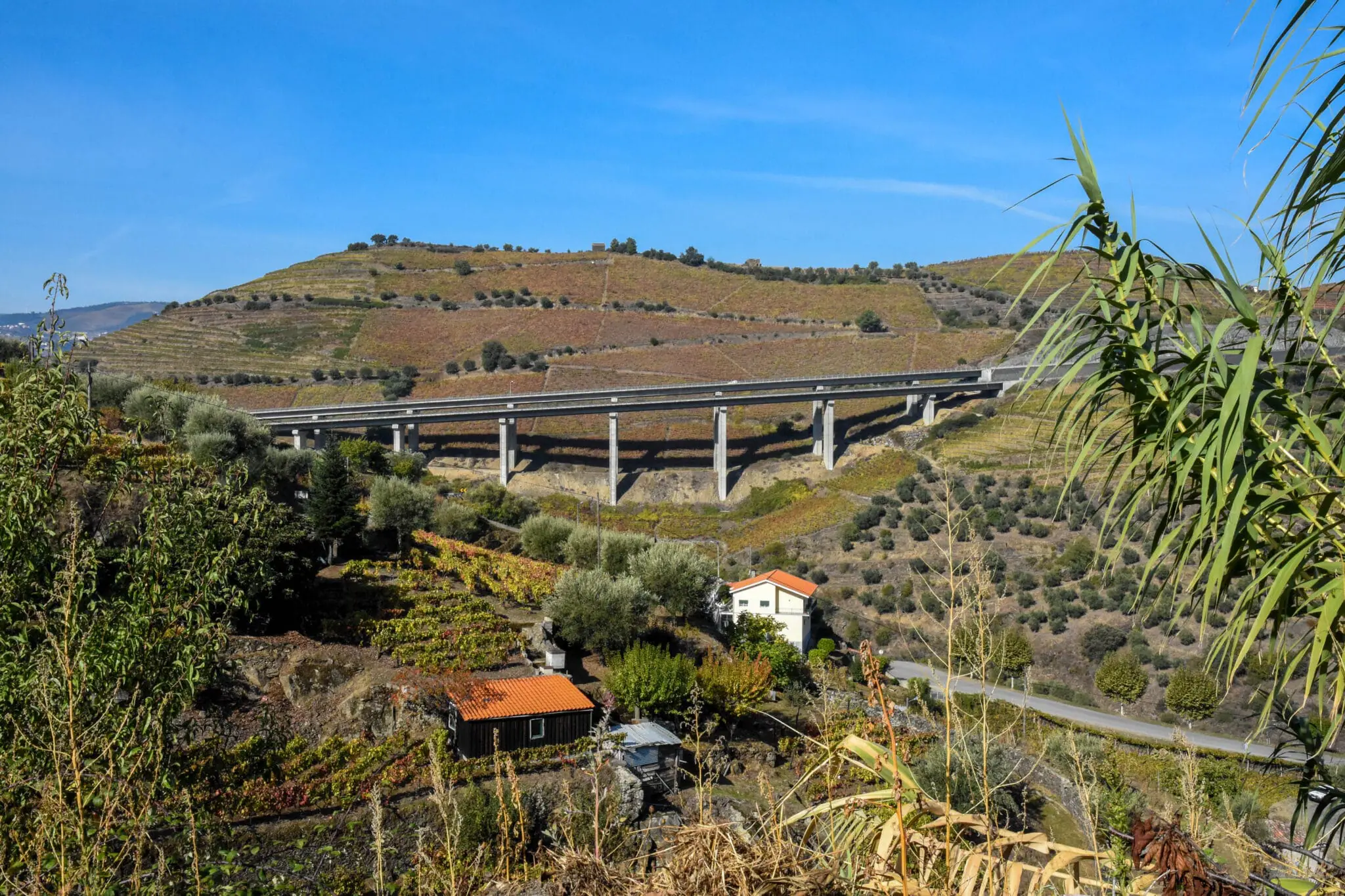 The Douro Valley is in northern Portugal, just one and a half hours from Porto, and is the main gateway to the Douro Region. Stretching over 373 miles, which is why you can not do it one day, the Douro Valley is a historical and cultural region of Portugal, long known for its vineyards and the production of some of the world's best wines.
The demarcation of the Douro River Valley includes a broad swath of pre-Cambrian schist and granite land. Beginning around the village of Barqueiros (43 miles upstream from Porto), the valley extends eastward almost to the Spanish border. The region is protected from the influences of the Atlantic Ocean by the Serra do Marão mountains. The area is three official zones: the Baixo (lower) Corgo, the Cima (higher) Corgo, and the Douro Superior.
There are several options to get to Duoro Valley. Porto is the usual starting point for your beautiful adventure to the Douro Valley. From cruise boats, trains, buses, cars, or by helicopter! Each guarantees an equally impressive and picturesque journey that will amaze you.
Transportation and Directions
By water: What better way to explore the Douro Valley than take a boat ride on the tranquil river? Cruise boats depart from Vila Nova de Gaia pier, just across from Porto's Ribeira. Several types of cruise boats are available, from day trips, for time-sensitive travelers to multi-day cruises for a more relaxed and extended visit.

By group tour: There are many options, such as Trip Advisor and Viator, to book tours. Often you will take it by bus, and the tour will take about nine hours.

By train: One of Europe's most picturesque railway lines, Linha do Douro, departs from São Bento station in the center of Porto and takes you across the entire Douro Valley to Pocinho. Train enthusiasts will enjoy exceptional views as you ride through the heart of the Douro Valley. We suggest getting a seat on the right-hand side of the train for the best views.

By car: This is how we visited Duoro Valley. Traveling to the Douro Valley by road is a truly unforgettable experience because you have complete control of where and when to stop. There are countless incredible viewpoints throughout the Douro Valley. The N-222, which connects Peso da Régua to Pinhão through the Douro Valley, was awarded by the Avis (our favorite rental car company) Driving Index as the World's Best Road!

By helicopter: For those who prefer extravagant experiences. Tours can vary from 20 to 45 minutes.
Map of Douro Valley Region
What is this Port Wine?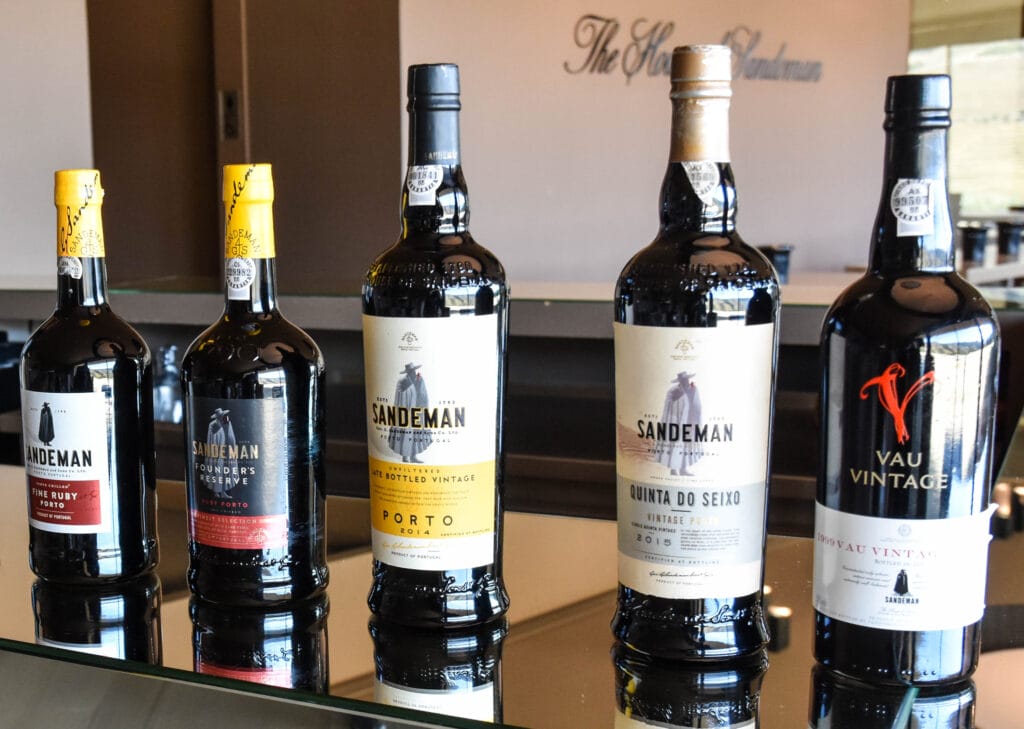 Port wine (Vinho do Porto or Port) is a Portuguese fortified wine produced in the Douro Valley of northern Portugal. Port wine is typically a sweet red wine, often served with dessert, although it also comes in dry, semi-dry, and white varieties. Other port-style fortified wines are produced outside Portugal. These countries are Argentina, Australia, Canada, France, India, South Africa, Spain, and the United States. However, under the European Union Protected Designation of Origin guidelines, only wine from Portugal can be labeled "Port."
There are several varieties of Port Wines. In most cases, they are distinguished by varied aging techniques. There is Rubym Port, Tawny Port, White and Rose Port, Vintage Port, and Late Bottled Vintage Port. Each of these varieties is genuinely unique.
The Region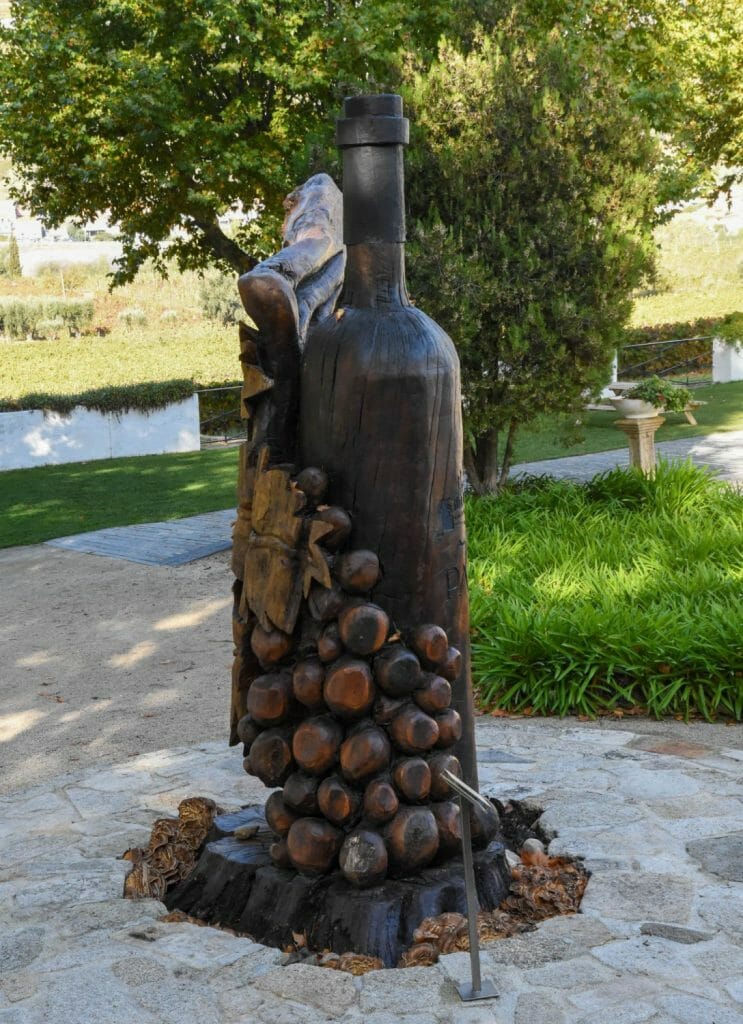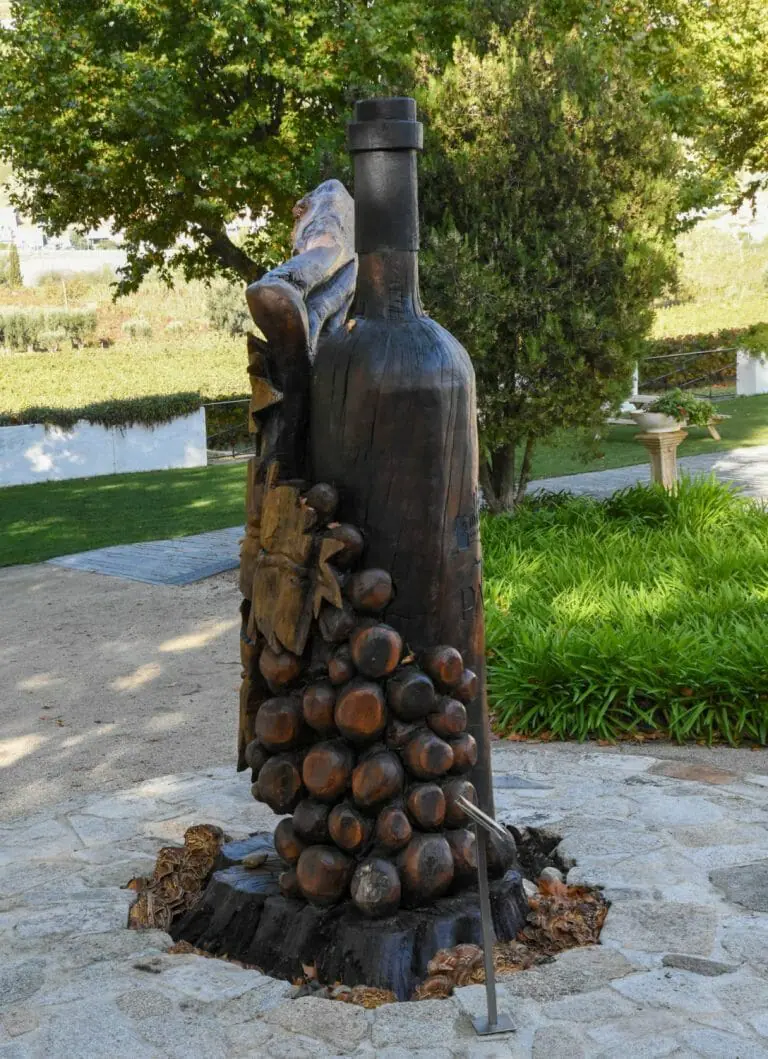 The Douro Valley, where Port wine is made, was defined and established as a protected region. The Douro was thus an official appellation in 1756, making it the third oldest, after Chianti (1716) and Tokaj (1730).
The valley of the Douro River in northern Portugal is a microclimate optimal for cultivating olives, almonds, and especially grapes, necessary for making Port wine. The region around Pinhão and São João da Pesqueira is considered the center of Port production. It is known for its picturesque Quintas – estates clinging to almost vertical slopes dropping down to the river. The conditions where the grapes grow are harsh, and the terrain makes for difficult labor in the scorching heat.
Do you plan to visit beautiful Portugal? Check out our Portugal Travel Guide to guide you in planning your next adventure.
Interesting Facts on Duoro Valley
Did you know the Douro Valley region is one of the world's oldest wine-growing regions? When you explore this region, you will notice many activities directly related to winemaking.

It's been recognized by UNESCO. In 2001 UNESCO declared the Douro Valley wine region a World Heritage Site — a testament to its significance.

It has a 2,000-year history. Archaeological evidence shows that wine dates back in Douro Valley to Ancient Roman times. The first traces of vines date back even further — 3,000 years, to the Bronze Age.

The Douro Valley produces Port Wine (one of Portugal's finest wines). That is why some people refer to it as Douro Wine. It's rich, sweet, and popular as a dessert wine.

It's the only place in the world Port Wine can be made. Because of the formal boundary and the unique characteristics of the land, the climate, and the culture that contribute to the production of Port Wine, it cannot be produced anywhere else in the world. True Port Wine can only originate in the Douro Valley!

Another intriguing fact about the Rio Douro is that it lacks natural soil. The rows of vineyards or other plants you see are not growing in the fertile soil. The rocks were broken up and turned into soil, which supported the planting patterns.

This valley also has a natural park where endangered wildlife can be found. It is also one of Portugal's largest protected areas, with historic villages and ancient cultures. This park is a must-see for anyone interested in Portugal's true history. It has an area of approximately 860 km2.

The Douro Valley is known for its incredible landscapes but also has beautiful roads cyclists frequently use. You can also rent a bicycle and ride it with your significant other on moderately difficult roads while admiring its natural beauty.
We came for wine but fell in love with the landscape
One of the main reasons people travel through the Douro Valley is to visit the "Quintas," which are the heart of the Douro Valley's history as they have produced the world-famous Port wine for centuries. A "Quinta" is a farm estate; in this region, it means a winery with vineyards attached. There are over 200 in the AVA.
A visit to Douro Valley must include at least two visits to these Quintas. A warning, these experiences are popular, and the space for tours and tasting are very limited. As a result, you must make an appt for any Quintas you wish to visit well in advance. We visited during the off-season on a weekday, and several had no space for tours and tastings.
Several of these Qunitas do offer food. We had a lovely traditional lunch at Sandeman while enjoying stunning views. Since many of these wineries also have accommodations, a restaurant is often on-site.
Our top five suggestions for Quintas in Douro Valley (this, of course, varies often based on preference)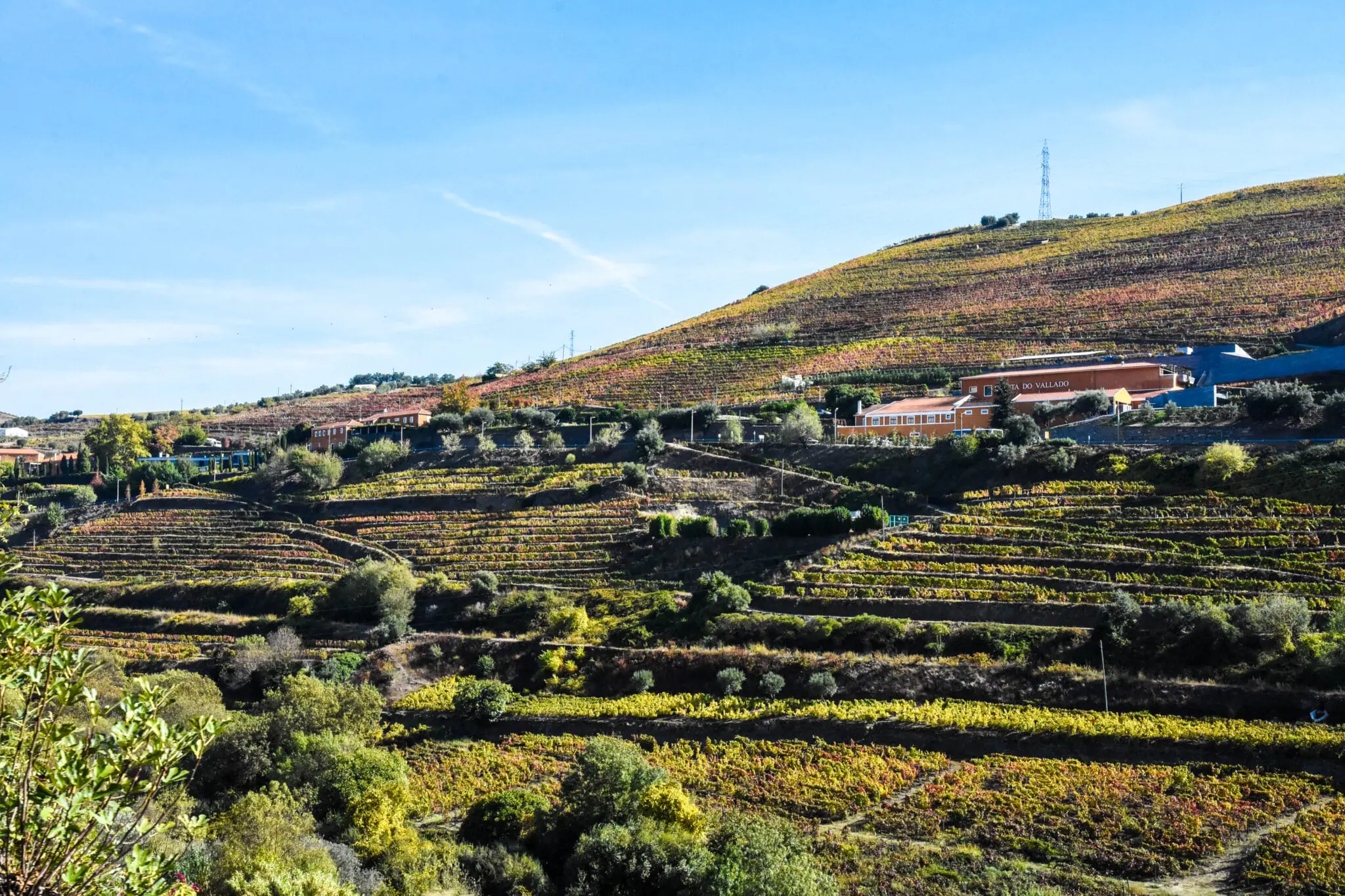 Quinto do Vallado was built in 1716 and is one of the most famous in the Douro Valley region.
Quinto da Pacheca has been producing wines since 1738. and are pioneers of Duoro wines. They were one of the first properties to bottle wine under its own label.
Quinto do Crasto is located on the right bank of the Douro Valley. It has origins that date back to the early 17th century.
Sandeman Quinto do Seixo was our favorite stop in Duoro Valley. Strolling through the vineyards, we were dazzled by the setting and nature's living colors. In addition to the stunning beauty, it is here where their high-quality wines are born and take shape.
Quinta Carvalhas is probably the largest and one of the most emblematic wineries in the Douro Valley. It's located at the mountain of Carvalhas, which is around 180 feet and offers stunning 360-degree views over the Douro Valley.
One of our favorite places in Portugal was the walled city of Obidos. Check out our blog post-Obidos: Portugal Perfection.

Non-Wine Things to Do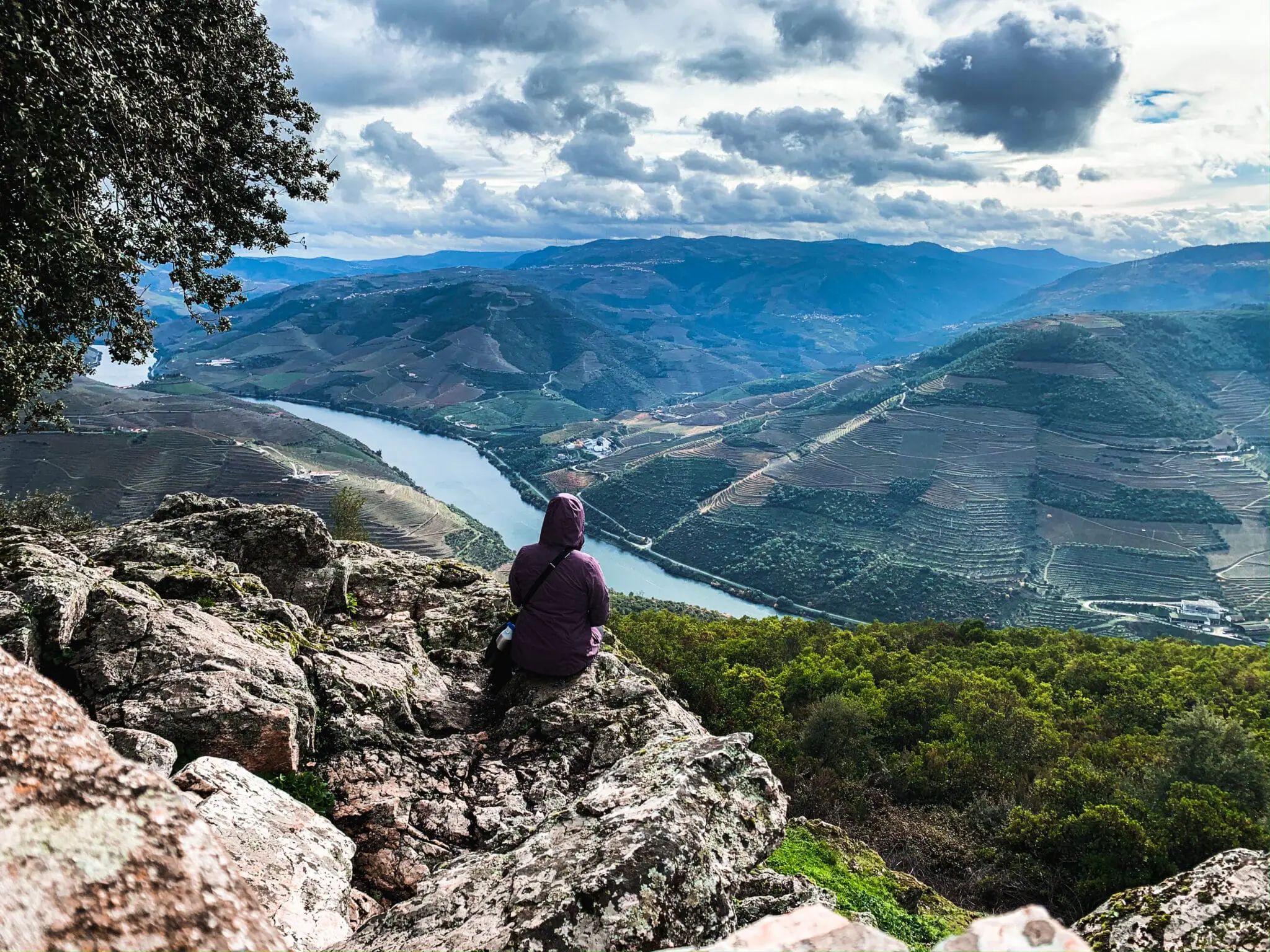 Visit the International Douro Park. It has massive cliffs and overwhelmingly beautiful views. However, avoid visiting this park during the summer because it can be scorching with no shade.

Going for a hike is one of the best things you can do. There are numerous hiking trails that provide the best views of the entire valley. Some tour companies offer one-day or multi-day guided hiking tours.
Cycling is another excellent option. You can rent bikes for a short tour and leisurely ride between wineries. But you should stay on the roads because the hills can be challenging.
Museu do Douro (Douro Museum) is a museum in Peso da Régua dedicated to promoting the Douro Valley and Port wine heritage. It's a modern museum outlining the history of the Valley, where you can learn the cultural importance of the region and the Port wine production process, with a tasting session at the end.
Visit the Congida River Beach in Duoro International Natural Park. The beach sits on an outcrop on the large reservoir formed by the Saucelle Dam near the Spanish Border.
Mosteiro de Sao Joao de Tarouca is a medieval-era monastery. It is the Cistercian Order's first monastery.
Kayak the Douro River if you're feeling daring. Most tours are guided but are very relaxing, allowing you to see the massive green hills from a different perspective. Rent a kayak for up to 6 hours and independently explore the entire area.

Explore Parque Arqueológico do Vale do Côa. The Côa River is a tributary that runs into the Douro River. For thousands of years, the rock formations lining the river banks have engravings dating back 25,000 years.

Drive to Miradouro São Leonardo de Galafura for the spectacular views of the Duoro Valley.
The Most Attractive Feature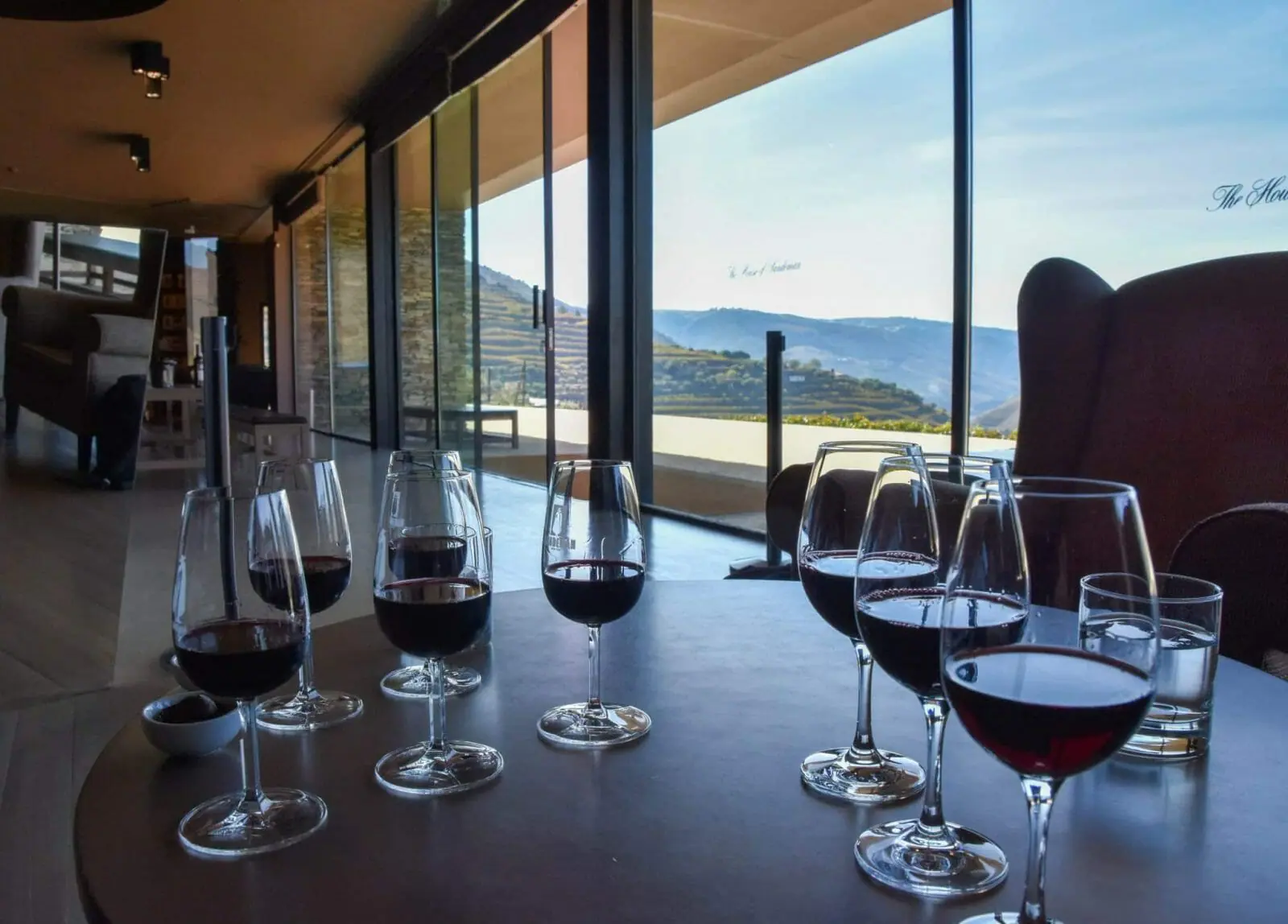 We are all aware that this valley is well-known for its Port wines.
So, after exploring the lush valleys and participating in some activities, fill your goblet with world-renowned wines.
If you are a true wine enthusiast, you must also visit the terraced vineyards. It is a spot for Instagram-worthy photos. Take plenty of pictures, as this is one of the world's oldest wine-growing regions, and share them with your friends. The interesting thing about these terraced vineyards is that they are also the highest point in the valley, and the roads up there can be quite nail-biters.
You can see for miles in every direction when standing in the middle of them.
Best Time to Visit Douro Valley
September and October are ideal if you want to visit this lovely location. The weather is pleasant during these two months. The fall colors are magnificent. Photographers will be in seventh heaven.
You can also choose April and May to enjoy the spring greenery and flowers. The almond trees will provide beautiful patches of white and pink flowers during Spring. The weather is mild and pleasant. Spring is the best time to visit if you enjoy outdoor activities such as hiking and boating.
The summer months are busy with tourists, but the heat can be scorching. It can make for long and exhausting days.
In winter, the olive harvest begins for many acclaimed olive oil producers in the region. There are always special activities to celebrate this time, especially for the festive season.
Where to stay when visiting Douro Valley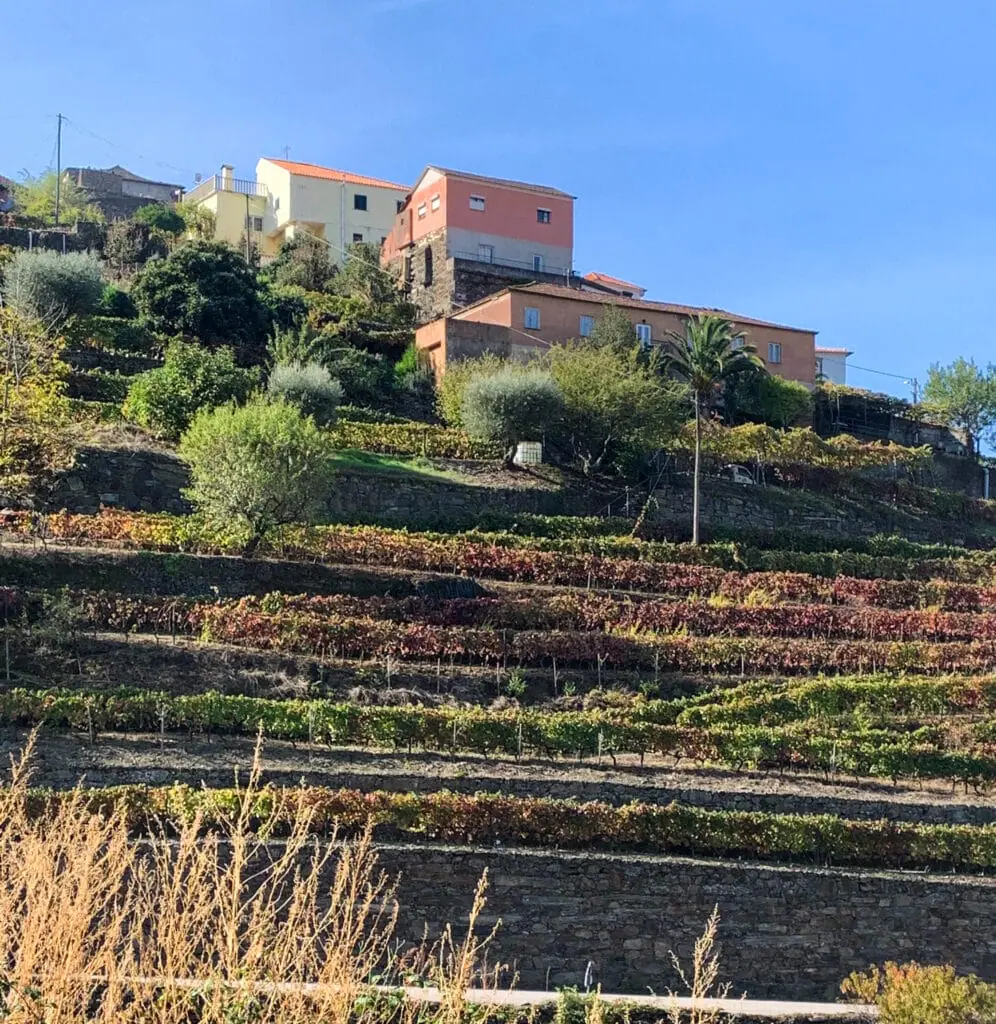 There are many beautiful places to spend the night in the Douro Valley. We went on a day trip and were based in Porto then. That is where most day visitors come from. As a result, we can't speak to where to stay, but there are many options, from simple to luxury. We provide two links below.
We believe it is important to price out properties on various sites. Expedia is a US-based company, whereas Booking.com is Europe based. Not all properties appear on both. If the establishment has a website, check to price there as well.
Final Thoughts
The Douro Valley will keep you busy with its winding roads, dramatic mountains, and beautiful vineyards. People recommend this valley for wine tours, but we know it can captivate your soul with breathtaking views. We guarantee that if you enjoy nature, you will fall in love with it.
It appears to be something from the heavens.
It's also an excellent spot for professional birdwatchers, with over 100 species of endangered birds. It serves as a haven for Golden Eagles and Egyptian Vultures.
However, if you're looking for next-level wine tasting, head to the town of Pinhao. It is located in the heart of the Douro Valley and plays a vital role in wine production.
© 2023 Wanderers Compass All Rights Reserved
Check out the Portugal website for Duoro Valley for more information
Duoro Valley Photo Gallery
Our Recommended Travel Resources
Our favorite travel insurance site!
If you book a trip, don't forget to get travel insurance within 14 days of your first booking. We could not be stronger advocates of being well-insured. Not just for the little stuff but the big things like medical emergencies. We never leave home without it. Over the years, we have used many sites but have now found our go-to place. Squaremouth.com does a fantastic job; it has a user-friendly interface, uses top-rated and reputable insurance carriers, and most policies cover COVID-19 medical issues and cancellations. They also mediate on your behalf if you have problems with your policy.
To empower you as a consumer, we suggest you read our blog post on the importance of travel insurance and how to get the best coverage from top-rated companies for an affordable price.
Medical transport back home from anywhere in the world
They are the premier global air medical transport. One caveat to travel insurance is that medical evacuation usually gets you to the closest facility to care for you. Medjet gets you back to the U.S. to the hospital of your choice once you are stable enough to fly. They cover Covid-related transports as well.
Medjet carries its own policies. The policy is only for transport and no other aspects of travel insurance. They have individual trip policies starting at $99 and annual policies for around $300. Most of their policies limit the age to 74 and younger. Prices are not based on age below that.
To learn more about how Medical Evacuation membership with Medjet Assist works, check out our blog post for a more detailed review.
Hotels, home rentals, BNBs, flights, and other transportation & tours
Expedia is a US-based company whose mission is to power global travel for everyone and everywhere. Whether planning a family vacation, booking for business, or organizing the trip of a lifetime, they are a fantastic resource. Wanderers Compass focuses on independent travel, and using sites like Expedia makes that possible. Every aspect of travel you need, from airfare, accommodations, rental car, and cruises to activities to do at your destination, can be booked on Expedia.
Hotels, Home rentals, BNBs, Flights, and other Transportation & Tours
Booking.com connects millions of travelers to memorable experiences, various transportation options, and incredible places to stay – from homes to hotels and much more. It is one of the world's largest travel marketplaces for established brands and entrepreneurs of all sizes.
We always check Expedia and Booking.com to verify prices. At times, one is sold out of rooms while another at the same place has rooms. As well we often find some European hotels, especially smaller ones, on Booking.com but not on Expedia. It could be they are a Europe-based company. Try both before booking accommodations.
Are you traveling with a family or having an extended stay at your destination?
With over 2 million bookable vacation rentals, VRBO connects homeowners with families and vacationers looking for something more than a hotel for their trip. The VRBO community offers families or groups various rental property types such as condos, cabins, lake rentals, beach houses, etc.
VRBO is under the Expedia group ownership now, which many were worried about, but it hasn't panned out to be a concern. It is a massive network with access to all lodging forms should issues arise. Joelle has used VRBO for many years with her family with no problems.
As the leading marketplace for travel experiences, Viator believes that making memories is what travel is all about. And with 300,000+ experiences to explore—everything from simple tours to extreme adventures (and all the niche, interesting stuff in between)—making memories that will last a lifetime has never been easier.
With industry-leading flexibility and last-minute availability, it's never too late to make any day extraordinary. This one site has it all and has experiences throughout the world. We use them often during our travels, especially for food tours. We especially take the time to read the reviews provided.
An excellent source for travel essentials and guides
We now have our own Amazon Storefront with all our favorite travel accessories and gear in one place. Check out our travel store at the link below.
Amazon is one of the most comprehensive online shopping sources in the world. On behalf of their customers, teams worldwide provide lower prices, better selection, and rapid delivery. They offer a vast inventory, and their 1.7 million small and medium businesses worldwide selling on Amazon.com offer extensive options to customers.
We buy most of our travel books, accessories, and luggage from Amazon. We have ordered up to two days before travel and get what we need.
Transportation
Welcome Pick-ups
(Airport and sightseeing service)
A global leader in ground transportation for travelers. They help hundreds of companies worldwide enhance their services and boost their revenue with our 5-star ride experiences and hassle-free automation.
Founded in 2015 in Athens, Greece, Welcome Pick-ups goes above and beyond the standard transfer service as the first company to deliver a holistic, in-destination travel experience. From the moment a traveler arrives at a new destination until they return home, Welcome accommodates all their travel needs (transfers, travel products, things to do, information) as the easiest, friendliest, and most personalized solution.
Discover Europe by Train
Rail Europe sells train and bus tickets for travel across Europe. They cover 24 countries, 105 rail operations, and 20,000 stations. They are the official rail and bus operations agents in the UK, France, Spain, Italy, Germany, Belgium, Austria, Switzerland, Luxembourg, and the Netherlands. Rail Europe continues to add coverage all the time.
It is a fast, easy, and economical way to purchase European train and bus tickets. Eurail passes are also available to buy through their site.
Travel documentation services
Do you feel like you are wasting time visiting an on-site photographer only to be embarrassed by the photo? Would you like control of the final product? Get the perfect VISA or passport photo online with PhotoAID.
When traveling, you often need to apply for official documents such as a passport, ID, and different kinds of licenses or cards. Those applications require a picture that must meet specific conditions to be accepted, depending on the country. Now, it is possible to take this picture at home without the help of a professional photographer. The PhotoAiD app allows you to take the perfect biometric photo that will be guaranteed by yourself without leaving your home.
This article contains affiliate links. If you use these links to buy something, we may earn a small commission at no additional cost to you. Thank you!
Do you have a question for us or have a comment?
Check our most recent posts