Join us as we explore the Slovak City of Bratislava
This post on Bratislava, Slovakia, is a quick capture of our travels as they occur. Though we often post on social media during our adventures, many have requested that we do so on the blog. The focus will be the photography and our first impressions while experiencing the city. The photos in this post will be from our iPhones vs. our Nikon since we can process them quickly while traveling.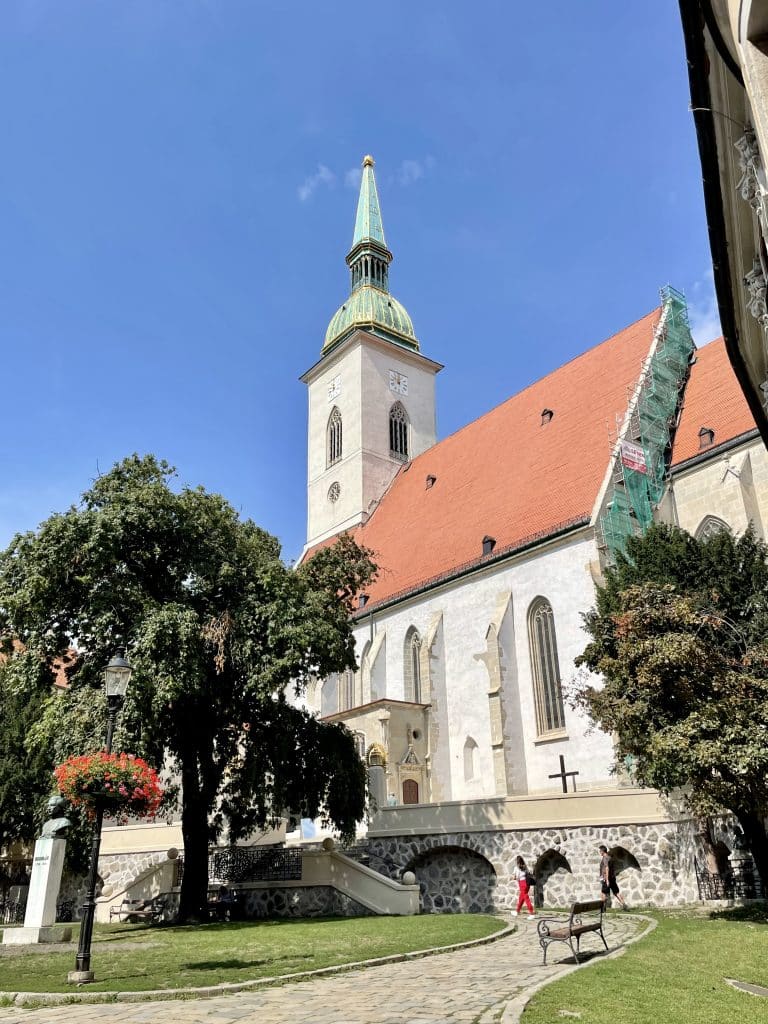 A bit about Bratislava
Bratislava, formally Pressburg, is the capital city of Slovakia. It lies in the southwestern part of the country, along the Danube River, where the river cuts a gorge in the Carpathian Mountains near where the frontiers of Slovakia, Austria, and Hungary meet. Vienna is a short 35 miles west.
Archaeological evidence suggests a prehistoric presence in Bratislava, which was later fortified and settled by the Celts and Romans. In the 8th century was inhabited by the Slavs. The city developed as a trade center and was granted the rights of a free royal town in 1291. The Istropolitana Academy, the first university in what was then Hungary, was founded there in 1465. Bratislava served as the Hungarian capital from 1526 until 1784, when the Turks occupied most of the middle Danube basin. The Hungarian parliament continued to meet there until 1848. Following World War I, Bratislava was made the capital of Slovakia in the first Czechoslovakian Republic, and it remained the capital when Slovakia emerged as an independent nation in 1993.
The Castle
The enormous Bratislava Castle dominates the city, which stands on a plateau 300 feet above the Danube River. The castle was the residence of the Austrian royal family until it was destroyed by fire in 1811; it has since been largely restored. Today, the castle is Bratislava's symbol and is home to the Museum of History. Its high crown tower has a beautiful view of the city and the neighboring countries.
The modern city of Bratislava of around 432,000 people, is a cultural center and the seat of Comenius University (successor to the medieval Istropolitana Academy), the Slovak Academy of Sciences (1953), several specialized schools and technical institutes, the Slovak National Theatre, and the Slovak National Gallery and Museum. It is an important road and rail junction and river port.
The top things to do in Bratislava are:
Bratislava Castle and Museum of History

St Martins Cathedral from the 15th century and the former coronation church.

Old Town Hall is home to the oldest museum in Slovakia. The tower provides beautiful views of the Old Town.

The Blue Church is St. Elizabeth's church built in the Art Nouveau style at the beginning of the 20th century. The blue color of its façade is very detailed with the use of mosaic.

Slavin War Memorial is the largest in Central Europe and dominates the city skyline. It is the burial ground of 6845 soldiers of the Soviet army who died during the liberation of Bratislava in World War II.

Primates Palace is a classicist palace from the 18th century in which the Peace of Pressburg was signed.

Devin Castle is a castle ruin on a high rock towering above the confluence of the Danube and Morava rivers. It is one of the most important historical and archaeological localities in Central Europe. It offers enchanting natural scenery and breathtaking views.

Eurovea Waterfront combines the promenade, the shopping center, the waterfront, and the theater square, exuding an urban element. It is where the new Slovak National Theater is located.

Experience Bratislava's beer and gastronomic culture. The city has many stylish cafes, bistros, restaurants, breweries, wine bars, and patisseries.

Grassalkovich Palace is a summer palace from the 18th century that used to be known for its rich social life, and a famous composer Joseph Haydn also performed here. Since 1996 it has served as the seat of the President of the Slovak Republic.

Bratislava Visit Details
One night in the last days of August 2022
5th night of a 14-day trip that included Budapest, Prague, and Vienna
It is our first visit to Slovakia
Accommodations
Marrols Boutique Hotel
(Free with Chase Reward Points)
How we got around Bratislava
We walked 9.6 miles after our evening arrival and for about 3 hours the next day.
Pre-purchased tickets/events
None
Weather
The weather was sunny with average temps of the low 80s. It was a bit warm at times but much more comfortable than our days in Budapest.
Our favorite moments and highlights from Bratislava
The Bratislava Castle and grounds are beautiful. The views of the Danube and the city make it even more special. It was quite an effort to walk up to the castle, but it was well worth it.
Old Town is not very large and easy to navigate. There are many churches, restaurants, bars, churches, and shopping.
St Martin Cathedral is the city's main church and is quite impressive.
We found the Blue Church well worth the visit.
The UFO bridge is unusual, but somehow it works.
Observations and Commentary
River cruises make a stop here, so there can be quite a bit of tourist traffic for several hours when they are docked. During our visit, it seemed only locals in the Old Town area. We did not feel out of place or were given curious glances. Everyone was friendly.
Though we did not take public transportation, it looked state-of-the-art, frequent, clean, and well-used.
Bratislava is an old city with a long and fascinating history. After the fall of the Soviet Union, we were expecting a city that may be still struggling after over 40 years of communist rule. That could not be farther from the truth. The city is modern, clean, efficient, bustling, and in good economic shape overall. The community seemed well engaged. We did not see any homeless or beggars. Parks were full of families. Even the old Soviet apartment building was brightened up and aesthetically pleasing. Roads were being improved, restoration of the old building was active, and new buildings were under construction.
The food, hotels, public transit, and site entries were inexpensive. Their currency is the euro, and you will find your money goes far.
We felt safe everywhere, even late into the evening. This city has many young people, providing youthful energy and an active social scene.
Apple Pay was accepted everywhere. We rarely pulled out a credit card,
Tipping is expected in Slovakia. It is customary to be around 10% of your restaurant or bar bill. Restaurants rarely offer you to add a tip as they do in the US; there are two options: leave cash or tell them how much to add to the bill when paying. For example, on a 70 euro bill, we would say, please add seven more euros to that for a tip. They are always appreciative.
Where to stay when visiting Bratislava
Our recommendation is to stay in the heart of the city. n as it is an ideal location to stay to visit the whole city. The city is small and easy to get around.
We believe it is important to price out properties on various sites. Expedia is a US-based company, whereas Booking.com is Europe-based. Not all properties appear on both. If the establishment has a website, check the price there as well.
Thank you for joining us on our adventure through the city of Bratislava
© 2023 Wanderers Compass All Rights Reserved
Photo Gallery of Bratislava Visit
Checkout our most recent blog posts
Our favorite travel insurance site!
If you book a trip, don't forget to get travel insurance within 14 days of your first booking. We could not be stronger advocates of being well-insured. Not just for the little stuff but the big things like medical emergencies. We never leave home without it. Over the years, we have used many sites but have now found our go-to place. Squaremouth.com does a fantastic job; it has a user-friendly interface, uses top-rated and reputable insurance carriers, and most policies cover COVID-19 medical issues and cancellations. They also mediate on your behalf if you have problems with your policy.
To empower you as a consumer, we suggest you read our blog post on the importance of travel insurance and how to get the best coverage from top-rated companies for an affordable price.
Medical transport back home from anywhere in the world
They are the premier global air medical transport. One caveat to travel insurance is that medical evacuation usually gets you to the closest facility to care for you. Medjet gets you back to the U.S. to the hospital of your choice once you are stable enough to fly. They cover COVID-related transport as well.
Medjet carries its own policies. The policy is only for transport and no other aspects of travel insurance. They have individual trip policies starting at $99 and annual policies for around $300. Most of their policies limit the age to 74 and younger. Prices are not based on age below that.
To learn more about how Medical Evacuation membership with Medjet Assist works, check out our blog post for a more detailed review.
Hotels, home rentals, BNBs, flights, and other transportation & tours
Expedia is a US-based company whose mission is to power global travel for everyone and everywhere. Whether planning a family vacation, booking for business, or organizing the trip of a lifetime, they are a fantastic resource. Wanderers Compass focuses on independent travel, and using sites like Expedia makes that possible. Every aspect of travel you need, from airfare, accommodations, rental car, and cruises to activities to do at your destination, can be booked on Expedia.
Hotels, Home rentals, BNBs, Flights, and other Transportation & Tours
Booking.com connects millions of travelers to memorable experiences, various transportation options, and incredible places to stay – from homes to hotels and much more. It is one of the world's largest travel marketplaces for established brands and entrepreneurs of all sizes.
We always check Expedia and Booking.com to verify prices. At times, one is sold out of rooms while another at the same place has rooms. As well we often find some European hotels, especially smaller ones, on Booking.com but not on Expedia. It could be they are a Europe-based company. Try both before booking accommodations.
Are you traveling with a family or having an extended stay at your destination?
With over 2 million bookable vacation rentals, VRBO connects homeowners with families and vacationers looking for something more than a hotel for their trip. The VRBO community offers families or groups various rental property types such as condos, cabins, lake rentals, beach houses, etc.
VRBO is under the Expedia group ownership now, which many were worried about, but it hasn't panned out to be a concern. It is a massive network with access to all lodging forms should issues arise. Joelle has used VRBO for many years with her family with no problems.
As the leading marketplace for travel experiences, Viator believes that making memories is what travel is all about. And with 300,000+ experiences to explore—everything from simple tours to extreme adventures (and all the niche, interesting stuff in between)—making memories that will last a lifetime has never been easier.
With industry-leading flexibility and last-minute availability, it's never too late to make any day extraordinary. This one site has it all and has experiences throughout the world. We use them often during our travels, especially for food tours. We especially take the time to read the reviews provided.
An excellent source for travel essentials and guides
We now have our own Amazon Storefront with all our favorite travel accessories and gear in one place. Check out our travel store at the link below.
Amazon is one of the most comprehensive online shopping sources in the world. On behalf of their customers, teams worldwide provide lower prices, better selection, and rapid delivery. They offer a vast inventory, and their 1.7 million small and medium businesses worldwide selling on Amazon.com offer extensive options to customers.
We buy most of our travel books, accessories, and luggage from Amazon. We have ordered up to two days before travel and get what we need.
Welcome Pick-ups
(Airport and sightseeing service)
A global leader in ground transportation for travelers. They help hundreds of companies worldwide enhance their services and boost their revenue with our 5-star ride experiences and hassle-free automation.
Founded in 2015 in Athens, Greece, Welcome Pick-ups goes above and beyond the standard transfer service as the first company to deliver a holistic, in-destination travel experience. From the moment a traveler arrives at a new destination until they return home, Welcome accommodates all their travel needs (transfers, travel products, things to do, information) as the easiest, friendliest, and most personalized solution.
Do you feel like you are wasting time visiting an on-site photographer only to be embarrassed by the photo? Would you like control of the final product? Get the perfect VISA or passport photo online with PhotoAID.
When traveling, you often need to apply for official documents such as a passport, ID, and different kinds of licenses or cards. Those applications require a picture that must meet specific conditions to be accepted, depending on the country. Now, it is possible to take this picture at home without the help of a professional photographer. PhotoAiD allows you to take the perfect biometric photo that will be approved by you without leaving your home.
This article contains affiliate links. If you use these links to buy something, we may earn a small commission at no additional cost to you. Thank you!
Do you have a question for us or have a comment?