Meteora, The Monasteries in The Clouds
The images drew us to visit Meteora, simple as that. Over the years, we have seen many photos of the Meteora monasteries in Greece. It only made sense to us that they had to have been heavily edited, taken at angles that made them look larger than in-person, or maybe they blocked out a part that made it, not such a remarkable feat to build. In a recent photo we posted from our trip, a commenter wrote, "Fake." We can assure you after our visit, none of this is fake. As a matter of fact, the pictures do not even begin to do justice, no matter how hard we tried.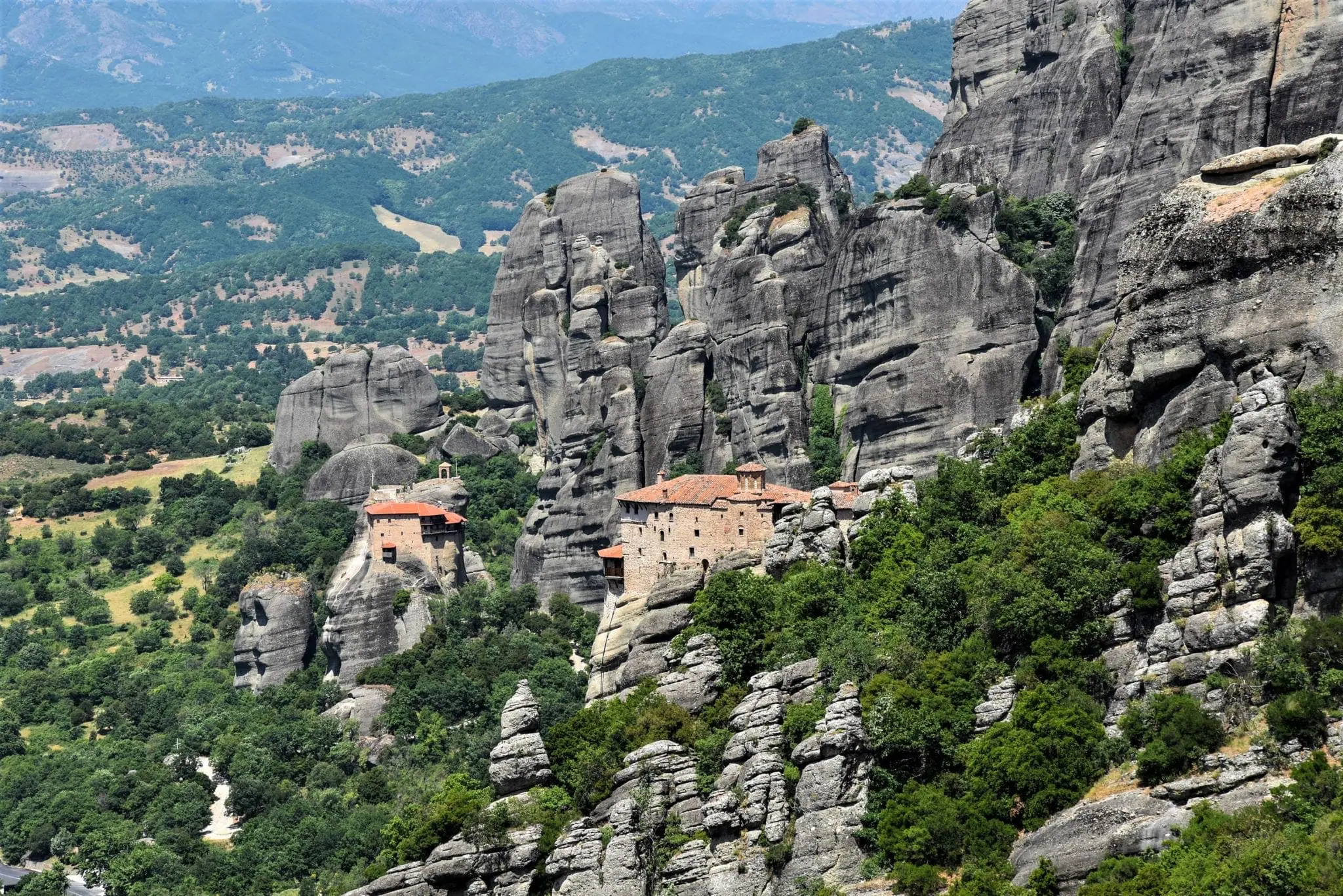 Fairytale Come True
Most everyone likes a good fairytale; searching for them is fun and exciting. Located in the center of mainland Greece is the mystical place known as Meteora, and it truly is one of those fairytales. There are monasteries sitting on what appear to be alien rock formations high in the air, floating in the clouds.
Above the towns of Kastraki Trikala and Kalabaka, on geologically unexplained rock formations, sit numerous monasteries that seem to have been raised from the ground and rested where they are today. It is difficult to wrap your head around that people built these over 700 years ago without modern technology. The origin of these monasteries began when monks fled persecution. They came upon this unique setting and felt safe hiding in the natural caves within these grand pillars. The villagers below provide support and food to the monks. They knew that this was a holy place God had brought them to. The monks began imagining building places of worship on the massive stone pillars. They wanted protection from threats, but their strongest draw was that they felt closer to God.
It is not just about religion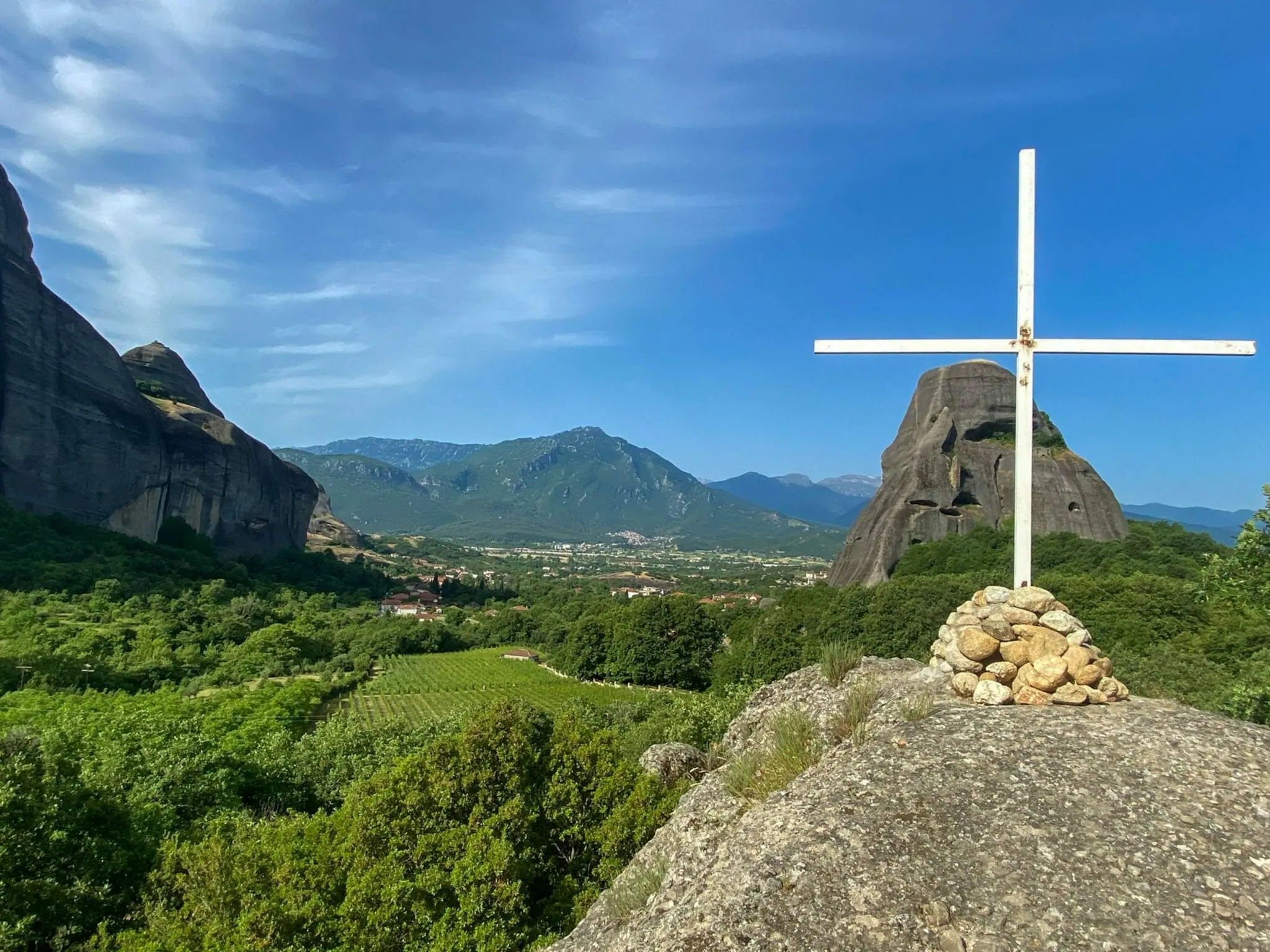 Even if you are not religious, you can feel a presence of energy as you climb the steep steps to these beautiful and masterful structures and walk the holy grounds. Looking off into the rock formations from hundreds of feet up with the town below, you feel like you are in a different world that is hard to describe and can only truly be experienced in person. It is difficult to imagine a faith so strong, a commitment so great, and sacrifice so altruistic in today's world.
The story is fascinating and a true testament to the human race's imagination and grit. With determination and working together, we can achieve incredible and remarkable achievements that know no bounds. Visiting Meteora on its own restores faith in what we all have inside of us if we think beyond ourselves. Let us journey to another time, another world, and a way of life as we wander through Meteora, the Monasteries in the Clouds.
First Look as We Approached
First impressions of this wondrous place start miles away as you get your first glimpses of that unique rocky skyline. The site only continues to amaze you with every mile closer you get. The anticipation will be greater than you have prepared yourself for, as it was for us. Excitement grows until you finally arrive in the town below these magnificent rock formations, and the true magic starts to reveal itself. The light shining on the rocky structures with a slight haze in the air gives them a painted canvas backdrop appearance.
As you walk through the streets of the towns below, it never truly looks real. It feels alien and magical, with every angle more photogenic than the next. The scale and beauty are only matched by the sheer awe and wonder it creates. That is when the realization comes that there are many steep hills to drive and trails to climb if you are up to the challenge.
Get to your hotel and settle in a bit because you will have a long day ahead if you want to see every monastery in a day. Do not worry; this is a place you will want to spend at least two full days in, so don't rush. The sunrise and sunsets are more than worth it. If you arrive after they close for the day, take a drive up and survey the location of each monastery or just take in the sunset.
The History of the Meteora Monasteries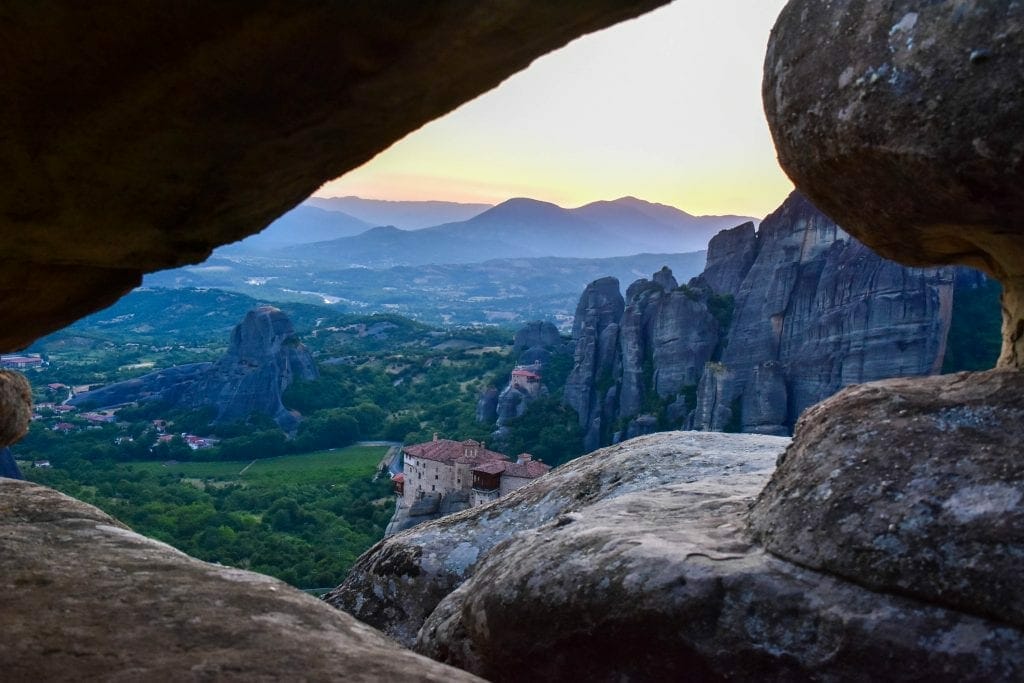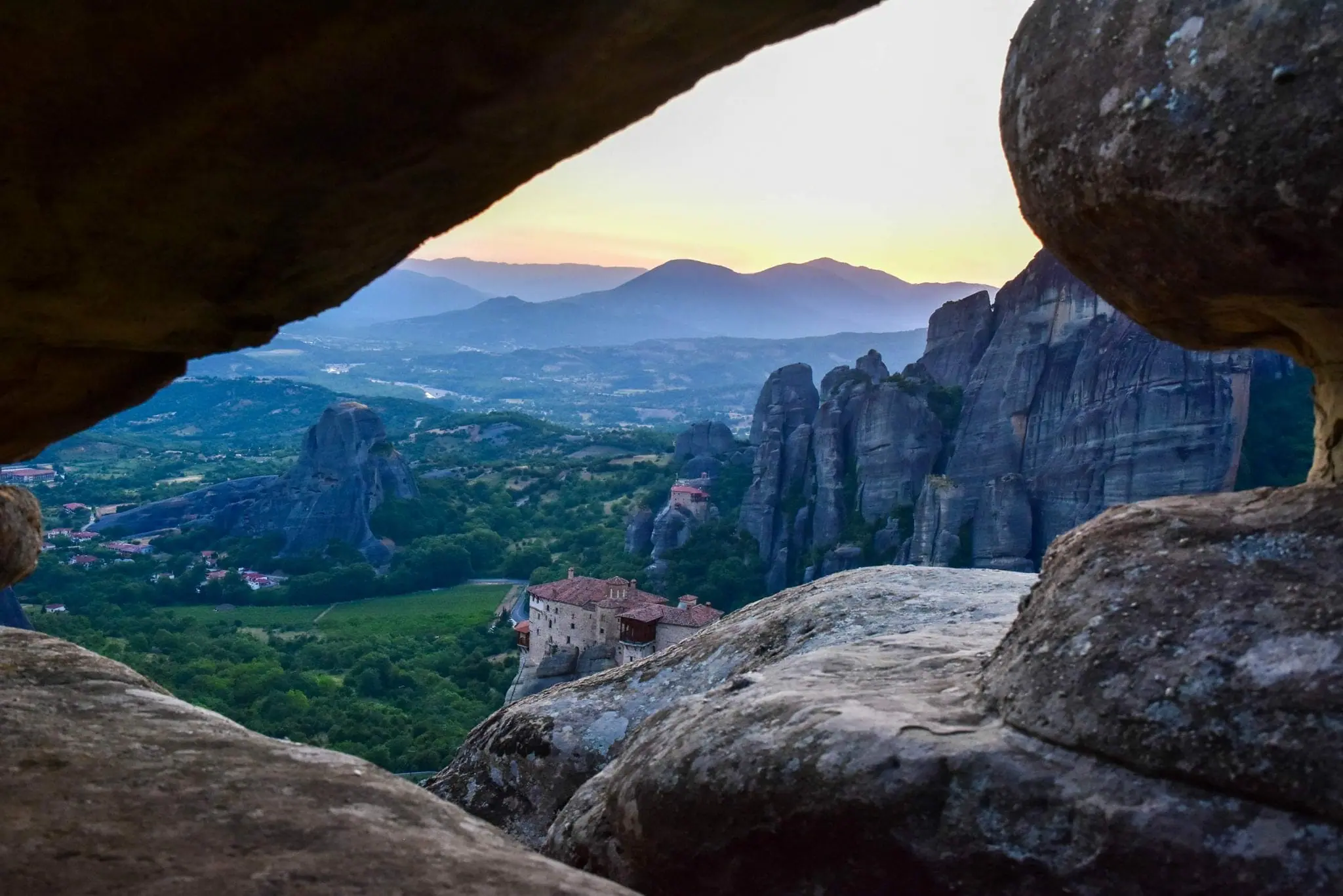 The history of Meteora goes much farther back than these man-made structures. Caves near Meteora reveal they were inhabited continuously between 50,000 and 5,000 years ago. The first and oldest known structure is a stone wall that blocked two-thirds of the entrance to the Theopetra cave. This construction dates to 23,000 years ago, yet Meteora has never been mentioned in Ancient Greek myths or literature.
After the Neolithic Era, an ascetic group of hermit monks was the first documented occupants of this area. They moved up to these ancient rock peaks in the ninth century AD, living in hollows and fissures, some reaching as high as 1800 ft. above the plains below. They reached their caves with rope ladders. As a result, the hermits led a life of solitude and isolation, meeting only on Sundays and special days. In those early days, they would come down and gather in a chapel built at the foot of a rock known as Dhoupiani for worship.
But threats require a change
This all started around the eleventh century; however, the building of the Meteora monasteries did not commence until the fourteenth century. This was due to the increasing number of Turkish attacks on Greece. As a result, the monks began to seek places to hide from the Turkish forces. At that time, access to the top of the Monasteries was only through removable ladders, ropes, and hand wenches.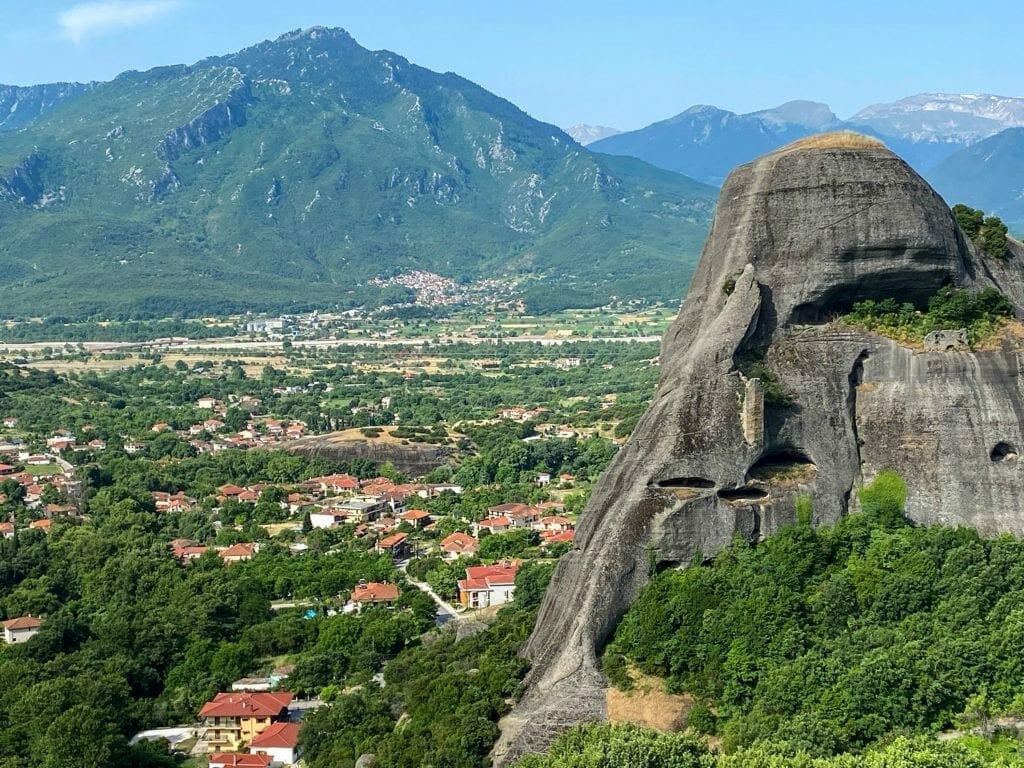 Today you will find getting up those rock faces is still challenging but doable with the addition of beautiful stone steps carved into the rock during the 1920s. That is what makes them even more mind-boggling. They built these magnificent architectural sites and lived in them for 600 years before the steps were built. We climbed some of those steps; it was exhausting and challenging. It makes their achievement genuinely monumental in scope.
At Meteora's peak in the sixteenth century, there were as many as 40 monasteries. Unfortunately, only six of these grand structures remain fully functioning. Four of them are occupied by monks and two by nuns, with each housing usually no more than ten individuals. Remains of many of the other long ruined Monasteries are visible on the surrounding rock pillars if you look for them. This helps give you a small glimpse of how much more glorious the sight of this area would have been centuries ago, with all those beautiful buildings covering almost every peak.
The Building of the Monasteries
Unfortunately, no one knows the exact date of the establishment of the monasteries. Still, we know the creation of these holy structures was to serve monks and nuns following the teachings of the Eastern Orthodox Church. As a result, the rudimentary monastic state formed around the late eleventh and early twelfth centuries called the Skete of Stagoi; further, this state was centered around the church of Theotokos (Mother of God), which is still standing today. An ascetic community had started to flock to Meteora by the end of the twelfth century, and the area began to grow.
In 1344, Athanasios Koinovitis from Mount Athos came to Meteora and brought a group of followers with him. Between 1356 and 1372, he founded the Great Meteoron monastery on Broad Rock. The monks stayed safe from political upheaval and controlled the entry to the monastery. But at the end of the fourteenth century, the threat from Turkish raiders over the Byzantine Empire's reign of northern Greece grew. They wanted control over the fertile plain of Thessaly, which threatened the hermit monks seeking a retreat from the Turkish occupation. The monks found the rough, inaccessible rock pillars ideal for refuge.
Two centuries later
Then in 1517, Theophanes built the monastery of Varlaam. This monastery was reputed to house the finger of St. John and the shoulder blade of St. Andrew. Access to the monasteries was deliberately complicated, requiring long ladders latched together or large nets to haul goods and people. They say the ropes were replaced only "when the Lord let them break."
Until the seventeenth century, the primary means of conveying goods and people were baskets and ropes. In the 1920s, there was an improvement in the arrangements. Steps were cut into the rock, making the complex accessible via a bridge from the nearby plateau.
Tragically, Meteora and the monasteries were bombed during World War II, and many of the site's art treasures were stolen.
Considering visiting Greece? Check out our Greece Travel Guide
The Monasteries
---

The Great Holy Meteoron Monastery
The Holy Monastery of Great Meteoron is the oldest and largest of all the monasteries. Within its name, Meteoro stands for "suspended in the air" due to the cliff formation of a massive pillar of rock it was built on. The Great Meteoron Monastery was founded in the 14th Century by Saint Athanasios, the Meteorite. He was also attributed with forming structured monasticism for the whole region, thus making this monastery the foundation of organized monasticism in Meteora.
The monks that built this monastery did so at great sacrifice and suffering. The first monks took 25-30 years of hard labor to assemble the materials needed on the top of the massive stone pillar. Building and completing the structure we see today took another 20-25 years. These monks were isolated during this whole time. Most who constructed this magnificent structure, especially the 14 monks who followed Athanasios, never lived to see it completed. Their faith was so strong that they persevered to complete this herculean effort though they never could see it themselves.
The main church of the Holy Monastery of Great Meteoron was built in the 16th century. It is decorated with spectacular frescos from the same century. These are some of the best examples of post-Byzantine Greek art.
There is a wonderful museum to visit with highly regarded religious icons. The view alone makes this monastery a must-do.
Entry and difficulty
As in all cases, you must wear appropriate clothing because this is a holy place. See below for specifics. The cost for entry is 3 euros.
This is the most difficult of the monasteries to reach. There are over 300 steps to climb to get to the entry. Pack water and some snacks, especially in the warmer months. There is most often a roadside canteen for before and after your climb of the 300 steps.
Notes
Sadly, we could not visit this monastery as it was not open the day we were visiting (a good reason to plan at least two full days in the area). We spent much time photographing it and visiting the various terraces near it. It indeed was spectacular.
---
The Holy Monastery of Varlaam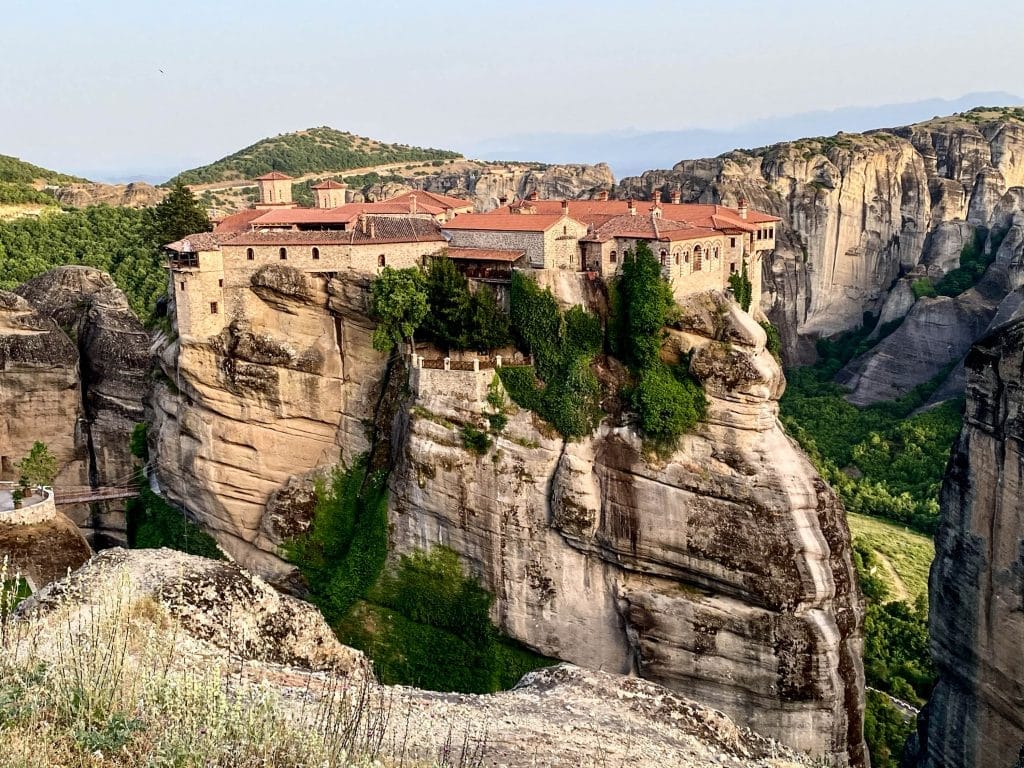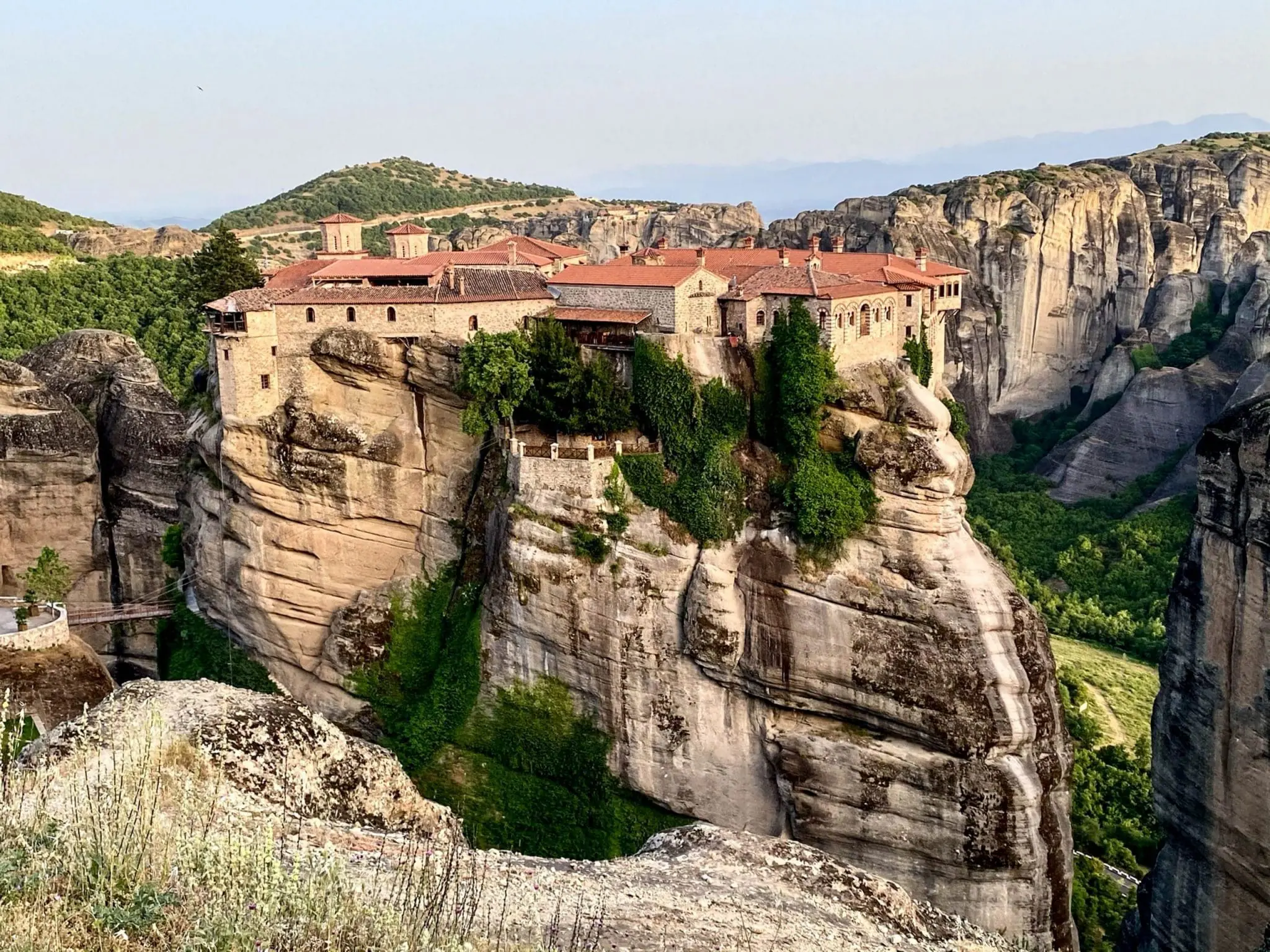 The Monastery of Varlaam is the second biggest of Meteora and is near the Great Meteoron. It was founded and built in the mid-14th century by a monk named Varlaam. When Varlaam died decades later, the monastery was abandoned by the remaining monks, and in subsequent years the structure almost turned into ruins.
In the early 16th century, two brothers, who were both monks, brought Meteora's abandoned monastery back to life. They spent many years building a beautiful new chapel dedicated to "All Saints." The beautiful frescos in the monastery's chapel of All Saints belong to the famous 16th-century hagiographer Franco Catalano.
During your visit, you will see a sizeable 16th-century oak barrel used for water storage over the previous centuries. The monastery has also preserved the tower with the old pully system where you can see the net, used by the first monks to bring up people and provisions. The day we were there, they were using a similar system to bring up supplies.
There is a museum with many lovely religious icons and paintings, most from the Renaissance.
Entry and difficulty
As in all cases, you must wear appropriate clothing because this is a holy place. See below for specifics. The cost for entry is 3 euros.
There are over 140 steps to reach the entry. It required work but was not as steep of a climb as some others. Pack water and some snacks, especially in the warmer months.
Notes
It was the third monastery on our schedule and by far the most beautiful. There is almost perfection in the setting and design. The massive outdoor patio with a tiled gazebo had stunning views to write home about. The inside is mostly modern and elegant. The artwork throughout was amazing. The monks living here obviously have a place that must give them such peace and solace in even the darkest days.
---
Monastery of Roussanou or St. Barbara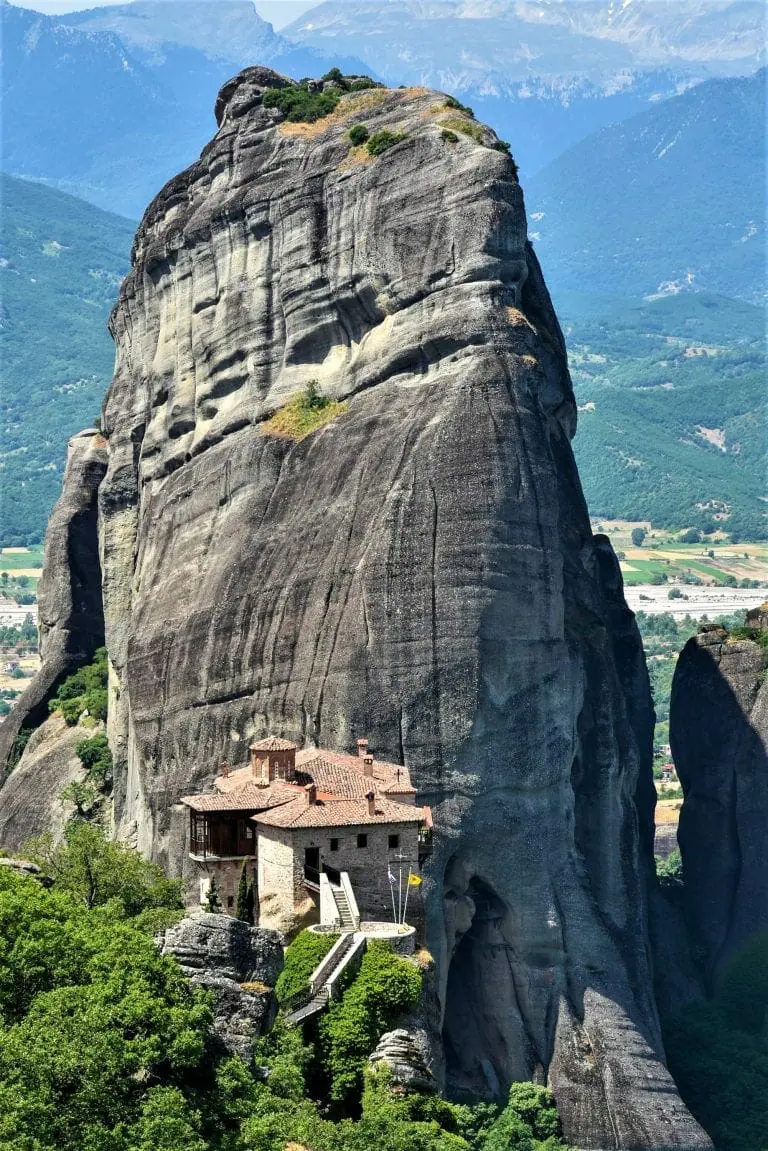 The Holy Monastery of Roussanou was first established in the 14th century and is likely named for the first hermit-monk who settled there. The main cathedral was built in the 16th century and subsequently was decorated thirty years later by a monk who lived at the monastery.
This monastery has a lower elevation and thus is smaller than most others. It sadly suffered severe damage during the World War II bombings. Though built by monks, it became a convent in 1988 and now has about a dozen sister nuns living in the monastery.
The beautiful wall paintings of the Catholicon were from the 15th century when the priest-monk Arsenios was the Abbot of the monastery. The hagiographer is unknown but clearly was a talented artist.
What makes Roussanou unique is an incredible view of the surrounding cliffs and the nearby Meteora Monasteries. There are two ways to enter, and if you enter from the upper main road, the reward will be a stunning panoramic view! Therefore, this is the perfect spot for pictures and to watch the sunset.
Entry and difficulty
As in all cases, you must wear appropriate clothing because this is a holy place. See below for specifics. The cost for entry is 3 euros.
There are over 140 steps to reach the entry. Therefore it is not as difficult as some of the others. The stairs and foliage along the path are beautiful. Pack water and some snacks, especially in the warmer months.
Notes
The monastery is smaller and quick to get through. The nuns are the current keepers, and you will find them often in prayer. It is a beautiful vantage point to photograph the area.
---
The Monastery of Agios Stefanos
Monastic life on the rock of Agios Stephanos dates to early in the 12th century. St. Stephen's Monastery includes two cathedrals; the old 16th-century chapel, which sustained severe damage during WWII, and the 18th-century main cathedral, which consists of the holy relics of Saint Charalambos.
This monastery is now a convent. It offers spectacular views towards the vast valley of Thessaly, the river Pinios and the Pindos Mountain range across the plains.
Entry and difficulty
As in all cases, you must wear appropriate clothing because this is a holy place. See below for specifics. The cost for entry is 3 euros.
The monastery of Agios Stefanos is the most easily accessible monastery, where you can cross a small bridge to reach the entrance. Therefore it is best for visitors with mobility issues who cannot use the steps yet wish to experience a Meteora monastery.
Notes
We came upon nuns praying in the chapel, but they are pretty hidden and can scare you as you study the artwork. There was a lovely gift shop with many items the nuns produced.
---
The Monastery of Agios St Nikolaos Anapafsas
The Holy Monastery of Saint Nicholas of Anapafsas or Agios Nikolaos. Founded at the end of the 14th century. It is the closest one to town; therefore is the first active Monastery you will encounter on your way up to the monasteries.
Anapafsis, translated in Greek, means resting. Historians believe this name may have had to do with the monastery's position being the first on the path and probably served to the pilgrims as a resting place before traveling farther.
The surface of the rock pillar is much smaller than the other monasteries. Due to this, it forced the builders of the monastery to build it vertically on floors, one level on top of the other. On the walls, paintings from the 14th century are visible.
The Catholicon, honoring St. Nicholas, is on the second floor. The Holy Table rests on the third floor, decorated with murals. Space is restricted, and there is no courtyard as the other monasteries have; the monks could only gather in the narthex. There is beautiful artwork throughout. You will see the monks who reside here often. With smaller quarters here, a monk was ironing clothes in one room we visited.
Entry and difficulty
As in all cases, you must wear appropriate clothing because this is a holy place. See below for specifics. The cost for entry is 3 euros.
This was around 140 steep steps and seemed the one that was most fatiguing of a climb. Absolutely, worth every effort. Pack water and some snacks, especially in the warmer months.
Notes
This was a lovely smaller monastery that was much more intimate and humble than other grander ones. With the monks very present, it truly captured their life here. There are lovely views of the valley and vineyards.
---
The Monastery of Holy Trinity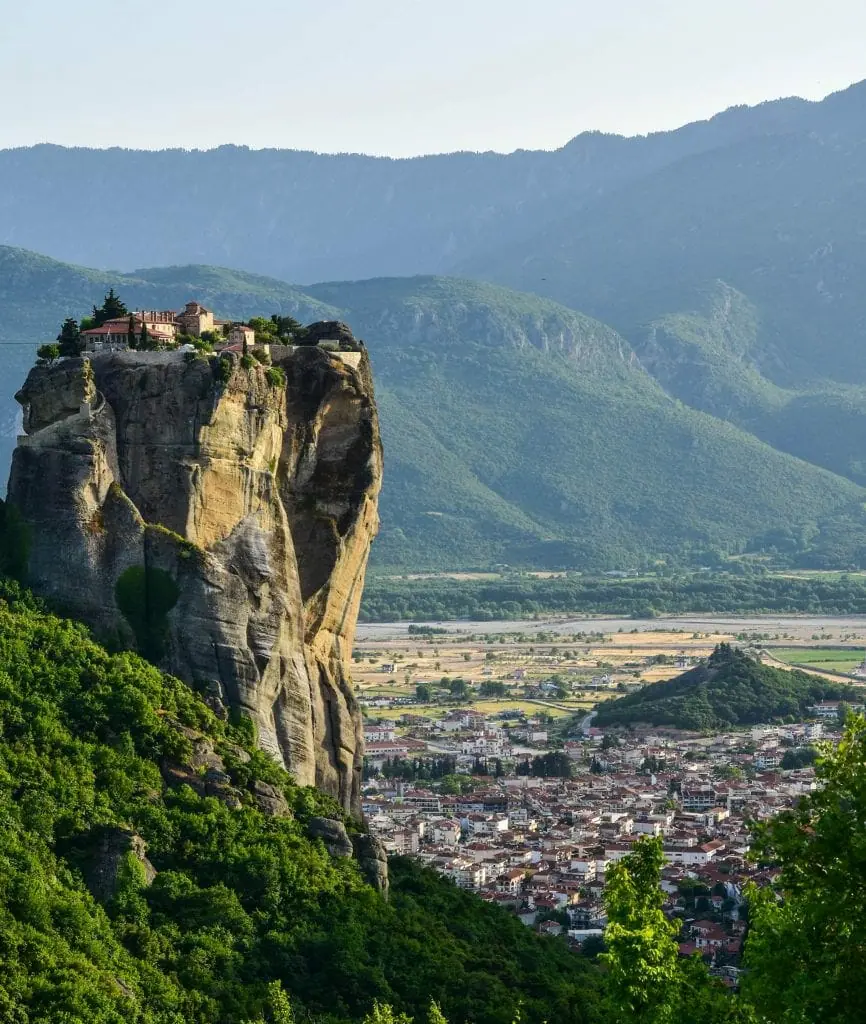 The Holy Trinity Monastery (Agia Triada) at Meteora is one of the most photographed monuments. This is because it sits perched on what appears to be a leaning rock pillar and is the most difficult to reach. It was founded in the 14th century.
The monastery's main cathedral was built in the 15th century, and the frescoes were painted by hagiographers Antonios, the priest, and his brother Nicolaos. The chapel of Timios Prodromos (St John the Forerunner), a small circular church with a cupola, has lovely wall paintings that are very impressive. The architecture seemed unique to the other monasteries.
The Monastery was in the setting for the final scenes of the James Bond film For Your Eyes Only.
Entry and difficulty
As in all cases, you must wear appropriate clothing because this is a holy place. See below for specifics. The cost for entry is 3 euros.
This is the most difficult of monasteries to reach. There are over 140 steep steps to reach the entry, but that is after a hike to reach the base of the rock pillar. Pack water and some snacks, especially in the warmer months.
Notes
This monastery was under construction (May 2021); therefore, it was shut down with no reopening date noted. It was apparent work was actively going on from our vantage point. The ascent looked pretty rough and likely for the more adventurous souls. Those attempting to reach it will have the pleasure of the panoramic view of the surroundings, which is simply captivating!
Map of the Monasteries
---
What you must know before visiting the Meteora Monasteries
These are all Holy Sites. All Monasteries have a dress code in force.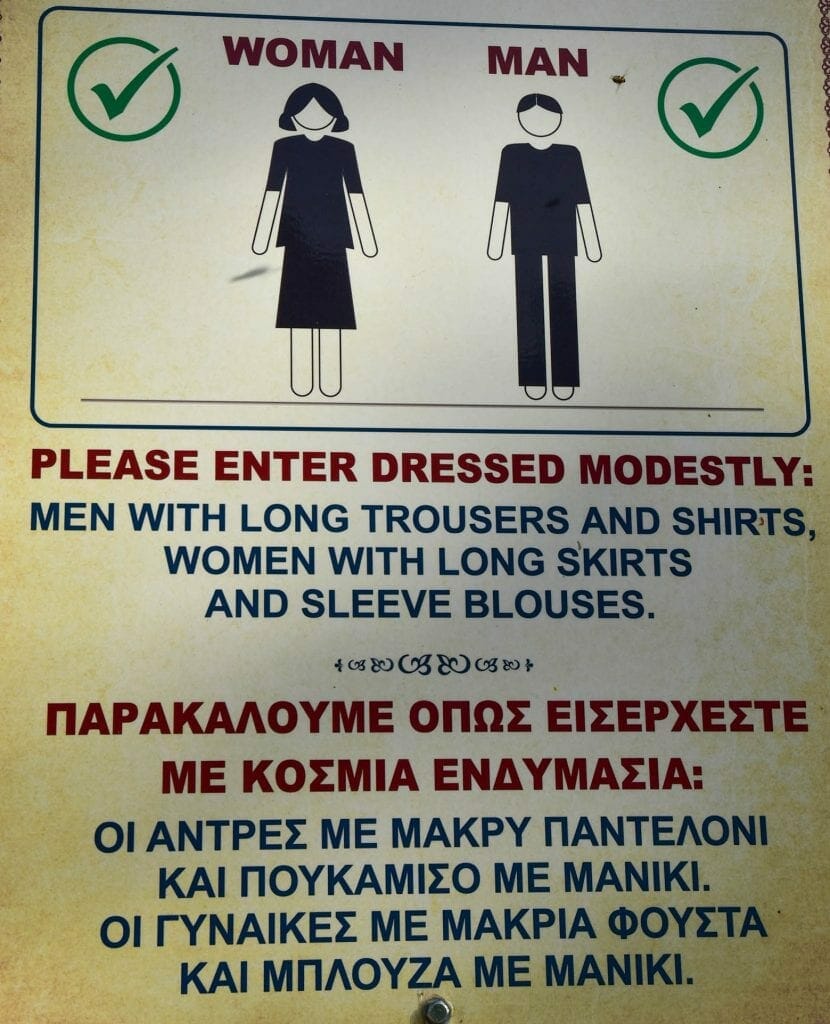 Meteora is a UNESCO World Heritage site and an archaeological site. Greece officially recognizes Meteora as a Holy Place. These monasteries are religious sites of great importance, so show the appropriate respect during your visit.
To enter all monasteries of Meteora, all men are to wear long pants and sleeved t-shirts. Sleeveless shirts are strictly forbidden. Ladies must wear long skirts: no pants, shorts, or capris. Shoulders must always have a covering.
All Meteora monasteries at the entrances provide skirts and scarves for ladies to cover themselves. They do not offer any clothing for men, and they will deny you entry. We saw one man in shorts covered by a skirt, but it was an incredibly quiet day with few visitors. It might be best to carry a pair of long pants in your pack on a hot day. Children under 12 years old do not have to follow the dress code.
Be mindful
Flying drones without written permission from the authorities are strictly forbidden by law anywhere on the site. Subsequently, being archeological, the Meteora site of Greece has a flight restriction zone of up to 4.000 ft.!
Please do not take pictures or videos of the monks or nuns unless permitted. You may offend them if you attempt this because you make them feel like a tourist attraction.
Be very respectful of their way of life and the fact that they allow you to enter their home!
Getting Around Meteora Monasteries
This could vary based on the time of year you are there. If it is during the off-season, a car would be ideal. On that note, through peak season, parking can be horrendous. There is only a handful of parking spots at each location.
A public bus can take you several times a day to the Great Meteoron Monastery but cannot move you between the monasteries, which are a significant distance from each other. Hiking or walking is an option, and we saw many doing it.
We saw bicycles, some electric, though the road in spots lacks a good shoulder and has sharp turns. There are many tours available to take you up to each monastery.
The Local Area
Now, after a long day of walking up hills, steps, and maybe even a trail or two, you can wind down your day by exploring a little of the nearby towns. Kastraki Trikala is the smaller Northernmost village, a perfect place to find small hotels, local places to eat, and fun tavernas, and start your drive around the monasteries.
On the other hand, Kalabaka is much bigger and has more of a city feel to it. You will enjoy a wide array of great places to dine here, stores, and souvenir shops. There are some lovely churches to visit and an old town area. We enjoyed them both.
Where to stay
There are many options in the Meteora area. We stayed at the Tsikeli Hotel Meteora in Kastraki Tirkala. It is right next to the road that takes you to the Monasteries. The village is quaint and quiet, with many restaurants and tavernas.

Our hotel was charming, with breakfast served in front of the hotel on the lawn, looking out toward Meteora's rock forest.
The rooms can be simple to fancy. We reserved the two-bedroom, which was a bit basic but still clean and comfortable. The breakfast was fantastic and plentiful. They have electric bikes available at the hotel for rental. The staff was kind and engaging and lived up to the reviews.

There are many places to stay in the area; look closely at the reviews and ensure they are recent.
Where to eat
We only ate at one restaurant worth writing about in our short time there, but what a fantastic one! The Meteoron Panorama in Kalabaka is at the base of the Meteora pillars on a hill. At night the rock pillars are beautifully lit, which gives them a mystical feel. If that wasn't enough, you are above the town and valley; therefore, the views are spectacular on all sides. The restaurant is lovely, with extensive patios to enjoy your meal on.
The staff was friendly, knowledgeable, and attentive. The menu features delicacies of the region. This region of Greece is known for its beef, and there are some exceptional choices on the menu. The wine list was quite extensive. It was the ideal setting for our first evening in Meteora.
Other activities available in Meteora
If you are lucky enough to stay a few days in the area, there is much more to do than visit the Monasteries. Popular activities include:
Scramble hiking tour of Great Saint: While tethered, hike narrow ledges of cliffs, not for the faint of heart.
Biking: You will see lots of biking in the area. Many places rent pedal bikes and e-bikes. Guided mountain bike tours are available. Sunset bike tours are popular.
Rock climbing: That should be no surprise for those that are so brave.
Hiking: Lots of open lands near the rock forest to explore. We found an abandoned Monastery built into a rock wall on our hiking trip. (see pic below)
Hermit cave hiking: Visit the caves where the monks lived in isolation for centuries.
River rafting: Rafting day trips are available.
Truffle hunting: Tours have private truffle hunting with lunch included.
Taverna hopping: There are many charming and fun Tavernas in the area to have some local brews and meet fellow travelers.
Check out this link for more info on local area activities: Click here
Final Thoughts
Meteora is more than just a destination. It is a fascinating, awe-inspiring journey. One in which you will learn about and explore unique natural wonders and a way of life that is simple and humble. It is enriched by a true, deep faith that will inspire any visitor. Each location shines a world of beauty that towers gracefully over the majestic landscape, allowing you to take a step back from reality and take in a new perspective of nature, architecture, faith, and life.
Every step you climb brings you more excitement, another stunning view, and genuine enjoyment of what surrounds you. Walk out on a rock outcrop at the top of the hills and gaze at some of the most beautiful sunsets you will ever find. With the monasteries glowing gold as the sun begins to hit the horizon, all you can think about is how this can be real and that you don't want it to end. This trip is more than worth it, and it will stay with you forever.
© 2023 Wanderers Compass All Rights Reserved
Meteora Photo Gallery
Check out our other Greece posts!
Our favorite travel insurance site!
If you book a trip, don't forget to get travel insurance within 14 days of your first booking. We could not be stronger advocates of being well-insured. Not just for the little stuff but the big things like medical emergencies. We never leave home without it. Over the years, we have used many sites but have now found our go-to place. Squaremouth.com does a fantastic job; it has a user-friendly interface, uses top-rated and reputable insurance carriers, and most policies cover COVID-19 medical issues and cancellations. They also mediate on your behalf if you have problems with your policy.
To empower you as a consumer, we suggest you read our blog post on the importance of travel insurance and how to get the best coverage from top-rated companies for an affordable price.
Medical transport back home from anywhere in the world
They are the premier global air medical transport. One caveat to travel insurance is that medical evacuation usually gets you to the closest facility to care for you. Medjet gets you back to the U.S. to the hospital of your choice once you are stable enough to fly. They cover COVID-related transport as well.
Medjet carries its own policies. The policy is only for transport and no other aspects of travel insurance. They have individual trip policies starting at $99 and annual policies for around $300. Most of their policies limit the age to 74 and younger. Prices are not based on age below that.
To learn more about how Medical Evacuation membership with Medjet Assist works, check out our blog post for a more detailed review.
Hotels, home rentals, BNBs, flights, and other transportation & tours
Expedia is a US-based company whose mission is to power global travel for everyone and everywhere. Whether planning a family vacation, booking for business, or organizing the trip of a lifetime, they are a fantastic resource. Wanderers Compass focuses on independent travel, and using sites like Expedia makes that possible. Every aspect of travel you need, from airfare, accommodations, rental car, and cruises to activities to do at your destination, can be booked on Expedia.
Hotels, Home rentals, BNBs, Flights, and other Transportation & Tours
Booking.com connects millions of travelers to memorable experiences, various transportation options, and incredible places to stay – from homes to hotels and much more. It is one of the world's largest travel marketplaces for established brands and entrepreneurs of all sizes.
We always check Expedia and Booking.com to verify prices. At times, one is sold out of rooms while another at the same place has rooms. As well we often find some European hotels, especially smaller ones, on Booking.com but not on Expedia. It could be they are a Europe-based company. Try both before booking accommodations.
Are you traveling with a family or having an extended stay at your destination?
With over 2 million bookable vacation rentals, VRBO connects homeowners with families and vacationers looking for something more than a hotel for their trip. The VRBO community offers families or groups various rental property types such as condos, cabins, lake rentals, beach houses, etc.
VRBO is under the Expedia group ownership now, which many were worried about, but it hasn't panned out to be a concern. It is a massive network with access to all lodging forms should issues arise. Joelle has used VRBO for many years with her family with no problems.
As the leading marketplace for travel experiences, Viator believes that making memories is what travel is all about. And with 300,000+ experiences to explore—everything from simple tours to extreme adventures (and all the niche, interesting stuff in between)—making memories that will last a lifetime has never been easier.
With industry-leading flexibility and last-minute availability, it's never too late to make any day extraordinary. This one site has it all and has experiences throughout the world. We use them often during our travels, especially for food tours. We especially take the time to read the reviews provided.
An excellent source for travel essentials and guides
We now have our own Amazon Storefront with all our favorite travel accessories and gear in one place. Check out our travel store at the link below.
Amazon is one of the most comprehensive online shopping sources in the world. On behalf of their customers, teams worldwide provide lower prices, better selection, and rapid delivery. They offer a vast inventory, and their 1.7 million small and medium businesses worldwide selling on Amazon.com offer extensive options to customers.
We buy most of our travel books, accessories, and luggage from Amazon. We have ordered up to two days before travel and get what we need.
Welcome Pick-ups
(Airport and sightseeing service)
A global leader in ground transportation for travelers. They help hundreds of companies worldwide enhance their services and boost their revenue with our 5-star ride experiences and hassle-free automation.
Founded in 2015 in Athens, Greece, Welcome Pick-ups goes above and beyond the standard transfer service as the first company to deliver a holistic, in-destination travel experience. From the moment a traveler arrives at a new destination until they return home, Welcome accommodates all their travel needs (transfers, travel products, things to do, information) as the easiest, friendliest, and most personalized solution.
Do you feel like you are wasting time visiting an on-site photographer only to be embarrassed by the photo? Would you like control of the final product? Get the perfect VISA or passport photo online with PhotoAID.
When traveling, you often need to apply for official documents such as a passport, ID, and different kinds of licenses or cards. Those applications require a picture that must meet specific conditions to be accepted, depending on the country. Now, it is possible to take this picture at home without the help of a professional photographer. PhotoAiD allows you to take the perfect biometric photo that will be approved by you without leaving your home.
This article contains affiliate links. If you use these links to buy something, we may earn a small commission at no additional cost to you. Thank you!
Do you have a question for us or have a comment?