Our First Featured Libation of the World comes from Obidos, Portugal
It was our first visit to Portugal and our first stop after landing in Lisbon. Obidos is one of the most well-preserved medieval walled towns in Europe. The enchanting village is one of Portugal's top destinations. As we wandered Obidos, we began to see many shops selling Ginja d'Obidos.
After little sleep and it being early in the day, alcohol was not enticing to us. Quickly it became evident we had to sample this popular liquor; it was everywhere! The Ginja is served in an edible chocolate cup; how could we resist that? We fell in love with the Ginja d' Obidos at our first sip, and having a chocolate cup to eat after was an extra special treat.
What is this ruby red gem?
Ginja d'Obidos, also called Ginjinha, which means little sour cherry, is an iconic Portuguese sweet and smooth cherry ruby red liqueur that will tantalize your taste buds. It is elegant and robust at the same time, more of a liquid dessert vs. a liqueur, made by infusing sour Morello cherries in brandy with some additional sugar and spices. It is much smoother than straight brandy, extremely mellow, and has a deep, lingering fruit flavor and aroma. The sweetness is deceiving; it still can pack a punch as the alcohol content is about 19% for most varieties. Ginja is meant to be sipped so you can savor all the beautiful elements.
Ginja d'Obidos is steeped in tradition and is a popular drink throughout Portugal. The creation of the liqueur originates from the ancient recipes of Cistercian monks, using only fresh, natural products and no artificial preservatives. Ideally, it is best as an aperitif or a digestif, preferably neat, in a liqueur glass or chocolate cup, with or without an alcohol-soaked cherry. Though it is popular throughout Portugal, it is especially so in Lisbon and Algarve region.


It's the perfect drink for a toast, celebrating, or ending a delicious meal. Above all, the best thing about Ginja is that it lovingly represents Portugal. It symbolizes Portuguese culture and a local product that brings together the Portuguese people and their enchanted visitors.
The Fruit and the Process
The combination of fertile soil and local climate produces fruit with well-balanced sweet and sour flavors, making it unique from other varieties. It has been discovered that the less cultivated the morello trees are, the more astringent the fruit and the better the final product. Because of their aroma and unique flavor, you will find them used in the production of teas and confectioneries.
Each peduncle is carefully removed, and once in production, the fruit goes into a hydro-alcoholic infusion, such as brandy, where it remains for some months until it reaches the desired result. By its very nature, it is a lengthy process that requires a lot of patience and knowledge. With time, it evolves into an aromatic, smooth liqueur with a full-bodied and luscious flavor.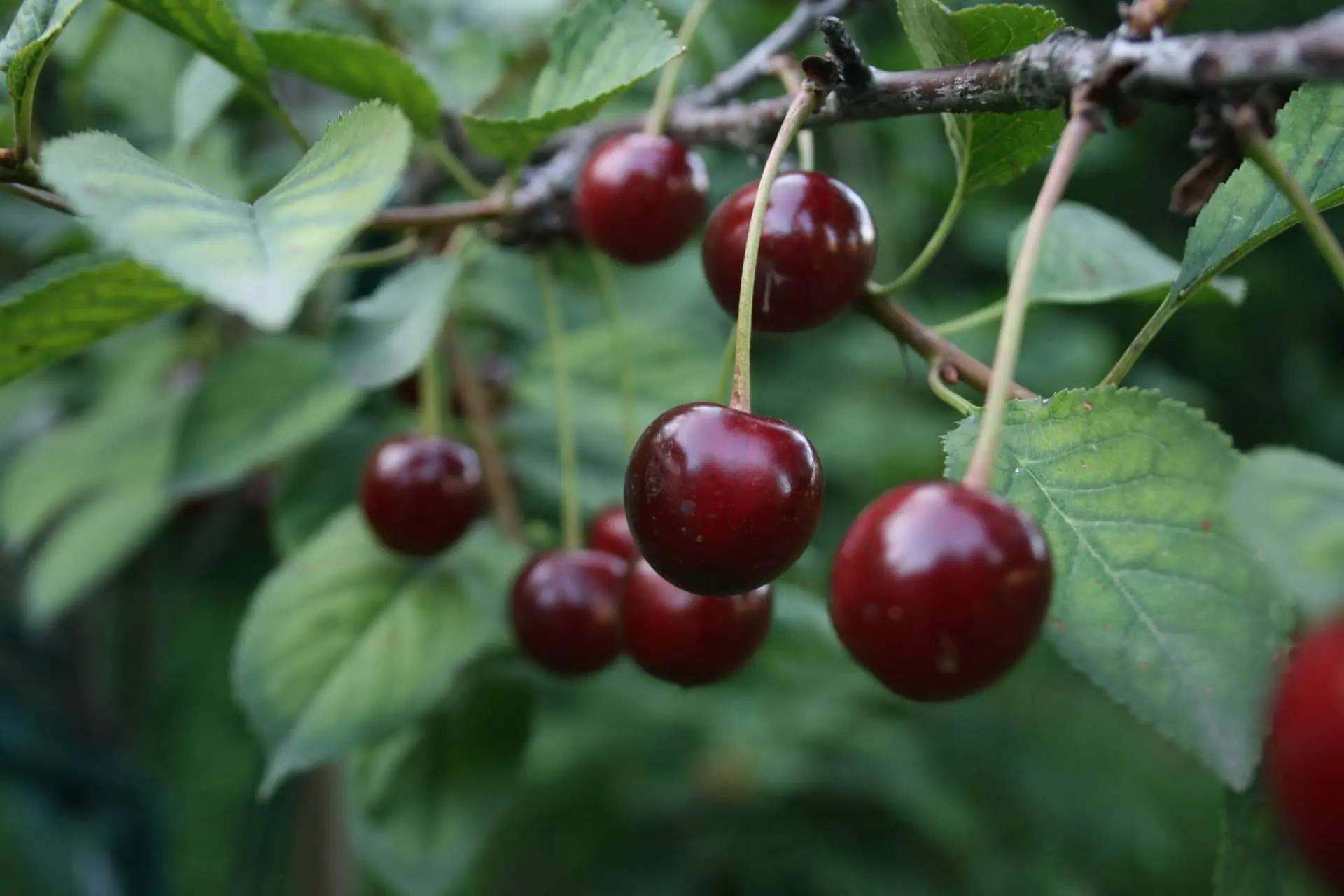 How best to experience Ginja d'Obidos
Connoisseurs recommend serving it chilled at 57-59 degrees Fahrenheit and, as in our picture, poured into a chocolate cup or straight up. It can be over ice and is the perfect addition to many mixed drinks (our favorite recipes are below).
It is an ingredient with varied uses in food too. Reduce Ginja with a small amount of butter and use it as a poultry glaze. Add some to your cranberry relish to enhance the flavor.
Ingredients are simple: Morello cherries, sugar, brandy, and water. The alcohol content is 19%.
Check out some great recipes at Ginja-USA.
Taking Ginja home
Bottles of Ginjad'Obidos are for sale in various sizes, and the cost is very reasonable in Obidos. You will find Ginja d'Obidos often during your travels around Portugal and in the Duty-free store at the airport. There are other Ginja versions, but they seem not nearly as popular as the Obidos version. We brought several bottles home and even got home some chocolate cups to replicate the authentic experience. It is a treasure from Portugal, and you will find you are going to wish you had made room for a lot more in your luggage.

Are you planning a trip to Portugal? Check out our Portugal Travel Guide here.
Purchasing Ginja d'Obidos in the United States
Based on our research, this can still be a bit tricky. There are a few sites online that you can order Ginja d'Obidos from. One site called Ginja9 intrigued us based on how they produce the product and source the cherries from Obidos. Of course, we had to try it ourselves before mentioning it to our readers, so we placed an order.
It is a pleasure to report we have a win here!! The Ginja d'Obidos from Ginja9 was wonderful. It brought us right back to Obidos, Portugal! They are committed to traditional and quality products. As stated on their website, "Ginja9 was a 92-point winner at the Ultimate Spirits Challenge, 91 points at the Wine Enthusiast, and more. 100% natural with no added colors or preservatives. Gluten-free and Vegan……. The only one in Óbidos, Portugal, using 100% national Ginjas that allows us to maintain the highest quality fruit and consistent, unique flavor." After enjoying several glasses, we can say we wholeheartedly agree with the ratings.
When we placed our order, we did not realize they offer chocolate cups on their site. If you know anybody who has spoken of Ginja after visiting Portugal, imagine what a fun gift it would be to get a bottle of authentic Ginja d'Obidos and dark chocolate Belgium chocolate cups. They have a gift set available or the chocolate cups as their own item. '
Where to order Ginja D'Obidos
Check out the Ginja9 website by clicking here. Their products can also be found throughout the US, and they have a search feature on their blog. Their website has some great recipes and a blog to check out too.
We also found a company called Ginja-USA which is working hard to bring its product to the states. They have many locations in Texas that offer it but cannot ship outside of Texas yet. They hope to change that soon. Check out their website for the status of shipping. If you live in Texas or plan a visit, check their website for locations.
It is always worth a try to contact your local quality liqueur store about what they have in stock or what they can special order for you. Depending on location, large stores like Total Wine can have some in stock. Let us know is find a good place to get a bottle in the U.S.
If you have found a source, we would love to hear about it. Contact us by clicking here or leaving a comment at the bottom of the page.

May we suggest a few recipes for cocktails?
---
---
---
© 2023 Wanderers Compass All Rights Reserved
Check out our article on Obidos, Portugal, by clicking here.
Our Ginja d'Obidos Photo Gallery
Learn more about Obidos, Portugal. Check out Obido's Official Tourism Site
Check out our most recent blog posts
Our Recommended Travel Resources
Our favorite travel insurance site!
If you are booking a trip, don't forget to get travel insurance within 14 days of your first booking. We could not be stronger advocates of being well-insured. Not just for the little stuff but the big stuff like medical emergencies. We never leave home without it. Over the years, we have used many sites but have now found our go-to place. Squaremouth.com does a fantastic job; it has a user-friendly interface, they use top-rated and reputable insurance carriers, and most policies cover Covid medical issues and cancellations. They also mediate on your behalf if you have problems with your policy.
To empower you as a consumer, we suggest you read our blog post on the importance of travel insurance and how to get the best coverage from top-rated companies for an affordable price.
Medical transport back home from anywhere in the world
They are the premier global air medical transport. One caveat to travel insurance is that medical evacuation usually gets you to the closest facility to care for you. Medjet gets you back to the U.S. to the hospital of your choice once you are stable enough to fly. They cover Covid-related transports as well.
Medjet carries its own policies. The policy is only for transport and no other aspects of travel insurance. They have individual trip policies starting at $99 and annual policies for around $300. Most of their policies limit the age to 74 and younger. Prices are not based on age below that.
To learn more about how Medical Evacuation membership with Medjet Assist works, check out our blog post for a more detailed review.
Hotels, home rentals, BNBs, flights, and other transportation & tours
Expedia is a US-based company whose mission is to power global travel for everyone and everywhere. Whether planning a family vacation, booking for business, or organizing the trip of a lifetime, they are a fantastic resource. Wanderers Compass focuses on independent travel, and using sites like Expedia makes that possible. Every aspect of travel you would need, from airfare, accommodations, rental car, and cruises, to activities to do at your destination, can be booked on Expedia.
Hotels, Home rentals, BNBs, Flights, and other Transportation & Tours
Booking.com connects millions of travelers to memorable experiences, various transportation options, and incredible places to stay – from homes to hotels and much more. It is one of the world's largest travel marketplaces for established brands and entrepreneurs of all sizes.
We always start with Expedia to check prices, but it sometimes says it is sold out. We then try Booking.com, and we find it lists plenty of rooms. It could be they are a Europe-based company. Try both before booking accommodations.
Are you traveling with a family or having an extended stay at your destination?
With over 2 million bookable vacation rentals, VRBO connects homeowners with families and vacationers looking for something more than a hotel for their trip. The VRBO community offers families or groups various rental property types such as condos, cabins, lake rentals, beach houses, etc.
VRBO is under the Expedia group ownership now, which many were worried about, but it hasn't panned out to be a concern. It is a massive network that has access to all forms of lodging should issues arise. Joelle has used VRBO for many years with her family with no problems.
As the leading marketplace for travel experiences, Viator believes that making memories is what travel is all about. And with 300,000+ experiences to explore—everything from simple tours to extreme adventures (and all the niche, interesting stuff in between)—making memories that will last a lifetime has never been easier.
With industry-leading flexibility and last-minute availability, it's never too late to make any day extraordinary. This one site has it all and has experiences throughout the world. We use them often during our travels, especially for food tours. We especially take the time to read the reviews provided.
Tripadvisor, the world's largest travel guidance platform, helps hundreds of millions of people each month become better travelers, from planning to booking to taking a trip. Travelers worldwide use the Tripadvisor site and App to discover where to stay, what to do, and where to eat based on guidance from those who have been there before.
With more than 1 billion reviews and opinions from nearly 8 million businesses, travelers turn to Tripadvisor to find deals on accommodations, book experiences, reserve tables at popular restaurants, and discover great places to see nearby. We use them for guidance and research on every trip; it is a valuable app for the independent traveler.
Welcome Pick-ups
(Airport and sightseeing service)
A global leader in ground transportation for travelers. They help hundreds of companies around the world enhance their services and boost their revenue with our 5-star ride experiences and hassle-free automation
Founded in 2015 in Athens, Greece, Welcome Pick-ups goes above and beyond the standard transfer service as the first company to deliver a holistic, in-destination travel experience. From the moment a traveler arrives at a new destination until they return home, Welcome accommodates all their travel needs (transfers, travel products, things to do, information) as the easiest, friendliest, and most personalized solution.
Discover Europe by Train
Rail Europe sells train and bus tickets for travel across Europe. They cover 24 countries, 105 rail operations, and 20,000 stations. They are the official rail and bus operations agents in the UK, France, Spain, Italy, Germany, Belgium, Austria, Switzerland, Luxembourg, and the Netherlands. Rail Europe continues to add coverage all the time.
It is a fast, easy, and economical way to purchase European train and bus tickets. Eurail passes are also available to buy through their site.
An excellent source for travel essentials and guides
We now have our own Amazon Storefront with all our favorite travel accessories and gear in one place. Check out our travel store at the link below.
Amazon is one of the most comprehensive online shopping sources in the world. On behalf of their customers, teams worldwide provide lower prices, better selection, and rapid delivery. They offer a vast inventory, and their 1.7 million small and medium businesses worldwide selling on Amazon.com provide extensive options to customers.
We buy most of our travel books, accessories, and luggage from Amazon. We have ordered up to two days before travel and get what we need.
Thoughtfully Designed | Meticulously Constructed | Quality Guaranteed.
We have used this luggage for years, left briefly to try others, and returned to Travelpro. Travelpro luggage is carried by crews from over 90 airlines worldwide.
Travelpro takes the time to learn what travelers want and need, then builds it. The key factor for us is that it must be lightweight upfront and resistant to rough handling. Their luggage is the best, and we could not recommend it enough. It is our go-to luggage.
This article contains affiliate links. If you use these links to buy something, we may earn a small commission at no additional cost to you. Thank you!
Do you have a question for us or have a comment?