"It's a pity we don't whistle at one another, like birds. Words are misleading. I am always trying to forget words. That is why I contemplate the lilies of the field, but in particular the glacier. If one looks at the glacier for long enough, words cease to have any meaning on God's earth."

Halldór Laxness
During a recent trip to Iceland, our first day around Ring Road included a stop at the natural crown jewels of Iceland: Fjallsarlon and Jokulsarlon Glacier Lagoons and Beidamerkursandur, also known as Diamond Beach. The spectacular images from these sites deserve a dedicated post. The Ultimate Guide to Iceland's Glacier Lagoons will provide the info you need to visit this bucket list destination. It was our favorite moment on an adventure that was full of moments of non-stop breathtaking scenery. This destination was mother nature in all its glory.
Iceland's Ring Road
We came upon these glaciers during our drive around Iceland's Ring Road. Ring Road, also referred to as Route 1, is a national road in Iceland that does the island's full circle. Completed in 1974, the road is 821 miles in total. It may not seem a great distance to some, but the road is mostly a narrow two-lane, head-on road, so speed limits are pretty low. However, you will discover what slows you down is the stunning landscape and raw beauty along this path. It is as varied as the weather can be.
All three destinations are immediately off Ring Road and are in the southern area of Iceland. If heading east from the capital city of Reykavik, it is about a five-hour drive.
Location of Jokulsarlon Glacier Lake
Google Maps
Fjallsarlon Glacier Lake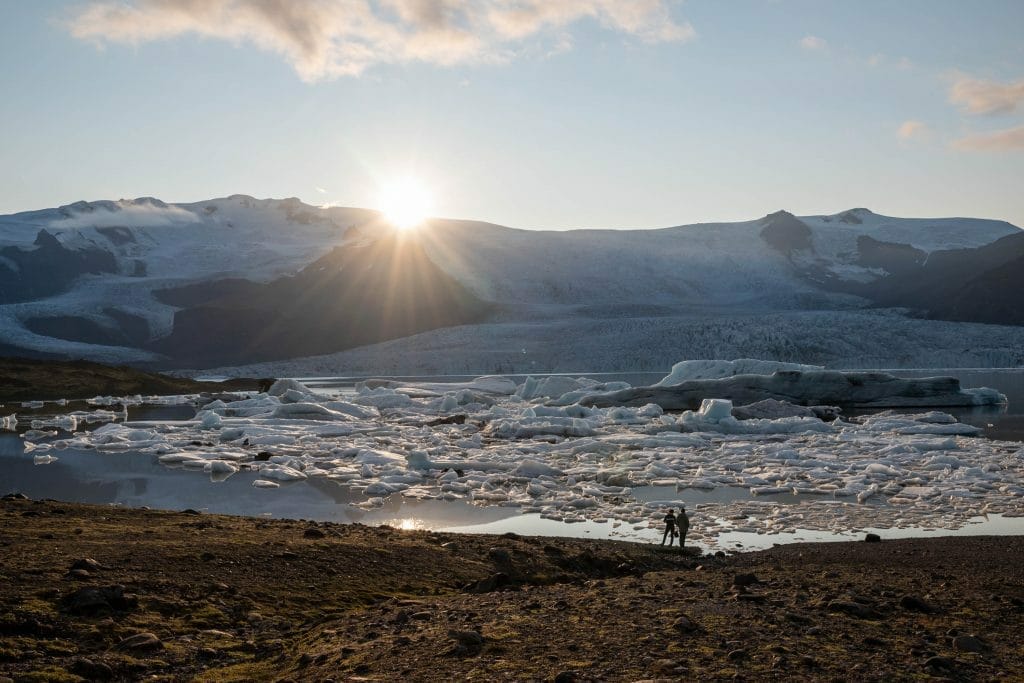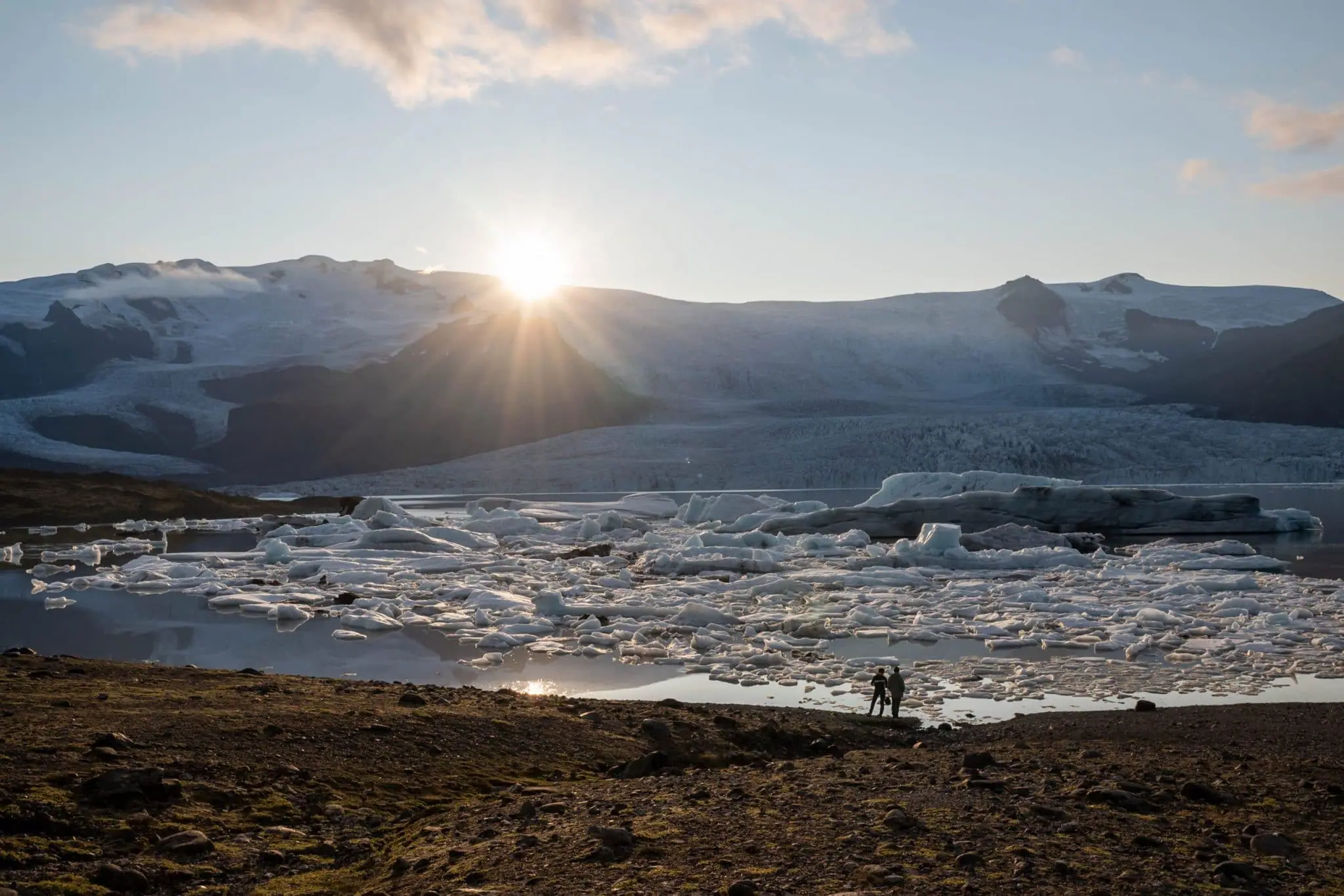 The first stop on the Ultimate Guide to Iceland's Glacier Lagoons will be Fjallsarlon Glacier Lake on your left. It is easy to miss as it is not fully visible from the road. The parking lot is quite large, and parking is free. It is a quick 5-minute, easy downhill walks down a wide graveled trail to the shores of the lake. Once you take sight of the glacier lake, it will take your breath away. There is a sizeable unmarked building near the parking lot, but they were all closed during our time there. There were no bathroom facilities at this location.
Fjallsarlon is the lesser-known of the two glacier lakes in the area and is a more intimate visit. However, it is no less stunning and much more peaceful due to fewer crowds. The glaciers extend onto the lake's surface, where large icebergs break off from the ice cap. Hundreds of glittering icebergs float gently on the lake, and some settle on the shore at your feet. The icebergs' colors range from electric blue to crystal clear.
Little Brother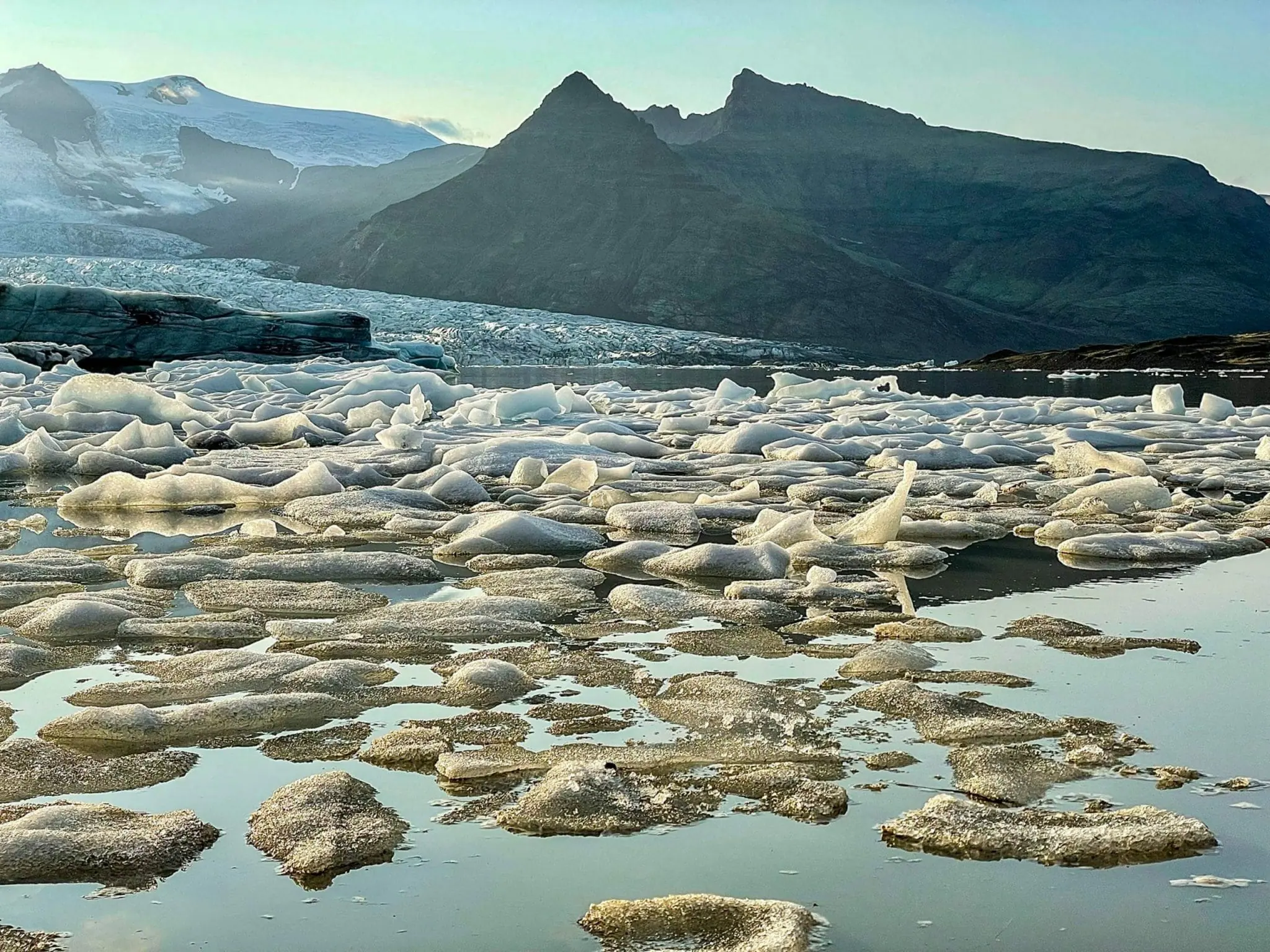 Fjallsarlon Glacier is part of the arm of the giant glacier Vatnajokull. The Breida River feeds the lake from the glacial lake Breidalon. This glacier is often called the little brother of the Jokulsarlon Glacier. Many visitors skip it to head to its bigger brother, but at this lake, you are much closer to the glacier itself, with a gorgeous background of the glaciers and mountains.
When we arrived, the sun was coming down over the mountain and reflected beautifully off the lake. It was serene and peaceful. There was only a handful of people there, primarily photographers, and as we would soon discover, this was not the case at its bigger brother farther down the road.
Jokulsarlon Glacier Lagoon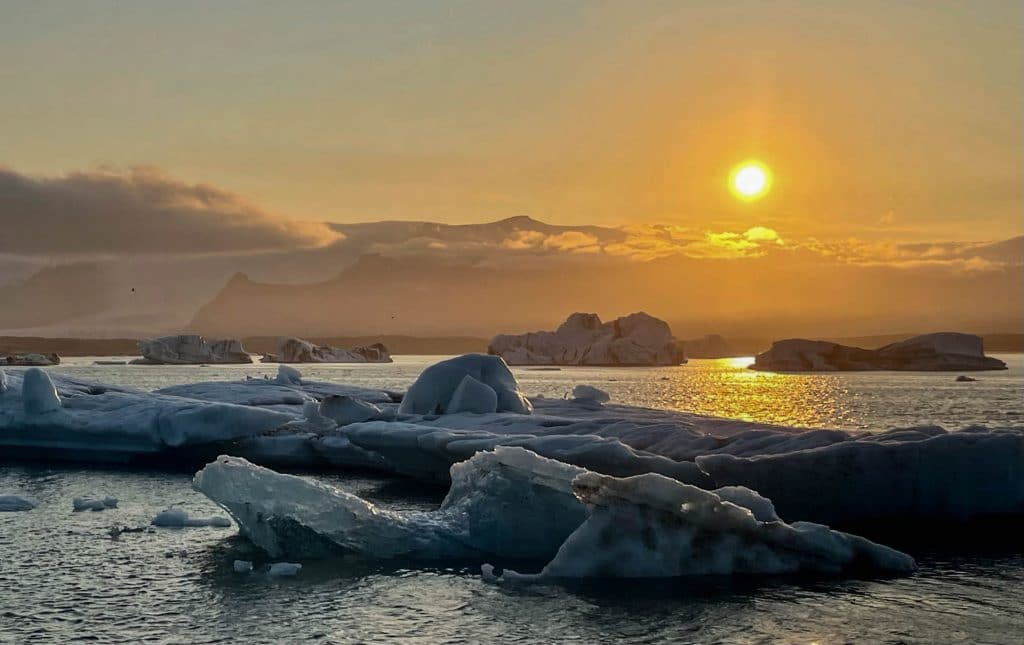 Our next stop on the Ultimate Guide to Iceland's Glacier Lagoons is ten kilometers down the road at the Jokulsarlon Glacier Lake. You will go across a bridge that spans an outlet out to sea. A vast parking lot will be on your left after the bridge, and parking is free. There are some services there, as well as bathroom facilities. Boat and hiking tours tend to leave from this area.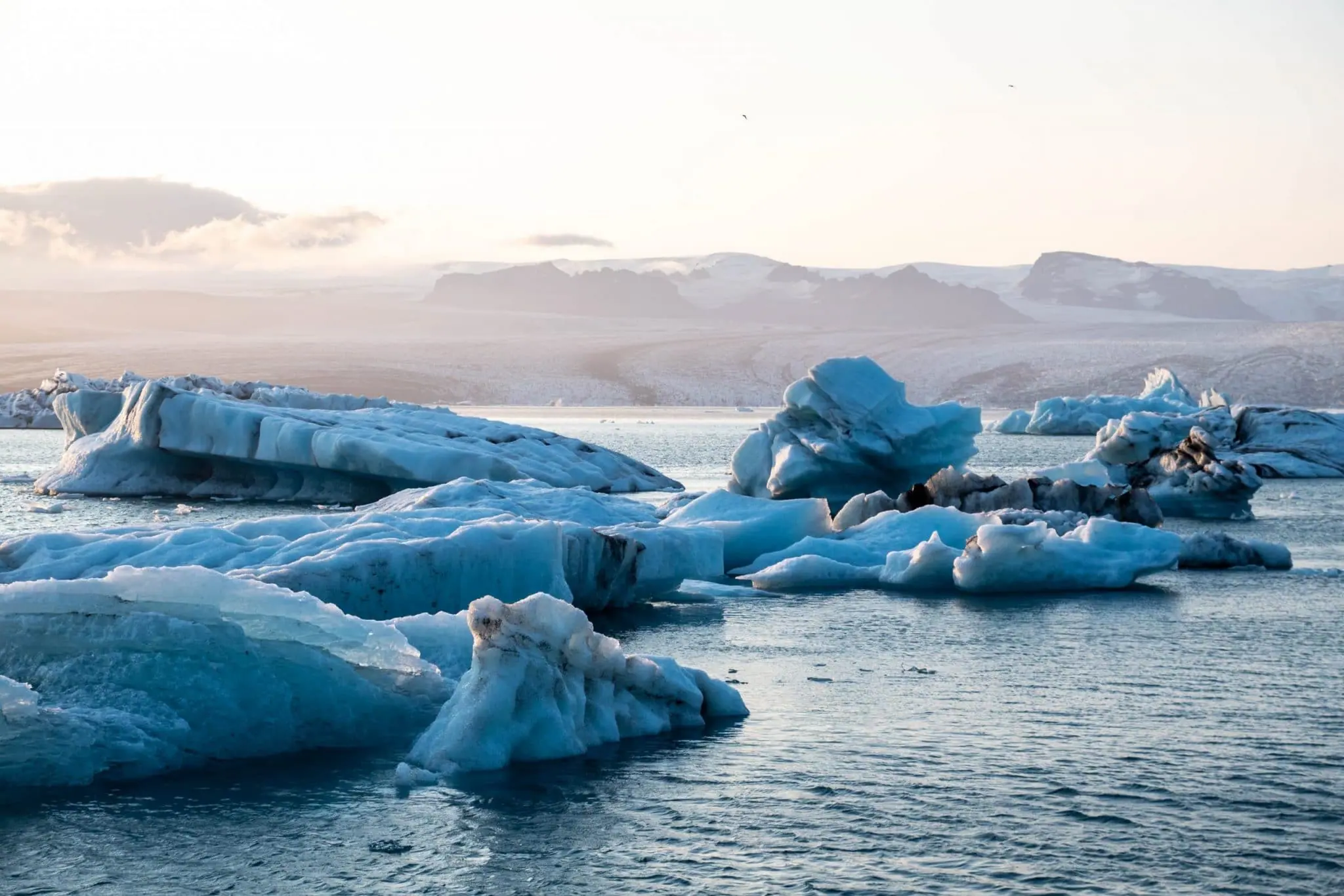 The setting is striking, with the massive glacier in the distance. It sits south of Europe's largest glacier Vatnajokull. This area encompasses Iceland's largest and Europe's second-largest national park, Vatnajokull. Jokulsarlon Lake is Iceland's deepest lake, about 750 feet deep, with a surface area of 11 miles. Due to global conditions, the glacier is rapidly receding as the lagoon is quickly growing, resulting in the glacier melting naturally forming the lagoon. Hundreds of icebergs of all sizes and colors are gently floating and slowly melting as they make their way out to sea. Some icebergs come to the shoreline and will be right at your feet. You can get up close to examine these pieces of the iceberg that are over 1000 years old.
Wildlife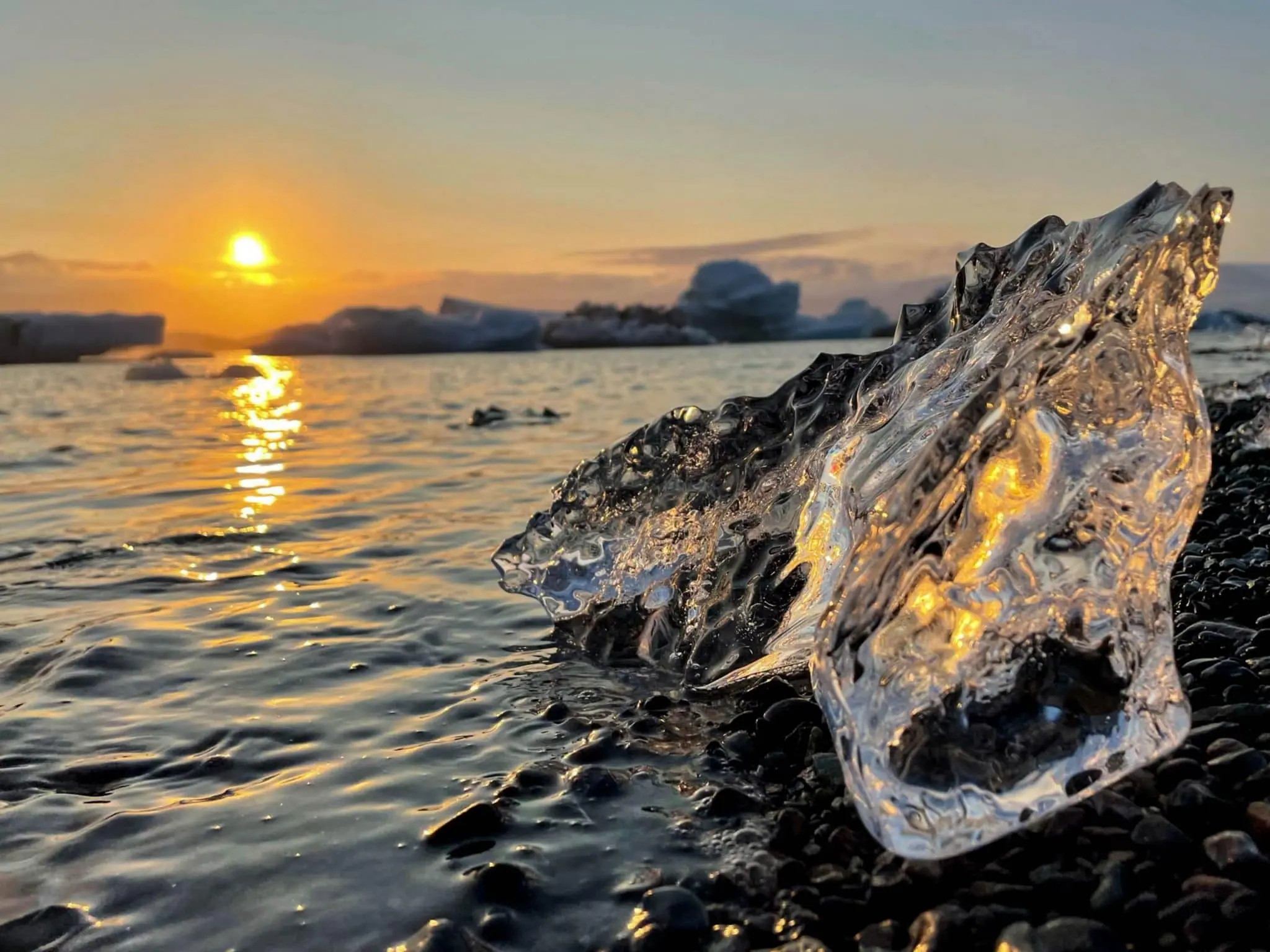 Seals are often visible hunting for fish near the shoreline, and we saw many. The sky was teeming with birds during our visit as well. You will not, though, find Puffins. That day, our travels did have us come across by surprise some Puffins at Dyrholaey Point south of VIK.
The terrain at Jokulsarlon Lagoon offers wide-open areas to walk around to view the icebergs and lagoon. There are rolling hills to hike up that provide views from many different elevations.
We found many people watching in silent reverence as if what they were observing was challenging to grasp. We arrived at sunset, and we could not have chosen a more perfect time to experience this breathtakingly beautiful setting because it is a photographer's dream come true and a blast to capture what our eyes could barely believe.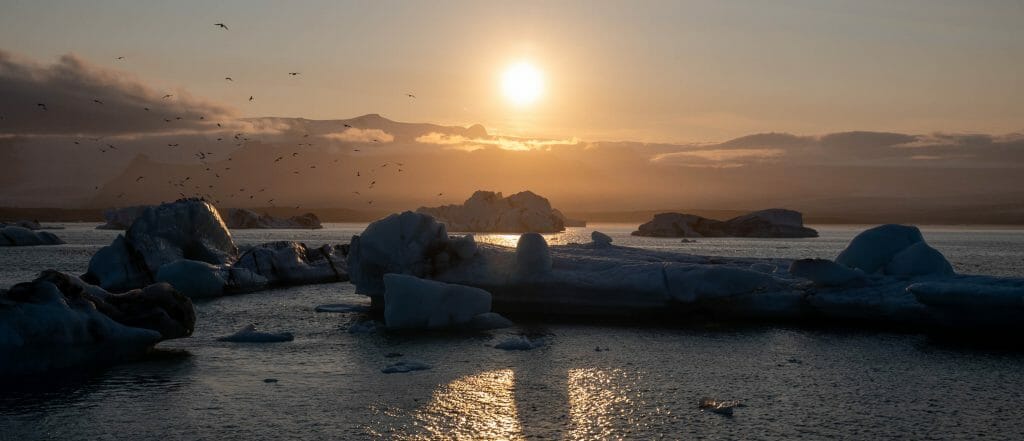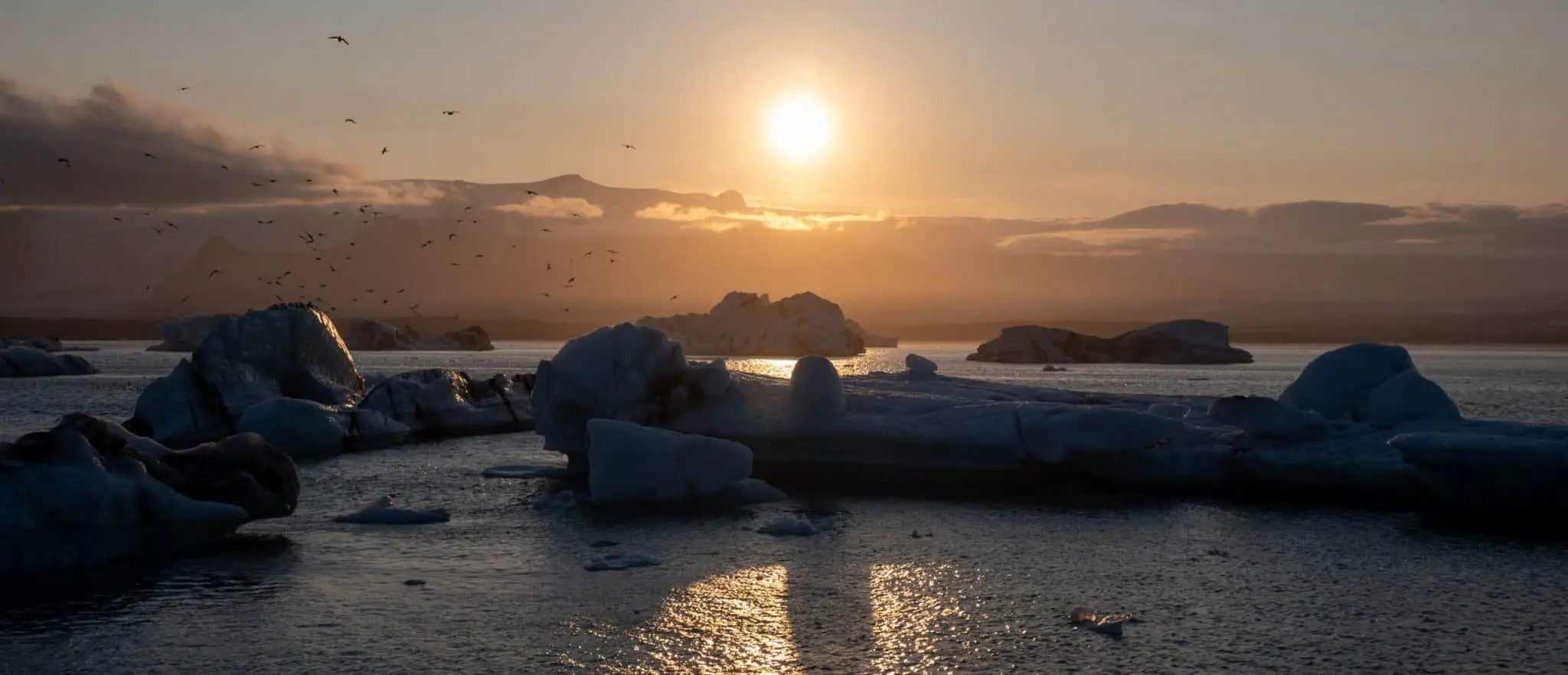 Diamond Beach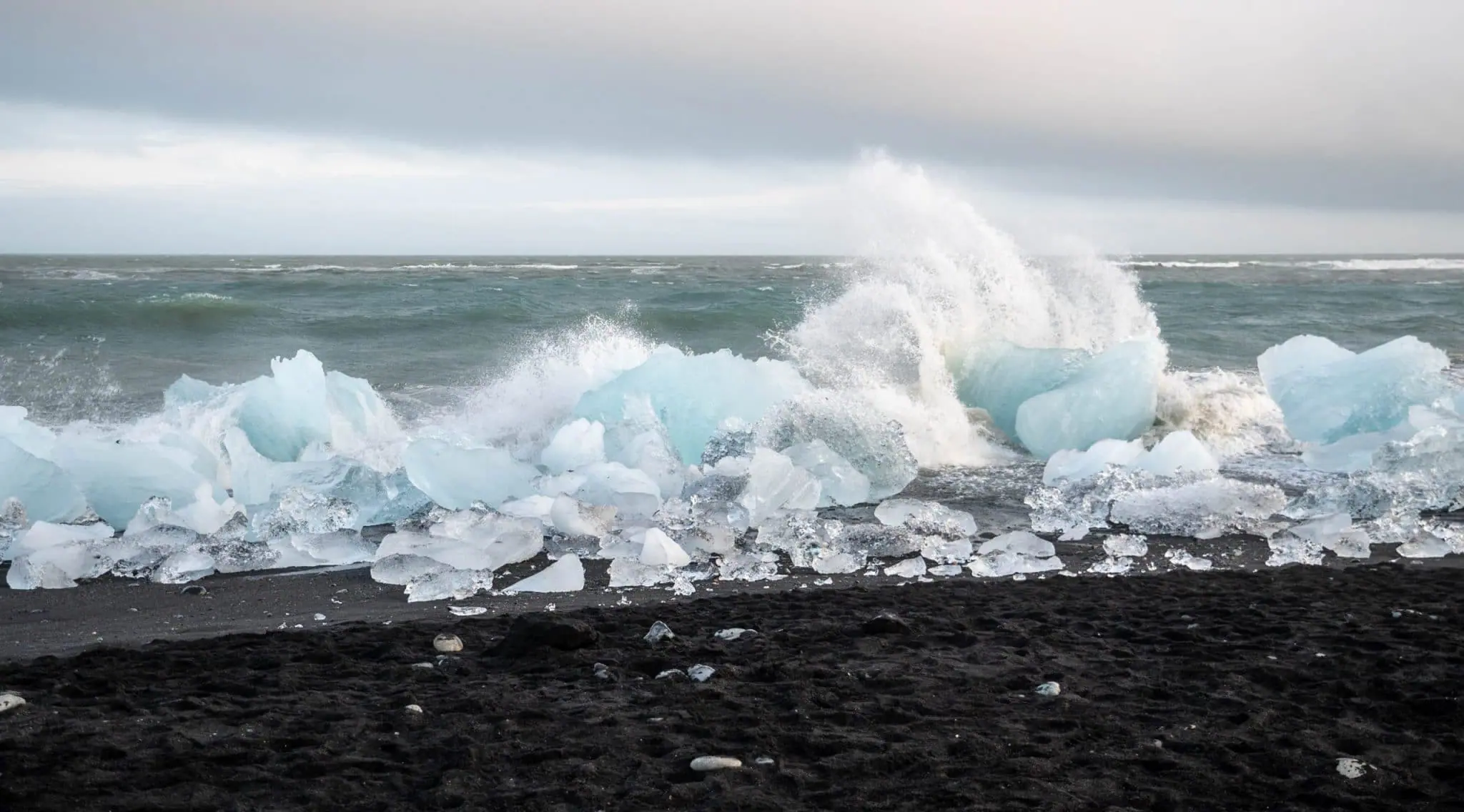 Beidamerkursandur; is a long stretch of black sand beach known to many as Diamond Beach and was our last stop on our Ultimate Guide to Iceland's Glacier Lagoons. It is immediately across the road from the Jokulsarlon Lagoon. The parking lot is immediately off Ring Road. It is a few-minute flat hike to the beach. There is a circle of boards with information and images you will pass on the way to the beach. To the right is the bridge the glaciers float under on the way to the open ocean. It is gorgeous in its own right. This area can get quite windy, which is the norm for Iceland.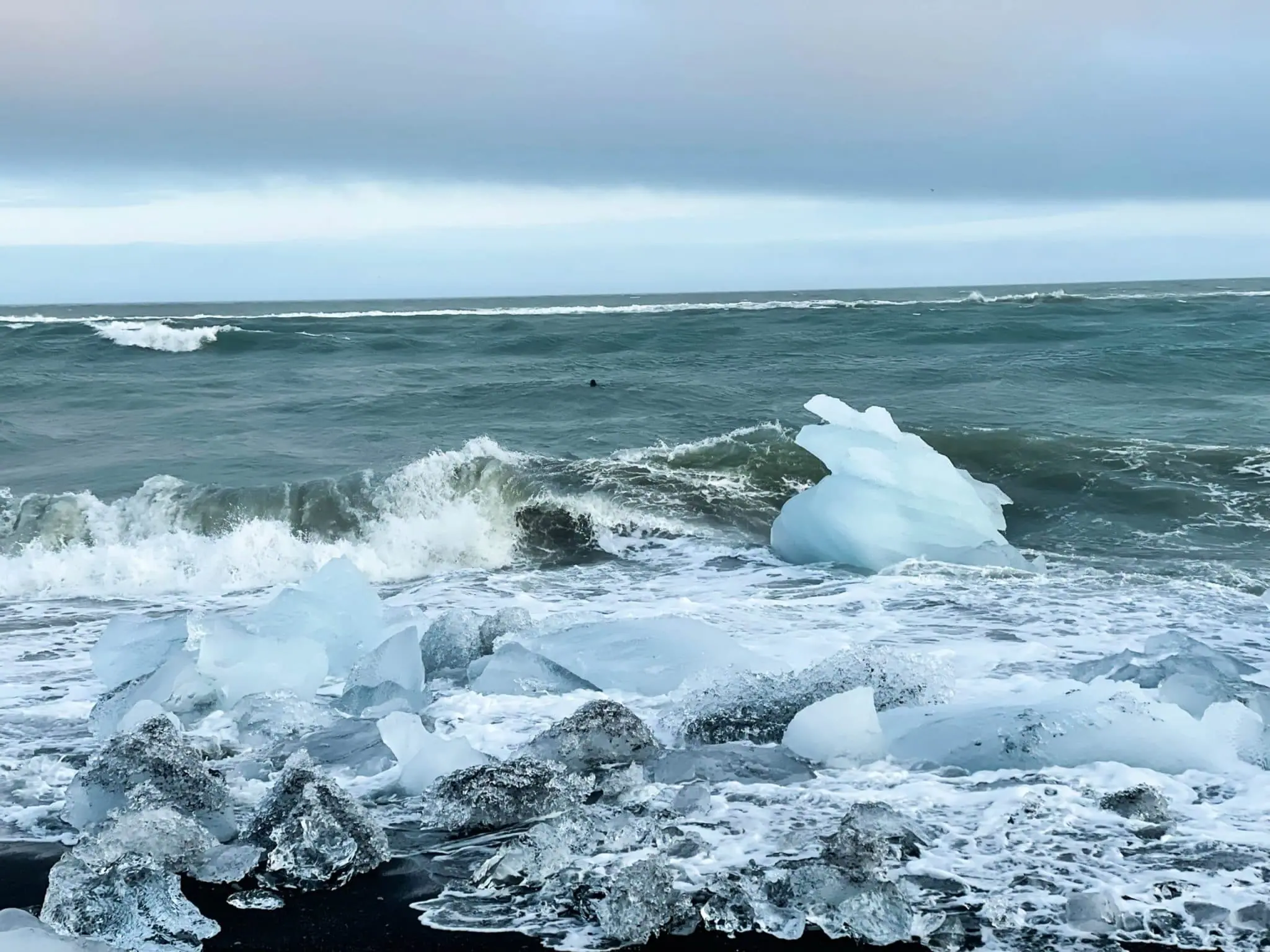 The sand is the most bottomless black sand you will ever see. It is fine sand that makes you think of silk. The black sand with the translucent icebergs densely scattered along the coastline is magnificent. It is much smaller than the icebergs in the lagoon. They have been sculpted by pounding surf and glisten in the sun.
Watch closely, and just feet from the coastline, you will see seals bobbing their hands, playing in the waves. Their little black faces appear to be laughing. Can you spot the seals in the photos on this post?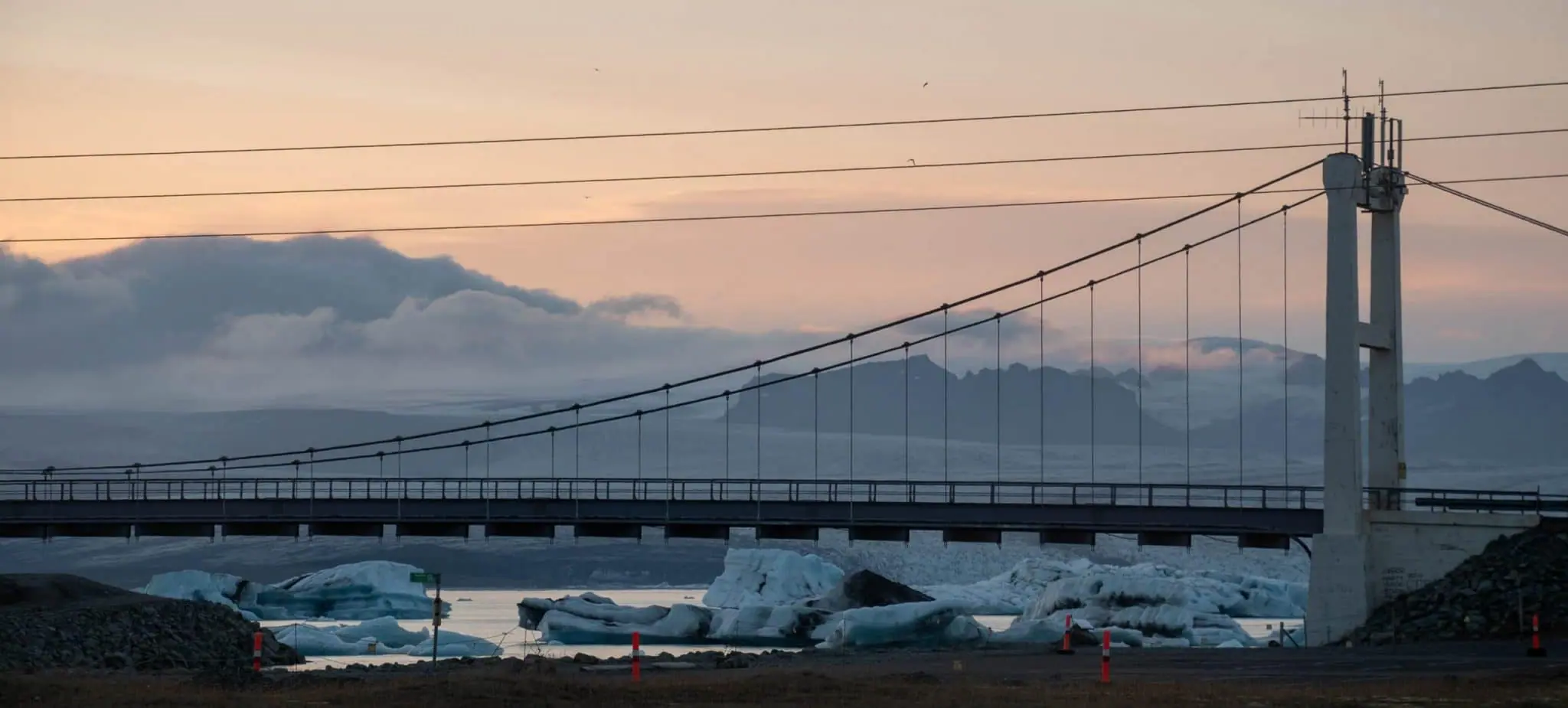 Hollywood has been here too
Scenes from the James Bond films Die Another Day and A View to a Kill' were filmed at the Jokulsarlon Lagoon and Tomb Raider
Several commercials and music videos have also been shot at Jökulsárlón, such as Justin Bieber's 'I'll Show You.'
Even a video does not do this site justice
Are you planning a trip to Iceland? Check out our Iceland Travel Guide to help you plan the perfect trip.

Getting there
You can approach two ways from the east or the north. From the capital city of Reykavik is a five-hour drive, and from Vik, the next closest city east, it is about two hours and fifteen minutes. Remember, this is an incredibly scenic drive, and you will want to make many stops. Our travels that day started from Reykjavik, and we arrived about 9 hours later at the lagoon. The glacier lakes were our last stop before our hotel in Hofn, an hour north of there.
If coming from the north, it is one hour from Hofn, five and a half hours from Lake Mytavn, and six hours and twenty minutes from Akureyri, Iceland's northern "capital" city. Ring Road is the only way to get to this location from either direction.
This area is accessible year-round, but in winter months, the weather can play havoc on driving conditions, so you must prepare accordingly.

Activities in the area
Boat tours of the lagoon are available in the summer. There will be up to many trips a day during peak season. You can choose from Zodiac boats and Amphibian boats. It would be best to book in advance to see the more enormous icebergs up close. Though it was summer when we were there, we saw no boats on the water to take away from the pristine setting at sunset—just pure natural wonder.
There are tour groups that provide guided hikes and tours of the area. Many local companies offer tours and packages.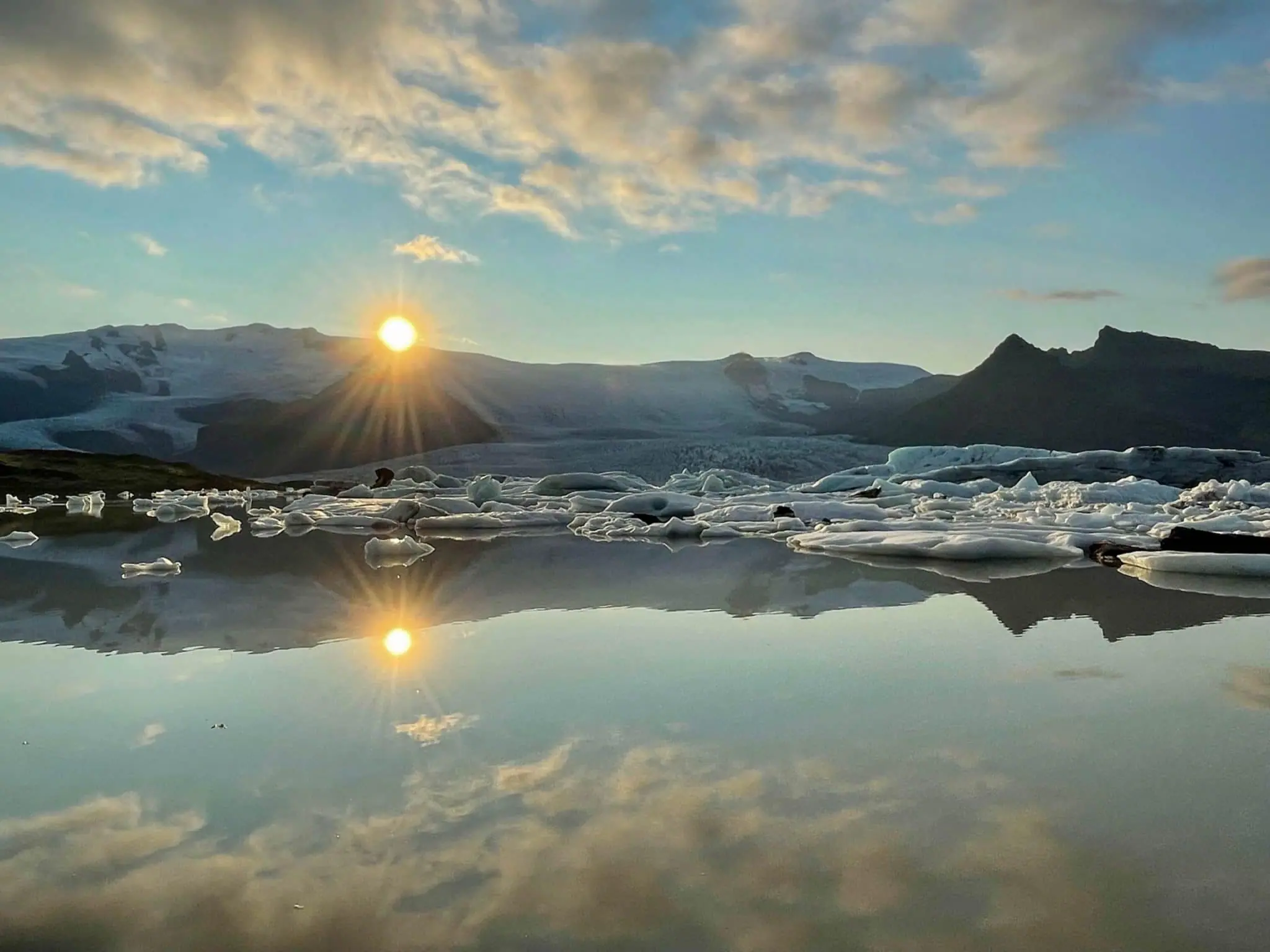 Outside of the summer months, there is ice caving within the Vatnajokull glacier. These are usually available only from mid-October to March and are weather-dependent.
Finally, as this area has little unnatural light, it is a fantastic location to catch the Northern lights year-round. Though they are only visible in the dark, Iceland has little darkness in the summer and long dark periods in the winter.
Where to stay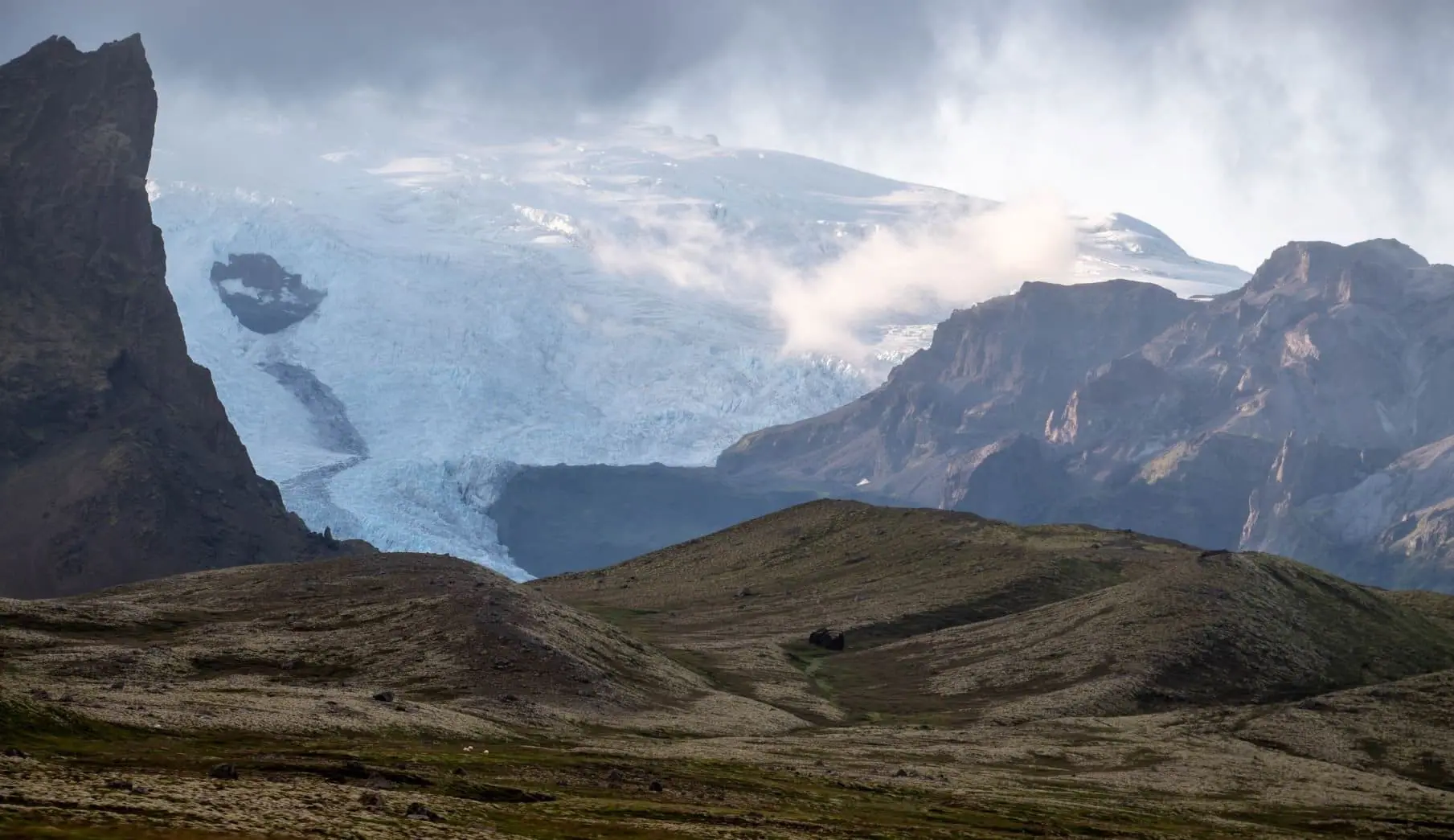 There are a handful of hotels and guest houses nearby. There is the Fosshotel Glacier Lagoon, Ekra, Skyhusid Guesthouse, Reynivellir II and Gerdi Guesthouse, and Hali Country Hotel, to name some. These fill quickly, so book as early as you can.
The closest town is Hofn which is an hour north. There are many more choices for accommodations in that area. That was where we stayed the night.
It is important to price out properties on various sites. Expedia is a US-based company, whereas Booking.com is Europe based. Not all properties appear on both, so check both. If the establishment has a website, check the price there as well.
Final thoughts
Though this destination was planned to stop, nothing prepared us for the wonder we witnessed. Those into photography will have you in seventh heaven. Do not miss the chance to visit this marvel of Iceland, where fire meets ice.
© 2023 Wanderers Compass All Rights Reserved
Our Glacier Lakes Photo Gallery
Check out our most recent posts
Our Recommended Travel Resources
Our favorite travel insurance site!
If you book a trip, don't forget to get travel insurance within 14 days of your first booking. We could not be stronger advocates of being well-insured. Not just for the little stuff but the big things like medical emergencies. We never leave home without it. Over the years, we have used many sites but have now found our go-to place. Squaremouth.com does a fantastic job; it has a user-friendly interface, uses top-rated and reputable insurance carriers, and most policies cover COVID-19 medical issues and cancellations. They also mediate on your behalf if you have problems with your policy.
To empower you as a consumer, we suggest you read our blog post on the importance of travel insurance and how to get the best coverage from top-rated companies for an affordable price.
Medical transport back home from anywhere in the world
They are the premier global air medical transport. One caveat to travel insurance is that medical evacuation usually gets you to the closest facility to care for you. Medjet gets you back to the U.S. to the hospital of your choice once you are stable enough to fly. They cover Covid-related transports as well.
Medjet carries its own policies. The policy is only for transport and no other aspects of travel insurance. They have individual trip policies starting at $99 and annual policies for around $300. Most of their policies limit the age to 74 and younger. Prices are not based on age below that.
To learn more about how Medical Evacuation membership with Medjet Assist works, check out our blog post for a more detailed review.
Hotels, home rentals, BNBs, flights, and other transportation & tours
Expedia is a US-based company whose mission is to power global travel for everyone and everywhere. Whether planning a family vacation, booking for business, or organizing the trip of a lifetime, they are a fantastic resource. Wanderers Compass focuses on independent travel, and using sites like Expedia makes that possible. Every aspect of travel you need, from airfare, accommodations, rental car, and cruises to activities to do at your destination, can be booked on Expedia.
Hotels, Home rentals, BNBs, Flights, and other Transportation & Tours
Booking.com connects millions of travelers to memorable experiences, various transportation options, and incredible places to stay – from homes to hotels and much more. It is one of the world's largest travel marketplaces for established brands and entrepreneurs of all sizes.
We always check Expedia and Booking.com to verify prices. At times, one is sold out of rooms while another at the same place has rooms. As well we often find some European hotels, especially smaller ones, on Booking.com but not on Expedia. It could be they are a Europe-based company. Try both before booking accommodations.
Are you traveling with a family or having an extended stay at your destination?
With over 2 million bookable vacation rentals, VRBO connects homeowners with families and vacationers looking for something more than a hotel for their trip. The VRBO community offers families or groups various rental property types such as condos, cabins, lake rentals, beach houses, etc.
VRBO is under the Expedia group ownership now, which many were worried about, but it hasn't panned out to be a concern. It is a massive network with access to all lodging forms should issues arise. Joelle has used VRBO for many years with her family with no problems.
As the leading marketplace for travel experiences, Viator believes that making memories is what travel is all about. And with 300,000+ experiences to explore—everything from simple tours to extreme adventures (and all the niche, interesting stuff in between)—making memories that will last a lifetime has never been easier.
With industry-leading flexibility and last-minute availability, it's never too late to make any day extraordinary. This one site has it all and has experiences throughout the world. We use them often during our travels, especially for food tours. We especially take the time to read the reviews provided.
An excellent source for travel essentials and guides
We now have our own Amazon Storefront with all our favorite travel accessories and gear in one place. Check out our travel store at the link below.
Amazon is one of the most comprehensive online shopping sources in the world. On behalf of their customers, teams worldwide provide lower prices, better selection, and rapid delivery. They offer a vast inventory, and their 1.7 million small and medium businesses worldwide selling on Amazon.com offer extensive options to customers.
We buy most of our travel books, accessories, and luggage from Amazon. We have ordered up to two days before travel and get what we need.
Transportation
Welcome Pick-ups
(Airport and sightseeing service)
A global leader in ground transportation for travelers. They help hundreds of companies worldwide enhance their services and boost their revenue with our 5-star ride experiences and hassle-free automation.
Founded in 2015 in Athens, Greece, Welcome Pick-ups goes above and beyond the standard transfer service as the first company to deliver a holistic, in-destination travel experience. From the moment a traveler arrives at a new destination until they return home, Welcome accommodates all their travel needs (transfers, travel products, things to do, information) as the easiest, friendliest, and most personalized solution.
Discover Europe by Train
Rail Europe sells train and bus tickets for travel across Europe. They cover 24 countries, 105 rail operations, and 20,000 stations. They are the official rail and bus operations agents in the UK, France, Spain, Italy, Germany, Belgium, Austria, Switzerland, Luxembourg, and the Netherlands. Rail Europe continues to add coverage all the time.
It is a fast, easy, and economical way to purchase European train and bus tickets. Eurail passes are also available to buy through their site.
Travel documentation services
Do you feel like you are wasting time visiting an on-site photographer only to be embarrassed by the photo? Would you like control of the final product? Get the perfect VISA or passport photo online with PhotoAID.
When traveling, you often need to apply for official documents such as a passport, ID, and different kinds of licenses or cards. Those applications require a picture that must meet specific conditions to be accepted, depending on the country. Now, it is possible to take this picture at home without the help of a professional photographer. The PhotoAiD app allows you to take the perfect biometric photo that will be guaranteed by yourself without leaving your home.
This article contains affiliate links. If you use these links to buy something, we may earn a small commission at no additional cost to you. Thank you!
Do you have a question for us or have a comment?