After visiting Italy, next on our itinerary was Monaco. I was on an extended European adventure that began with a gathering of friends from my gourmet cooking club. We spent a fantastic week in Tuscany in the hilltop village of Montisi. However, one week was not nearly long enough after traveling so far. I invited my sister-in-law Lisa to join me in Italy with plans to continue to France to visit family. She suggested stopping in Monaco, where she was invited to visit a friend. Neither of us had ever been. It was the perfect incentive to go!
We focused our research on the immediate area of Monaco. Our plans included the Royal Palace, Monte Carlo, and the gorgeous beaches of the Cotes d'Azur. Upon our arrival, our kind and gracious hosts suggested we make a trip to nearby Eze, France, to visit the medieval village and botanical gardens. It turned out to be one of the highlights of our whole trip.
This a perfect example of always allowing flexibility in your plans and seeking guidance from the locals.
A bit about Eze, France
Eze, France, which dates back to the 1300s, is between Monaco and Nice, France. If coming from Monaco, it is about a 5-mile trip. It takes about 10-15 minutes by car and is reachable by train and bus. The drive itself is quite beautiful as you climb Bastide mountain. Remember, parking is limited if you are driving, so arriving early is best, especially if it is hot.
The town is 1,400 feet above sea level on the stunning French Mediterranean. It is referred to as the Eagle's Nest because of its elevated location. Eze's population is around 2,000 people.
Eze History
The area around Eze has had inhabitants as far back as 2000 BC. The hilltop town has passed through many occupations; the Romans, the Moors, Turks, Spaniards, Italians, and the Phoenicians.
It has had much upheaval in its time, including King Louis XIV destroying the fortified wall in 1706 during the War of the Spanish succession. It was not until 1860 that Eze was designated a part of France by a unanimous vote by the people of Eze.
Stunning Views
The medieval village and its castle are magnificent, but the view of the Mediterranean sea has made it renowned. No matter how prepared you are for the views, they are even more breathtaking than you imagined. It is a top destination in an area already reputed for its beauty. What made it extra special was the simplicity and genuineness of the town. Being so close to Monaco, it was lovely to see the efforts made to keep its charm, narrow streets, and buildings preserved. The village allows only pedestrians with no car traffic. It can make an arduous walk up challenging, but it is worth it. I was in a boot after an Achilles tear, which was not ideal.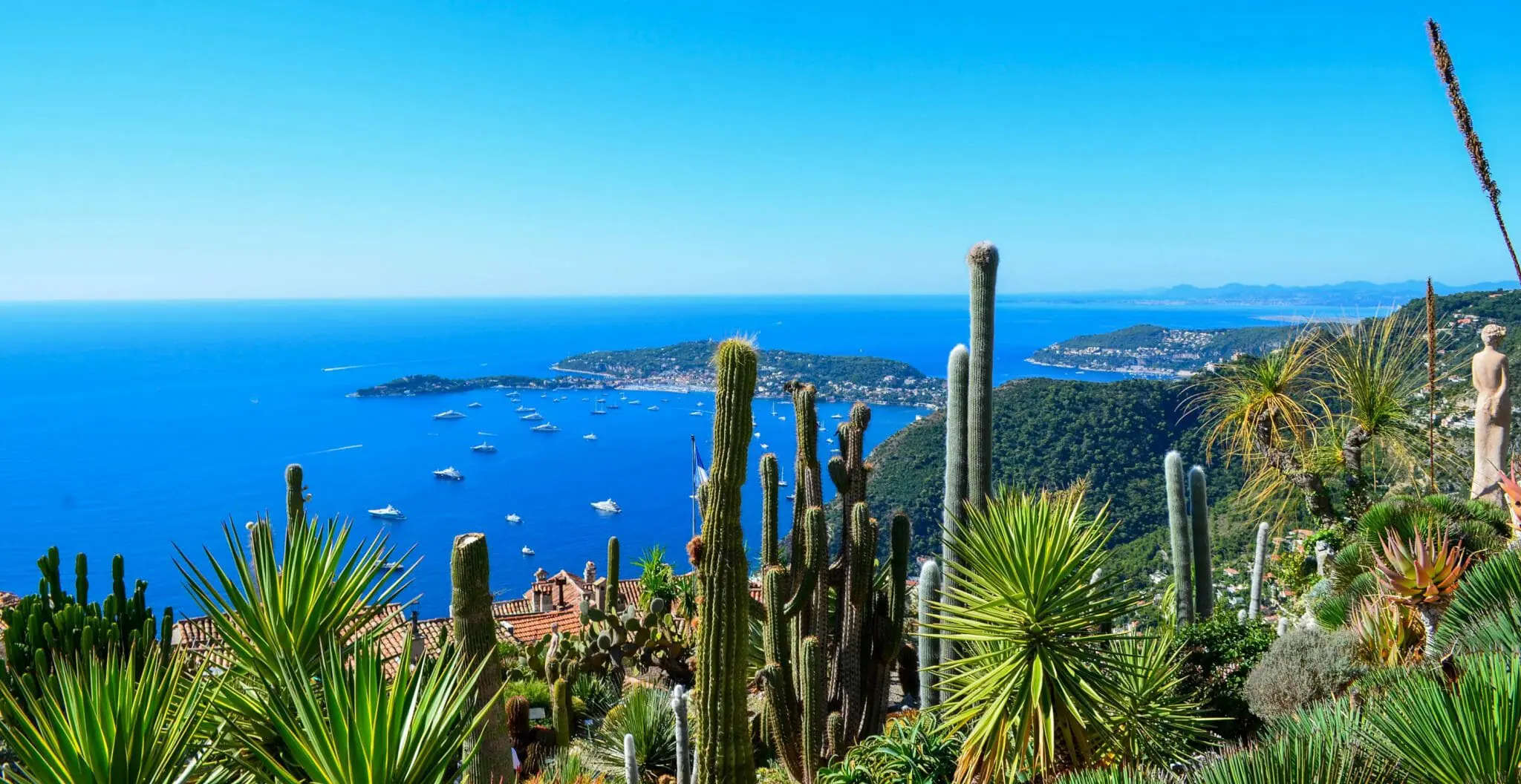 Time to Wander Eze
Near the parking lot is the Eze tourist office. Stop in and grab a map to help guide your exploration of all the town's landmarks. As you leave the tourist office, walk up the hill towards the village, where you will see the church on the hill ahead of you as you enter the streets of the historic center through the postern, a 14th-century gate.
You can begin wandering through the labyrinth of cobblestone streets and alleys of Eze. There are more than you can imagine, but don't miss Rue de Barri. It takes you to the beautiful and exclusive Hotel La Chèvre d'Or. Take the time to visit the gorgeous hotel gardens!
Eze's beautiful homes and buildings had us spellbound; many now are art galleries, shops, and restaurants. Several of the residents are artisans, and the shops reflect that. There were lovely courtyards to meander through and staircases to aid in your climb to the top. I suggest you take your time and explore every piece of this village that time allows.
Planning a trip to France? Check out our France Travel Guide to assist in planning your perfect vacation. Click here
What not to miss
The sites you should not miss include the Chapelle de la Sainte Croix, built at the beginning of the 14th century and the oldest building in the village. The interior is stunning.
There is a Porte des Maures, a gate out of the other side of Eze next to the Chateau d'Eza. A castle over 400 years old that is now a luxury hotel
The streets around Place Francis Blanche are picturesque, with many plants and bougainvillea flowers. The small fountains, interesting windows, and doorways add charm to the village. I took quite a few pictures of those doorways and windows!
The Notre Dame de L'Assumption church, with its neoclassical façade, sat on the edge of Eze's old village and was built in the second half of the 18th century. The exterior may not impress you enough to enter, but it has an array of beautiful paintings and frescoes inside.
Jardins Exotique de Eze
When you get close to the top of the village, you will see the Jardins Exotique de Eze entrance, which is on top of the ruins of a medieval castle. The botanical garden setting is incredible, offering astonishing panoramic views of the Mediterranean, the French Riviera, and the Italian coast. On a clear day, Corsica is visible. There is an entry fee to the gardens.
Once inside the award-winning exotic gardens, you will find a unique collection of over 400 exotic plants from around the world. The south-facing side of the park has numerous species of succulent plants and xerophytes from all over the world. The north face has plants from the Mediterranean and other humid regions of the world.
Eze is right near Monaco. Check out our Monaco Travel Guide for more info
The Sculptures of Goddesses
Interspersed within are sculptor Jean-Philippe Richard's series of 15 stone statues of 'earth goddesses," each with its own poem written by the artist. It adds a poetic element to the experience of strolling around. These stone works of art model Classical Greek sculptures.
The poem on the sculpture of Justin or Isis, the Egyptian goddess of motherhood and fertility, reads: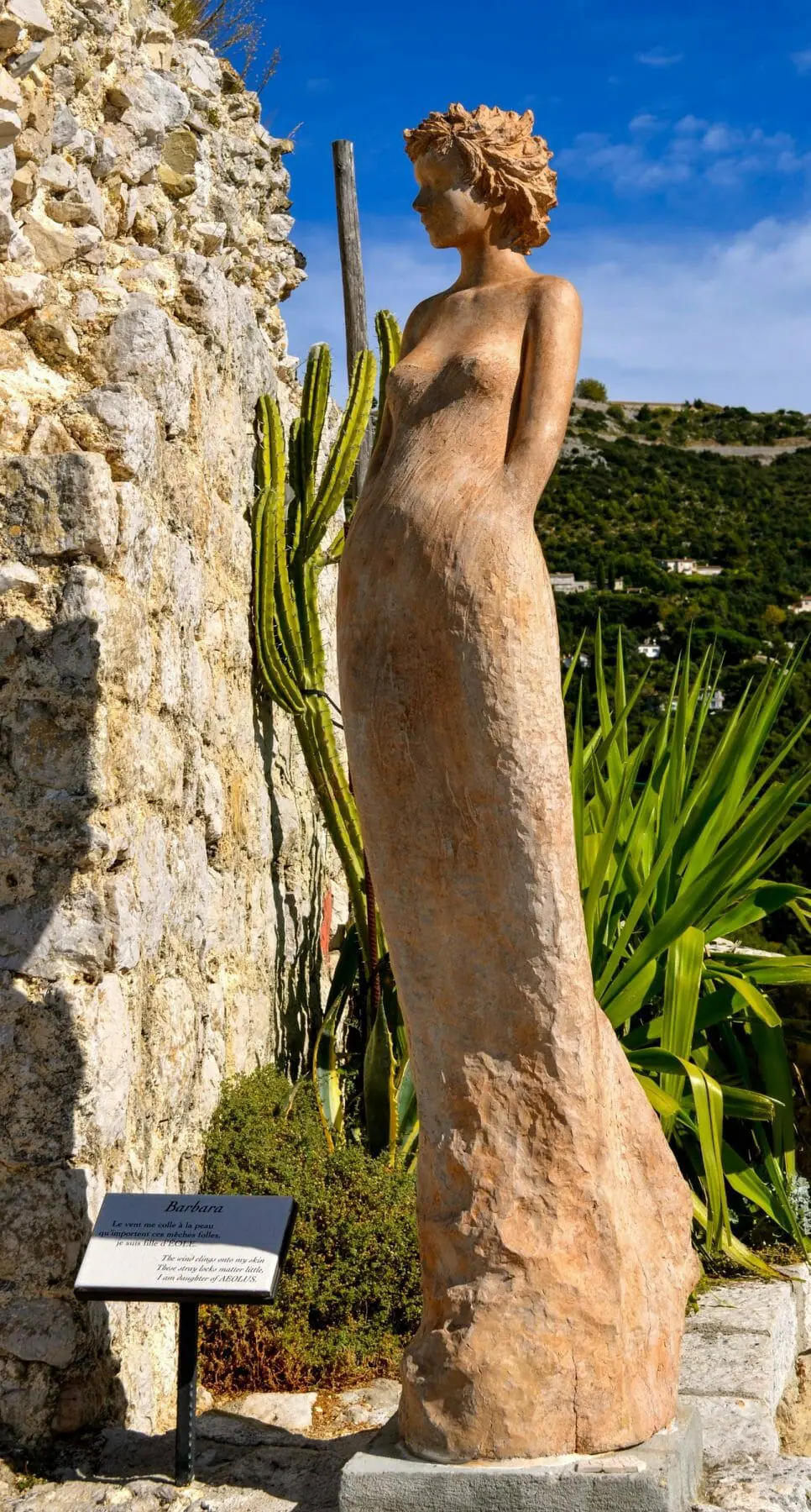 The sculptures are interspersed among the succulents and cacti, along with what remains of the castle. The goddesses seemed to take on a life of their own. The artist was able to portray their strength and gentleness simultaneously.
The idyllic gardens were beyond our expectations and very unique. The sculptures had a presence to them that captured the imagination. They celebrate femininity and the relationship between the beauty of both the physical and ephemeral world.
After all, you are in France
On the way out, we dined at one of Eze's many restaurants and eateries. It is France, so plan for a long leisurely, and delicious meal at lunch, even if you only hope for a quick bite.
Of course, wine must accompany that meal. You are in south Provence; choose one from the region to complement your meal.
You can walk to the sea from Eze
Do you want to add more exercise after that rather tiring trek to the top? There's a trail down to Eze-sur-Mer, but it will take you more than an hour to hike from the village downhill to the sea.
Many visitors take the public bus from Monaco to Eze and then walk down the hill to the bus stop at the bottom of the mountain for the return public bus ride.
Stay the night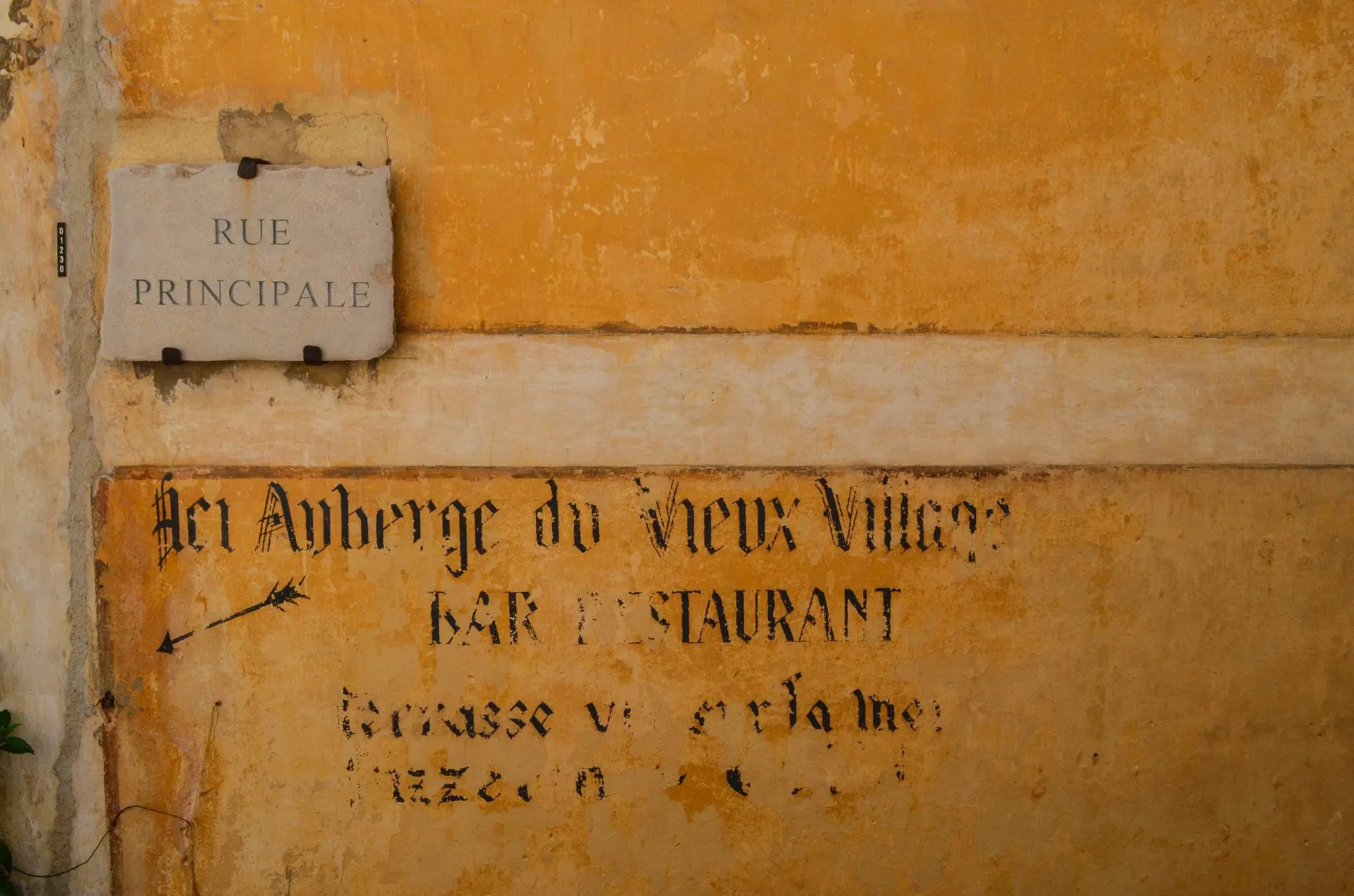 We only did a day visit, but spending the night and enjoying all Eze offers would be fun after all the crowds leave. There are two exceptional high-end hotels; Chateau d'Eza, a 12th-century castle, and Hotel La Chèvre d'Or. Both are very expensive, out of the range for most of us! Other accommodations are less costly in and near the village.
Booking.com provides a list of the hotels within the village of Eze. We have not stayed at any of these, so we can't vouch for them, so please read the reviews carefully. Click here for the hotel list.
Final Thoughts
Eze is at least a 2-hour visit without a break or food. That still won't give it the justice it deserves. The Jardins de Eze would be an hour alone, allowing time to take in the views. Start early during the summer, as the heat can be pretty rough during the day. Bring water with you, even if it isn't hot.
Eze was not on our agenda, but what a find. If in the region, do not miss the Jardins Exotique and the delightful medieval hilltop town of Eze. It is one of my favorite hilltop towns in France, and I have traveled a lot!
It will likely steal your heart as it did mine.
© 2023 Wanderers Compass All Rights Reserved
Check out Eze, France's Official Tourism Site, for even more details
Eze Photo Gallery
Check our lastest blog posts
Our Recommended Travel Resources
Our favorite travel insurance site!
If you are booking a trip, don't forget to get travel insurance within 14 days of your first booking. We could not be stronger advocates of being well-insured. Not just for the little stuff but the big stuff like medical emergencies. We never leave home without it. Over the years, we have used many sites but have now found our go-to place. Squaremouth.com does a fantastic job; it has a user-friendly interface, they use top-rated and reputable insurance carriers, and most policies cover Covid medical issues and cancellations. They also mediate on your behalf if you have problems with your policy.
To empower you as a consumer, we suggest you read our blog post on the importance of travel insurance and how to get the best coverage from top-rated companies for an affordable price.
Medical transport back home from anywhere in the world
They are the premier global air medical transport. One caveat to travel insurance is that medical evacuation usually gets you to the closest facility to care for you. Medjet gets you back to the U.S. to the hospital of your choice once you are stable enough to fly. They cover Covid-related transports as well.
Medjet carries its own policies. The policy is only for transport and no other aspects of travel insurance. They have individual trip policies starting at $99 and annual policies for around $300. Most of their policies limit the age to 74 and younger. Prices are not based on age below that.
To learn more about how Medical Evacuation membership with Medjet Assist works, check out our blog post for a more detailed review.
Hotels, home rentals, BNBs, flights, and other transportation & tours
Expedia is a US-based company whose mission is to power global travel for everyone and everywhere. Whether planning a family vacation, booking for business, or organizing the trip of a lifetime, they are a fantastic resource. Wanderers Compass focuses on independent travel, and using sites like Expedia makes that possible. Every aspect of travel you would need, from airfare, accommodations, rental car, and cruises, to activities to do at your destination, can be booked on Expedia.
Hotels, Home rentals, BNBs, Flights, and other Transportation & Tours
Booking.com connects millions of travelers to memorable experiences, various transportation options, and incredible places to stay – from homes to hotels and much more. It is one of the world's largest travel marketplaces for established brands and entrepreneurs of all sizes.
We always start with Expedia to check prices, but it sometimes says it is sold out. We then try Booking.com, and we find it lists plenty of rooms. It could be they are a Europe-based company. Try both before booking accommodations.
Are you traveling with a family or having an extended stay at your destination?
With over 2 million bookable vacation rentals, VRBO connects homeowners with families and vacationers looking for something more than a hotel for their trip. The VRBO community offers families or groups various rental property types such as condos, cabins, lake rentals, beach houses, etc.
VRBO is under the Expedia group ownership now, which many were worried about, but it hasn't panned out to be a concern. It is a massive network that has access to all forms of lodging should issues arise. Joelle has used VRBO for many years with her family with no problems.
As the leading marketplace for travel experiences, Viator believes that making memories is what travel is all about. And with 300,000+ experiences to explore—everything from simple tours to extreme adventures (and all the niche, interesting stuff in between)—making memories that will last a lifetime has never been easier.
With industry-leading flexibility and last-minute availability, it's never too late to make any day extraordinary. This one site has it all and has experiences throughout the world. We use them often during our travels, especially for food tours. We especially take the time to read the reviews provided.
Tripadvisor, the world's largest travel guidance platform, helps hundreds of millions of people each month become better travelers, from planning to booking to taking a trip. Travelers worldwide use the Tripadvisor site and App to discover where to stay, what to do, and where to eat based on guidance from those who have been there before.
With more than 1 billion reviews and opinions from nearly 8 million businesses, travelers turn to Tripadvisor to find deals on accommodations, book experiences, reserve tables at popular restaurants, and discover great places to see nearby. We use them for guidance and research on every trip; it is a valuable app for the independent traveler.
Welcome Pick-ups
(Airport and sightseeing service)
A global leader in ground transportation for travelers. They help hundreds of companies around the world enhance their services and boost their revenue with our 5-star ride experiences and hassle-free automation
Founded in 2015 in Athens, Greece, Welcome Pick-ups goes above and beyond the standard transfer service as the first company to deliver a holistic, in-destination travel experience. From the moment a traveler arrives at a new destination until they return home, Welcome accommodates all their travel needs (transfers, travel products, things to do, information) as the easiest, friendliest, and most personalized solution.
Discover Europe by Train
Rail Europe sells train and bus tickets for travel across Europe. They cover 24 countries, 105 rail operations, and 20,000 stations. They are the official rail and bus operations agents in the UK, France, Spain, Italy, Germany, Belgium, Austria, Switzerland, Luxembourg, and the Netherlands. Rail Europe continues to add coverage all the time.
It is a fast, easy, and economical way to purchase European train and bus tickets. Eurail passes are also available to buy through their site.
An excellent source for travel essentials and guides
We now have our own Amazon Storefront with all our favorite travel accessories and gear in one place. Check out our travel store at the link below.
Amazon is one of the most comprehensive online shopping sources in the world. On behalf of their customers, teams worldwide provide lower prices, better selection, and rapid delivery. They offer a vast inventory, and their 1.7 million small and medium businesses worldwide selling on Amazon.com provide extensive options to customers.
We buy most of our travel books, accessories, and luggage from Amazon. We have ordered up to two days before travel and get what we need.
Thoughtfully Designed | Meticulously Constructed | Quality Guaranteed.
We have used this luggage for years, left briefly to try others, and returned to Travelpro. Travelpro luggage is carried by crews from over 90 airlines worldwide.
Travelpro takes the time to learn what travelers want and need, then builds it. The key factor for us is that it must be lightweight upfront and resistant to rough handling. Their luggage is the best, and we could not recommend it enough. It is our go-to luggage.
This article contains affiliate links. If you use these links to buy something, we may earn a small commission at no additional cost to you. Thank you!
Do you have a question for us or have a comment?