Pula is a seafront town on the southwest tip of Croatia's Istrian Peninsula. With nearly 60,000, it is the 8th biggest city in Croatia. This beautiful city gives a small taste and feel of Rome without the large population, tourists, or cheesy commercialization. It is a great low-key alternative to Rome with the bonus of being on the Adriatic Sea!
This region of Croatia dates back to the prehistoric era and has a strong Venetian influence. Due to its strategic location, the city has been through extensive battles for occupation, including the Romans, Venetians, Ostrogoths, and the Allied forces during World War II.
Pula is a fascinating city that remains largely undiscovered by tourists. There is an authenticity and local appeal that is quite attractive. That is changing as more become aware of all there is to offer. There are ancient monuments, lovely national parks, an old town, and many forts. You can also take in the gorgeous coastline, extensive water activities, music, and art festivals. There is a vibrant nightlife and modern light shows.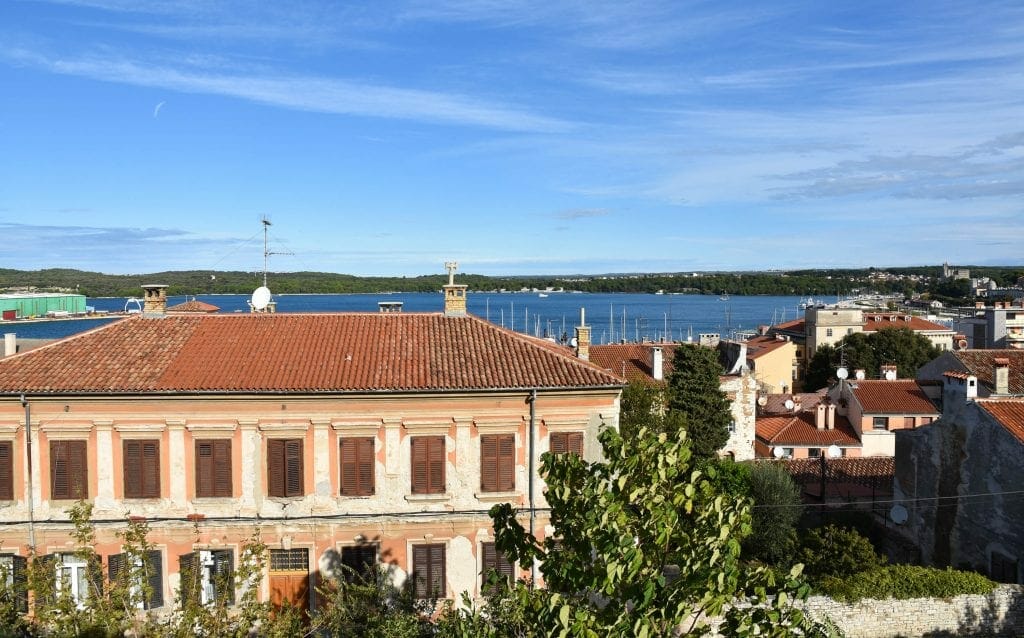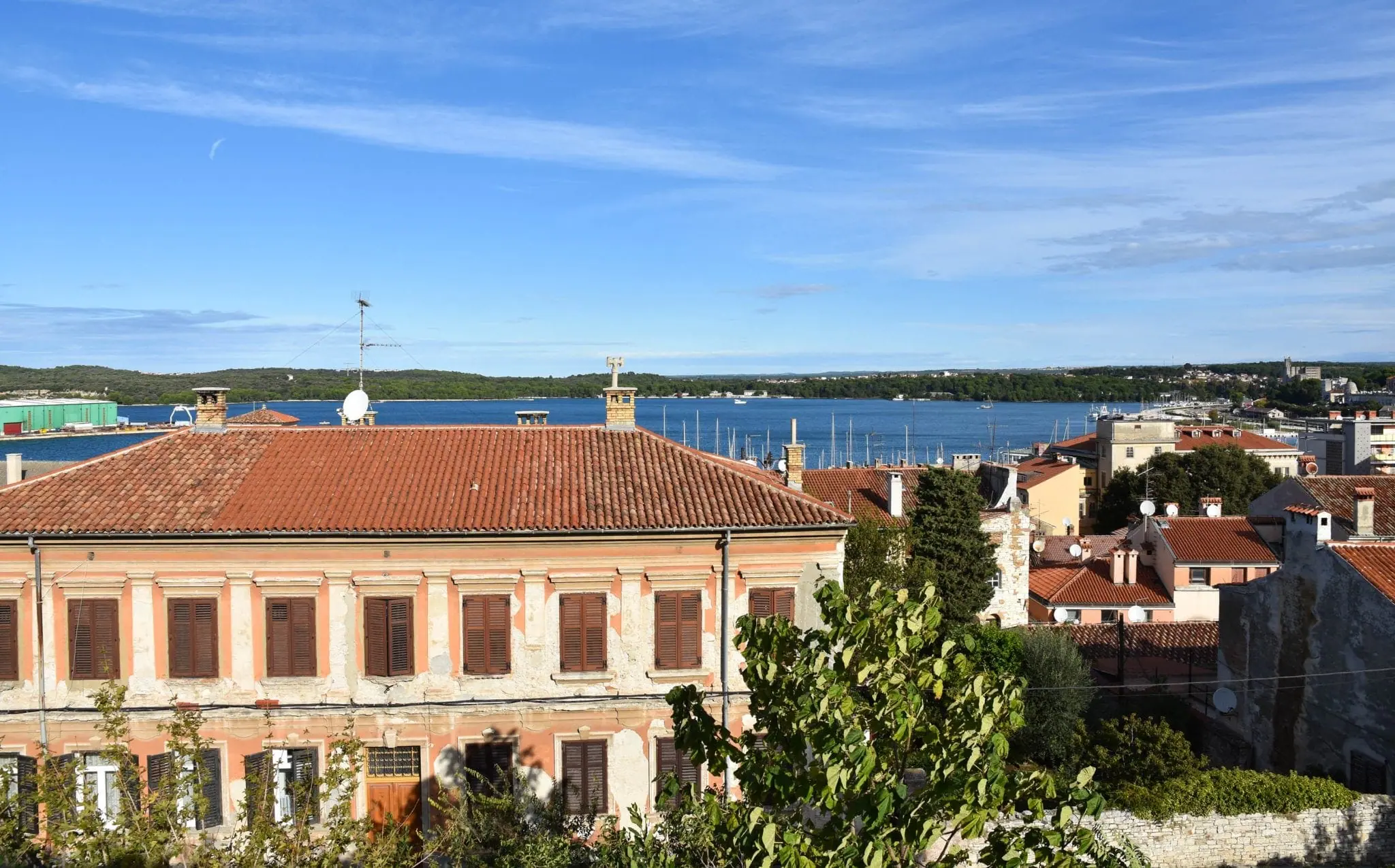 The Roman Ruins that called to us
What drew us there was the Roman arena. It is the 6th largest Roman amphitheater globally and the only one with a fully intact circular wall. Built-in the 1st century A.D., it is amazingly preserved and a pleasure to explore.
Imagine this: Rome Coliseum without all the crazy lines or packed with people. It is smaller but, in many ways, just as spectacular, and it is on the Adriatic Sea to boot.
This massive structure and the interesting museum underneath had only four people at the time of our visit. Arriving near sunset and after a rainstorm illuminated it in a golden light. To wander this magnificent Roman ruin and have it to ourselves was extraordinary. We felt as if we had stepped back in time. It was hard to believe we were not in the heart of Rome.
Entertainment venue for over 2,000 years
It was not hard to imagine 20,000 cheering spectators two thousand years ago watching gladiator fights. Surprisingly, it is still used for concerts with performers like Elton John and Pavarotti. There are sporting games, city events, and outdoor movie nights. It has been used as the backdrop for Hollywood movies such as Titus. The fact it is still actively used for significant events 2000 years later speaks to the engineering and brilliance of the Romans.
Other Roman sites in Pula
Having a long Roman presence in this city, there are many more monuments from that period. The Temple of Augustus, Triumphal Arch of Sergius, Old Town, Forum, Gate of Hercules, Pula Communal Hall, and a well-preserved Roman theater is well worth visiting. There is no doubt this was a great Roman city.
There is WAY more to Pula Croatia than those Roman sites
Pula is full of many other amazing reasons to visit, and the list will amaze you; it did us.
The Pula Castle Fortress
The Venetians built the Pula Castle Fortress around 1630 A.D. It served as their defensive position on the Adriatic. Interestingly the architect was a French military engineer. As a result, it has an interesting French flare in its design. The fortress strategically sits above the city with stunning views. We enjoyed an early morning walk around the grounds but could not go inside as it was closed. The fortress is vast, and you will find many locals walking their dogs, staring at the view.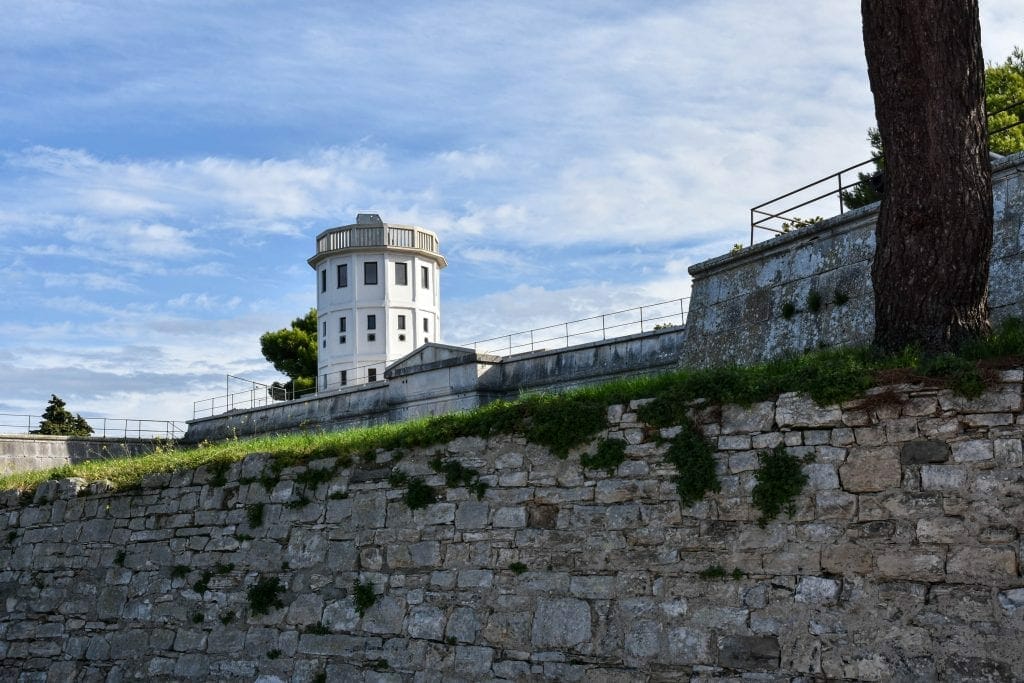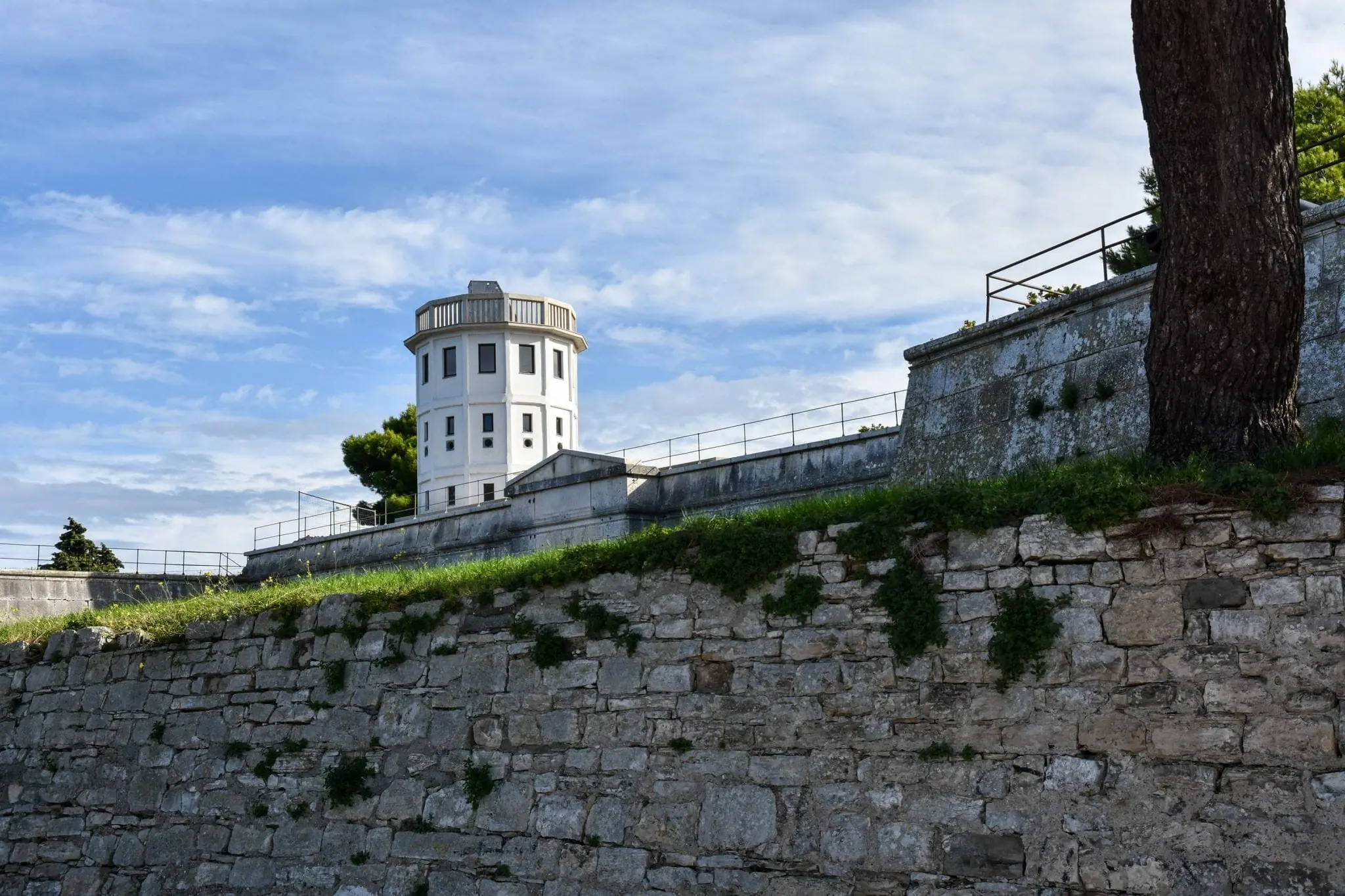 Austro-Hungarian Forts
Pula has an impressive collection of remnants from its Austro-Hungarian era in which it served as the Empire's main naval port. There are a total of 26 forts that are falling into ruins but are still fascinating to visit. Maps can be found that will help you discover these gems, many on hilltops with gorgeous views. It is a great way to spend a day exploring the city's surroundings.
Religious sites
Croatia is a country of deep faith that is core to the lives of its citizens. Pula reflects that with many religious places of worship. They include the Monastery and Church of St Francis, the Church of St Anthony, the Church of the Lady of the Sea, the Cathedral of the Assumption of the Holy Virgin, and the Pula Cathedral.
The Modern Side of Pula
On the more modern side, there is the Pula Aquarium, Marketplace, wineries, pubs, and bars, lovely public parks, sporting events, outdoor concerts, film festivals, gladiator shows, cooking classes, and quite a party club scene. If that isn't enough, there are the Lighting Giants in the shipyards of Pula. Created by designed Dean Skira, the sophisticated light show involves 16,000 color variations.
The Gorgeous Adriatic and its offerings
Sitting on the deep blue Adriatic Sea and Pula is blessed with a beautiful and dramatic coastline. The beauty of this area will take your breath away. Cape Kamenjak is striking, with a collection of small islands offshore. The natural beauty with its cliffs and rock formations will amaze you, as well as the locals jumping off the cliffs into the crystal clear ocean. The best beaches are on the west side of the Cape.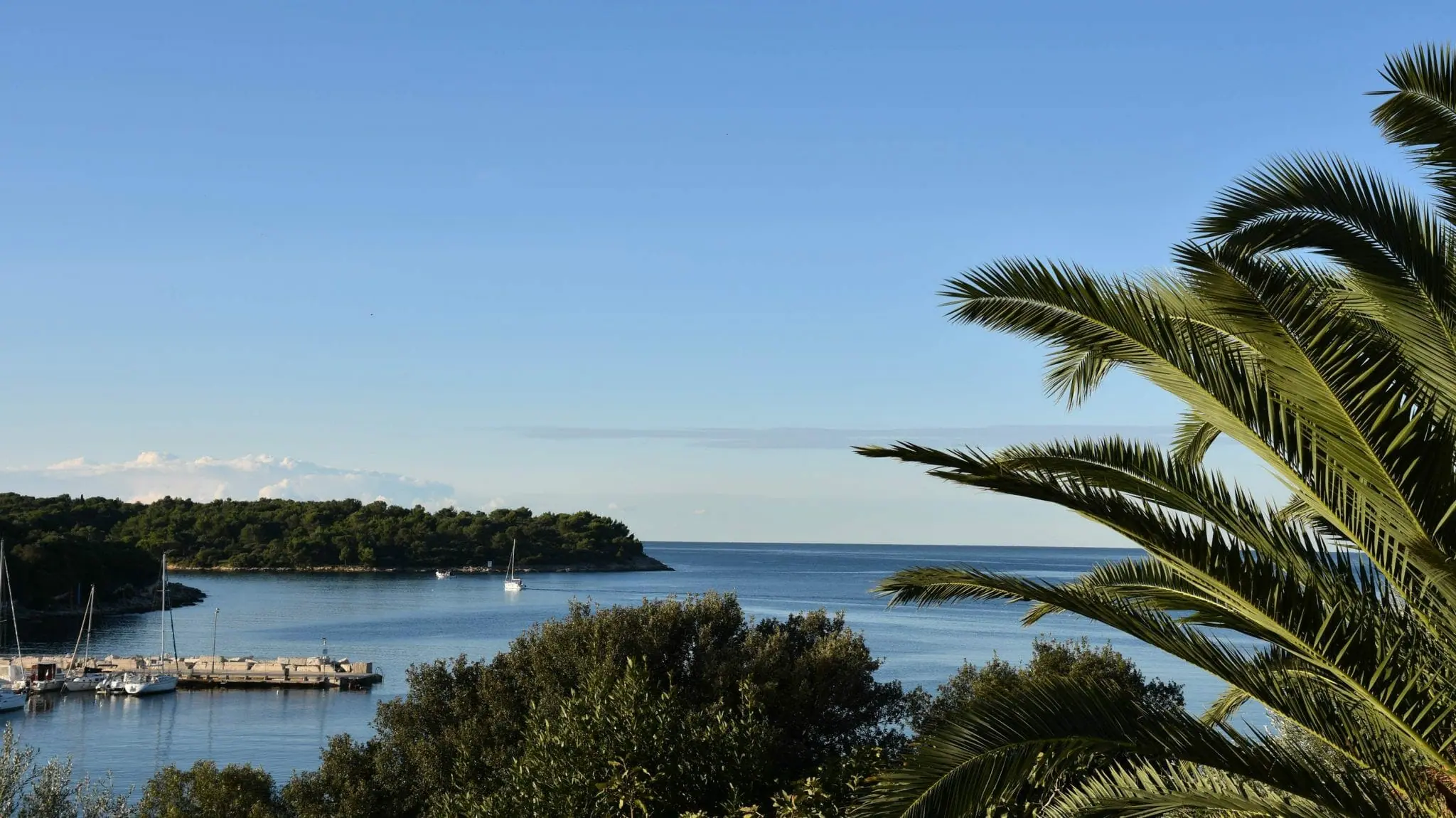 Just to name a few seaside activities
Residing on the Adriatic water activities is a popular draw here. Kayaking, sunset boat tours, sailing, speed boating, windsurfing, paddleboarding, sea cave exploration, dolphin watching, waterskiing, jet skiing, snorkeling, and scuba diving are popular. Many of these are available a short drive south of Pula in Medulin.
National Park
Want to explore some nature? The Brijuni National Park requires a 20-minute boat ride and, in most cases, requires reservations ahead of time. The island is densely wooded, with the perimeter graced with narrow white-sand beaches. This area has hundreds of dinosaur footprints from the Cretaceous period that are fun to see, along with size full-size dinosaur figures. Additionally, there is part of a Roman villa to see.
Food and Libations
The food in the region is well respected, and a popular activity is food tours. Istria peninsula is famous for its truffles, and this is a great place to partake in some black truffles. What is food without a drink, there is quite a bustling nightlife in Pula, and pub crawls are a fun way to spend an evening. Not into pubs; well, there are also some wineries in the Pula area to do some Croatia wine tasting. Croatia has a vast wine country with unique and fun varieties. Food and alcohol are very well priced, so indulge a little.
Museums
Of course, what is a city without a collection of fantastic museums? Pula has many, and one of the best is the archaeology museum, with a beautiful collection of mosaics and ancient stone relics. On display are artifacts from stone age caves and Byzantine marble sculptures. Several other museums, including contemporary art, maritime, and photography, are for your perusing pleasure. Take some time to appreciate the rich history.
Beyond Pula
Pula is one of many incredible cities on the west coast of the Croatian Istria Peninsula and would be an excellent base for visiting the area. We stayed for two days and used it as our base to visit Rovinj, Porec, Sveti Lovrec, Novigrad, and Vrsar. We are so in awe of these towns that we will dedicate a whole post to them. There are beyond magnificent. Pula served us well as the perfect location to work from, especially since we wanted to avoid changing hotels every night.
Our favorite Pula restaurant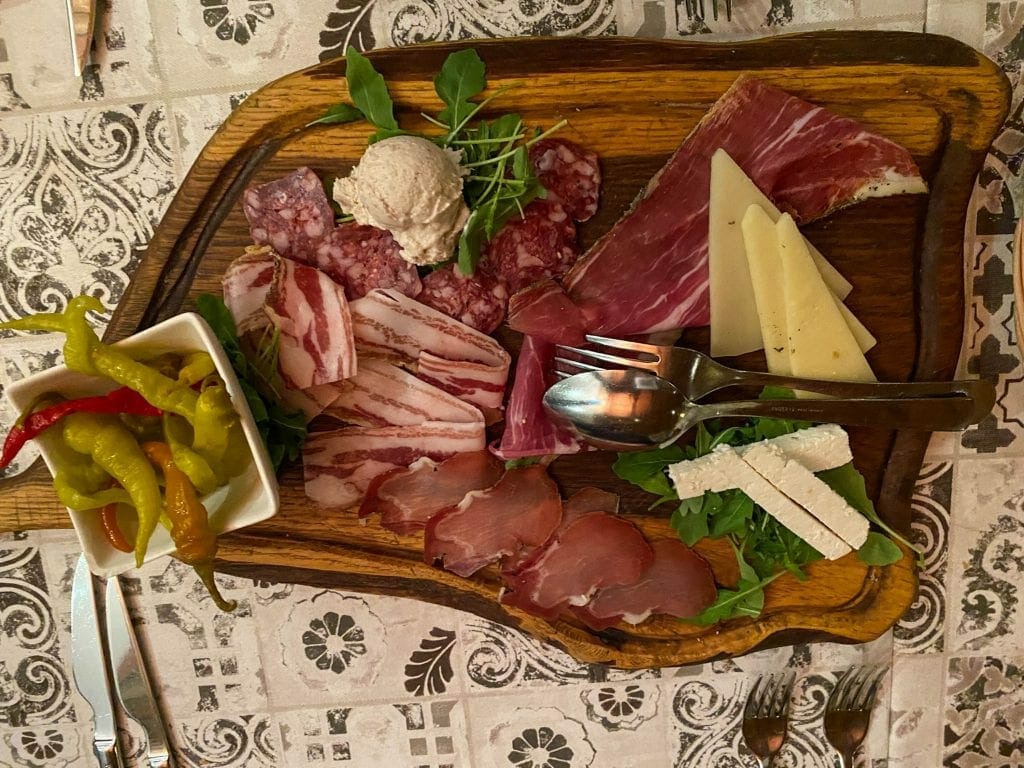 While in Zagreb, our hotel front desk asked us where we were heading next. When we said Pula, they immediately said we have staff here who come from there. They called her over, and she was excited to share her area knowledge. We told her we prefer restaurants that cater to locals versus tourist areas. She did not hesitate for one second and said Konoba Boccaporta. She said it was a local favorite with the region's traditional food.
Always seek recommendations from the locals you meet; they are a wealth of information.
As we made our way to the restaurant on our first night in Pula, we were sure the GPS was lost as we went into a forested residential neighborhood; however, just as we were about to give up, it appeared.
And what fun it was!
Their motto says it all 'A nice word opens the door'
That is fitting as it had a local feel, as we were likely the only non-Croatians there that evening. The restaurant had a rustic interior, wooden beams, and a roaring fire in the hearth. It reeked of authenticity, atmosphere, and charm. We were lucky that night as there was only one table left. Our server initially seemed unsure of what we were about. As we asked him to suggest what he believed would be the best representation of the local cuisine and his favorites, he became genuinely excited to plan our meal.
We got a feast! So much meat as is the local cuisine. It was a blast, and our server was engaging and entertaining. The service was excellent, the conversation fun, and the food delicious. The price was very reasonable for all the great food we ordered. As we headed out after we paid the bill, our server stopped us and invited us to join him for a shot of Grappa. That simple and kind act made our whole evening. It is moments such as that which make the best memories.
We highly recommend Konoba Boccaporta for an authentic, delicious dive into Istrian Croatian specialties.
Where to stay in Pula
Pula and its suburbs have an extensive collection of accommodations to choose from. We stayed south of downtown on the waterfront in the Pješčana Uvala area. We loved the location, minutes from downtown but quiet and relaxed. Our hotel was nice, just not one we would recommend as it serves a narrow clientele that would not be a good fit for many people, including us.
The hotels and Air BnBs we found as we researched the area were quite reasonable as most everything is in Croatia.
We suggest deciding first if you want more of the city or a quieter experience. If you prefer a resort beach experience, look at the Medulin area. Check reviews closely and make sure they are recent. Parking can be challenging during peak season, so consider that as you look for hotels. Check out either link below for accommodations in and near the Pula area.
It is important to price out properties on various sites. Expedia is a US-based company, whereas Booking.com is Europe based. Not all properties appear on both, so check both. If the establishment has a website, check the price there as well.
---
Final thoughts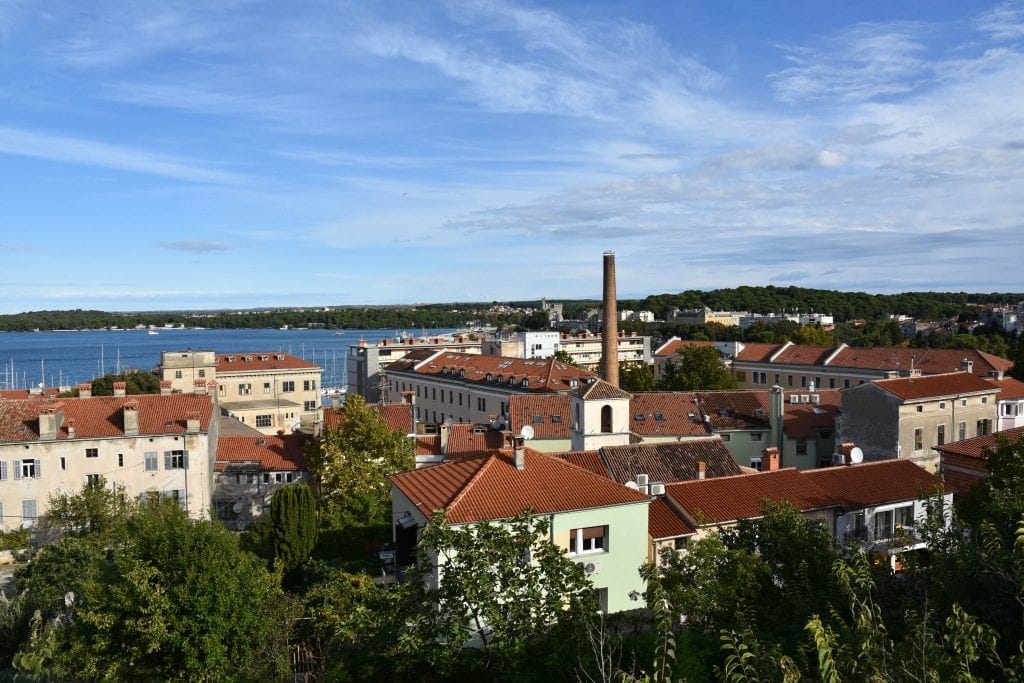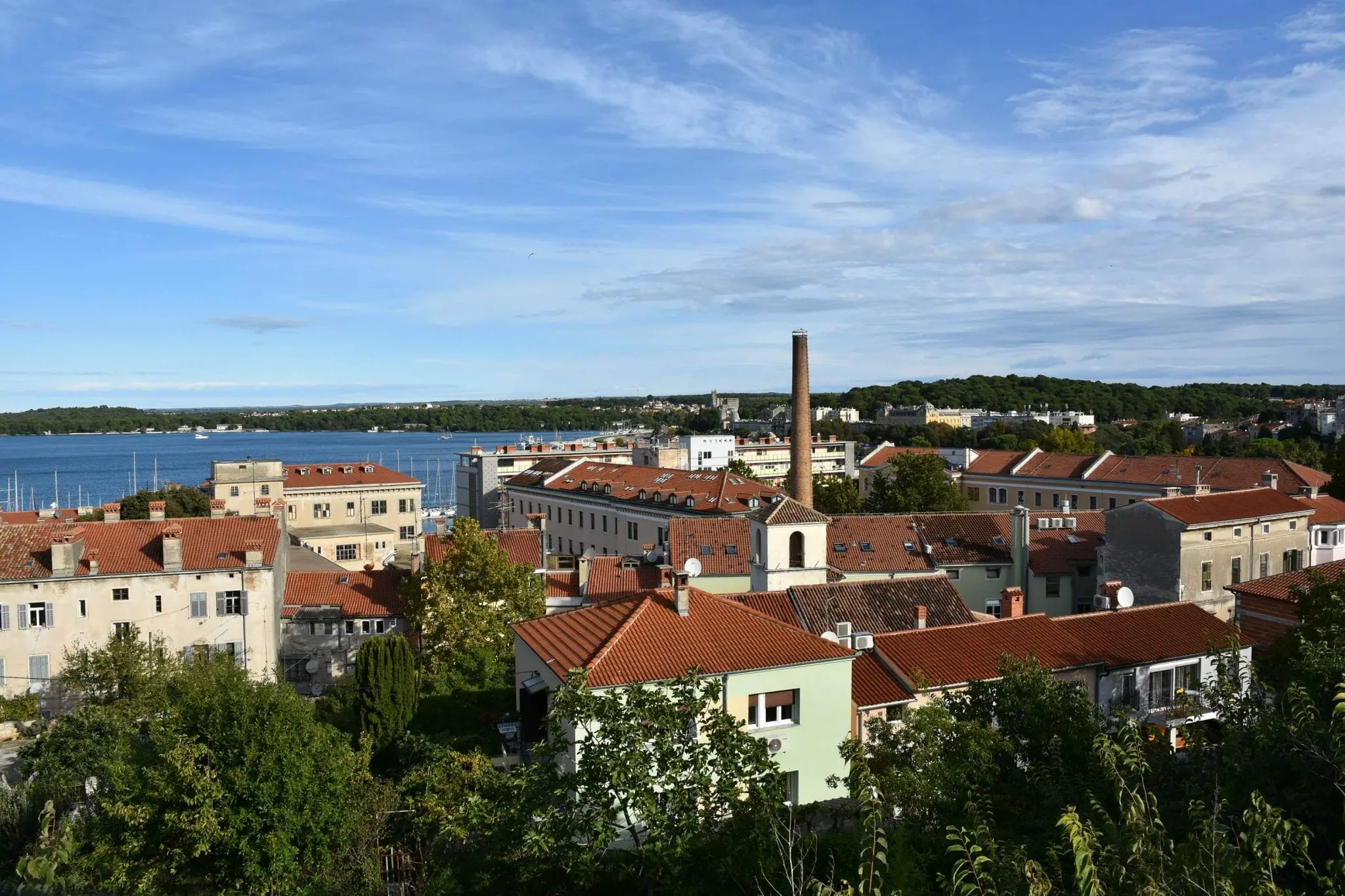 Croatia is an absolutely wonderful country, and Pula is part of that wonder. The city is vibrant and has a vibe that caught us by surprise. Amid ancient history, there is a cosmopolitan feel while remaining personable.
We wish we could have spent at least one more day in this area. There is so much to see and do. It could be a full-week vacation with endless activities.
As we continued our journey, we reminded ourselves the adage remains true; it is best to wish you could spend more time at a destination than to be anxious to leave. You will defiantly want to spend more time, and maybe you won't want to leave. Don't worry; there is always next time.
© 2023 Wanderers Compass All Rights Reserved
Check out all our Croatia Posts
Pula Photo Gallery
Check out our other Croatia posts
Our Recommended Travel Resources
Our favorite travel insurance site!
If you book a trip, don't forget to get travel insurance within 14 days of your first booking. We could not be stronger advocates of being well-insured. Not just for the little stuff but the big things like medical emergencies. We never leave home without it. Over the years, we have used many sites but have now found our go-to place. Squaremouth.com does a fantastic job; it has a user-friendly interface, uses top-rated and reputable insurance carriers, and most policies cover COVID-19 medical issues and cancellations. They also mediate on your behalf if you have problems with your policy.
To empower you as a consumer, we suggest you read our blog post on the importance of travel insurance and how to get the best coverage from top-rated companies for an affordable price.
Medical transport back home from anywhere in the world
They are the premier global air medical transport. One caveat to travel insurance is that medical evacuation usually gets you to the closest facility to care for you. Medjet gets you back to the U.S. to the hospital of your choice once you are stable enough to fly. They cover Covid-related transports as well.
Medjet carries its own policies. The policy is only for transport and no other aspects of travel insurance. They have individual trip policies starting at $99 and annual policies for around $300. Most of their policies limit the age to 74 and younger. Prices are not based on age below that.
To learn more about how Medical Evacuation membership with Medjet Assist works, check out our blog post for a more detailed review.
Hotels, home rentals, BNBs, flights, and other transportation & tours
Expedia is a US-based company whose mission is to power global travel for everyone and everywhere. Whether planning a family vacation, booking for business, or organizing the trip of a lifetime, they are a fantastic resource. Wanderers Compass focuses on independent travel, and using sites like Expedia makes that possible. Every aspect of travel you need, from airfare, accommodations, rental car, and cruises to activities to do at your destination, can be booked on Expedia.
Hotels, Home rentals, BNBs, Flights, and other Transportation & Tours
Booking.com connects millions of travelers to memorable experiences, various transportation options, and incredible places to stay – from homes to hotels and much more. It is one of the world's largest travel marketplaces for established brands and entrepreneurs of all sizes.
We always check Expedia and Booking.com to verify prices. At times, one is sold out of rooms while another at the same place has rooms. As well we often find some European hotels, especially smaller ones, on Booking.com but not on Expedia. It could be they are a Europe-based company. Try both before booking accommodations.
Are you traveling with a family or having an extended stay at your destination?
With over 2 million bookable vacation rentals, VRBO connects homeowners with families and vacationers looking for something more than a hotel for their trip. The VRBO community offers families or groups various rental property types such as condos, cabins, lake rentals, beach houses, etc.
VRBO is under the Expedia group ownership now, which many were worried about, but it hasn't panned out to be a concern. It is a massive network with access to all lodging forms should issues arise. Joelle has used VRBO for many years with her family with no problems.
As the leading marketplace for travel experiences, Viator believes that making memories is what travel is all about. And with 300,000+ experiences to explore—everything from simple tours to extreme adventures (and all the niche, interesting stuff in between)—making memories that will last a lifetime has never been easier.
With industry-leading flexibility and last-minute availability, it's never too late to make any day extraordinary. This one site has it all and has experiences throughout the world. We use them often during our travels, especially for food tours. We especially take the time to read the reviews provided.
An excellent source for travel essentials and guides
We now have our own Amazon Storefront with all our favorite travel accessories and gear in one place. Check out our travel store at the link below.
Amazon is one of the most comprehensive online shopping sources in the world. On behalf of their customers, teams worldwide provide lower prices, better selection, and rapid delivery. They offer a vast inventory, and their 1.7 million small and medium businesses worldwide selling on Amazon.com offer extensive options to customers.
We buy most of our travel books, accessories, and luggage from Amazon. We have ordered up to two days before travel and get what we need.
Transportation
Welcome Pick-ups
(Airport and sightseeing service)
A global leader in ground transportation for travelers. They help hundreds of companies worldwide enhance their services and boost their revenue with our 5-star ride experiences and hassle-free automation.
Founded in 2015 in Athens, Greece, Welcome Pick-ups goes above and beyond the standard transfer service as the first company to deliver a holistic, in-destination travel experience. From the moment a traveler arrives at a new destination until they return home, Welcome accommodates all their travel needs (transfers, travel products, things to do, information) as the easiest, friendliest, and most personalized solution.
Discover Europe by Train
Rail Europe sells train and bus tickets for travel across Europe. They cover 24 countries, 105 rail operations, and 20,000 stations. They are the official rail and bus operations agents in the UK, France, Spain, Italy, Germany, Belgium, Austria, Switzerland, Luxembourg, and the Netherlands. Rail Europe continues to add coverage all the time.
It is a fast, easy, and economical way to purchase European train and bus tickets. Eurail passes are also available to buy through their site.
Travel documentation services
Do you feel like you are wasting time visiting an on-site photographer only to be embarrassed by the photo? Would you like control of the final product? Get the perfect VISA or passport photo online with PhotoAID.
When traveling, you often need to apply for official documents such as a passport, ID, and different kinds of licenses or cards. Those applications require a picture that must meet specific conditions to be accepted, depending on the country. Now, it is possible to take this picture at home without the help of a professional photographer. The PhotoAiD app allows you to take the perfect biometric photo that will be guaranteed by yourself without leaving your home.
This article contains affiliate links. If you use these links to buy something, we may earn a small commission at no additional cost to you. Thank you!
Do you have a question for us or have a comment?