Get to know this Tuscan Marvel
The beautiful Renaissance hill town of Montepulciano is known for its red wine. It is considered one of the finest winemaking regions in the world. However, red wines shouldn't be the only reason to visit this gem. This Tuscany wonder offers magnificent views, medieval history, and many attractions to keep visitors of all ages entertained.
Though the setting and attractions here are fantastic it is the streets and alleyways that truly are the most delightful part. That has drawn Joelle back here three times, the charm at the core of this quintessential Tuscany Village that takes a piece of her heart each time. The long main street is adorned with flowers, plants, intriguing entryways, and beautiful gates. Titillating cafes and restaurants serve regional cuisine (How about some Pappardelle in Wild Board Sauce?), wines, and sumptuous desserts. The wine shops are impressive, and many offer wine tasting. Oh, and the cheese, it might be our favorite display of cheeses in all of Italy; on top of that, they offer generous free samples. The Ironworks of Montepulciano is one of the artisan crafts that bring many shoppers here.
And those views!
Montepulciano is located on top of a hill; surrounded by many vineyards, rolling green hills, golden fields, and a fortress. No matter what alley you turn into, you will come to a terrace with expansive views of iconic Tuscany. Its beautiful hilltop presence adds so much to this medieval fairytale. In addition, the elegant Palace, visually enticing markets, and lovely historical buildings give it a majestic, reticent atmosphere.
Where is Montepulciano, and how do you get there?
Medieval Montepulciano is a Renaissance hill town in the Italian province of Siena in southern Tuscany. It is located in the Val di Chiana of Tuscany, Italy, within easy reach of the Val d'Orcia, one of Tuscany's most attractive hill towns. It sits high on a 1,985 ft limestone ridge of Monte Poliziano, which makes the approaching view a treat.
The closest airport to Montepulciano is Perugia, which is 38 miles away. If you have plans to visit other cities in Italy too, then the larger airports to choose from are Rome and Florence. The town is 43 mi southeast of Siena, 77 mi southeast of Florence, and 116 mi north of Rome by car. Getting there is most accessible by car as buses and trains can be slow, and you will want to make every second count in this spectacular region of Italy.
In our case, we drove and found the roads easy to maneuver with good signage. If coming from Siena, the most scenic route is Val d"Orcia on the SS2 to San Quirico d"Orcia, then you pick up the SS146 east through Pienza (another great stop).
Montepulciano is on a minor rail line, and the small train station is a few miles outside town. Buses connect the train station with the town. Hourly buses run from Chiusi train station, on the major rail line between Rome and Florence and probably more convenient, to Montepulciano. Buses also run to nearby Tuscany towns like Siena and Pienza.
Parking
Parking is abundant outside of the historic town. There are many lots for chose from at reasonable rates or for free. Keep in mind, though, that the village is uphill. There is quite a bit of walking to get to the Porto al Prato gate, and once inside the fortress, it gradually climbs up to the Piazza Grande. It is quite a workout, and it will be wise to have some water on hand in the summer months.
Montepulciano Map
Montepulciana History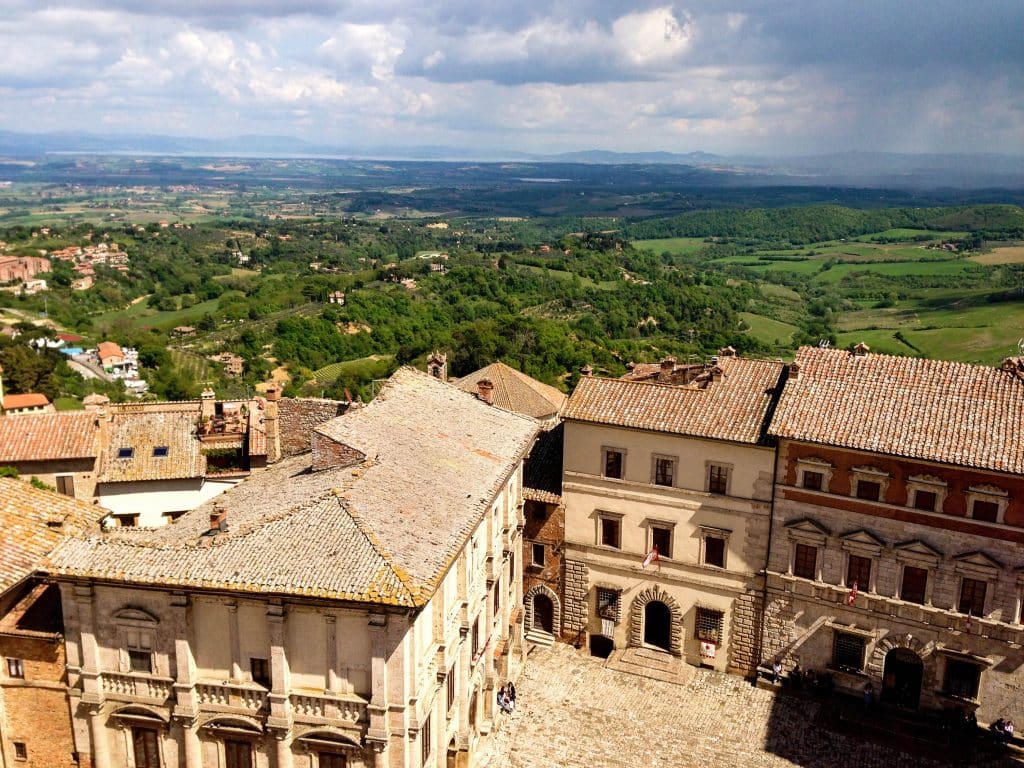 The origin of Montepulciano, from recent findings, indicates a settlement here since the 3rd-4th centuries BC. Many Etruscan and Roman find have been made in this district, confirming its great antiquity. The name of Montepulciano is first recognized in a document dating from 715 by King Liutprando.
Due to its strategic position overlooking the Val d'Orcia on one side, and the Val di Chiana on the other, the town was constantly being fought over by the Florentines and the Sienese. The Florentines and Sienese clashed several times, and in 1232 Siena managed to take control of the city. Over the next 200 years, however, Montepulciano changed hands several times.
The final ownership happened in 1511 when Montepulciano again came under the jurisdiction of the Florentines. During the 15th century, Florentine rule played a prominent role in the town's architecture, urban planning, and politics. Florentine architect Michelozzo Michelozzi built the Piazza Grande during this time.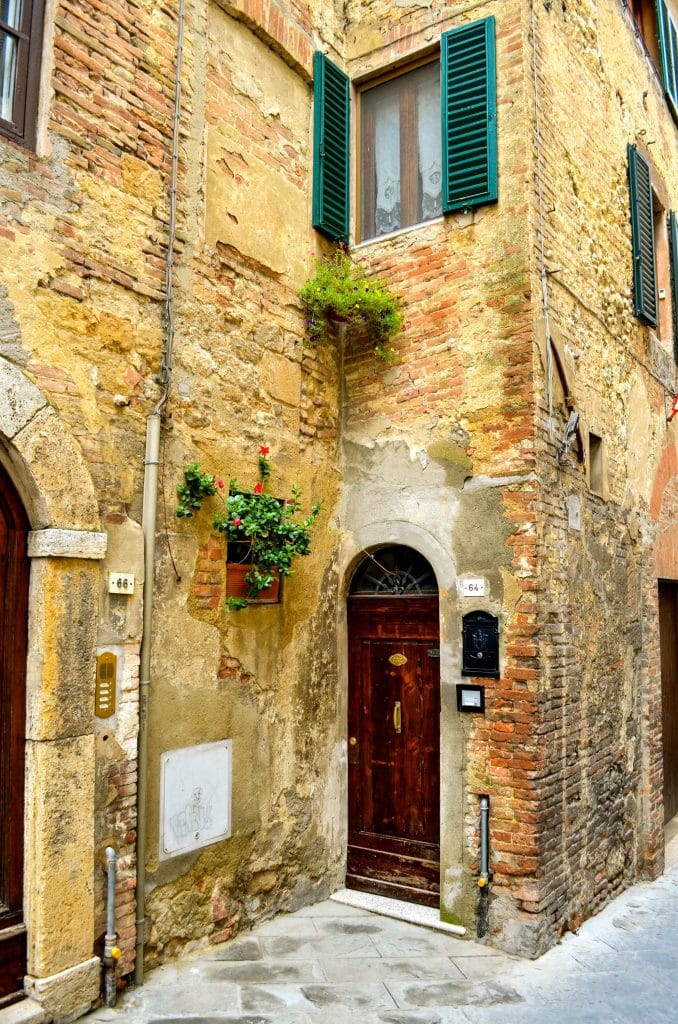 In the early 1600s, Montepulciano was under the rule of Ferdinand I de Medici and his widow, Christina of Lorraine. Many grand religious buildings such as the Cathedral, St Lucia, St Bernard, St Josep, and St Lawrence churches were built during this period.
Recent centuries
In the 19th century, Montepulciano became an important agricultural market and center. The 20th century brought changes to the road outside Montepulciano, in the direction of Chiusi-Chianciano. This led to a transformation of the city and the Old Town. The town began welcoming banks, insurance companies, local governments, and other service functions.
Montepulciano – Interesting Facts
Believe it or not, the event calendar is loaded here. It's like something special is always going on. For example, in spring, they have the Anteprima Vino Nobile event, which gives you a chance to taste the fresh wine. The Fiera delle Tre Berte is a festival held every year in May. The festival showcases regional agricultural produce, as well as agricultural machinery. In August, there is the Bravio delle Botti, a race through the oldest streets with flag wavers and historical dress. Additionally, the Montepulciano Run event is in the fall, a multi-day running festival.
The Vino Nobile Di Montepulciano wine was known as the King of All Wines in the 17th century, and it's still very famous in entire Italy today. Thanks to its superb vineyards, the Montepulciano area is considered one of the finest winemaking regions in the world.

In front of the Sant'Agostino church stands a tower, and on top, you will see one of the most peculiar sights in Montepulciano: a statue of Pulcinella! Pulcinella is a traditional character or commedia dell'arte (an ancient form of Italian theater), and it is from Naples, so very much out of place here. It now stands tall on top of the tower, marking the hours passing on the big clock.
Pulcinella
The name of this town is highly debated since no one knows when the name "pulciano" was initially derived. But the common (but still debated) consensus among most local experts is that this name comes from the Etruscan word, which means "Ruler." So, adding the Monte of Italian with the name means "Mountain of the Ruler."
Every town or city in Italy usually has only 2-3 churches, but Montepulciano has 29 churches for around 14,000 people. Cathedral di Santa Maria Assunta church is the most famous one. Tourists often visit it as it is listed as a national monument too.

The Palazzo Comunale di Montepulciano was designed by Michelozzo. The palace was built in an architectural style typical of Tuscany and Florence in particular. In fact, the design of Montepulciano's Palazzo Comunale is very similar to that of Palazzo della Signoria in Florence.
Generally, we all know Italy offers impressive food. But if you want to taste the best traditional food in Italy, Montepulciano is for you. It has the tastiest food, in our opinion, with all the authentic flavors of Italy. There are some good western restaurants as well, but we highly recommend the local traditional food of this town.
Tuscany has so many charming hilltop villages. One of our favorites was Monteriggioni. Check out our blog post to learn about another Tuscany jewel at Castello Monteriggioni, Tuscany: A Visitor Guide
19 Things to Do In Montepulciano, Italy
Here are some best things to see and do, especially if you are with the family.
1. Admire the City Gate and stroll along the Corso (main street). Enter the historic Old Town under the medieval gate still marking its entrance, Porta Prato.
2. Explore Palazzo Communale, which was a design by Michelozzo. The palace was built in an architectural style typical of Tuscany and Florence in particular. In fact, the design of Montepulciano's Palazzo Comunale is very similar to that of Palazzo della Signoria in Florence.
3. Spend time in the marvelous Piazza Grande, the main square of Montepulciano.
4. Stand in awe of the Duomo, or Cathedral of Santa Maria Assunta. The cathedral was built between 1594 and 1680 and has glorious interiors decorated with many artworks, the most noteworthy of which is a large Assumption of the Virgin painted in 1401 by Taddeo Di Bartola.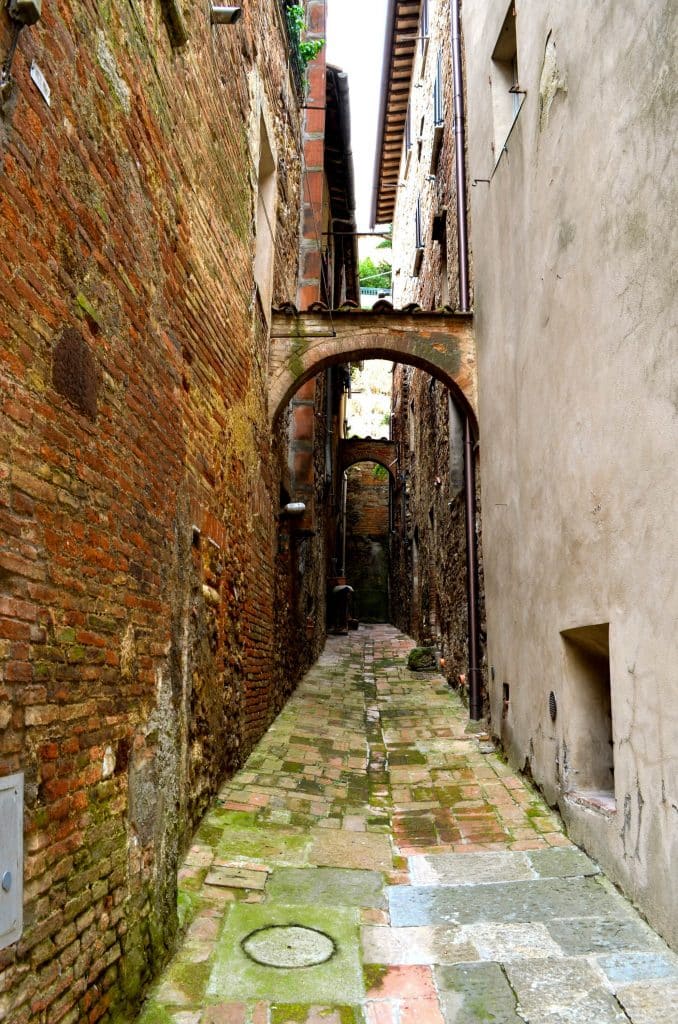 5. Take in the church of Santa Maria delle Grazie, which is from the 16th century and presents simple architecture with a three-arcade portico. Inside the church is a single nave embellished by a precious terracotta altar.
6. Explore historic underground passageways.
7. Take a tour of Palazzo Tarugi, a fascinating place because of its beautiful architecture. The Palace is entirely in travertine (the typical stone of Rome) which makes it quite different from other buildings in the region.
8. Attend the summer barrel rolling contest or other events. Check out The Fonte Martino Guest Houses link to local events.
9. Stroll the main street shops and check out the leather goods, ironworks, local artisan products, wine, and local food products.
10. Taste the wine and cheese offered in the many shops you will find in Montepulciano.
11. See the Fortress and its charming gardens. A short distance from Piazza Grande you will find the beautiful Fortress of Montepulciano, which now hosts the Consorzio del Vino Nobile di Montepulciano.
12. A bit outside of town, visit the Sanctuary of the Madonna di San Biagio. The sanctuary was built at the location of an ancient church and is in the typical Tuscan style. It has a circular shape with a large dome over a terrace. The façade is all done in white travertine and features two large bell towers.
13. Love beautiful art? Visit Civic Museum; this place is quiet, charming, and full of nature.
14. Are you a foodie? You can choose from one of many excellent dining options in Montepulciano. Try Pici Pasta or Chianina Beef.
15. Go hiking or cycling, as there are plenty of excellent routes
16. Admire the historic well in the Piazza Grande-the most iconic sight in town.
17. Climb to the top of the Palazzo Comunale for the most dramatic views of the Tuscany Countryside.
18. Sit and relax while your kids enjoy the various playgrounds outside the city walls.
19. Watch the sunset from the terraces at the top of town.
The Most Attractive Feature
We believe one of the best reasons to visit is for its world-famous two wines – Vino Nobile di Montepulciano and Rosso di Montepulciano.
Vino Nobile Montepulciano (Noble Wine of Montepulciano) comes primarily from Sangiovese Grapes which grow in the surrounding areas of Montepulciano. It's an age-worthy classical Tuscan red wine that improves gracefully over 5-10 years.
On the other hand, we have Rosso di Montepulciano (Red of Montepulciano) too. It's a dry, fruity red wine often produced in the Tuscany villages.
Both are available in every shop, but you can visit the wineries directly to taste them. Some famous wineries are Contucci Winery, De Ricci Winery, Ercolani Winery, and Talosa Winery. All these wineries follow the locals' traditions and use only native grapes of the region.
Apart from this, you can easily find some best bars on the main street that offer large varieties, such as La Dolce Vita and Per Bacco.
If you are indeed a wine lover and have some time to spend in this town, you should go outside the walled city. There are some incredible options, too, like Poliziano Winery, Avignonesi, and Palazzo Vecchio, not far from town by car.
Considering a trip to beautiful Italy? Check out our Italy Travel Guide
How to get around Montepulciano
Montepulciano is pretty small, so visitors can quickly move around without worry. The town has car-free pedestrian streets. As a result, exploring the town must be done on foot. That is no issue since the streets here are picturesque and relatively wide.
The one warning we give you is the walk from the Porta al Prato to the Piazza Grande is continuously going uphill. The incline is not steep but can require some effort for those who struggle with hills and quickly get out of breath.
Dining in Montepulciano
Montepulciano has many good options for eating out, especially for its agricultural produce and local dishes. Most restaurants serve local Tuscan dishes, including pork, cheeses, and thick pasta called pici. Most restaurants also offer excellent quality wines since the region is famous for its red wine.
If you wish, you can fill up on the samples provided alone, but then you miss out on the local dishes and excellent pasta. It is also fun just to grab an Aperol Spritz at one of the sweet cafes and watch the people wander up and down the main street.
Some good places to try in Montepulciano are Ristoranta L'Oliveto, La Vineria di Montepulciano, Villa Cicolina, La Pasion, L'Altro Cantuccio, Le Logge Del Vignola, Ristorante La Grotta, and La Taverna di Fucile,
Shopping in Montepulciano
We found ourselves stopping in almost every store along the main street. We enjoyed cheese samples, tasted the wine, grabbed a snack, local artisan works, and much more. Here is a slide show of some of what we saw.
Where to Stay
Montepulciano is a tiny town, but because of the rise in agri-tourism, there are many reasonable accommodations in the area. Most of them have been converted from old villas and family homes. There are also a few good bed & breakfasts and vacation rentals. Most hotels are close to the town center, and rooms are available all year.
During all our visits, we never stayed in Montepulciano. We were based either in Florence or at a vacation rental property in the town of Montisi. Siena would be another popular base.
The links below provide accommodations and vacation rentals in the Montepulciano area. Compare each site as not all options are available at both sites. Always look closely at recent reviews before booking.
When to Visit Montepulciano
The Spring and Fall months are the best to visit this town because the weather is comfortable and tourism is also a bit slow.
The mid-year season gets warm but not hot. Apart from this, remember, Montepulciano is a small town; it's not a city. Therefore, 1-2 days are enough to feel its charm.
Final Thoughts
There was a charm and intimacy to this little town. It is as if an animated character is peaking around the corner to surprise you at every turn. Something felt different than the many other Tuscany towns we visited. It has its own vitality and personality. Even having visited three times, we would return in a heartbeat.
We believe this town is one of the most idyllic destinations for those who want to be swept away by the romance of Tuscany, Italy. It has the originality of the past, strategic location, fascinating culture, an abundance of wine, delicious cheese, and picture-postcard landscapes of the Tuscan countryside that will take your breath away. It is a photographer's dream.
I hope our love for this lovely town inspired you to visit and that you enjoy this guide. If you are already in or just returned from Montepulciano, let us know what you enjoyed the most.
© 2023 Wanderers Compass All Rights Reserved
Montepulciano Italy Photo Gallery
Our favorite travel insurance site!
If you book a trip, don't forget to get travel insurance within 14 days of your first booking. We could not be stronger advocates of being well-insured. Not just for the little stuff but the big things like medical emergencies. We never leave home without it. Over the years, we have used many sites but have now found our go-to place. Squaremouth.com does a fantastic job; it has a user-friendly interface, uses top-rated and reputable insurance carriers, and most policies cover COVID-19 medical issues and cancellations. They also mediate on your behalf if you have problems with your policy.
To empower you as a consumer, we suggest you read our blog post on the importance of travel insurance and how to get the best coverage from top-rated companies for an affordable price.
Medical transport back home from anywhere in the world
They are the premier global air medical transport. One caveat to travel insurance is that medical evacuation usually gets you to the closest facility to care for you. Medjet gets you back to the U.S. to the hospital of your choice once you are stable enough to fly. They cover COVID-related transport as well.
Medjet carries its own policies. The policy is only for transport and no other aspects of travel insurance. They have individual trip policies starting at $99 and annual policies for around $300. Most of their policies limit the age to 74 and younger. Prices are not based on age below that.
To learn more about how Medical Evacuation membership with Medjet Assist works, check out our blog post for a more detailed review.
Hotels, home rentals, BNBs, flights, and other transportation & tours
Expedia is a US-based company whose mission is to power global travel for everyone and everywhere. Whether planning a family vacation, booking for business, or organizing the trip of a lifetime, they are a fantastic resource. Wanderers Compass focuses on independent travel, and using sites like Expedia makes that possible. Every aspect of travel you need, from airfare, accommodations, rental car, and cruises to activities to do at your destination, can be booked on Expedia.
Hotels, Home rentals, BNBs, Flights, and other Transportation & Tours
Booking.com connects millions of travelers to memorable experiences, various transportation options, and incredible places to stay – from homes to hotels and much more. It is one of the world's largest travel marketplaces for established brands and entrepreneurs of all sizes.
We always check Expedia and Booking.com to verify prices. At times, one is sold out of rooms while another at the same place has rooms. As well we often find some European hotels, especially smaller ones, on Booking.com but not on Expedia. It could be they are a Europe-based company. Try both before booking accommodations.
Are you traveling with a family or having an extended stay at your destination?
With over 2 million bookable vacation rentals, VRBO connects homeowners with families and vacationers looking for something more than a hotel for their trip. The VRBO community offers families or groups various rental property types such as condos, cabins, lake rentals, beach houses, etc.
VRBO is under the Expedia group ownership now, which many were worried about, but it hasn't panned out to be a concern. It is a massive network with access to all lodging forms should issues arise. Joelle has used VRBO for many years with her family with no problems.
As the leading marketplace for travel experiences, Viator believes that making memories is what travel is all about. And with 300,000+ experiences to explore—everything from simple tours to extreme adventures (and all the niche, interesting stuff in between)—making memories that will last a lifetime has never been easier.
With industry-leading flexibility and last-minute availability, it's never too late to make any day extraordinary. This one site has it all and has experiences throughout the world. We use them often during our travels, especially for food tours. We especially take the time to read the reviews provided.
An excellent source for travel essentials and guides
We now have our own Amazon Storefront with all our favorite travel accessories and gear in one place. Check out our travel store at the link below.
Amazon is one of the most comprehensive online shopping sources in the world. On behalf of their customers, teams worldwide provide lower prices, better selection, and rapid delivery. They offer a vast inventory, and their 1.7 million small and medium businesses worldwide selling on Amazon.com offer extensive options to customers.
We buy most of our travel books, accessories, and luggage from Amazon. We have ordered up to two days before travel and get what we need.
Welcome Pick-ups
(Airport and sightseeing service)
A global leader in ground transportation for travelers. They help hundreds of companies worldwide enhance their services and boost their revenue with our 5-star ride experiences and hassle-free automation.
Founded in 2015 in Athens, Greece, Welcome Pick-ups goes above and beyond the standard transfer service as the first company to deliver a holistic, in-destination travel experience. From the moment a traveler arrives at a new destination until they return home, Welcome accommodates all their travel needs (transfers, travel products, things to do, information) as the easiest, friendliest, and most personalized solution.
Do you feel like you are wasting time visiting an on-site photographer only to be embarrassed by the photo? Would you like control of the final product? Get the perfect VISA or passport photo online with PhotoAID.
When traveling, you often need to apply for official documents such as a passport, ID, and different kinds of licenses or cards. Those applications require a picture that must meet specific conditions to be accepted, depending on the country. Now, it is possible to take this picture at home without the help of a professional photographer. PhotoAiD allows you to take the perfect biometric photo that will be approved by you without leaving your home.
This article contains affiliate links. If you use these links to buy something, we may earn a small commission at no additional cost to you. Thank you!
Do you have a question for us or have a comment?
Check out our most recent blog posts